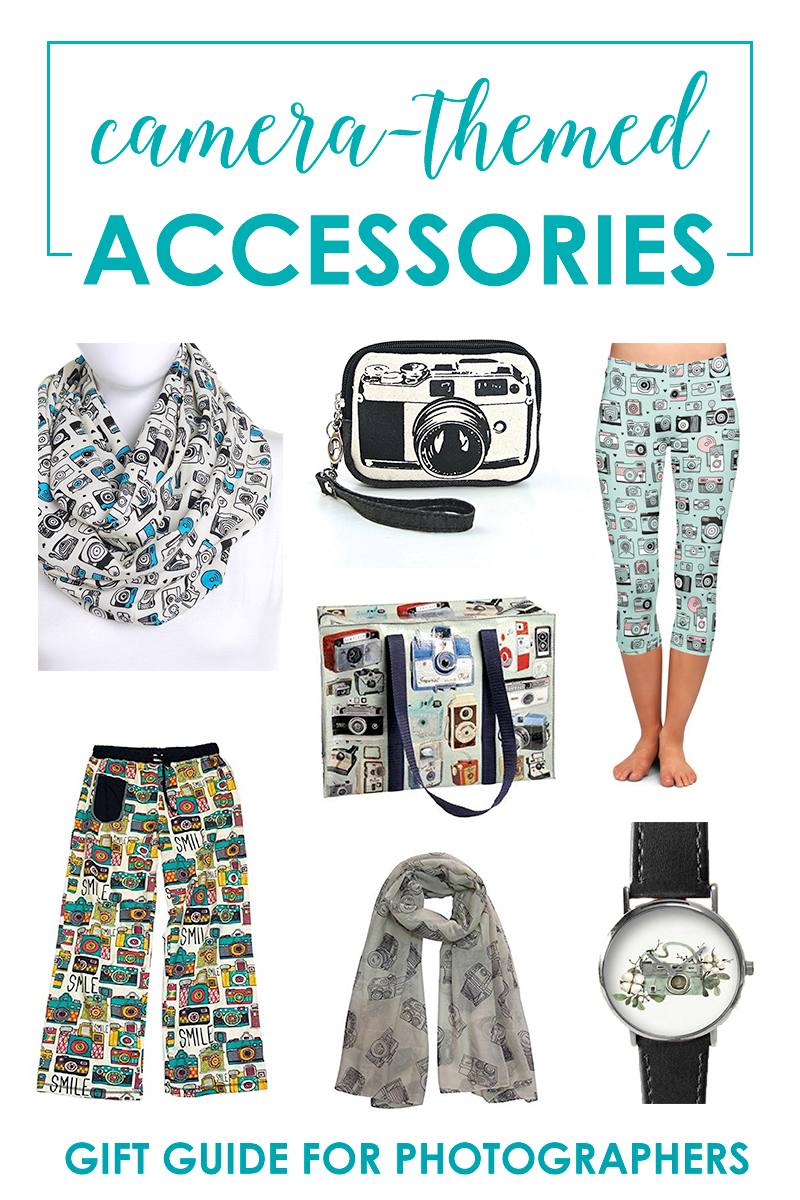 I'm on a hunt for all the camera and photography-themed accessories out there: bring on the leggings, scarves, bags, and watches!
This gift guide is full of all the different camera-themed accessories that I've found. It's so fun to have something that shows off your love of photography!
---
Leggings And Pajamas
Sometimes what you really need is come comfy leggings, right?
I adore the cute camera print on these leggings, and they're the perfect color! These are made to order so they take longer to arrive in the mail - order early!
You can also get these through Etsy: shipping is included in the price, AND you can choose between full length or capris!
They also come in a dreamy fleece-lined version, which would be great for curling up with your laptop for photo editing! (Can you tell I'm obsessed with these leggings? They are my fave!)
If you already love to wear tights, these camera-themed ones might be right up your alley!
If you want a brighter color for your camera tights, they come in this awesome light blue too!
Yes, these are the same print of tights above. (I couldn't choose just one.) The cool thing about these is they come in plus size! Fun tights are for everyone!
These pajama pants have such a cheerful print! They are great for lounging in while you edit all your photos, and they are nice and loose if you don't like leggings.
These leggings are a great option if you like black and white patterns. I personally love that they are completely covered in different cameras - it's such a unique print!
---
Scarves
This lightweight scarf comes in six colors- black, white, grey, beige, blue, or light pink! This type of scarf is great because you can wear them in several seasons.
This black and white printed scarf has lots of different kinds of cameras on it.
---

WATCHES
This is a good nod to vintage cameras of old. It's eye-catching for sure!
This is a unique watch with a leather band that wraps around the wrist multiple times. It also is adorned with great charms, so this is the best of both worlds by combining a charm bracelet with a watch.
---

BAGS
I've been using Blue Q pouch for years - they hold up well, and the cameras are so cute! The zipper pouch is still available.
This unique wristlet pouch is super cute! It comes in this black and white version, plus a pink version for those who love a pop of color. Perfect when you only need to carry a few things with you!
---
I've had a lot of fun looking for all these great gifts for photographers. If the photographer in your life is anything like me, finding ways to show my love of all things photography makes me happy.
Pin it!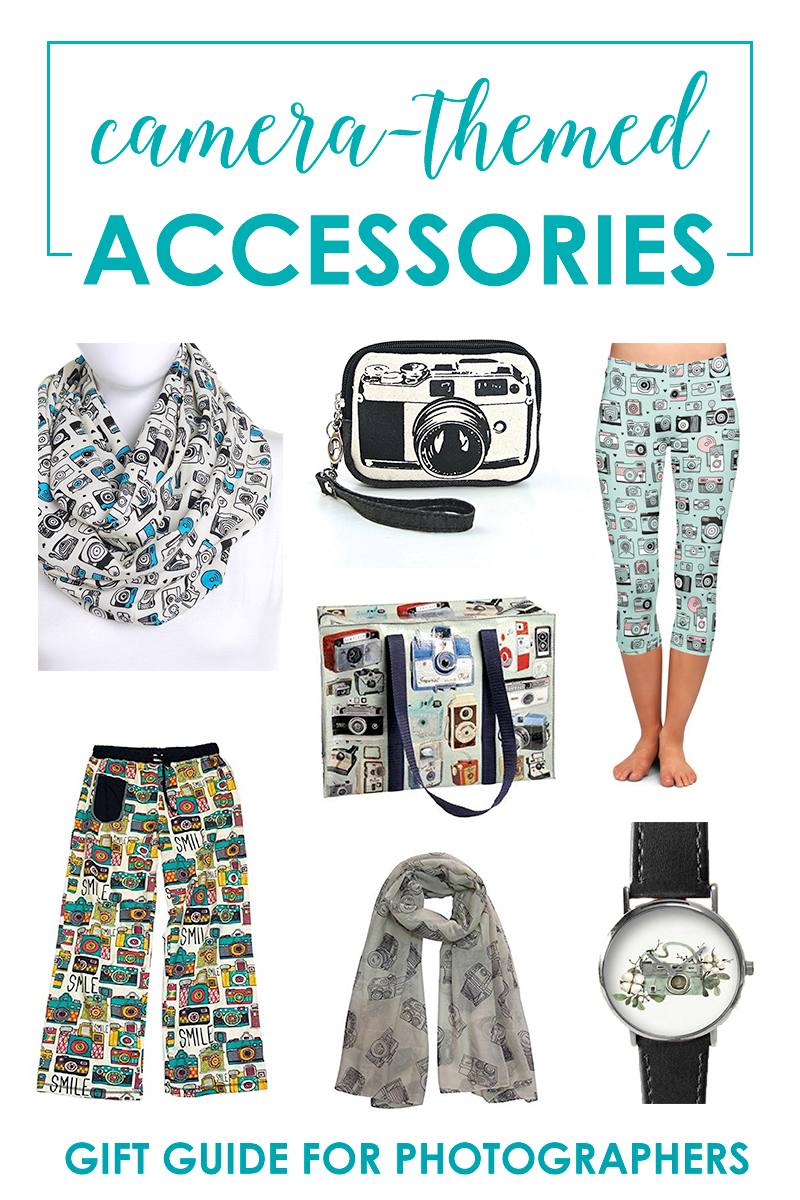 If you didn't find the perfect gift in this post, check out the other posts in this series! I just love photography, and I find so many cute things to share!
Gift Guide for Photographers: Camera-Themed Mugs
Gift Guide for Photographers: Camera-Themed Jewelry
COMMENT: What accessories do you think would make the best gifts for photographers? Or really... what do you want for yourself? 😉