Do you need a quiet time activity or something to keep kids busy?
Need a quick gift that won't break the bank?
Are you in the mood for cheap & easy DIY project that your kids will love?
Enter these Printable Play Mats!
We've already designed super cute settings using hand-cut paper – all you you have to do is download and print the files! We recommend laminating the pages with a home laminator to make them last through hours of creative fun. Pull out some well-loved figurines you already own, or order some special ones as a gift. The whole project can be finished in a matter of minutes, and you can be on your way!
---
Fairy Garden Play Mat
This fairy garden is a perfectly whimsical place for your fairy friends to play! It has a stone path, a bridge over water, flowery meadows, hedgehogs and toadstools too.
Click here to purchase and download the printable files.
Here are the print & assembly directions.
These are the Tinkerbell & Friends figurines that we use with the mats, although any fairy figurine would work.
---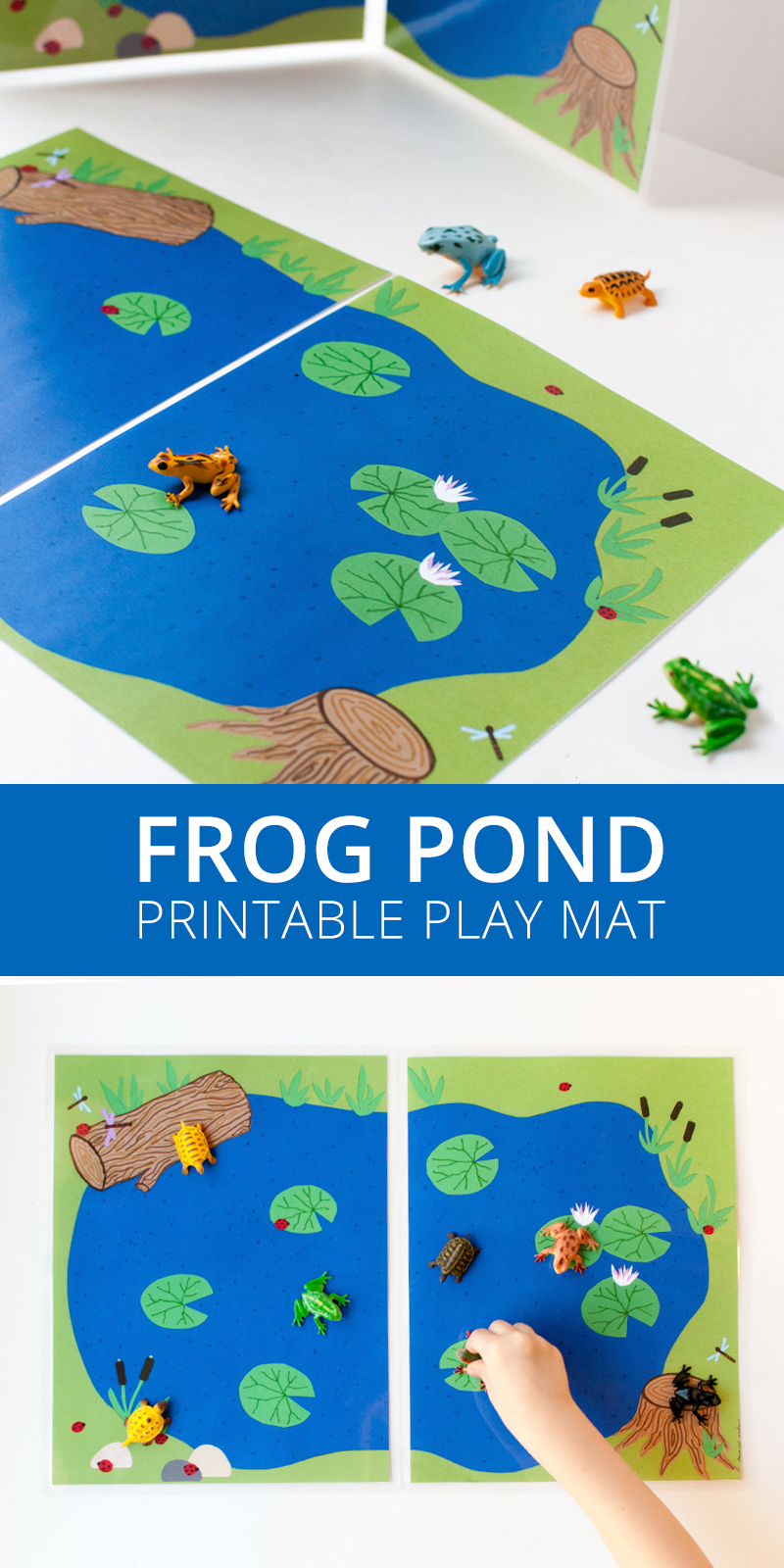 Frog Pond Play Mat
This play mat is perfect for frog and turtle lovers! It folds to conveniently fit in your diaper bag, making it perfect for a waiting room, restaurant, or church meeting. Grab a few frogs and you'll have an easy play scene that travels well.
Click here to purchase and download the printable files of the frog pond play mat for $3.50.
Click here for directions on how to print, laminate, and assemble into play mats.
These are tiny frogs I bought to go along with the pond mat, and these are the turtles I like.
---
5 Reasons Printable Play Mats are AWESOME:
Encouraging creative play
If you're tired of playing the same old storylines with branded characters, these play mats will be a breath of fresh air. These play mats have hand-made charm and are clearly designed with a child in mind. It's a wonderful way to encourage creativity: your child can take a character they already know and love into a new setting, where they can explore and make up new adventures.
Clever construction!
Part of the genius of this product is how you put it together, with materials you probably already have at home! Many people already own a home laminator (or have a crafty friend…), and laminating pouches are cheap! Then you just attached the two pages with a simple hinge made out of packing tape (seriously!) giving you a mat that lays flat for play but folds up for travel. Ingenious!
Check out the tutorial for making the mats here.
Perfect for quiet time and solo play
If you have quiet time activities, this is a great addition to your quiet-time toys. Play mats are perfect for solo play, as they rely on the imagination of the child to create stories and scenarios to keep them busy. You'll be surprised at how long such a simple set up can keep a creative child busy.
Slim and portable to take on-the-go.
The folded mat is the size of a regular piece of paper and weighs almost nothing, making it perfect to slide into your diaper bag or purse. We just pack a train or two in the diaper bag, and voila! You have something to keep your child busy and engaged, whether you're waiting at a restaurant or stuck in an office.
Unique and interesting gift, but still cheap and easy!
Once you've purchased the file, you can print up to five copies to give as gifts, making each copy less than 1.00 each. You'll spend a little to buy a pack of laminating pouches, but after that you can easily whip up a fun and unique gift for friends and family. Package them with an appropriate matching character for $1-2 and you've got a great birthday present for less than $5 total!
Instantly Available Upon Purchase
The files for the mats are available instantly upon purchase. You can print, trim, laminate and assemble in just minutes if you already have a laminator! Last-minute DIY-ers rejoice!
Get them on Etsy too! 
My sister also sells the digital files on Etsy if you prefer to order there, as well as pre-made versions of each mat.