I get asked quite frequently about camera recommendations, so here is my camera guide for compact or point & shoot cameras.
Update: The 2018 version of this Camera Guide is HERE.
Click here for the DSLR Camera Guide instead.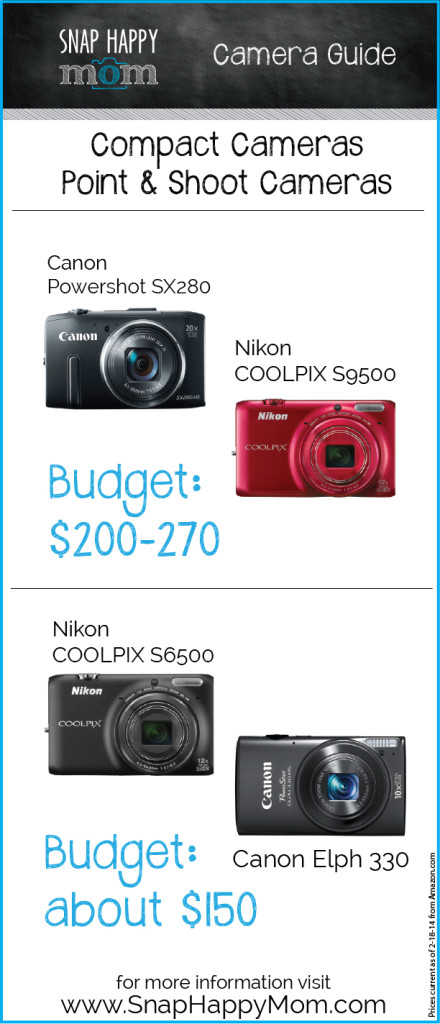 This camera guide focuses on compact cameras (also known as point & shoot cameras) at two budgets: 200-250 dollars and about 150 dollars. I recognize that everyone is at different price point, so I've included several options so you can decide which camera is best for you. I formulated this list based on personal experience with each of these cameras, and the help of an incredibly knowledgeable camera guy at my local camera shop. I spent hours grilling him with questions to make sure these were the best recommendations for affordable, capable digital cameras for moms this year.
I feel really strongly that you need to stick with a major camera company (Nikon and Canon, and then Sony for higher budgets). There are tons of companies that produce cameras as a sideline product, but the best way to be happy with your purchase is to go with a company that focuses all it's time and technology into making cameras the best they can be. Everything about the camera and how it works will be better and more intuitive if you invest in a company that makes cameras a priority.
Budget: $200-270
If you have a decent budget for a camera (200-250 dollar range) these are the compact cameras I recommend. There are so many companies and retailers out there for compact cameras, and they vary greatly in quality and capabilities. These two cameras are excellent, solid options that offer advanced options at very affordable prices. They will do awesome in low-light situations thanks to the CMOS sensor inside.
Both cameras have ultra-zoom capability, which comes in handy for outdoor and event situations. They also have external click wheels that allow for speed and ease of use in changing your settings: the internal menus that come on cheaper cameras are often clunky and confusing, and leave you fiddling with settings when you ought to be taking pictures! And while both will do great if you just point and shoot, they have advanced modes that give you a chance to grow and progress in your skills.
248.95 from Amazon (regular price: 279.00) Black, Silver
12.1 megapixels with CMOS sensor
20x optical zoom
Wi-Fi capabilities
Image stabilization
Full HD video
Manual Mode, Aperture Mode, & Shutter Mode
I really like the Canon SX280: it's my favorite in this price range, and I was very comfortable with it. The camera self-adjusts the lighting and focus as you play around with it, which was really nice (essentially if you point the lens at anything, the camera will immediately adjust the lighting and focus without you touching a thing). It has a 20x zoom, which is fantastic for a camera that size, and will come in very handy in diverse situations. I love the fact that it has manual/aperture/shutter modes! Even if you're shooting in automatic now, you'll be happy to have them as your skills and creative abilities progress. This camera also has Full HD video capabilities, which will serve you well as a parent, when your kids do spontaneous cute things. I dearly wish I had both video and picture-taking functions in one device, so the SX280's dual functionality is high on my list.
239.00 on Amazon
Black, Silver, Red
18.1 megapixels with CMOS sensor
22x optical zoom
Wi-Fi capabilities
Image stabilization
Full HD video
Advanced scene modes
The Nikon S9500 is a similar camera in abilities and price. It doesn't have the Manual/Aperture/Shutter modes, but makes up for it with a huge variety of scene modes. If you're unfamiliar with scene modes, they are presets that are configured for specific situations, like Snow or Beaches or Portraits or Sunsets. I was seriously impressed with the quality and amount of scene mode options on this camera! The Nikon doesn't self-adjust when you point it at a subject, which is not a problem, just a preference. It still auto-focuses everything when you hold the shutter button down halfway. The 9500 has awesome video capabilities, wi-fi connectivity, and image stabilization as well.
Budget: About $150
At about 150 dollars, you can get still get a decent camera. I recommend the Canon Elph 330 HS and the Nikon Coolpix S6500. These cameras will be a step down in price and zoom abilities: you'll get less zoom ability, no manual modes, and no video capability. Also, both cameras have internal menus, which take a bit more time and effort to navigate. Still, both cameras are solid options for the money and functions they have.
129.00 from Amazon (regular price: 179.00) Black, Pink, Silver
12.1 Megapixels with CMOS sensor
10x Optical Zoom
Up to 6.2 frames per second
Wi-Fi capabilities
Image stabilization
Both of these cameras have very similar specifications. I like them because they have CMOS sensors, which means they will do well in low-light situations (aka inside your house) and both have some form of image stabilization. Both also have built in wi-fi connectivity that allows you to upload pictures directly to social media without plugging in the camera.
143.00 from Amazon (regular price: 169.95) Black, Orange, Red, Silver
16 Megapixels with CMOS sensor
12x optical zoom
Up to 7 frames per second
Wi-Fi capabilities
Image stabilization
Note that the regular price for both of these cameras is just about 220 dollars, but I feel comfortable putting these in the under 200 range. This type of camera is perpetually on sale, and I always see it at the 150-170 dollar range. If not, price match to an online retailer or buy here from Amazon!
February 2014 update: Nikon just release a newer version of this camera, the Coolpix S6800, for $216.95. These two cameras have such minimal differences that you would be totally fine with either option. I'd buy last year's cheaper model!
If those are still over your budget…
I do recommend one very-basic camera at a lower price point, but I recommend it with reservations. The Canon Elph 115 is the one of the best cameras at the 100 dollar range. It offers 8x optical zoom and has a very sturdy camera body. Of all the many entry-level cameras, this one is one of the better ones. That being said, it is a very basic camera that will struggle in indoor situations: the CCD sensor is lesser technology and is one of the reason many parents are frustrated with the focusing lag and the fact that the camera doesn't take a picture right when you press the button. The high megapixels are just a marketing gimic: the sensor is what really makes the difference in photo quality. However, it is a decent no-frills camera for about 100 bucks that will tide you over until you can save for something that will perform will in a variety of situations, and will grow with your abilities.
87.00 on Amazon (regular price: 129.00)
16 megapixels with a CCD sensor
8x Optical Zoom
Video at a smaller resolution

If you are working with a limited budget, and any camera is better that no camera, then the Elph 115 is what you should get. If you have any kind of working digital camera, I would recommend saving your pennies for one of the cameras at about 200 dollars: I believe you will be much happier!
You may also be interested in the DSLR Camera Guide Guide.
Pin this if it was helpful!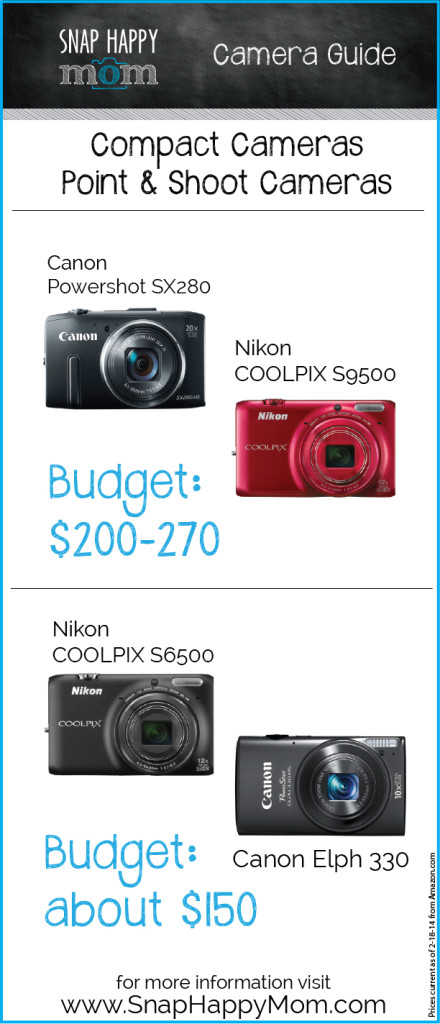 old image: