We just got this awesome 50 States Photo Map, to document all our travels as a family. We love it so much! It's a great conversation starter, and pretty much everyone who sees it compliments it.
We've done hours of research, and the Thunder Bunny personalized USA Photo Map is easily the best option. It's the right size, has a very fair price point, and can be personalized by color/font/style. It comes with three different choices of frames that are the perfect depth for their multiple layers of die-cut mats. Best of all, they provide handy software that lets you customize your photos to the exact size and shape you need, and easily send them to a photo printer.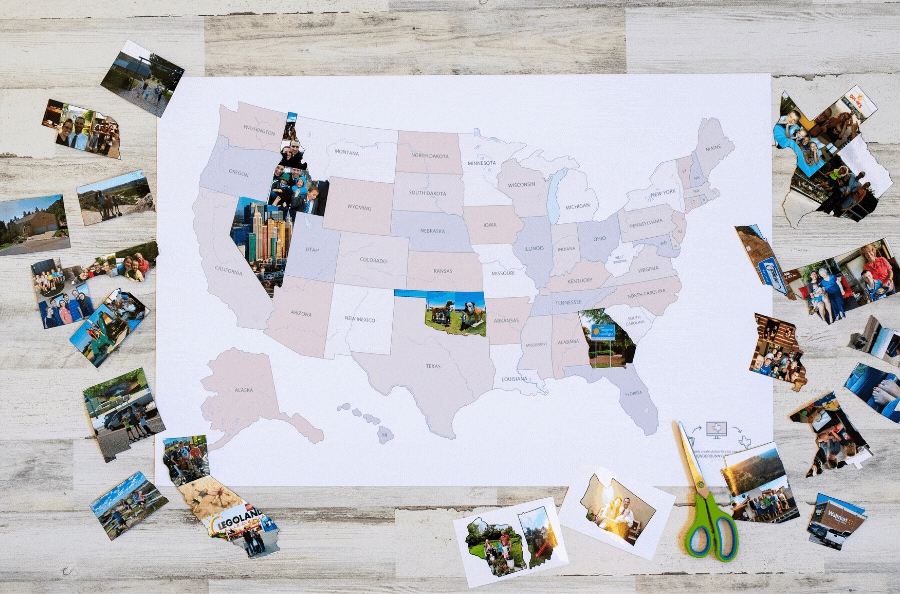 If you're going to make a personalized USA photo map, this is the way to go!
The 50 States Photo Map is available at Amazon, Etsy, and the Thunder Bunny Labs website. I recommend clicking through each to see if they are running a sale on one platform and not the other.
This is a fantastic gift! It could be an anniversary gift for your spouse, or a wedding gift for a new couple, or any kind of birthday or holiday! You can personalize it and wrap it up - your choice if you gather and print the pictures for them, or let them pick their favorites with you.
Read on for all the details about how this personalized USA picture map works.
AMAZING GIFT: A 50 States Photo Map To Show Off Travel Pictures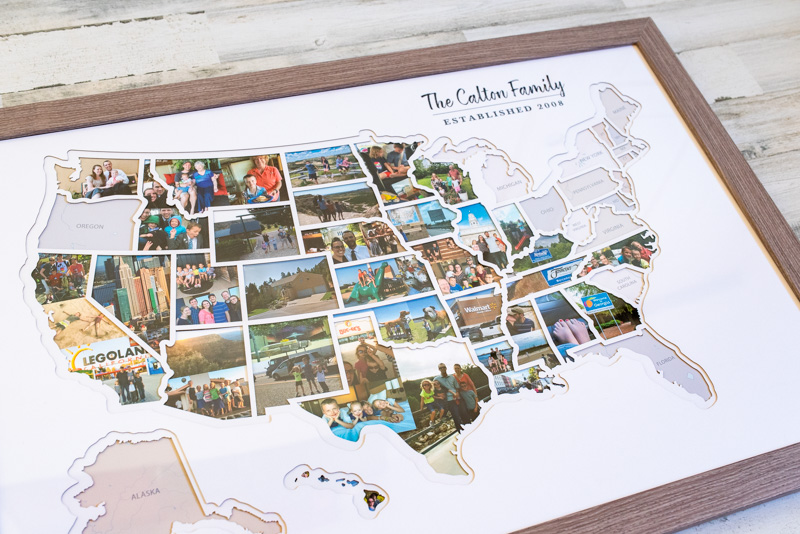 It's made of 5 layers.
One of the things that makes this option the best 50 states photo map is that it comes with several layers of mat and background. This adds really nice depth to the overall display, making it look very classy and high-quality.
First there's the cardboard layer (#1) that makes everything fit snugly, but this is completely covered by the actual background layer (#2). This layer is printed with the states in neutral colors, which will show until you visit them and add a photo. You'll cut out your states and use double-sided tape to attach the photos to this layer.
Then there is a white die-cut layer (#3) of all the state outlines. The beauty of this layer is that it makes all your states look clean and precise, even if you didn't cut them out perfectly! Some of those states are tricky, with all their jagged edges and river boundaries.
I think that this layer is what makes your finished map look so professional, and what makes the Thunder Bunny 50 States Photo Map way better than the competition.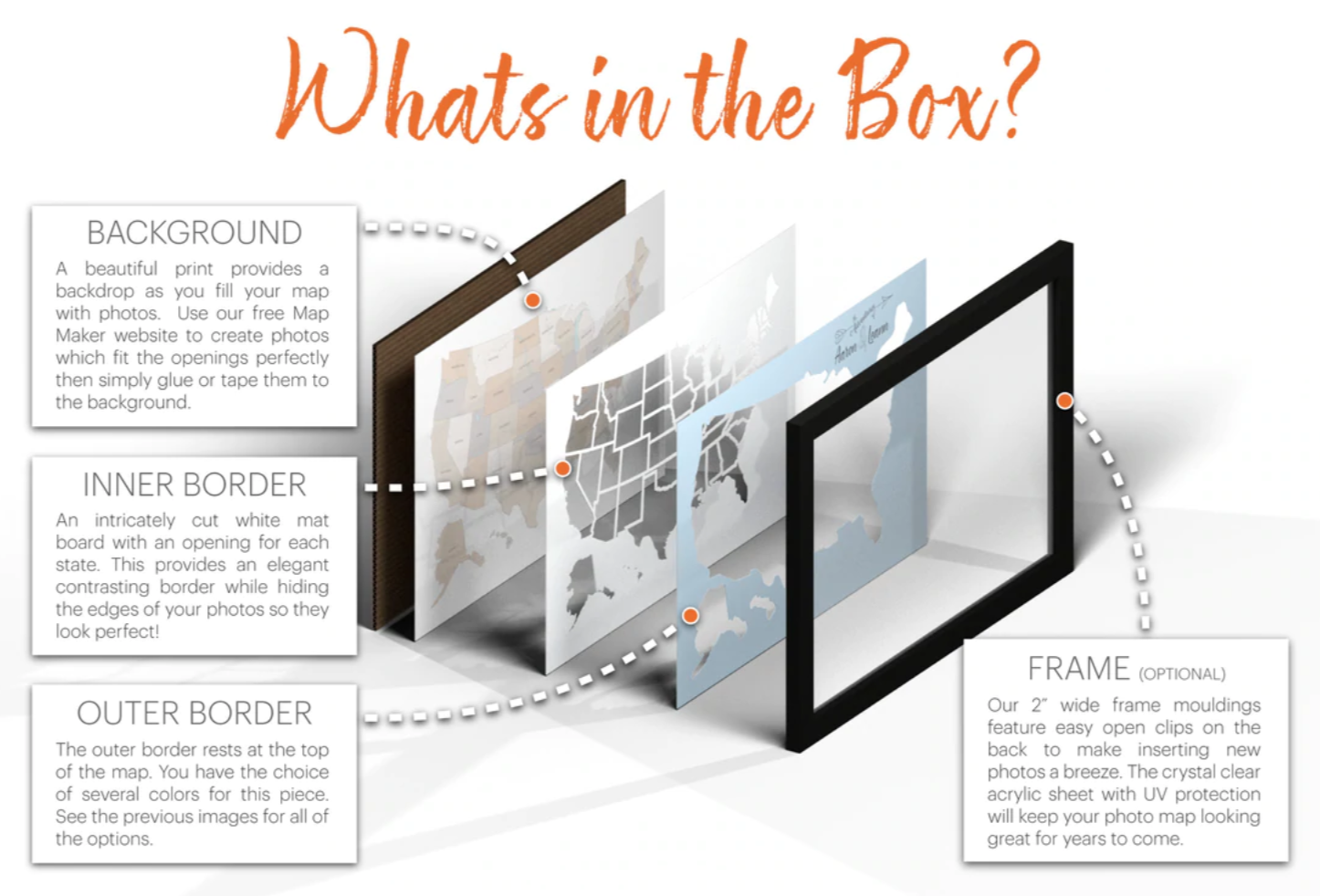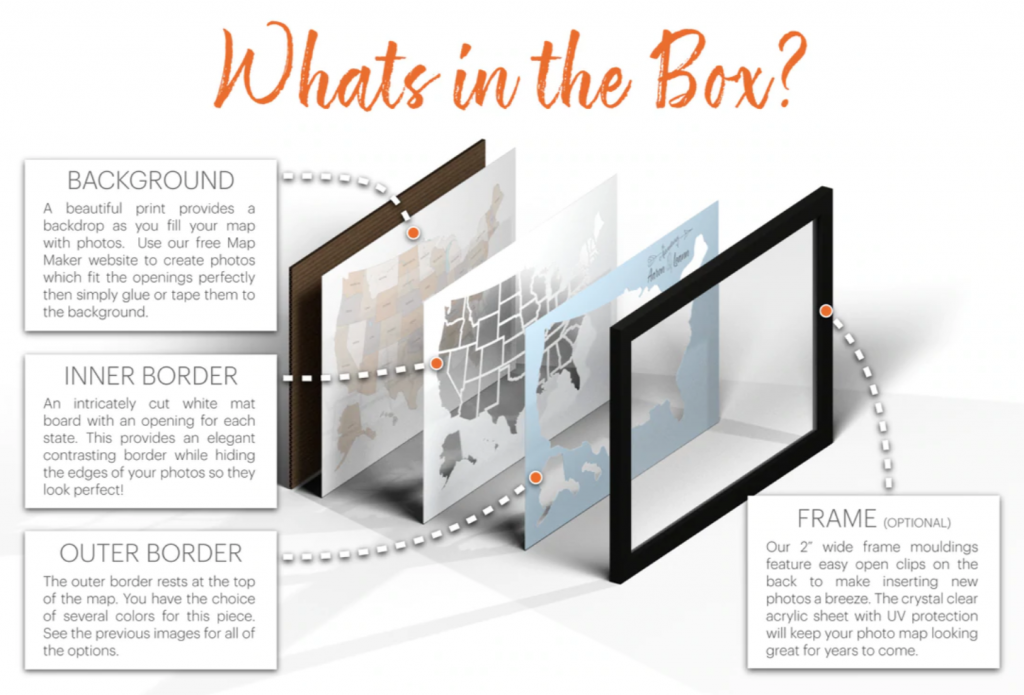 Then there is a laser-cut mat (#4) that just has the outline of the continental US plus Alaska and Hawaii. This mat adds another layer of depth to the finished product, and also comes in several colors!
You can choose from a medium gray (called Driftwood), a medium blue (called Caribbean), a dark green (Zucchini), Sienna, White, or Black. There is also an option that has the bordering states printed on it like an actual map so that Canada and Mexico are visible.
I ended up choosing the white mat since I wanted our pictures to pop against the white color.
Finally, there's a clear acrylic layer (#5) to protect all your photos. This layer comes with lined with plastic on both sides to protect it from any scratches while shipping.
All those layers come super well protected in a shipping box.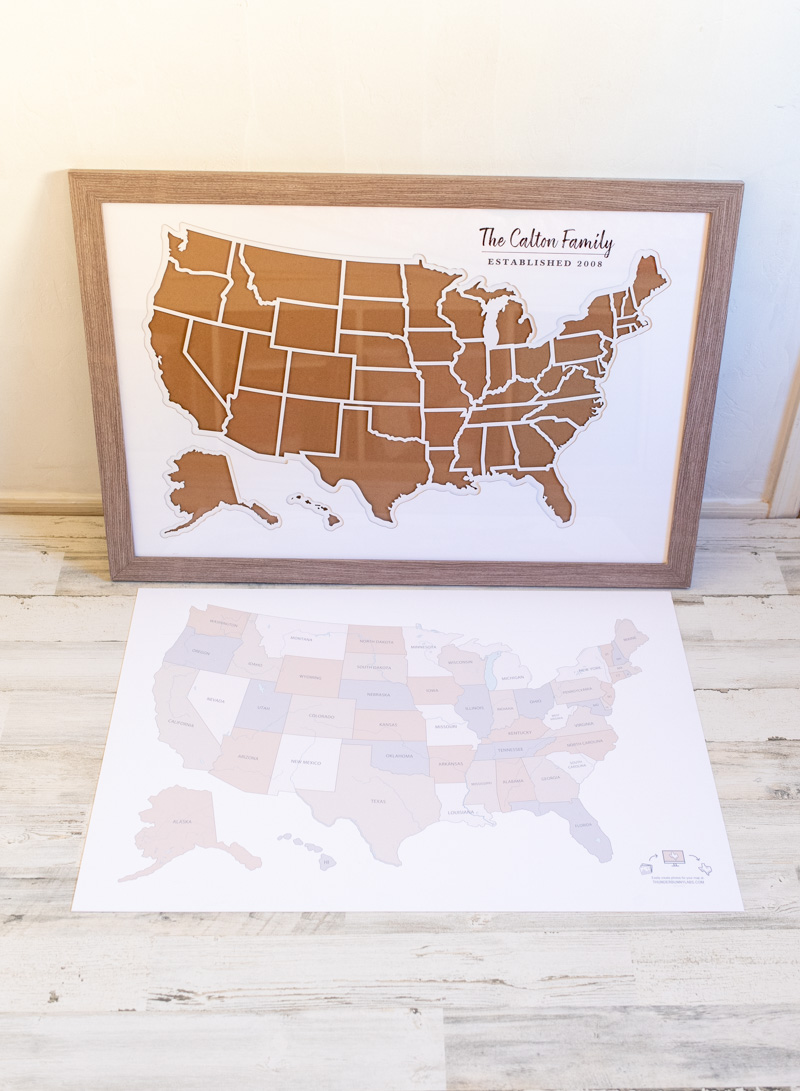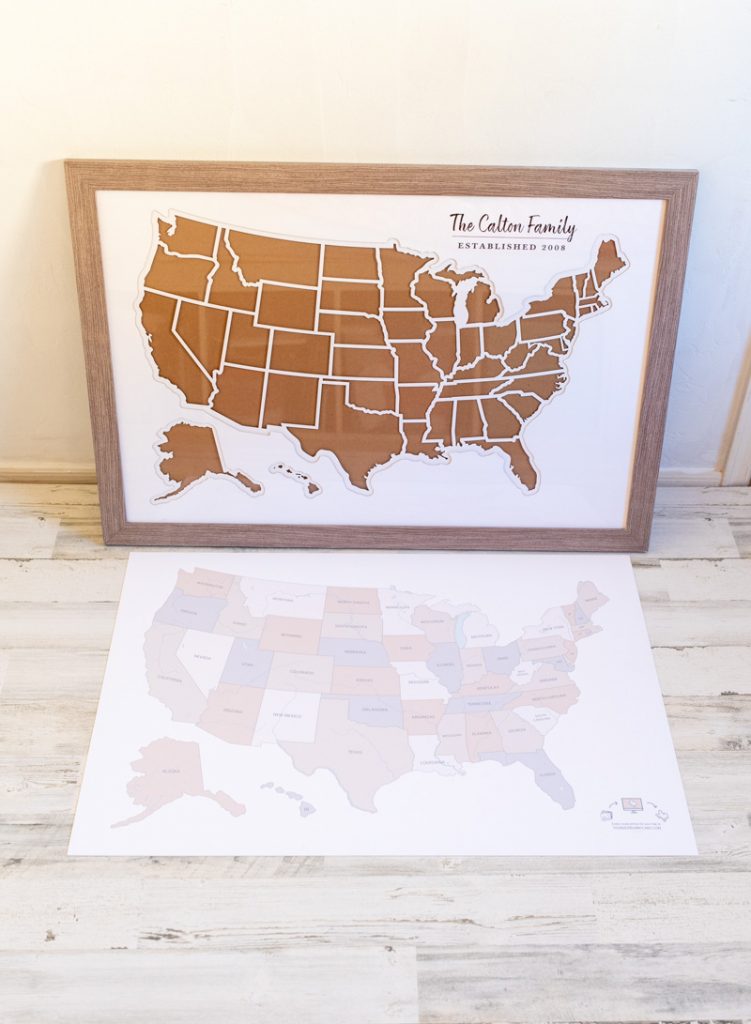 You can personalize it.
Thunder Bunny has 4 options for what style of words you can add to the USA Photo Map. There are different fonts and placements, depending on what you like. Then when you order you just list which numbered style you want and what words those should be.
The personalization is on the top map layer. We got our family name printed on it, to keep track of all the places our family has traveled together.
This is the link for the personalized version from Amazon. This is the link for the personalized version from Etsy.
A personalized US photo map would make a really sweet wedding present for a new couple! You can add their names and wedding year to several of the options.
There are 3 different frame styles.
You can choose a frame from Thunder Bunny in white, black, or weathered gray. It comes super well packaged, with all the corners protected in a big box.
Of course, you can buy this US photo map unframed, but it's much easier to get the frame they have already prepared to fit their product perfectly.
Basically, all these options mean you can absolutely create a personalized USA Photo Map, in whatever color scheme or style you want!
I debated a lot about the frame color and ended up going with the gray frame. I think the black would have been really classy too though!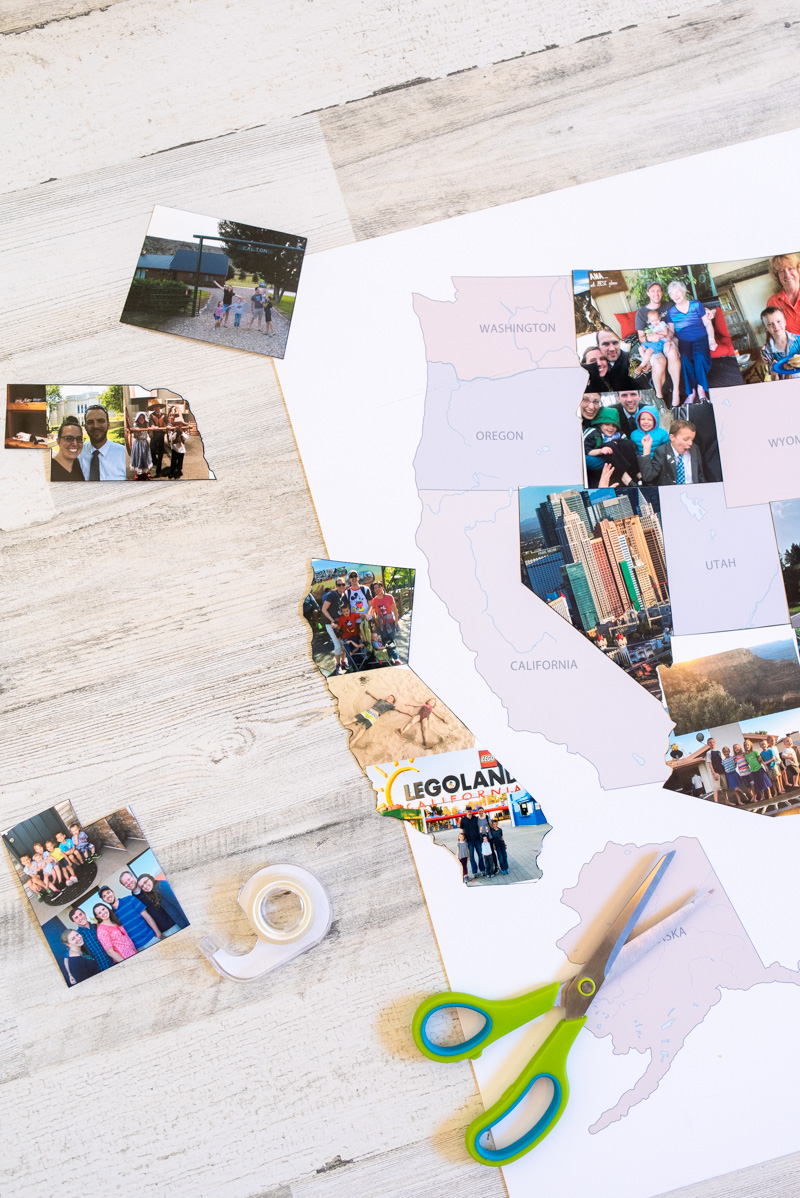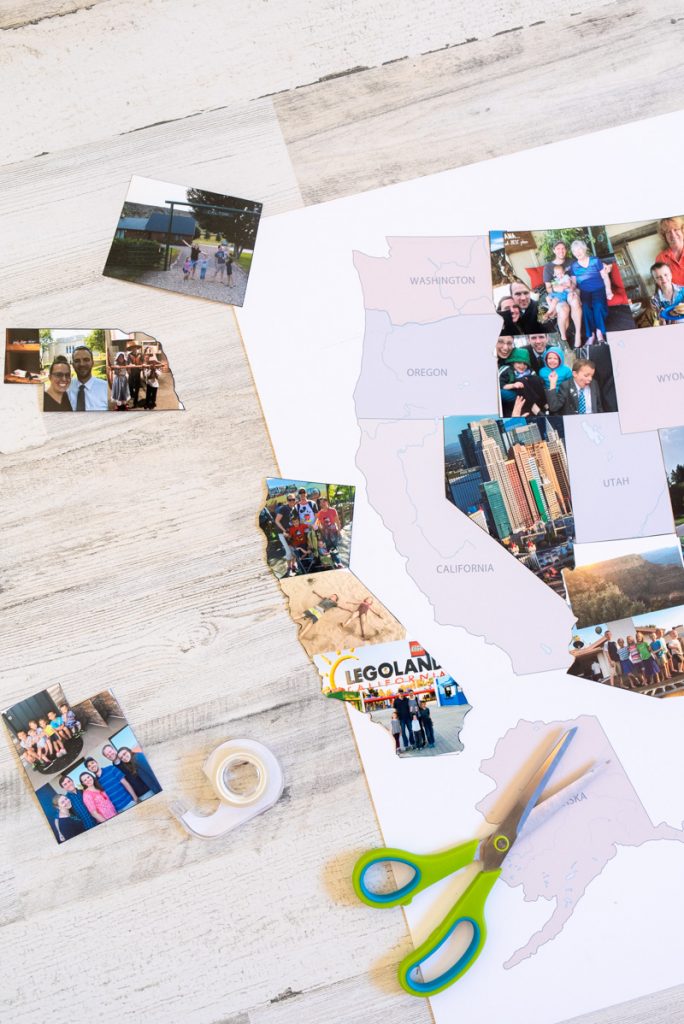 How Do You Make The Photos Shaped Like A State?
Printing state-shaped photos sounds like it could be a huge headache. Everyone wonders "how do you get the photos in the right shape?"
Don't worry - this company has already solved the problem.
Thunder Bunny offers a map maker on their website, that lets you upload pictures and print them in the exact size you need!
It is truly genius, and the only way I would have undertaken a project like this.
Here's the mapmaker site: https://www.thunderbunnylabs.com/mapmaker
You'll have to make an account, but it's super easy and convenient to have all your pictures available in their software. Then pick your template; I wanted the 50 states picture map template, but you can pick whatever one you're working on.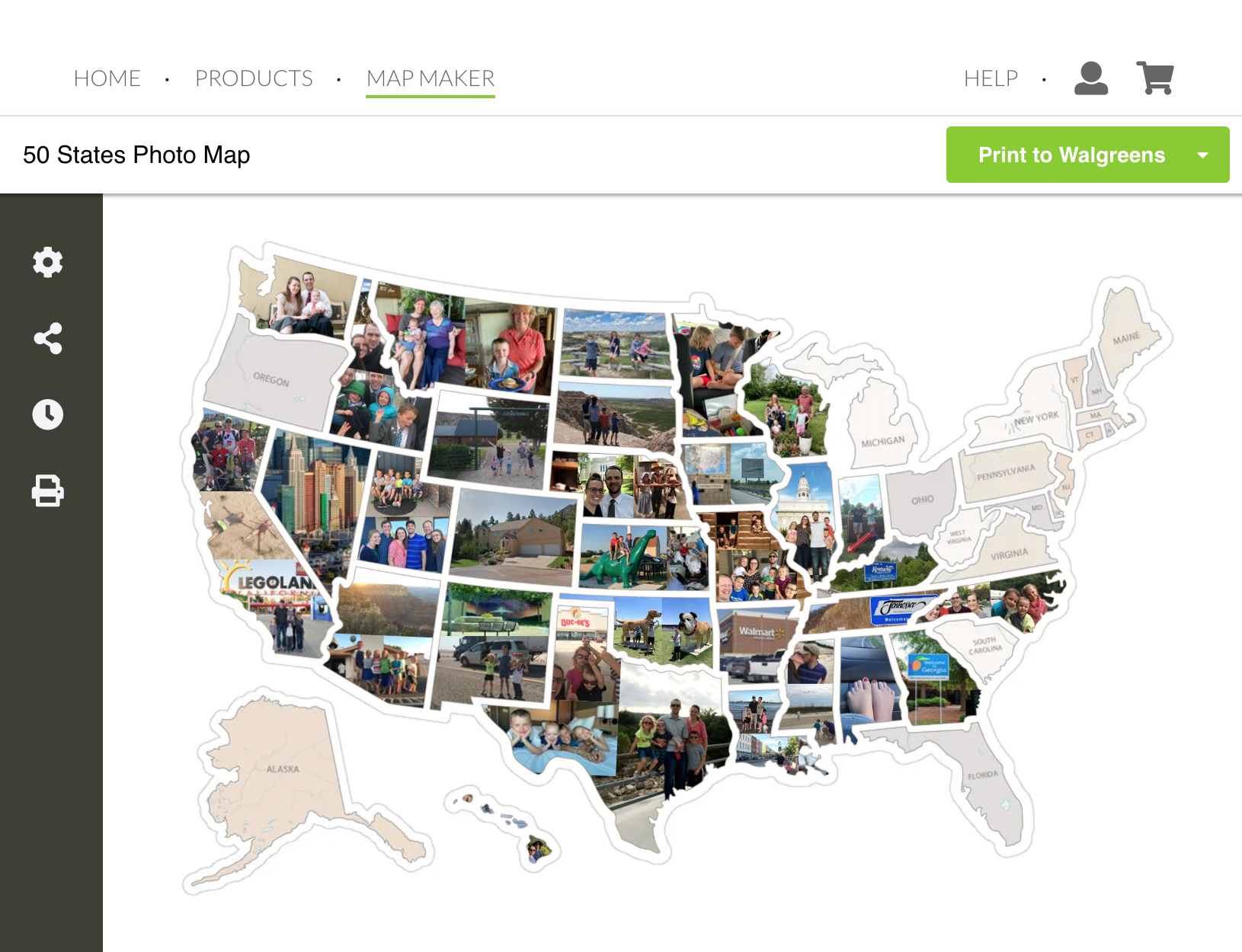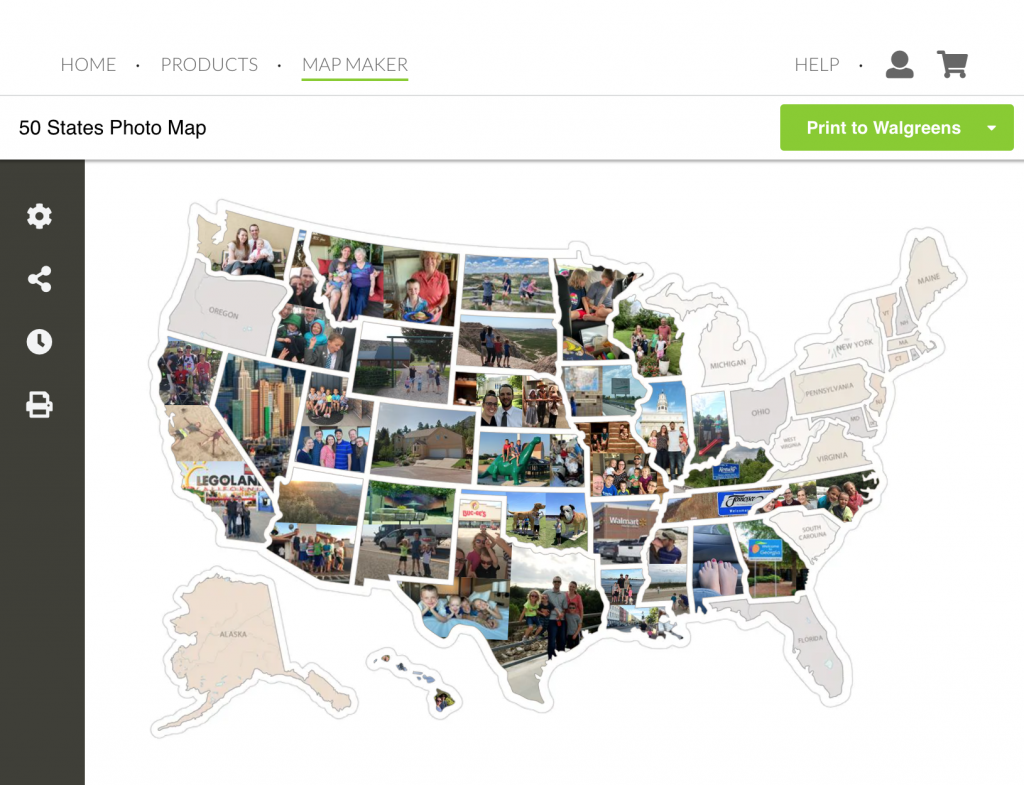 The Thunder Bunny Labs Map Maker
Then, you click a state and upload the photos you want to put in that state. You can drag and drop a photo into the template, or find it in your files.
The map-maker has functions to scale, rotate, and move your photo around the state template. It makes it super easy to adjust your picture to be the most pleasing in some of those odd shaped states!
You can even add multiple photos to each state to make a collage. (None of their competitors have this ability!) This is super helpful for bigger states like Texas and California, or frankly any of them. You can add up to 10 photos per state.
One of the things I loved was that you can preview what your map looks like as you make it! Each state fills in on your map as you add pictures to it, and everything is saved for each time you print a batch of photos.
That makes it easier to choose between picture options when you can see what states it borders.
For example, you might realize a scenery shot looks better next to a close-up in a bordering state. If you care about aesthetics, this really helps you design a really beautiful 50 States Picture Map.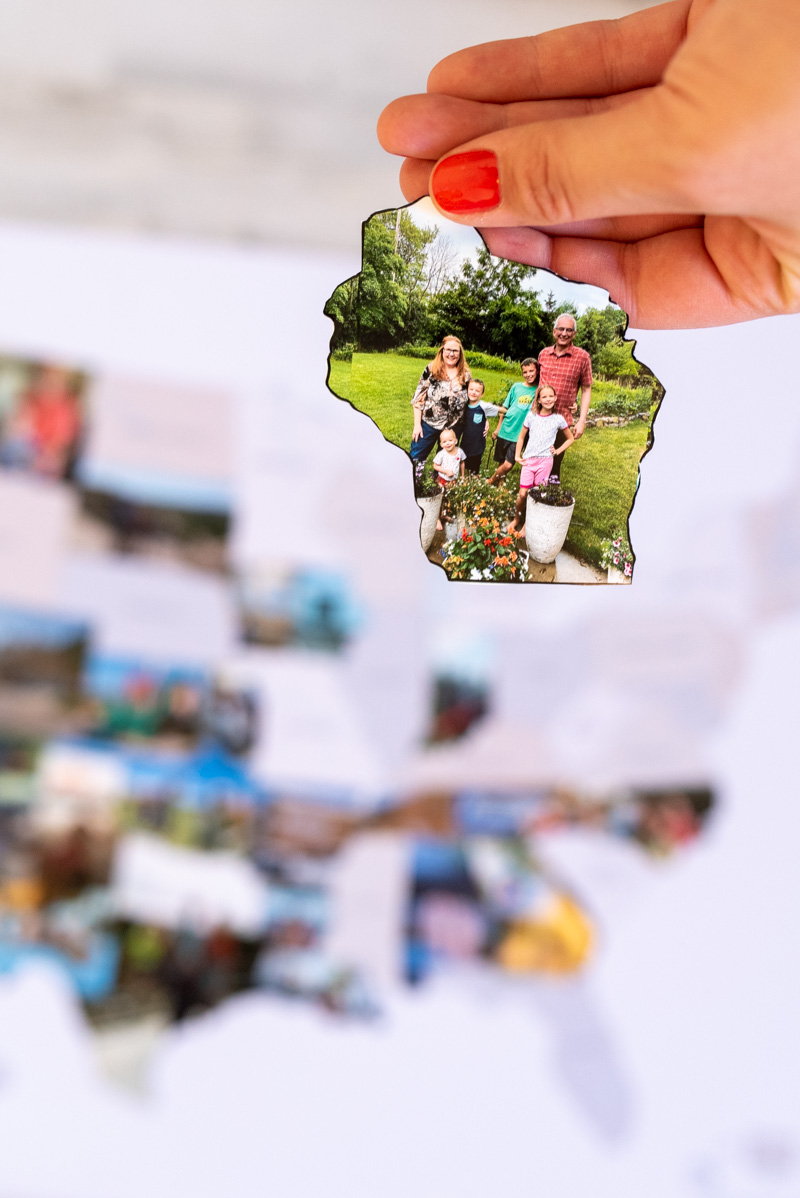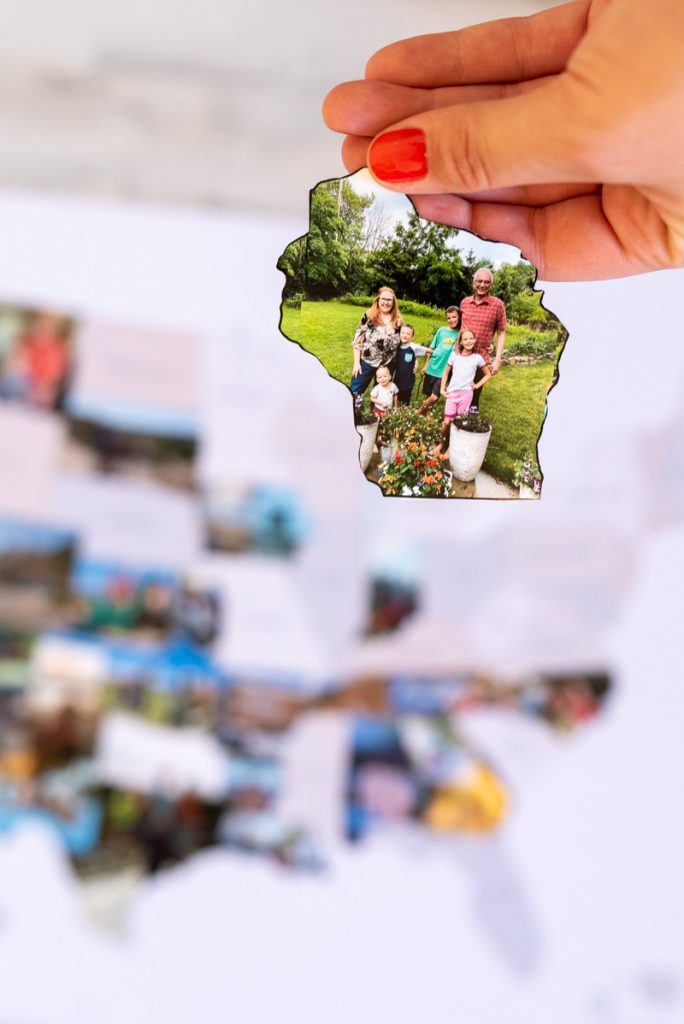 How Much Does It Cost To Print Photos?
After you've used the map maker, you have three options to fill your US Photo Map.
You can print your photos at Walgreens using the built-in function
You can download the files and print them at a printer of your choice.
Or, their NEW option is to order photo stickers (no cutting necessary!)
Walgreens is obviously super convenient, especially if you want to use same-day pickup. It's a matter of only a few clicks and they go right to Walgreens. (You don't order in the Walgreens website or app - just start in the Thunder Bunny Labs site and it connects it automatically.)
Or, you can just download the files and print them where ever you'd like. To do this, you just click the green Print To Walgreens button and you'll see the dropdown option to download a JPG file.
Either way, you'll need a certain number of 8x10 and 5x7 images to fit the larger states, and then everything else goes on 4x6 prints.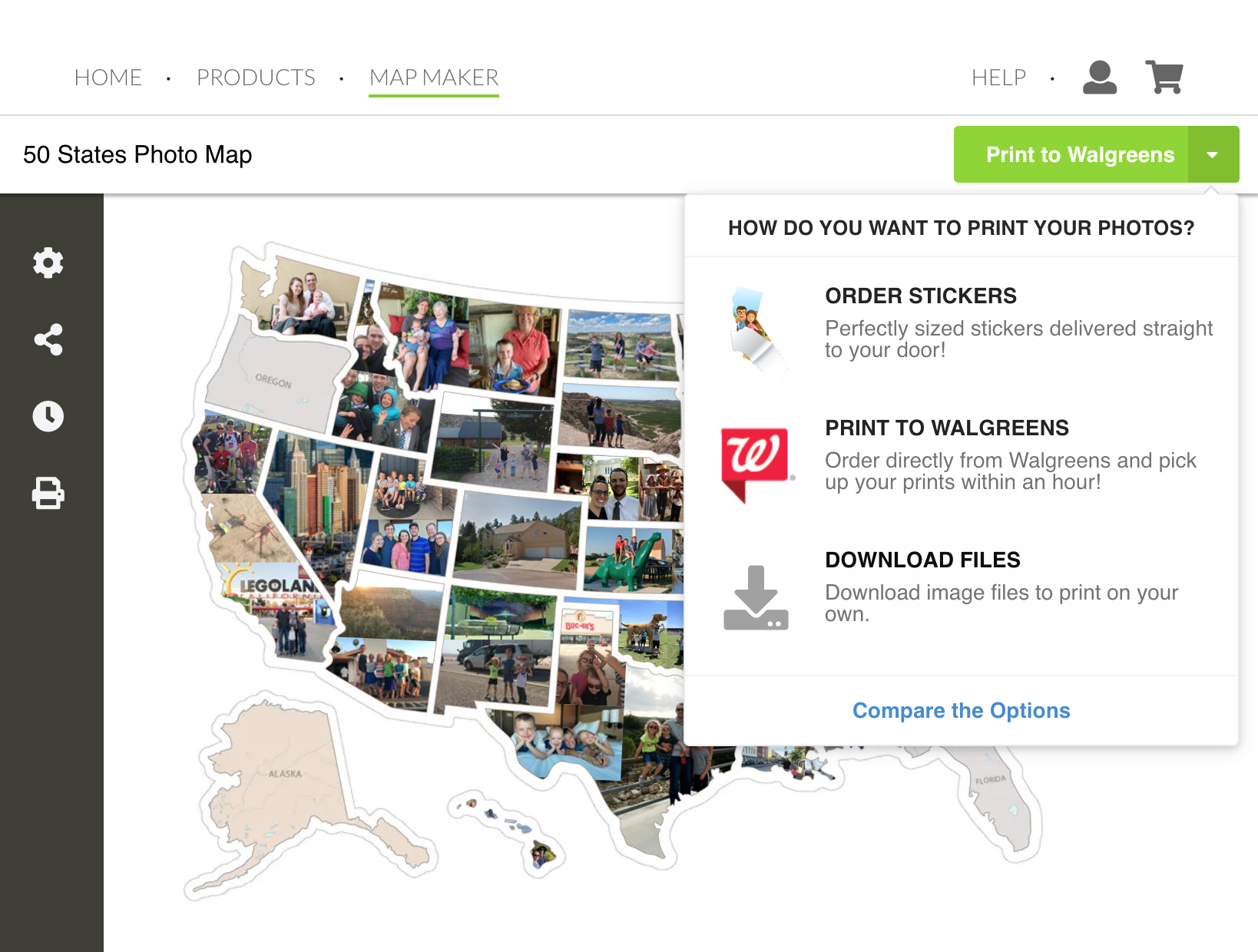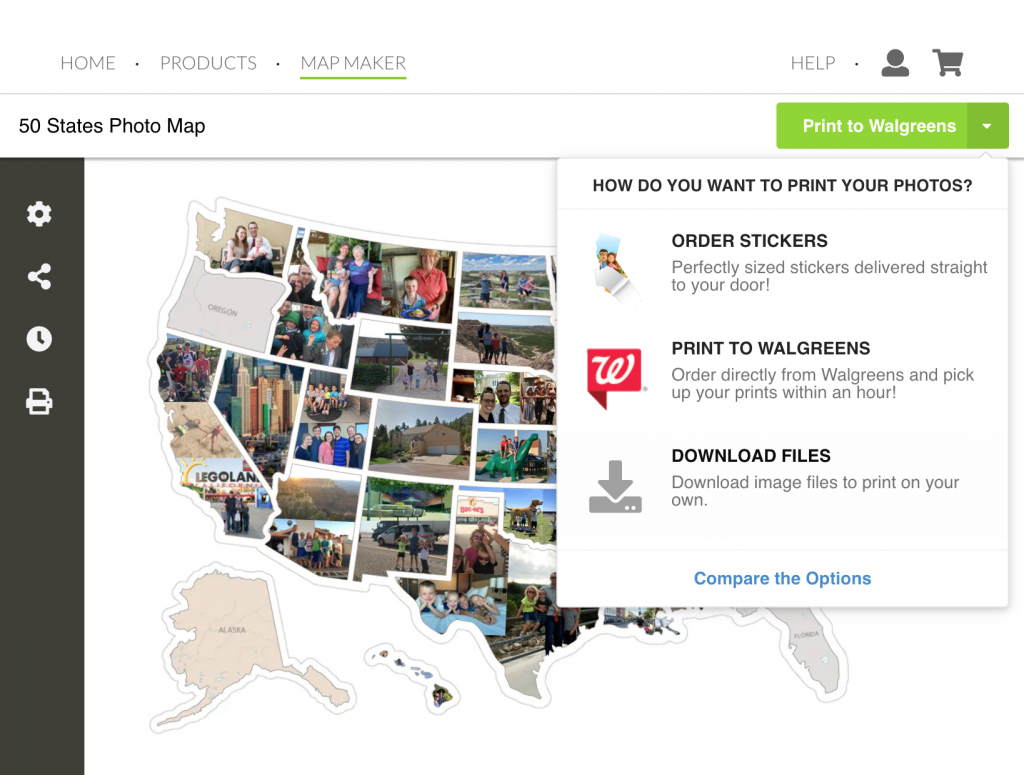 Here's what you need to fill a 50 States Photo Map:
We calculated 3 big 8x10 inch prints (for California, Texas, and Alaska), 8 medium 5x7 inch prints (for the states like Nevada, Montana, Utah, etc), and then 39 more 4x6 inch prints for the smaller states.
One of the things I really like about Thunder Bunny's map maker is that it automatically combines small states onto a 4x6 print if they can fit them. For example, Hawaii fits nicely on a 4x6 print with many different small states like Ohio.
It's cheaper to combine states where you can, but how much money you save just depends on the order you are ready to print your photos.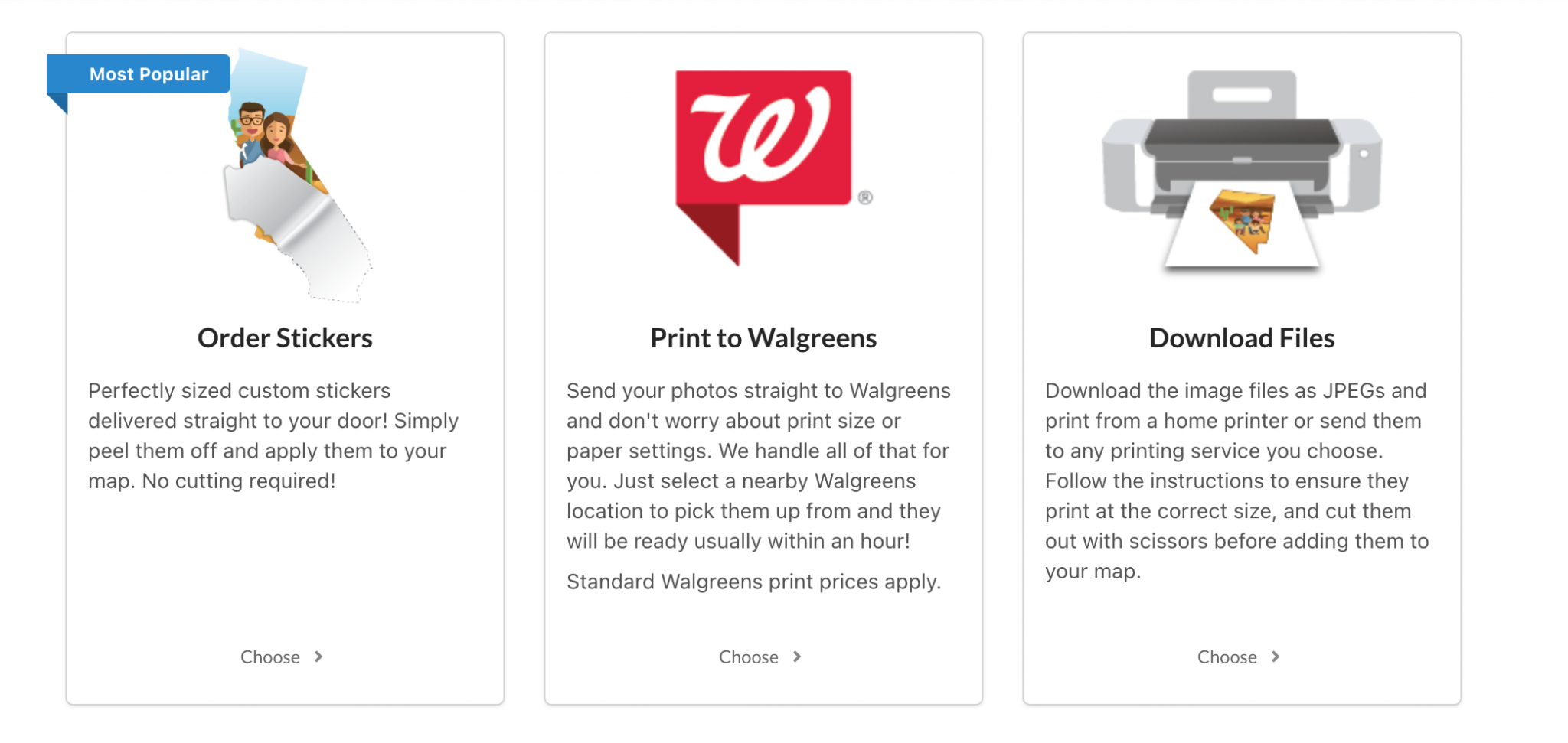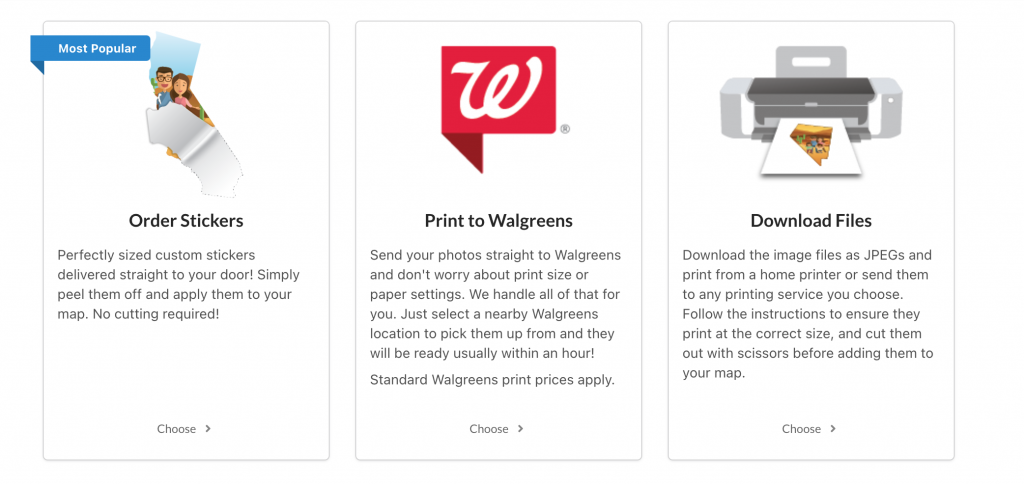 Option 1: Estimated Cost of Using Walgreens To Print
The Map Maker is automatically set up to print at Walgreens. It's super easy to just click the "send to Walgreens" button and choose your location. You can even use the same-day pickup to get your prints in about an hour!
Your estimated cost would be:
3 Large States x $3.99 = $11.97
8 Medium States x $2.99 = $23.92
<39 Small States x $0.35 = 13.65
Total: $49.54 to print at Walgreens
It's about $50 total to print all the photos you need at Walgreens for your 50 states picture map.
Option 2: Use an Online Printer To Save
You could also save out your images from the map maker, and then print them somewhere else.
Online printers such as Mpix and Shutterfly usually offer better quality prints and often have sales that make them cheaper than a local big box store.
However, you'll also have to include shipping fees and whether or not you can combine it with other products to hit free shipping.
Your costs will vary here, depending on sales and their pricing. But here's the same scenario at other retailers.
Printing at Mpix (Full Price listed, but there are often sales)
3 Large States (8x10) x $2.99 = $8.97
8 Medium states (5x7) x $1.49 = $11.92
<39 Small state (4x6) x $0.33 = $12.87
Total: $33.97 to print at Mpix.
Printing at Shutterfly (Full Price listed, but there are always sales)
3 Large States (8x10) x $3.95 = $11.85
8 Medium states (5x7) x $0.99 = $7.92
<39 Small state (4x6) x $0.18 = $7.02
Total: $26.79 to print at Shutterfly.
Obviously, it all depends on how many states you're printing, shipping costs, and if you want the convenience of same-day pickup or you're willing to wait. The beauty of it is you can make that decision each time you print states for your USA Picture Map!
Mpix or Shutterfly will give you cheaper prints if you have a lot of large states, so that might be a good option for your first order.
But if you're only printing a few at a time then Walgreens is quite convenient, especially since it's all connected inside the Map Maker system. You choose!
Option 3: Photo Stickers Now Available!
Thunder Bunny Labs now offers printed photo stickers of your photos! It's one of the options in the dropdown. These stickers are precut in the correct size and shape - just peel and stick, no cutting.
The only trick is that stickers change the cost of filling your map considerably. However, it might be worth it for the time and effort of cutting out the states yourself.
Your cost for stickers would be:
5 Large States x $5.00 = $25
35 Medium States x $2.50 = $87.50
10 Small State x $1.25 = $12.50
Total = $125 to fill your map with Thunder Bunny Labs Stickers
So it's 2-3x as expensive as printing photos and cutting them yourself. It's certainly convenient, so if you're not crafty, this might be a good option!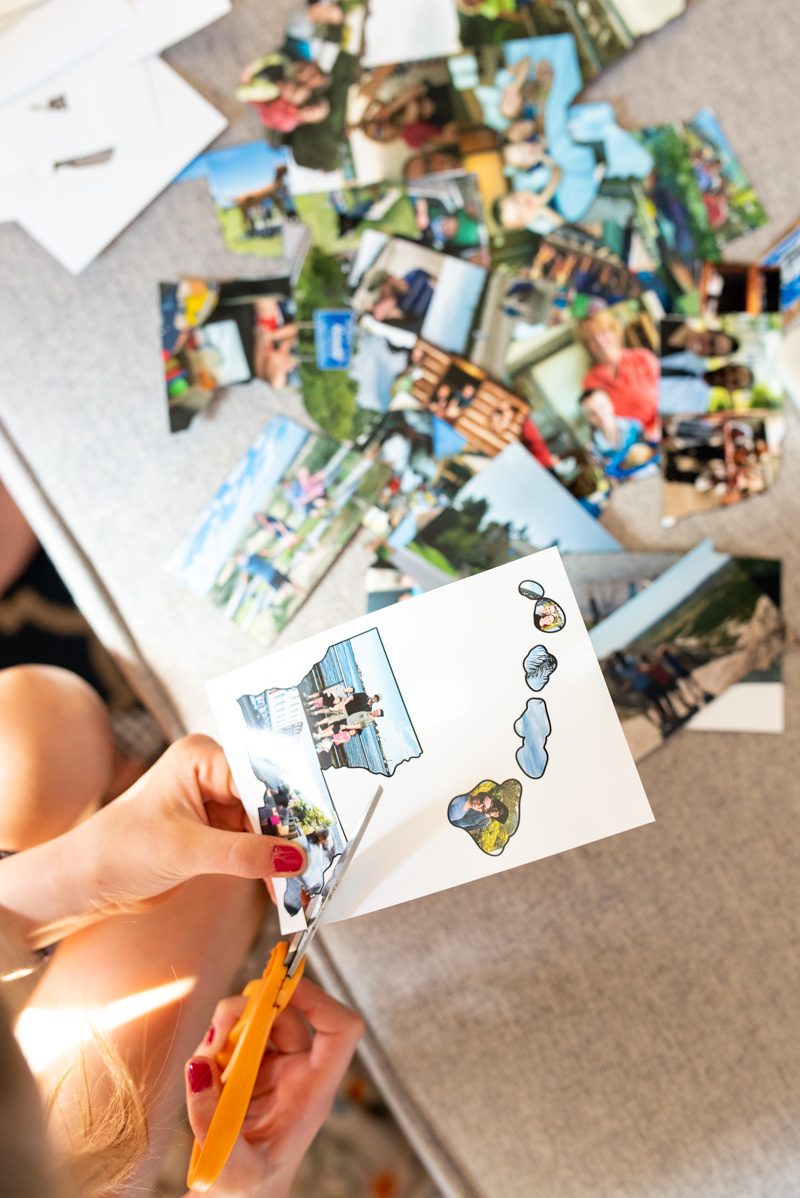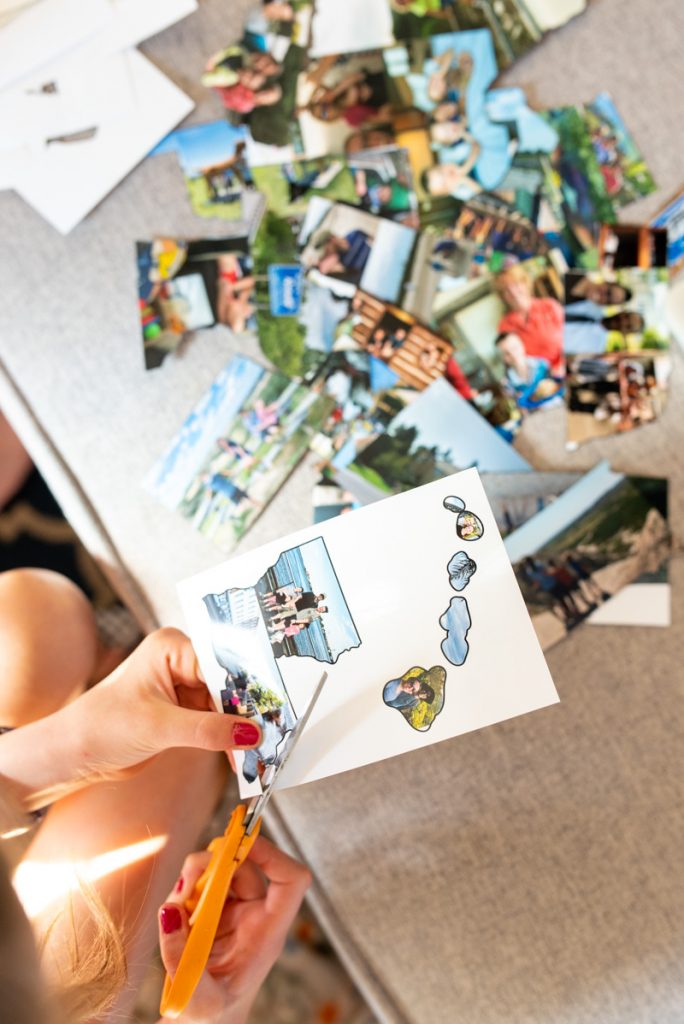 Cutting out and affixing your photos
Once the photos were printed, we found it really easy to cut out our images. They are already perfectly sized, so it was just cutting them out on the line!
Since I had a ton of pictures to add at once, we just had a cutting party and got them all done in a few minutes.
One of the beauties of the multiple layers is that you didn't have to be perfect about all those crazy river boundaries! The photos will be sitting behind a die-cut inner "window" layer with all the states, which makes the finished product look super professional.
I didn't cut out individual Hawaii islands either, since the layers would cover that up too.
Then I just laid that bottom state layer on the floor, and used double-sided tape to attach all the photos ...It was way easier than making tape loops! Once your photos are all on the bottom layer, just stack up the layers and carefully slide them into your frame.
This frame is especially awesome because it's deep enough for 5 layers and is very durable, for taking things in and out a lot. Just flip it over and hang your USA picture map. Tada!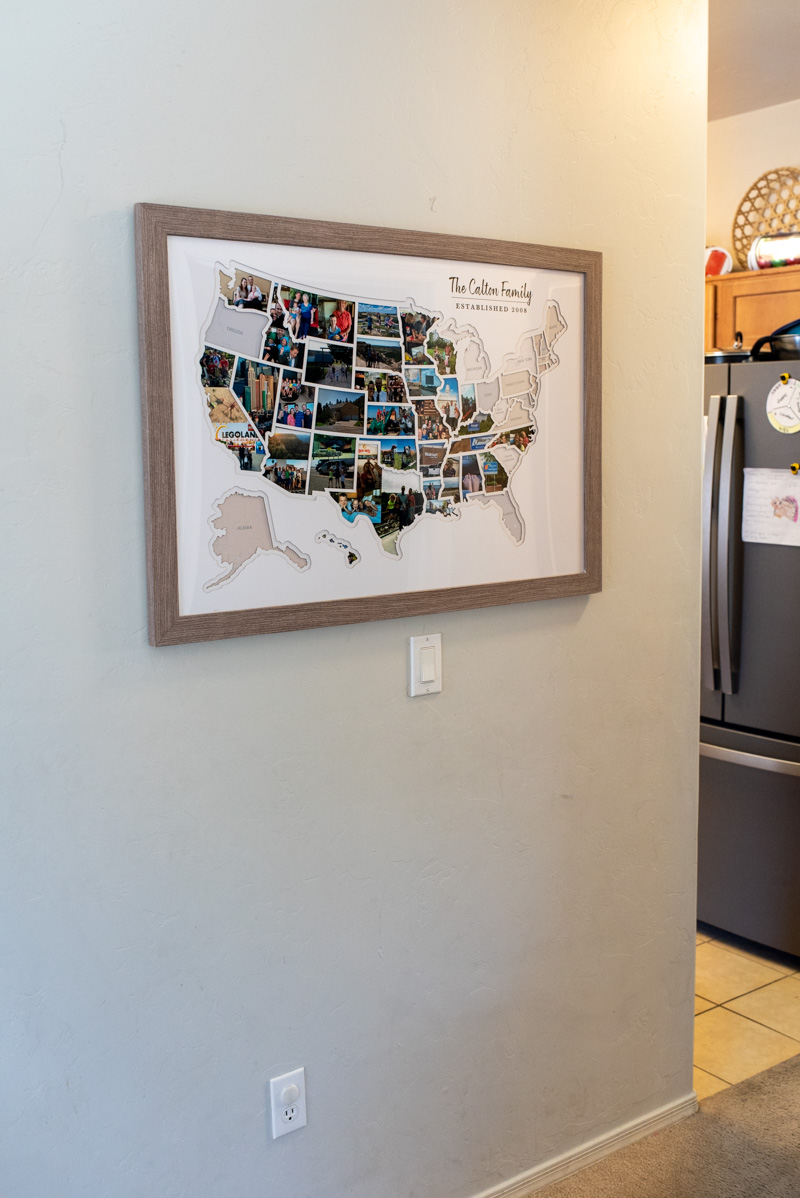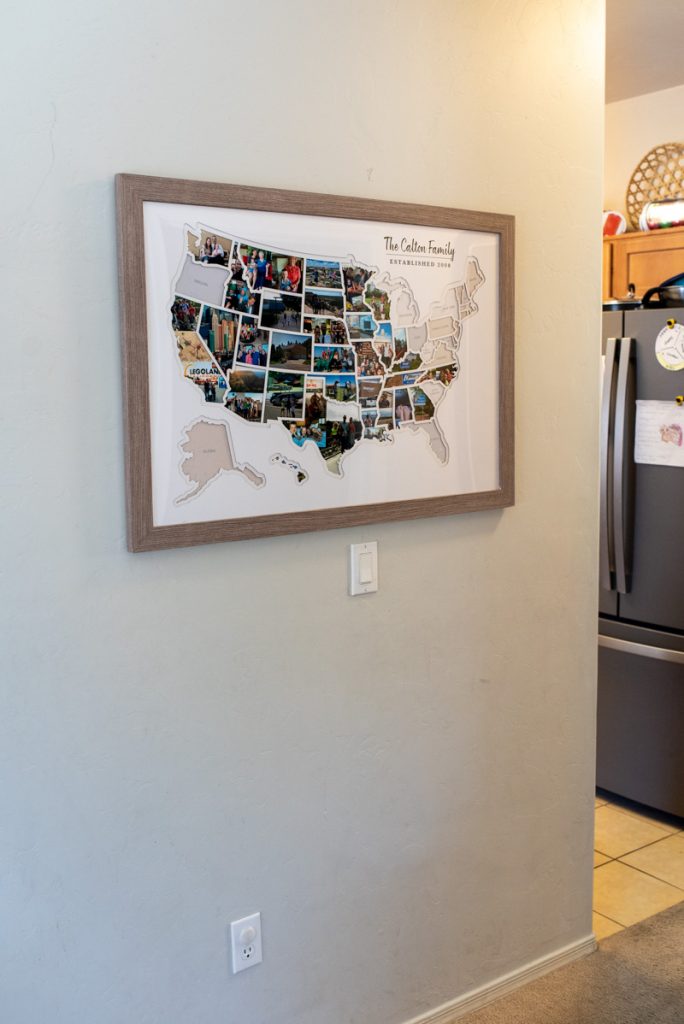 How Big Is It?
This 50 States Photo Map is 36x48 inches (3 ft by 4 ft). The 5 layers are all the same, and stacked together.
I chose to buy the frame directly from them, and it's high-quality. The included frame adds another two inches on every side, and it comes with heavy-duty hardware already attached. It also has cool clips that make it easy to access the back of the map, to slide your layers in and out.
The Thunder Bunny Labs frame is definitely the best option for a Personalized USA Photo Map. Even if I were to get a different frame on amazon, it's not likely it would be deep enough to handle their 5 different layers: (the cardboard back, the sheet you put the puts on, the cutouts of each state, the cutout of the entire US, and the clear plastic layer.) So I was very pleased with this frame.
Everything comes super well protected in a shipping box. We had no issues with chips, scratches, or anything.
Overall, we were incredibly impressed with our 50 States Photo Map.
We've filled it with photos, and now we're itching to go on a back east trip! Since we're missing a whole lot of states over there. And darn Oregon, for some reason?!
It's been a delight to go through old pictures and reminisce with the kids about all the places they've been (about 30 states for the oldest kids - the younger ones missed a few trips we took before they were born.).
I think a USA picture map like this is an excellent present for someone who loves to travel or WANTS to travel. It's the perfect way to display some adventures and a great conversation starter.
You can buy this USA Photo Map is from Thunder Bunny Labs, which is widely available on Amazon, Etsy, or their own website.
Not sure if this is the right option?
I also did a write-up about other maps I researched, so you can save yourself some time and check that post for two other photo map options are out there.
However, I do believe that the Thunder Bunny Labs US Photo Map is the best pick - you really can't go wrong with the quality and cost!