If you have a DSLR camera, you might know about shooting in raw. I'll have to cover the pros and cons of working in raw another day, but here's an example of the MAJOR reason for choosing to shoot picture in raw format. You can "save" or fix pictures so easily!
Here's Brighton in her Aunt's lap at the beach. It turns out I over exposed the picture, and it looks way too bright:
Umm, does she even have a shoulder? It's seriously washed out. And you can't even tell they are at the beach! This picture has potential, but needs some help.
Never fear, I took this picture in RAW format. And it can be saved.
Here's what the picture looks like after opening it in Adobe's Camera Raw platform.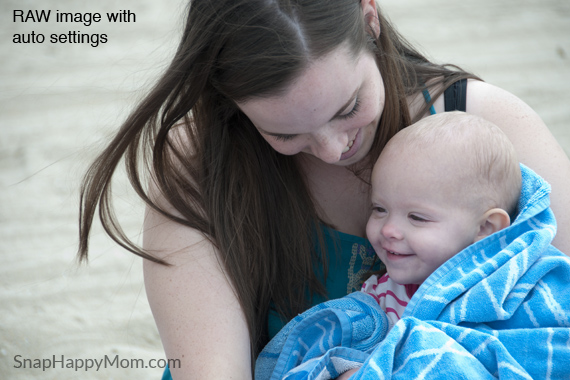 All I did was hit "auto" for the exposure settings and behold, Aunt has a shoulder and Brighton has a head! It's better already.
This is possible because of the raw format. Long story short, raw format is a not exactly a picture, it's the complete record of all the information from your camera's sensor. All that information is read as an image that is easy to manipulate and fix. Then you can save an actual image file like jpeg or tiff, but your original camera files were never touched.
In our example, the camera recorded information that defined the Aunt's shoulder, the back of the baby's head, and the sand. That information exists, but the sun was so bright that everything appears to be bright and washed out. Editing the raw file allows that information to show up again, and define the sand and the edges better.
The point is, a jpeg file can be edited, but everything you do to it is technically destroying information. Raw editing is nondestructive, because you are changing how the information is read, not the information itself (for instance, telling the darks to appear darker, or the red areas to look brighter). You can "rescue" many pictures that were taken in raw that would be a lost cause if they were taken as a jpeg.
Here's that same picture with a few custom setting applied (white balance, contrast, brightness, etc). It's a cute picture after all!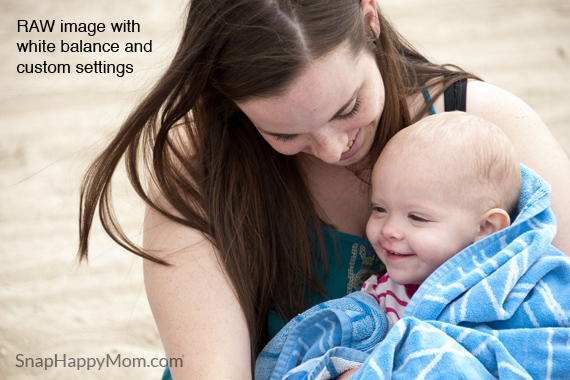 If I had taken this as a jpeg file, then I'd be stuck with something like the top picture: washed out and too bright. I might be able to make it look slightly better, but it would be a harder and longer process, and my efforts to fix certain areas of the photos would make other areas look funny. It's way better to shoot in raw, fix things in a few clicks, and then export to a jpeg file.
It took a long time for me switch over to shooting in raw, but I am so glad I did. There are so many pictures that I've edited to a useable level that were not acceptable in jpeg. Give it a try!
For a more specific definition of the raw format, check out this post and for more information about how to open and utilize raw images see this post. Any questions for me?