Large group sessions can be stressful and overwhelming even for the most seasoned photographer. You have tons of people (usually of all ages) that you're trying to get to pay attention, look in the right direction, and smile. Sometimes people cooperate, and sometimes they don't.
Through my years as a professional photographer, I've picked up a few tricks to help make group photoshoots a bit easier.
Here's are my top 3 tips to help any photographer deal with the stress and tension that comes from a session with a large family!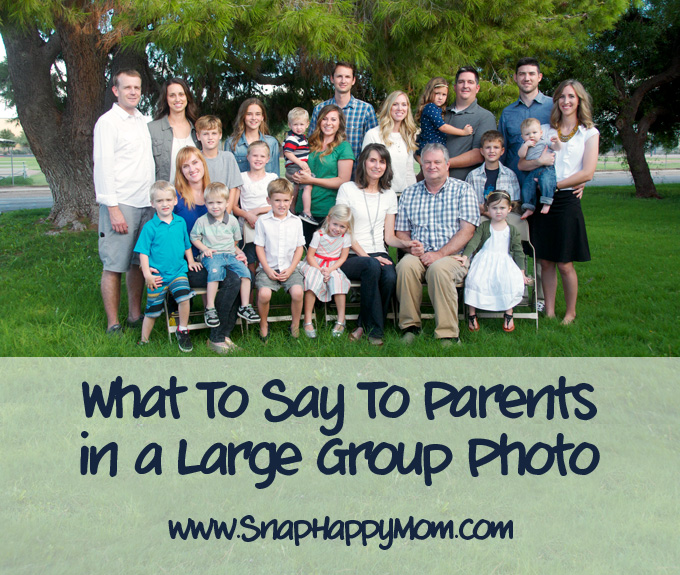 1. Tell the parents not to worry about their child's antics.
I've photographed a lot of large groups and families, all with their own fair share of grumpy, tired, shy, distracted, or misbehaving children. And I've come to a conclusion: pretty much nothing mom or dad says to this child is not going to help the situation.
Most large group photos happen in conjunction with a family reunion or event, so it's probably been a long day already. The parents of these kids are likely stressed, frustrated, or even embarrassed about the situation, and that pressure affects how they communicate with their children.
I know it's instinctual for parents to turn to their child who isn't looking at the camera and encourage them to behave. Unfortunately, it usually makes things worse!
If mom is talking to her child, then neither of them are looking at my camera, which means I have two people to worry about head-swapping later.
Also, do you know any child that immediately perks up and smiles if mom threatens them to behave? Nope, me either.
It doesn't matter if the kids are shy, distracted, or seriously moody. When parents desperately urge their kids to smile, those kids will get more and more stubborn. And whether it's a parent's desperation or a grumpy kid, it won't look good in photographs.
I recognize that these parents have the best intentions, but there's something about picture day that makes everyone's emotions run high.
As a photographer, I've seen this happen over and over, and I've started giving the adults some firm advice right before I snap pictures:
I tell the parents in the picture to kindly ignore their misbehaving children.
In a big group shot, I've already planned on editing or head-swapping children who are frowning, pouting, or looking the wrong way. What I want to avoid is editing both a child AND their parents. And if mom or dad tries to "make" their child smile by snapping their fingers, pointing to the camera, whispering to them under their breath, or giving them a stern glare... it won't look good on camera.
So, right before taking the group picture, I phrase this as kindly as I can. "Okay Mom and Dads, I need you to keep smiling at my camera no matter what your child does, ok? Just keep smiling and pretend nothing is happening!"
Of course, I do everything I can from behind the camera to get that child's attention and find a smile behind that grumpy mood. I will play peek-a-boo, blurt out silly words, and make funny sounds to get those children to smile. But that entire time, I want mom and dad to keep looking at me no matter what their child does so that they look happy and relaxed instead of frustrated. I can edit what I need to afterward.
Sometimes, I have to be a bit more stern while I'm actually taking pictures. I'll sometimes call the adult out by name and say "Look right here! Yup, just keep smiling! Right here!" And I don't stop clicking the entire time.
And you know what? It works.
I can put a stop to a lot of tantrums before they even start. If I avoid letting mom and dad indulge in their bad mood, most kids will perk up, and at least look at the camera.
Since I take tons of pictures of a big group, there is usually at least one with a decent expression that I can use for editing purposes. This also means less post-processing work in the long run because I can start with the picture where mom and dad are already looking at the camera, instead of looking at their kids.
So, give it a try. Say it with a smile and be kind about it, but ask those parents to look at your camera no matter what happens. They probably don't realize how they look in pictures when they are trying to get their children to look too.
This tip will help any photographers working with large families or groups with kids. It will help the session go more quickly, and it will definitely help cut down on edits afterward!
2. Arrange your shots carefully.
Most groups benefit from using chairs, benches, or stools. It's hard to see each person is everyone is standing! So arrange for seating. Having seating is useful and provides visual interest.
You also want to think about how families are grouped together when you're arranging everyone.
Years from now, people looking at your pictures will want to know who belonged to who. The simplest way to is to have individual family units stand together within the big picture. This is especially true when there are lots of kids because it might be hard to match kids to their parents years from now.
Start in the middle with Mom and Dad (or Grandma and Grandpa) and arrange outwards from there. Families with more children go on the sides. Tall adults in the back can hold small children, especially if they are restless and can't be trusted to stand still on their own.
Be kind to any single adults in your picture and don't put them in a situation where they a) look like they are attached to someone else's spouse or b) look awkwardly and obviously alone. Neither situation is comfortable for them, and the pictures will likely reflect it. Instead, think creatively and figure out how to position everyone in a balanced and positive way.
After you have everyone arranged the way you'd like, check on lighting. You want to make sure that everyone in the group has the same lighting. Ideally, everyone will be in open shade but, if that isn't possible, everyone needs to be in the sun.
You need to avoid split lighting. So you don't want some people are in shadow and others are in the sunlight. This includes when standing/tall people are in the sun and seated/short people are in the shade! Basically, make sure everyone has the same amount of light on them.
My last group photoshoot had this problem. The sun came out from behind a cloud just as we started shooting the four-generation photo. The left side of my photo was entirely blown out with direct sunlight, and the right side was still in the shade of a nearby building. There's no easy way to salvage this picture and no one does well with the sun in their eyes, especially children.
Luckily, we ended up with one usable picture from right before the sun came out, but otherwise, we would have needed to reshoot the session.
Make a good choice about where you set up your shot in the first place to avoid this situation. If the sun comes out and causes weird lighting during your picture, you should probably ask everyone to pick up their chairs and shift over a few yards so that everyone is in the shade. It's better to have an inconvenient location change than unusable pictures!
I also highly recommend using a tripod when you're shooting group shots.
Setting up the tripod also gives you the chance to check your light and camera settings without wearing out your subjects. I usually take a few test shots before I arrange everyone, then I just need a quick exposure check once everyone is set.
If you're using a tripod, you also don't have to worry about changing your angle and zoom between shots. I still stand behind the camera, because small children don't look at the camera unless there is someone there to hold their attention.
3. Take tons of photos with large margins.
I tend to overshoot large group shots and I never regret it. So set your camera to continuous mode and just hold down that shutter button. I usually take 30+ frames of that one big group picture. I take a few at a time on continuous mode, then I do a quick scan to catch things that are distracting, like any weird hand or foot positions, slouching, people who are covered up, etc.
The goal is to get a bunch of near-identical frames so that you have plenty of options for editing. I can pretty much guarantee that you will need to do some head-swapping in a photo with more than 12 people in it. You never know who will be blinking, frowning, flipping their hair, looking at the children, etc. And even if you manage to get everyone looking at the camera, there will probably be better smiles in a different frame. So overshoot by a lot.
You only need one perfect shot, but it will help you to have lots of options in the first place. That way I can choose the picture that has the least work necessary, but I have plenty of options to find better smiles and open eyes from other shots.
You also need to make sure you leave yourself room to crop when you shoot!
I made a big mistake the very first time I photographed a large group of people: I didn't leave enough space around everyone when cropping for prints. My 8x10 crop actually cut off some people from the sides. Oops! We worked around it, but don't make this mistake.
Step back and leave plenty of room on the sides of your photo for cropping. It might feel like there is TOO much empty space on the top and bottom of your picture, but you NEED that space for cropping options. 8x10 is a popular size, and it's much more square than you realize! The wider your group of people, the more space you need to allow for cropping!
---
With these 3 tips, you should have an easier group session. Of course, it might still be tricky to get everyone focusing on you, but you should end up with a great photo at the end.
Remember, you only need one amazing shot. But to get it, you need to take tons of photos, keep the parents from further distracting their children, and leave yourself room to edit and crop.
Group photoshoots might not be easy, but they don't have to be scary Hopefully the advice in this post can help you avoid most of the stress and tension that come from large family sessions and make the photoshoot enjoyable for everyone.