Amazon Photos is one of my favorite secrets in the photo world - so many people already have Amazon Prime, and aren't taking advantage of features they are already paying for!
We all know we should have multiple backup locations, and Amazon Photos is one of the easiest ones to add to your list. Read on for all the details about how to use Amazon Photos, how to upload, how to access, and more.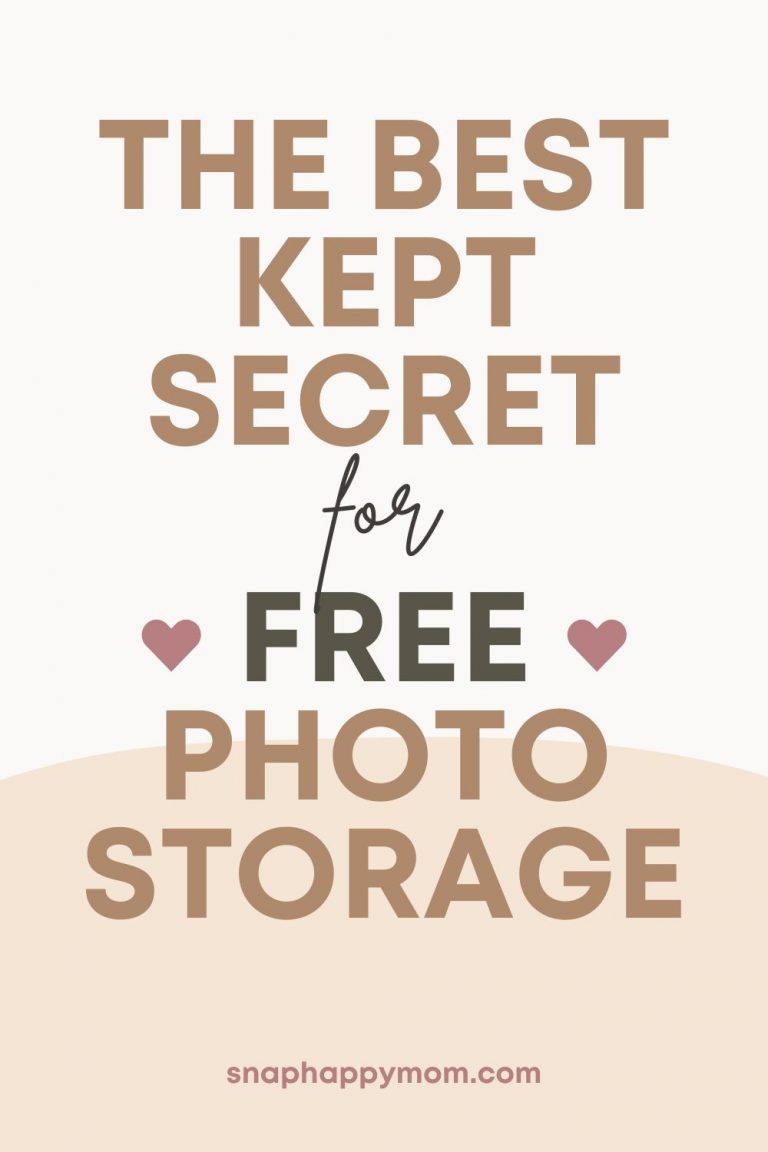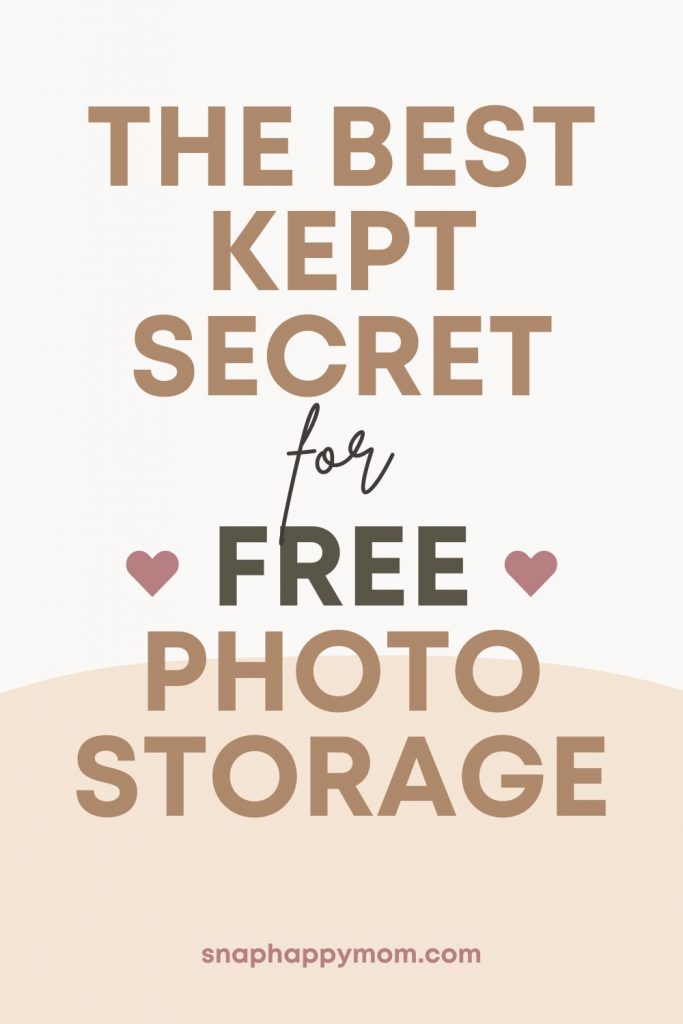 Is Amazon Photos Storage really free?
A more accurate question would be: "is Amazon Photos really free for Prime Members?"
And the answer is yes!
Amazon Photos is one of the perks of a Prime membership. You can store unlimited photo files in your account, and up to 5 gb of video files.
I guess it's not technically free, because you're paying $120/year for a Prime Membership. But if you consider that a sunk cosy-which I do--then access to Amazon Photos is just the icing on the top.
Does Amazon Photos really have unlimited storage?
Yes, there is unlimited storage for photo files on Amazon Photos.
That includes JPEG, BMP, PNG, GIF, most TIFF, HEIF, HEVC, HEIC. It also includes most RAW format files such as NEF, CR2, and DNG files.
This is a huge perk - file storage can be pricey. There are almost no alternatives that still offer unlimited storage, and certainly not your full-resolution files for free. (Google Photos is the notable contender - but they don't store full-resolution files without a paid plan.)
Video, however, is a different story. Those files can be humungous!
Prime members also get up to 5 gb of free video storage space.
You can pay for additional storage after that. 1 TB of Amazon Photos Video Storage costs about $60 a year.
Supported files include MP4, QuickTime, AVI, MTS, MPG, ASF, WMV, Flash, HEIF, HEVC, and OGG.
The trick is that you can ONLY store photos and video files on Amazon Photos. So any other family files (like stories, journals, documents, etc) have to be backed up somewhere else.
But you can put unlimited image files in your Prime Photos account, which is a screaming deal.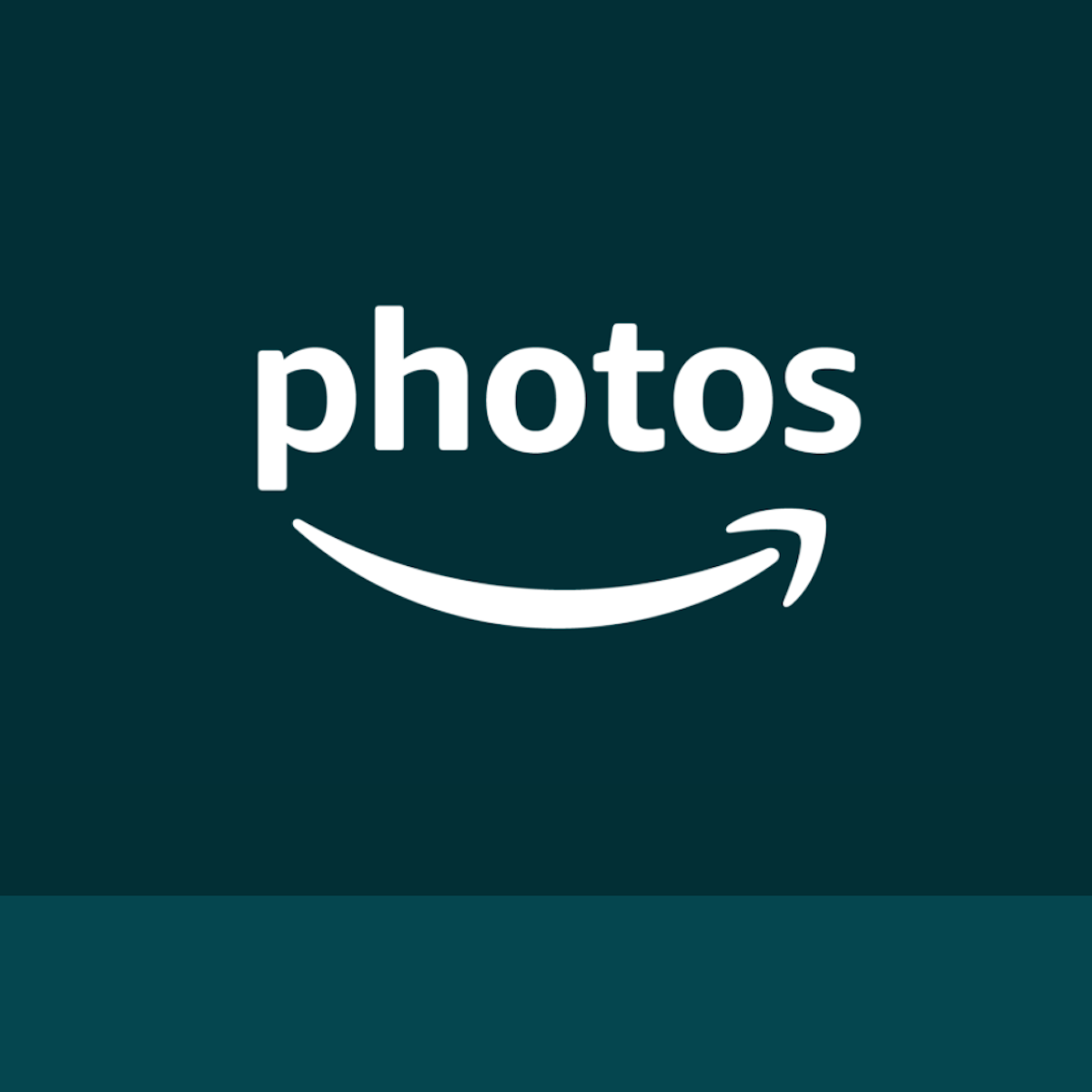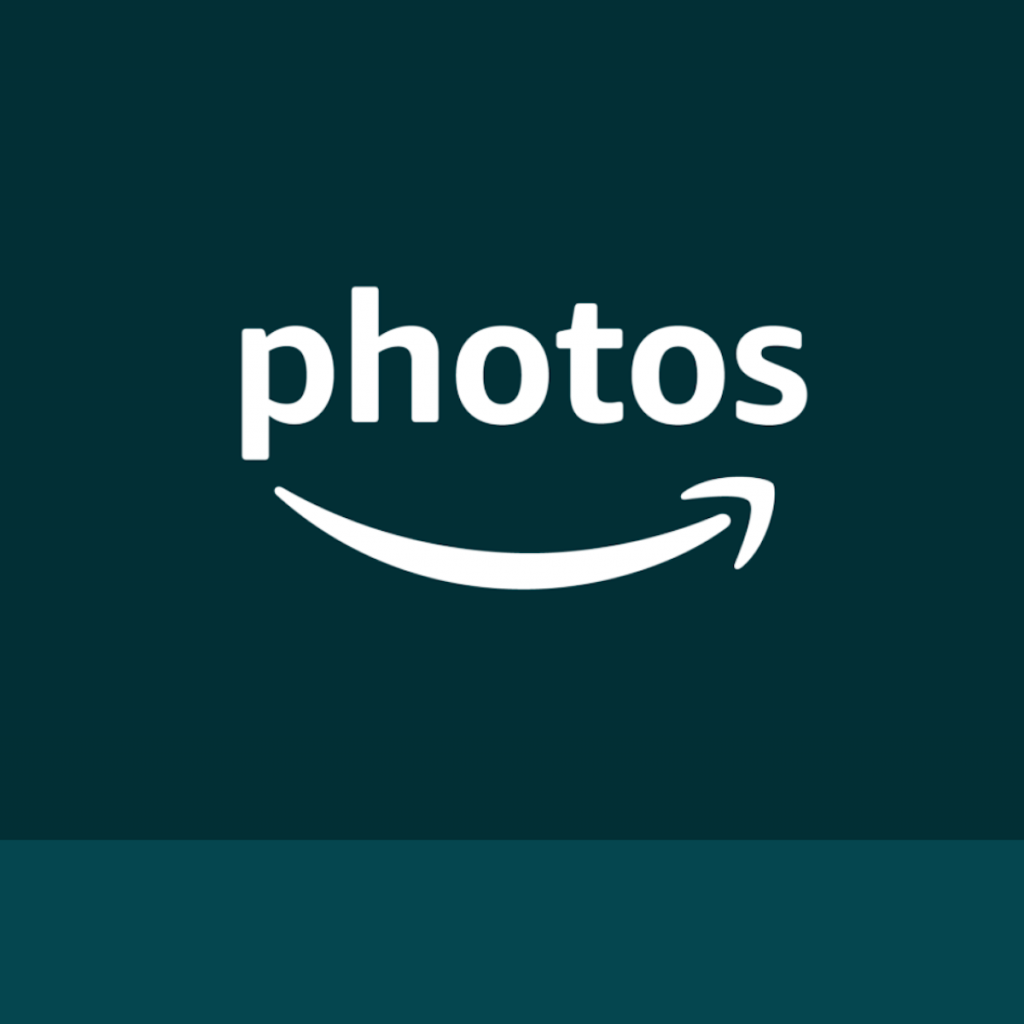 So What Does Amazon Photos Do?
With Amazon Photos, you have access to full-resolution photo and video storage across all your devices, secure automatic backups, and supports common media formats. Once saved to the cloud, your photographs can be safely deleted from your device to free up space.
You can also view photos on devices like Fire TV, Echo Show, and Amazon Fire tablets. Using Amazon Photos is the easiest way to set your Echo Show to display slideshows.
You're able to access your files through a mobile app, a web app, and a desktop app. You can find things easily by searching your library for food, dogs, sunsets, California, etc - it can even recognize people!
Amazon Photos also lets you make products and gifts, including prints, products, cards, calendars, albums, blankets, mugs, and more. I love that you get free shipping like with your other Prime orders!
You get unlimited, uncompressed photo storage (even for RAW images), so you don't have to worry about paying any additional fees for more space.
If you're not a Prime member - you really should be! There are so many awesome things about Prime, and I HAPPILY pay for it every year. You can start a free trial of Amazon Prime here, and read about the many features of a Prime Membership.
If you are already a Prime Member, then you go to this Prime Photos page to get started.
Storage Plans - it's not just for Prime Members!
However, photo storage is just for Prime members.
You can also pay for access to Amazon Photos as a separate subscription.
Here are the three available plans:
If you're already an Amazon Prime member, then you already have access to Amazon Prime photos at no additional charge. You get unlimited, full-resolution photo storage, 5 GB of video storage, and free delivery for prints.
The standard plan for customers who aren't already Prime members is a 100 GB plan at $1.99 per month. This is a good plan if you like taking photos but don't need a lot of storage, or don't have a reason to pay for Amazon Prime. It stores about 50,000 standard photos or 14 hours of video.
The larger storage plan is a 1 TB plan at $6.99 per month, so it's better for you if you take lots of photos. It stores about 500,000 photos or 140 hours of video. At that price, I would be highly tempted by the other perks of joining Amazon Prime.
How to Upload To Your Pictures
Amazon Photos has three different ways you can upload photos to their storage system. You can choose between their web service, desktop app, or phone app.
Here's how to upload with each option.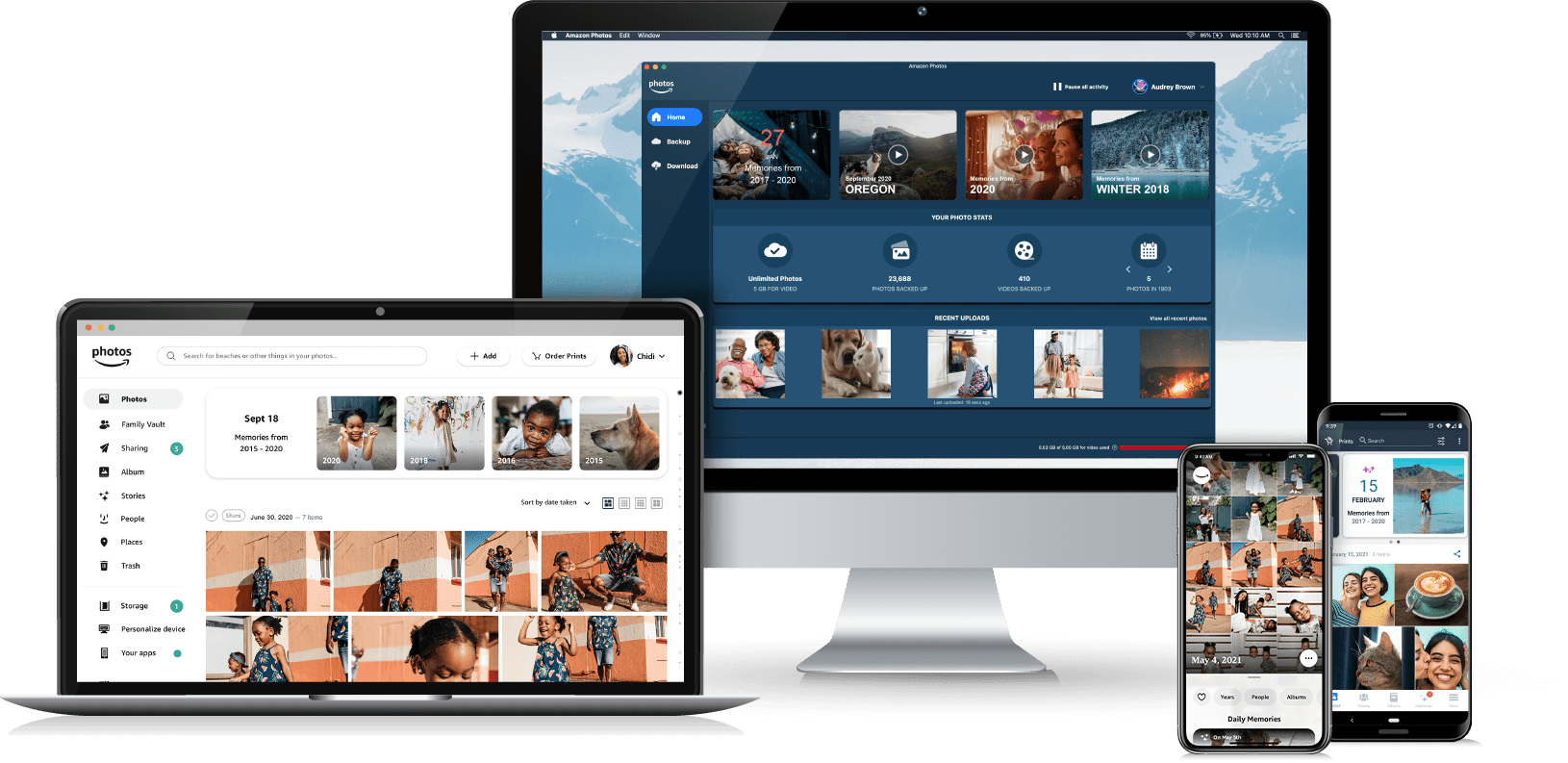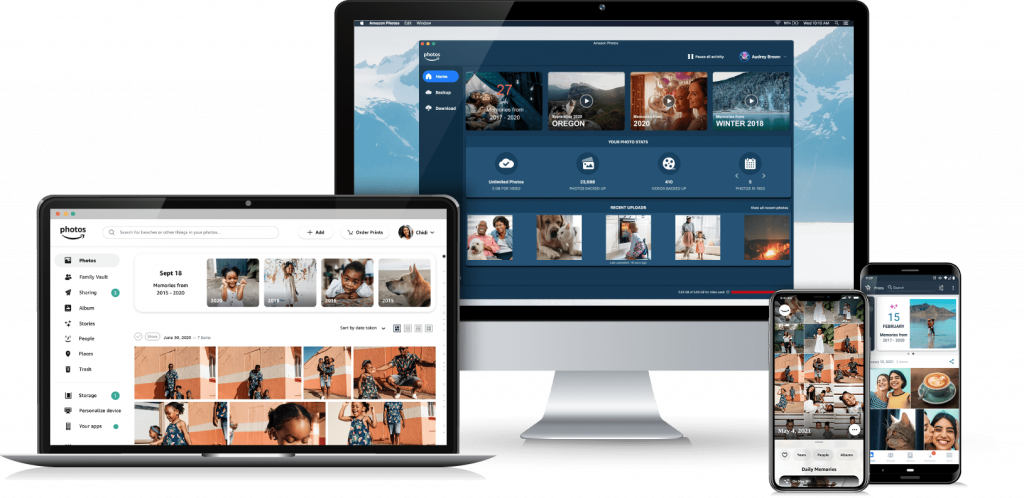 1. How To Upload on the Amazon Photos App
For iPhones, open the app, tap "More," and then "Upload Photos and Videos." Press "Camera Roll" and select the photos and videos you'd like to upload, and then just press "Upload" when you've selected everything.
For Android, open the Amazon Photos app, then press and hold the photo you want to upload until a checkmark appears. If you want more photos, tap once on each additional picture, then tap the upload icon when you're done.
2. How to Upload to Amazon Photos on the Desktop App
On the desktop app, you can sync files from your computer to your "Amazon Drive." There is also a button where you can upload specific photos if you don't want to do a full sync.
3. How to Upload Through the Web Site
You can also upload through the web without using an app. Just sign in and go to your Amazon Photos section. Click Add and then Upload Photos from the top navigation bar.
Then you'll get to your Amazon Drive folders and you can easily pick which folder you'd like to add photos to or create a new folder for your photos.
How Do I Access My Photos Stored On Amazon?
It's easy to view and download your photos from Amazon Photos. You can access them through the mobile app, through the website ap, or on the desktop app. Just open it up to view your photos, and download or share!
---
Is Amazon Prime Photos worth it?
YES! If you already have an Amazon Prime account then it's a no-brainer! Click here to head to Amazon Photos and get started.
It's included in your membership, so you're not paying an additional fee on top of what you already pay for Prime. So it makes sense to take advantage of everything you're paying for.
If you're not already a Prime member, and you're deciding whether or not to upgrade to Prime, just for Amazon Photos - it really depends on how many photos you take. You can always pay for one of the cheaper plans (like the standard one) but it does have a storage limit.
I always recommend backing up your photos both on an external hard drive and somewhere on the cloud, and Amazon Prime Photos will help you with the cloud portion. Amazon Prime Photos is a great option if you're looking for somewhere to store your photos.
As a photo storage platform and archival management tool, Amazon Photos is easy to use and has unlimited image storage.
You can also edit photos online or within the mobile app. Amazon Prime Photos offers automatic cropping and manual adjustments to brightness, saturation, contrast, gamma, clarity, exposure, shadows, and highlights. It's not as comprehensive as other editing tools or programs, but it can easily handle basic editing and touch-ups.
It also allows you to organize your photos into albums and to share them with friends and family. Contacts can be organized into groups to make sharing easy. There's also a Family Vault that allows you to share photos with five of your closest friends or family members who get unlimited Amazon Photos storage of their own through your account.
One drawback is that when new image formats come out, Amazon doesn't always recognize them as images, which takes up space in the 5 GB storage limit of other files. This probably isn't an issue for everyone, but if you use less common image formats, you may have to convert them first.
What happens to my photos if I cancel Amazon Prime?
Well, I'm planning on being a Prime Member for life!
But if you aren't, you can download all your files and move them to a new service.
Amazon is only committed to keeping files for active subscribers or paid subscribers. This is pretty obvious.
Here's what happens to your photos if you leave Amazon Prime.
At first, nothing. Actually, they don't touch your files for about 6 months.
If you cancel or leave your Amazon Prime subscription, you'll be "over-quota." That means you're storing more than the 5 GB they offer free to everyone
Amazon has a pretty generous 180-day grace period for being over-quota before they take action. After 180 days, they start deleting your files to get you down to the 5 GB quota. Of course, they notify you as the account holder before this happens.
During that 180-day grace period you can always sign in and download your files, or you can come back and upgrade your storage plan.
---
Amazon Photos FAQs
I heard this was free for Prime members, but what exactly is free?
Yes, Prime Photos is free if you subscribe to Amazon Prime. Well, it's one of the free perks you get because you're paying already paying for your Prime membership. So free really means within the cost of your subscription.
What you're getting is a cloud space to store your photos. You can use this as a backup or a place to store photos to free up space on your device. You also can print your photos and photo products easily.
How much storage do you get with Amazon Prime photos?
You get unlimited space for photo files and 5 GB of space for video files.
Does it have an automatic backup feature?
You can set up the desktop app to do scheduled backups or a one-time backup.
Can you organize them into albums? Is there any way to tag images? Facial recognition?
You can organize them into albums based on what's in the photo, like things or people, or the day or week you took them. It does recognize faces or objects, which is super cool!
What about RAW files for photographers? Is there a clause about personal use only?
Amazon Photos is for non-commercial, personal use only. You can share photos with your friends and family but you can't use the service for a photography business without violating its terms.
So if you're sharing links to your photo gallery with clients or trying to somehow sell your photos straight from your online archive, you'll be in violation of the terms of service.
For people already using Google Photos who want to switch, how does it compare? Is it easy to move things over?
If you're using Google Photos right now, you'll have to download all of your photos off of Google. You should be able to do this all at once by selecting "All Photo Albums Included" and choosing if you want a download link sent to your email or if you just want to send it to a storage provider like Dropbox or OneDrive. Then you can upload those photos into your Amazon Prime Photo account.
---
I use Amazon Photos as one of my backups, and I love it! The auto backup function is super convenient, and I love having Alexa show me a slideshow on my Echo Show. Easy, and basically free since I would be paying for Prime anyway.