If you're looking for music to do a MYO Yoto card, I always recommend buying music as an Amazon MP3 because they make it SO EASY to download the MP3s for a Yoto music card.
iTunes is an easy option as well, but there is an additional hidden benefit of choosing to get Amazon music mp3s!
If you're an Amazon Prime member, you've probably been offered free digital credit in return for a later shipping day. These credits are called "No-Rush Shipping credits" or "Amazon Day Delivery Rewards." The wonderful thing is that there are TONS of things you can buy with these credits to make your own Yoto cards! Essentially, it's a free way to "buy" music for your kids.
This post explains how to earn Amazon Day rewards, check your balance, and redeem your no-rush shipping credits, so you can make some awesome Yoto cards!
---
How are Amazon Shipping Credits related to Yoto?
So here's the deal: Amazon MP3s are one of the EASIEST things to put on an MYO Card. All you have to do is "purchase" an MP3 with your credits, download it to your phone, and then upload it to an MYO playlist.
If you haven't done it yet, head over to these step-by-step directions for making-your-own cards.
Basically, if you give up 2-day shipping, you earn money to spend on soundtracks and MP3s! You can save up your credits to make a purchase free to you, or just redeem more often to take the edge off a purchase.
Important: You have to be an Amazon Prime subscriber. That's the only way you'll get offered either of these two rewards.
How do you get Amazon Shipping Credits?
When you place an order on Amazon, you will sometimes see an option that says:
"Tap for fewer boxes and a $X digital credit with Amazon Day Delivery"
or
"Free No-Rush Shipping: Get a $X reward for select digital purchases"
Either of these options COULD show up on the top of the checkout page: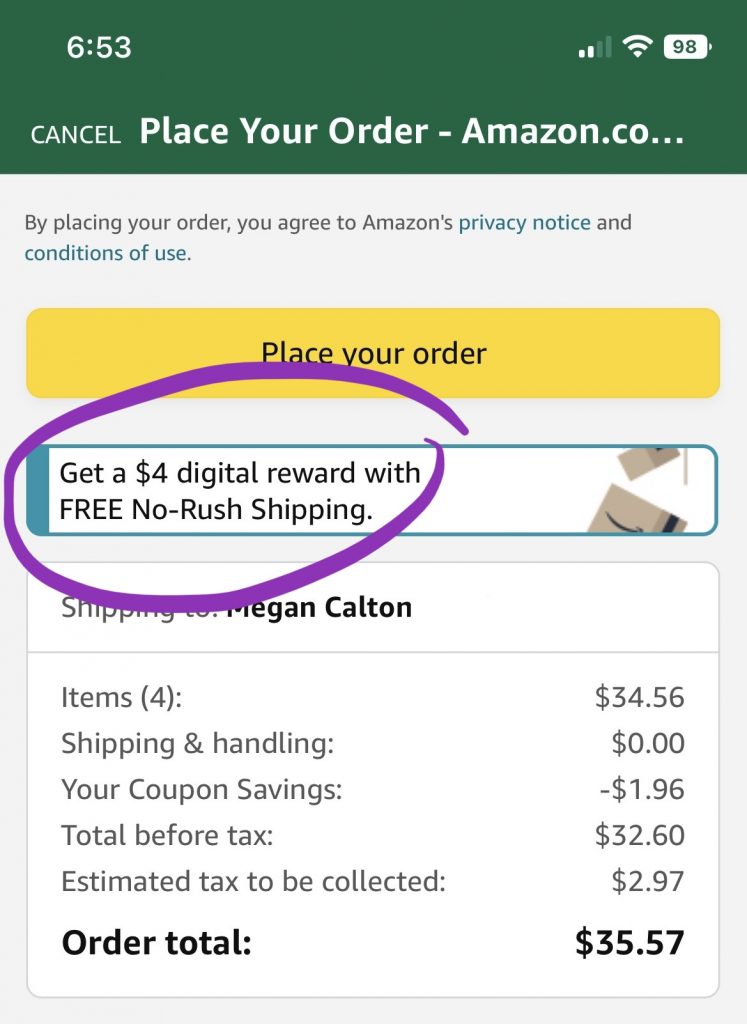 Or it could just show up as a choice in the "Shipping Speed Options" area: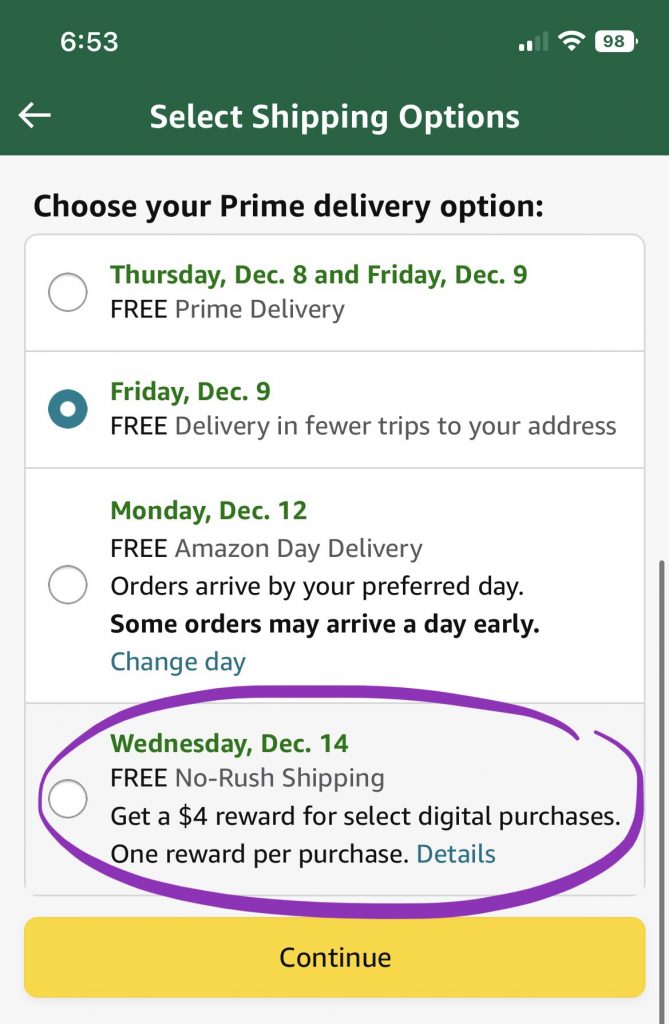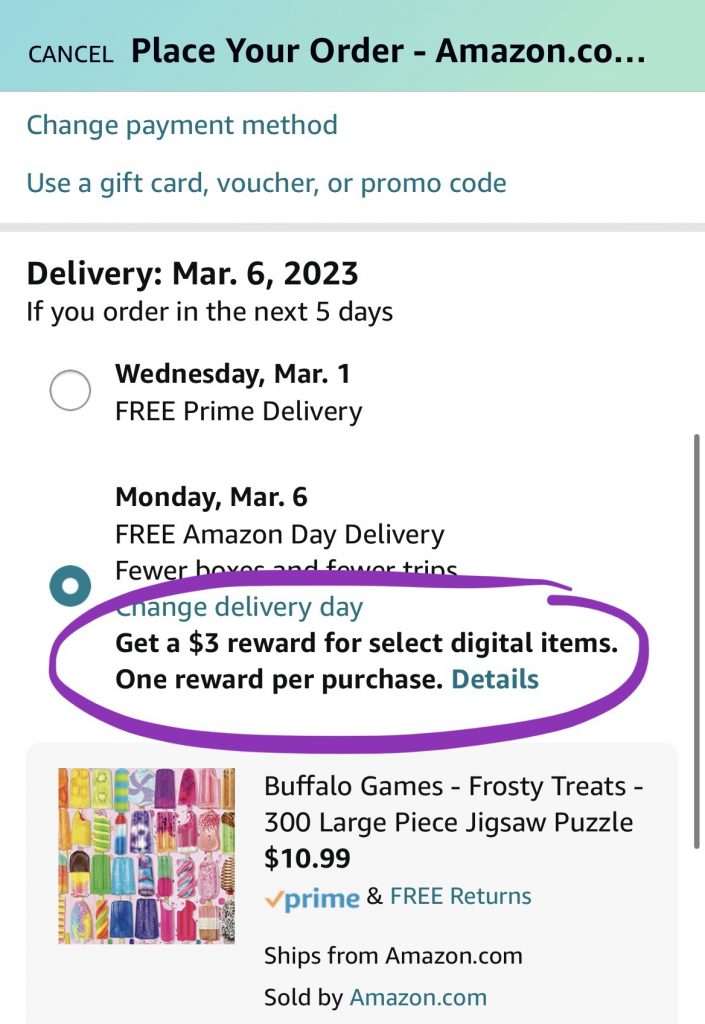 Simply select that option for slower shipping, and then those credits become available after your order ships. You don't get them until it's in the mail, and then you'll receive an email with the details and instructions on redeeming your reward credits.
Most of the time, no-rush shipping credits expire 6 months after the order is placed.
Note: Any Amazon customer can choose the no-rush shipping, but digital rewards are only offered to Prime members.
What can you use these credits on?
The no-rush credits and Amazon Day Rewards only apply to certain items.
You can redeem this credit on DIGITAL products like MP3s, Prime Video purchases/rentals, and Kindle ebooks.
You cannot redeem them on anything physical of any kind. You also cannot redeem them on Audible, even though it seems like that's a digital purchase. (I suspect it's because it's a different checkout system. Audiobooks and stories that are just MP3s sold through Amazon are okay).
Here are two big things to clarify:
1 - You can't force Amazon to offer you free no-rush shipping credits or Amazon Day rewards.
Amazon is a complex business, and they don't offer digital credits on every order. They only appear on orders sold and shipped by Amazon, but there also appears to be an algorithm that calculates what times of the week/month are financially beneficial for them to offer credit. From what I can tell, the system offers credit on certain days of the week, and then more often over the holidays and Prime Day when their order volume is so high. I've seen credits offered pretty regularly during the summer as well!
2 - You also can't control how much credit you are offered or game the system.
It seems like there's an unknown minimum cut-off for digital credit - like if your order is less than $10, they probably won't offer it. The amount of credit also appears to scale with the total cart value, (i.e. small orders are offered $1 or $1.50, and larger cart values are offered $2 or $3, and occasionally $4 during the holidays).
However, it's not something you can manipulate by splitting it into smaller orders, because there isn't a guarantee they will offer it on every order. (In the name of research, I tried splitting up a larger order and no credit was offered on the second order. So my guess is Amazon's system is smart enough not to let people game it. Your mileage may vary.)
Overall, just be grateful whenever credit or rewards are offered! Take it when you can!
How to Check Your Amazon Credit Balance
First, check your balance!
Amazon doesn't make it super obvious how much credit you have, but here's the direct link for how to check it.
Click here to check your Amazon credit balance.
For example, here's what my page looks like when I click on the link: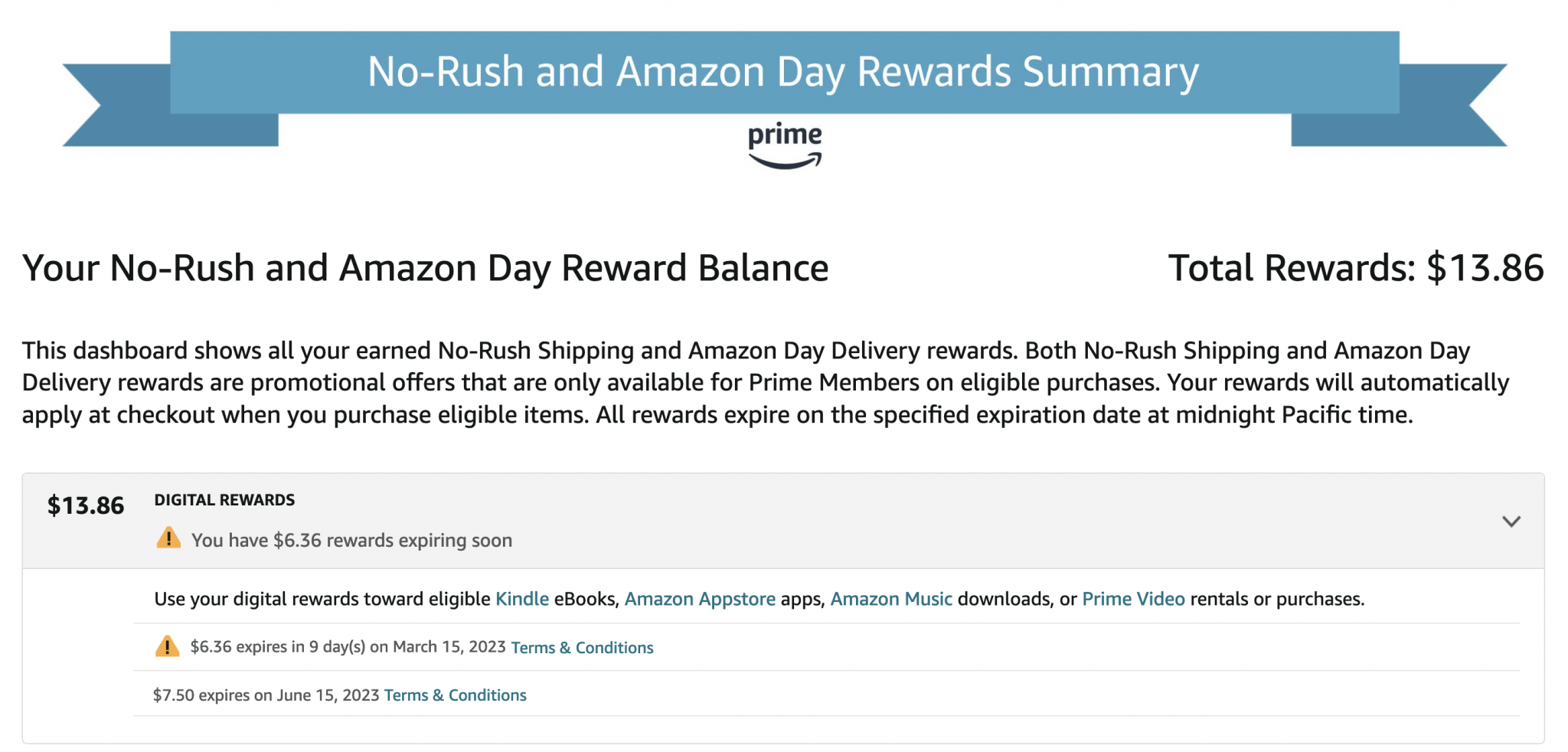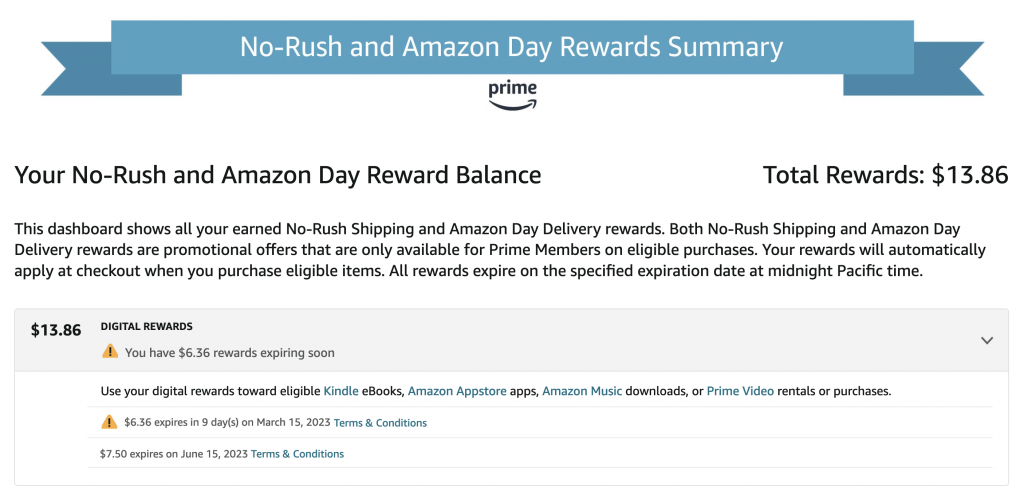 So this is saying I have a balance of just under $14, from a combination of no-rush and Amazon Day rewards. It also tells you when each part of my balance expires.
How To Use Your Prime No Rush Shipping Credits
To start a purchase, navigate to a digital product you want to purchase. We have our top 4 suggestions below, and a whole post of other music suggestions coming soon!
One important note: You need to use a browser (NOT the Amazon app) to use your digital rewards to purchase MP3 albums. The Amazon app doesn't work as well.
Go through with the purchase.
Just a heads up, there will be NO mention of using your promotional credits on the purchase page. You'll just have to trust that if you have a balance from this page, it will apply those credits first.
(This is confirmed by Amazon above, as seen in the screenshot and at the link. It states that "Your rewards will automatically apply at checkout when you purchase eligible items." I have never had credits not work if I'm buying what THEY have said is eligible - music MP3s, story MP3s, and Kindle books.
For whatever reason, Kindle books make it obvious that you're using your credits, but music does not. )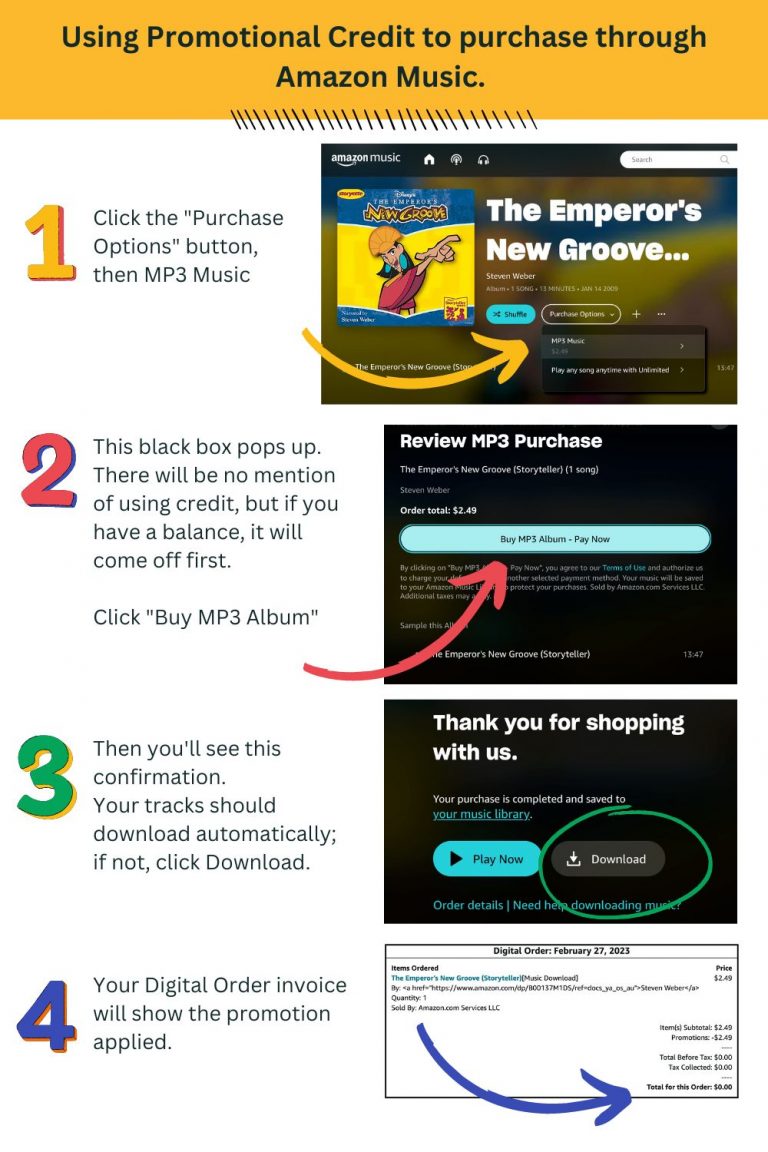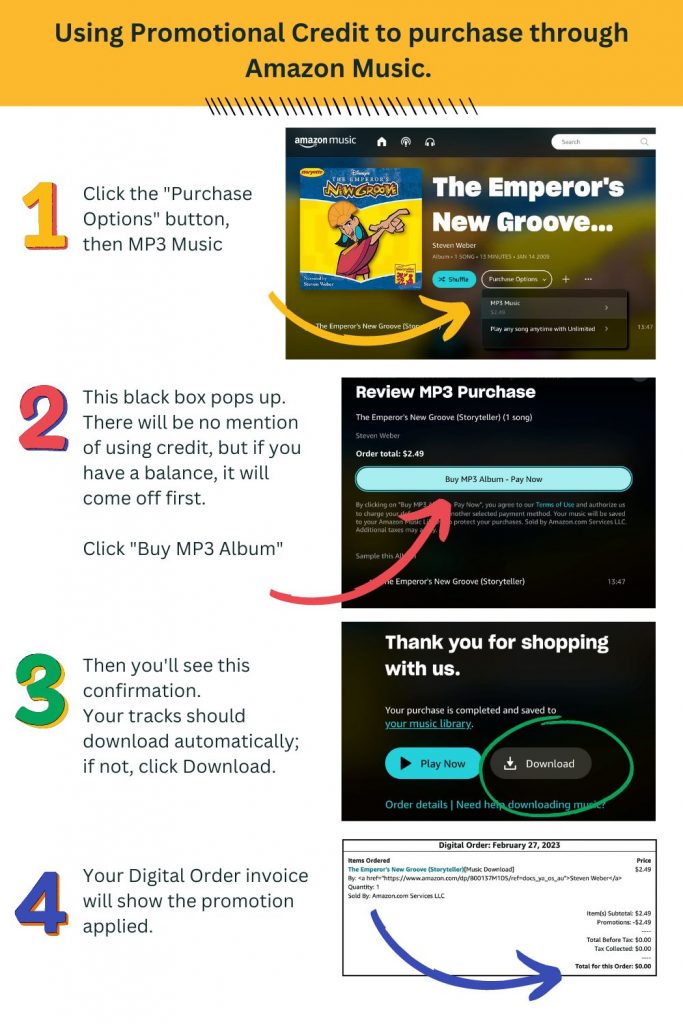 Remember: When purchasing digital content, it usually looks like it is using your money like it will show your total as if you're buying it normally. But after you click "Pay Now," it uses your credits instead.
---
Kid-Friendly Music You Can Get with Amazon No Rush Credits
You could put pretty much any music you want on a Yoto Card. If you want to introduce them to your favorite band or rock out to the 90s with them, go for it!
But if you need ideas, here are some of the most popular options we've seen people use for Yoto Music cards. Many people purchase these (for free!) with the Prime no-rush shipping credits. (Scroll down for tons more information about credits.)
IMPORTANT: These links take you to a streaming page. You need to find the button that says "Purchase Options" with the down arrow. Choose that and go to the "MP3 music" option. A black window pops up with the track list and the "Buy MP3 Album - Pay Now." I know it doesn't say you're using credit, (#cmonAmazon!) but it will apply your credit first and charge the remainder if needed.
And of course, you do not have to wait to save your credits - you can always just pay with the card on file if you're ready to buy today.
Here's what I would say are things I see people getting most often.
Top 4 Music Albums I See People Getting With Their Amazon No Rush Credits
Bluey: The Album and Bluey Album
Pretty much everyone loves Bluey. The original album has 17 tracks and features some beloved tunes from the show.
And then, the second Bluey Album just came out! Here's the link to Bluey: Dance Mode!
2. Encanto Soundtrack
The Encanto soundtrack is phenomenal and you can get it with your free credits! Renew those credits and then turn the soundtrack into a Yoto card.
If you like other Disney movies, you can also get the soundtracks for Moana, Tangled, Frozen, and more.
3. Sing 1 and Sing 2 Soundtracks
If your kids like the Sing movies, you can get both of the soundtracks with your Amazon no-rush credits. Get the Sing soundtrack here and the Sing 2 soundtrack here.
4. Kidz Bop Albums
If your kids love the radio, then they'll love Kidz Bop versions of popular songs. Here is the MP3 for the all-time greatest hits from Kidz Bop. You can also get the Ultimate Playlist or 2022 Playlist, or 2023 Playlist.
Heads up that there are five done-for-you Kids Bop Cards in the Yoto Store: you can get any of the Kidz Bop cards from Yoto itself. They have a card with the all-time Greatest Hits, Ultimate Playlist, a Party Playlist, the Birthday edition, and 2022 Hits. It may be quicker or easier to just get those. On the other hand, buying individual tracks or albums from Amazon (with your free credits!) means that you can make a custom mix for your child, or an extra-long playlist. Your choice!
BONUS: Stories You Can Get with Amazon Shipping Credits
There are only a few audio stories on Amazon that are delivered as MP3 files. If you want stories for Yoto content, then it's easiest to stick with MP3s.
Reminder: You cannot use your digital rewards on Audible audiobooks. It's a different "store" and they don't apply there.
Here are a few of our favorite options for stories in the Amazon music section, so you can get them with your digital rewards.
Disney Storyteller
There are a lot of Yoto cards already that have different Disney stories, but the Storyteller version of the stories is really cute! They are basically the audio versions of the movies and have a combination of dialogue, narration, and music. They range in length - some are shorter snippets from the movie and some have basically the entire thing!
Some of my favorites are Mulan, The Emperor's New Groove, Brother Bear, and Winnie the Pooh, but you can find even more here.
Sesame Street Story Time
You can get Sesame Street's Story Time audio which has eight fairytales acted out by your favorite Sesame Street friends.
Sleep Stories
This MP3 album has 12 different stories that will help your children drift off to sleep.
---
---
We hope you feel super confident shopping on Amazon and racking up those free-shipping credits now!
Have you ever used Amazon's no-rush credits? What did you get with them?