Subscription services are all over the place now, and there's something for everyone - including anyone who loves crafting!
Annie's Kits Club is a service designed to help develop your family's creativity and love of crafting. They have tons of options for all ages and interests, which makes it easy to find something you love.
There are many options for monthly subscriptions for adults: knitting, quilting, crochet, crafts, home decor, beads and more!
There are also two crafty subscription boxes for kids and tweens: one called Creative Girls Club and another called Young Woodworkers for either gender. These are perfect for summer-time projects!
All of their kits are $20 a month, but I've got a coupon if you want to try your first month for half off! Scroll down to the bottom for the links and promo code.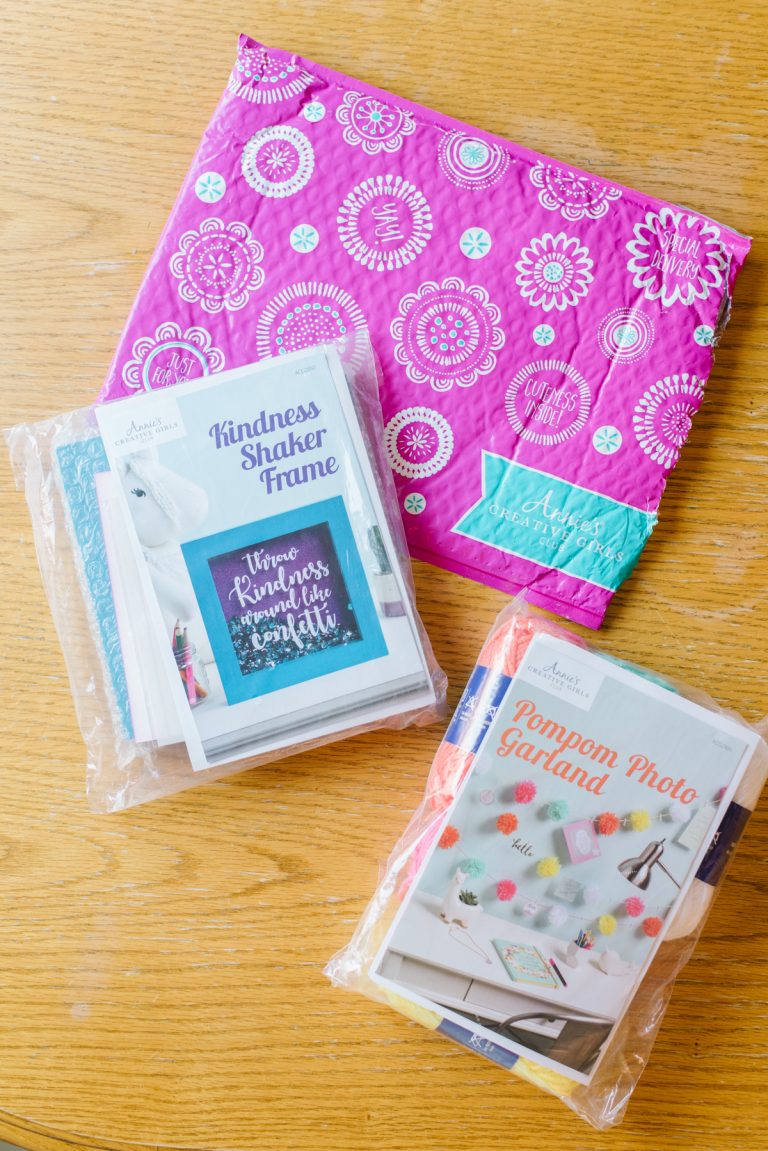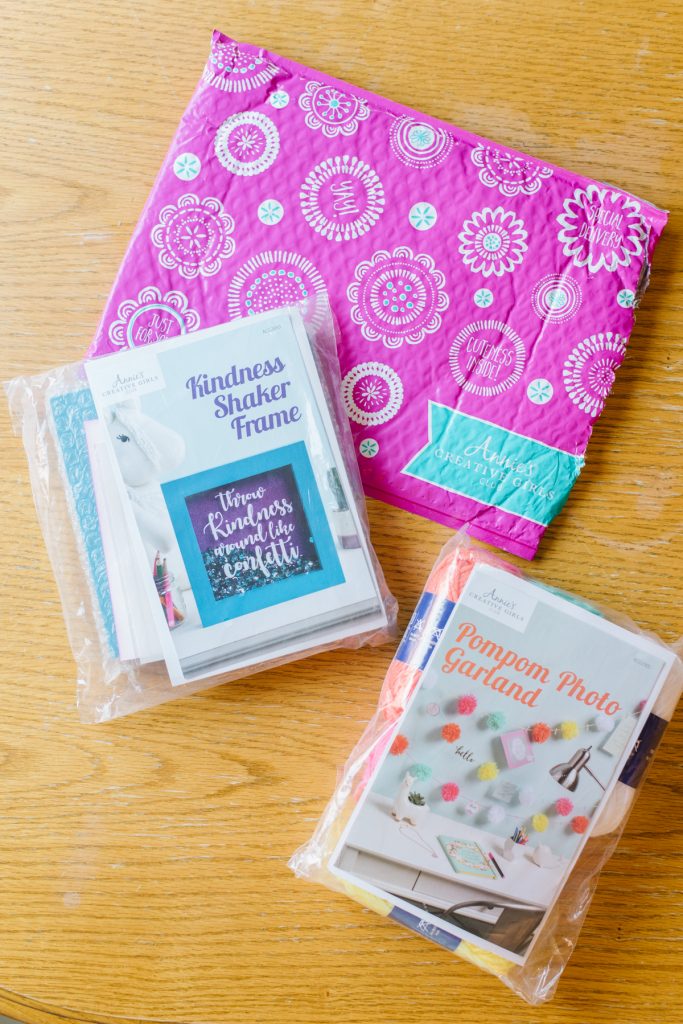 Annie's Creative Girls Club
Have a girl age 7 to 12?
The Creative Girl's Club will be perfect for them!
Each shipment comes with two different craft kits. They all include easy-to-follow instructions, so she'll need little to no adult supervision as she creates, as well as all the materials your daughter will need for her craft.
The kits contain a variety of crafts, so she can learn things like painting, beading, stitching, paper crafting, and more! They have seasonal projects and crafts around big holidays and can make other fun things like bracelets and scarves.
The Creative Girls Club is one of Annie's most popular services, for good reason!
Your daughter will develop new skills and gain confidence as she makes new monthly projects she'll love showing to her friends and family.
My 9-year-old daughter just started a subscription to Creative Girls Club. She LOVED that she had a project she could complete in 1-2 hours that was just her size and level. It's not too hard to make her frustrated, and not too easy to be done in minutes.
I personally loved that all the components were included in the kit, minus easy things like scissors. Sometimes we want to craft but heading to Michaels can be totally overwhelming since there are too many options for a young crafter. Things tend to get out of hand fast when we go to that store! So having a kit delivered is the perfect way to fulfill her creative side.
Here are some pictures of my daughter making her first project - a confetti-filled sign, that she made herself!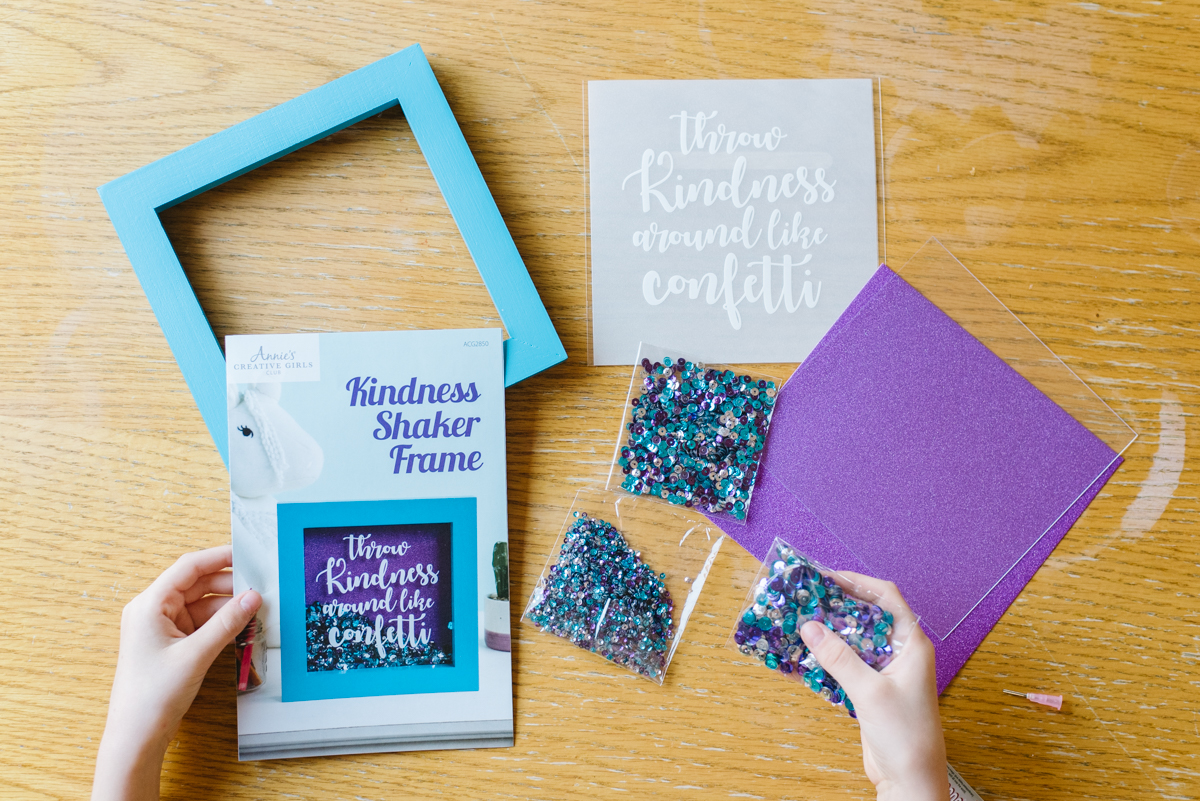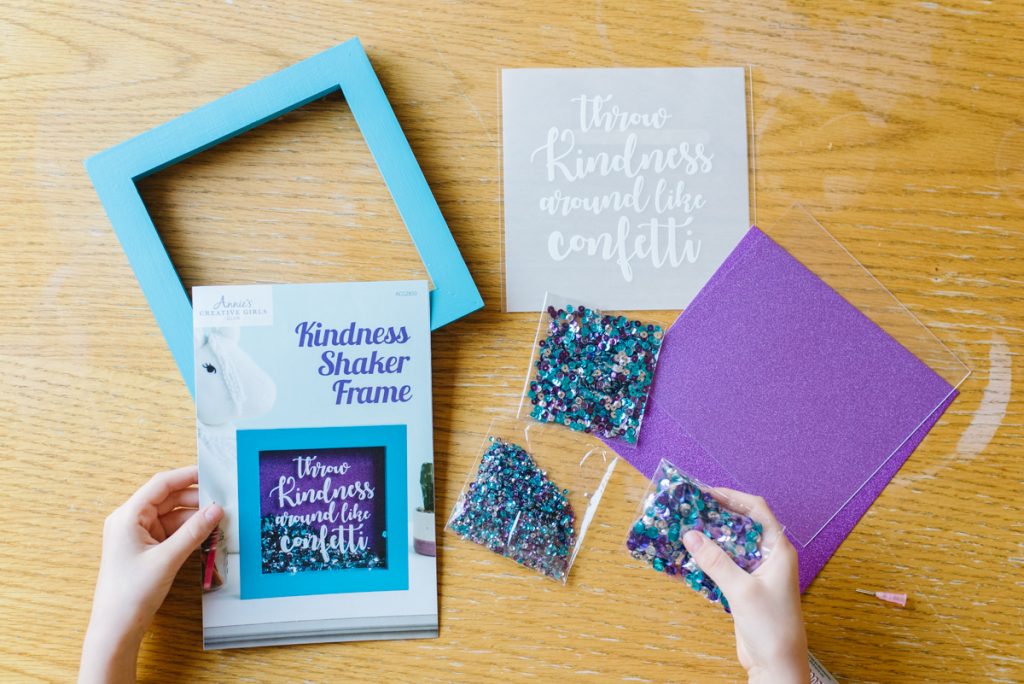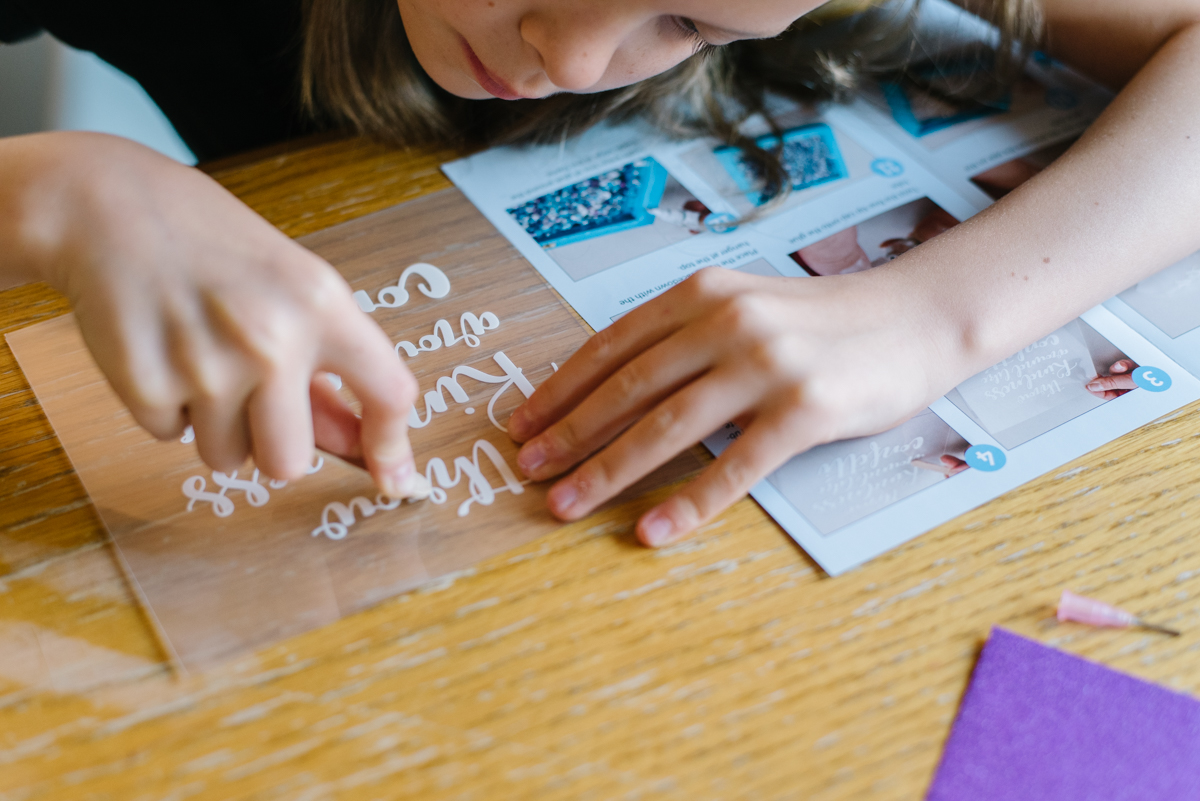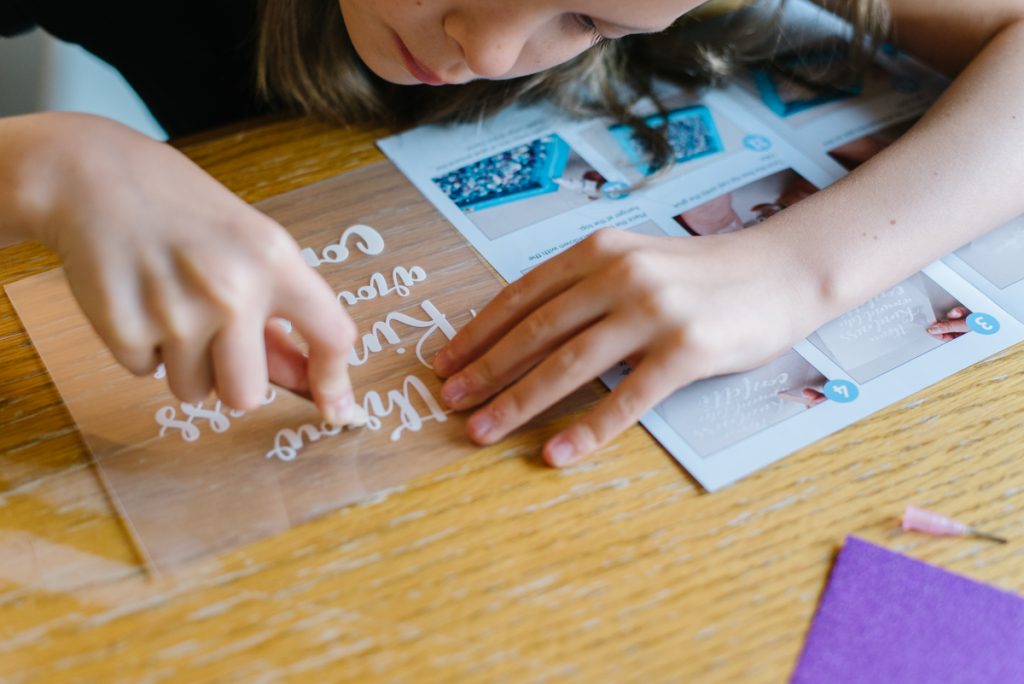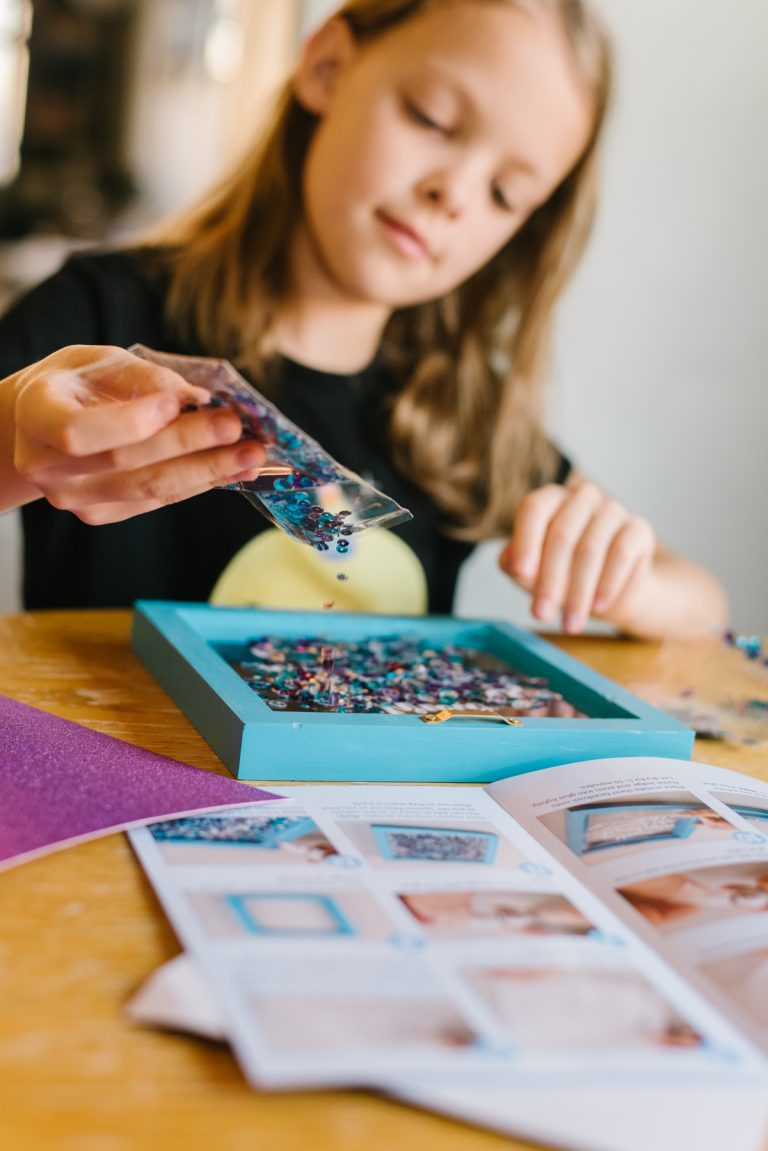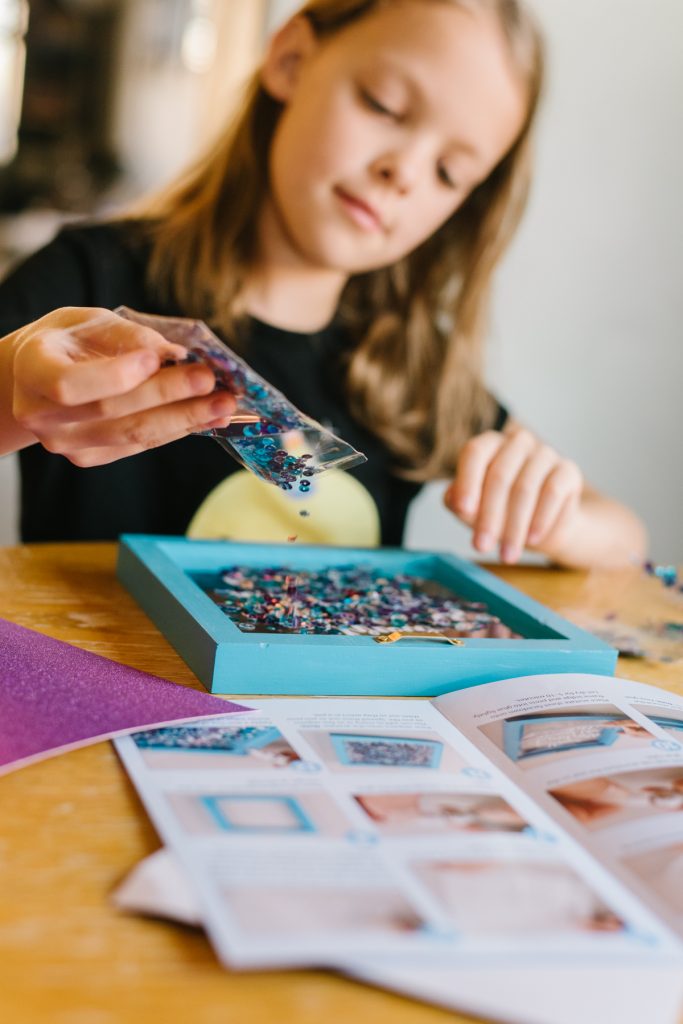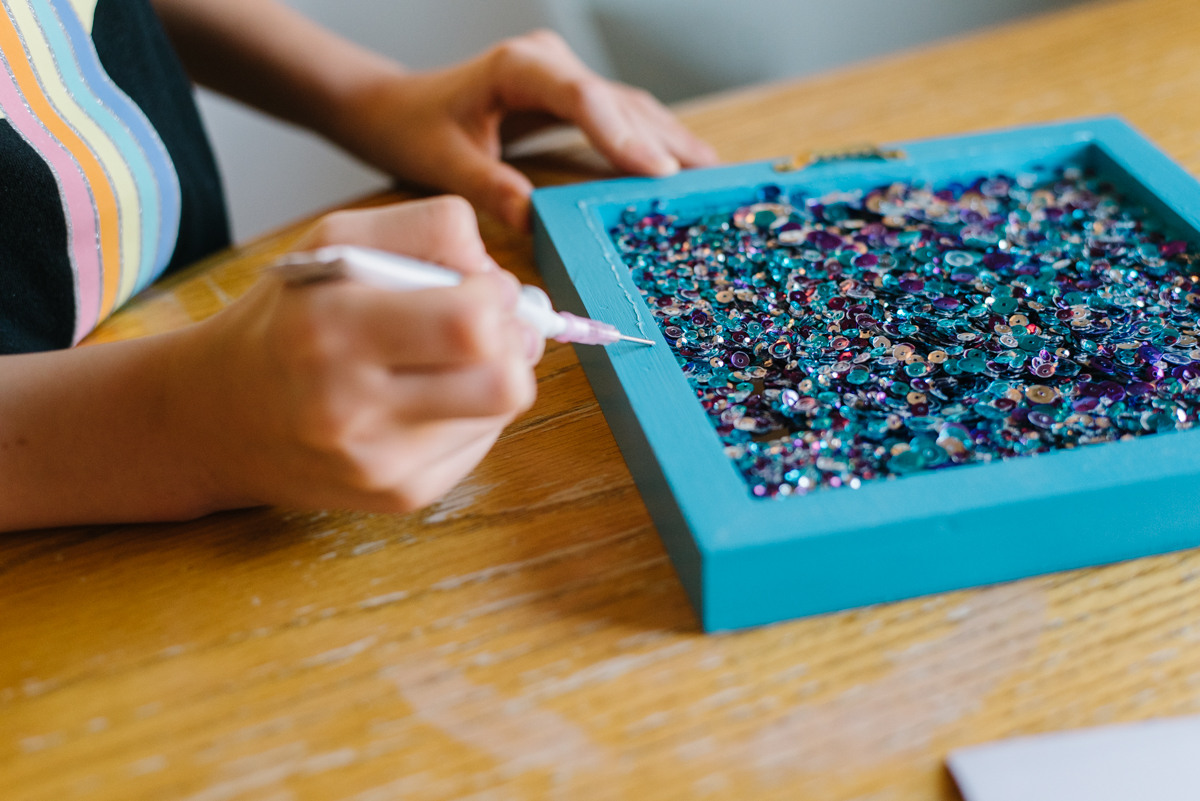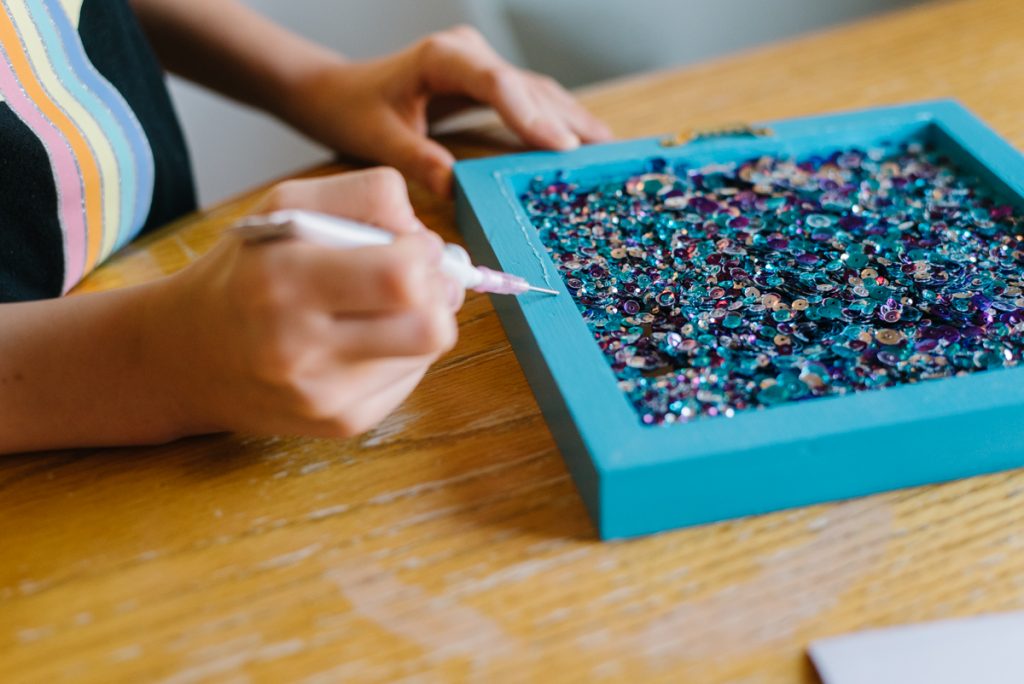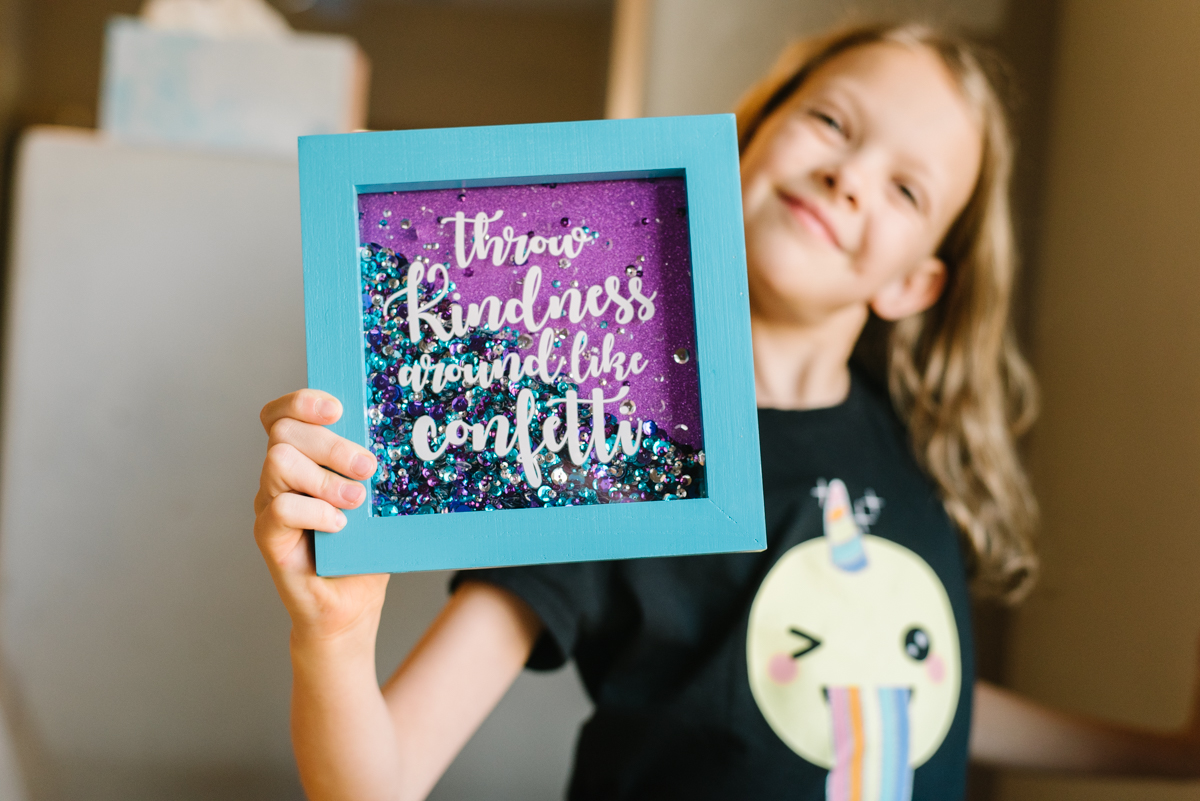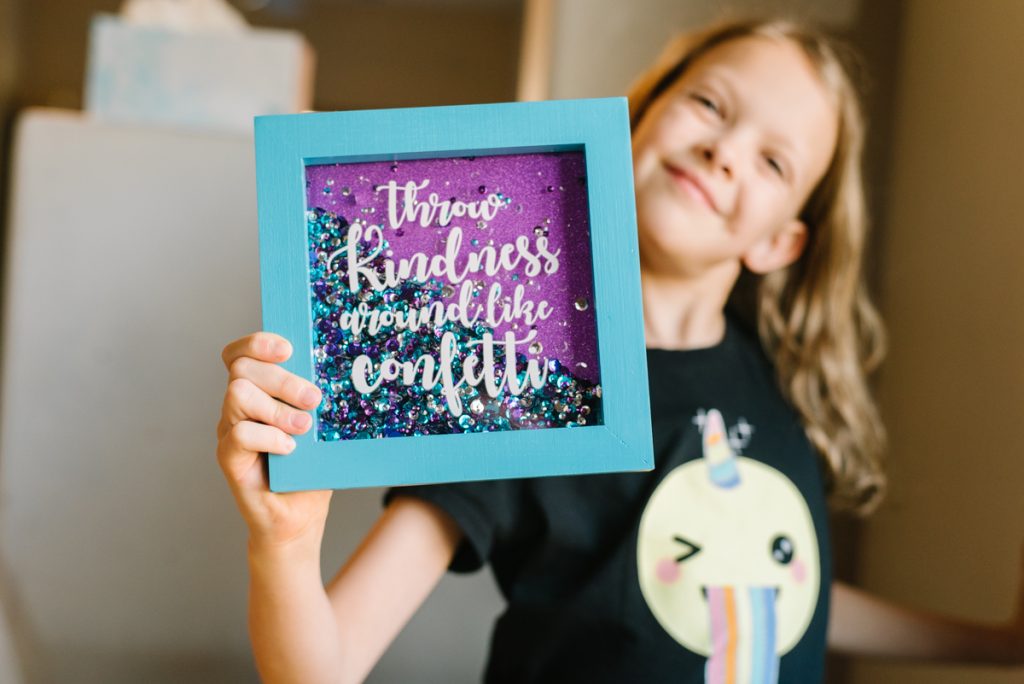 Young Woodworkers Club - for Boys or Girls
This kit is designed for kids between 7-12 years old who are interesting in building and wood crafts.
Each kit will help introduce different woodworking skills. They'll learn how to use hammers, round off edges with sandpaper, make proper measurements, and more.
The first three kits your child receives through Young Woodworkers will include tools like a tape measure, screwdriver, and hammer which they'll use often in future projects. Your child will learn to make airplanes, turbo racers, and other fun toys and gadgets.
Each kit includes pre-cut and pre-drilled wood pieces, so you won't have to worry about your child trying to handle tricky tools or needing skills beyond their age level. The instructions make their projects easy and fun, regardless of knowledge and skill level.
We are ordering a young woodworkers kit for our first grade, who loves to tinker and figure things out. I think he'll love it!
Annie's Creative Woman Club
Why stop at just a box for your kids? If you like crafting, Annie's has a box designed just for you too.
I got one of the Creative Woman monthly kits and it's the perfect project based experience! The projects are almost all a modern twist on a classic craft - super cute and stylish.
Annie's Creative Woman is a monthly service that provides all materials you need for a new craft (except things like scissors and hot glue, which you probably already have at home). They have a great variety of crafts - everything from painting, beading, soap making, needlecrafts, and much more.
Annie's Creative Woman kits are best for: Ladies who like to craft but get overwhelmed with Pinterest projects and too many things to buy or figure out. If you having a clear plan for your craft and being able to complete simple projects, you'll probably love this!
They provide instructions so you can easily finish each project. You can browse their gallery online to see past projects, which include beautiful bead bracelets, an adorable straw purse, and wooden signs.
Farmhouse Style Decor Club
The Farmhouse Style kit has gorgeous home decor projects with that modern farmhouse look.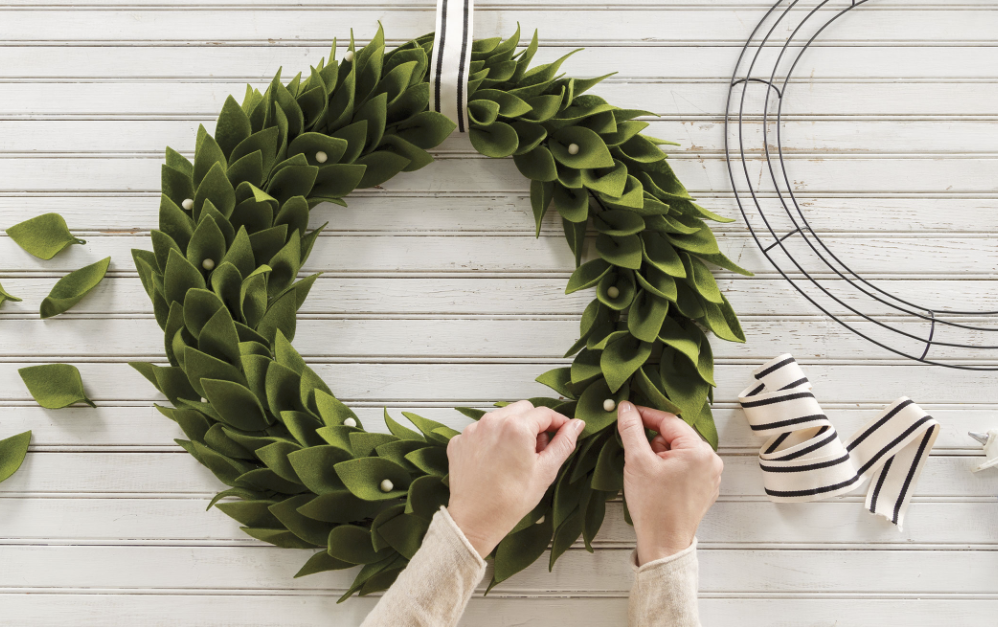 Isn't this wreath gorgeous? I have my fingers crossed they bring it back someday! But From the looks of it, all their Farmhouse Style projects look awesome.
Note: this is the only one of their kits that has an open/shut subscription model; meaning, they have a limited number each month, so you have to order in that month to get it. The rest of the kits they sell are on a rolling basis.
Even more clubs for yarn and fabric and paper!
Annie's also offers tons of other kits that are more specific to certain crafts if you want to enjoy monthly projects of the same type of crafts. You can see all of their kits here.
I haven't tried these yet, but there are plenty of options of Annie's Kits to fulfill all your craft subscription boxes needs:
Annie's Hook & Needle Kit Club is a subscription including yarn and patterns to either knit or crochet. You can learn to make baby blankets, scarves, and tote bags, while learning all about knitting or crocheting (or both!) along the way.
CardMaker is a monthly subscription with instructions and supplies for 8-10 cards and paper creations for you to display or send to loved ones.
Simply Beads is a subscription containing beads, findings, and instructions, to help you create beautiful jewelry pieces. You'll get high-quality stones, crystals, pearls, beads, and more.
Annie's Moroccan Tile Afghan Club is a monthly subscription with all the yarn you need to crochet a beautiful afghan. It's a 10-month kit series that is guided by online video tutorials and instructions. Your first kit includes the yarn and patterns you need.
Annie's Knit Striped Afghan Club is similar as it is a monthly subscription that helps you create an amazing afghan. Again, it's paced over 11 months and you'll add three new stripes each month using three new stitches.
Annie's Charm Pack Club and Annie's Fabric Strip Pack are monthly subscriptions containing high-quality fabric each month. You can add some cute pre-cut fabric to your quilting with this service. You'll also get access to a digital library with 5 quilting patterns when you first sign up, and then a new pattern each month after that.
You can see all of their kits here.
Annie's Craft Kits Reviews
Over 92% of reviewers on Annie's site have given 4 or 5-star reviews.
One mother said she was "secretly jealous" and kind of wanted to steal the craft from her because it was so cute. She said they are "so excited to see what she gets next month."
A grandmother said her granddaughter has enjoyed every craft she's done over the years and that her granddaughter has developed a love of crafting and art, and that it grows more with each shipment. She also says, "It is great to see her grow with every success. I recommend this club for young girls."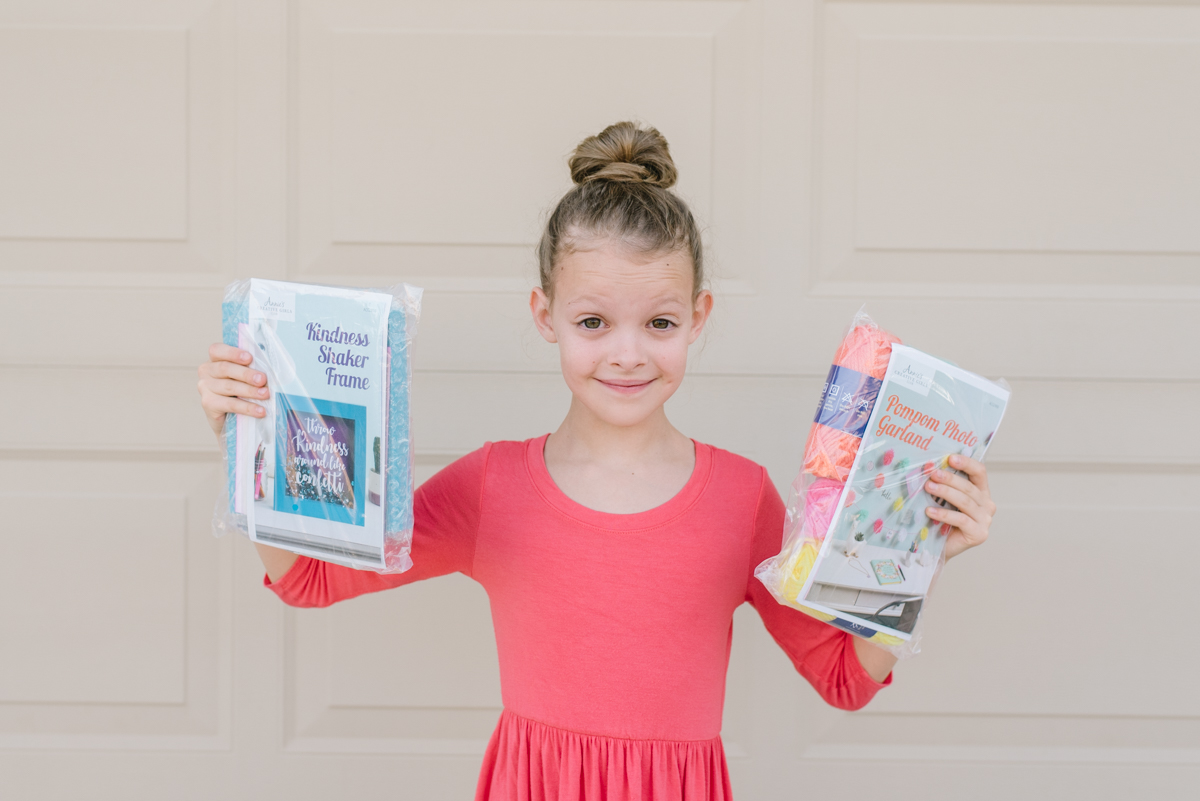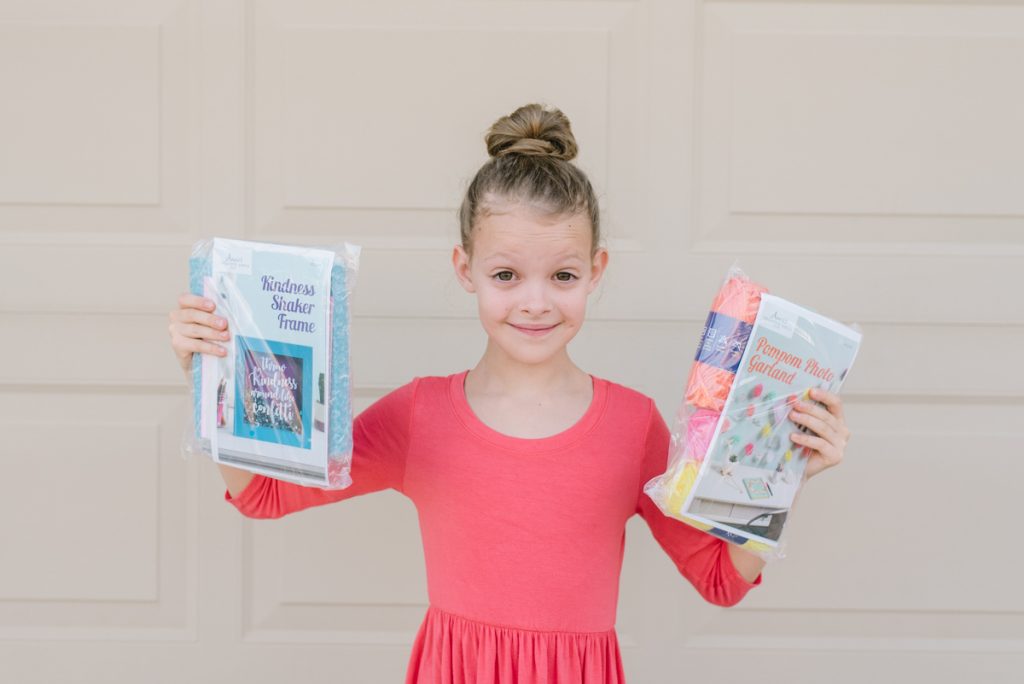 What to get your own kit? Here's to get it for a deal.
The normal price for Annie's Craft Kit subscription is $19.99l Shipping is $4.99 per month.
(Note that the Creative Girls Club actually comes with two small projects for the $19.99 price, whereas the other subscriptions come with one larger project.)
But, I've got a coupon to get your first month for 50% off! That means you can pay 9.99+shipping for first month.
Click these links and use coupon SHARE50. (If you click the coupon will probably be applied automatically, but if not, that's the code!)
Click here to save 50% off Creative Girls Club.
Click here to save 50% on Young Woodworkers Club
Click here to save 50% on Creative Woman Club
Click here to save on any of the other clubs.
Note: This is a subscription, so you're signing up to get future boxes too. After your first box, you'll be charged full price for subsequent boxes. But you can log into your account and cancel or pause your membership at any time.
All the Annie's Craft Kits work on a rolling shopping basis (except Farmhouse Style). So you can order anytime, and your order will immediately be queued to ship and start your subscription. However, they don't guarantee that everyone will get the same kit every month, so if you and a friend order at the same time you could potentially get different kits.
The exception is Farmhouse Style, which sends every active member the same kit each month. So for that club, they have to limit enrollment to their inventory, so there might be a waiting list to join.
---
Annie's Craft Kits and other services are a great way to introduce and cultivate a love of crafting and creating. If you're looking for a creative or crafting service for either yourself or your child, check out Annie's Kit Club!