Custom gifts are a really thoughtful way to show your loved ones how much you care. You can get your spouse, friend, or parent something they'll love while taking it an extra step by personalizing it. One great custom gift is a photo puzzle.
Photo puzzles are the perfect personalized gift for anyone who loves puzzles. Imagine putting together a puzzle that features your favorite faces!
If there's anyone on your list who loves puzzles, here is a list of a few places you can look.
There are so many different things to look for. Do you like your puzzles matte, or glossy? Do you like them with a predictable die cut or a random, more complex one?
Or do you just want a puzzle and not to think about those things? 🙂 Either way, here are our favorite photo puzzles.
The Best Places to Order a Photo Puzzle
Wondering where the best place is to get a custom photo puzzle? We've done some compare/contrast on the options in this post.
Custom Photo Puzzles from Pictorem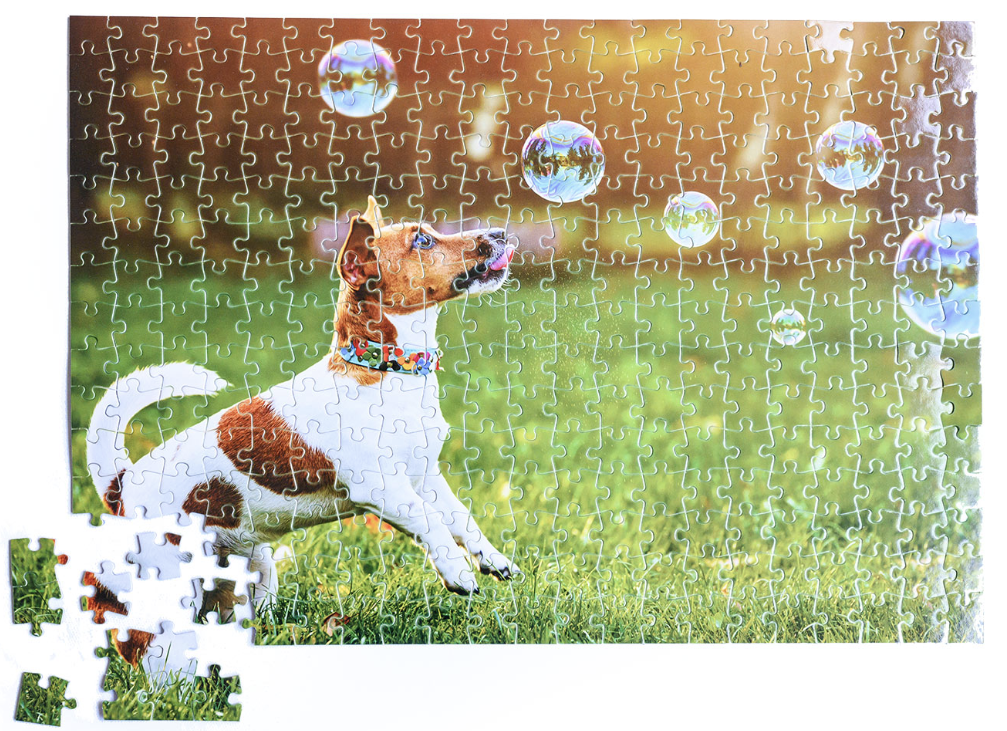 Price: $42-82
Size Options: 11x8, 17x12, 21x15, 27x17
Shape: rectangle, heart
Glossy or Matte finish only
Their high-gloss puzzle is protected by varnish and produced with dye sublimation. This means that, unlike traditional printing, the ink is not just applied to the surface of the puzzle. Instead, they use heat and pressure to transfer and bond your image directly to the puzzle. This means your image will be clear and vibrant.
Their images are all processed at 300 dpi, so don't enlarge your photos - they'll do that for you. Try to send the highest quality JPG you can. Pictorem has multiple sizes to choose from, starting at a 25-piece puzzle and going up to 1000-piece puzzles.
Pros:
They have a 30-day money-back guarantee.
Puzzles are protected by high-gloss varnish.
You can have your puzzle come pre-assembled (laid flat with no box) or disassembled in a retail box (for $10 more).
Cons:
Does not come with a box (you can pay $10 for one though.)
Takes about 8-10 days for production, so with shipping time, you need to plan ahead!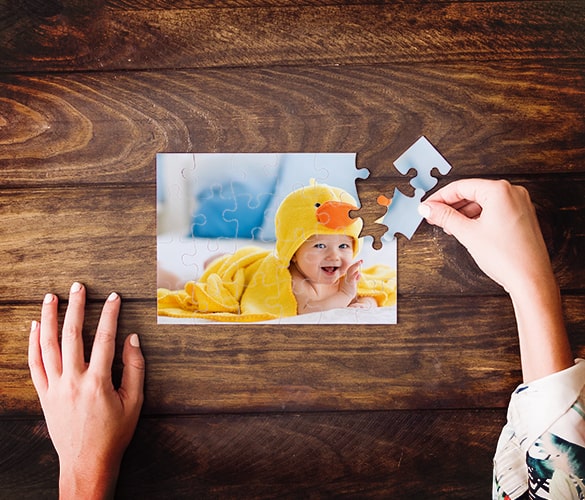 Price: $27-124
Size Options: 4x6, 8x10, 11x14, 16x20, 20x30, 30x40, 34x48
Shape: rectangle, rounded, heart, circle, square
You can get these puzzles in several different shapes: rectangle, rounded, heart, circle, or square. They come in tons of different sizes, ranging from 4x6 to 34x48. Depending on the size, you can get a variety of pieces - anywhere from 6 pieces for a small puzzle to 1000 pieces for a large one.
Their puzzles are printed on acrylic with a firm backing and include a storage box. The puzzles can have one photo or multiple photos plus text. Due to the variety in size and number of pieces, the puzzles are suitable for ages 3 and up.
Pros:
Lots of options for size and puzzle shape.
You can customize how many photos you want on your puzzle and add text.
Cons:
Editing options while making your puzzle are limited (like rotating your photo, etc.).
Some customer reviews said ordering was a complicated process and not very user-friendly.
Price: $32-52
Size Options: 10x14, 16x20, 20x30
Shape: heart, circle, rectangle
They come in a variety of shapes and you can get a kid's puzzle with 30-50 pieces, or a larger one with 250-1000 pieces. They have different styles, texts, and borders you can add to your photo puzzle. Made of high-quality paperboard.
You can add multiple photos and text as well, which is a great way to include multiple families in a grandparent gift if you don't have a big group shot.
Pros:
You can add borders and other fun elements to your puzzle.
You can add multiple photos and text.
Cons:
Not as many size options available as other companies.
Because puzzles aren't Shutterfly's main focus, they aren't the best quality (ie the tagboard isn't as strong and the pieces don't click in as well).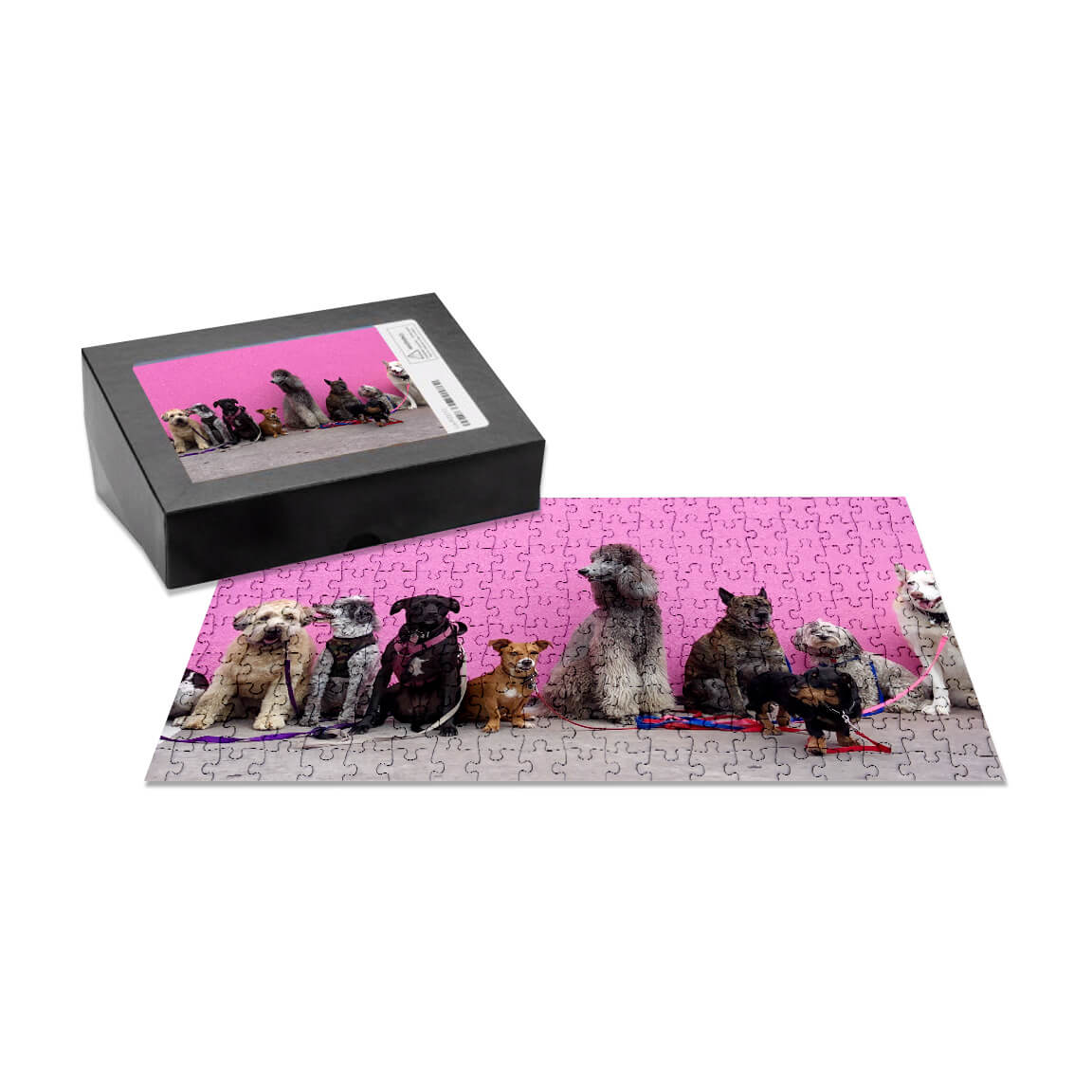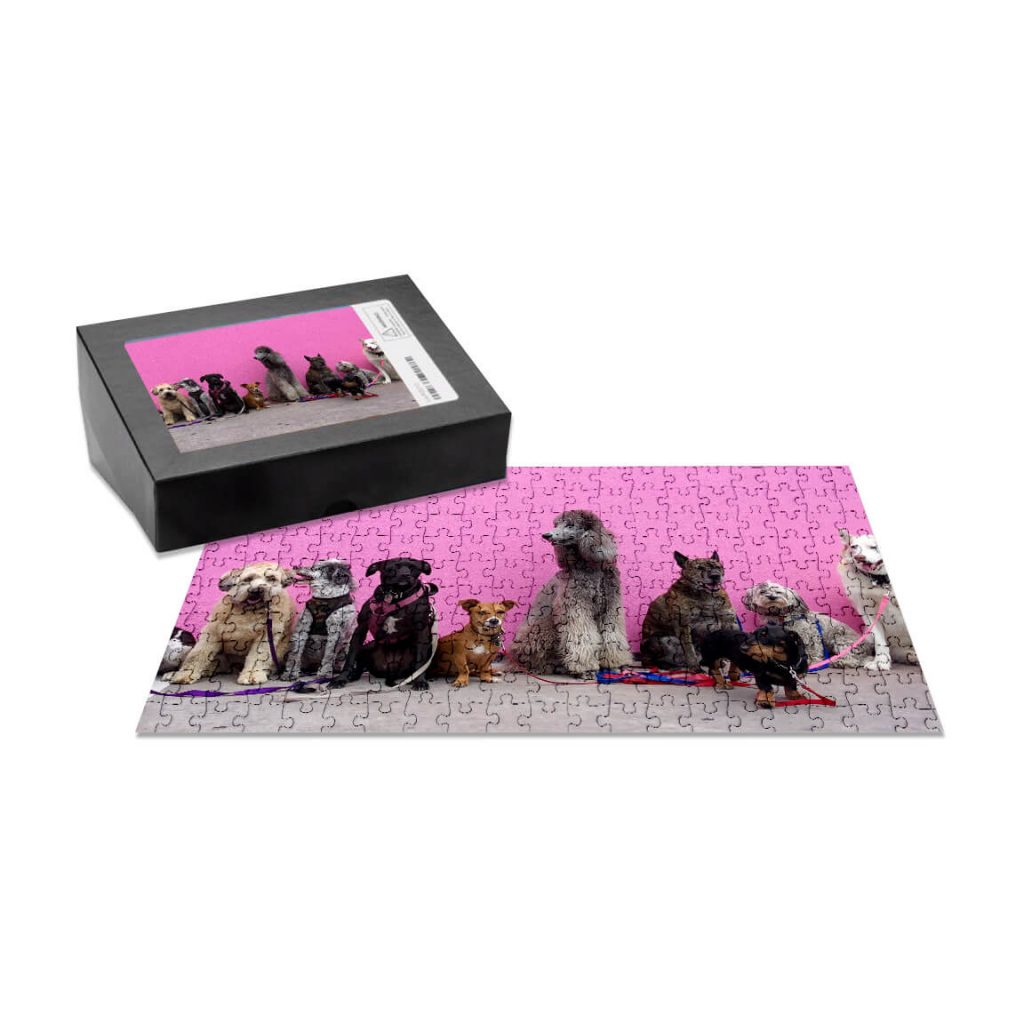 Price: $23-59
Size Options: 11x14, 16x20, 20x20, 20x30
Shape: rectangle
Printique's photo puzzles come unassembled in a gift box. All you have to do is upload your image (which could be your photo but could also be one of your child's drawings) and pick the puzzle size you'd like.
The puzzles range from 252 pieces for the smallest size puzzle up to over 1000 pieces for the largest puzzle.
Pros:
Affordable pricing.
Several size options.
Cons:
Only one shape option (rectangle).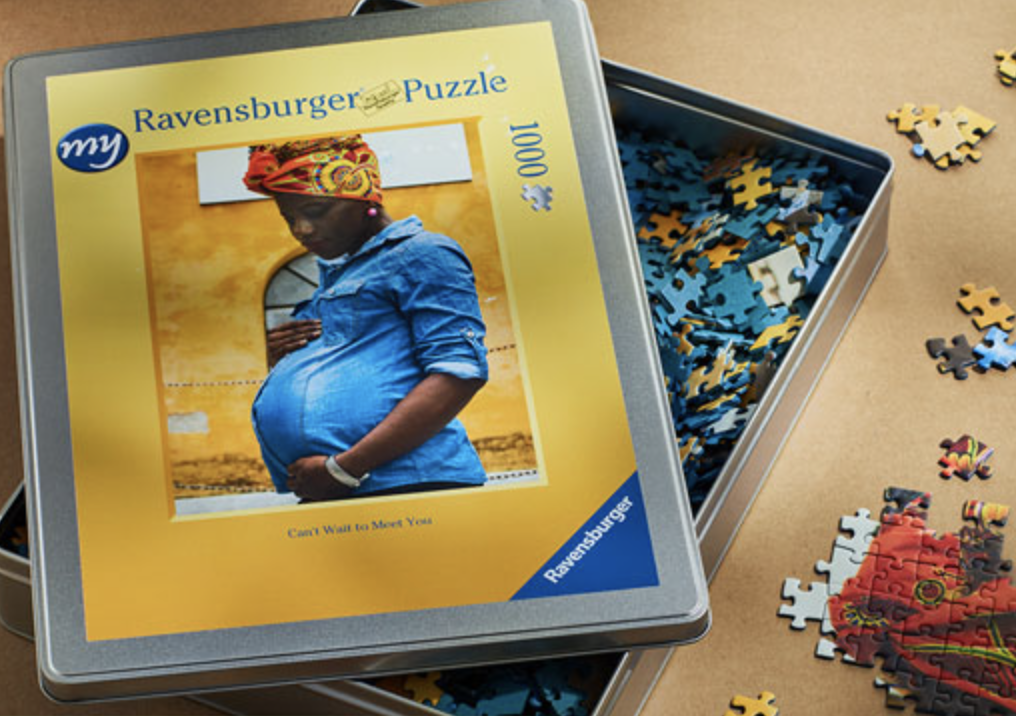 Price: $35-50
Size Options: 20x14-32x24
Shape: rectangle
Ravensburger is known for its high-quality puzzles - the pieces have that satisfying "click!" as they snap together.
Now you can get that quality in a custom puzzle as well! Ravensburger puzzles range from 100 to 1500 pieces. They take 10-14 business days to produce and ship, so order in advance.
Upload your picture, choose the piece count you'd like, and then add a message or title to the tin storage box. They come in three different sizes: 20x14, 27x20, 32x24.
Pros:
These are probably the highest-quality option on the list!
Cons:
These puzzles have a longer turn-around time than some other options.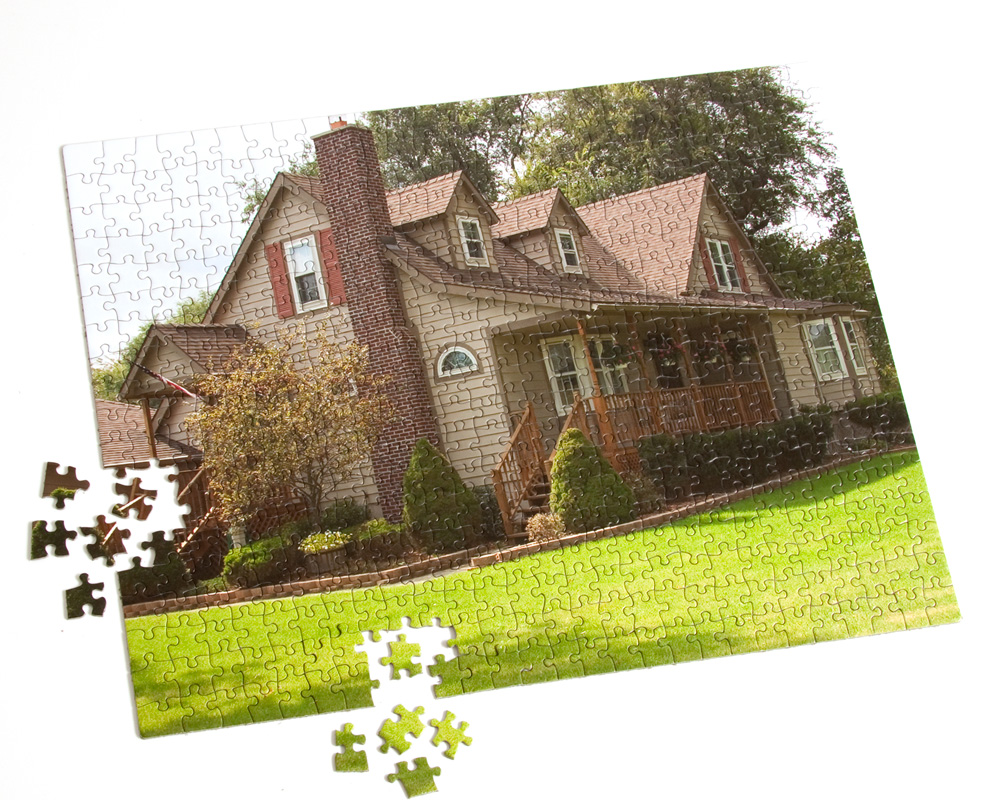 Price: $35-55
Size Options: 16x20, 20x26
Shape: rectangle
You can easy puzzles for kids that are only 30 or 50 pieces, or you can get more complicated ones. They have options for 100, 200, 300, 500, or 1,000 pieces. Just upload your photo and someone from their team will review your image and crop it if needed.
Your puzzle is shipped the next business day, so turnaround is insanely fast!
Pros:
Your puzzle is shipped out the next day.
Several options for how many pieces in your puzzle.
Cons:
There's only one shape to choose from.
Limited size options.
---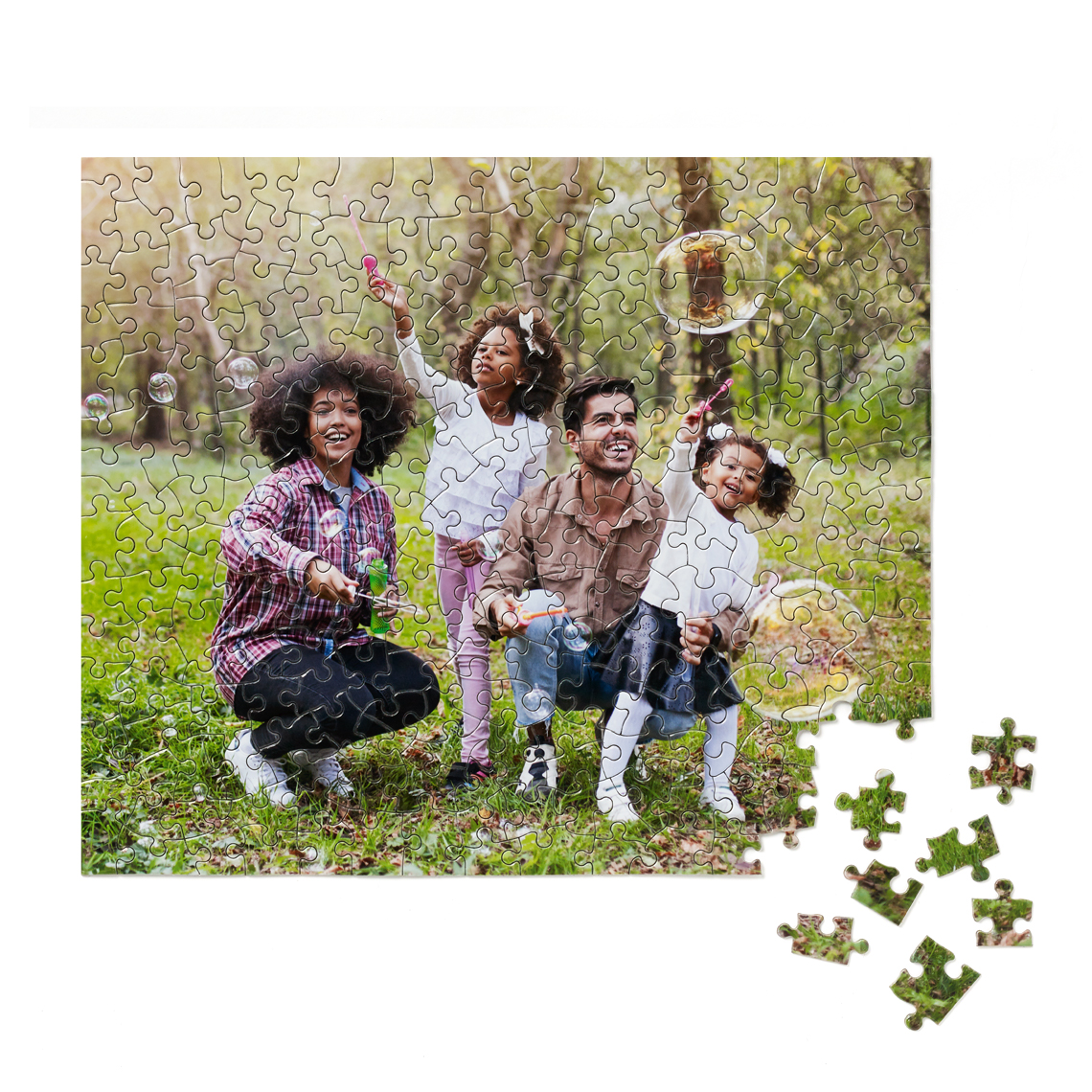 Price: $35
Size Options: 11x13
Shape: rectangle
This one is great if you don't have time to wait for shipping. Depending on where you live, you might qualify for same-day pickup - which is currently available at over 3,700 locations.
The downside, however, is that this puzzle only has the option of 252 pieces. So if your family loves a more difficult puzzle experience, this might be too easy for you. It comes with a black storage box and your image on the front for reference. You can put one image on the puzzle or multiple. They have more layouts available here, but they are 11x13 with 252 puzzles.
Pros:
Available for same-day pickup at most locations.
Cons:
Only one option is available for shape and size.
Only option has 252 pieces.
---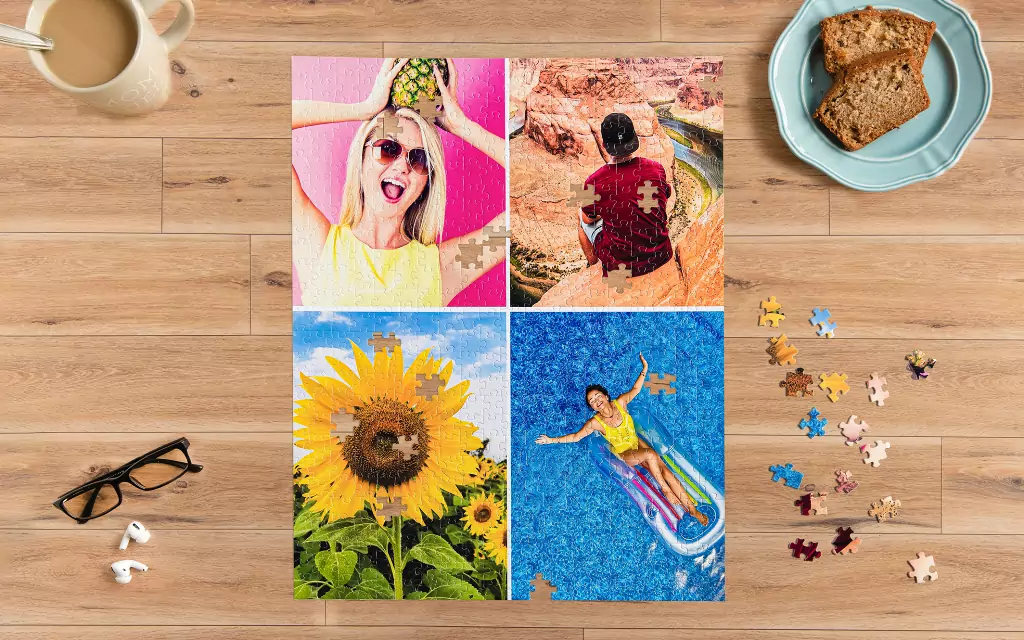 Price: $40-120
Size Options: 8x10, 11x14, 16x20, 20x20, 19x27
Shape: rectangle, square
Matte finish only
Your puzzles can have a matte or glossy finish on premium photo paper. They are glued to a sturdy backing so that you can take apart your puzzle and put it back together countless times. You can do 30 or 55-piece puzzles for kids, or harder puzzles that have between 110 and 1000 pieces.
The puzzles have sturdy backing and come in a nice, sturdy storage box with your picture printed on top. The prices range from $40 to $120, but they do have frequent sales. Standard delivery takes 10 business days while rush delivery is 5 business days.
Pros:
You have options with finish, size, and number of pieces.
Comes in a nice, sturdy box that you can customize.
Cons:
One reviewer said the puzzle piece fit was loose while another said the puzzles weren't totally separated and they had to use a scalpel to cut them apart.
---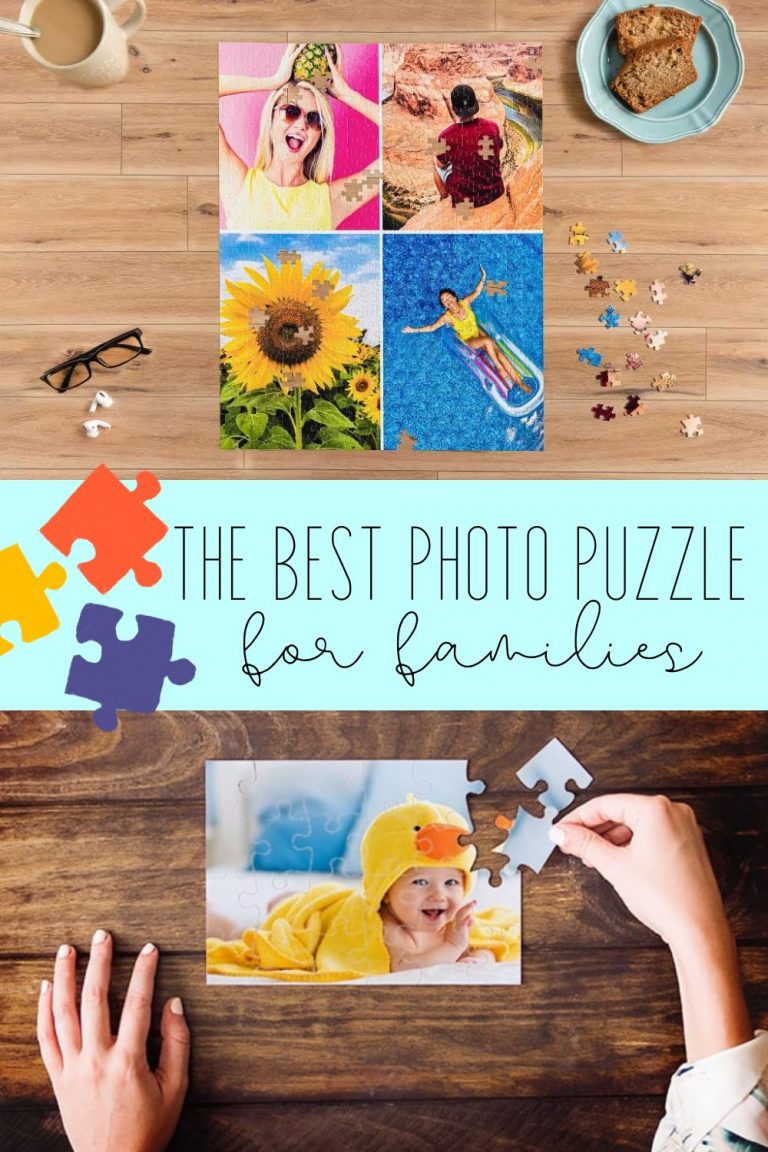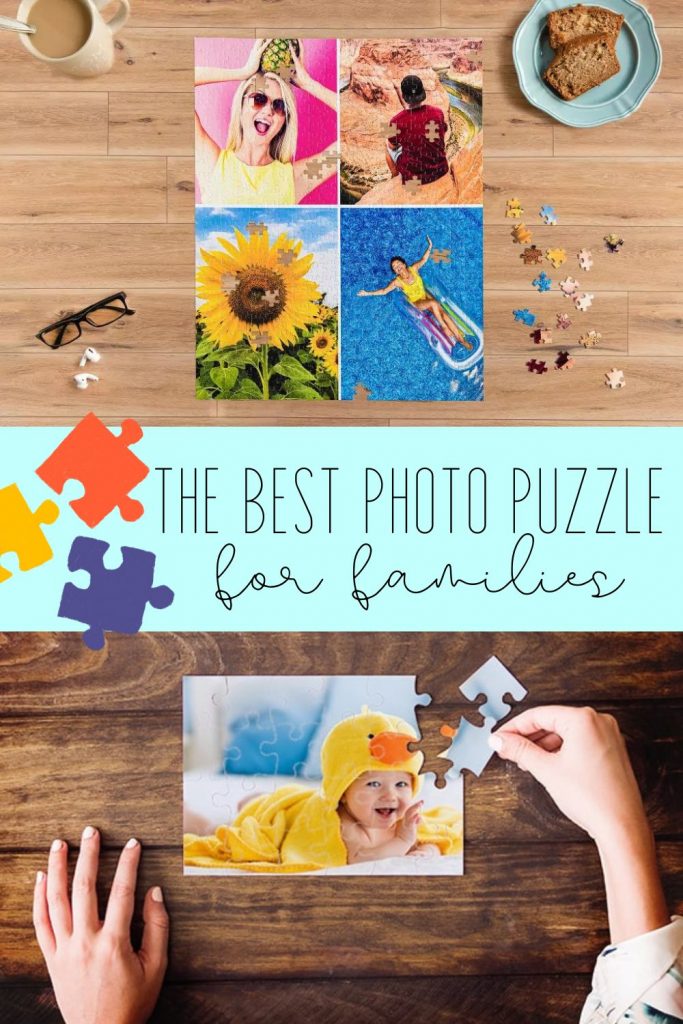 Our Final Verdict
These are all pretty great options, and the one you choose will be based on what your priorities are.
Do you want the cheapest option? Then we'd go with Printique. Do you want the largest option? Then Canvas Champ is your best choice.
CanvasChamp also offers puzzles with bigger pieces, which is great if you wanted a floor puzzle to do with your kids!
Regardless of what you go with, these custom photo puzzles are perfect for any occasion. They are a great gift for your spouse, parent, friend, or yourself!