Do you take a lot of polaroid photos? If you do, it might be fun to include those and display those photos somehow - like in a mini polaroid photo album!
There are a few reasons you might want a polaroid photo album. First of all, you want to display your fun polaroids or Instax mini photos! That's a given!
Another fun way to use polaroids is in a polaroid photo book for your wedding. Making a polaroid wedding guest book is a really fun way to remember who was at your wedding. You could fill your photo album with polaroids or Instax mini photos of you and your spouse and have people just sign on the pages near, or you can leave a polaroid on the table and have your guests take photos of each other to leave in your book.
You might also want a polaroid photo album to show off your photos from a specific vacation. If you went on a trip and took a polaroid camera with you, then you'll want to make a book with all of your fun vacation photos! We have some options for those albums below along with options for a polaroid wedding guest book.
Most of these will state if they work for polaroids or Instax mini photos since there is a difference in size between the two. In some cases, you are adding the corner tabs for the photos yourself, so you can make the size you need. Just make sure when you're choosing your photo album that the size is correct for the photos you're using - whether they are polaroid photos or Instax mini photos!
Wedding Polaroid Photo Albums
If you're looking for a photo album for your wedding, these are some perfect picks! They have space for comments and congratulations alongside the photos on each page. If you want a polaroid photo album with space to write, we've got some options here.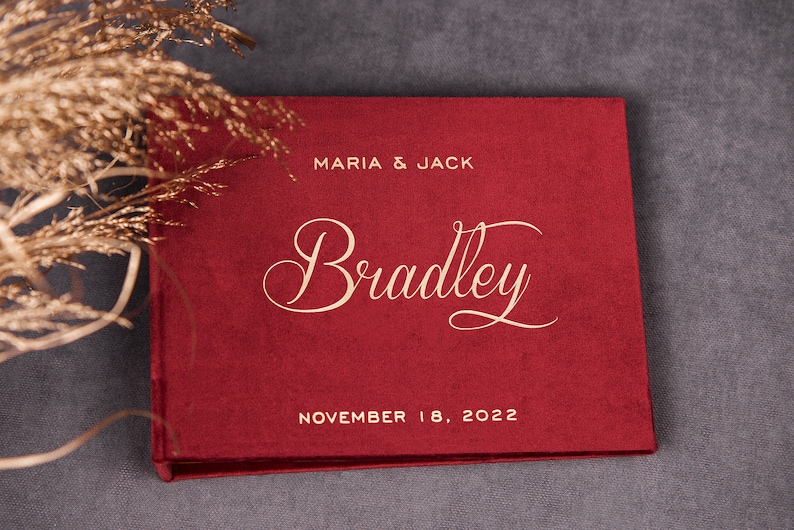 This mini polaroid photo album is handmade from suede fabric and they can customize the cover to include your own text or logo. The pages are made of acid-free paper and you can choose whether you want pockets on the pages or not.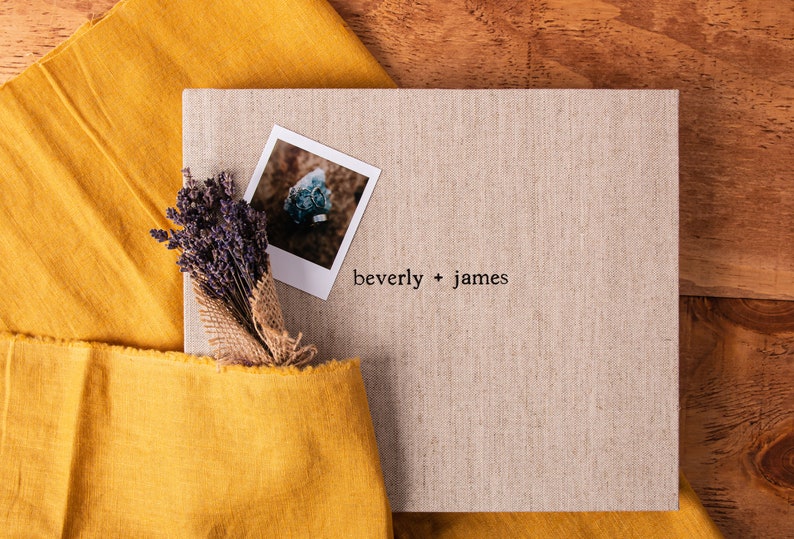 This guest book has an oatmeal linen cover that can be personalized with your name and the date of your wedding with gold, black, silver, white, or cream foil embossing. The book is made with lay-flat binding so it's easy to lay it open as people are signing it.
The acid-free paper comes with photo corner stickers so you can add your Polaroid photos to the pages. You'll get 120 corner stickers, which is enough for 30 pages. The books come in several sizes: 10x10, 12x12, 10x12, and more.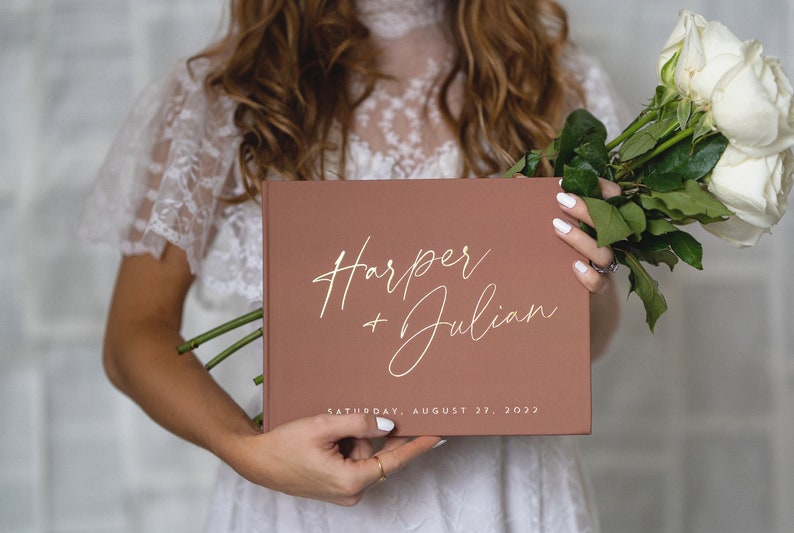 This hardcover guestbook comes with a white ribbon attached to the spine to easily keep your place in the book. They also include either 50 or 100 sheets of paper.
This book comes in landscape style and can be customized with your names in metallic foil. You can also add a quote on the back of the book and text on the spine! You'll give the seller the text information along with your choice of color for the cover. Then they'll send you a proof to approve.
I love the amount of customization you can add to this guestbook!
This photo album has a suede hardcover with two small, pretty flowers printed on it. The paper inside is thick so markers and pens won't bleed through if you're using it as a guest book. Each page has two small sleeves that fit Instax mini photos, and the book holds up to 52 photos total.
The drawback on this one is that because it's pretty small, there isn't a lot of room to write. If you want your guests to only write a little bit, this could be the solution. But if you're hoping for lots of room for people to write messages, this won't work for you.
---
Scrapbooks for Vacation Polaroids
You might be looking for a scrapbook to show off your vacation, then here some options for you. Some have room to add captions and some do not - so it just depends on if you want to be able to write things about each photo or if you want to just display the photos.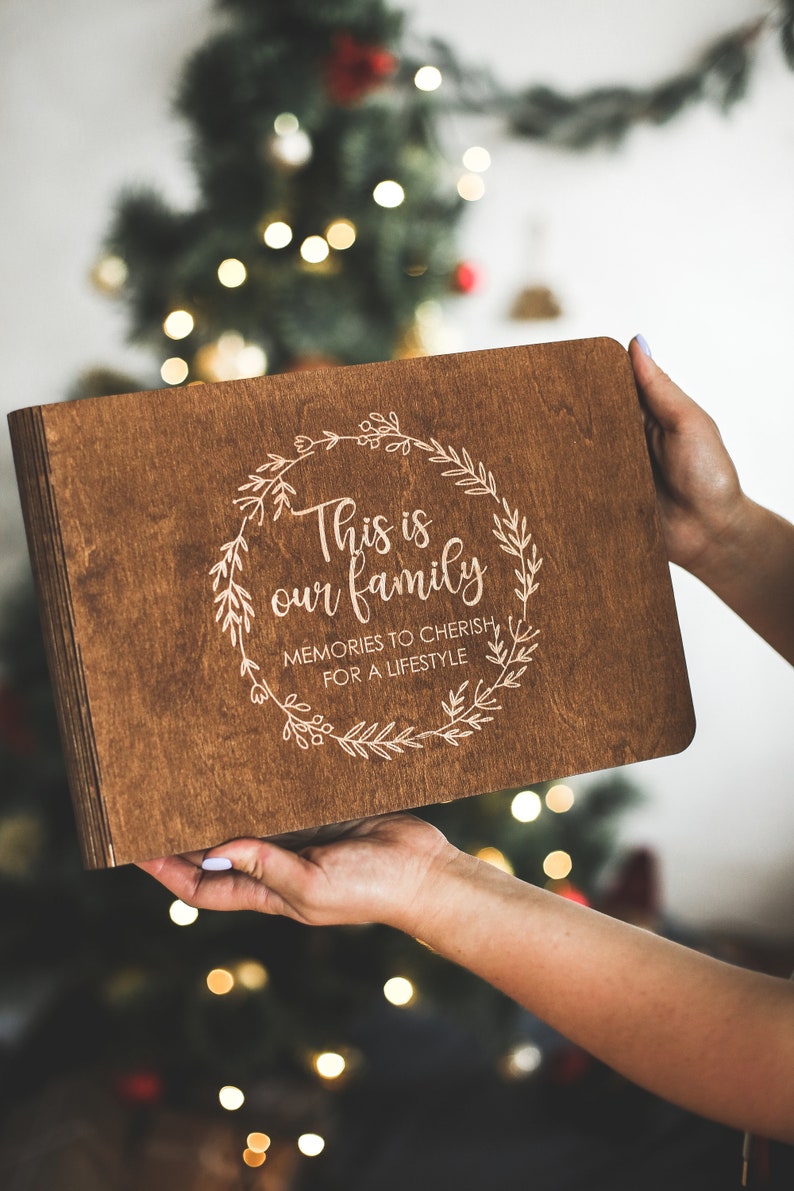 This photo album is really cool because it's a wooden album! For the color of the cover, you can choose between natural, oak, walnut, teak, mahogany, and more. You can also choose the design that will be engraved on the wooden cover.
Each album comes with 25 or 50 pages and comes in two sizes: 13.7x9 or 10x6.6.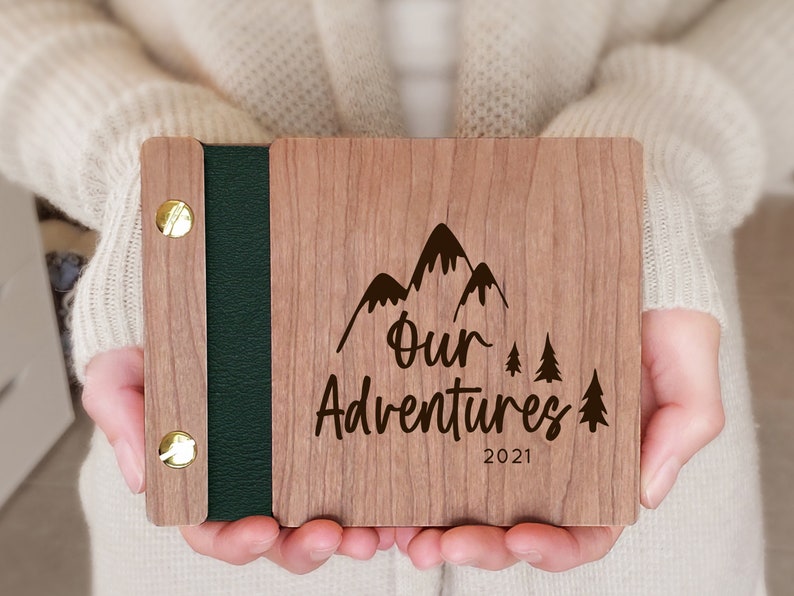 This mini polaroid photo album has a cherry wood cover with a laser-engraved design. It comes in a 4.25x5.5 size with 20 sheets of archival paper.
Because it's small, it only fits one photo per page. So if you're hoping to add lots of photos to a book, this one probably won't work for you. But if you only have a small collection of photos from a specific vacation, this is a great choice!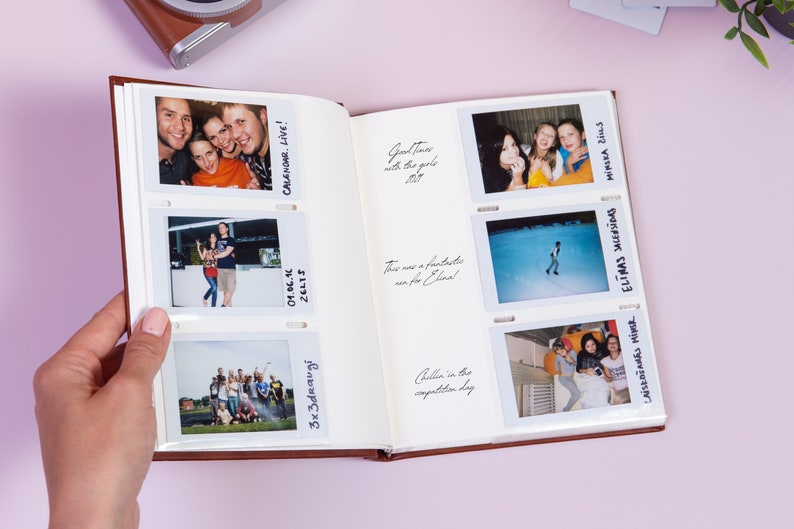 This album is meant to fit 120 Instax mini photos. The album has pockets for the photos as well as space to write captions or memos. You can personalize the album cover and choose between brown, purple, or blue for the color.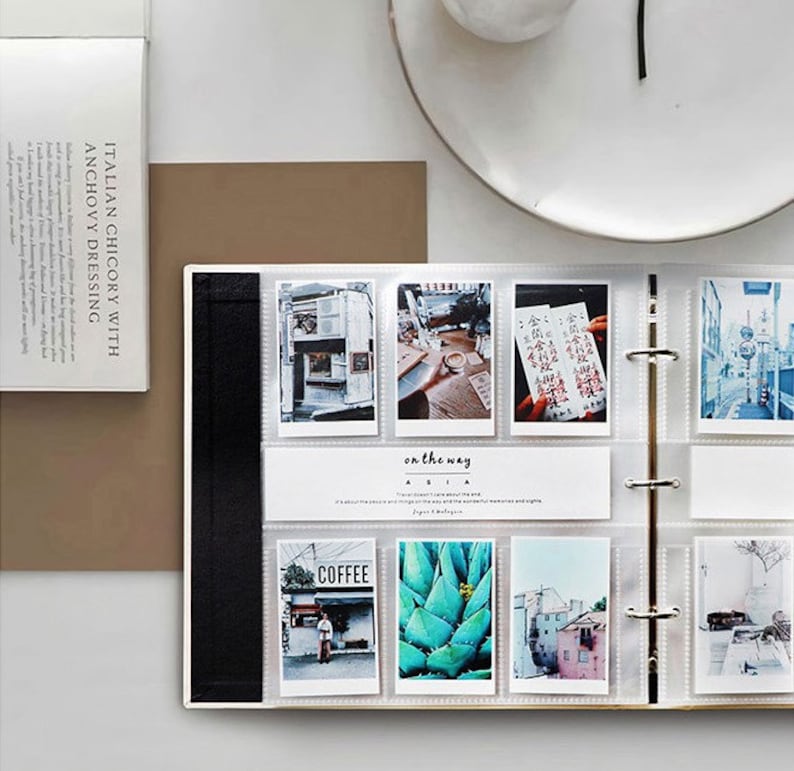 This album is also for Instax minis and can fit 360 photos. The cover is made from eco-friendly cloth and you can choose between 59 colors. It's about a 10x10 size, and each book can fit 6 Instax mini photos.
You can also choose to get pages that fit 4x6 photos!
These albums are compatible with Instax photos or polaroids and can hold 120 photos total. There are clear sleeves on the pages to protect your photos, but there isn't any room on the pages for writing, in case you wanted to caption your photos.
The photo album comes in multiple colors so you can choose between a myriad of fun covers.
This photo album is compatible with Instax mini photos and can hold 360 photos total. There is no room in the book for captions or writing, so this is meant for anyone who just wants to have photos in an album with nothing else.
The cover is a plain color, so it's great if you want a simple design, and there is an elastic that will close around it to keep the book securely closed when not in use. It comes in pink, black, white, blue, and gray.
---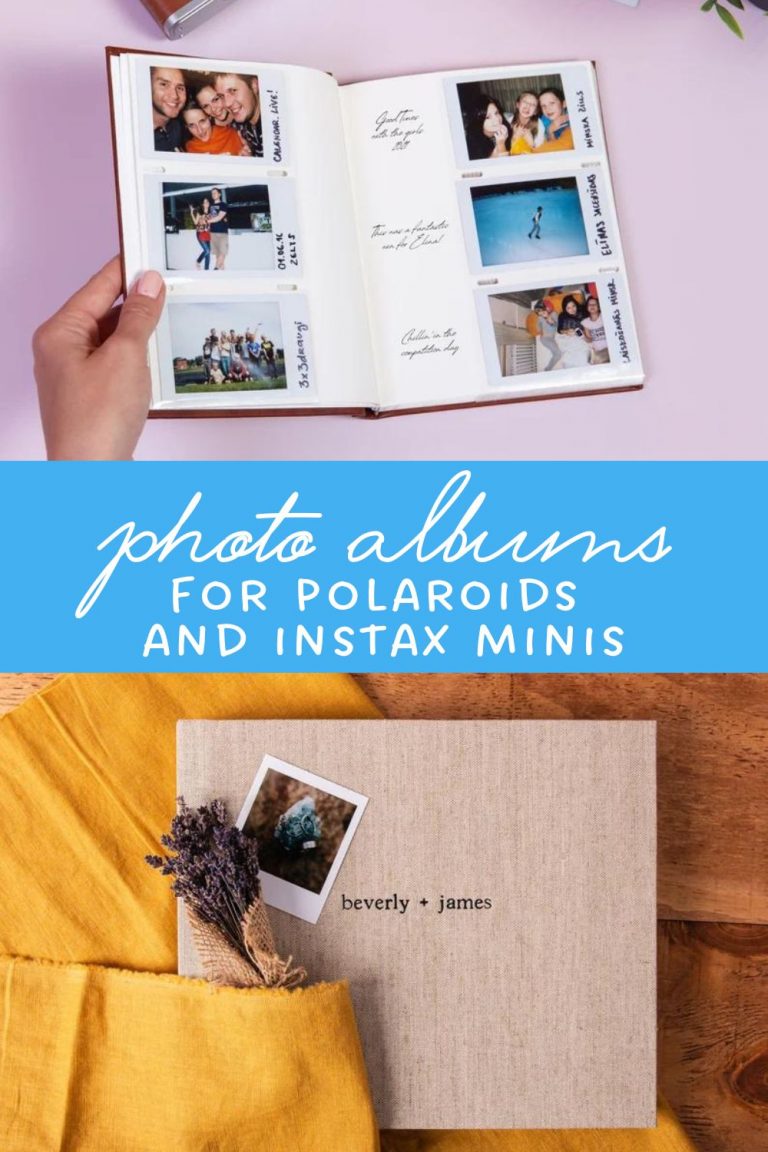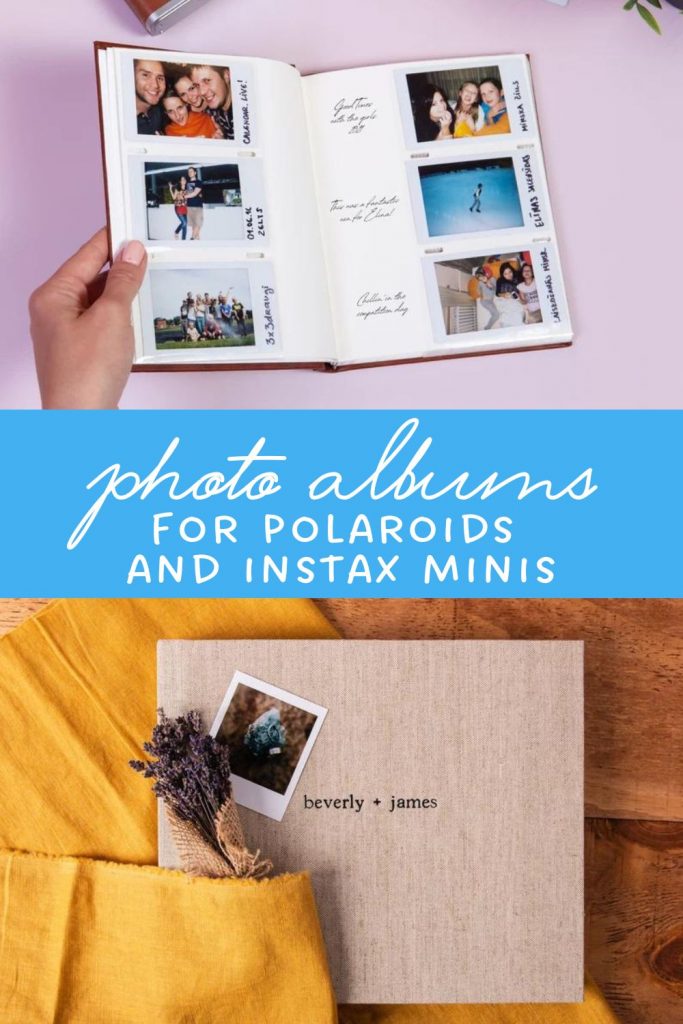 There are some really pretty options for polaroid photo albums! I hope you found one that you love.
What are you using your polaroid photo album for? Let us know below!