Do you want a camera but you're not a fan of the hefty price tag? Consider buying a used DSLR camera. When purchased through reputable sources, used camera gear can work perfectly well for you. New camera versions come out yearly, so often models that are just a few years old can be purchased for much cheaper than new ones.
This post covers three solid options for where to buy used DSLR cameras. You can totally find cameras in great condition that are gently used.
Option 1. Buy a used DSLR camera from a vetted online shop
One of the best ways to find a used DSLR camera and other equipment is to go through a vetted, legitimate online shop.
Here are my favorite shops that sell used DSLR cameras for beginners.
KEH
KEH has been selling used DSLR camera gear since 1979, so it's a super trustworthy site. They buy used cameras, lenses, and other equipment and then resell them at great rates. You can also trade gear with them if you have a lens you're not using, and shipping is free for orders over $49.
They constantly replenish their inventory with popular, unique, and recently released camera gear, so they have well over 60,000 items in stock. They appraise every item before they sell it, so you can feel confident in buying their used gear. Plus, you can get some equipment for up to 40% below the retail price!
KEH has a pretty rigorous appraisal system before they add it to their site. They inspect the condition of the body, mirror box, sensor area, screen, battery doors, and memory card pins. They test the camera with a new battery and memory card to make sure it will work. KEH also tests the camera's metering and calibration with a test lens and makes sure it can focus and shoot correctly. They inspect the image quality for focus issues, sensor damage, or any other problems.
They then rate their gear on the following scale:
New - for anything not previously owned or used
Like New - for anything that is 99-100% new with original box and instructions
Like New Minus - items that are at 97-99% of their original condition, but usually doesn't include box or accessories
Excellent Plus - items at 90-96% of their original condition; they are still exceptionally nice but might have slight wear under close inspection
Excellent - for any items at 80-89% of their original condition; moderate wear with small dings or blemishes, but none that will affect picture quality
Bargain - items at 70-79% of the original condition; more than average wear and probably has dents or dings, plus possible glass blemishes that shouldn't affect picture quality
Ugly - rough equipment with lots of finish loss and brassing; glass will have blemishes or haze that will affect picture quality
As-Is - only useable for parts, and equipment may not work; no warranty or returns for this one, so make sure you get gear of this grade if you're only a seasoned photographer who wants specific parts to use in other equipment
KEH also has a 180-day warranty for all of their equipment, except for those with Ugly or As-Is grades.
Check out KEH for a used DSLR camera for beginners.
---
Adorama

Adorama has pretty much every piece of equipment you could want. You can buy both new and used cameras from Adorama, so keep that in mind while you're browsing. Not everything on their site is used, so if a price looks high then it's probably a brand new item. You can also rent or trade equipment through Adorama.
Adorama sells high-quality used equipment - if they wouldn't use it themselves, they don't sell it. Adorama's trade-in system requires that they examine each piece of equipment and weed out anything that doesn't meet their standards.
Their product ratings are conservative and they tend to "rate downward" so you're likely to receive equipment that is better than you expect. This is how they grade their items:
D = Demo, so little to no sign of wear
E+, E, E- = Excellent, from + to - they will show more moderate wear, but they'll still be in excellent condition with no issues that affect picture quality
V = Very Good, so it may have dings and scratches, but it won't affect picture quality
G = Good, items will have multiple dings, cracks, and brassing, and it might affect picture quality
F = Fair, they'll have certain malfunctions that will be detailed in comments
X = Parts Only, these are final sale just for parts
D, E+, E, and E- items have a 180-day warranty, V and G items have a 90-day warranty, F products have a 30-day return policy and no warranty, and X items have no warranty or returns.
Adorama has weekly trending deals (mostly on new products) but you can check back frequently for constant specials and deals.
Check out Adorama used DSLR cameras for beginners.
---
UsedPhotoPro
Wondering where to buy used dslr cameras? UsedPhotoPro specializes in it!
You can search based on the condition, and they break it up into several categories: mint, excellent, good, fair, poor, and inoperable. This is how they break down their categories for rating their used cameras.
Mint = in 99% of its original condition. No cosmetic blemishes and is fully operational.
Excellent = in 90-98% of its original condition. Little to no cosmetic blemishes and is fully operational.
Good = in 75-89% of its original condition. Fully operational.
Fair = in 65-75% of its original condition. Shows heavy wear and possibly has major cosmetic blemishes. Fully operational.
Poor = very rough looking in appearance. May have non-functioning or missing parts but the core functionality is operational.
Inoperable = sold as is, all sales final. Items have not been fully tested and might require repairs. Cannot guarantee funciontality or completeness of item. Sold for parts or repair only.
You can get used cameras, lenses, and other accessories. You can even get film (not used in this case) and darkroom accessories, so it's really like a one-stop shop for everything you need.
The prices are super reasonable too, especially for the condition their items are in! You can trade in gear for newer (slightly used) cameras, or just sell your old cameras to them even if you're not looking to buy a new one. This is a great one to check out!
Check out UsedPhotoPro cameras.
---
B&H Photo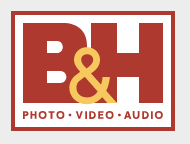 B&H Photo is another online shop that has both new and used camera equipment. A simple search for used DSLRs will show what they have available. They also have older film photography equipment available if you want to try something different.
Their used cameras have all been tested and rated, so you can easily tell what condition they are in. Their ratings are cosmetic-based and are separated accordingly:
OB - like new with a warranty
Demo - never owned, only used for demonstration purposes
10 - looks good as new
9+ and 9 - a slight show of wear
8+ and 8 - moderate wear, scuffs, or dings
7 - shows considerable wear from above-average use
All of their items come with a 90-day parts-and-labor warranty, but you are also able to purchase supplemental warranty coverage in some cases if you choose to.
---
BorrowLenses
BorrowLenses is primarily a camera rental company, but they also have used camera gear for sale. They are a great place to look for a used DSLR camera for beginners.
Every item for sale on their site has been inspected by their experts, and a rating is provided so you know the exact condition of each item while you're browsing. It also shows the retail price next to the used price so you can see exactly how much you're saving.
Their Expert Rating is graded between 6 and 10. They do not sell any items rated under 6.
10 = Like New, no signs of wear and tear
9 to 9.9 = Excellent, light wear and tear that have almost no scuffs, dings, or dulling paint
8 to 8.9 = Good, mild wear and tear with faint scuffs and loss of shine
7 to 7.9 = Poor, heavy wear and tear with noticeable scuffs and dulling paint, but still fully functional
6 to 6.9 = Fair, severe wear and tear from heavy impact, scuffs, and diminished paint, but still fully functional
When you get used gear from BorrowLenses, you also have a 3-day inspection period, so you have 3 days after your purchase arrives at your door to decide if you'd like to keep it.
Check out BorrowLenses used cameras.
---
LensRentals
LensRentals is a great way to try out a camera and then buy it if you love it! The gear is already being rented out to people, so you know it works well and is vetted by the company. When looking through their products, just make sure you check the "yes" box on the left side of your screen under the option "For Sale."
When you go to buy (or rent) a camera or other equipment from LensRentals, you'll see information on the overall rating, cosmetic appearance, performance, and overall rating. Each category will give you a rating from 1 to 4.
1 = Exceptional
2 = Very Good
3 = Passed
4 = Flawed
If there is more than one of that exact item, you'll see the options and ratings for each one and you can choose which you'd like based on rating and price. There will usually be multiples of that item you're looking at.
If you're looking for a used DSLR camera for beginners, then LensRentals is a great shop. You can try any item before buying it!
Check out LensRentals used cameras.
---
Option 2. Get a used DSLR camera refurbished from the retailer
You can check on Canon or Nikon's sites for refurbished cameras as well. They usually have a decent selection you can search for. Obviously, as with all of the sites listed above, they might not have exactly what you're looking for, but if you keep checking, you should find something you love at a great price.
You can check here if you're looking for a refurbished Canon camera or here if you want refurbished Nikon equipment.
I will caution against buying used cameras on Amazon, with the exception of cameras marked refurbished by the manufacturer. The former is a huge risk, the latter is totally fine. Just be careful if you're buying a used camera on Amazon.
---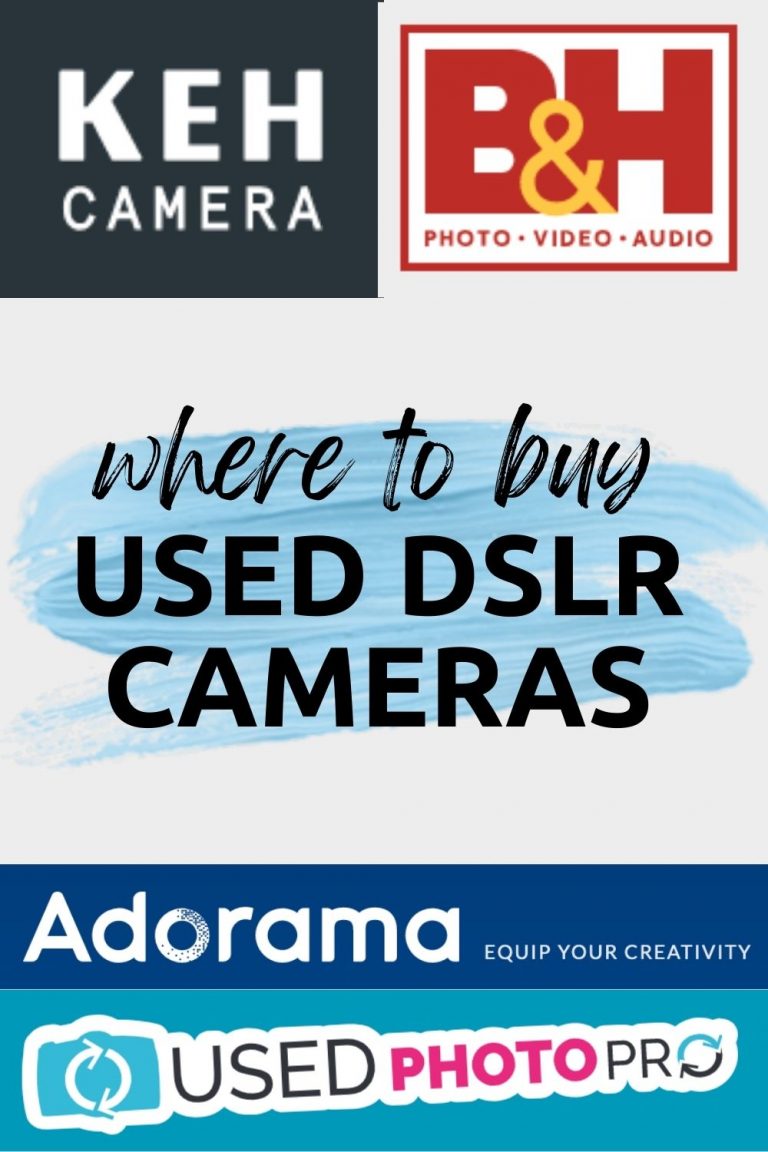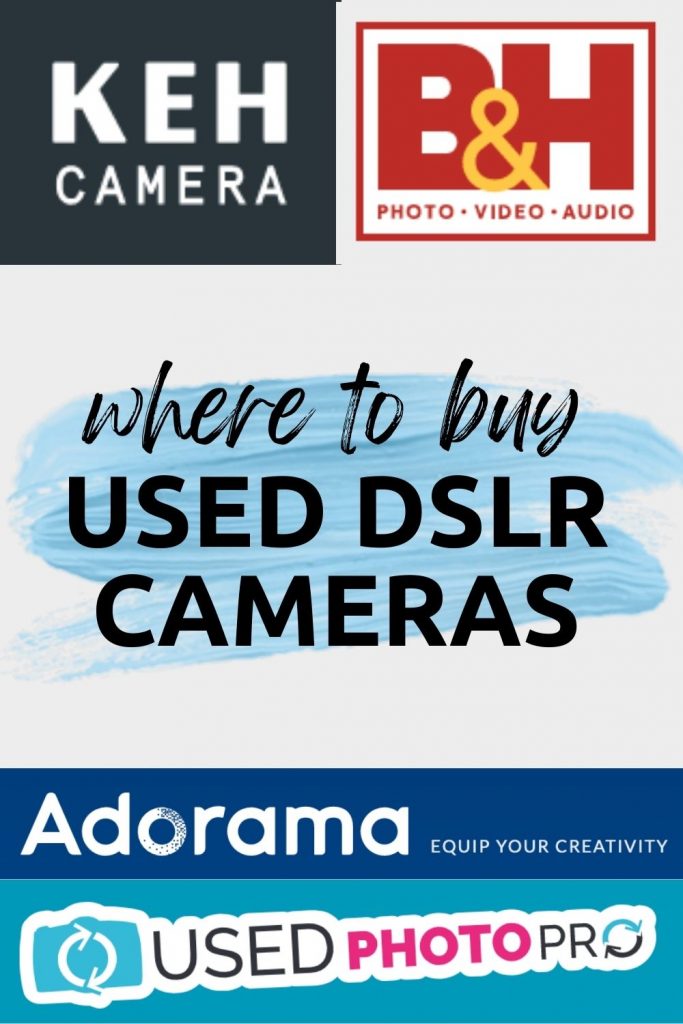 Option 3: Buy A Used DSLR Camera Locally
There's also the option of buying locally! You can check through a local photography store or join a Facebook photography group and see if anyone has a used DSLR camera you can buy.
Lots of photographers start with basic gear and move up to more professional gear. Cameras and lenses retain their value if they've been treated well, so many photographers sell their used gear when they move up to a better camera. In the same vein, sometimes professional photographers try out a lens and then find they never use it, so they decide to sell it.
That means you may luck out and find cheap gear that is practically brand new at local photography stores or through online groups.
Facebook Marketplace and Buy/Sell Groups
If you're on the hunt for a used DSLR camera, I would start by looking for a photography group in your city or area. I would avoid regular "yard sale" type groups that aren't meant for aspiring photographers since you don't really know how people treated their gear.
Try searching your city name and "professional photographer" and see if you can find any deals there. My city has a group called "Tucson Aspiring and Professional Photographers" and I've seen a lot of cities with similar groups.
You might also find photography gear in a non-specialized Facebook group. You're not as likely to find advanced gear or accessories, but sometimes people are decluttering and sell their stuff.
I scored some simple lightboxes from an MLM owner who was going out of business. She purchased them to take product photos but was closing her shop. They were posted on our town buy/sell group, not a specialized photography group.
So, who knows? You might get lucky!
What to look for when browsing buy/sell groups:
Entry-level DSLR cameras, such as the Nikon D3400, Canon t5i, etc.
Lenses with a specific purpose, such as a wide or macro lens.
Props for newborn photography. There are so many different types of baskets, wraps, bowls, bonnets, and more. If you want to go into newborn photography, you can usually find a lot of props or posing systems.
Backdrops and studio props from local photographers passing them on.
Flashes and studio lights from photographers that upgraded or consolidated their gear.
As always, I recommend doing your research. Don't buy just because it's available. Decide what you want, and then keep an eye out for it.
Consider meeting at a camera shop to exchange the money:
If you are concerned about the quality of the camera you're buying locally, consider meeting at your local camera shop. (At the very least, please take a friend and meet at a safe, public location to purchase gear from a stranger.)
Meeting at the local camera shop can give you peace of mind about what you're buying. For a small fee, you can have the shop check it out and make sure everything is working. You can purchase additional filters, memory cards, or batteries directly from the shop to support them as well.
This also effectively weeds out possibly scammers. Photography stores can look up the camera's serial number and make sure it's not stolen or has outstanding warranty claims you don't know about.
---
Buying used DSLR cameras or equipment can be nerve-wracking because it feels like a large purchase. However, using one of the vetted sited gives you the best chance of finding a used item that will work for you.
Figuring out where to buy used DSLR cameras can be tricky, but we've found some great camera gear through these sites! Do your research and keep an eye out until you find the camera you want at a great price. It's a great way to get a DSLR camera at a lower cost!