Where is your camera right now? Take a moment and think about it. Is your camera stashed in a closet? Is it stuffed in a case on a crowded shelf? Can you get to it quickly? Does it have charged batteries and an empty memory card?
I am firmly in the camp for leaving your camera out in the open and available to take pictures. There are plenty of cute photographic moments that happen in the day, but you will miss many of them if you have to spend extra time finding the camera or getting it ready to take pictures. For example, this sweet hug turned from this: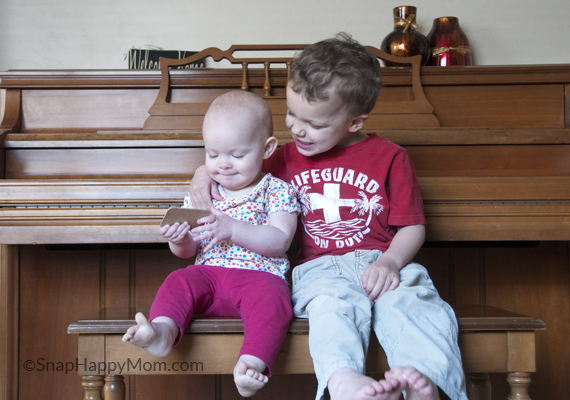 to this: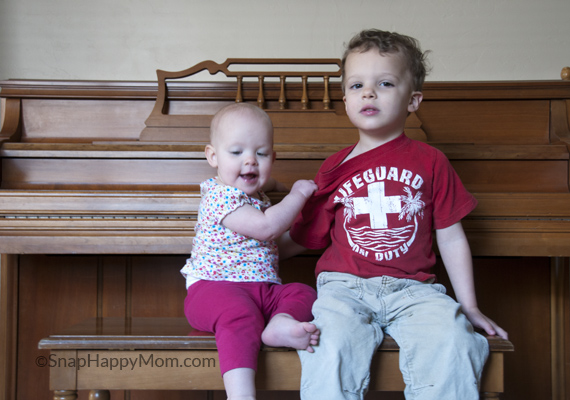 to this: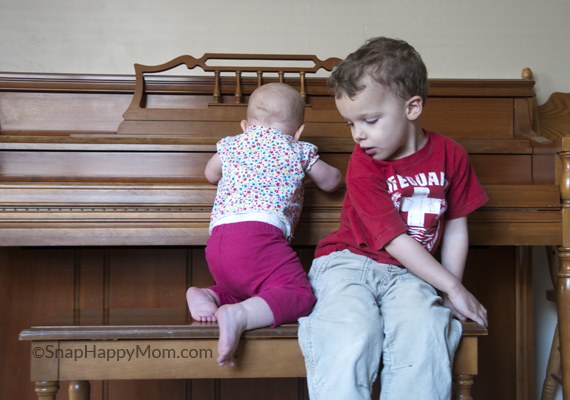 ...in less than a minute. I took ten seconds to take stuff off the top of the piano, and in that time I lost the chance to get a better picture of the kids hugging, since both kids were in tears soon after that last photo.
Leaving the camera in an accessible place gives me the opportunity to take pictures of candid moments that happen quickly and without warning.
Like catching my daughter stealing the last donut from the box...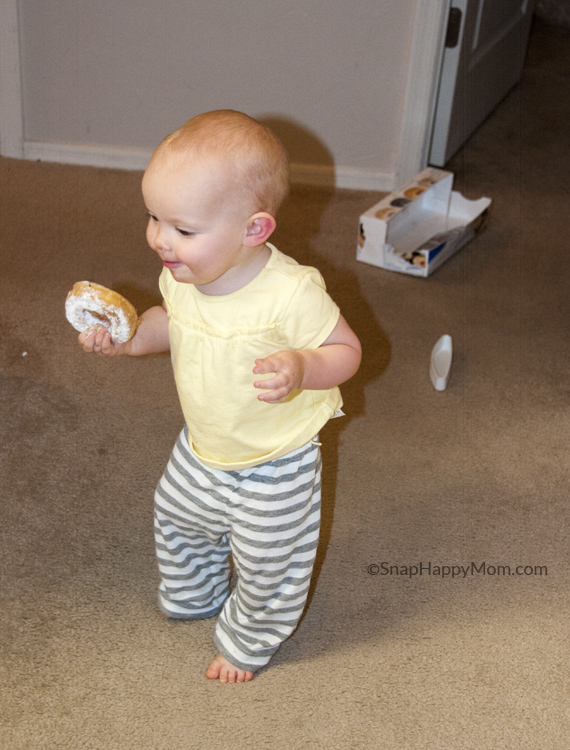 I would have totally missed this picture had the camera not be inches away in the kitchen. She is one crafty little girl when she wants something!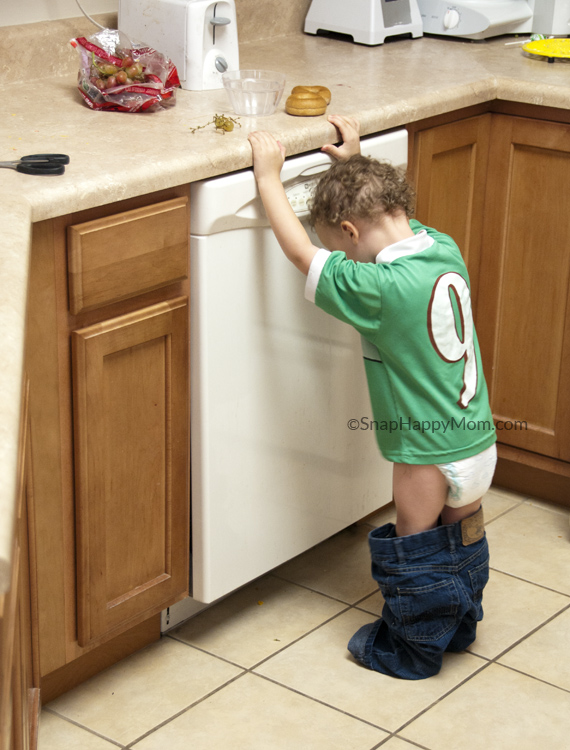 This was the exact moment that we realized my son just wasn't big enough for his new pants yet. He looked down and they fell off. We couldn't recreate that moment if we tried!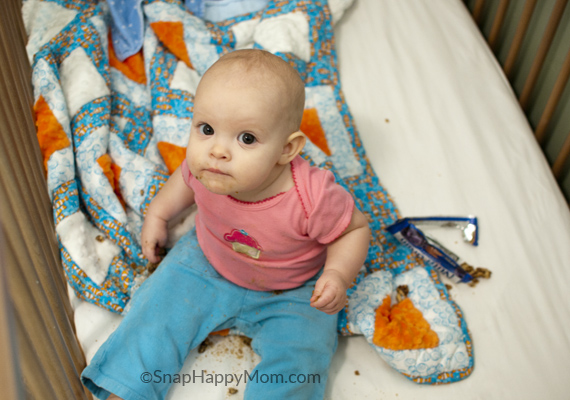 This is the face of a little girl caught red-handed. She tried to claim that having no teeth is proof that she couldn't have made all those granola bar crumbs in the crib, but we knew better.
This is a classic moment that I love: pajamas and mom's heels.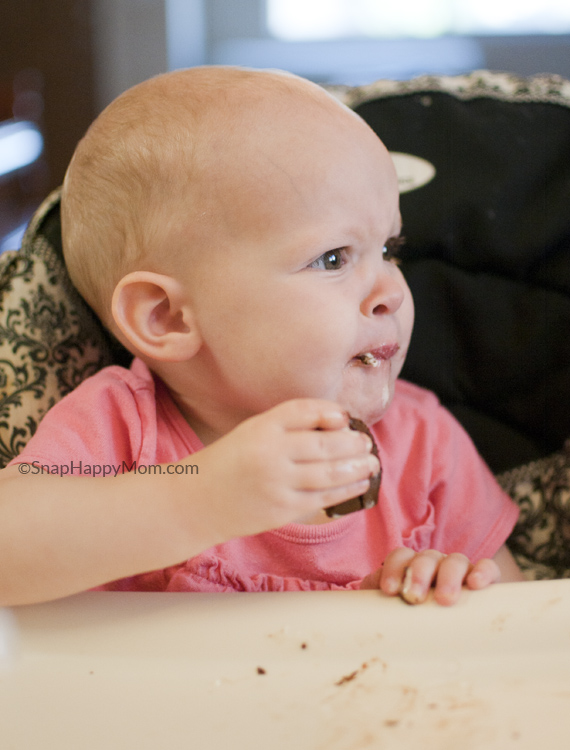 Here's the first time she tasted an ice cream sandwich, and she made a great face!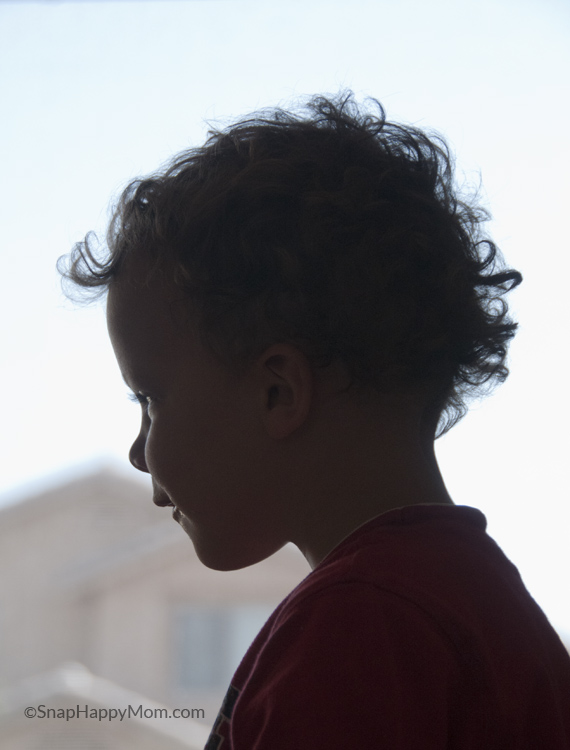 I'm glad I can remember his crazy curls from this day, with such lovely lighting.
None of these are amazing shots, but all are memories. However, they were only recorded because my camera was accessible and ready, and because I actually took the pictures! I probably would have missed most of them if I had to dig the camera out of a bag or replace the batteries.
I suggest you find a place at home where the camera can "live" that it is accessible and visible, not tucked away in a closet with the rest of your gear! This doesn't mean you should sacrifice safety: put your camera high enough that the little kids can't reach it. No dangling your camera strap over the edge where it could be grabbed and pulled off. Find a place where there will not be drinks or liquid that could spill. If people regularly throw items in your house, make sure this spot is not in the direct line of fire.
On a side note, I do have a shelf in a closet for my camera bag, lenses, and other photography gear that should not be out in the open. But if my camera ends up on that shelf, I miss weeks of pictures at a time! What works for me is having the camera sit on a high counter in the kitchen, where I don't prep food or set my cup.
I also find that leaving the camera in plain view helps me to remember to take pictures of the everyday things, not just the big events.
I love having a record of the everyday things, like how my son lines up his cars,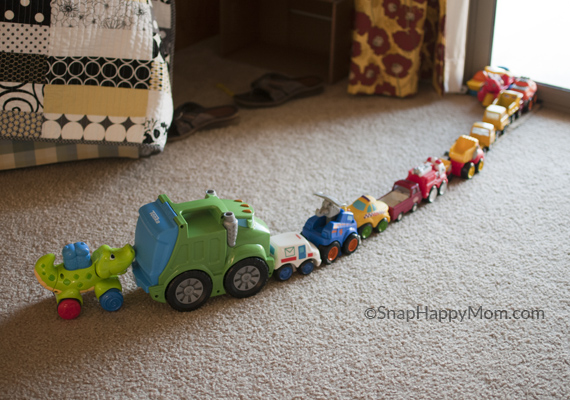 or Brighton's sweet smile when Daddy comes home,
or how Dog the lovey gets propped up at the window to watch for the car pulling in.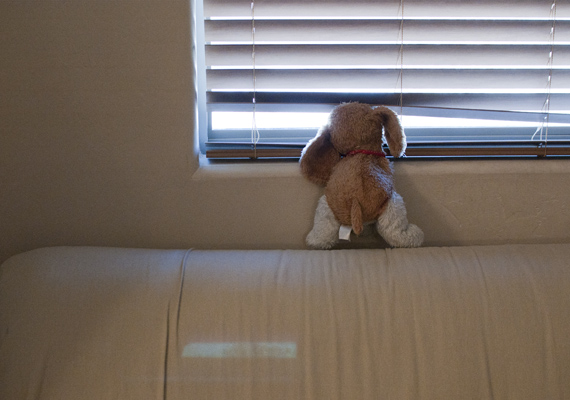 Most of my pictures from my childhood are birthdays and parties, and I wish I had more of the real-life, everyday moments like these to look at. (I hear Instagram helps with this, but alas, I am not yet a smart-phone owner. Someday!)
It's not a big deal to snap pictures of the little things, but the easier I make the process, the more it happens. Having my camera handy takes away my excuses! I hope it does for you too.