For Halloween this year, we were all characters from the Sherwood Forest: Robin Hood, Little John, Friar Tuck, Maid Marian, and King Richard! The kids loved dressing up as a family, and they were thrilled to tell everyone who we were.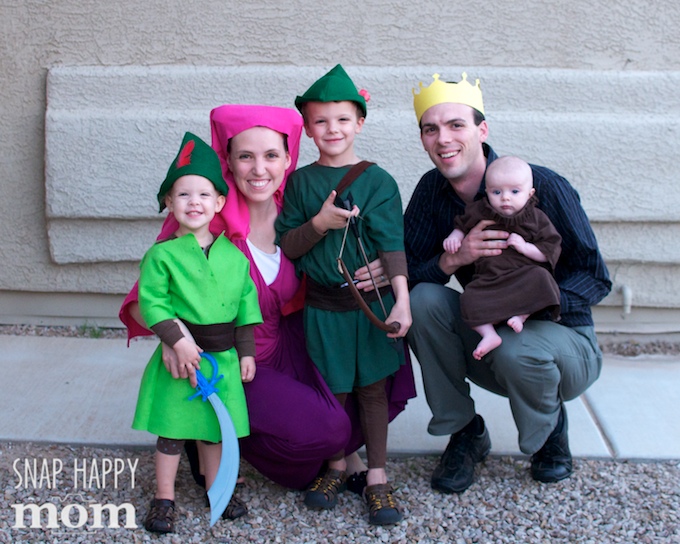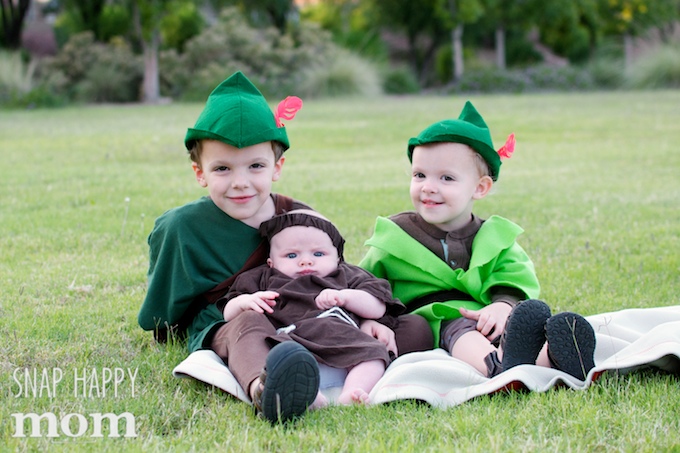 Robin Hood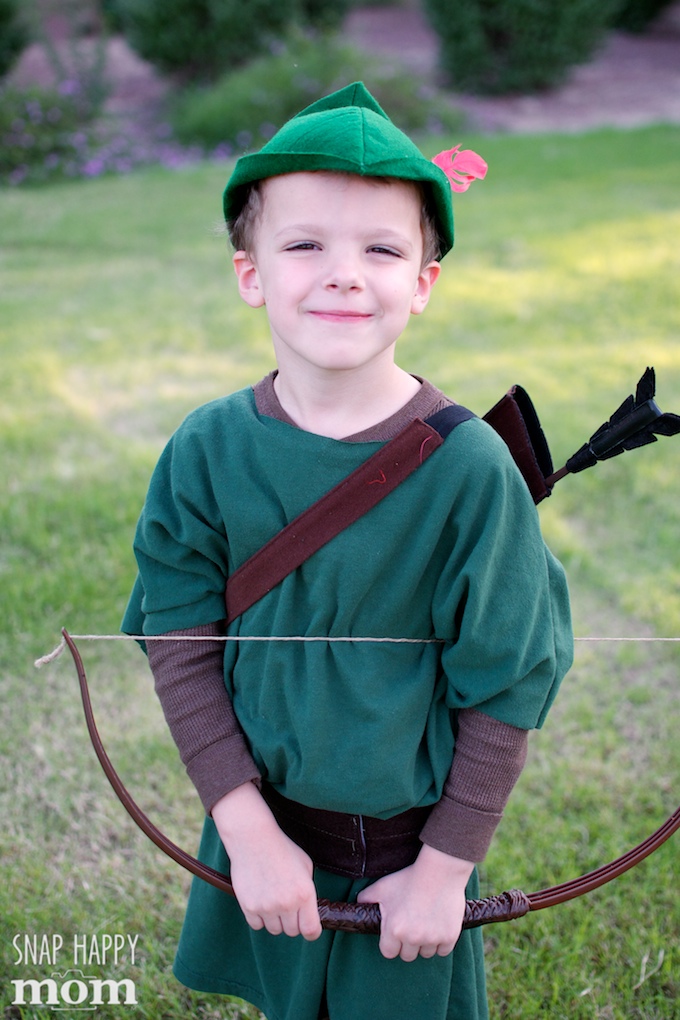 My son is completely obsessed with a bow and arrow these days, so loved the idea to be Robin Hood this year. Both kids adore the Disney version of Robin Hood so we went with that theme.
I started with a huge green tshirt from goodwill, and just cut off the collar and sleeves. I sewed a more kid size shirt out of the remaining fabric, with less fabric around the bottom and more appropriate sized sleeve holes. It looks great belted on top of brown leggings and a brown thermal shirt! I just made a belt with a double layer of felt and some velcro. The quiver, bow, and arrow all came from a set.
Both hats were made of felt from this tutorial with this pattern- I just made larger sizes to fit a 2.5 and 4.5 year old. Add a red feather and you're done!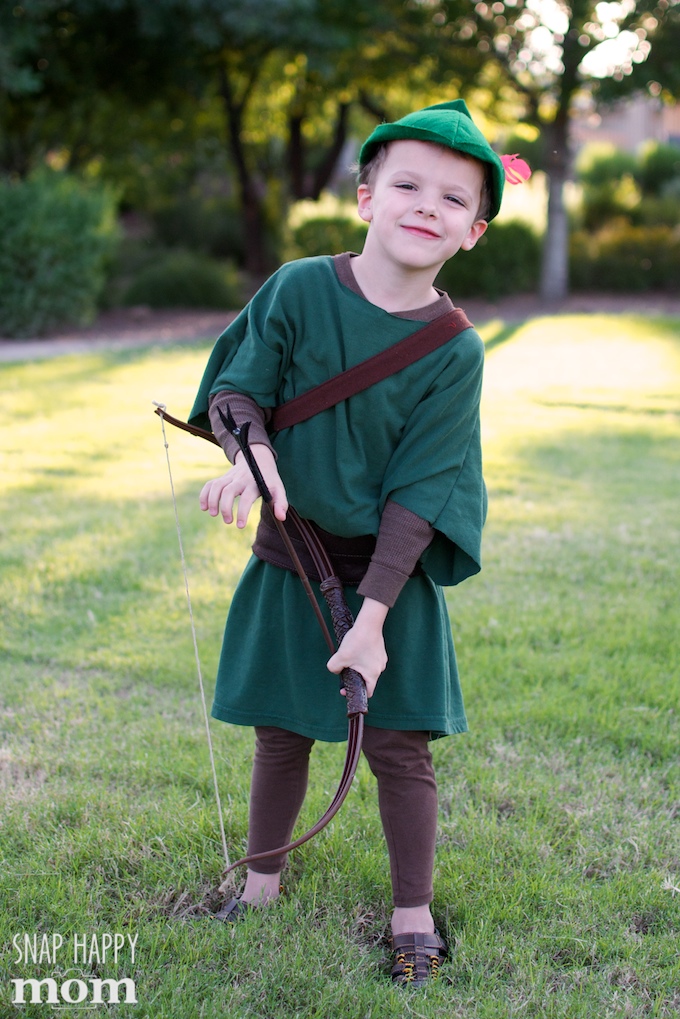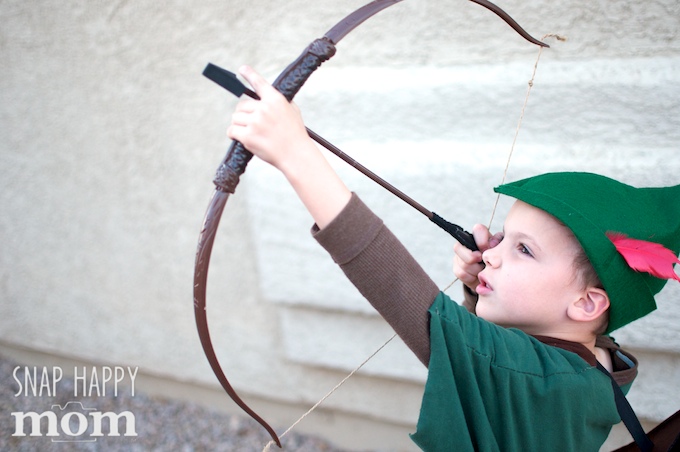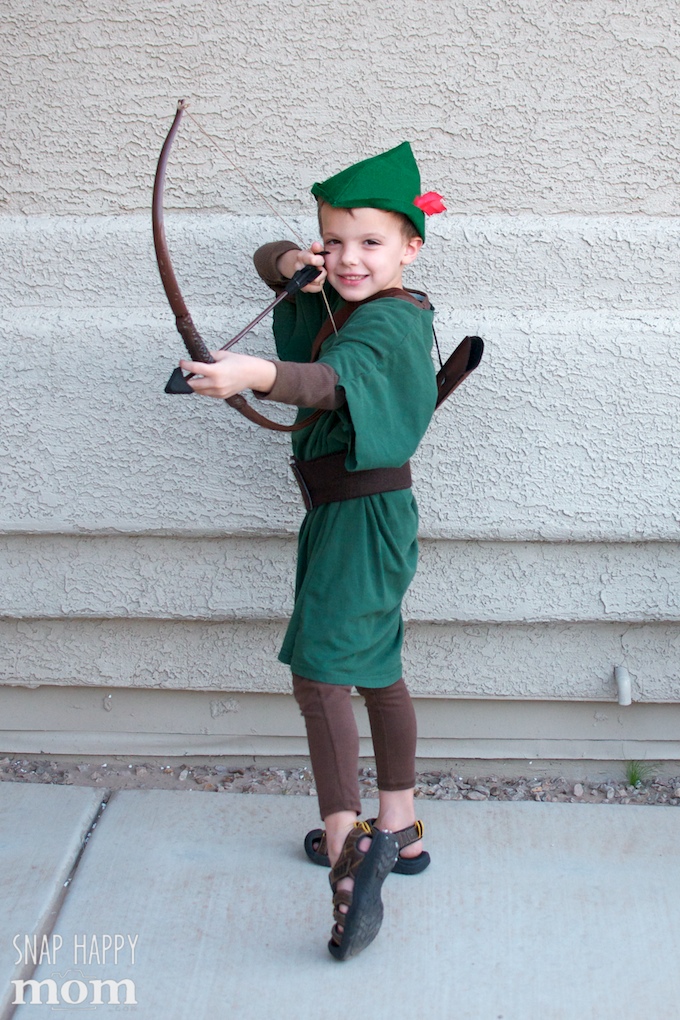 Little John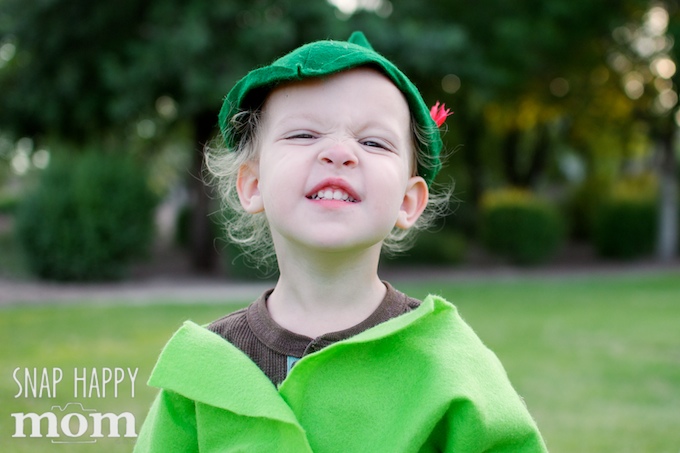 My daughter really wanted to be Little John! I tried to convince her to Maid Marian, but she was not at all interested... clearly she's abit of a tomboy. When you have an older brother, it's way more fun to run around and play weapons! According to my kids, Little John has a sword for a few minutes in the movie, so our little John had fun with a sword and her brother's bow.
The costume was the same concept as above- we started with a brown shirt and leggings. I made a tunic from green felt, and I split it in the front to let her get it on easily. We added a felt belt and hat to complete the look.
In hindsight, I wish I would have skipped the felt and made it with a t-shirt like the Robin Hood version above. Felt is too stiff and cheap looking for me. And while I'm all for handmade costumes, I don't want them to look homemade! I think I could have made it work with more time, but the re-purposed t-shirt would have worked better.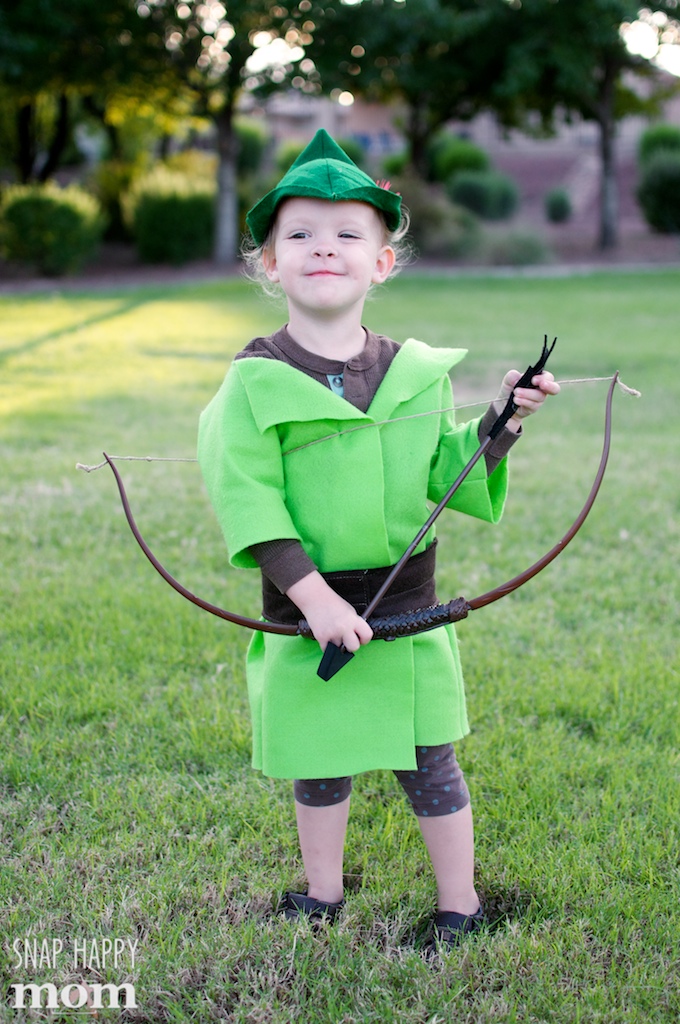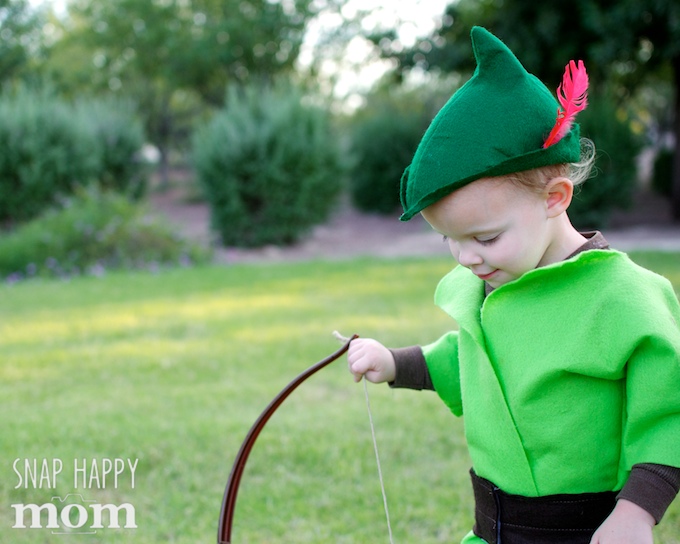 Friar Tuck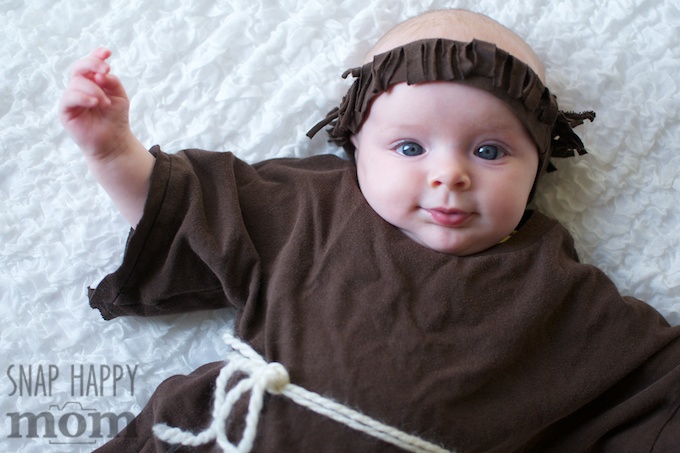 This was my favorite little costume- I just made a newborn nightgown/robe out of an old brown tee shirt. I used the actual collar, which meant I only had to sew two side seams and leave the edges raw! I tied some string around the middle for authenticity.
The "hair" makes me laugh every time- I made a headband out of the sleeve! I cut about two inches away from the sleeve hem, snipped fringe into it, and then flipped it over the hem so the fringe was on the outside. The actual sleeve circumference fit perfectly around my three-month old's head, but you easily combine the two sleeves to make it fit a larger child.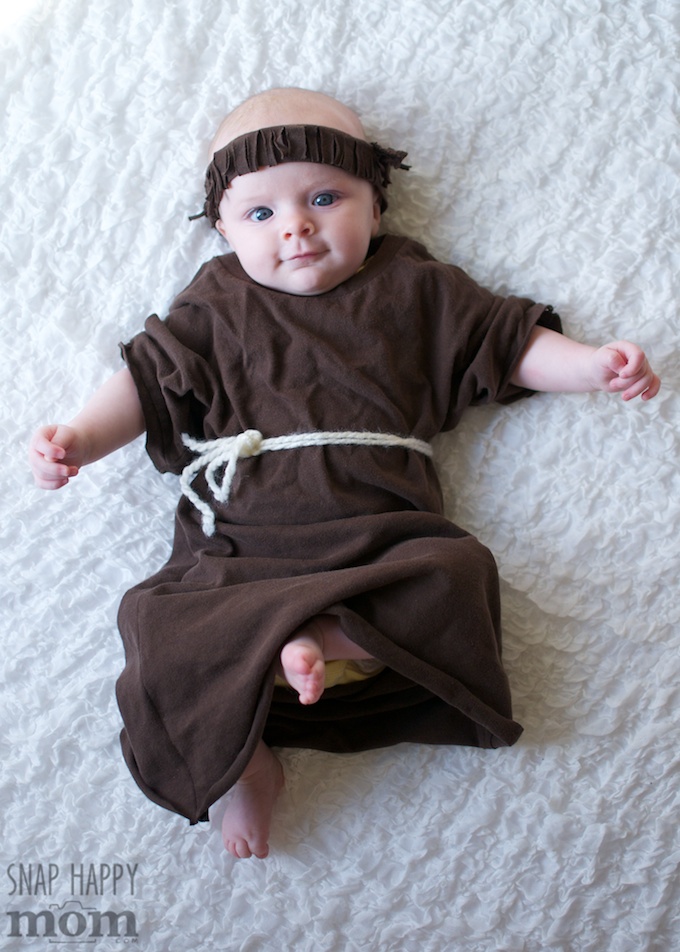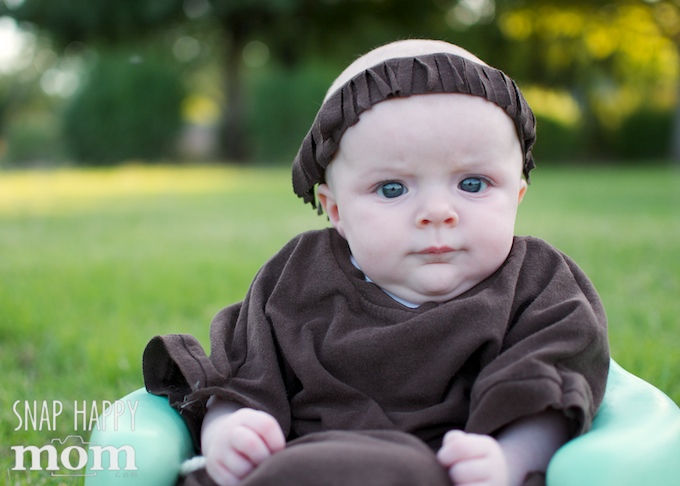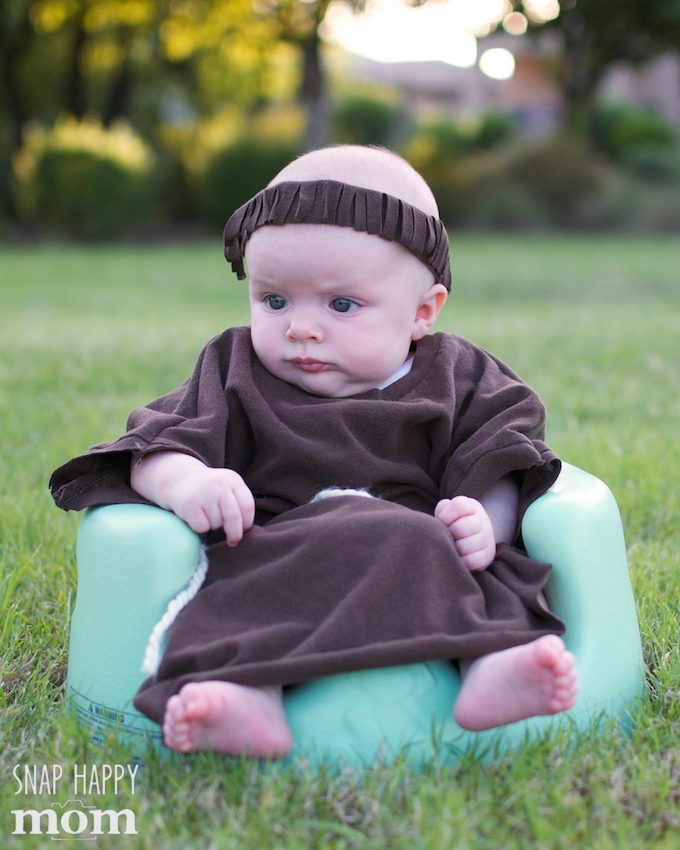 Maid Marian and King Richard
I ended up being Maid Marian with a borrowed dress. For the headdress, I attached two little dip cups to some elastic to make the "ears," and then I draped a yard of pink fabric over the top and clipped it in the back of my neck with a bobby pin. Easy peasy!
Add a paper crown to a regular outfit to make a non-costume-lover an easy Prince John or King Richard look.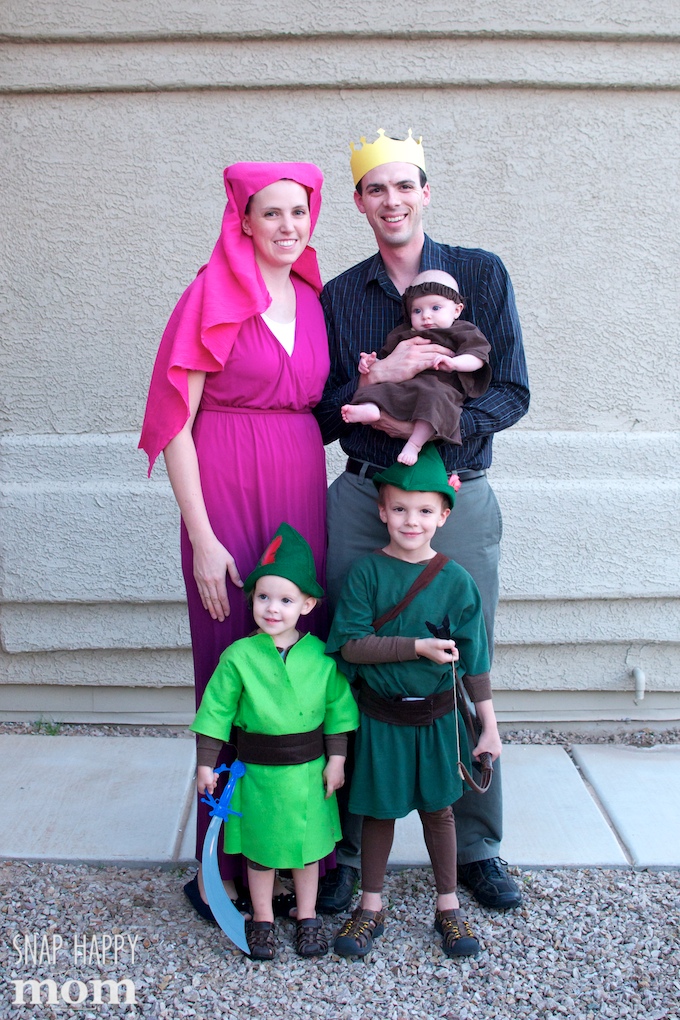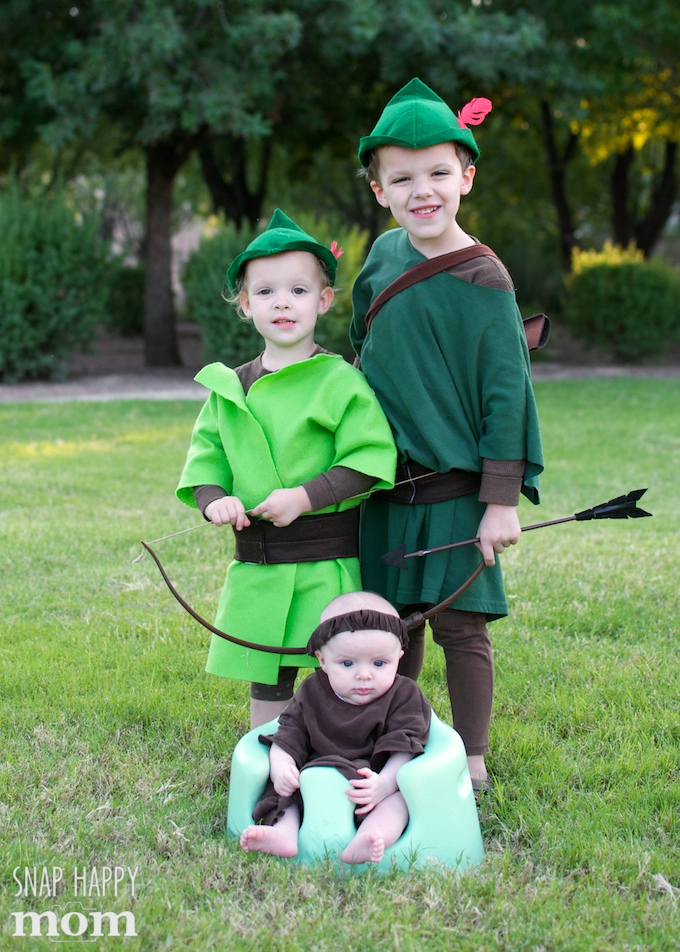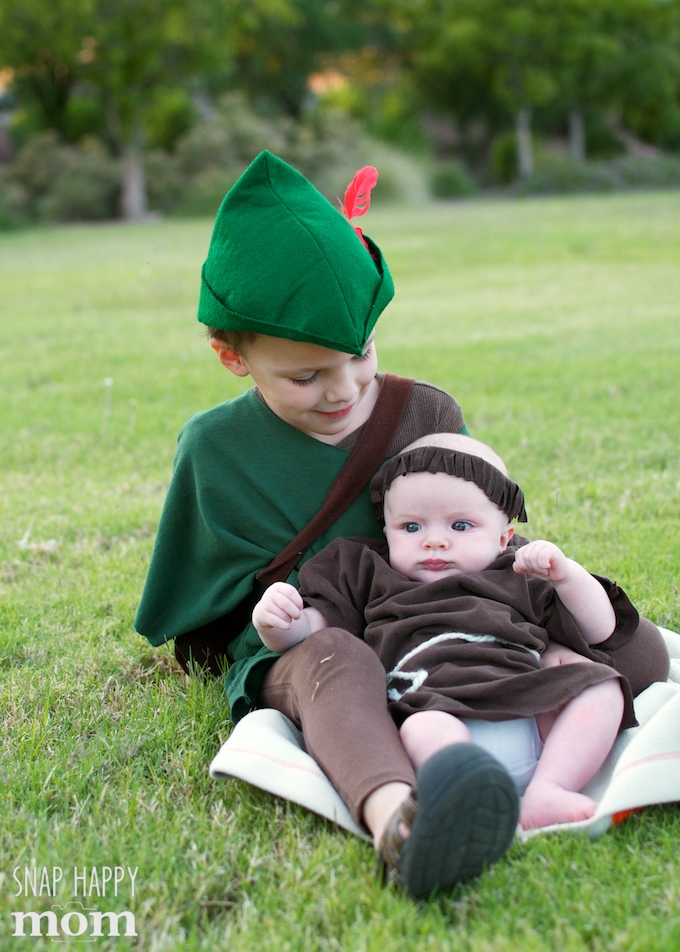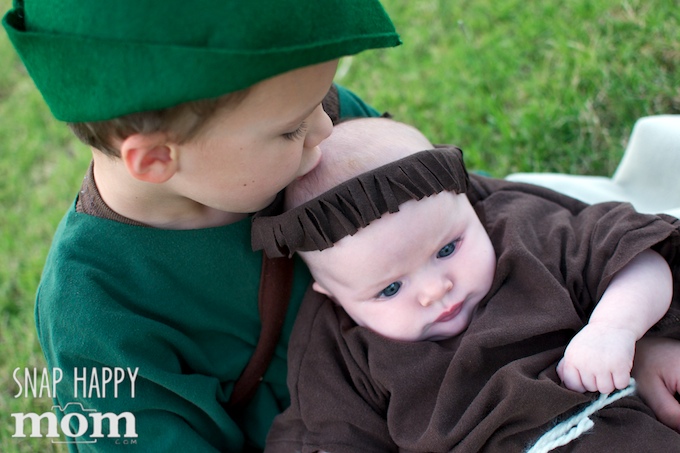 Happy Halloween from the Sherwood Forest!
What's your favorite picture on this post? Comment below to tell me!