These are a few of my favorite things! Some are mom-related, some are photography related, and all are making my life easier and happier right now!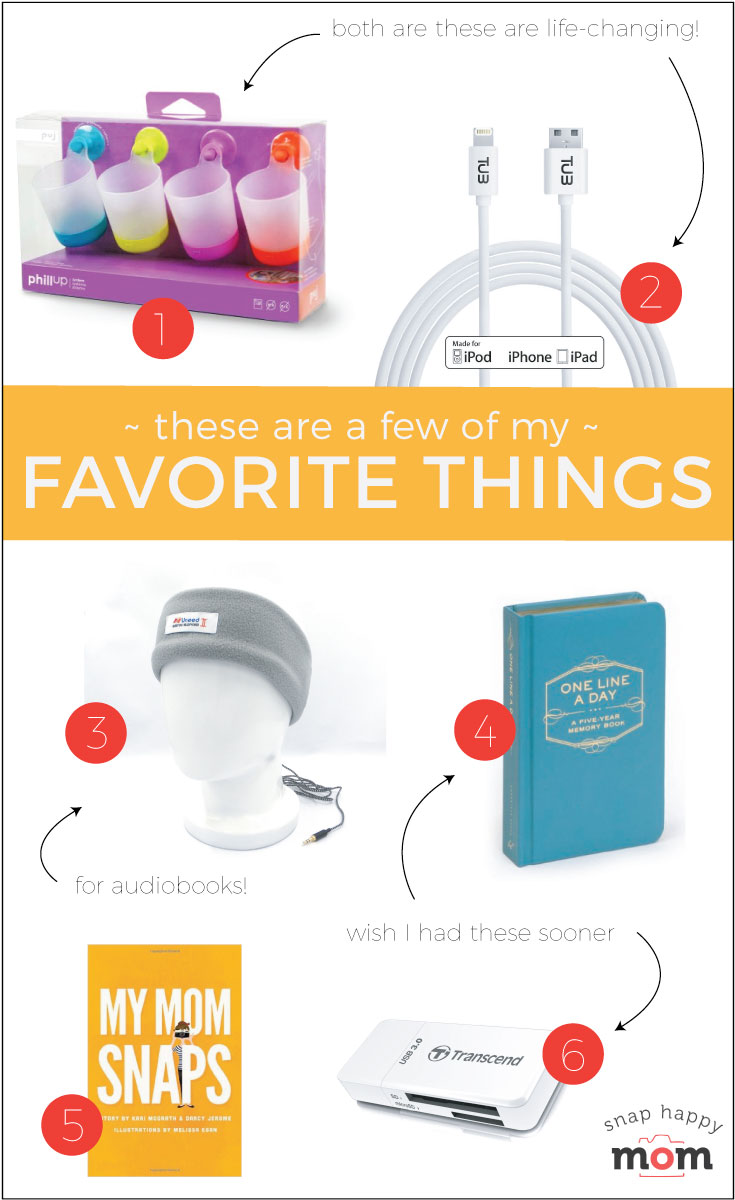 1. PhillUp Hangable Cups by Puj - Raise your hand if your kids want a new cup every meal, and there's a pile of slightly dirty cups at the end of the day? Raise your other hand if your kids are capable of getting themselves a drink from the fridge, but the cups live too high in the cupboard? Puj solved both problems here: hangable cups! I saw these on Kickstarter last year and couldn't order them fast enough. Stick the hook on the fridge or wall, and let the kids get their own drink of water. Color-coded genius, right here. Buy the four-pack from Amazon or a cup at a time, but trust me - you'll want all four.
2. 10-Foot-Long iPhone Cord - How did I live without this for so long? Seriously, 10 foot iPhone cords are life-changing. No more lying on your side in bed because your cord is too short to lay on your back. No more frustration when the plug is in an awkward place at a hotel. It's totally worth it for flexibility and convenience. I actually bought this twin pack and haven't regretted it for a minute (ignore the bad reviews; mine work great! There are also haters on Amazon.)
Also, my brother loves this long cord for Android.
3. Sleep Headphones - This is the year of audiobooks for me, and these sleep headphones are making it possible. I don't often get chance to read during the day, but I can put on an audiobook with a sleep timer and get at least 8 minutes of me-time before I fall asleep. This fleecy headband is cozy and has flat headphone inside (no poky earbuds that get all tangled up.) Even if you don't want to listen at night, these would be great for running in the cold and still getting your tunes.
4. Line a Day Journal - I wish I had this sooner! I'm on my fifth year with this handy little journal, and I dearly wish I had started sooner since I missed the early years of our family life. The concept is a page per calendar day, with spots for five years vertically. I haven't always been the most consistent, but it's so fun to look back on what we did on this day a few years ago that we might have forgotten (like the day we found out we got a job, or my toddler said something hilarious). I often give this at baby showers because it's great for busy moms to still record milestones.
5. My Mom Snaps - Take a lot of pictures of your kids? This cute picture book is fun for the littlest of children, who start to recognize that mom might "snap" any time! Adorable illustrations, short and sweet, and perfect for the diaper bag.
6. Memory card reader - This one of those things you don't know you're missing until you have one. A memory card reader makes transferring photos to your computer quick and easy. If you're still using that outdated cord that came with your DSLR, get this today - USB 3.0 is so fast! And you won't realize just how inconvenient that pesky cord was until you use a sleek memory card reader. Get this one for SD cards (almost all beginning Canons and Nikons use them) and this one if you also use CF cards (some intermediate level cameras use these larger, square cards).
COMMENT BELOW:
I'm always willing to try YOUR favorite things. Leave me a comment if you have something that makes #momlife better! I'll totally check it out.
This post contains affiliate links. Thanks for supporting Snap Happy Mom!