I'm sitting here, curled up in a beautiful quilt my mom made for me. She gave it to me for Christmas, and it was her favorite kind of gift: a "hit" gift, as we call them. My mom listens and files away ideas all year long, trying to really nail what would make us squeal with delight upon opening. She knows there are things we like, but she searches for the things that we will love.
This particular quilt is yellow and black and white, a mismatch of graphic prints. Months earlier, I had mentioned how much I liked a certain set of fabrics by a specific designer. She recognized a potential gift for me immediately, and unbeknownst to me, ordered the coveted fabric bundle, and then spent hours cutting, arranging, and sewing pieces together to create a custom quilt exactly to my liking.
Christmas morning came, and I opened a package to find the gorgeous quilt, sewn by my mother for me. My mom has made many quilts in her lifetime, but this one was extra special because I knew that she had created it just for me. What a labor of love!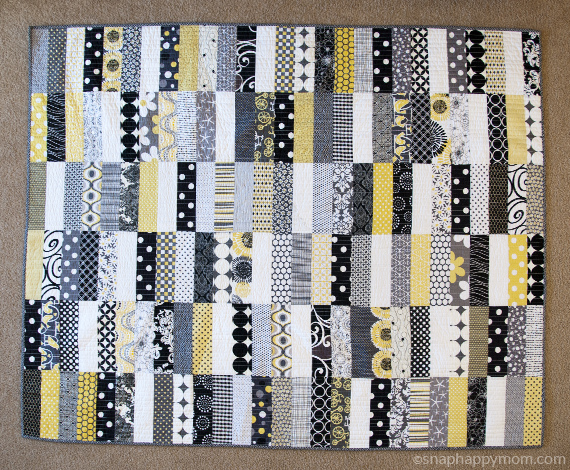 As I sit here with her quilt, I'm thinking about my mother. She is an amazing woman. I do not know how she manages everything she is asked to do. I feel overwhelmed with just my two kids quite often, and she has always seemed to function at a higher capacity than me, even when she was at my stage of life. With two, and even three kids, my parents were a 1-car family. She stayed home with us all week, except Tuesdays, when she would load all of us kids into the car to take Dad to work at 6 AM. She would pack a picnic lunch for us, and we would do errands all day long before picking Dad back up at the end of his 9-hour day to head home together. Gosh, I can hardly handle more than two stores in the same outing.
My mom is a dedicated and busy woman. She has always balanced many roles- wife, mother, sister, friend, musician, teacher, mentor, chauffeur, volunteer, and ceo of our home, to mention a few. With all the things she does, she is organized and deliberate- she plans ahead, and is aware of important details.
My parents feel strongly about having strong moral character, and living by a set of Christian values. My mother is always helping others- bringing meals, giving thoughtful service, sending little gifts, and being a friend to the friendless. I've watched her mentor, counsel, and teach people that no one else could see the good in. And yet, through my mother's steady influence, those people have changed and become better versions of themselves. She is able to look past flaws and celebrate strengths, which indeed is a gift I am still trying to cultivate.
My mom has a music degree and instilled a great love of music in me and my siblings. My entire childhood timeline has something musical going on- I remember starting to learn the violin at 3 or 4 years old, and how my mom taught and coached me all the way through high school in that skill. My siblings did the same, and not only did my mother teach us how to play, she taught us to excel. She took our innate talents and taught us how to constantly improve, that excellence takes hard work, and never to settle for less than we were capable of. She was an excellent teacher--patient but firm--and spent countless hours practicing with us, cheering for us, accompanying us on the piano, and shuttling us to concerts and rehearsals.
In addition to teaching her own children a musical talent, she was the financial breadwinner for a time as a music teacher, while we waited for Dad's new business to grow (and the internet to take off). She has taught weekly lessons to hundreds of violinists over my lifetime. The very first song children learn to play is often "Twinkle Twinkle Little Star," and for years, I woke on Saturday mornings to tiny children screeching through out-of-tune Twinkles at their lessons. My mother was able to qualify the grand majority of her high-school students to state musical honors in multiple events year after year. Some of that is the talent of the musician, but a large chunk of that success is due to an incredible teacher that can teach at a high technical level and still inspire and motivate her students to be better.
She is a fantastic party thrower- my wedding reception was amazing in every way. The decorating, the food, the flowers: what mother of the bride is talented enough and level-headed enough to wrap bouquets and boutonnieres early in the morning the day of her daughter's wedding? People still tell me how beautiful that reception was, and it was all my mom's doing.
My mom loves surprises. She loved to plan them and keep them a secret and she especially loves the big reveal. On my husband's birthday, soon after we were married, she flew thousands of miles to surprise us on the doorstep before school started that day. Why? She just wanted him to feel loved and included in our family. We opened the apartment door to find her standing there with the signature Crowther tradition of a birthday poster on newspaper.
I've woken up to a newspaper poster every birthday I can remember- just a big heart and lots of loving adjectives and comments. The semester I studied abroad, she sent me a "birthday in a box," complete with daffodils, American treats for all my roommates, and the signature newspaper poster. We continue this sweet tradition in my own family, because I recognize that her consistent small effort to recognize our special day made a big impact on my life and self concept.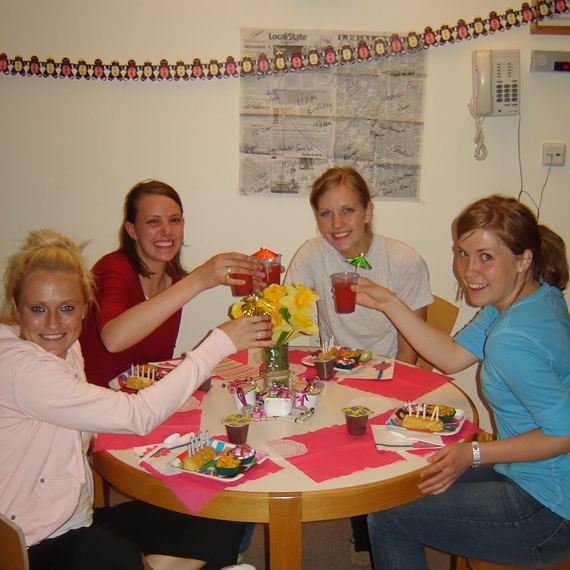 Education and learning were really important in my household. It was always expected that we would work hard in school and graduate from college. But more than the expectation was the example my parents set. My mom was always learning, always teaching herself new things. She encourages me to be interested in lots of things: I know I can explore talents and interests, and try new experiences, and even fail- it's all ok, as long as I learn something in the process. To her, acquisition of knowledge and skill is a life-long journey that she absolutely enjoys. That mindset has been of paramount importance in my life.
She took us to the library weekly as kids, and we would come home with a stack of books for each of us- all kinds of books. I'm convinced my eyesight went bad at an early age because I tried to read from streetlight to streetlight all the way home. But my mom kept taking us there, and my thirst for books still cannot be quenched. Judging from the overflowing bookshelves in my parent's home and my own, this love of reading is definitely genetic.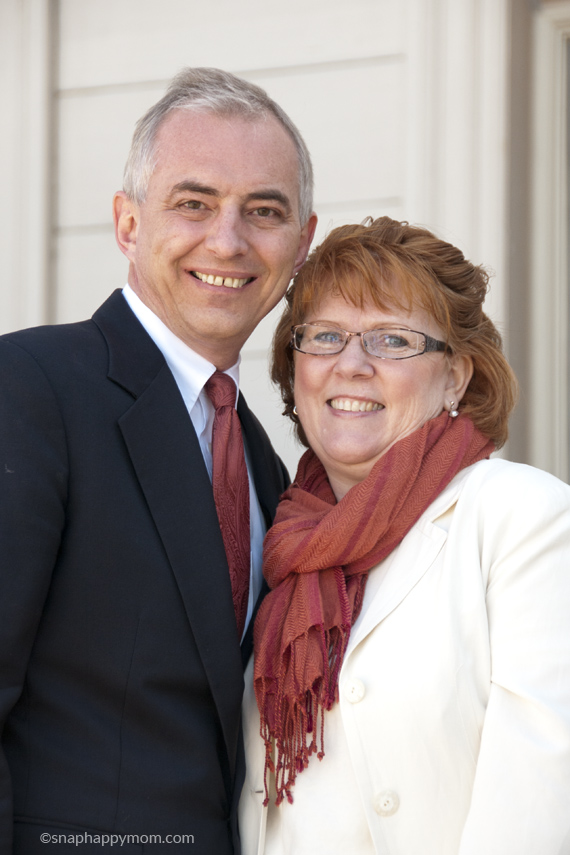 I love that my parents are still in love. My Dad tells a story that just last year, he was away from my mom for several weeks because of travel. Coming straight to church from the airport, Dad tells how he saw my mom walking towards him, with her lovely red hair, and his heart skipped a beat because he had missed his beautiful wife, and was so happy to have her back.
They celebrate 29 years this year- how lucky I feel to have parents who love each other and support each other, who plan on being together for eternity. I am grateful for their example of loyalty and companionship as my own young marriage blossoms.
Now, as a mother myself, I finally recognize how much she sacrificed for her children. It couldn't have been easy to raise me, and she did such a good job. I see how hard life is as a mother... to give and give to your children, who usually do not understand that mother is a person too, with feelings and needs. I wish I could go back and change some things, be more kind and more grateful, to a wonderful mother that truly gave her all for the happiness of her children.
Mom, thank you for your endless support and love. Thank you for welcoming my husband into the family as one of your own sons. Thank you for teaching your children and raising us all right- with morals, values, character, and faith. Thank you for tending that inner fire in each of your children, filling us with confidence and drive, but keeping it in check so that we recognize our need for each other. I hope you recognize that so much of who I am is because of your guiding influence.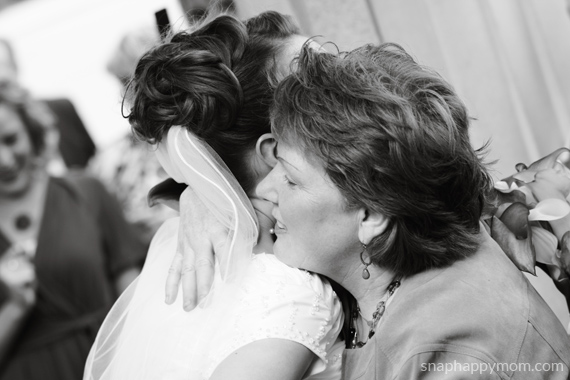 I love you Mom.