Make Your Own Yoto cards give you a lot of freedom in what you can add to your Yoto library. We've covered a few different places where you can download audiobooks to add to Yoto cards (see that post here), but you can also record yourself and add it to an MYO card!
Record special messages from a relative or family friend. For example, if grandparents are far away, they could record themselves on their phone saying hi, telling about their day, or special birthday messages. Then put those on a card to listen to time and time again!
This post is also meant to be shared with people you love, so they can create custom Yoto cards too!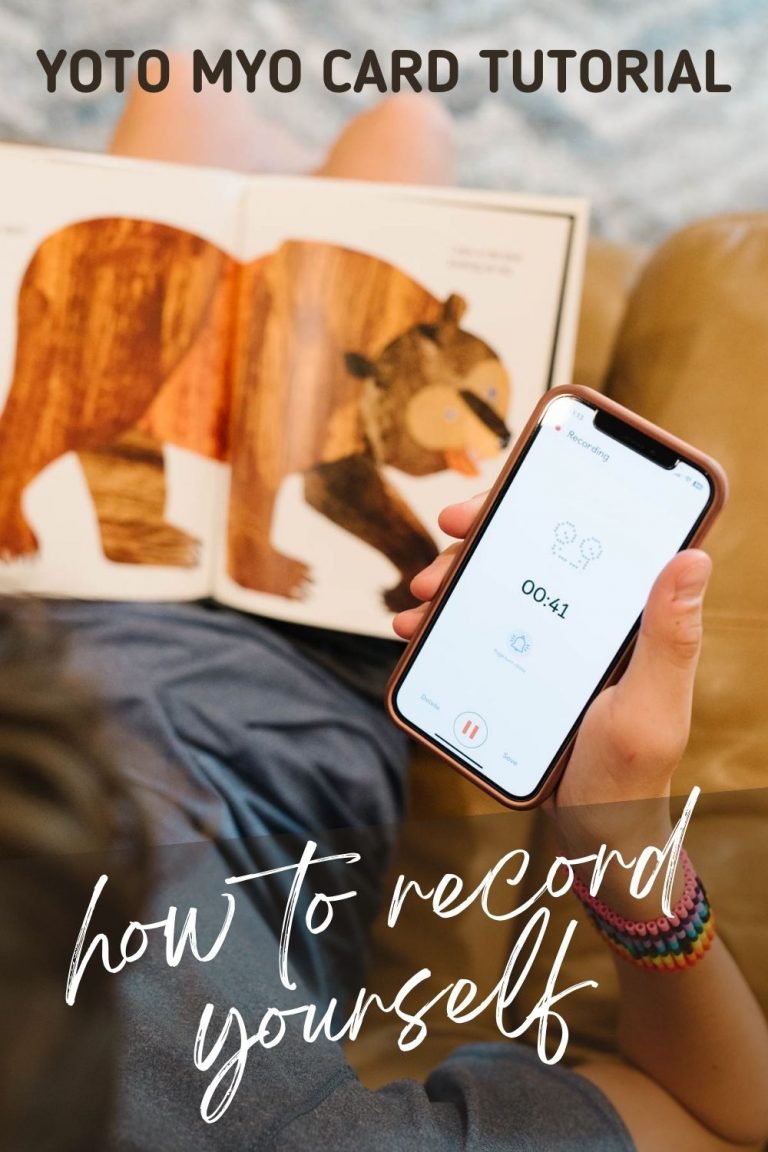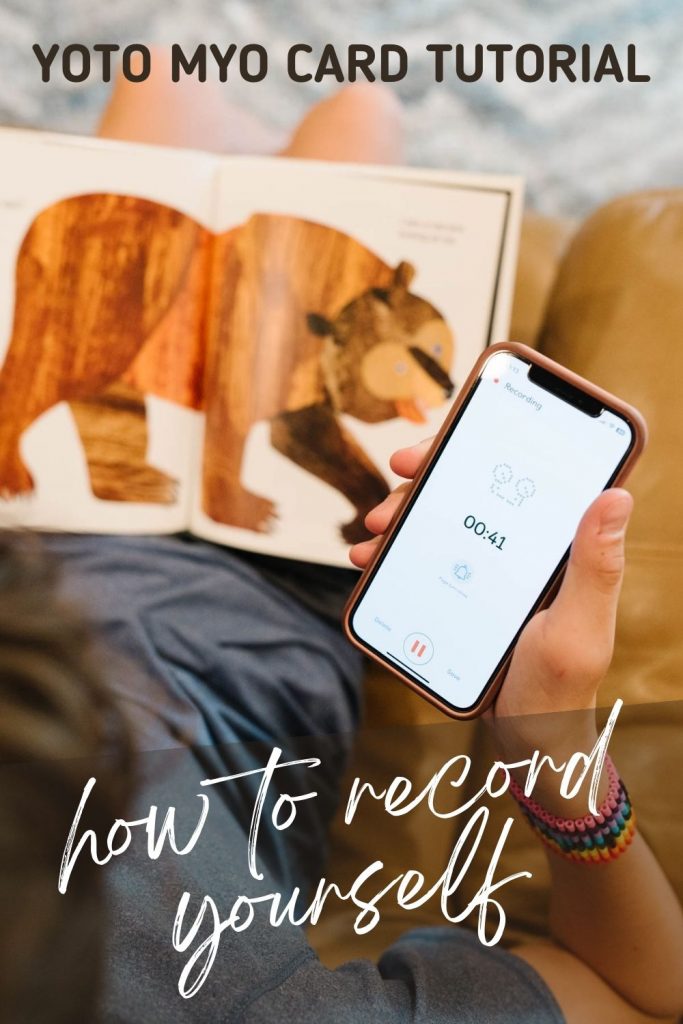 What to Add to an MYO Yoto Card
Here are some ideas you can use for an MYO card:
Record yourself (or another loved one) reading your child's favorite books.
Record yourself reading YOUR favorite books, or Grandma's favorites, etc.
Record the classic family stories you always tell - especially from the older generations.
Sing a few lullabies. Many parents have recorded bedtime stories and lullabies to help their children have their usual bedtime routine, even if Mom or Dad is unavailable that night.
Have a parent or grandparent record themselves reading scripture verses. My mom did this as a present for the grandkids with a child's edition of Bible stories. She gifted us the book she read with the accompanying card and now any of her grandkids can use it as a read-along. The book was over two hours long in total, and she just read a bit each day until she finished. It is a gift of love and time that we will cherish forever.
Ask family members and friends to record birthday wishes, and then gather all of them together in a special birthday playlist!
Whatever you do is awesome. Don't feel pressure to make it perfect - just get it recorded!
Here are 4 EASY methods to get a file recorded for a yoto card.
How To Record Yourself in the Voice Memo App (iPhone)
If you have an iPhone and you want to record yourself, you can do that through your Voice Memo app! Your Voice Memo app should be located in your "Utilities" folder unless you've rearranged the apps on your phone.
Once you locate your Voice Memos app, you just have to click the record button (the red circle) to start a new recording. When you're finished, click the same button (it should have a red square in it). This works well if you're just planning on recording something short or you're breaking up the recording into chapters.
If you have something longer to record or need to take a short break during recording, but don't want to start a new one, you can just push pause and then resume when you're ready. You can push the triangle when you're done to preview your recording as well. Click "done" to save when you're finished.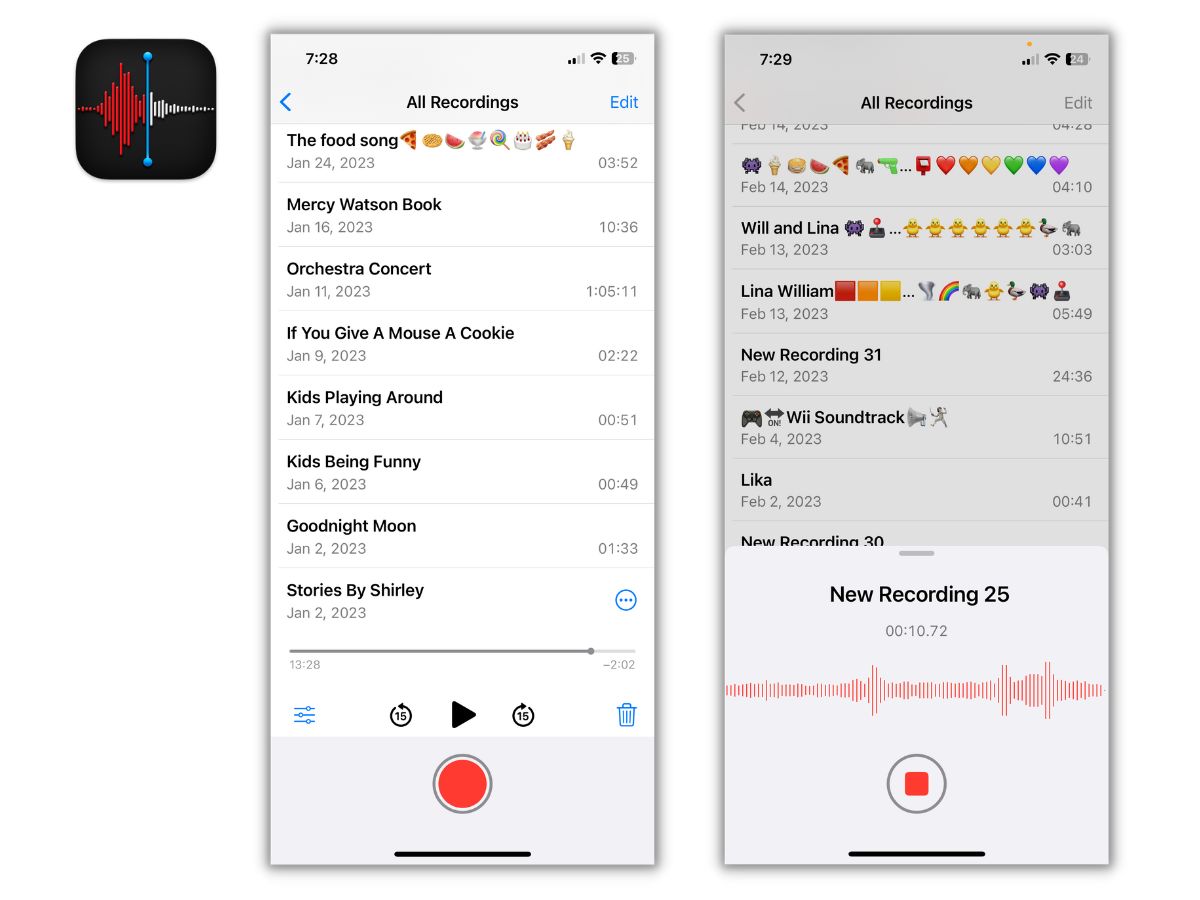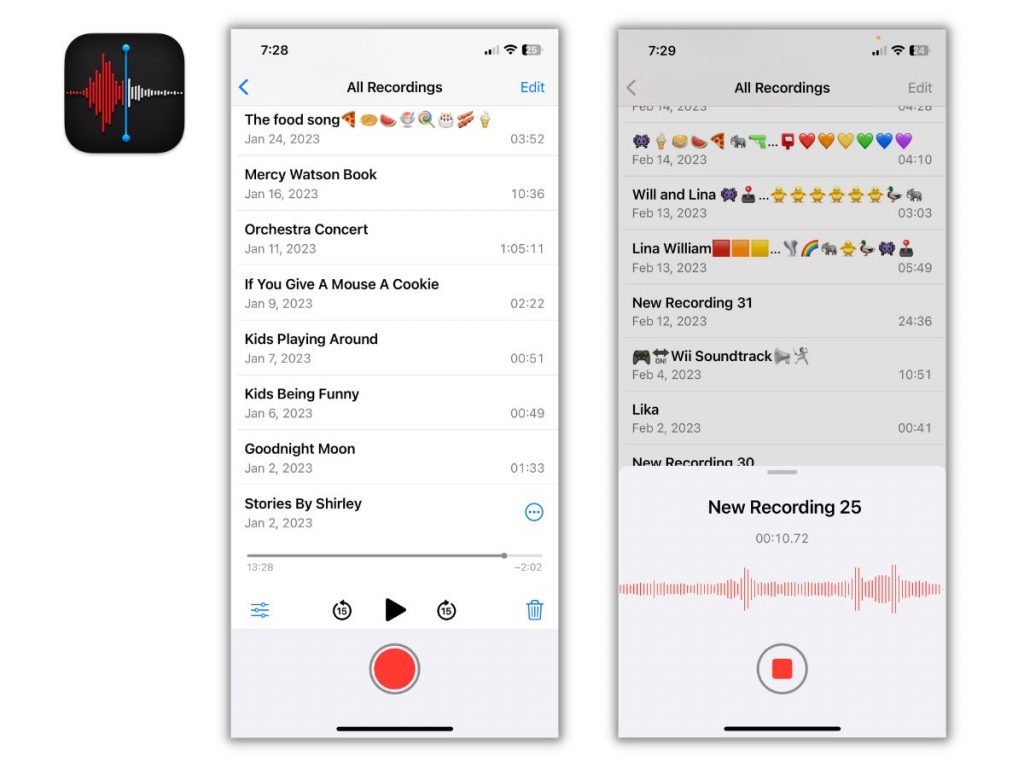 How To Record Yourself in the Voice Recorder App (Android)
If you have an Android, you can also record yourself for a Yoto Card.
You likely have a voice recording app already on your device. It might be called "Voice Recorder" or "Smart Recorder," or you can download either of those.
Once you locate and click into the app, you can just click the red circular button to start recording. When you're done, click the same button to stop the recording. You can then name it and save it.
To access your saved recordings, just click "List" in the top right-hand corner of the app.
How to Record Yourself in the Yoto App
You can also record in the actual Yoto app if you want! In the Yoto app, head to the section called "Make Your Own." There, you should see an option that says "Record Audio." In that section, you can record and save your own recordings. They'll be saved in a folder on your phone. You can record as many tracks as you'd like.
You can record yourself reading a book, telling a story, or whatever else you'd like! You can record it in one large chunk or put short individual tracks in a playlist together.
Bonus! The Yoto App also has a bell sounds built in for making a page-turn-chime! It's very handy and works perfectly if you're recording a book that your child will read along with.
One drawback, however, is that you have to get it all correct in one go. You can't edit any audio when recording in the app, so if you make a mistake, you have to start over again.
This works best for parents recording audio for their children since you need a Yoto account to use the Yoto app. Then you can just record it directly to the app and turn it into a Yoto card.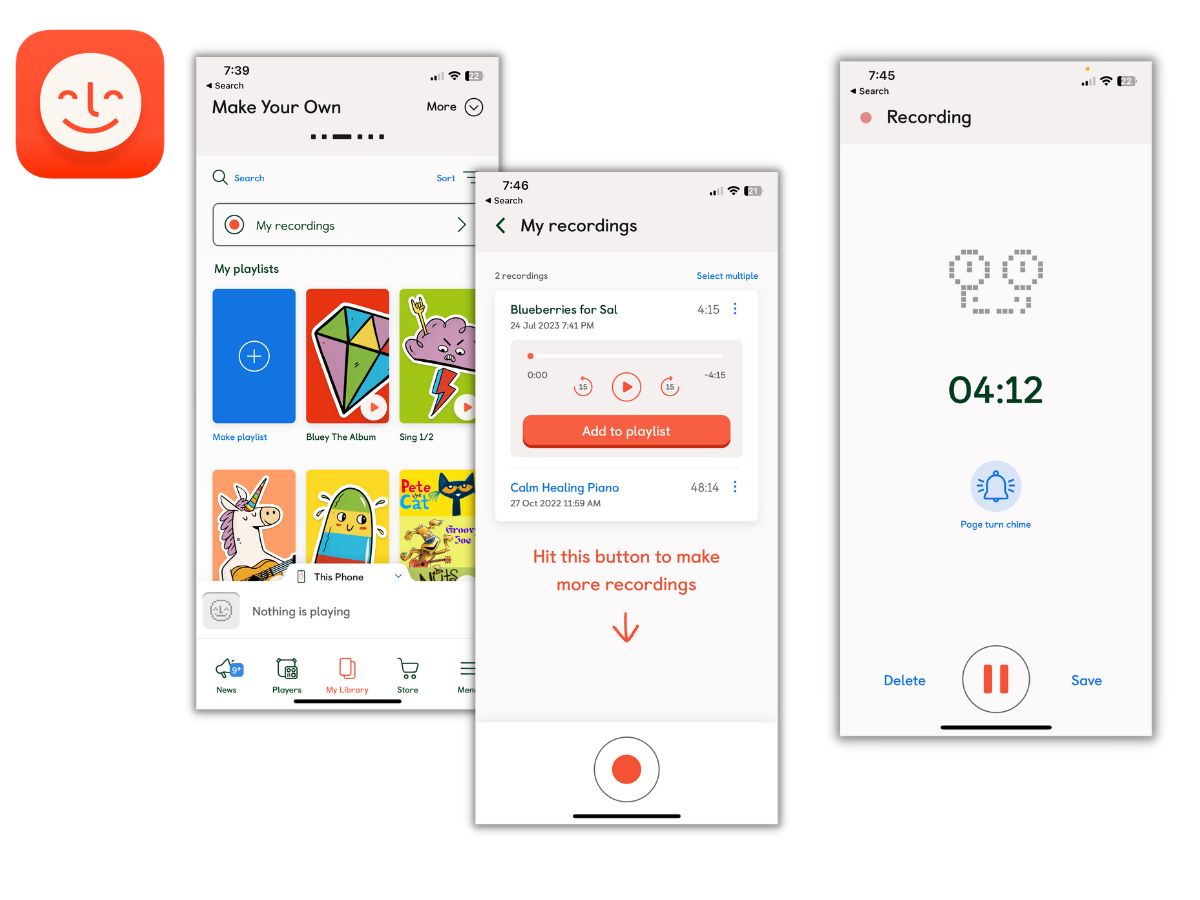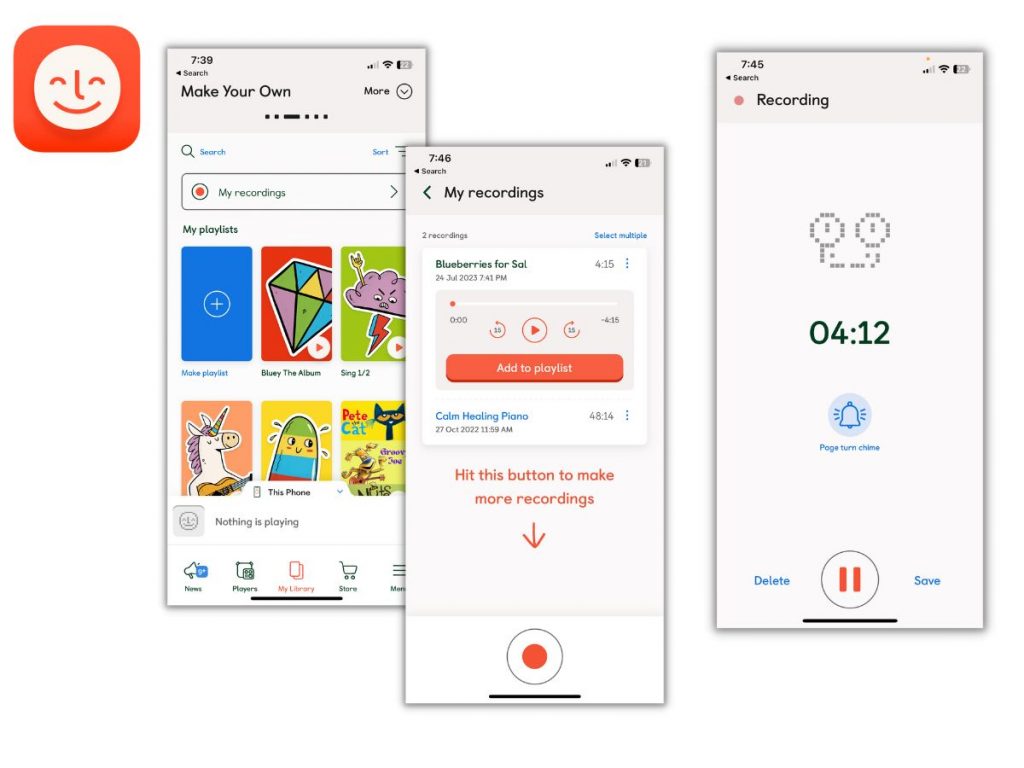 How to Download Voice Messages from WhatsApp
If you have WhatsApp, then you know you can send audio messages on the app. You can ask a loved one to send a message, like a voicemail, through WhatsApp! Here's how to get the file to add to a Yoto Card!
On an iPhone, press and hold the audio message. An options box will pop up that gives you an option to "forward" the message. Select the icon that looks like a box with the up arrow. That's how you can save it to your files. Once it's saved to the files on your phone, you can add it to your Yoto app and put it on an MYO card.
With an Android phone, it is similar to the iPhone. You can download other apps to save and download audio messages from WhatsApp, but you don't need to. Hold down the audio message until you see an option box appear. Select the "Share" option. Then you can choose to email it to yourself or someone else. The voice message will come through your email as a downloadable attachment.
General Recording Tips
If you've never recorded audio before, you might be wondering how to get a good recording. Here are a few tips to help you get a great audio recording for your Yoto card.
1. Talk louder than you think.
When you're recording, make sure you speak louder than you usually would. You don't have to yell, but raise your voice so it's loud and clear. Enunciate so you are easy to understand. Make sure you have a glass of water nearby so your voice doesn't get hoarse as you're recording!
2. Put the device very close to you.
To ensure that your audio is as crisp and clear as possible, put your phone (or whatever device you're using) close to you. You can hold it near your mouth, but not touching your lips. But make sure you're never more than a foot or so away at most and point the microphone at you. Consider taking off the case if it is in the way of the microphone.
3. Go into a closet to help with the sound clarity.
Going into a room with little or no echo is a good idea. A closet or small bedroom would work best! The carpet will help absorb the sound so it won't sound like it's echoing or bouncing off different surfaces.
As long as you're not in a super echo-y room, you should be fine though. Just record something short to test out the audio (like just reading a sentence or two) and listen back to it. Then you can make necessary adjustments before you record the entire book or message.
4. Email or upload the file to transfer it
You may need to transfer an audio recording, like if a family member recorded something for you.
There are a few options! First, you can email the recording. It should be easy to email the file as an attachment.
Airdrop on an iPhone will work, but you have to be in the same room to transfer it. Avoid texting the file though, since it may degrade the sound quality.
If it's a large file, you may need to upload to a Google Drive folder or a Dropbox folder.
Don't have a smartphone? Use a standalone voice recorder!
If you don't have a smartphone or just want to record on something else, you can use a voice recorder like this. It can record up to 13 hours of continuous audio. You can also easily start and stop the recording and listen to the playback.
Using a voice recorder may be easier to use for older grandparents who aren't tech-savvy. If you want a grandparent or elderly person to record something for your child, you can have them use this recorder and then just have them return it when they are done! Then transfer the audio to a computer.
This also works well for kids who might not have a phone yet! If you want to record your child reading something for a younger sibling or cousin, you can help them use this recorder.
How to Put a Recording on a Yoto Card
Putting a recording on your Yoto card is the same as putting an audiobook on it.
First take note of where your file is saved - in the Files App, Google Drive, Dropbox, etc.
Then open the Yoto App and find the "Make Your Own" option. Create a playlist and navigate to the file to upload it.
Once you've created the playlist, you can link it to a new MYO card by choosing the three dots in the corner and then "Link." For step-by-step instructions on making your own Yoto card, read this post.
Optional: Make it fancy with the Novel Effect App
The Novel Effect app is a great way to make your own Yoto cards. You can record yourself reading a story and overlay it with music and sound effects. So if you want to make a professional-sounding audiobook for your Yoto, Novel Effect will really help.
To use the Novel Effect app, you'll probably need to have a subscription to it. It's $5 a month or $60 for a year. There are a few sounds that are offered for free, however, if you'd like to try out the app before getting a full subscription.
One thing to note about Novel Effect is that they have sound effects for specific books. You'll need the physical copy to read as you listen to the sound effects. You can't record directly into the app, so you'd need two devices. One to play the Novel Effect sounds on and another to record it all.
So you find the book in the app and when you hear the first chime, you begin reading out loud from the physical copy of the book. The app uses a speech recognition system that follows your reading pace and adds music and sound effects.
Note that you need multiple devices to use Novel Effect well. You'll need one phone/tablet playing the sound effects, and another to record.
Recording your own stories is free!
Making Yoto cards with your own recordings is a great way to save money (since you're essentially making your own audiobooks!). But it's also a great way for your kids to hear your voice or the voice of other loved ones.
You can record audiobooks, tell your favorite childhood memories, or just send a loving message to your children. You can also have your parents or grandparents or siblings record their own stories or messages for your kids. Your children will love listening to their loved ones on Yoto cards.
Have you tried it before? What did you put on your MYO card? Let me know below!