We LOVE Kiwi Co at our house. We've done it for 3 full years now, and tried 6 of their 9 different lines in that time: Kiwi Crate, Koala Crate, Panda Crate, Doodle Crate, Yummy Crate, and Tinker Crate.
They are all awesome for all ages. But I don't want to wax poetic about the crates themselves in this post ... I want to tell you how to get them yourself!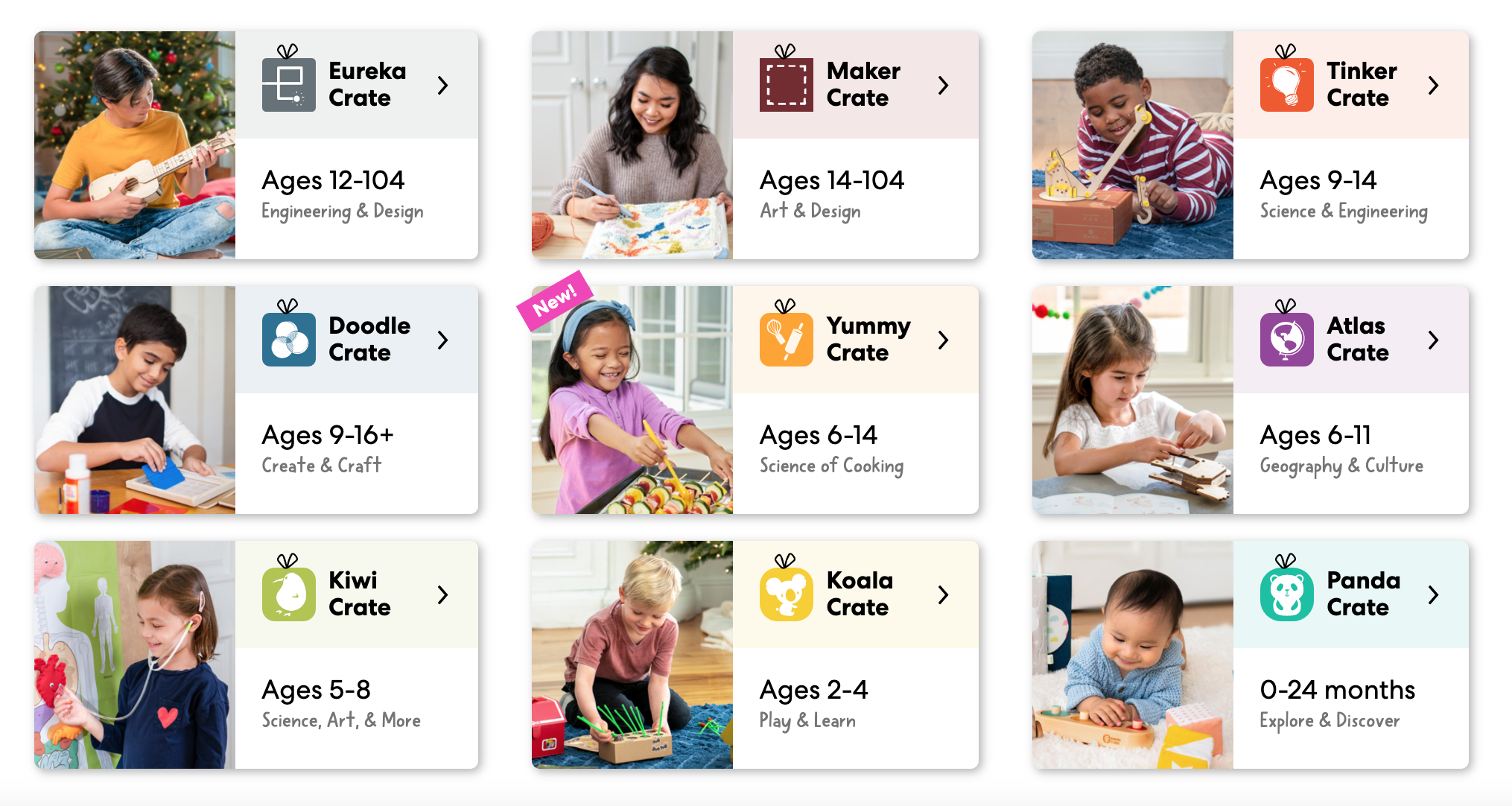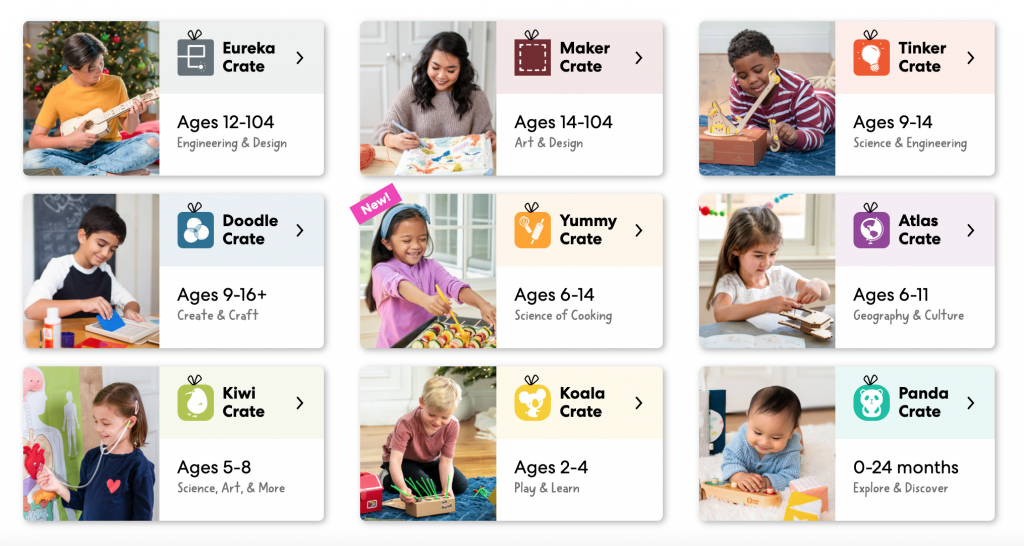 If you've ever wanted to try a Kiwi Crate subscription, this is your chance to do it for CHEAP.
Right now, you can stack three different discounts: a new account bonus, a cashback percentage, AND the Black Friday / Cyber Monday sale that they're running. I have no idea how long this combined deal scenario will work, so jump on this today!
Here's what you can get:
a 3 month subscription for $46.85 and then $40 and $5.62 back = $1.23. Making a three month subscription like a dollar TOTAL!?
a 6 months for $100.70, and then a $40 bonus and $12.08 cashback = $48.62 total, for 6 months shipped! That's just $8.10 a box. You'll be grateful to be able to pull these out over the winter months!
Both of these options are an AMAZING DEAL, and I'm going to walk you through every step of how to do it.
***Note: This deal worked as of the publication of this post, but the details and specific offers may not work now. Rakuten's cashback percentage, the amount of the referral bonus, and Kiwi Co's current offer are all subject to change.
Step 1: Sign up for a New Rakuten Account
First up is clicking this link to go to Rakuten and start a new account. When you use my link, you get $40 cashback after your first purchase! (Note: you must use this link to get the $40 bonus, and it's only that high for a limited-time.)
Rakuten is a cash-back site. You can use it to shop at thousands of online retailers, and a percentage of your purchase gets returned back to you. The percentage varies for different retailers, but at certain times of year they give EXTRA cashback.
Of course, Black Friday/Cyber Monday is one of those times! Rakuten is offering 12 PERCENT of your KiwiCo purchase amount back to you! Most stores offer 1-3% usually, so this is a good deal!
It's a really simple sign-up. Click here, enter your email, and make a password. You'll probably need to check your email to verify it, but that's it!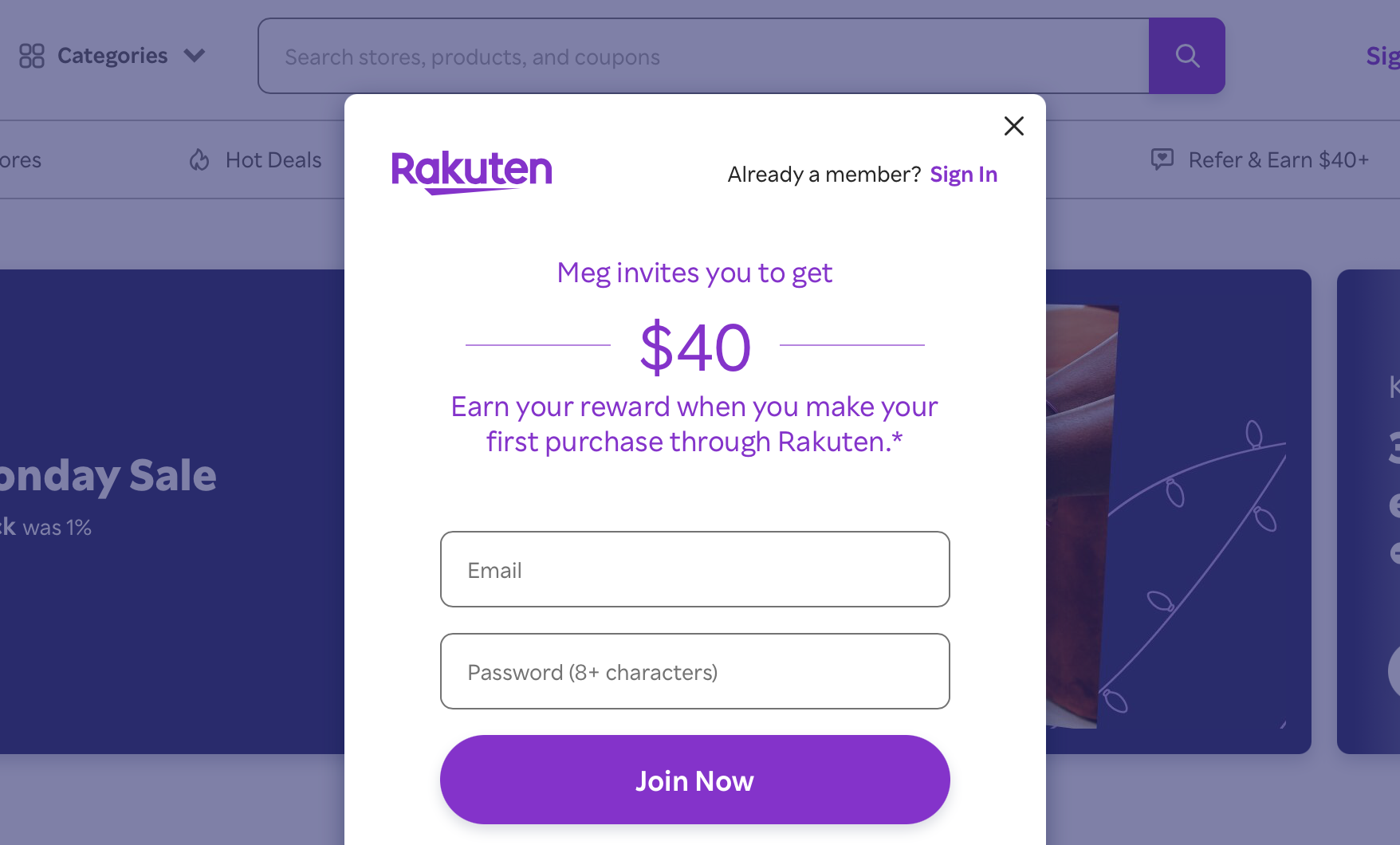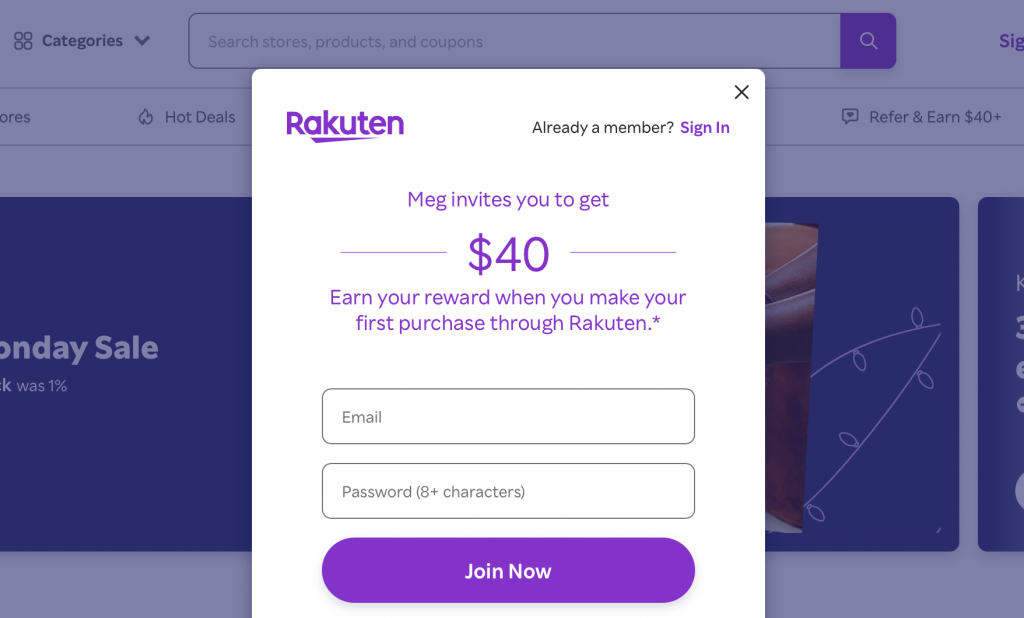 Step 2: Find KiwiCo in Rakuten
After you've set up your account, go back to your browser with Rakuten.com open.
You need to do a search for KiwiCo.
This should be as simple as starting to type "KiwiCo" in the search bar, and clicking the result.


It will say you can earn 12% cashback on your purchase, compared to the usual 2%!
The next page that comes up is list of deals & coupons for Kiwi Co.
Scroll down a little to find the Sitewide Sale area, where you see the different deals and coupons they are offering.
Click "Shop Now" on a the Black Friday "AWESOME" coupon shown below


Then Rakuten will show you this loading page, and will automatically redirect you to KiwiCo. At this point, any transaction you complete on this page should qualify for that 12% cash back from Rakuten.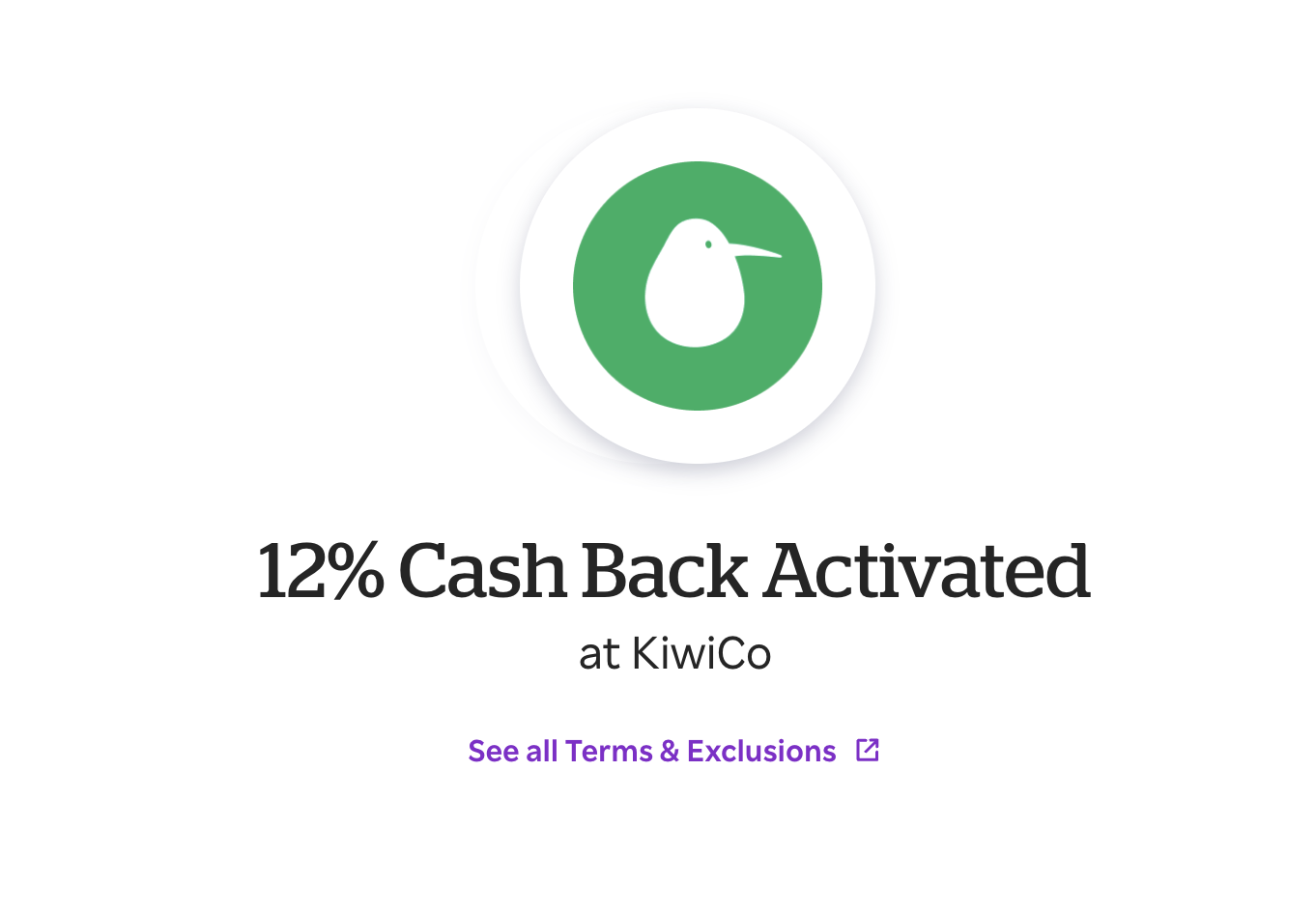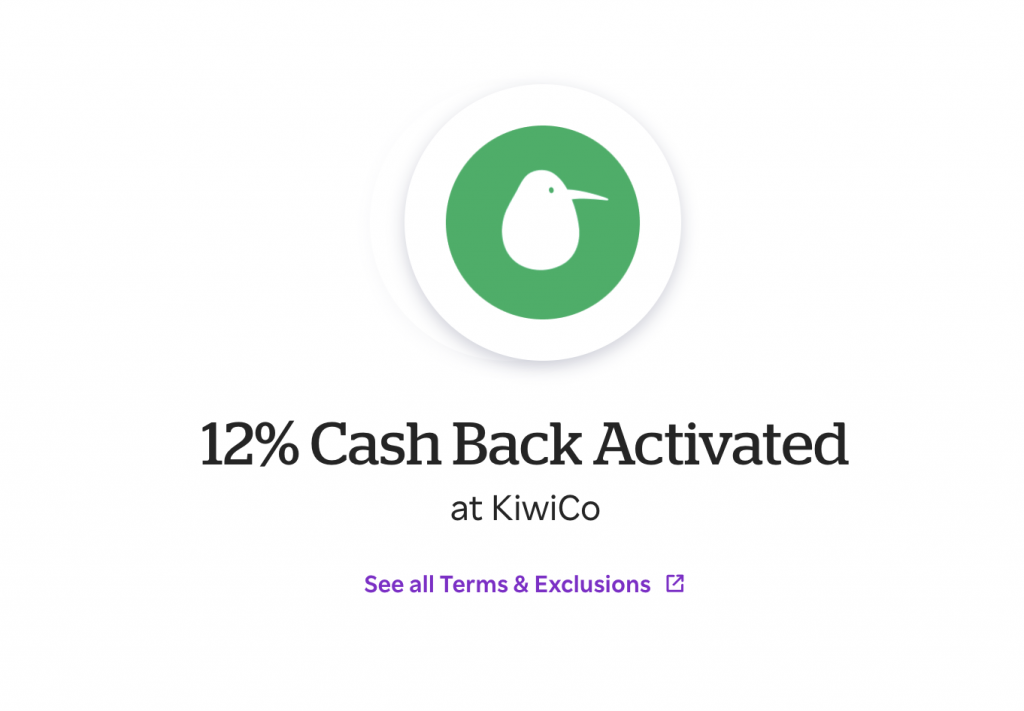 Step 3: Order your Kiwi Crate
Now you've landed at Kiwi Co!
Now you get to actually choose your crate line and set it up. The easiest way is to click Subscription lines at the top and then click to learn more about the one you're interested in.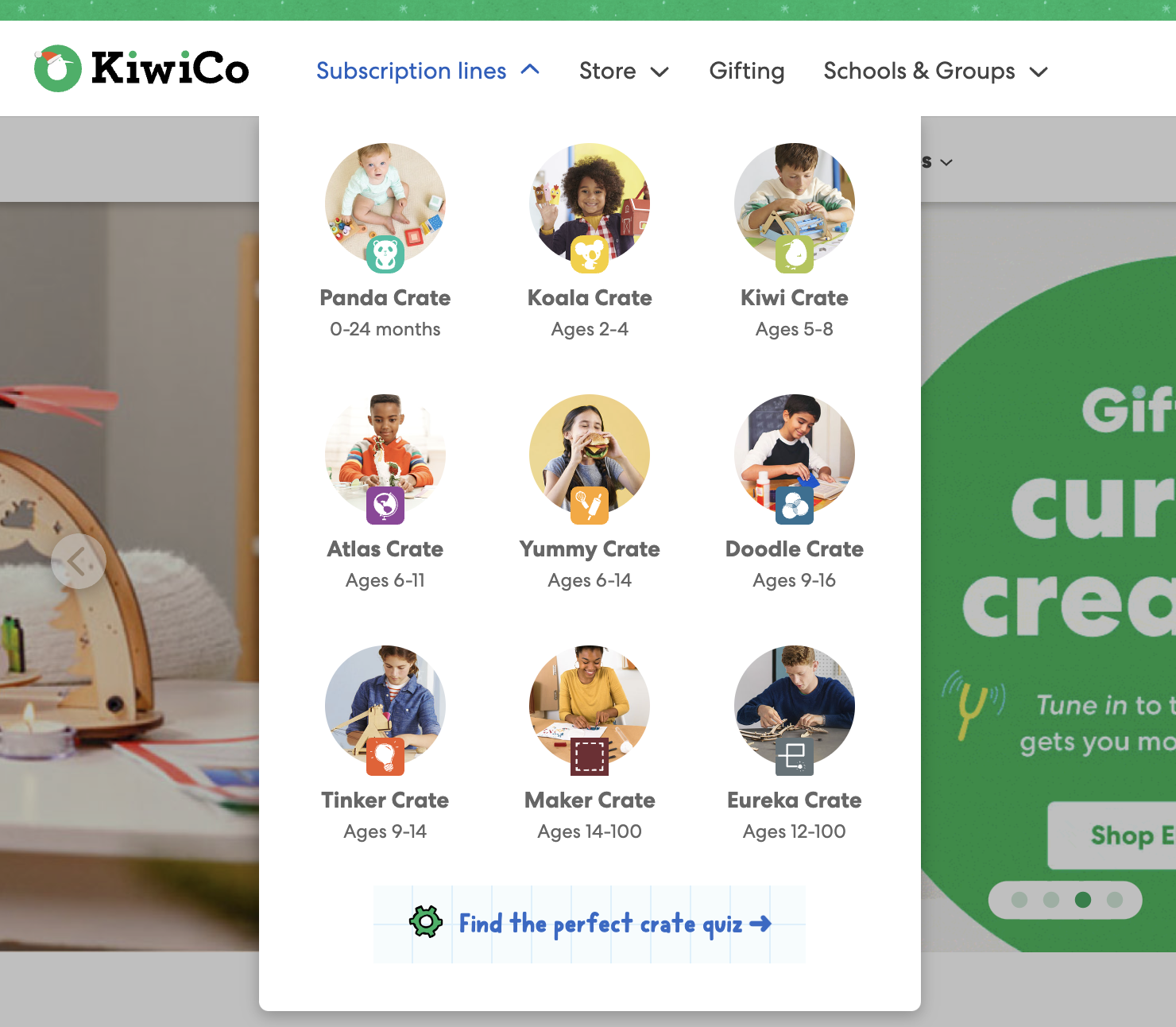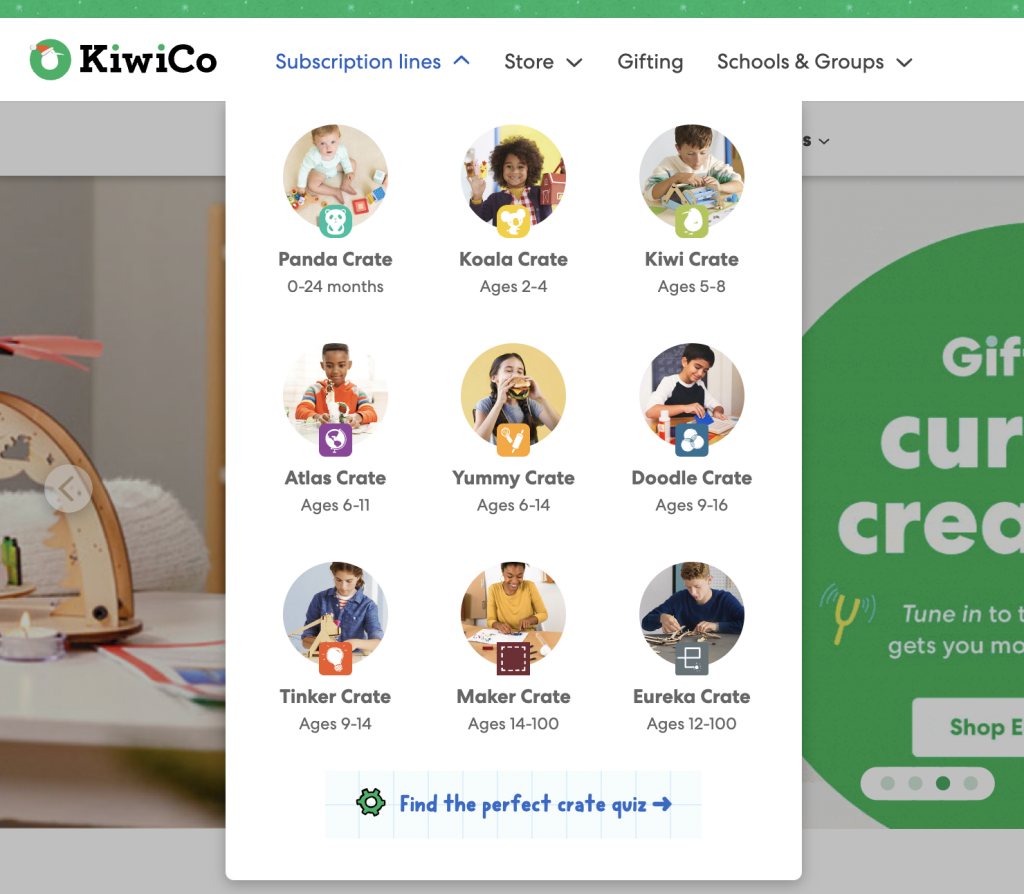 Once you choose a crate, hit the green "Get It" button. Then add the child's name, and their age range.
You might be asked for their birth month/year (this is because the crates for younger kids do account for where they are developmentally, so this information makes sure you're getting age-appropriate stuff! Especially when there's such a big difference in the toddler years.)
Then choose your subscription length, or how many boxes you want to get. It's not super clear on that page what the total will be for each term, but you can see the monthly fees.
I recommend the 3 month subscription to make the most of this deal.
Shipping is always free!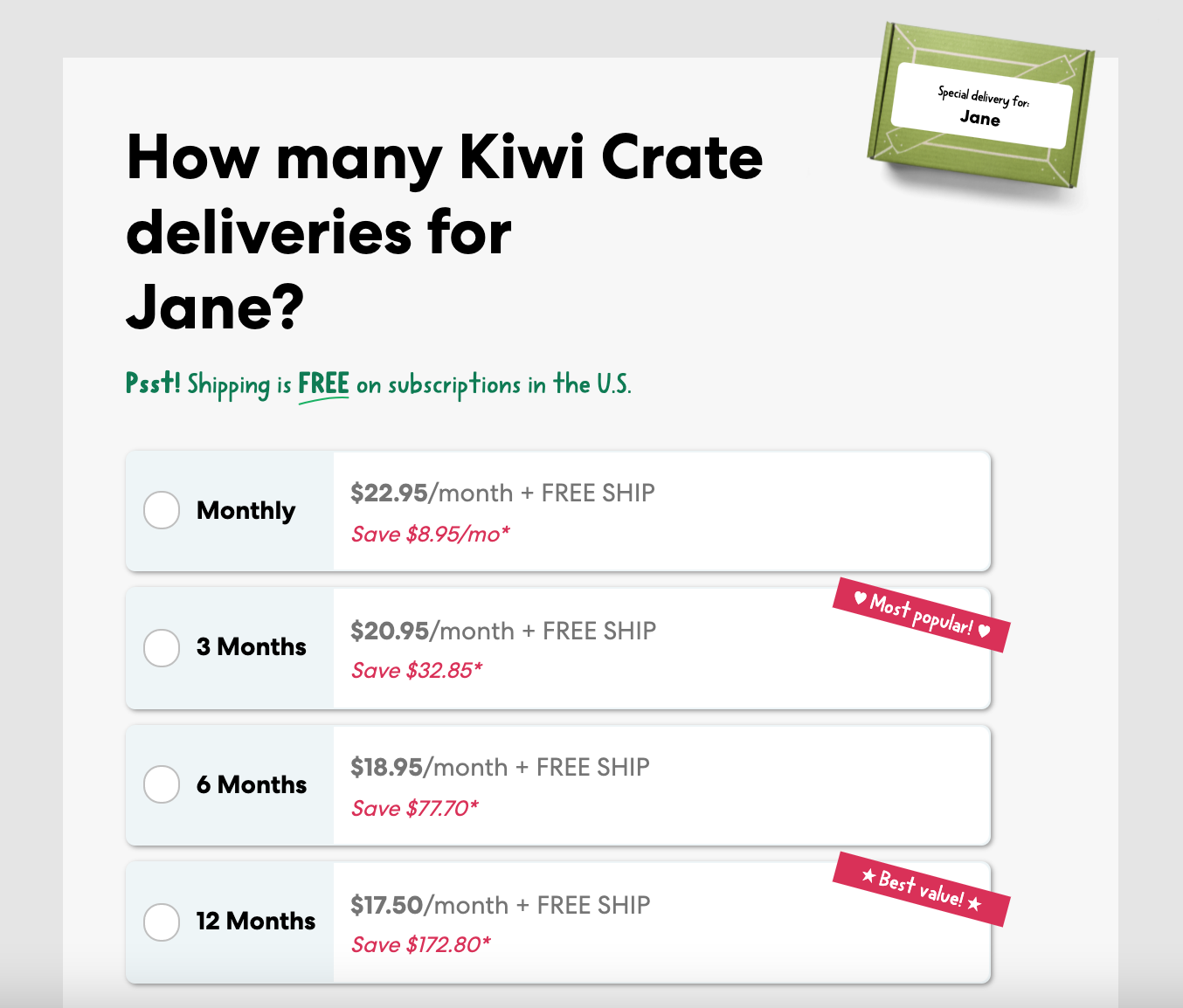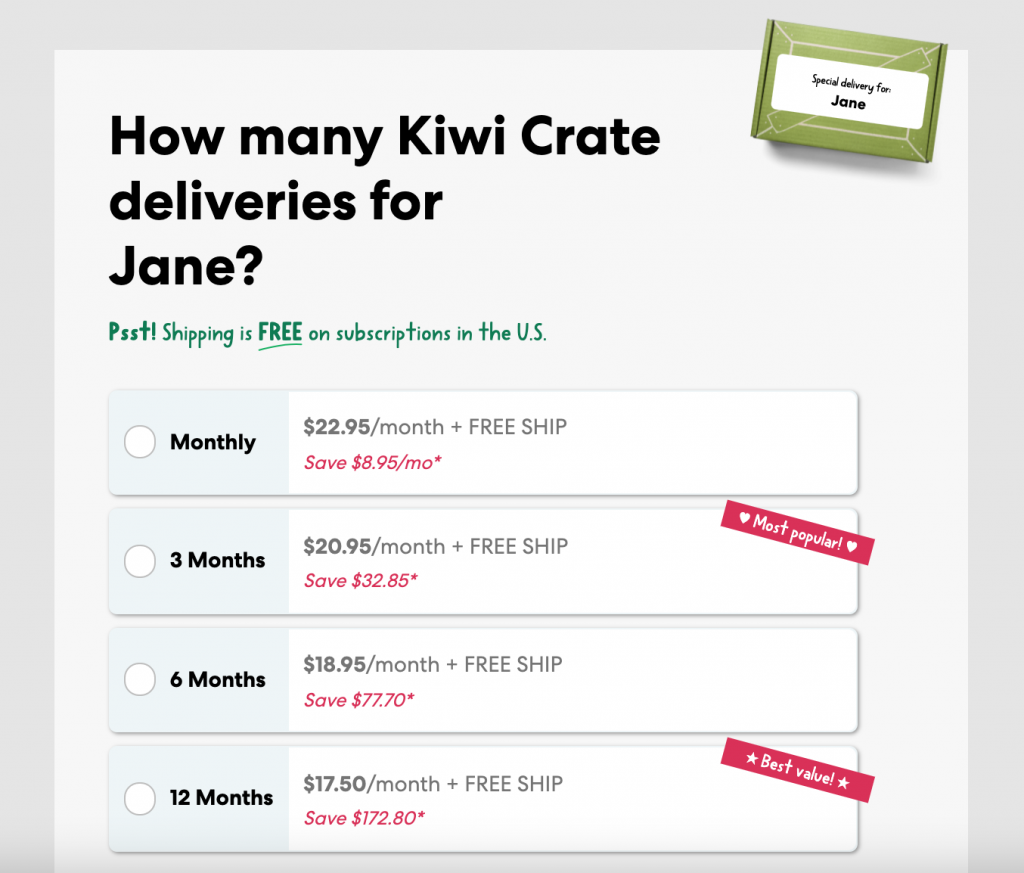 Then total cost shows up on the next page. You can review what's in your cart so far, and make sure that the "AWESOME" Promo applied automatically.
If it didn't click checkout and you can add it on the next page.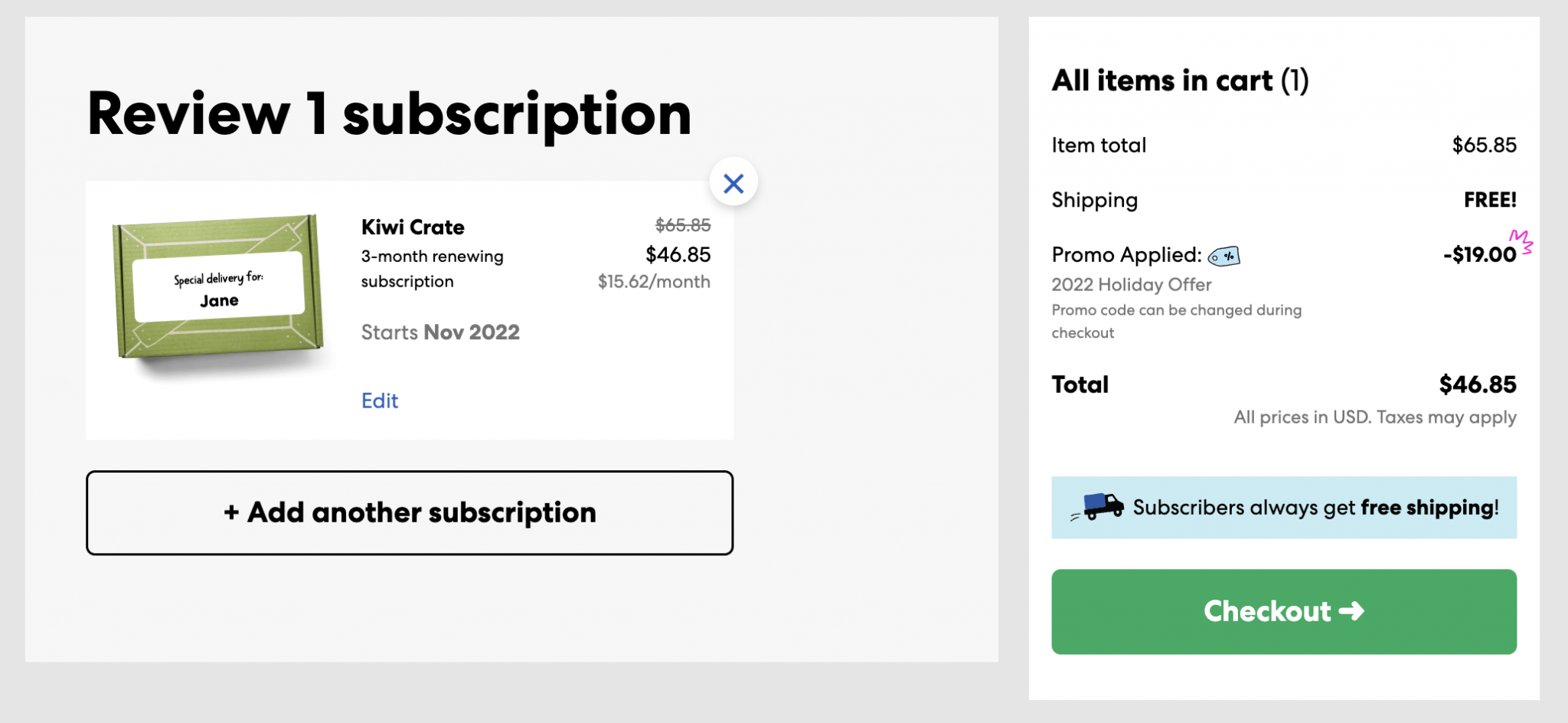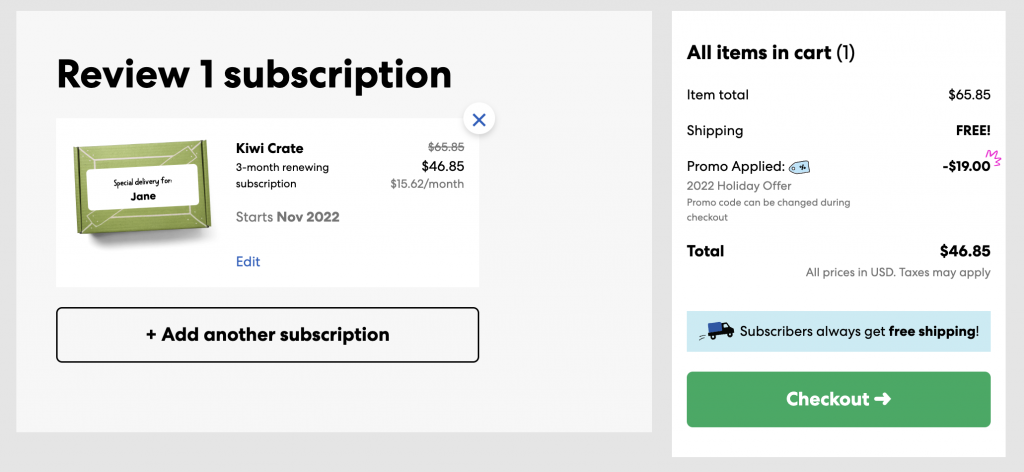 If you have a another child to order for, then Click "Add Another Subscription" below your first one.
Otherwise, click the green Checkout button to put in billing and shipping information, and finish your order.
(One thing I love about KiwiCo is they know lots of people gift their crates, so they make it easy to send it to the right place.)
Again, if no promo has been applied, you're going to use the code "AWESOME" to get your first box for just $4.95.
Once you've placed your order, do a little happy dance! You've stacked three deals to get an amazing price on Kiwi Crates!
All the nitty gritty details about Rakuten:
First of all, you're not going to see anything else on screen from Rakuten after completing an order. It just works in the background, and then you will see your transaction and cashback in Rakuten the next day.
So don't freak out if it doesn't show up instantly! It will be there the next day.
But if it's been a day, and something doesn't look right about how much money you earned, definitely reach out to Rakuten. They have great customer service!
Note that Rakuten doesn't give cashback on the taxes collected, so if your order amount looks slightly too low, go back and see how much you paid in taxes. It's pretty likely that "total" that shows up in Rakuten is actually your pre-tax total, and then the math should work.
Your $40 bonus for being referred by a friend (me!) will show up after your transaction goes through, up to a full day later. You can see it by clicking "Cash Back Balance" under My Account. Then your 12% cashback shows up on the top and your $40 shows up in the bonus section.
This is what my mom's account looks like after I helped her do this deal for a grandkid gift (they offered a different amount of cashback when I screenshot this, but the idea is the same.)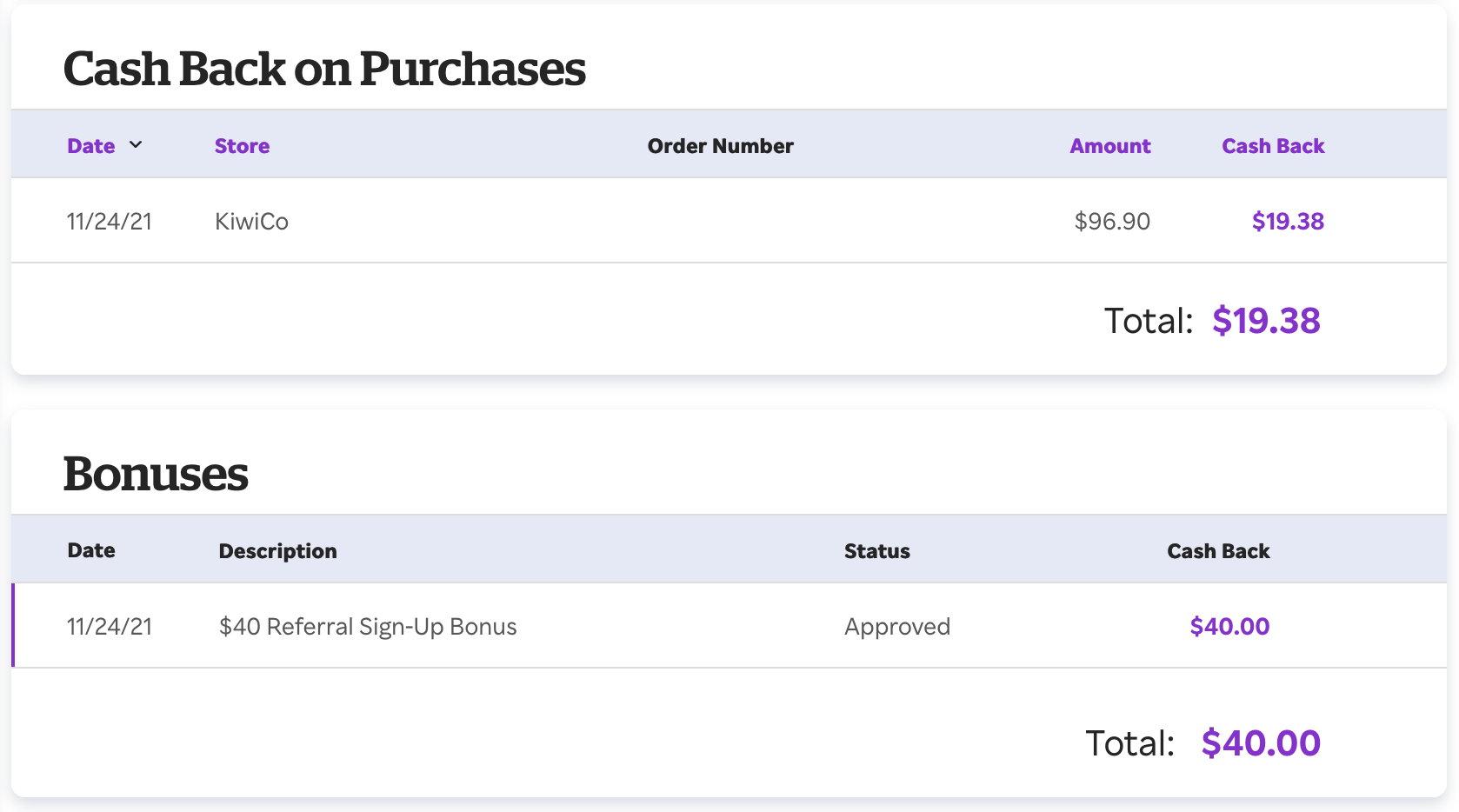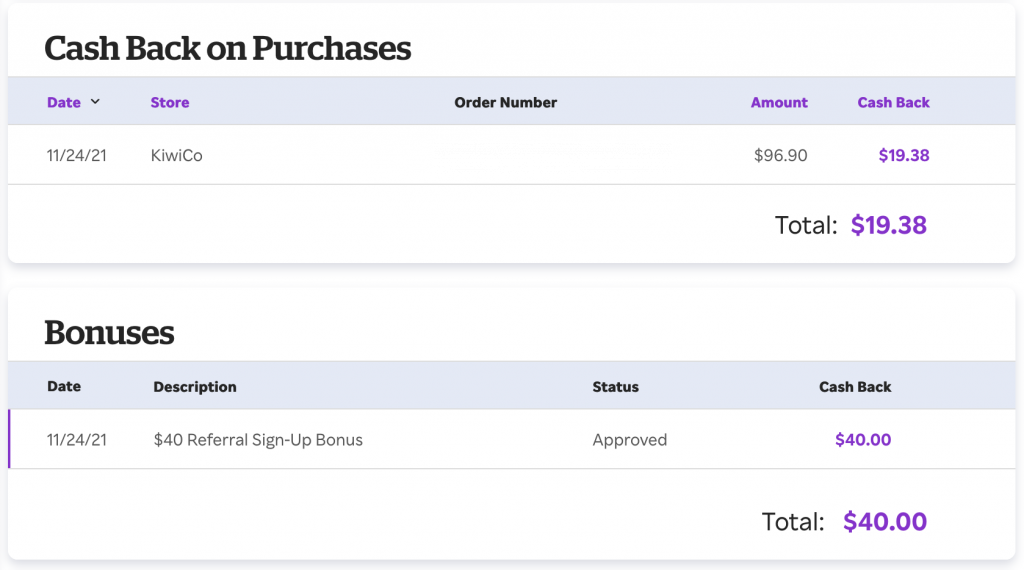 Rakuten sends out their "Big Fat Rebate Check" once a quarter, so you can expect to get a check in the mail then.
Rakuten will prompt you to add your address so they can send that check, but you can be proactive and go to the Address section to add it yourself. You can also change it to a Paypal deposit.
Obviously, you can use Rakuten.com for tons of other retailers too! I get money back from Kohls, Target, H&M, Express, Best Buy, Land's End, and more. Just remember to click through their site to get to the retailer you want.
Extra Details about KiwiCo:
Once you've landed on the Review screen, you can click the tiny "Edit" link under the subscription to change certain things.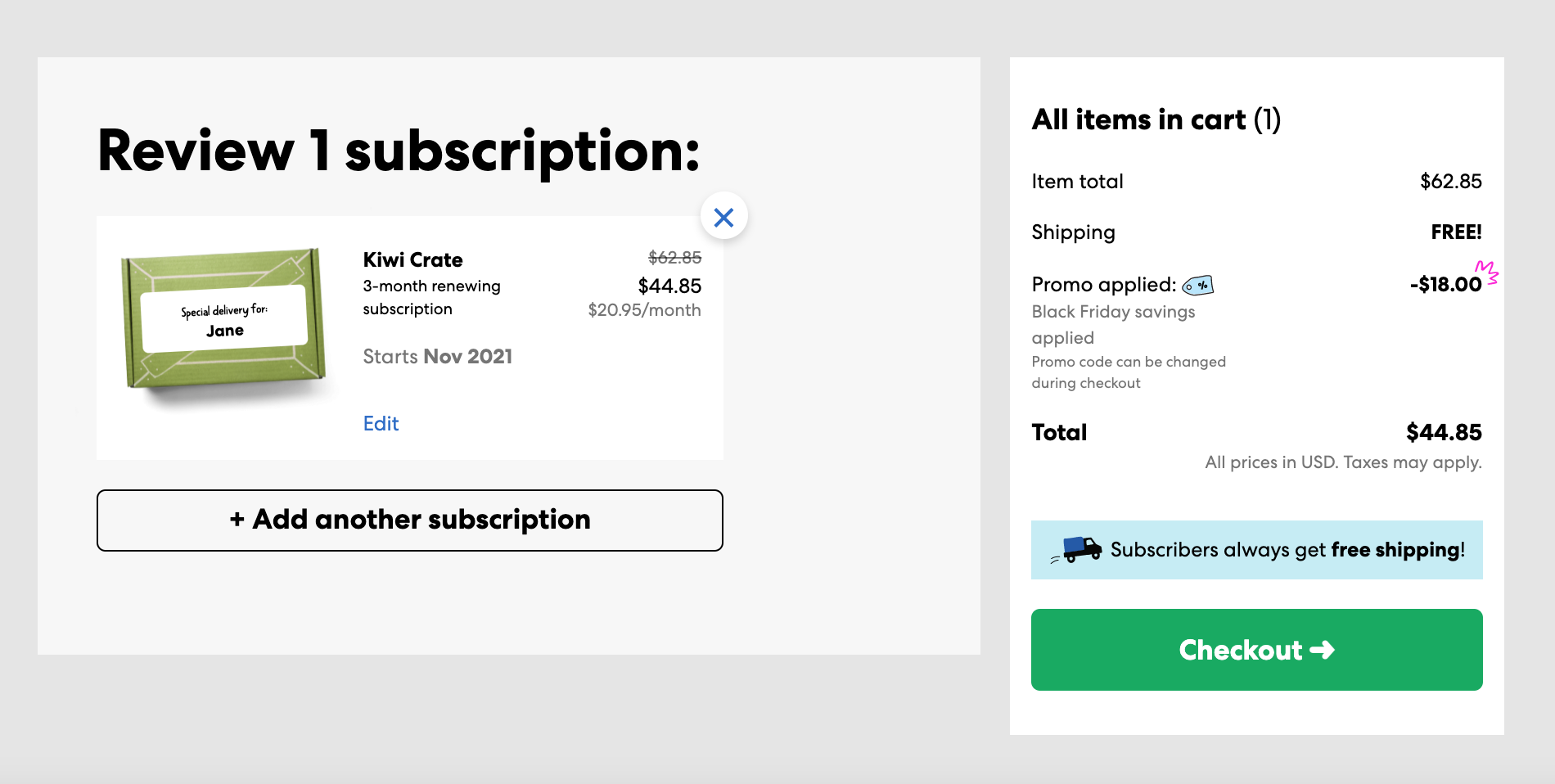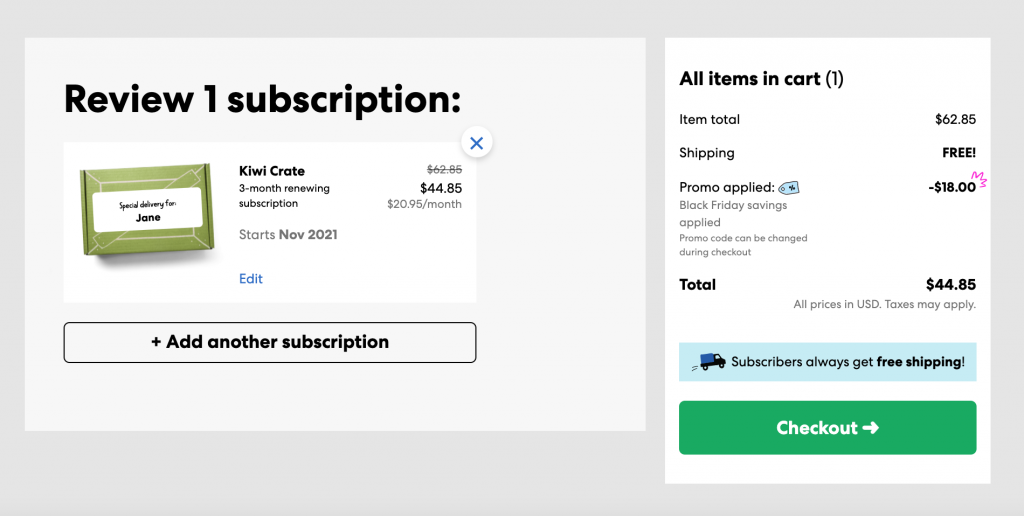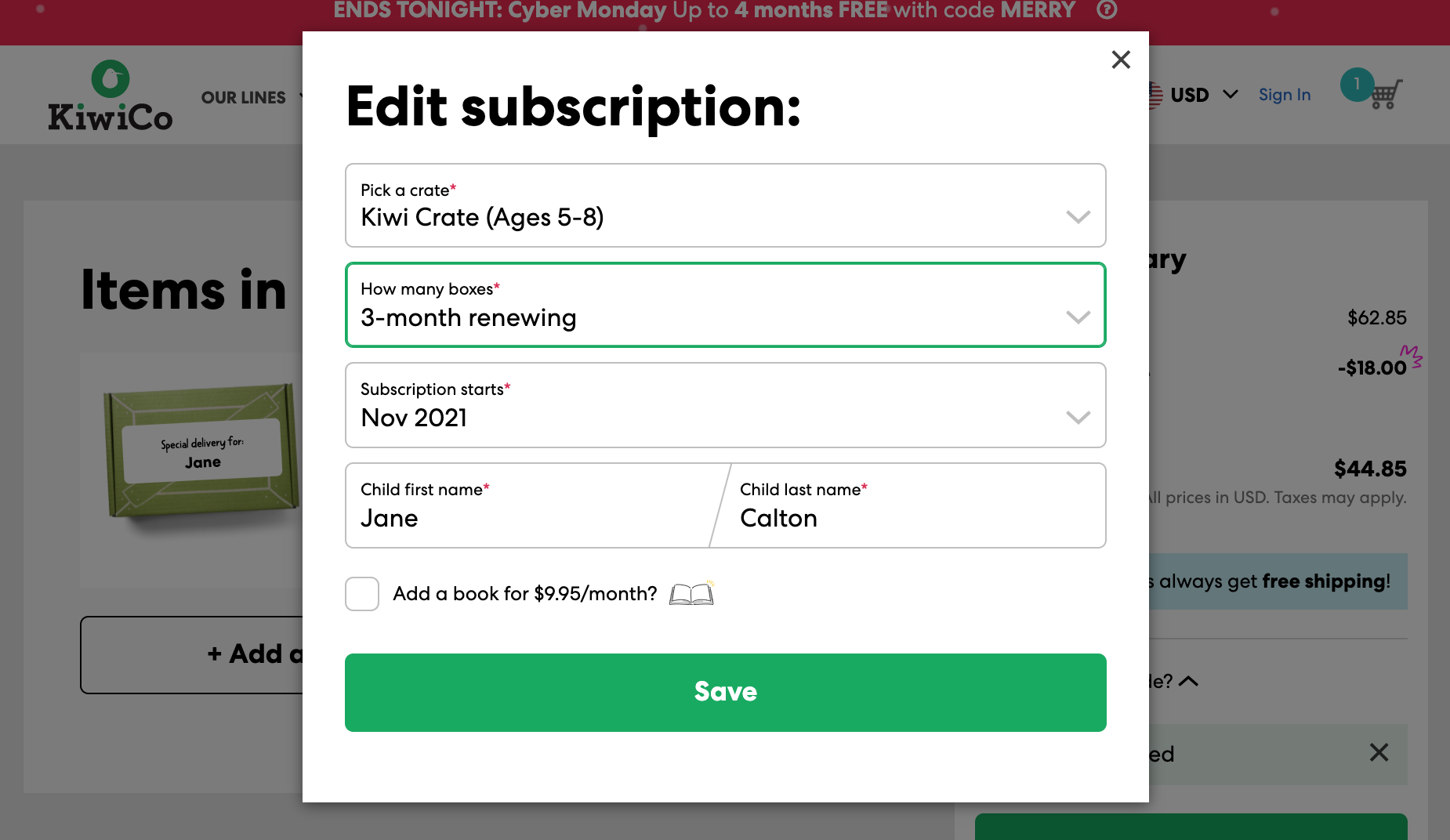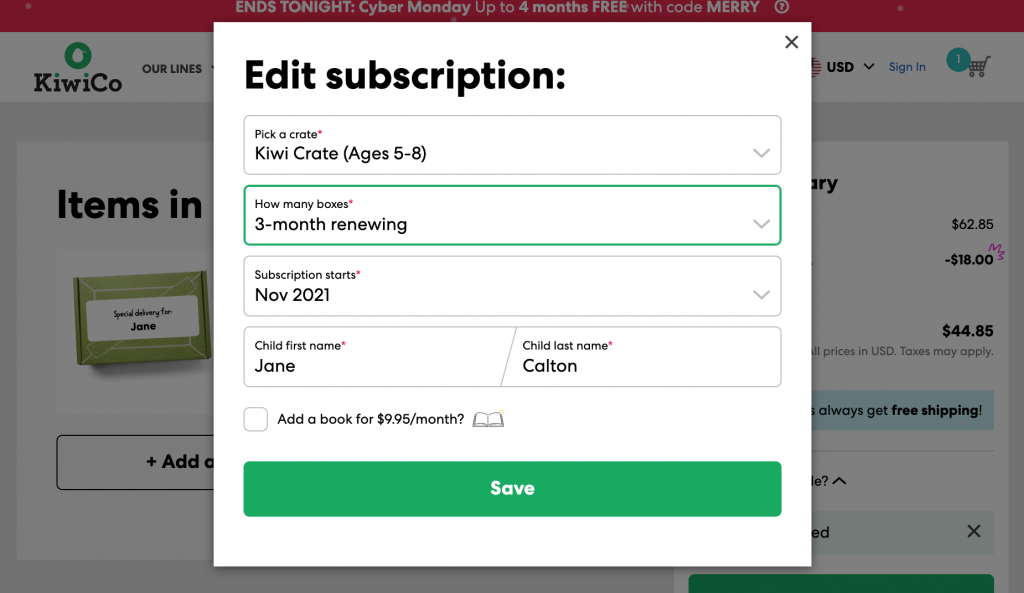 For instance, you can change whether your subscription is renewing or not. Meaning, do you only want to pay for 3 months and then the deliveries stop, or do you want to keep renewing three months at a time?
They kind of hide this option, but it's useful if you're using Grandma's credit card and don't want it to charge again without realizing it.
The other thing you can do is control the month the first shipment starts. So if you want to take advantage of Black Friday pricing, but not have it come until a birthday month, you can do that. (I got the Yummy line to try out for an upcoming birthday).
You can also toggle the extra book on and off. I've never gotten the book because it seems expensive to add 9.95 to every month.
Can I get this deal more than once?
Yes and no.
You can only get one Rakuten $40 bonus. So that chunk of the equation is set.
However, you can get cashback on your whole purchase, and the KiwiCo pricing is good for additional subscriptions in one order.
So you can get the rest of the deal for multiple children!
On the review screen, just tap the "add a subscription" to add an additional crate line for another child. The Cyber Monday pricing will apply to each crate in your order.
Rakuten doesn't care how many you order: they will give you 12% back off the pre-tax total.
Technically, you could have your spouse or Grandma set up their own account if you already use Rakuten and want to take advantage of the deal!
---
Whew! Can you tell I'm passionate about this!? I love a good deal and this is one of the best. Comment below if you need any help or have questions.