Lots of people wonder how if it's possible to use family photos to make your own board book, and it is! Having pictures of your loved ones in a book is a sweet way to teach them about their family members. This blog post covers five website you can use to create your own board book for baby or toddler.
There are plenty of printers that make photo books with paper pages, but we are really partial to board books for the 6 month-age 2 range. Board books are a necessity when you have a baby or toddler at home: they are durable and will survive all kinds of drool and baby teeth!
Custom Board Book or Just Personalized?
When you're looking for the best website to make your own board book, you'll discover there is a difference between a custom board book and a personalized board book.
Personalized board books feature a pre-written story or format, and then you can add in personal details. For example, you can usually add your baby's name, a few of your own photos, and adjust the cover. It depends on the website you're using and what things they let you personalize.
Customized books offer a lot more freedom. This is more like designing your own board book completely from scratch. This way really allows you to create your own board book.
You can choose the pictures within the book as well as the text, and you are usually able to choose how many pages you want. Customized books mean you had a lot more control over the finished product, but they do take a bit more work on your part to make the decisions about what to include.
So, if you want full creative freedom, you should look for a custom board book. If you just want to drag and drop and plug in a few specific details and photos, then a personalized board book is the choice for you.
Custom Board Book vs. Photo Album vs. Softcover Book
My children adored seeing pictures of their family members when they were young. If you can print your own board book, then those pictures feel even more special to them! It's a totally different experience than just putting some prints into a photo album that they can flip through.
Custom board books are perfect for the 6 months - 2 year old age range. Board book pages are much more durable than a simple printed photo book, which can tear and rip.I think it's worth the peace of mind to print your own board book that they can love to death, and save the nicer photo books for when they are older.
If your baby is under 6 months, then we recommend a soft baby photo album, the kind made of fabric. These can handle drool, spitup, and teething babies! There's a whole bunch of options on this blog post.
If your child is 3 and older, then they can probably handle paper pages in a regular photo book. There are lots of options for printing these, including Chatbooks below.
---
Five Websites To Make Your Own Board Book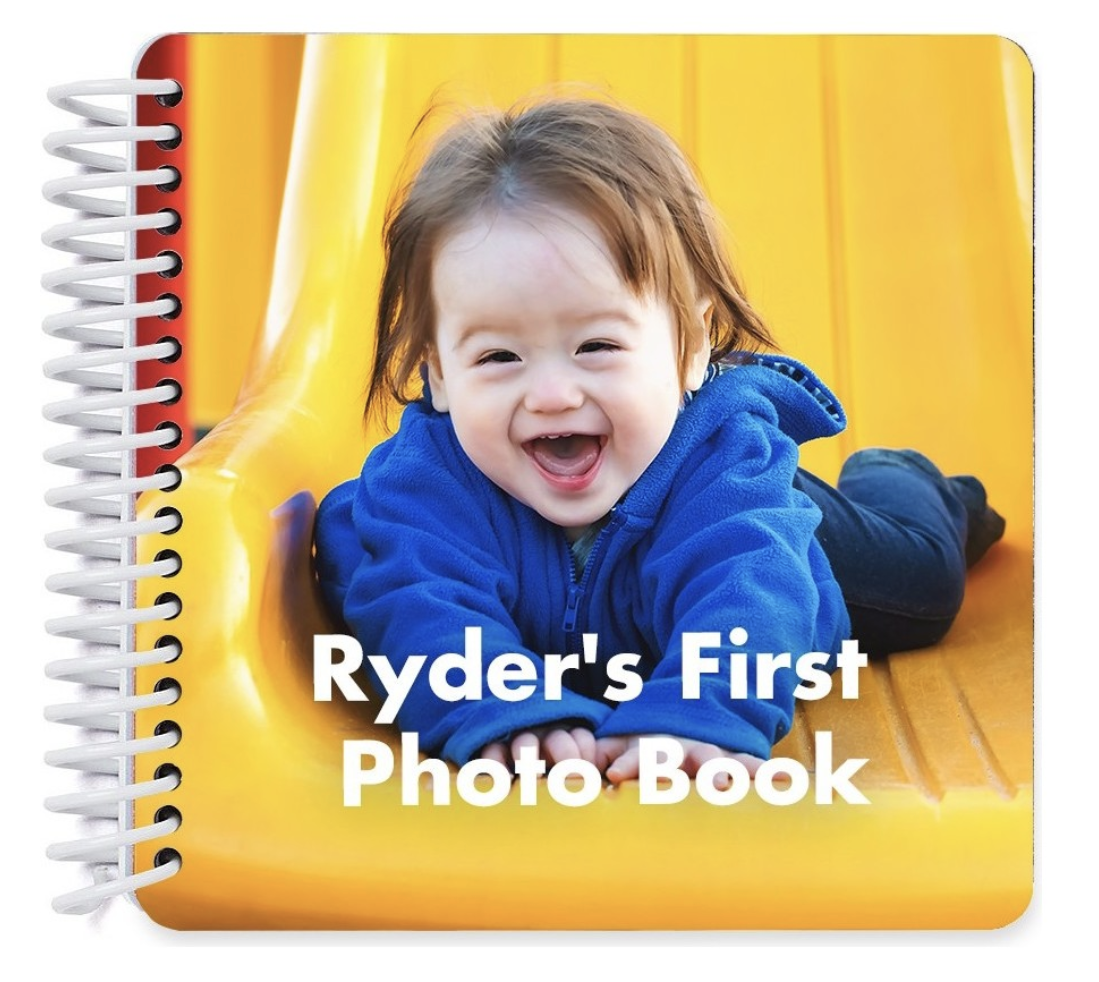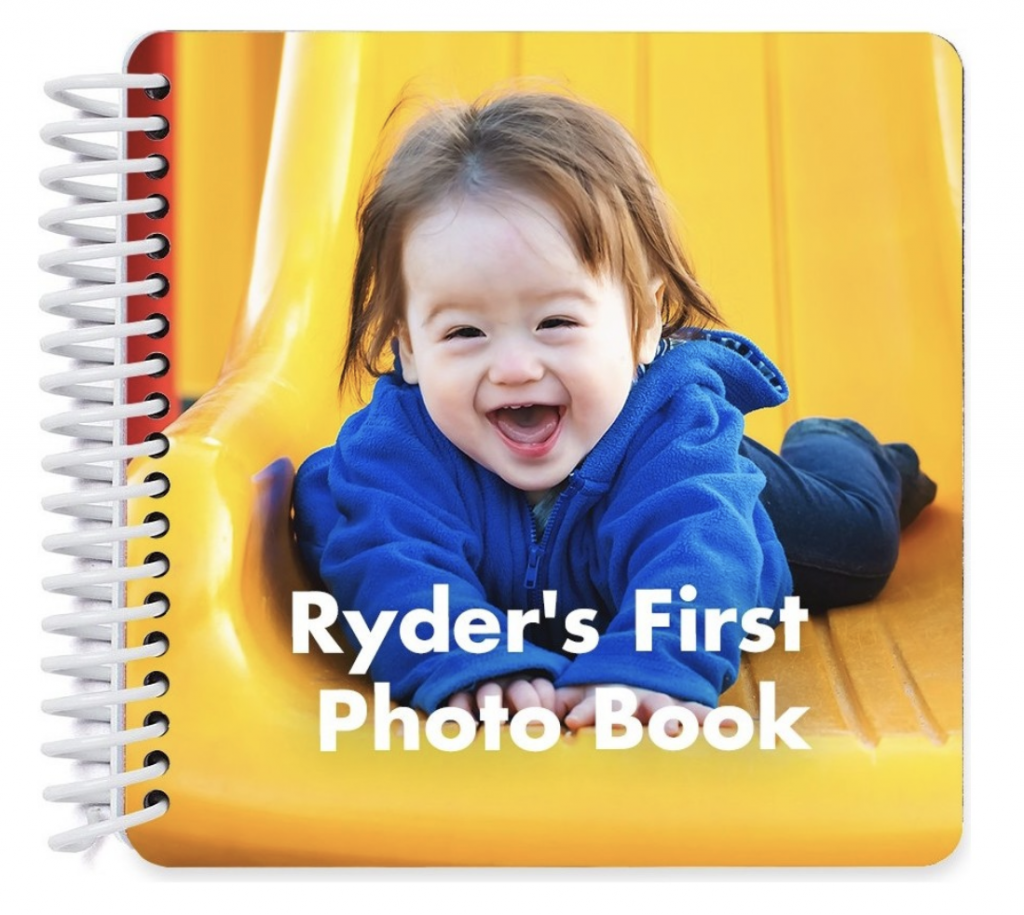 Pinhole Press offers tons of different options to make your own board book, including the option to have a spiral-bound board book in addition to the more traditional style.
The spiral bound products start at $40.
You have the option for a fully custom board book, where you can upload the photos and then manually populate them into your book and choose between different page layouts.
Your other option to print your own board book is to use Pinhole Press' auto-populate feature, which puts your photos in a pre-designed format. This is great if a fully custom board book seems too time-consuming to design. You can still make your own board book really quikly with Pinhole Press!
Pinhole Press recommends their books for children over the age of 1, and after customizing your book, it only takes 3-4 days to produce them before they are shipped to your door.
-$40
-20-40 pages
-11-21 photos
-5.25"x5.25" size book
-spiral bound
-glossy ultra-thick paper with a board book cover
This book is great because you can use it as an introduction to relatives, with a picture on one side and a sentence on the other, or you can tell a story with it. So you can use photos from a vacation with sentences or phrases about what you were doing in each photo. It's a cool way to immortalize a trip.
-$13
-20 pages
-10+ photos (depending on the layout chosen)
-3"x3" size book
-traditional bookbinding
-softcover
This version is a softcover book, so it won't be quite as durable as some of the other board book options. They might be better for older toddlers or kids who won't be so rough with them. But they are tiny and adorable!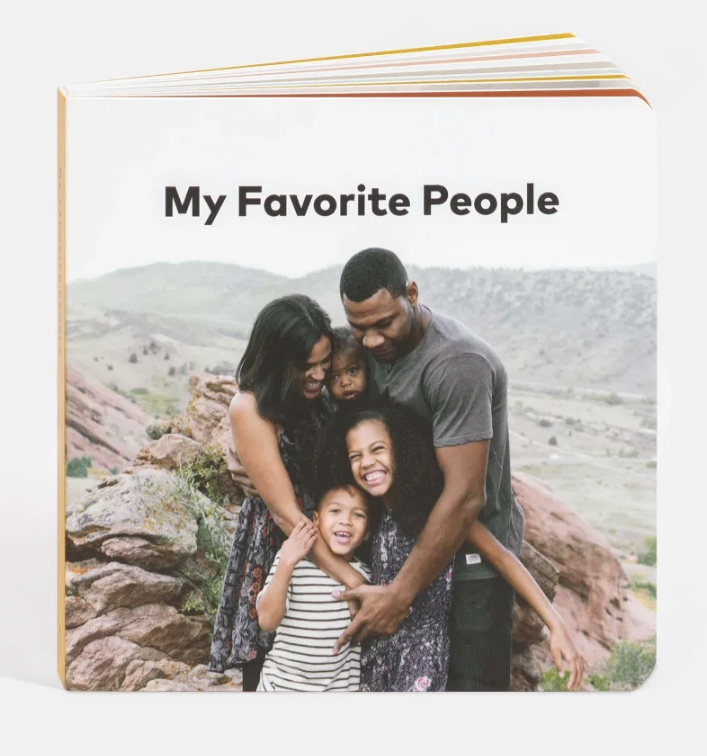 One of the best places to print your own board book is Artifact Uprising - especially if you have a modern, boho style. Artifact Uprising has very elegant, minimalistic designs, perfect for the modern parent.
With Artifact Uprising, you choose a theme for your book ("My Favorite People", "My Favorite Places", or "My Thankful Book") or you can do a fully customized book.
After you choose your theme and the number of pages you want, you can easily choose between several different layouts for each page and different color options. You can choose your own color or Artifact Uprising offers three hand-picked color themes.
The books are crisp, classic, and really cute. They are focused more on minimalist designs, but you can choose custom theme options to fit the type of book you want to create.
Artifact Uprising board books are constructed with thick pages and are produced in 5 days. They also use some recycled materials, so it's a great company to support if you're trying to be more environmentally friendly. We think it's a great place to make your own board book!
-$45-65
-20-40 pages
-10-20 photos
-5.75x5.75 size book
-semi-glossy pages with rounded edges, traditional board bookbinding
Note: If your child is so young that they are still putting everything in their mouth, then we recommend a soft photo album for baby instead of a nice board book like this.
This personalized family board book lets kids see pictures and names of loved ones in a really unique way. It's an interactive book that fun to read out loud: one page has colorful illustrations of animals (like an elephant, llama, unicorn, or sloth) that ask "Who do you see?" On the other page, there will be a photo of your baby's loved one, so the book answers the question: "It's Grandma!" or "It's Grandpa!"
You can add make your own board book with up to 8 photos of family, friends, and pets. You can personalize the book further by adding your child's name and birthday with their photo on the cover. The pages are a durable board material.
Because this is a pre-written story, it is only available for personalization and it cannot be fully customized. But it's the type of book that babies love, with simple questions and family pictures.
-$30
-22 pages
-8 photos
-6.5x6.5 size book
-traditional bookbinding
-hardcover with board pages
These books are available on Amazon, Etsy, and the brand's website.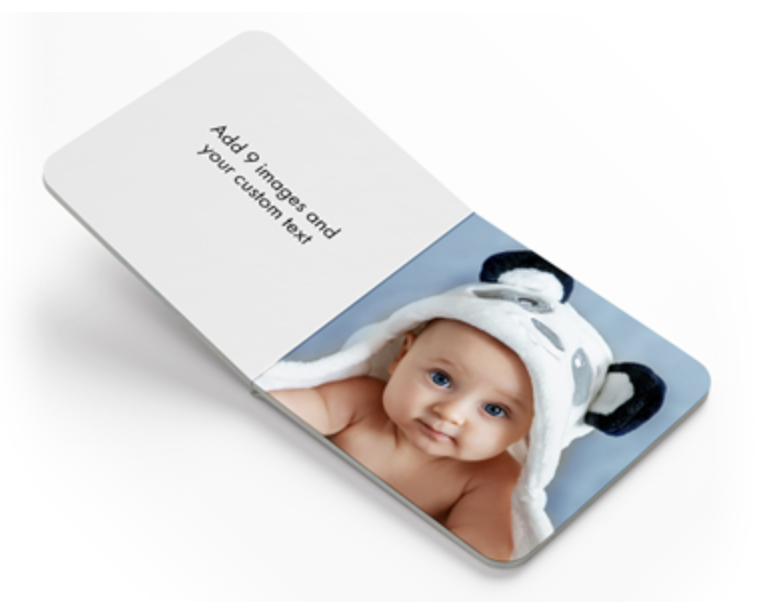 Pint Size Productions has a few different options for people who want to create their own board books. They have beginner, advanced, or professional board books.
With the beginner book, you can choose the number of pages and how many photos you get in your book. Then you have a few different options for layouts and can add your photos and captions to the book.
The advanced board books are perfect for those who want full control of creating their books. You can choose from different photo positions, or you can adjust them completely on your own. Rotate photos, add borders, change the colors, and change the fonts, sizes, and colors of the captions.
There is also the option for professional board books. This is probably not the right option for first-time book makers, but if you are a professional photographer or designer, this is a fantastic option to print your own board book! Create it in your own professional design software and then upload your PDF spreads to have them printed. You'll have full creative control, but it's not the quickest approach if you don't already know what you're doing.
-$25-35
-16-24 pages
-9-16 photos
-5.62"x5.62" size book
5. Etsy for Personalized Board Books
Etsy is one of the best places to go for customized and personalized products, and board books are no exception.
You can do a search on Etsy for "custom board books for kids" and there will be a large range of products that show up, from just personalized with your child's name to totally customized.
Here is one of our favorite options to create your own board book: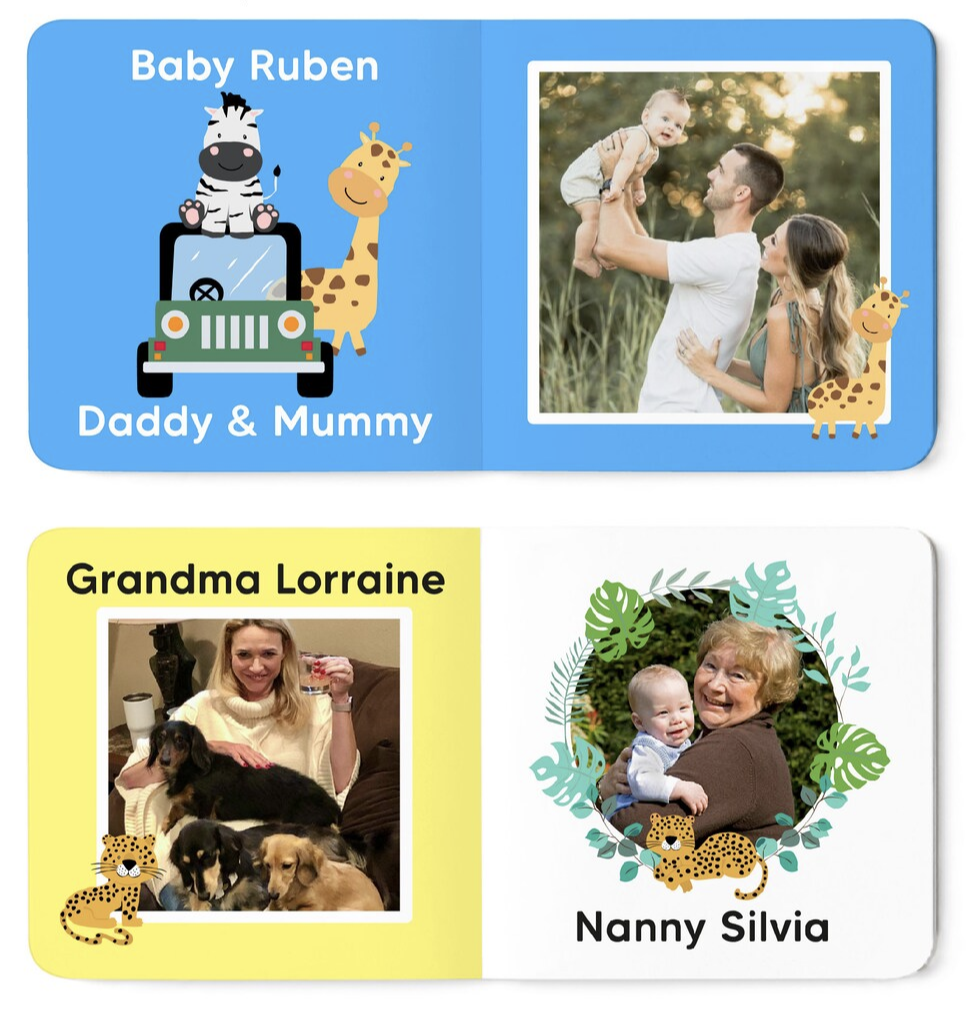 This personalized board book can feature 12 photos of loved ones and pets, as well as fully customizable text! It's geared towards babies and toddlers so it's hardcover with thick board pages and curved corners.
The book is safari-themed and has some really cute designs running throughout the book. You can add the name of your child on the cover and dedication page before the photos. The safari theme is a fun way to make your own board book without coming up with everything from scratch.
When you order, you'll send in your photos and the creator will do the rest. They'll email you a draft of what it will look like so you can double-check it and approve it. It only takes a day or two after ordering to get your proof to approve, and then they make your board book and ship it out.
-$50
-16 pages
-12 photos
-5x5 size book
-traditional bookbinding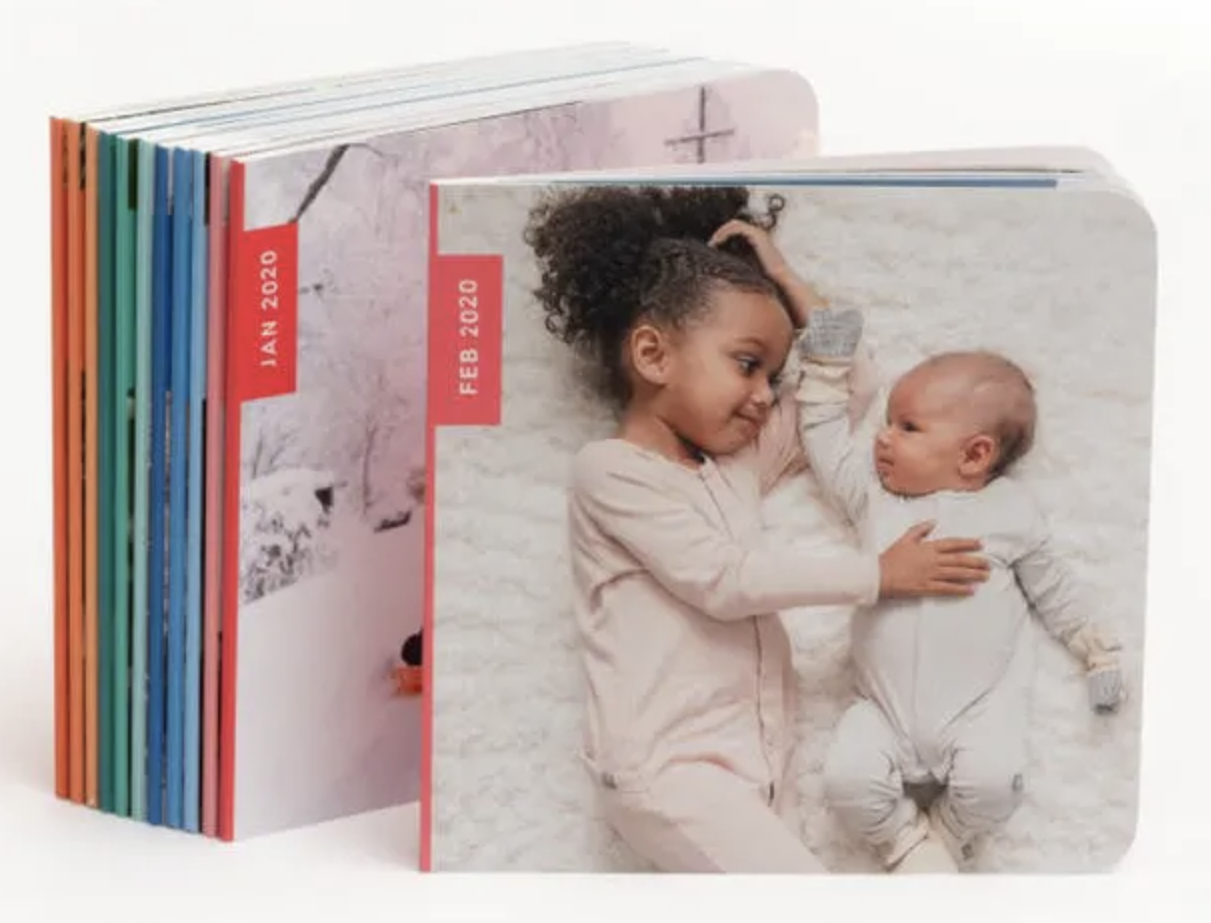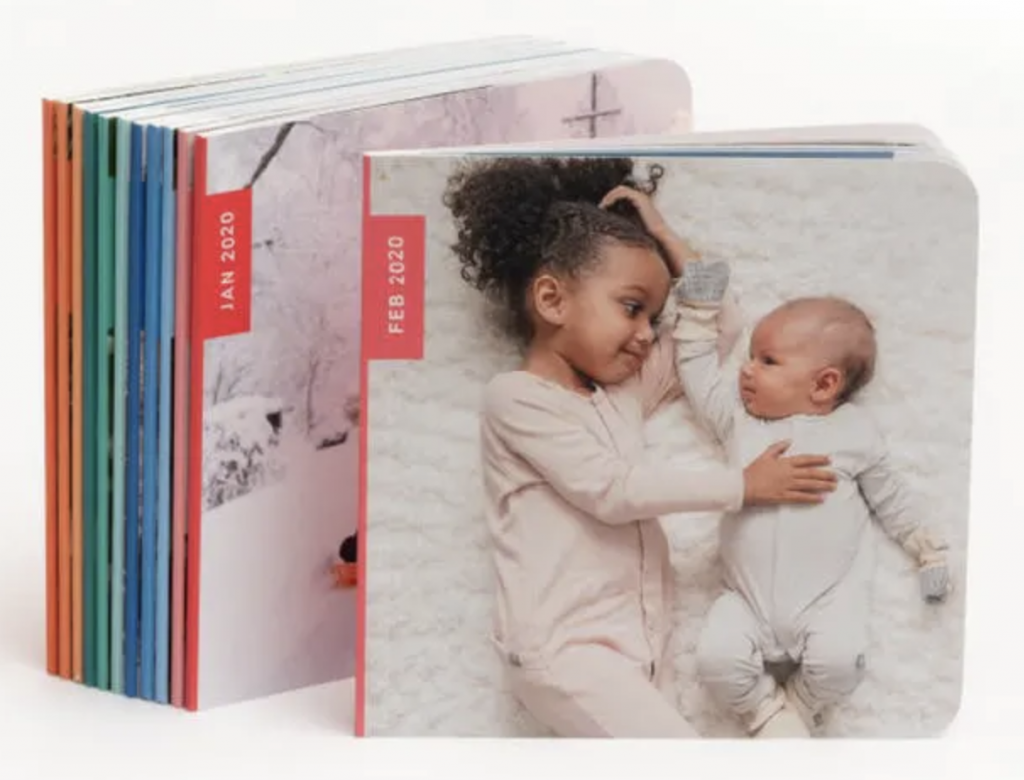 Heads up that these are NOT actually board books.
However, they are only $5 each, so it's a super affordable way to get little photo books for your kids. There is also a toddler guarantee with Chatbooks, so if your books get ruined, torn up, or are just loved a bit too much, you can send them a photo and they'll send a replacement book.
The books are small so they are easy for toddlers to hold and they are 30 pages, so you can get lots of great photos in each book.
These books are available from the app only, so download the Chatbooks app to order one!
-$5/month
-30 pages
-30 photos
-6x6 size book
Use this code for $10 off your first order: SNAPHAPPYMEG-PVEV
---
From a fully custom board book to just a personalized board book, it's not hard to make your own board book for baby! These beautiful keepsakes are worth the time and effort they take.
Want a fabric photo album instead? We gathered a bunch of options for soft albums here.
Have any more questions on how to create your own board book? Ask them below!