I want you to think of the pictures you have from your childhood. What pictures do you remember? Are they posed shots with generic props in a studio? Or are they candid shots your mom or dad took because you were doing something cute? I bet the pictures that truly resonate with you are the ones with a story attached. They're the grainy photos your parents took because they were trying to capture a happy memory or a special day on film. They wanted you to remember that part of your childhood.
Now look at this picture: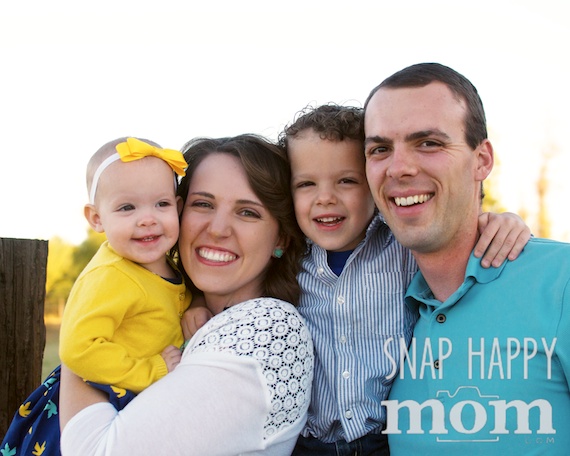 Aren't we adorable? Of course we are; it's family picture day.
But we do not look nearly so cute or coordinated on a daily basis. My daughter only wears a bow on Sundays, and the rest of the time she is mistaken for a boy. I do not normally dress cute AND do my hair AND do my my makeup.
As cute as we are, family picture day is not real life.
The Problem with Professional Portraits
The problem with professional portraiture is that those pictures are usually a fictionalized account of your family. Think about it: you dress your family up in brand-new clothes, you head to a random field that you've never been to before and probably will never visit again, and meet up with a talented stranger who attempts to capture "the real you," But a hired photographer isn't going to recognize the special look your son gives his sister, or what your husband's true smile looks like. They are just doing the best they can! Yes, the more talented the photographer the better the chances that they will capture some moments of real family connection, but that's all they really are: disjointed moments, which may or or may not have a photoshopped head or two.
What I'm trying to say is that professional family portraits rarely represent actual memories. Despite what the pictures look like, most people probably do not have a sweet memory of frolicking the field hand in hand, they just remember begging their kids to behave and please don't get dirty.
Now I am not against family pictures or professional photography. In fact, I really encourage you to take family pictures once a year, and twice if you can afford it. Professional portraiture absolutely has its place, but it should not replace the rest of the picture you--as a mother--take of your family all year long.
Being a mom with a camera has a different purpose:
You are a memory keeper.

You know your family best: what matters to them, their funny quirks, their signature expressions, their habits that drive you crazy.... These are the things that define your family. Shouldn't the person who knows her family best be in charge of recording those memories? Being a mom with a camera is about capturing an accurate representation of reality.
Now, your everyday life may have messy faces, non-matching clothes, an un-decorated house, piles of laundry, bad haircuts, and a less than ideal weight... But that's your reality!
Whatever your reality is, I want you to record it. You have control over the visual legacy your leave for your children, based on the pictures you take of them now. I want my kids to be able to look back on the pictures of their childhood remember what life was really like.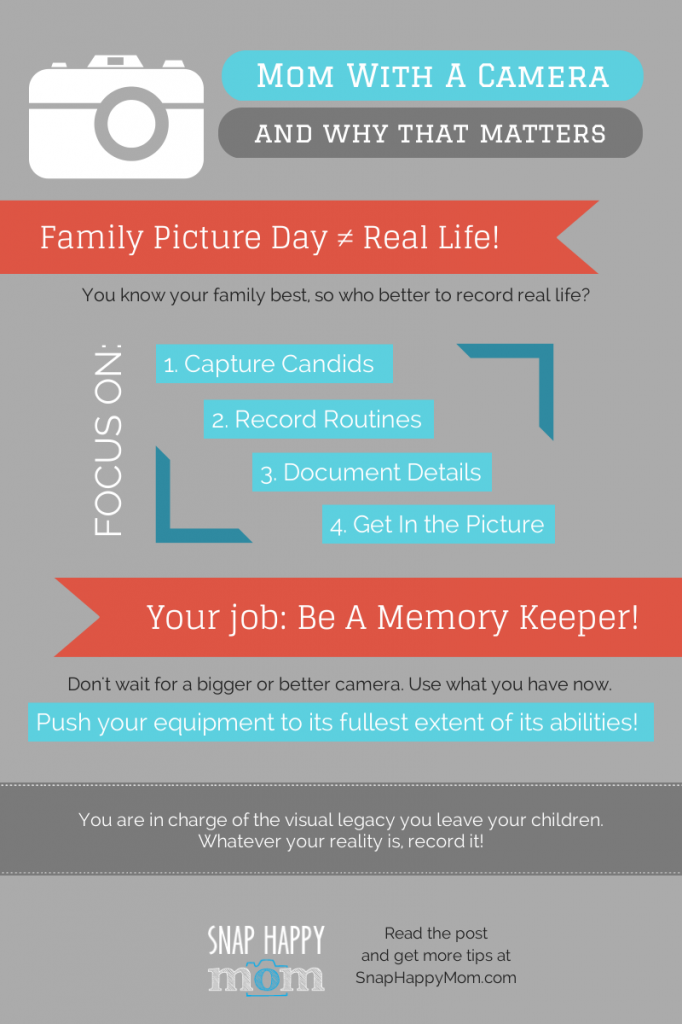 Beautiful pictures come from photographers, not cameras:
Push your equipment!
Stop pining after a better camera and learn how to use the equipment you already have! Push whatever you've got to the full extent of it's abilities. A nicer camera does not mean nicer pictures: beautiful pictures come from photographers, not cameras.
If all you have is a camera phone, learn how to take better pictures with it! If you have a waterproof case, are you taking underwater pictures in the pool? Do you use the multitude of creative apps out there to control exposure and focus? Are you playing around with colors and filters? Phone cameras certainly have a place in the world of candid, everyday photos.
Do you have a compact or point & shoot camera? If you always leave that camera on automatic, then your pictures will all look the same. Have you explored everything your little camera has to offer? Do you use the scene modes and creative functions? Get off automatic and learn how to use the unique features your camera does have instead of getting frustrated with the things it cannot do. Ditching the flash and learning how to pre-focus to avoid shutter delay will vastly improve your pictures with a compact camera.
If you have a DSLR and you're using it in automatic, then the only place to go is up. You have an incredibly capable and creative tool in your hands, so learn how to use it! Take baby steps and start controlling one thing at a time. Remember that you are smarter than your camera! It's ok to fall back on auto in a pinch, but if you're unhappy with your pictures, then push that equipment! There are tons of tutorials here and all over the web to help you out.
The bottom line here is do not wait to take pictures of your family until you get a nicer camera. Don't blame the quality of your pictures on your equipment: you can always improve and progress. If you're not happy, go learn something!
(That being said, if you've outgrown your current equipment, I do have camera recommendations for you. You know you're ready for better equipment when you are consistently want to do more than your camera will let you do. When you get to that point, I have DSLR suggestions, compact camera suggestions, or shoot me an email with questions.)
Capture Reality By Focusing On Four Things
I want you to focus on four things as you move forward in capturing reality as a mom with a camera.
1. Capture Candids

First, I want you to capture the candid moments. The only way you're going to be able to do this is by leaving your camera out and available. You're never going to get the picture if finding your camera is too much work (especially if it's a DSLR that you hardly know how to use!). Yes, ever-resent phone cameras certainly help here, but if you're trying to learn how to use a bigger camera, you've got to make it easy for yourself. Find your camera a home that is out of reach of small hands, but not out of sight. My camera usually lives on a high counter in the kitchen, where it's reasonably central to the cute moments that happen all around my house.
If you find yourself wishing you had a camera to capture a moment, by all means, sprint and go get it! It's your job to record these things!
2. Record Routines
Most people are pretty good at remembering the camera for the "big important" moments like birthdays and the first day of school and such. But what about the little things that make your life interesting every day? The fact that you do something on a regular schedule doesn't make it any less important than the significant firsts. 
You won't always play peek-a-boo after baths, and your daughter will not always sleep with her little bum in the air. They won't do their hair the same way forever, or snuggle up on the couch for movies, or even be around for pizza Fridays. You need to record the things that happen every day, because someday that routine will change.
3. Document Details
What game do you kids love right now? What shoes do they always reach for at the door? Does their hair have a funny cowlick, or a lone sweet curl? Do they line up their markers in a careful row?
We think we will never forget the details, the little things, that make life so sweet to us. And while you may have an excellent memory,  it will be more real to your kids if there's a picture to accompany that story. Not every picture needs to have a face, or even a person in it: take pictures of those ordinary details!
4. Mom needs to be in pictures too.
Last of all, get in the picture. I'm a mom too, and this is an ongoing struggle for me. But I want the pictures from my camera to be a record of our entire family, not just of my kids and husband. I want my children to remember that I was there: I played with them, I was at that vacation, I helped them at home. That means I need to be in the photo.
You'll have to be purposeful about this: it isn't just going to happen. Assign your husband or older kids to take pictures at events. When the grandparents visit let them get some pictures of you in your daily routine. Learn how to use the timer of your camera, or get a remote control. Just get in those pictures!
I totally recognize that you don't always love what you look like... you're not the only one. But don't let this stop you: your kids don't care what you look like. For example, the following pictures represent a really good mom-moment. I spent the morning dancing with the kids, and I was actually present and emotionally there with them.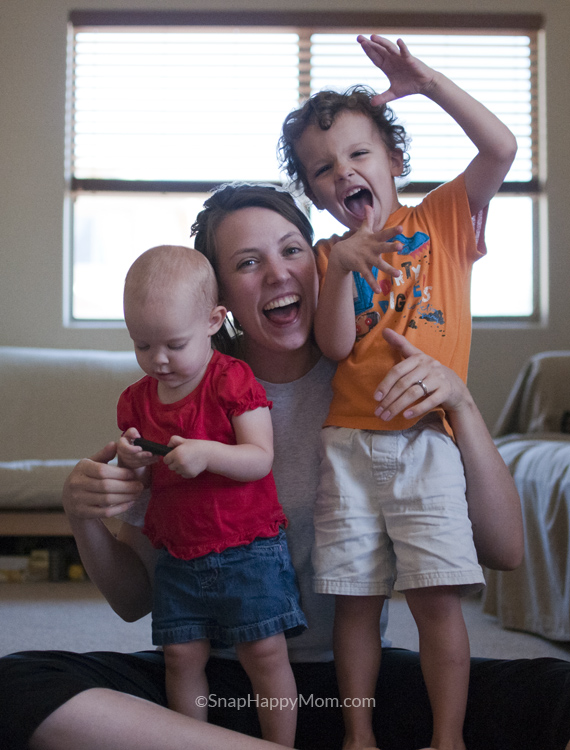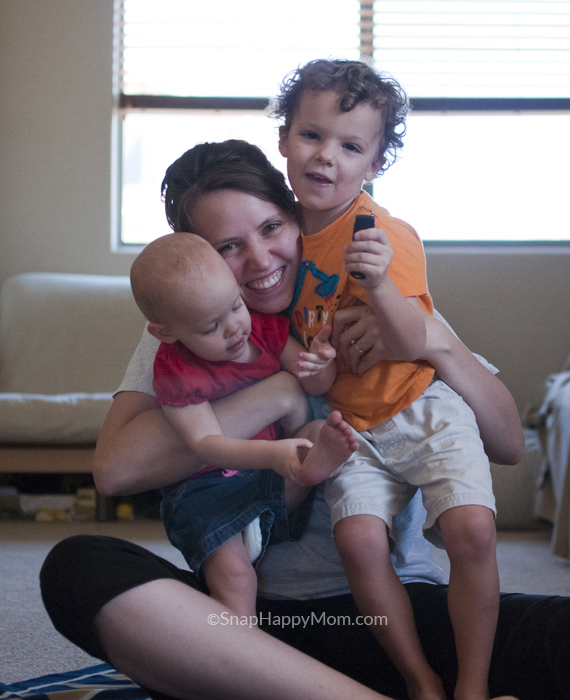 I guarantee that I am on my second day not showering. Those are my pajamas. I don't have make-up or hair done. And who cares? I knew I was a really good mom that day, and my kids knew it too. I don't need this picture as proof of that, but looking at it does bring back fond memories of that time with my children. Those memories are precious, possibly even more so that a perfect, photoshopped family photo to put on the wall.
Being a mom with a camera matters!

Don't discount the importance of the pictures only you can take of your family. You know them best, so you're the perfect person to make a true record your family life. So push your equipment, capture candids, record routines, and document details. And get in the picture!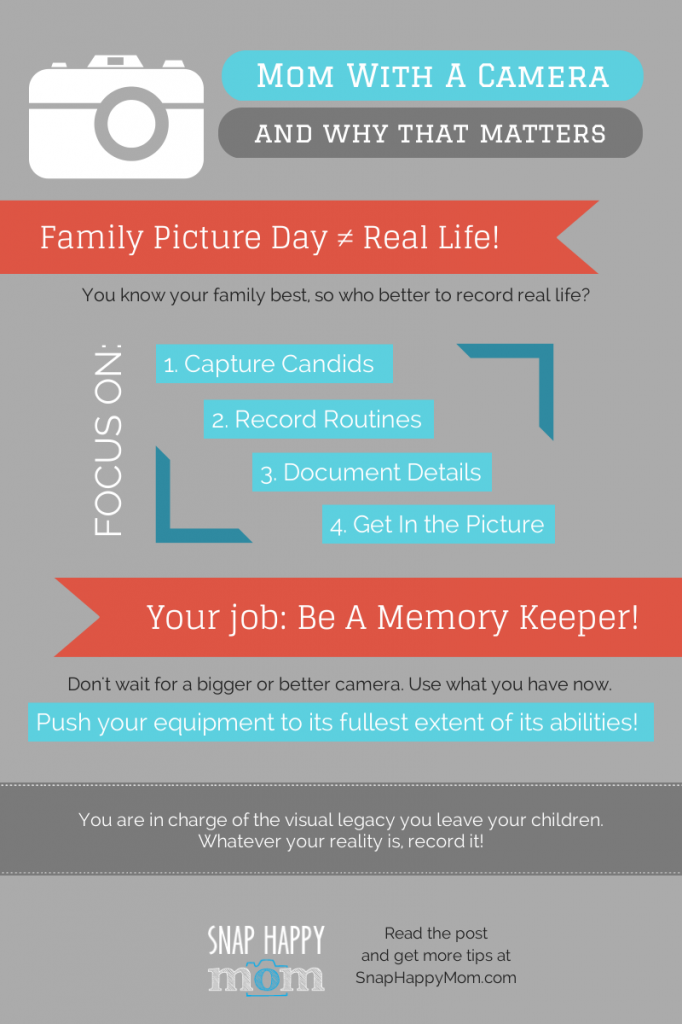 If this post resonated with you, pin this and leave me a comment!
Tell me what one part of reality you are going to record this week. Is it a particular detail or routine? Or are you going to set the timer and get in the picture this week? Go make it happen! (And after you take the picture, email it to me. I'd love to see your successes and hear your stories, and feature them in the future! snaphappyblog at gmail dot com)