Guys, I have a newborn baby. And despite the fact that I've had a baby before, I totally forget just how hard the first few months are. Moms of newborns are emotionally up and down, recovering themselves, functioning on little sleep, and still have to be responsible for a tiny human being and possibly a few other slightly larger humans. It's no wonder memories of those first few months get hazy!
But there are a few products out there that I totally believe help me be a better mother, especially during those hard first few months. Investing in a good baby carrier is so worthwhile, and this Nesting Days carrier is a game changer for me!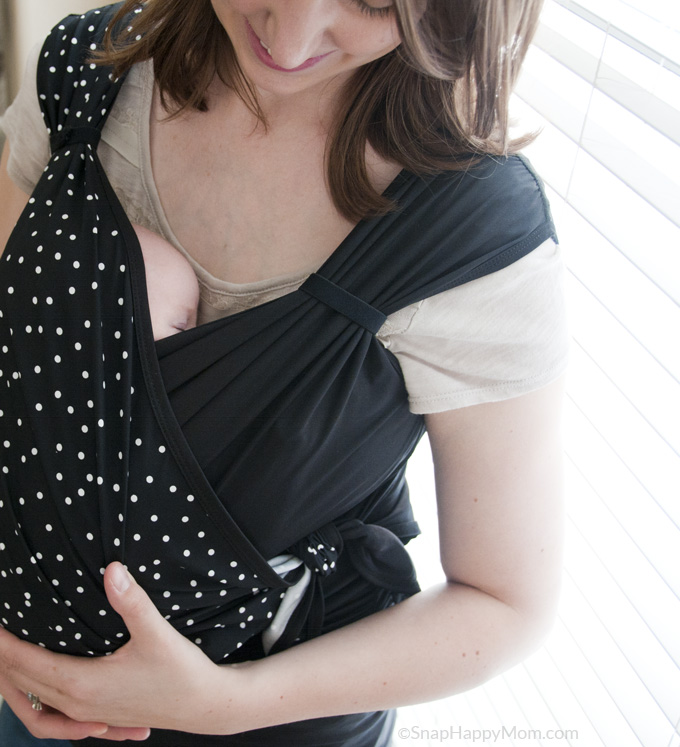 Disclosure: I was provided with a carrier to review.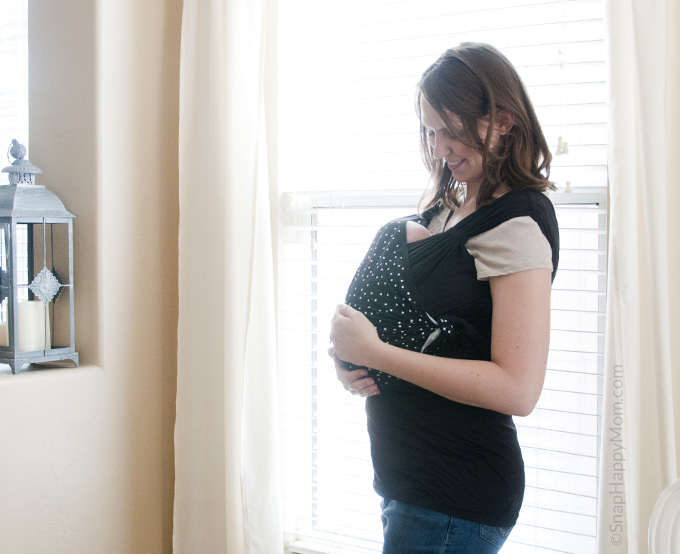 Introducing the Nesting Days Carrier!
This is a fabulous newborn baby carrier intended for babies 5 to 18 pounds, which is usually the first three months of life. It has an ingenious design, which allows for hands-free use without bulky straps, buckles or constant adjustments. Your life is hard enough without having to worry about wrapping yards of fabric or tightening lots of straps! The Nesting Days Carrier is super easy to put on, which is a necessity when you have a fussy baby and just want to get things done quickly.
One of the beautiful things is that it doesn't look like your typical baby carrier. Hallelujah! The carrier is built more like a shirt, with a full-back and long length. You step into it like a pair of pants, and then there are two "wings" that go up and over your shoulder, cocooning in the baby at your chest. The side tie doesn't hold the baby, it just allows for hassle-free adjustments as your baby grows.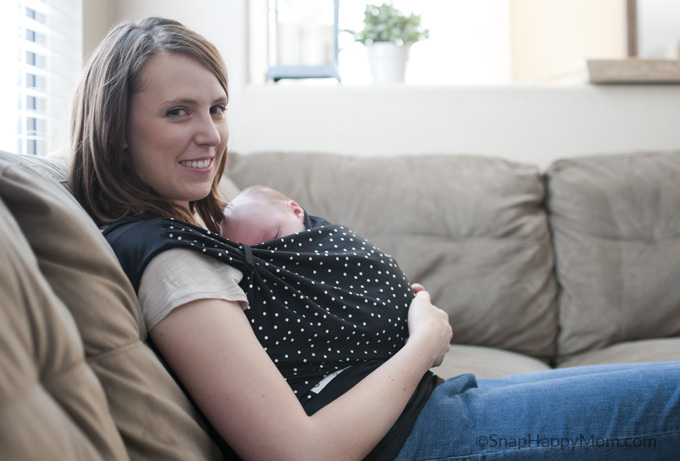 The stretchy fabric of the carrier lets the weight of your baby distribute all the way around your stomach and back, instead of straining your shoulders. That fabric is perfect for those early postpartum days when your body doesn't feel quite your own yet because it feels like a snug, comforting hug. There are brightly colored "handles" inside so you can easily locate the front and back, even if it didn't get folded up nicely from the last time you stuffed it in your bag.
It's clear this product was designed by a mother! It comes with its own dedicated zipper pouch,  just the right size to keep in my diaper bag when we are away from home. I feel more confident taking three kids in public knowing that I have an easy and safe way to hold my baby. I own other carriers, but none of them are small enough or convenient enough to carry in my diaper bag for unexpected use... which means I don't use them. Besides, the Nesting Days carrier is far more comfortable and easy to use than any of my other carriers, so I've used it almost exclusively for the last two months.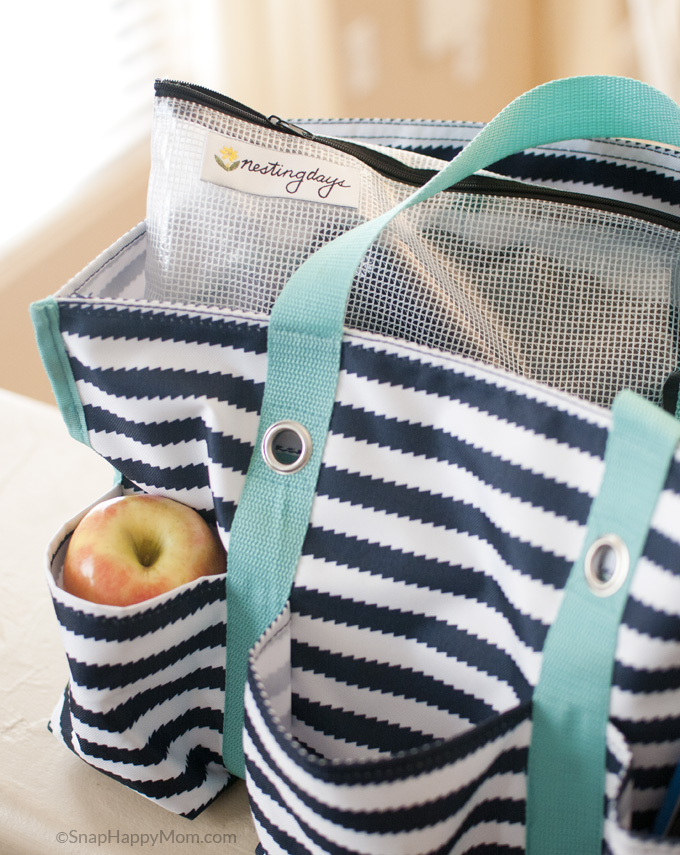 I have a beautiful polka dot carrier from the first collection of designs. Black and white dots totally work for me, but I really love the subdued colorways of the current version: all black, black-on-brown, black-on-grey, or black-on-teal. So much baby gear is loud and garrish, and I think solid colors for a carrier are such a nice break from pastels and cartoony motifs. The black is classic and very flattering for a new mom!
The Nesting Days Carrier is priced at $99 (although you can stack two ways to save - pre-order to take $10 off, and then use my $5 off code 'SNAPHAPPYMOM' as well! = $84 !). At first glance, that price might seem steep for a product that has a short time frame. I thought so at first, but then I realized that all baby gear works in combination with a baby's size, so it all has a short time span. Things like swings, bumbo chairs, and bouncers are incredibly useful for the short time when you need them, and the price reflects that usefulness.
This carrier happens to be the most comfortable and highest quality of all the carriers I've ever used, which is a lot by the time you get to three babies. That price is absolutely worth it to me because it lets me mother my baby and still be a mom to my other children too.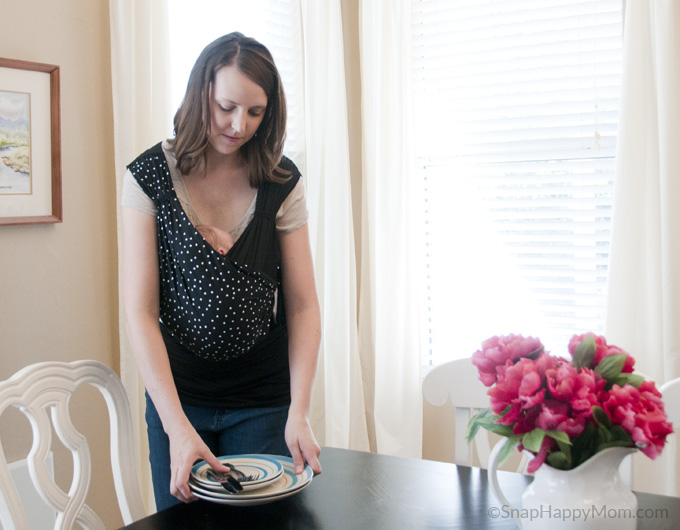 Anyone with a newborn will tell you just how hard it is to get things done in those first few weeks. Babies don't really have a schedule, so all those little things that keep your home running suddenly go out the window. Have you ever tried to sweep while holding a baby? Or setting the table with heavy dishes? It's pretty much impossible, let me tell you.
And it's not just household tasks vying for your attention either: what if you have other children? My older children always love the baby, but man, they need a lot of loving attention themselves as they transition to having a new sibling in the house.
The ability to multitask is one of the true beauties of this carrier for me: I can love and comfort and cuddle my baby while still being an attentive and deliberate mother to my other children. Just being close to mom provides a calming effect on my newborn, and if the baby is calm then I feel like I can give focused time and love to my older children as well.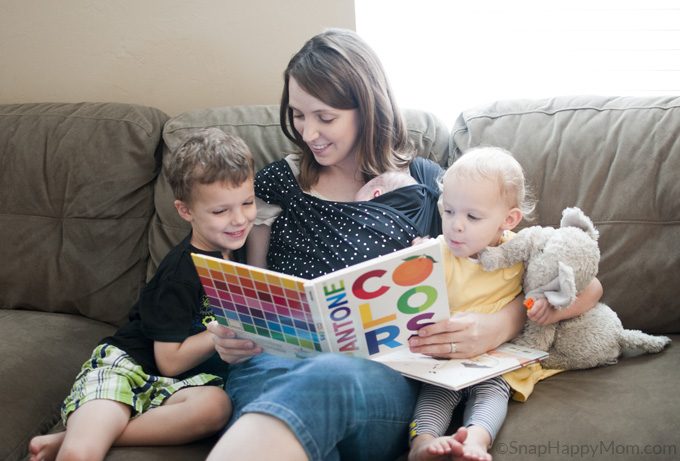 A few weeks after having a baby, we needed to go grocery shopping. Like we really needed actual food, not just a quick stop for milk and bread! The way it worked out, I knew I only had an hour window to shop before a doctor appointment, with kids in tow. I had a list and a plan, and we could do it!
You can guess that I was not the serene mother of three calming walking the aisles. I needed to pay close attention to labels (darn dairy-free diet) and my other kids were not being helpful at all. Of course, the baby started screaming in his car seat and was not going to calm down on his own. We pulled over to the toothpaste aisle, which for future reference, is always deserted. I grabbed the carrier from my bulging diaper bag and popped my red-faced child into it close to me. And just like that, he went to sleep.
It was clear my young baby needed his mama in the store that day, and I was so thankful for the carrier giving me the chance to comfort my baby without having to cut my trip short. I knew my baby was safe and happy because he was right there next to me, which enabled me to focus on my task and be patient with my older children.
(There's a picture from this shopping trip on this post, as well as some more pictures of how awesome it is to be hands-free!)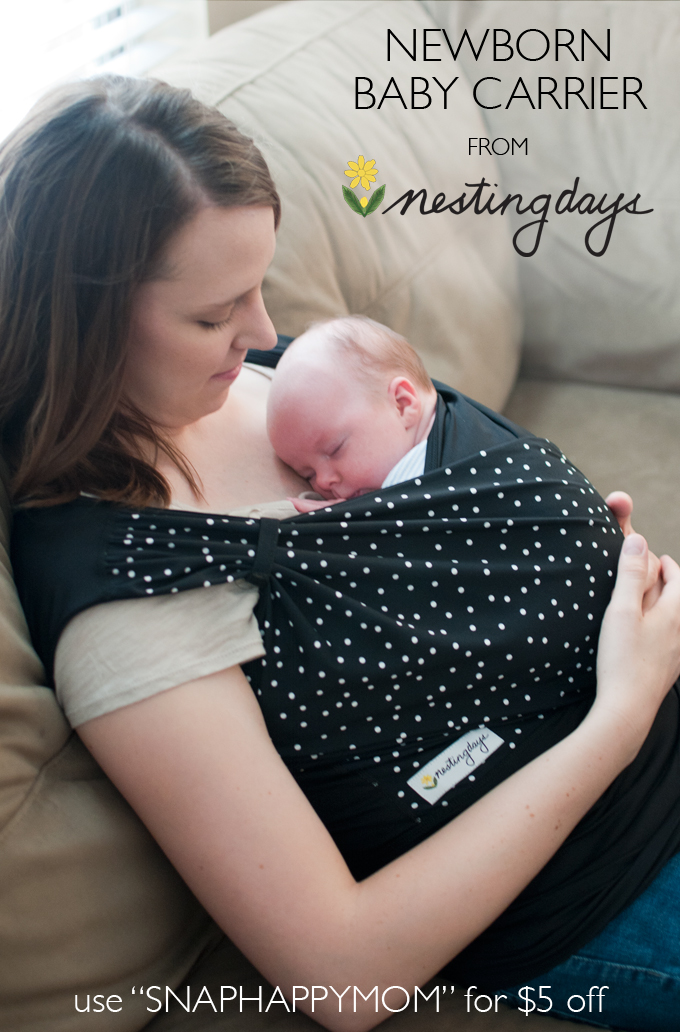 I love my Nesting Days carrier! It's fabulous for those earliest days when all you really want to do is cuddle your baby and rest yourself. This carrier lets you do the "nesting" you crave, while slowly working back into the rhythm of your other responsibilities as well. It's honestly the best baby carrier I've found for the early months, and I whole-heartily recommend it.
Check out Nesting Days for yourself; it's a beautiful and useful carrier, and totally worthwhile for that newborn stage.
---
Nesting Days Promo Code
I've arranged to offer my readers a discount code for a Nesting Days Carrier! The promo code is "SNAPHAPPYMOM" and will give you $5 off the price of a carrier! Tell your friends, because this carrier is hands-down awesome!
Also - if you're looking for a free shipping code - Nesting Days doesn't offer free shipping codes to anyone. I checked with the company and that's not something they plan on offering. Instead, they have a pre-order system set up, where you can pre-order for a delayed 4-6 week ship date. You save $10 just by choosing the pre-order option instead of immediate delivery!
This is perfect for pregnant moms; after all, you know your due date, so you have time to pre-order and save. If you need it quickly, you can always buy it at the regular price and it comes on two-day shipping!
---
How I use it real life.
Being hands-free is awesome, and here are your real-life, un-styled pictures to prove it!
Making cinnamon bread at 10 days old... I love his little eyes just peeking out.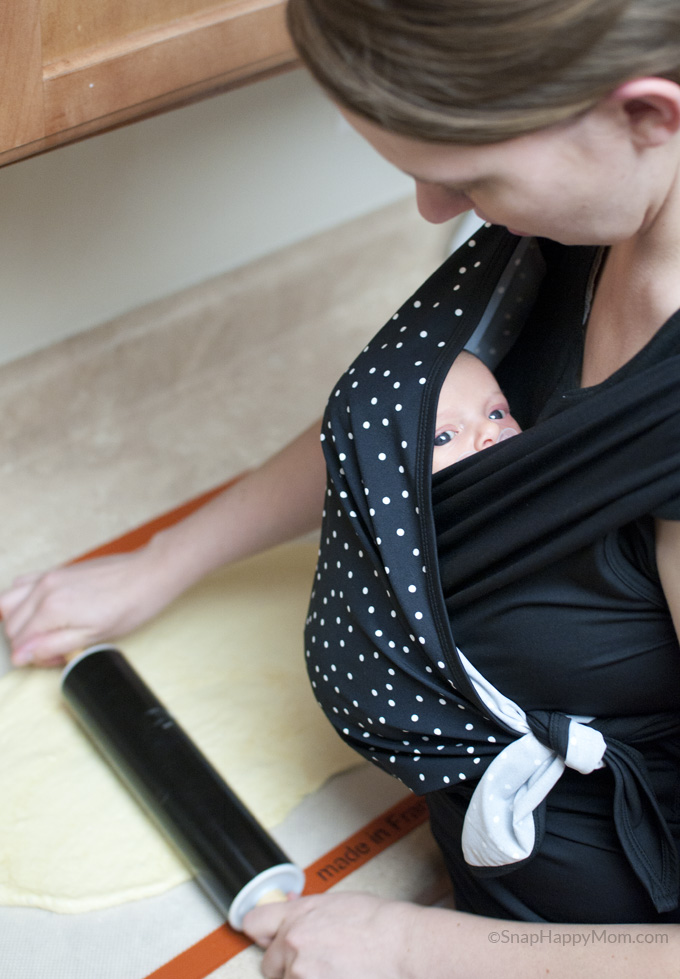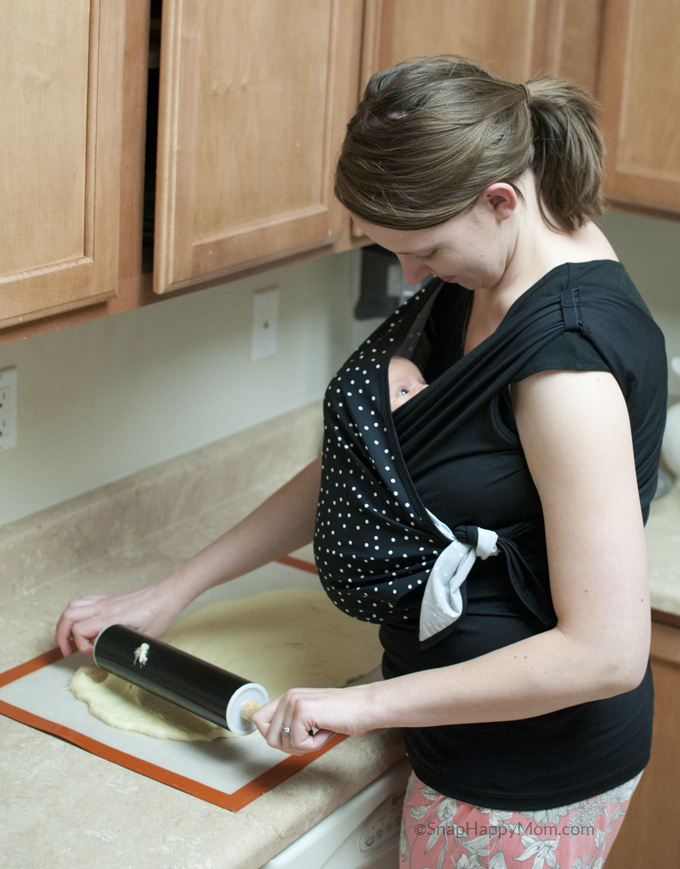 And then french toast for dinner at two months old. Look at the size difference by six weeks!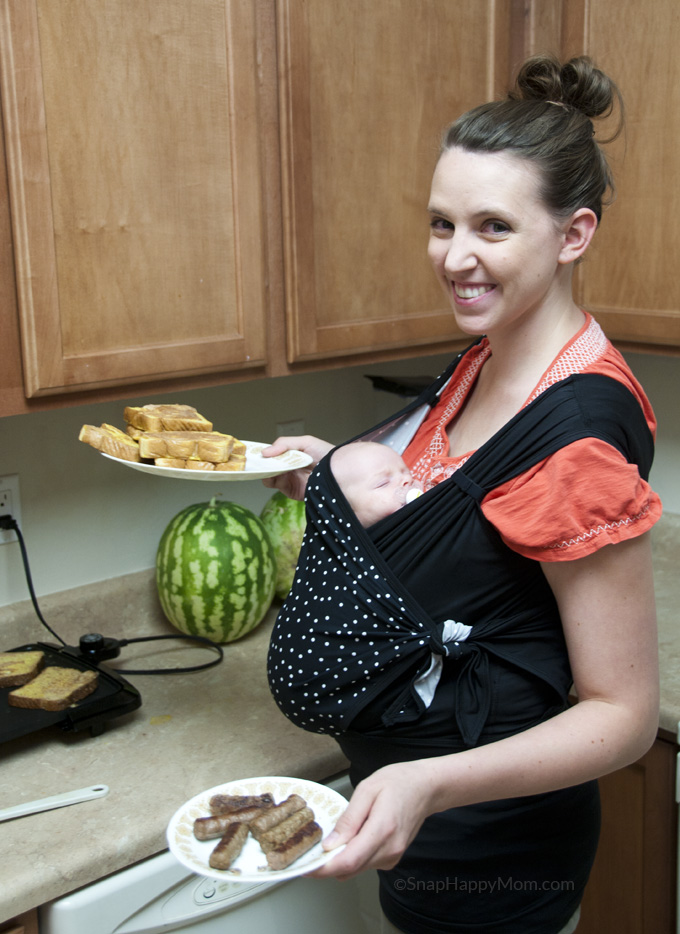 My view of that cute little head: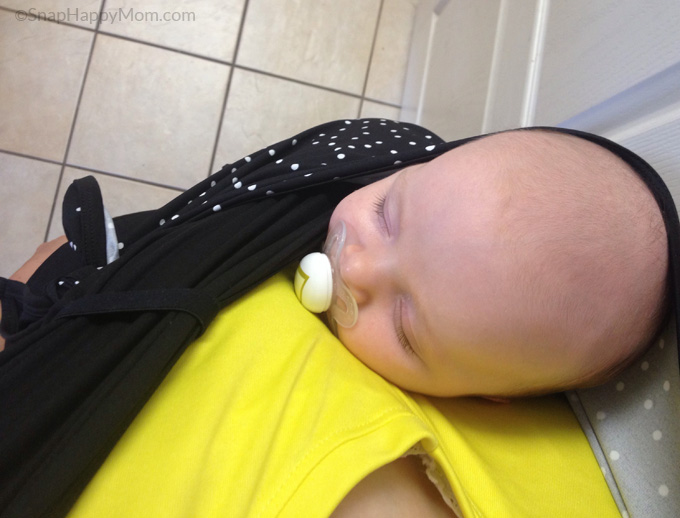 Hands-free when I needed to serve dinner to 40 teenagers: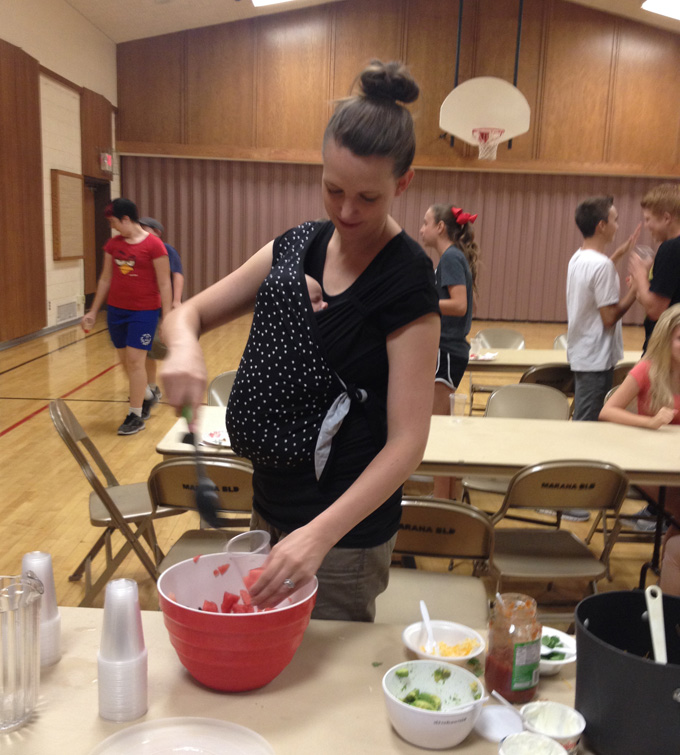 Cranky baby made instantly happy at home: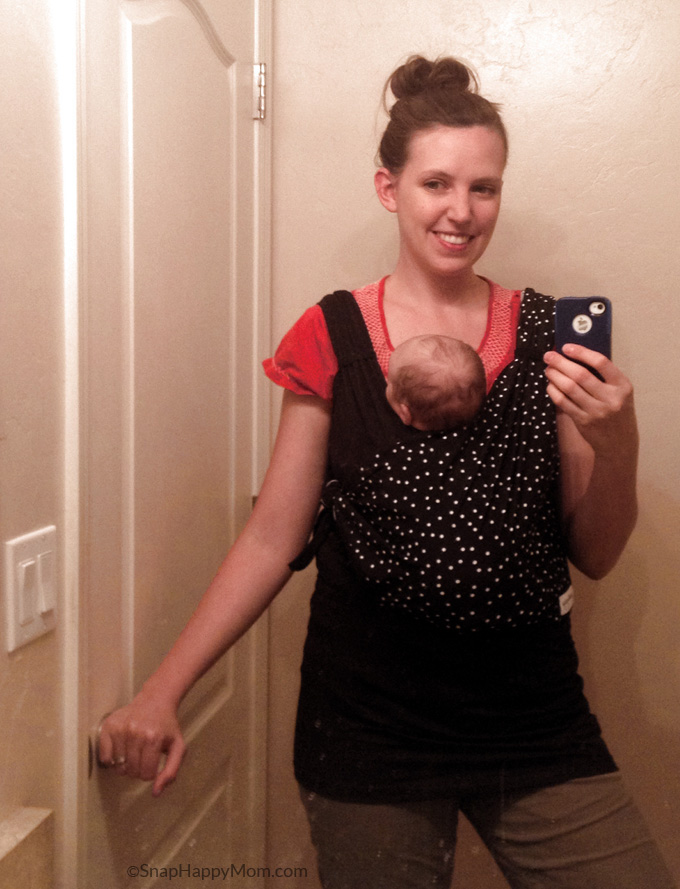 Shopping for groceries without the older kids: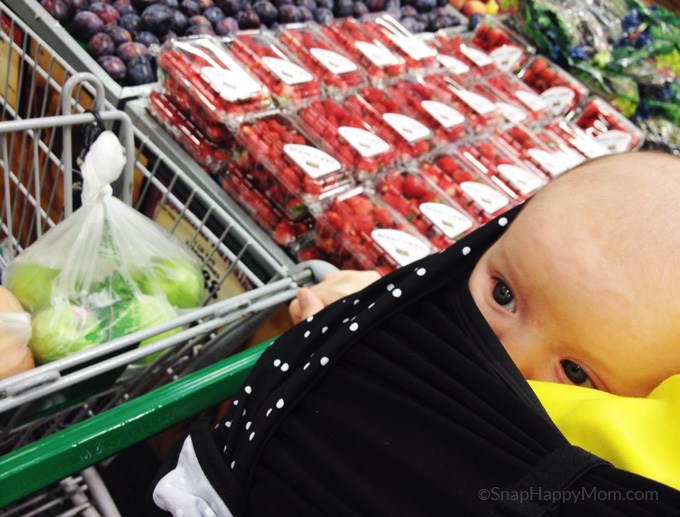 This next picture matters to me because of what it represents - I know I was calm enough to appreciate my daughter clicking her cream-cheese "camera."
Minutes earlier I would not have taken the time to even notice this moment because my baby was screaming, but once I put him in my carrier the entire mood of the trip changed.
This was one of the first moments I realized that my Nesting Days carrier would let me multi-task and get things done without feeling like I was ignoring my kids. It was a good mom day.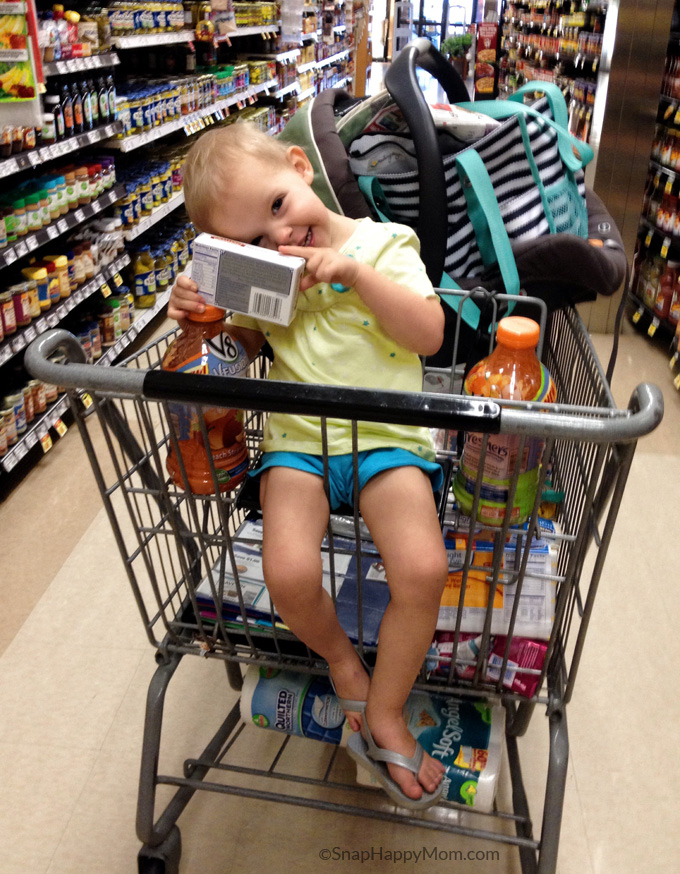 And lastly, this carrier is awesome for photographers! I really appreciate the ability to have my baby close to me and still be able to use my big heavy camera.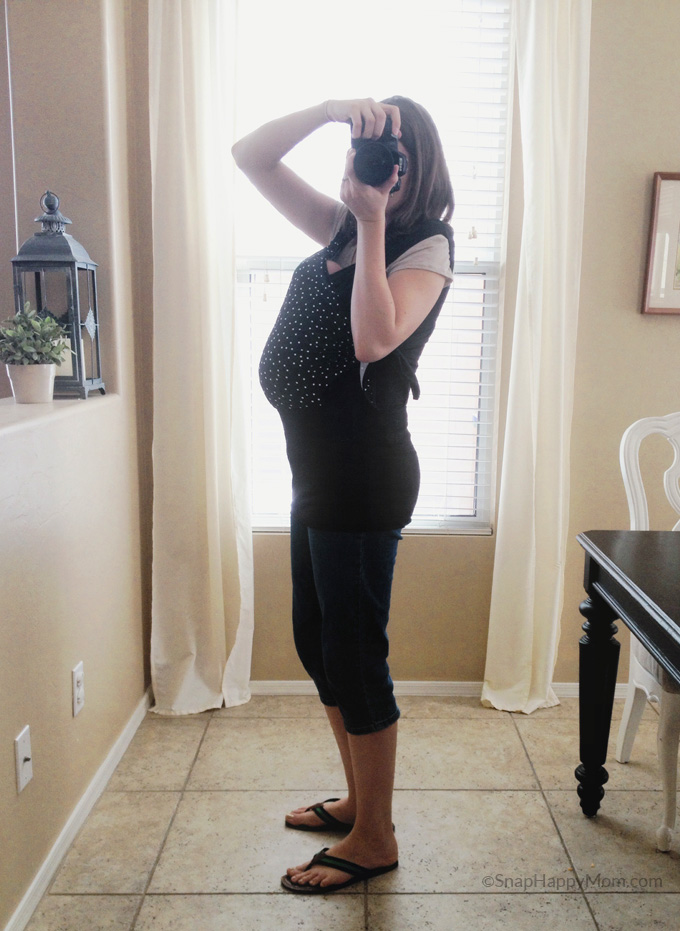 I just love this carrier! And I want one of you to have one too! Use code "SNAPHAPPYMOM" to save on your carrier.
Disclosure: I was provided with this product free of charge in exchange for my honest review. The opinions and contents of this post are 100% my own, and I only tell my readers about products I truly love and enjoy.