We love the Olympics!
With threw our four year old a fun Winter-Themed Olympic birthday party. My little guy adores sports of all kinds, and we've had Olympic re-enactments ever since London!
Here's how we threw an Olympics birthday party for young children, complete with SUPER easy food ideas and all the games & events we did.
I knew we would be eating at the park with small children, so I was looking for food that wasn't too fussy and reasonably portable.
OLYMPIC-THEMED FOOD IDEAS FOR A PARTY
1. Olympic Rings Fruit Platter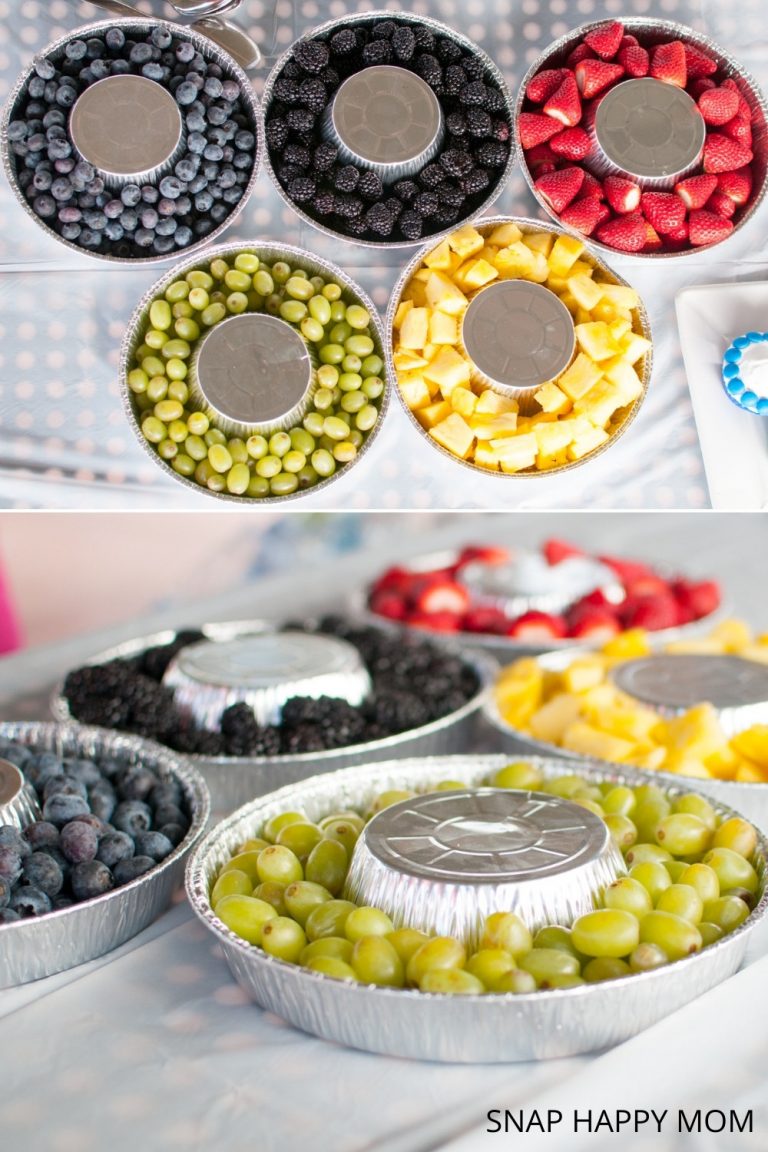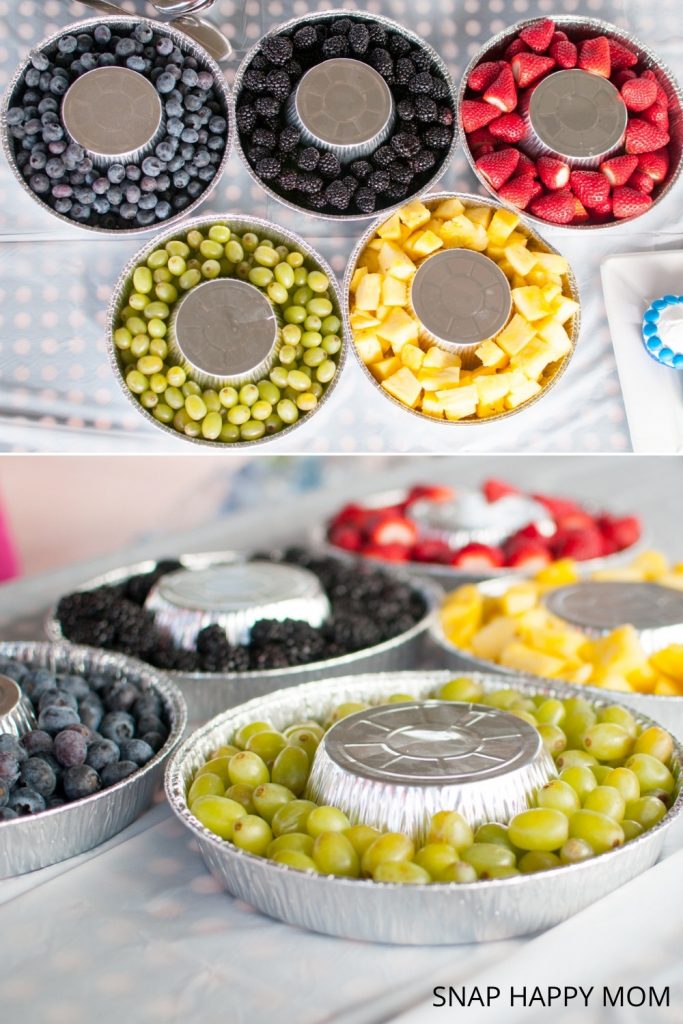 We love fruit, and I thought this would be a good way to show off the Olympic colors. We did blueberries, blackberries, strawberries, green grapes, and pineapple.
Making the rings was super easy. I just bought 9" aluminum cake tins and small 4.5" aluminum bake pans. (You can get these at a big box store but they are MUCH cheaper in bulk from the links I added, and I use them for freezer meals too!)
I just flipped the small pan over and placed it in the larger tin, which left a convenient space to fill with fruit. I didn't tape it down or anything since it was reasonably secure once it was filled with fruit.
I assembled the rings at home and then covered them with tin foil to transport them to the park. Easy peasy!
2. Olympic Medals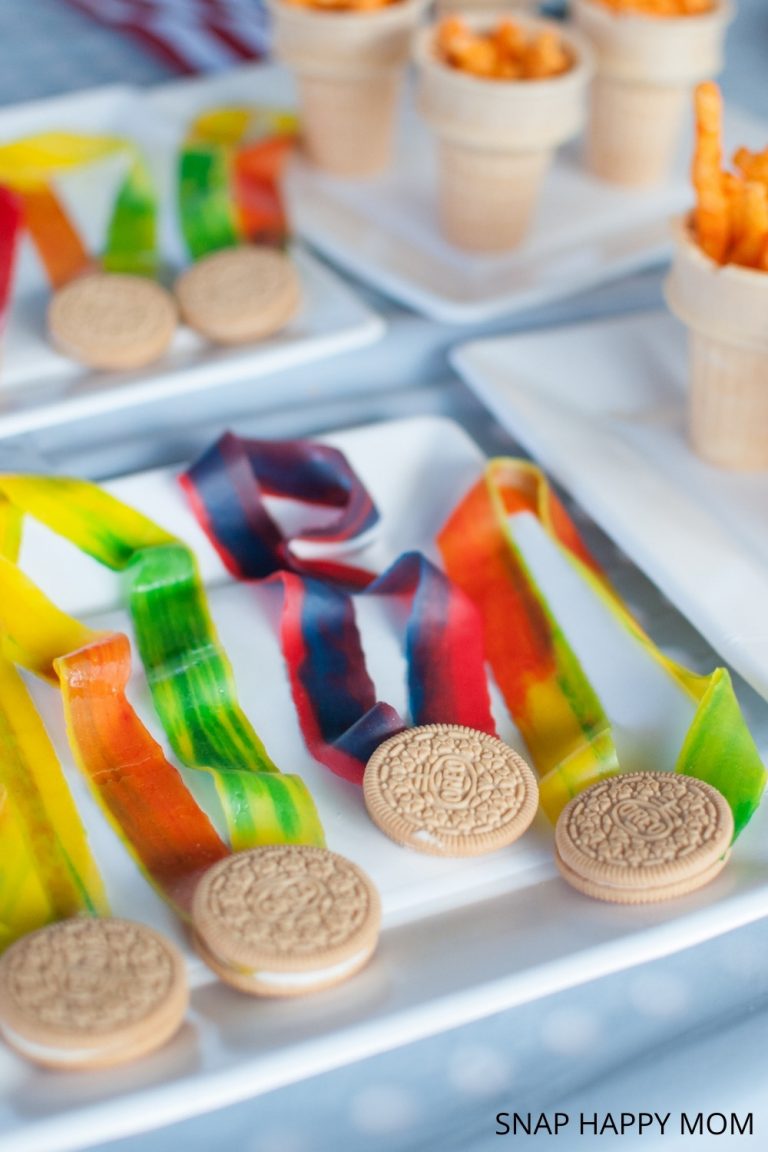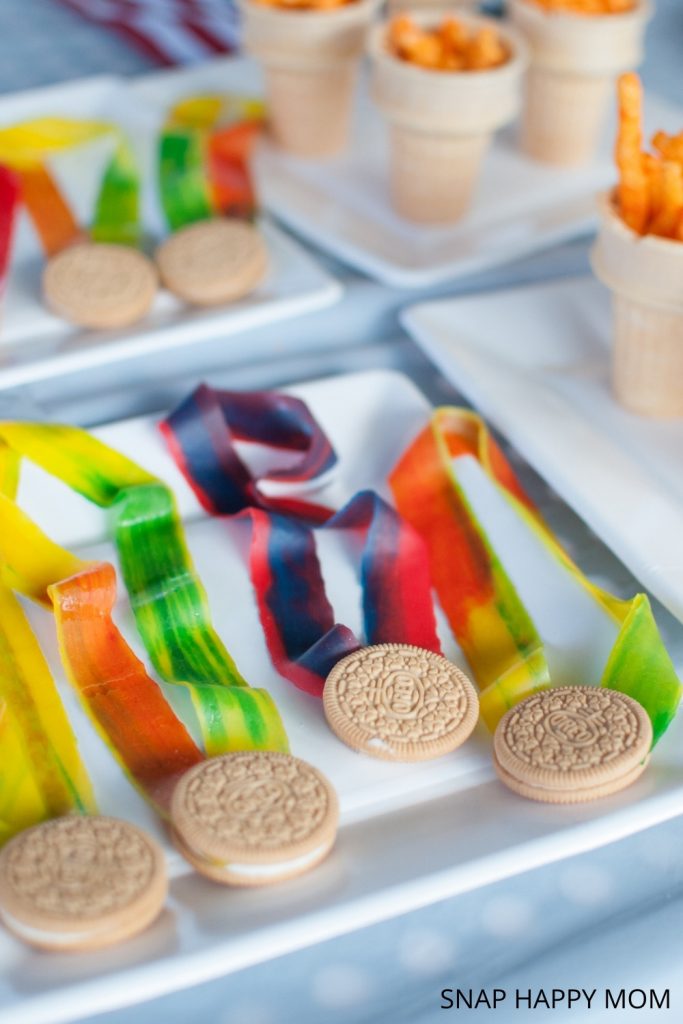 You can make Olympic medals with Fruit-by-the-Foot sandwiched in a white (vanilla) Oreo.
These were extremely popular! I got two medals per fruit roll-up, and just stuck the ends in the cream of each oreo. They were easy to assemble at the park while the kids were playing.
3. Olympic Torches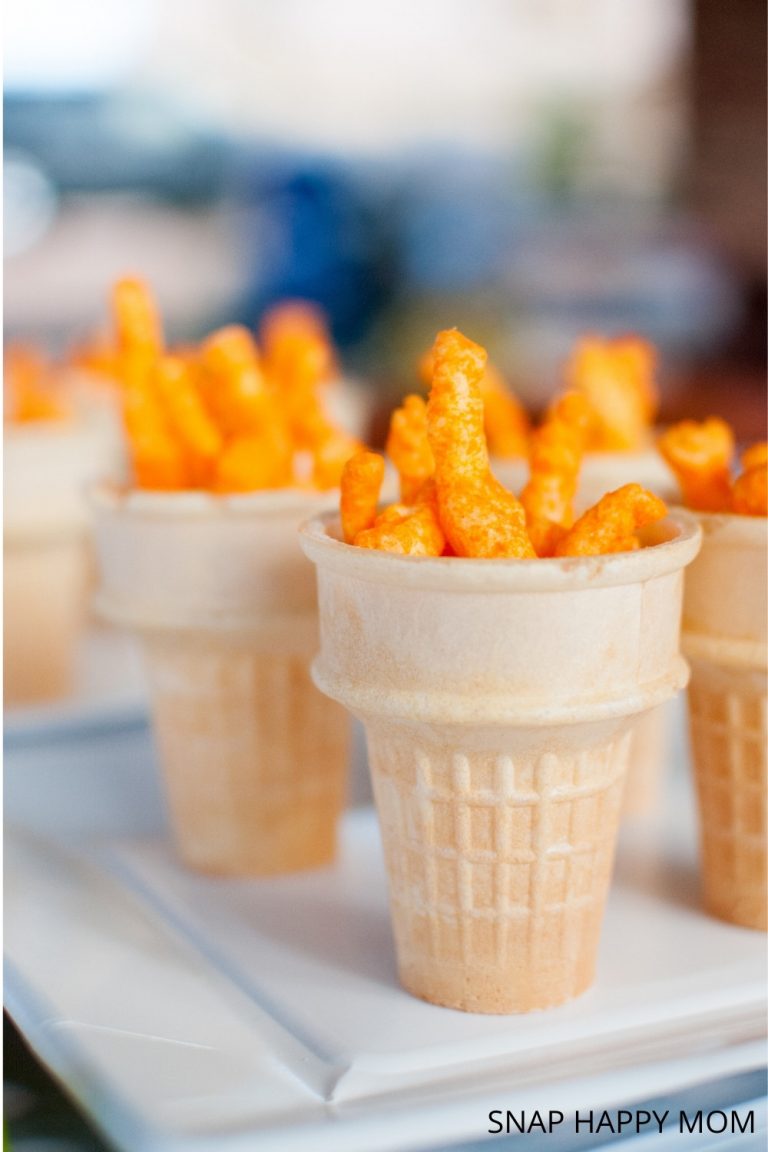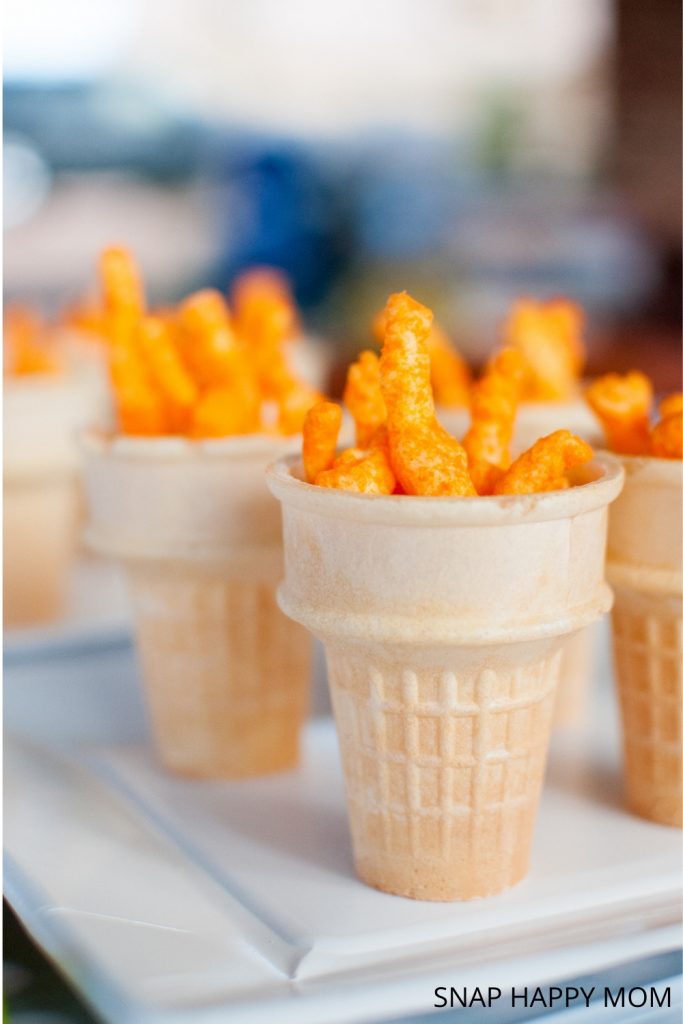 These are so simple!
Place handfuls of Cheetos in empty, flat-bottomed ice cream cones. Easy to make last-minute, and kids love them!
4. Olympic Ring Cupcakes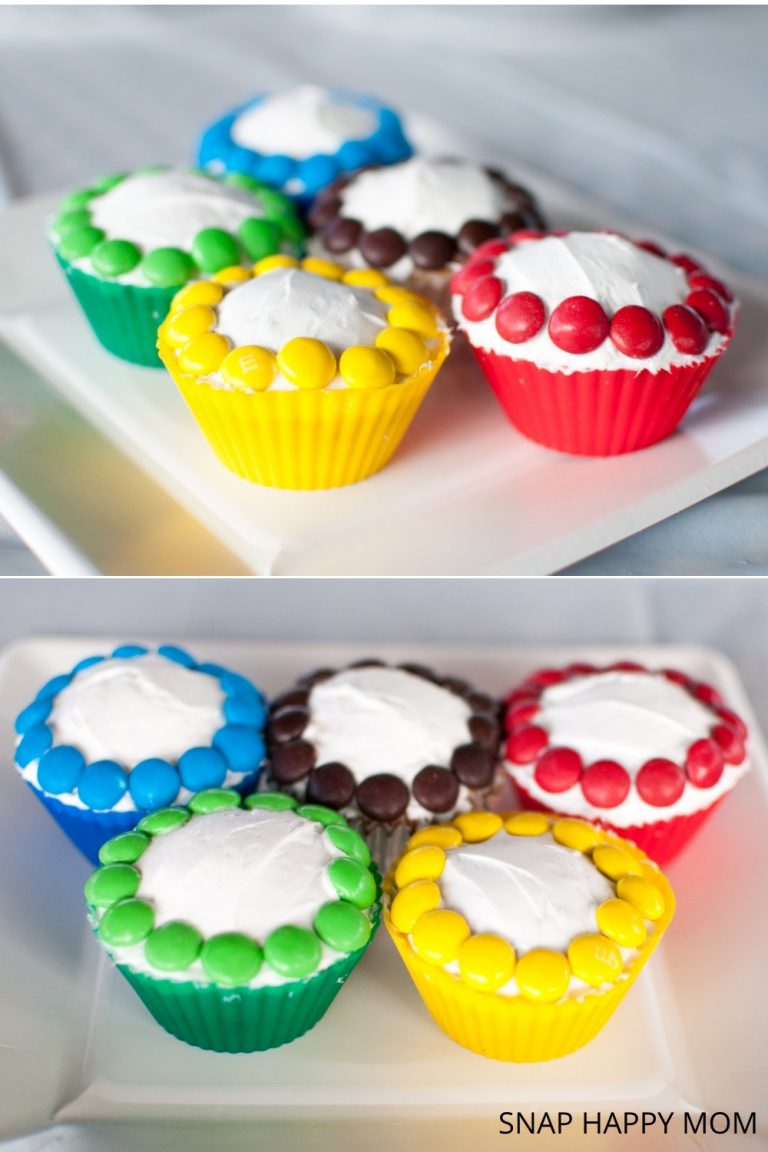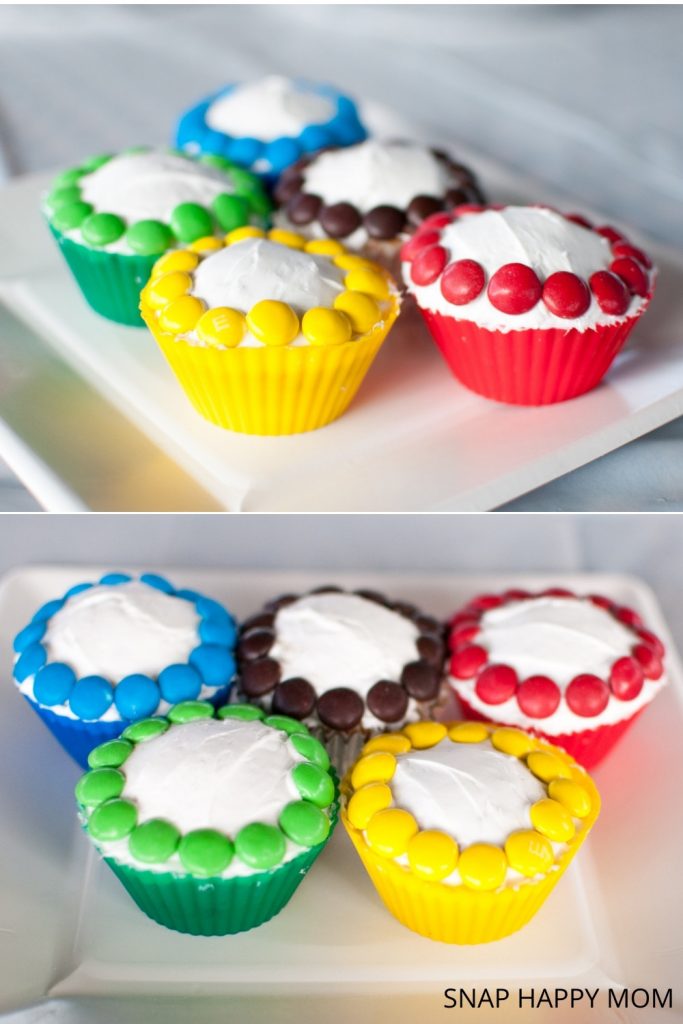 These were easy and fun! I just frosted cupcakes in white and then stuck M&M's around the edges in a ring.
Make sure you buy a decent-sized bag of M&M's if you're doing more than five cupcakes. You'
I also used silicone muffin cups for the cupcakes because they matched the Olympic colors perfectly. They come in lots of rainbow colors! (The black/brown ring has a silver liner because that's all I had.)
7 OLYMPIC THEMED GAMES & EVENTS
We planned this party for the park, knowing that there would probably be a high of 70 degrees that day, and it would be lovely outside.
However, it's kind of tricky to play Winter Olympics games without snow, so we got creative.
1. Bobsled Racing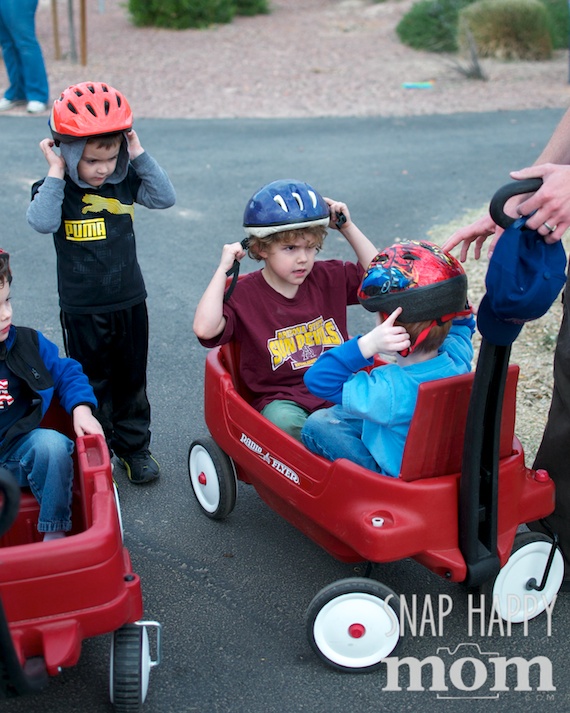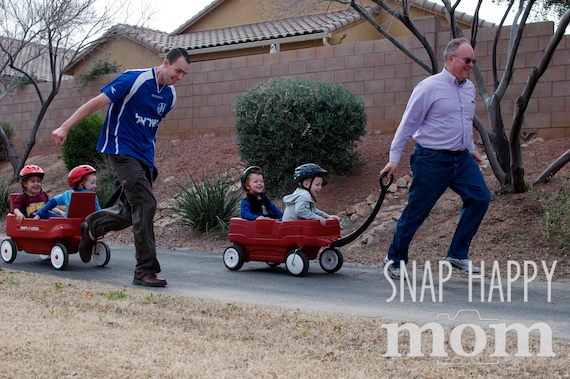 My kids love our wagon, so we improvised a bobsled race with a second wagon. We also emphasized that they all wear helmets for safety!
Dad and Grandpa provided some momentum, and the kids really enjoyed racing back and forth. Older kids could pull the wagons themselves if they're trustworthy enough not to crash!
2. Ski Jumping with Straws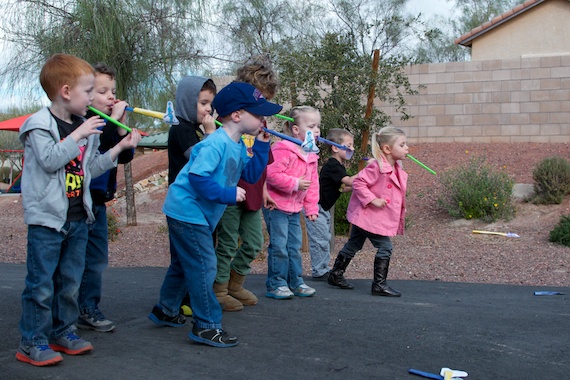 No snow? No problem! We "jumped" our paper skiers with the help of some straw shooters. We stood them in a line and counted off, and then everyone blew really hard into their straw. If done correctly, your skier should launch forward. They thought it was awesome!
I used a free printable here, but modified the idea to attach the paper skiers to the paper tubes instead. I let the kids each color a little skier and then I taped them to a paper tube I made that fit loosely around a straw.
You'll want to close off the entire length of the tube so that no air escapes. Fold the end of the tube over and tape it down to close it off really well. Slide a straw in and you have a Straw Ski Jumper!
I planned these around wide smoothie straws, which I thought would work better for the young kids. When you're done, make sure you have everyone keep their straw for the next game!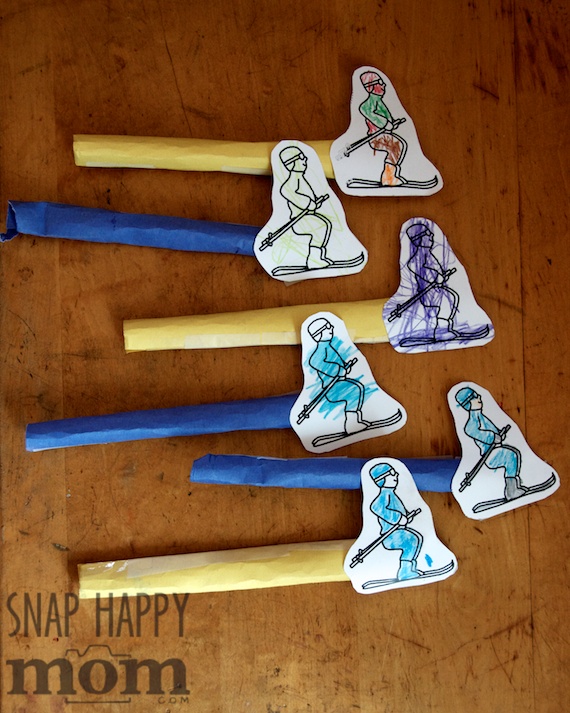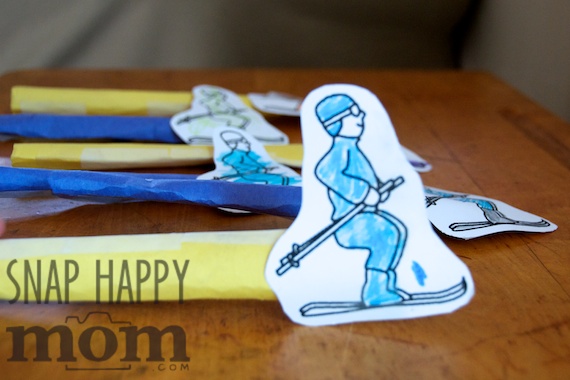 3. Snow Ball Curling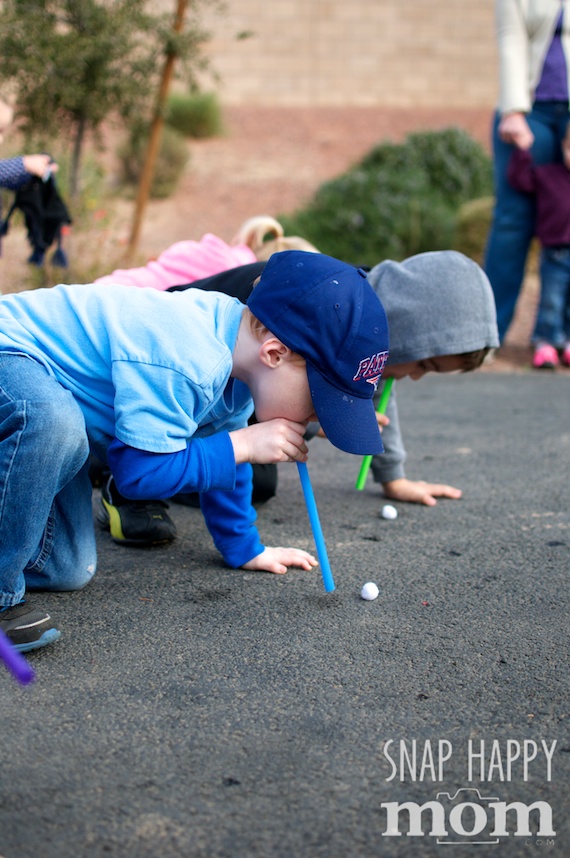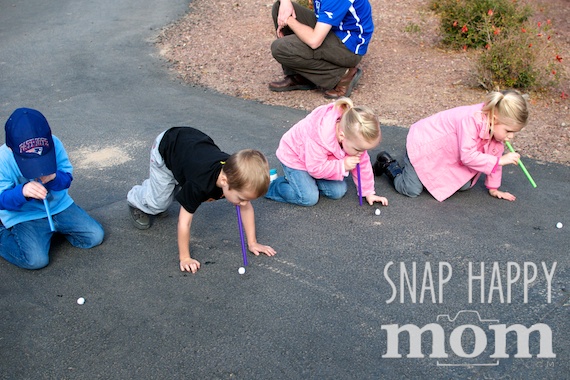 Curling is a very unique winter sport, but I knew these young kids wouldn't know what it was. So we got creative and used cotton balls to play a curling game.
Basically we raced to see who could blow their "snowball" across the finish line first. It does take some trial and error to maintain control!
Many kids will blow down on their pom-pom or cotton ball when they need to be blowing from behind it. A demonstration from an adult is helpful here!
4. Sprints

We threw in a few Summer Games to round out our party. Why not? On your mark, get set, go!
Our park has a round area just like a track oval. We did a few sprints around the oval, and one backwards race. If the kids were older I would have organized a baton handoff for a relay.
5. Hurdles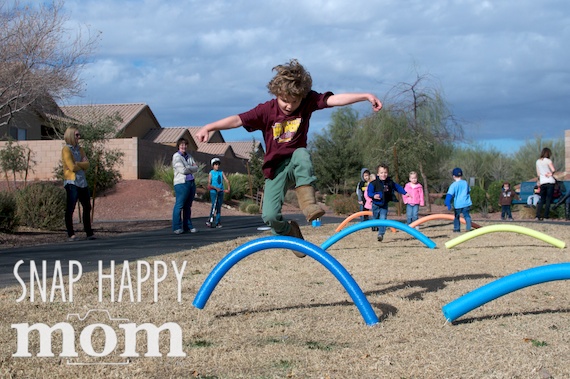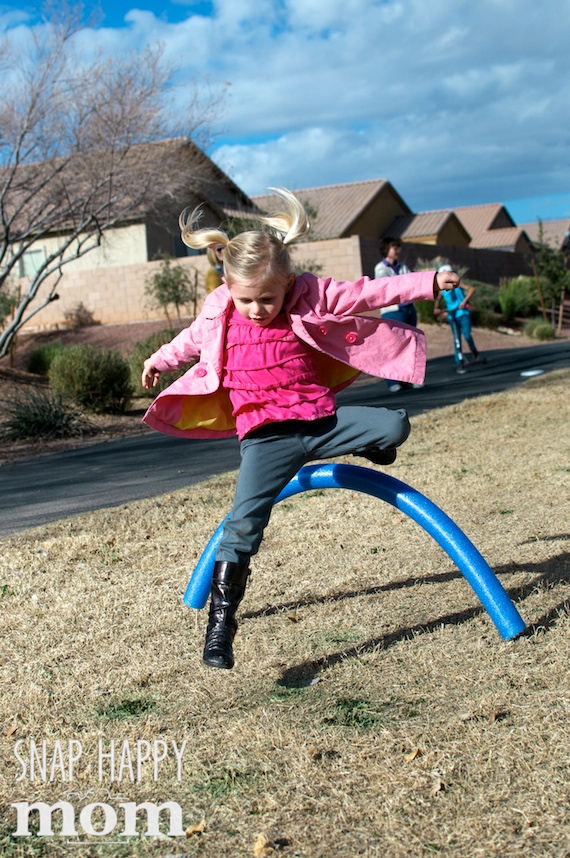 The biggest hit of this party was the hurdle races. I made hurdles out of pool noodles and skewers (the wooden kind for shish-kabobs). Just slide it into the pool noodle halfway, and then push the other half into the ground at an angle. Awesome!
(Note: Pool noodles are hard to find in stores in February, so plan ahead or beg for some from any pool-owning friends.)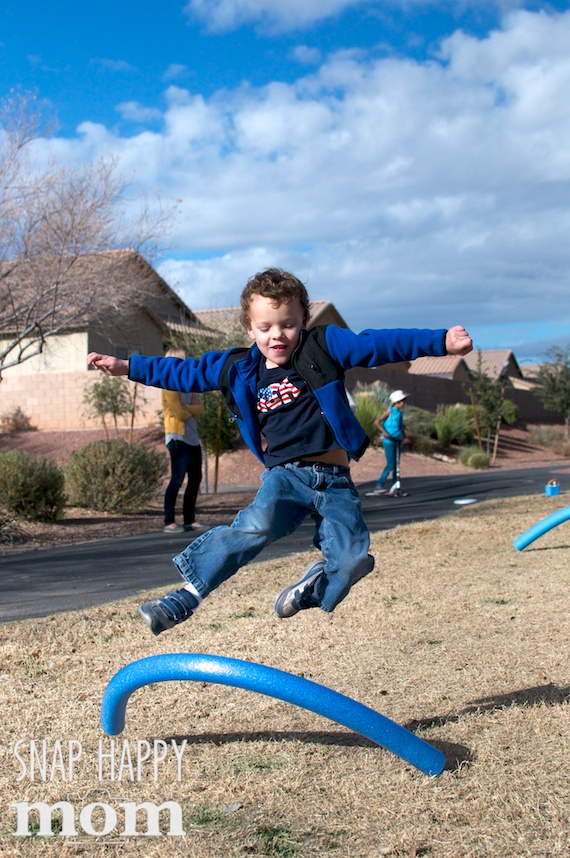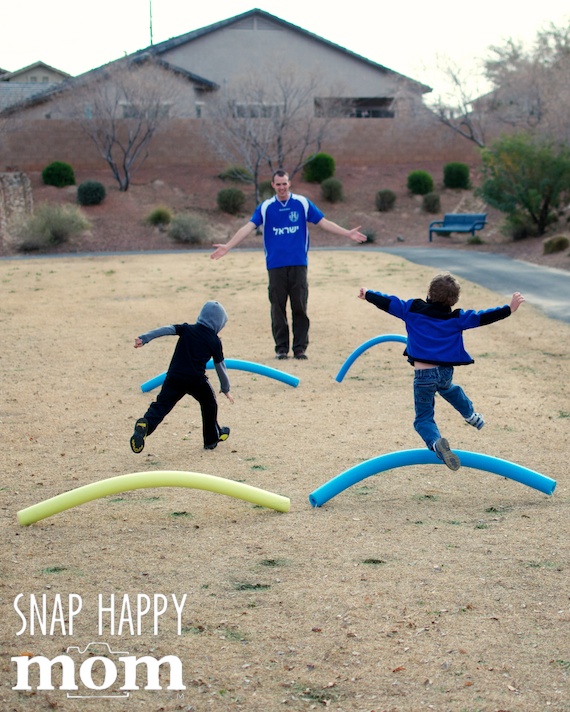 We did two rows side by side to allow for two-man races. Honestly, I think these kids could have done this activity for an hour if we let them!
Apparently, this idea was in Family Fun Magazine a few years ago, but I never saw it. I just came up with it myself. We used long skewers to hold the noodles in the ground.
6. Discus Throw
This did not go quite as planned. I forgot that not all 4 and 5-year-olds can throw a frisbee! It was a short-lived activity for us.
With older kids, you can see who can throw a frisbee the furthest, make it through a hoop, or land it in a basket.
7. Personalized Flags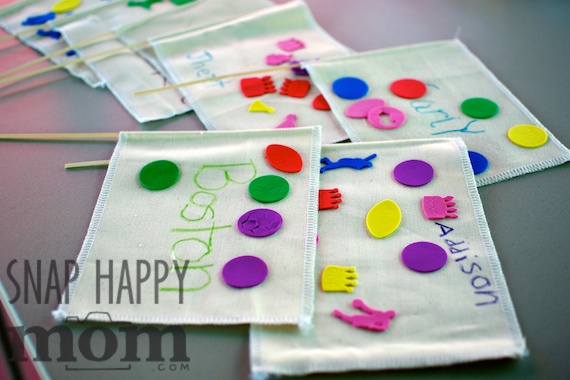 We also decorated some flags as a welcome activity, which doubled as a party favor.
Foam stickers and crayons were easy and not messy, and then I stuck a skewer in the side. My four-year-old doesn't really care about countries yet, so our flags were name-based, but older kids could copy flags for specific countries.
It was a great party! Happy Birthday, buddy!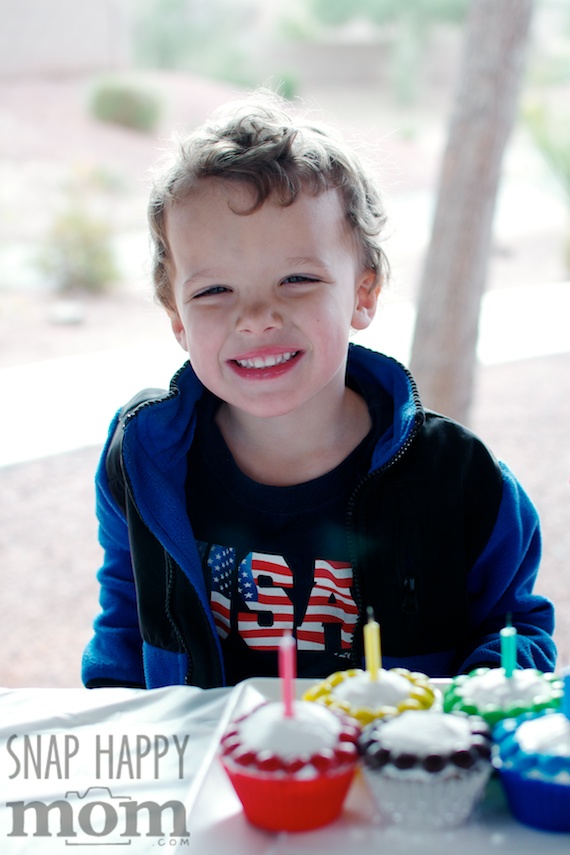 I think an Olympics party could work any time of the year. Pin so you remember it!