Personalized photo gifts are a sure way to make someone's day. Having a tangible item that features a photo of you, your kids, or other family members is a great way to give someone a one-of-a-kind gift that they can cherish.
They can also be a great way to capitalize on an inside joke or funny memory! Socks with your face on them? A sequined flip pillow from your vacation photos? Photo gifts can be super funny stocking stuffer or gag gifts, depending on how you order.
Whether you're looking for something funny or something sentimental, this post features 25 of the best personalized photo gifts you can get for anyone on your list!
To order these hilarious photo face socks, just press the option for customizing and upload your picture. You can use yourself, another person's face, or a pet as the spotlight for these socks. Just make sure your photo is of good resolution.
The socks are polyester and spandex so they are soft and stretchy. They are unisex sizing, so keep that in mind when ordering! They might be large on a child but fit most adults. They come in tons of colors too!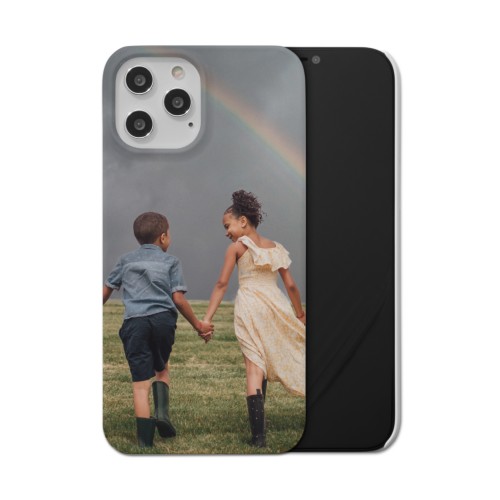 This personalized iPhone case is a wonderful gift for anyone who wants a case that shows off their favorite photo.
The case is lightweight and slim made of tough polycarbonate plastic. It comes in a matte finish with a good range of designs and layouts available.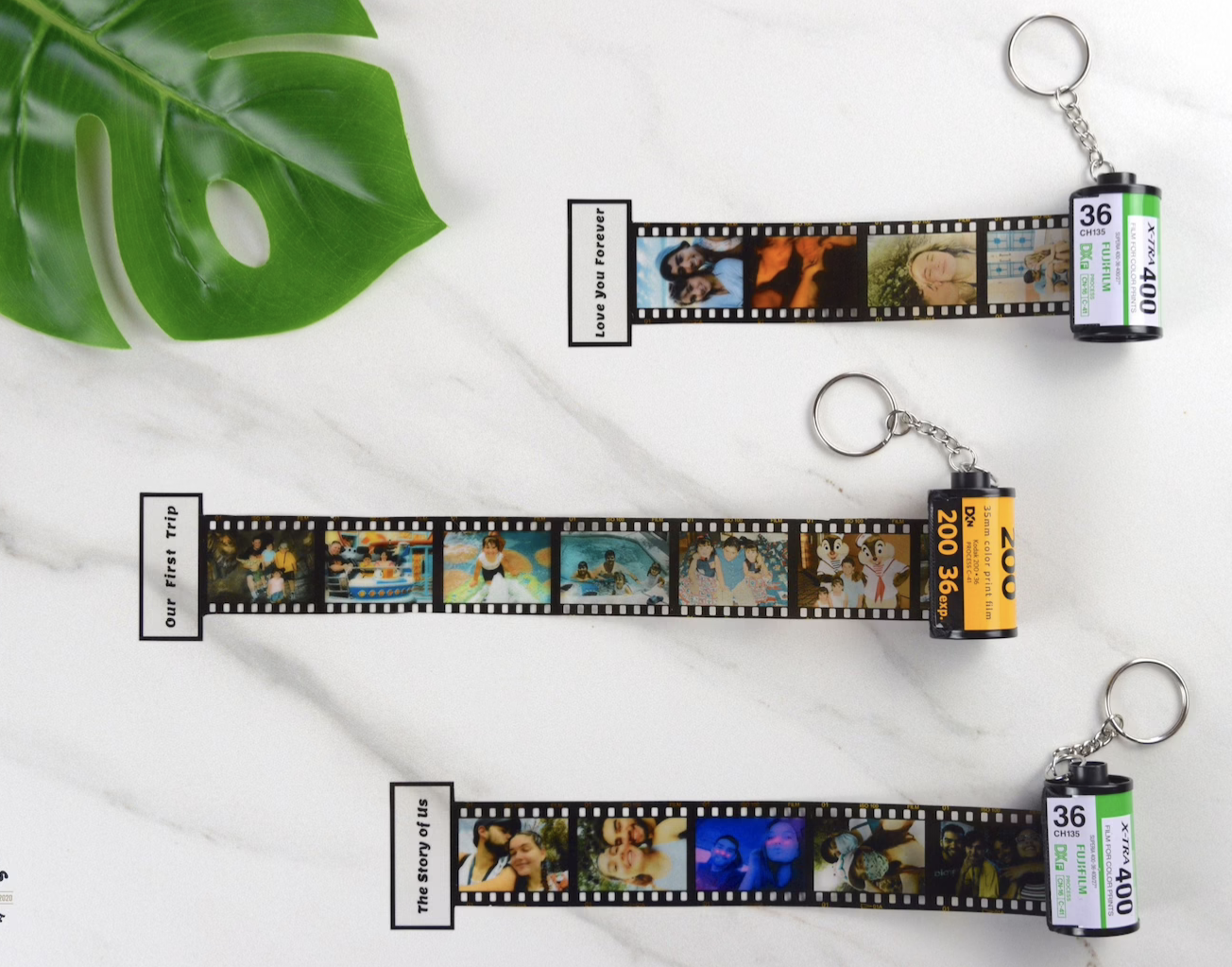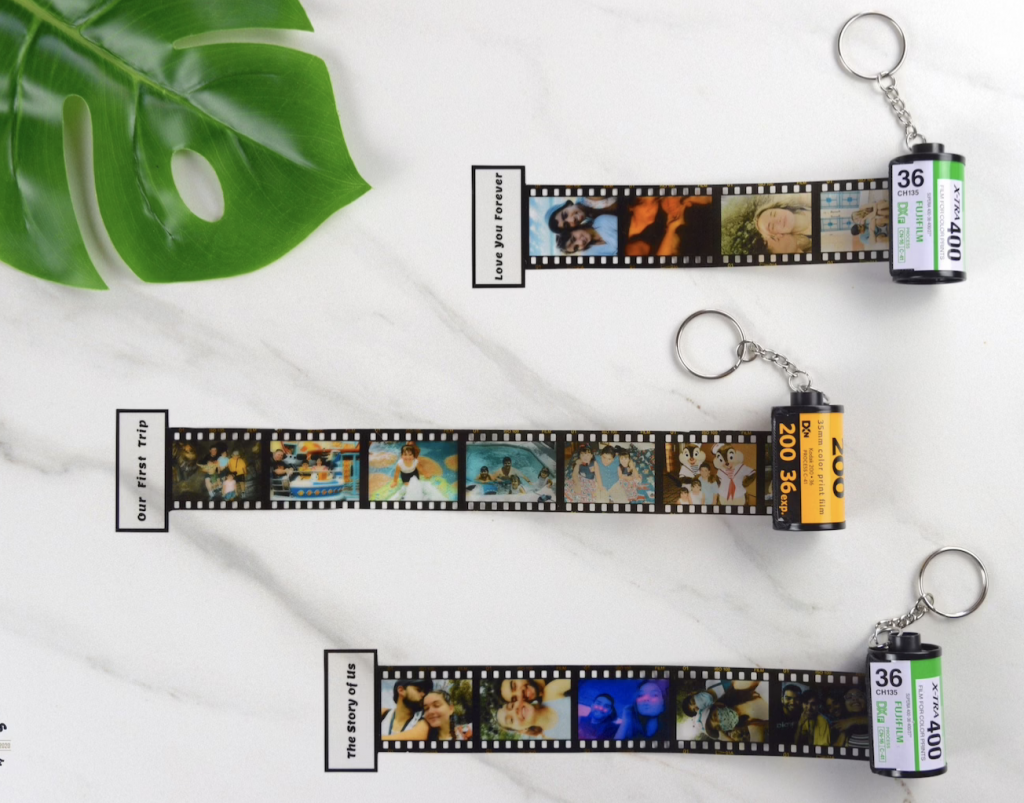 This keychain is so cool! It's an old film roll that lets you pull out the film to see your favorite photos.
These film keychains can hold up to 10 photos and a custom message at the beginning. They are made out of recycled film rolls, so there might be some slight scratches on some.
Email the seller your photos with your name and order number so your photos are at the highest resolution. Then you'll get a proof from the seller and you have 2 days to approve the design. You can also let the seller know if you want the photos in a specific order.
These are custom stickers that you can print with your face on them, which makes for a hilarious gift for a friend or family member. Just click the Customize Now button and upload a clear photo of yourself (or whoever your subject is). Check the preview box to make sure it fits and then you're ready to order.
The custom face stickers are printed on high-quality matte vinyl so they are not only waterproof but are also microwave and dishwasher safe. You'll get 3 sticker sheets with 63 stickers total in 4 different sizes.
If you know someone who loves puzzles, why not turn their favorite photo into one? These puzzles are made of high-quality paperboard and come in four different sizes, so the level of difficulty for these puzzles vary.
You can get a 10x14 puzzle in either 60 pieces or 252 pieces, a 16x20 that is comprised of 520 pieces, or a 20x30 puzzle with 1,014 pieces. They work with both portrait and landscape photos. There are also collage options to curate several of your favorite photos together.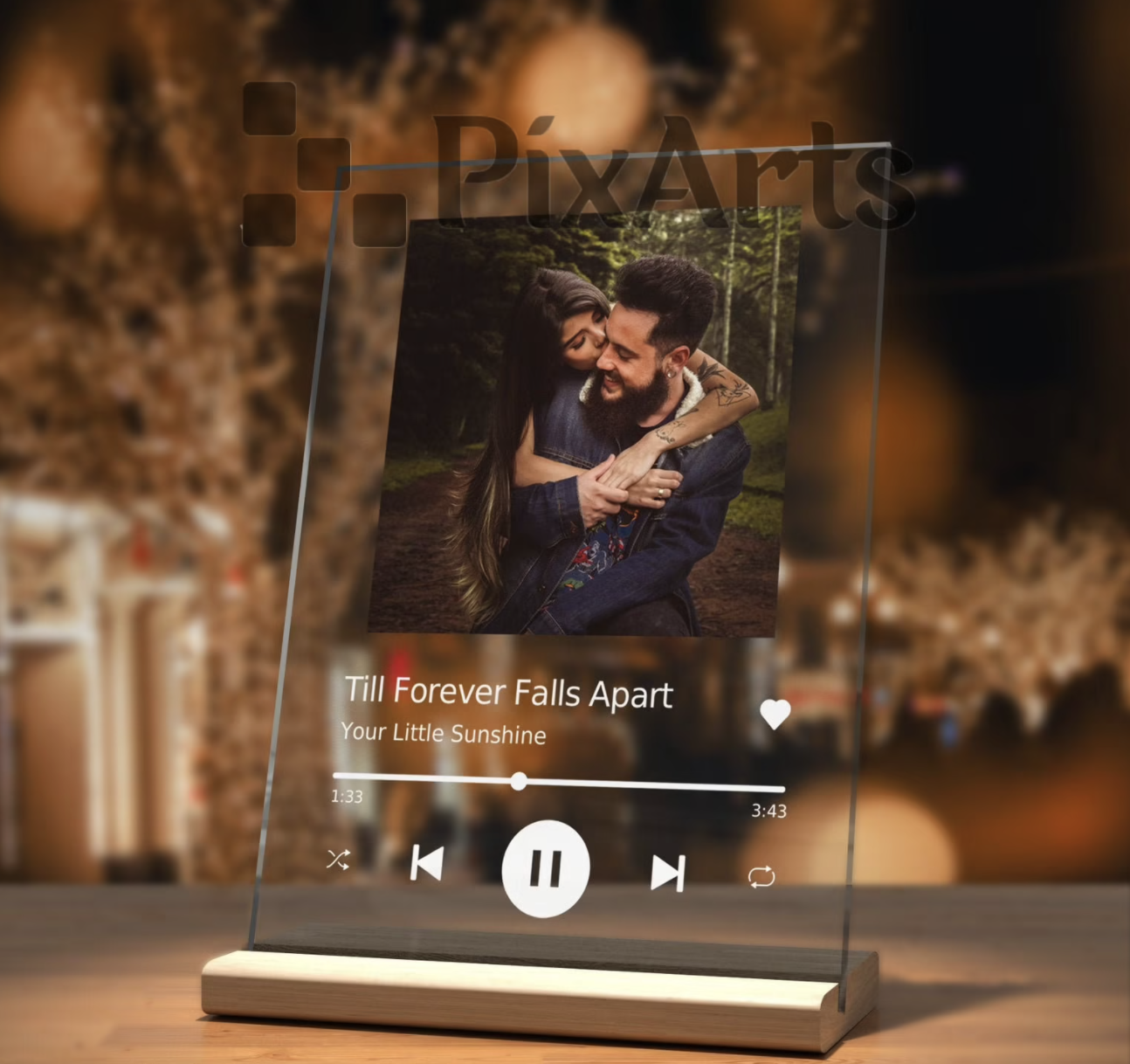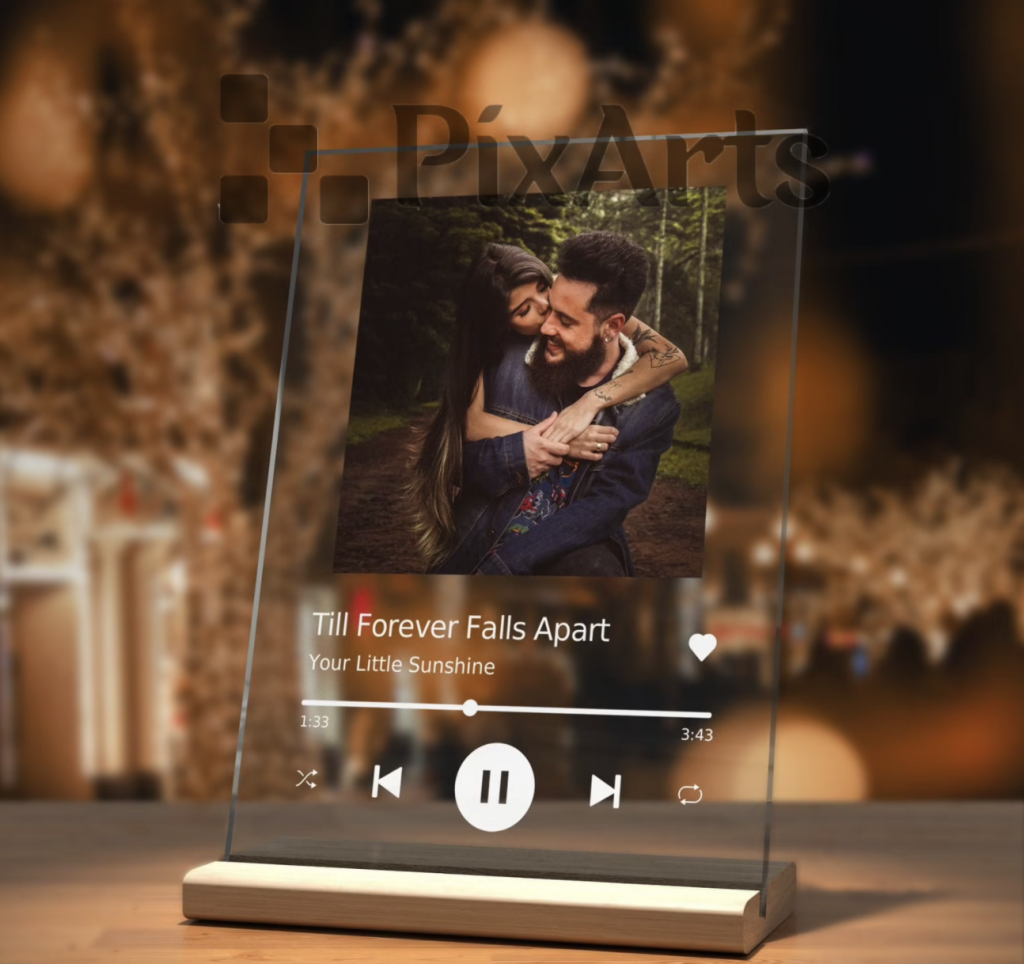 This is an adorable personalized gift for your spouse. You can memorialize one of your favorite photos along with one of your favorite songs. It's a great gift for a special occasion that can be used as pretty, custom decor in your home afterward.
They make 3 sizes: 8 x 12, 8 x 6, and 6 x 4. You can customize the song title and artist, or you can send a message instead of using a song title.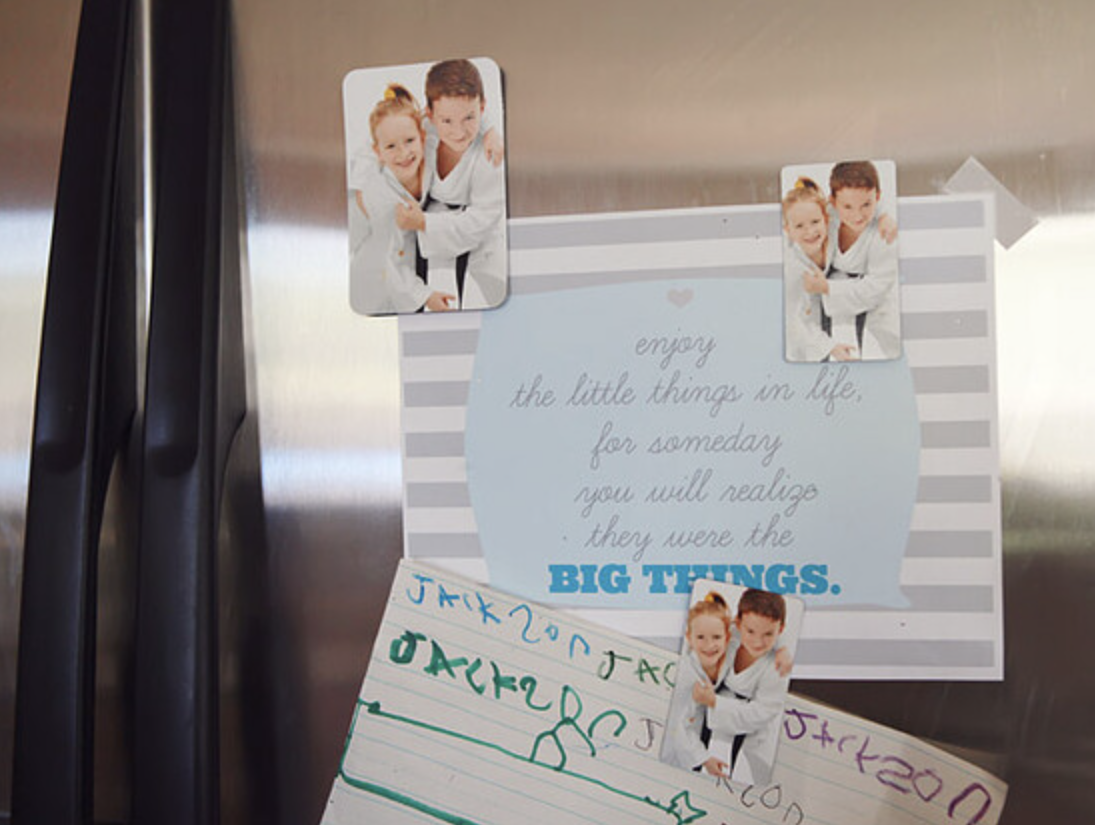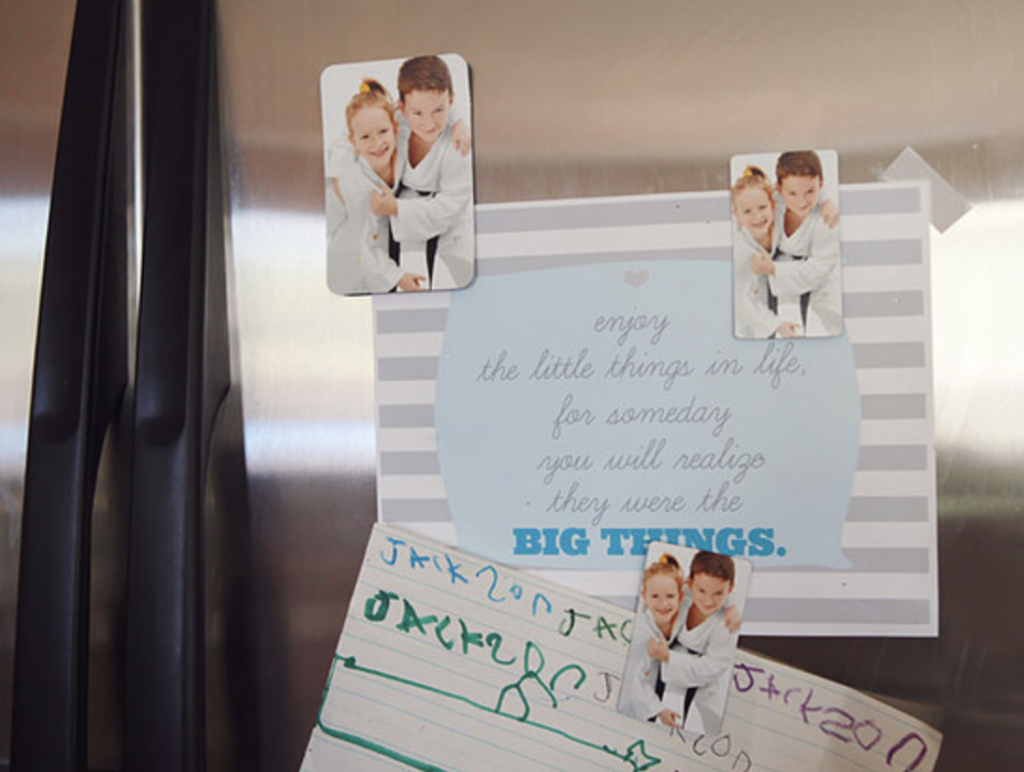 Turn your favorite photos into magnets!
These magnets use premium photo paper and adhere it to a magnet in a 2 x 3.5 or 3 x 4.5 size. They also have some pre-designed magnets that you can customize so you're sure to find a magnet that is perfect for anyone in your family.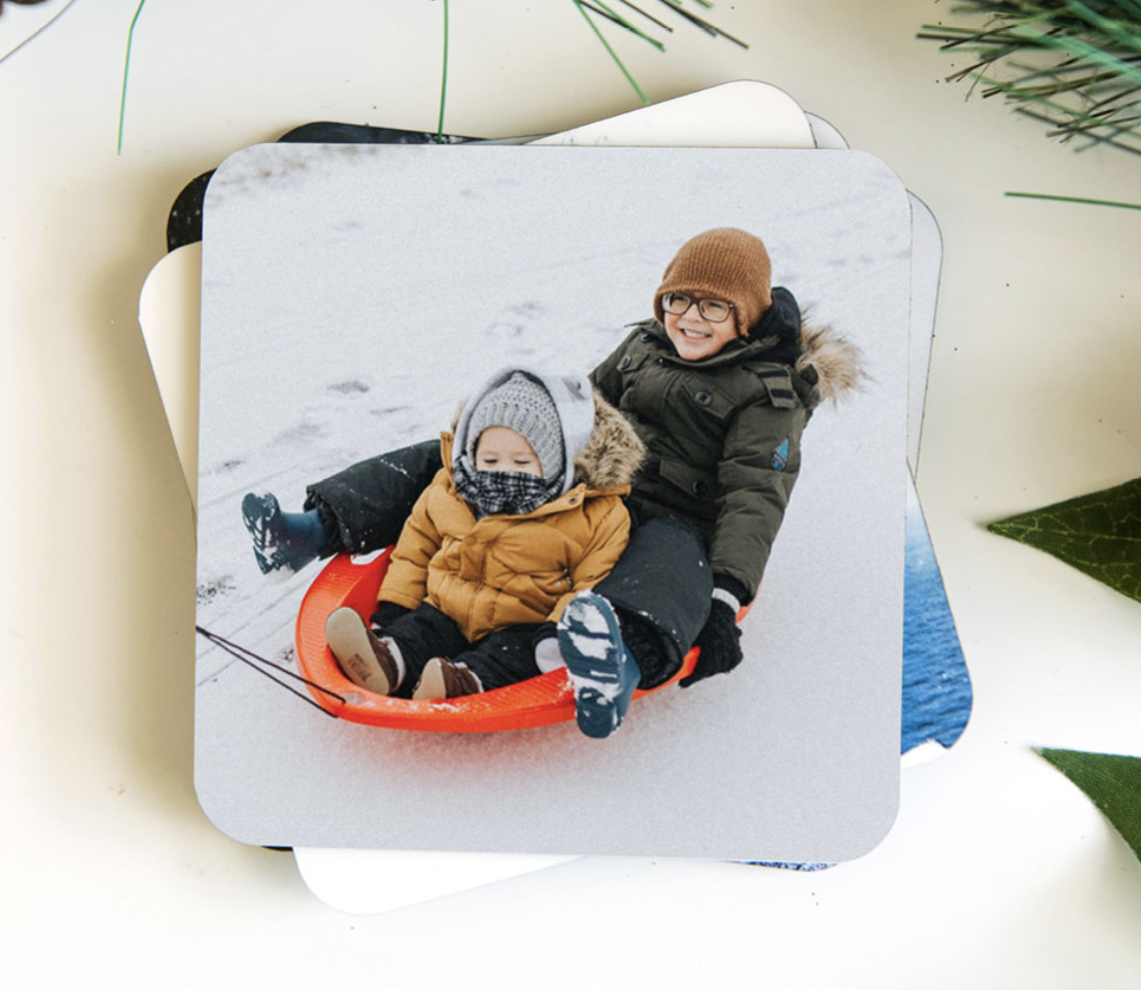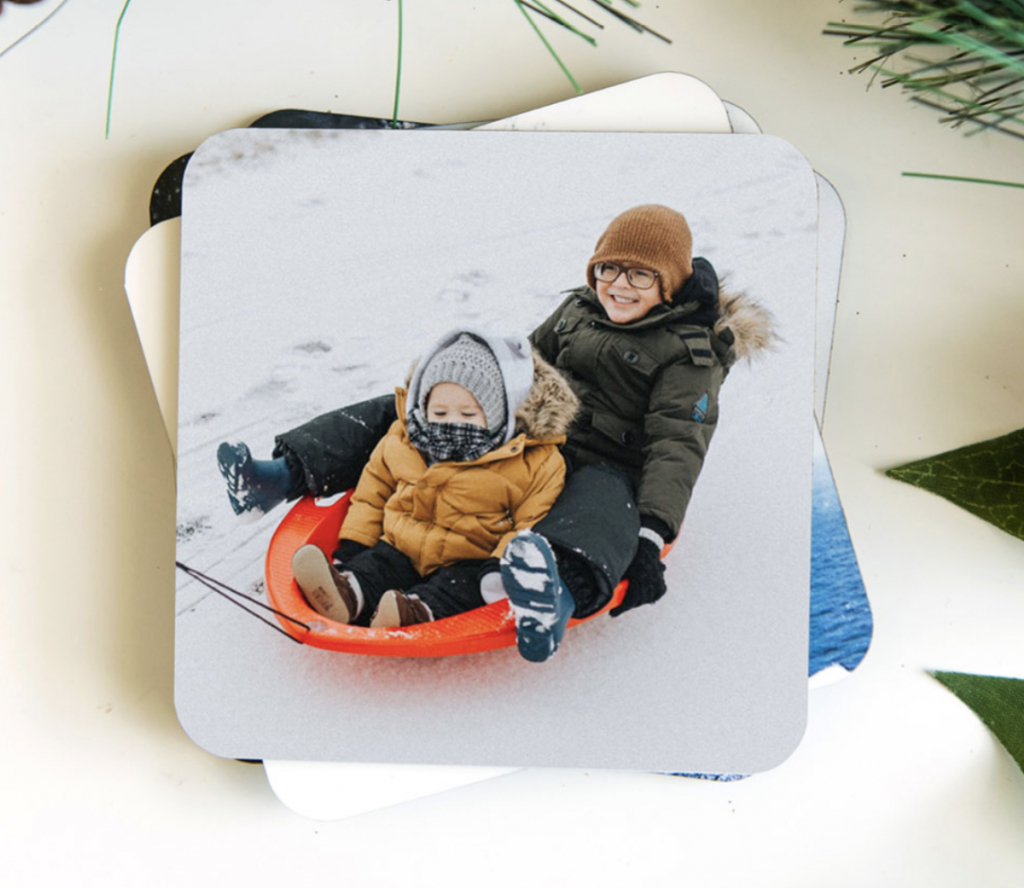 These personalized coasters are a perfect way to show off your favorite photos on something functional. They are perfect for drinks of all temperatures and come in sets of 4. You can add a different photo to each coaster.
The coasters are almost 4 x 4 with a white gloss finish and rounded ages. They also have a non-slip cork backing.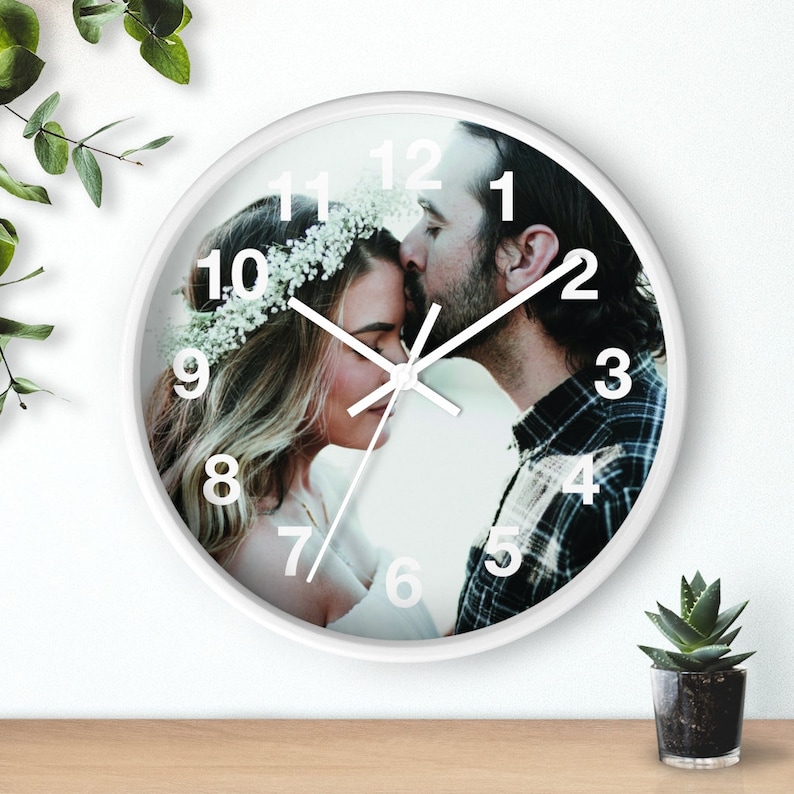 This 10-inch wall clock comes with a wooden frame and a plexiglass face. There's a hook already installed on the back so they are ready to hang right when it arrives.
When you order, pick between natural wood, black, and white for your clock color and between black and white for your clock hands. Send the seller your picture, and now you have a wonderfully personalized wall clock!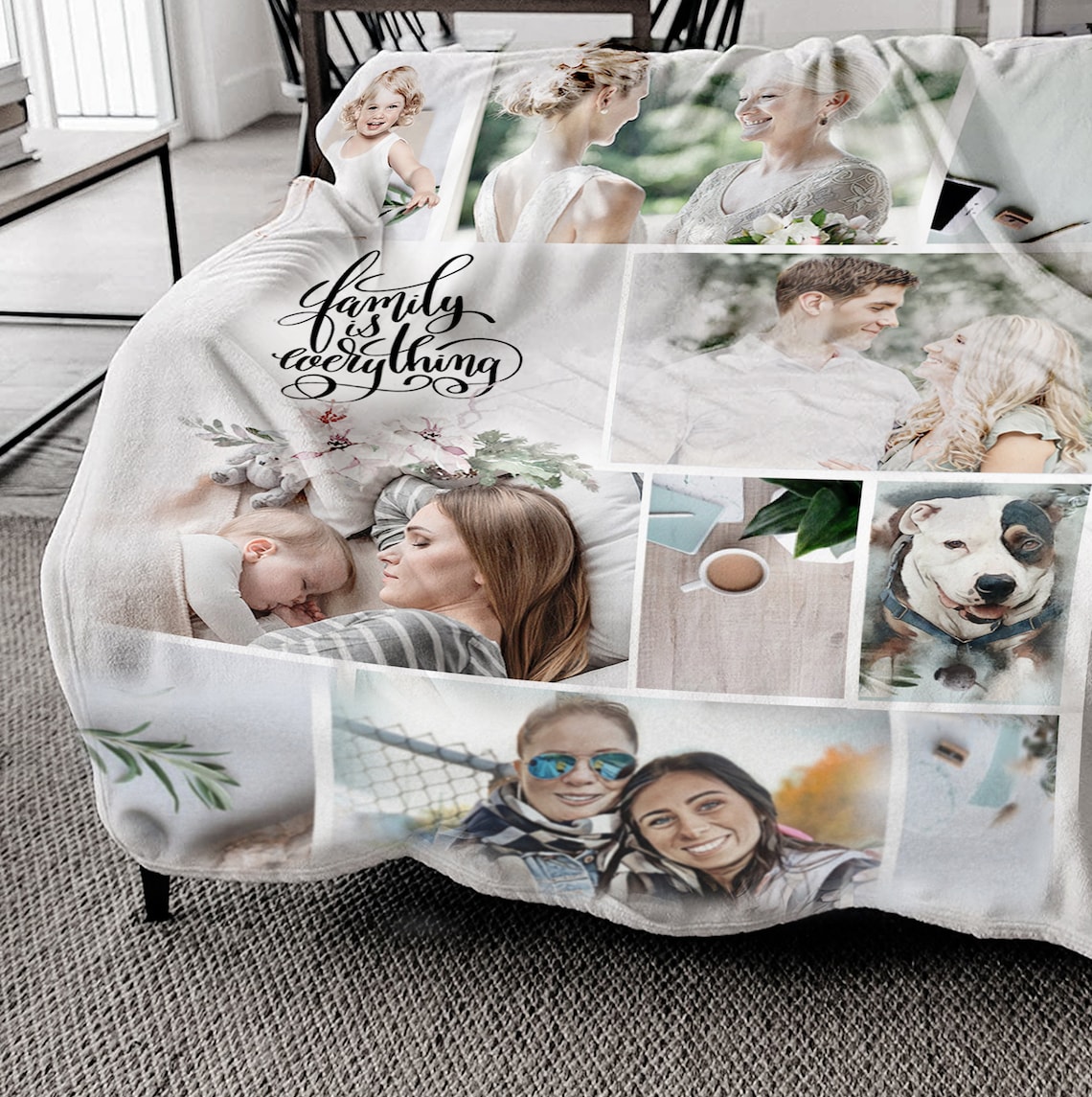 This plush blanket is super warm and cozy. It's a perfect gift for anyone who likes snuggling up by the fire with a big blanket.
The printing is on one side and you can add up to 9 images and a personal message. There are multiple sizes included: 30 x 40, 50 x 60, and 60 x 80.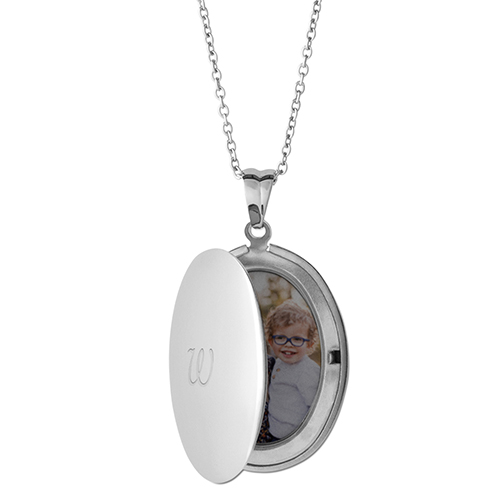 This personalized photo locket will help keep favorite photos and cherished memories close. There are several different lockets available with Shutterfly, but this one is an oval pendant with a custom engraving on the front.
The locket is stainless steel in either gold or silver finish and an 18-inch chain. The photos are already sized and placed inside when you get the necklace.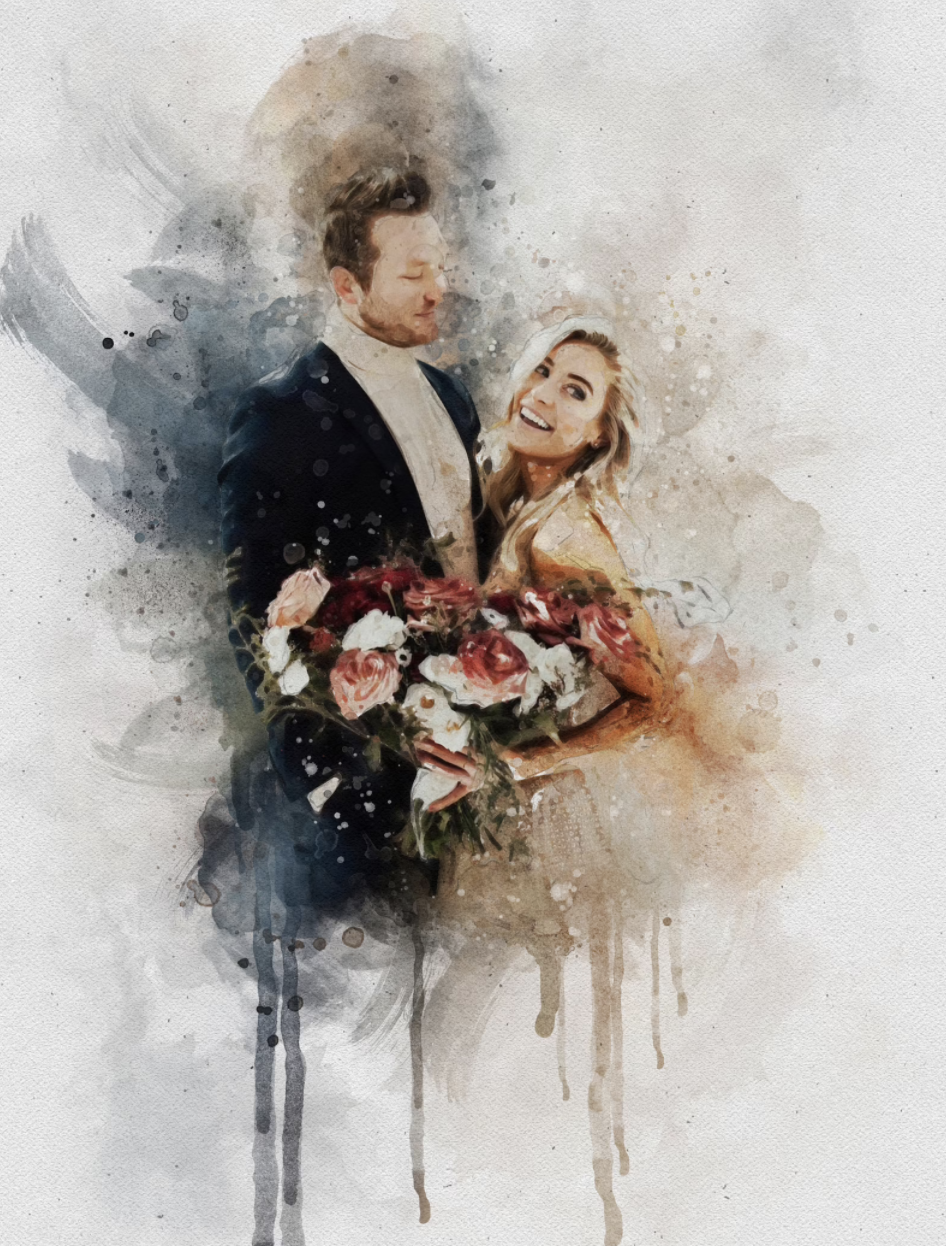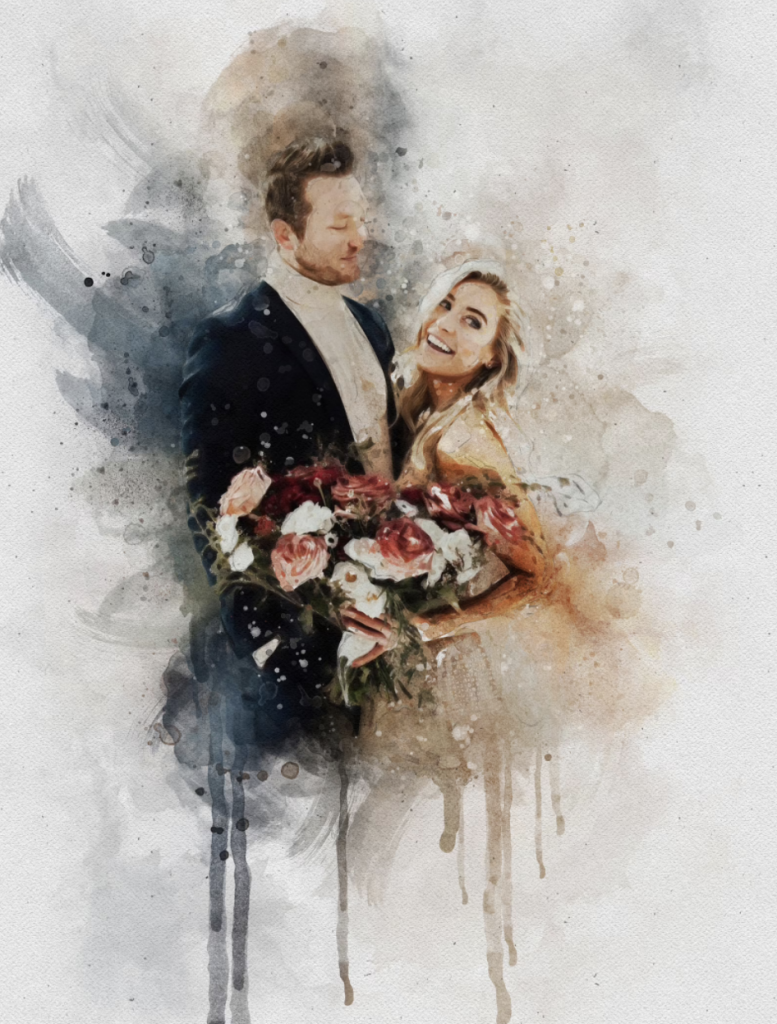 This is a beautiful gift for anyone - even if it's just for yourself! Send in a favorite photo and have it turned into a semi-realistic watercolor painting. You can also have your names and wedding date customized or a quote added.
The paintings are printed on high-quality satin photo paper so that they look vibrant and rich. You can also get a canvas finish or a digital PDF if you prefer.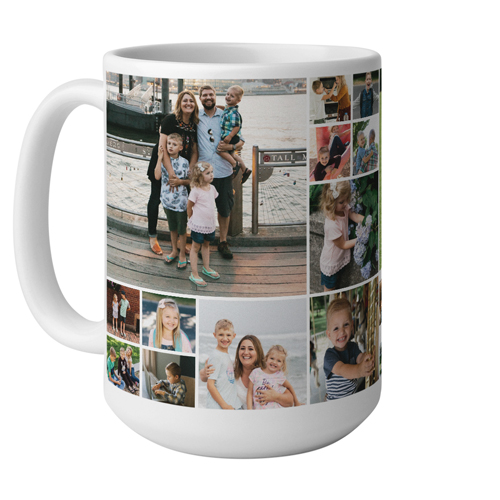 This unique mug is the perfect gift for a grandparent or spouse. Just add your favorite family photos to this mug that is crafted for hot drinks and beverages.
You can add up to 24 photos on this mug and you can choose the color of the handle and the interior of the mug. It is microwave and dishwasher safe. (Note: the gold option is non-microwave safe and is hand wash only.)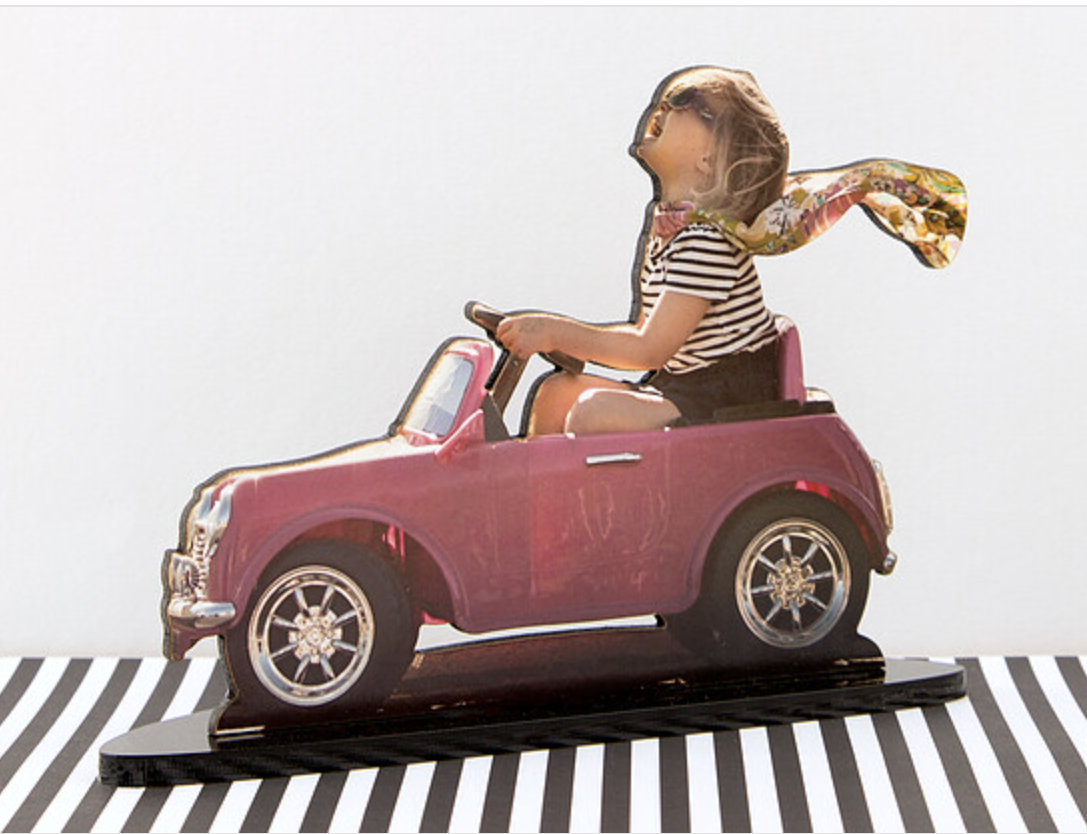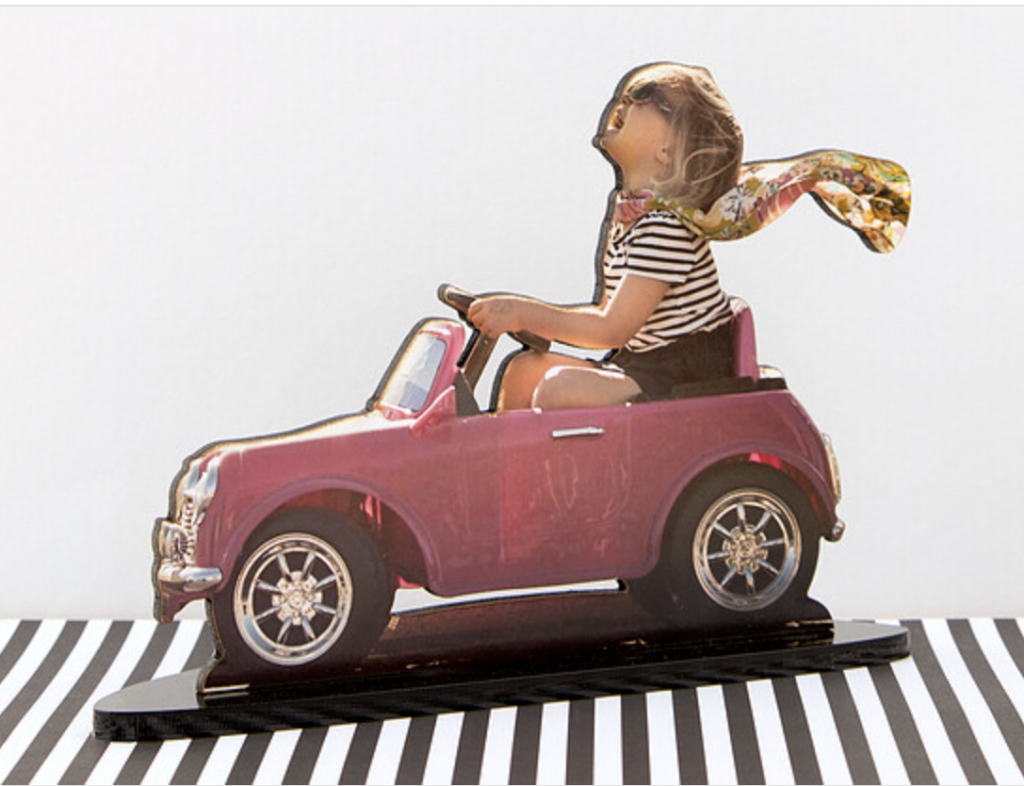 Some photos just deserve to be put on a pedestal. Make a mini statue out of them!
These cute statuettes come in two sizes - 5 x 7 or 8 x 10. They are printed on e-surface paper and mounted onto Masonite wood with a black acrylic base.
Their digital artists and in-house illustrators will remove the background and turn your favorite photo into a standalone item that you can feature anywhere in your home.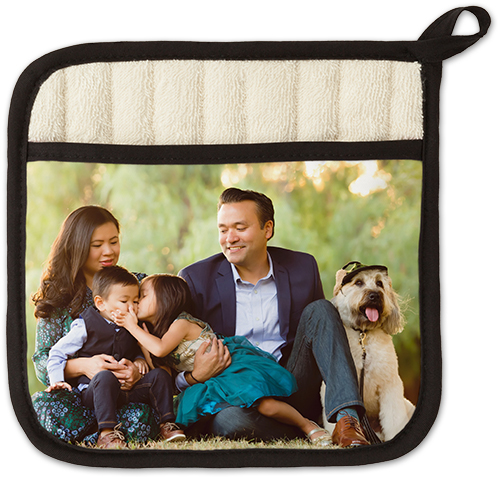 Gift a potholder specifically customized for your favorite cook. The front pocket will be printed with one of your favorite photos.
The potholder is 9 x 9 and made of a cotton-polyester blend with terry lining. They have a hanging loop and are machine washable.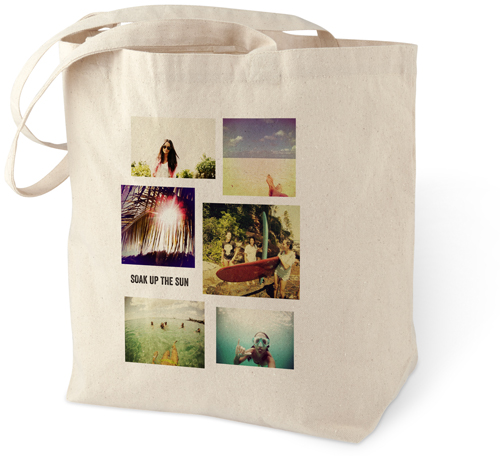 This tote bag is 15x18 and is made of cotton canvas. It can be customized with several photos and even your choice of text. These totes are durable and are a great gift for anyone who likes personalized accessories.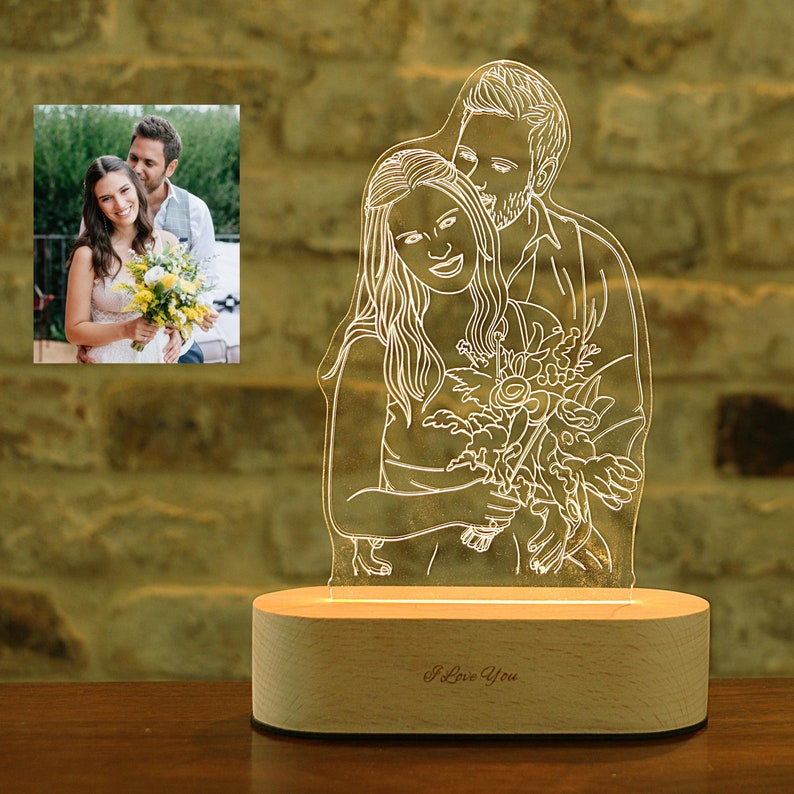 This personalized 3D lamp comes engraved with your choice of photo and text so it's a great gift for a special occasion. You can use any message, photo, quote, or character that you want to customize your lamp.
These lamps are 3D printed and have an LED light in the wooden base. It comes in 3 colors and is a fun, unique gift.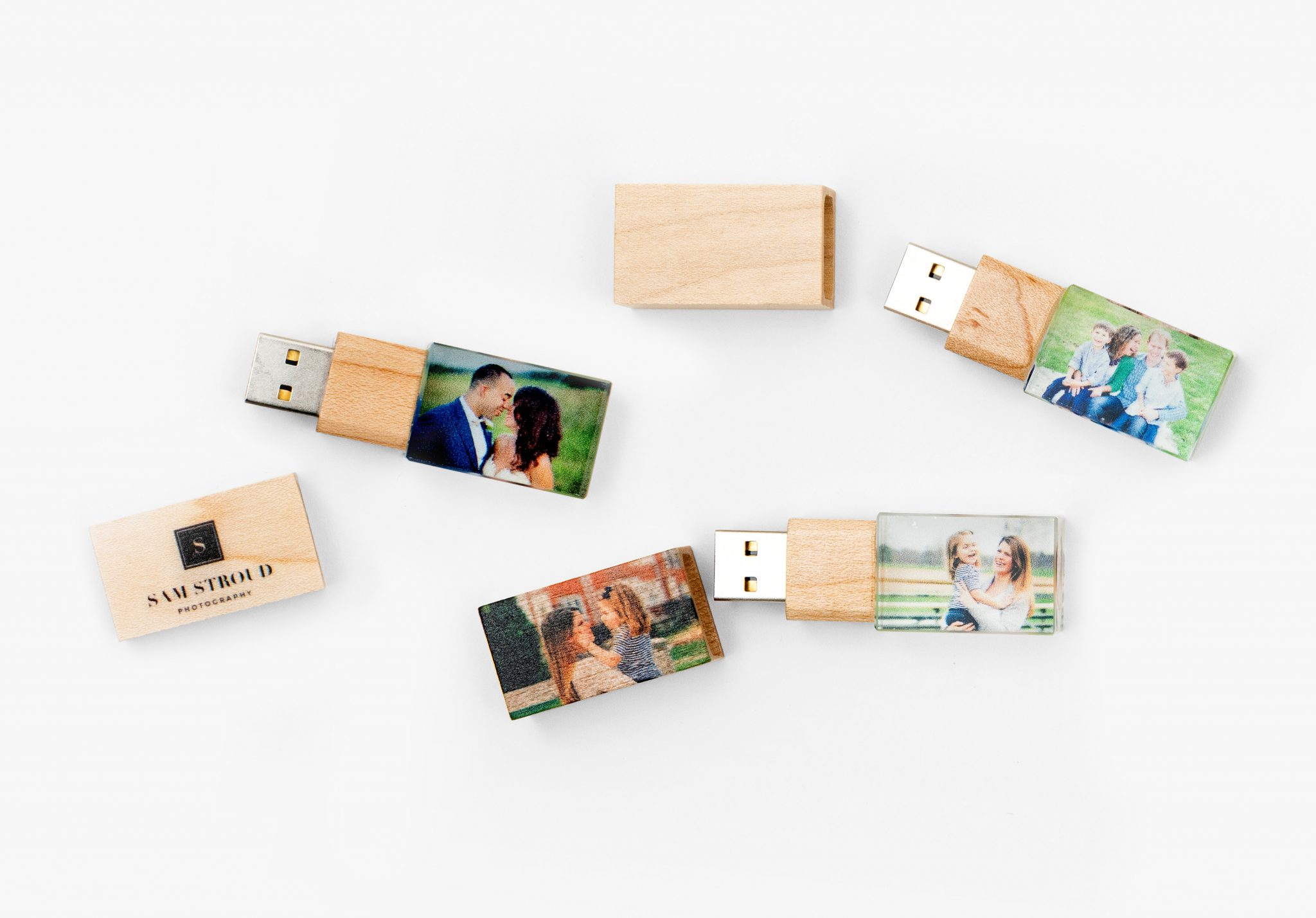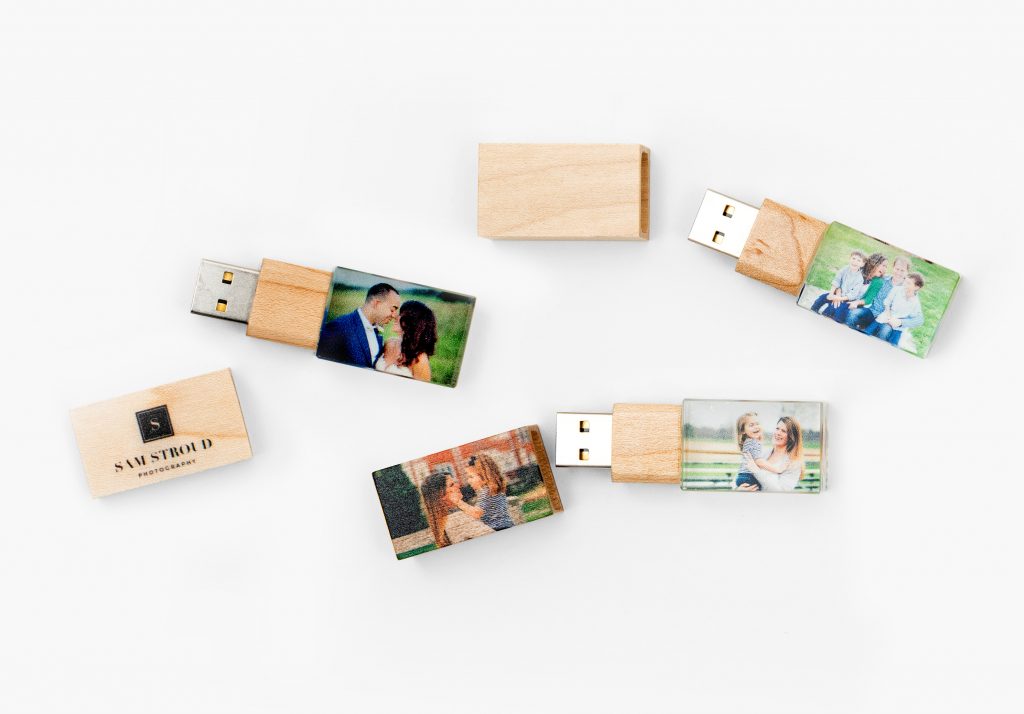 Do you know anyone who needs a lot of digital storage? If so, this personalized USB drive is the perfect gift.
You can choose from a few different styles. They have contemporary wood, which is a credit card-sized USB drive made of maple wood. The classic wood design is also maple wood with a removable magnetic cap. The last thumb drive is called contemporary metal and is made from high-quality, brushed metal. There is also an acrylic and wood hybrid USB drive.
The USB drives come in both 8GB and 16GB and are compatible with any PC or Mac. The drives are personalized on one side.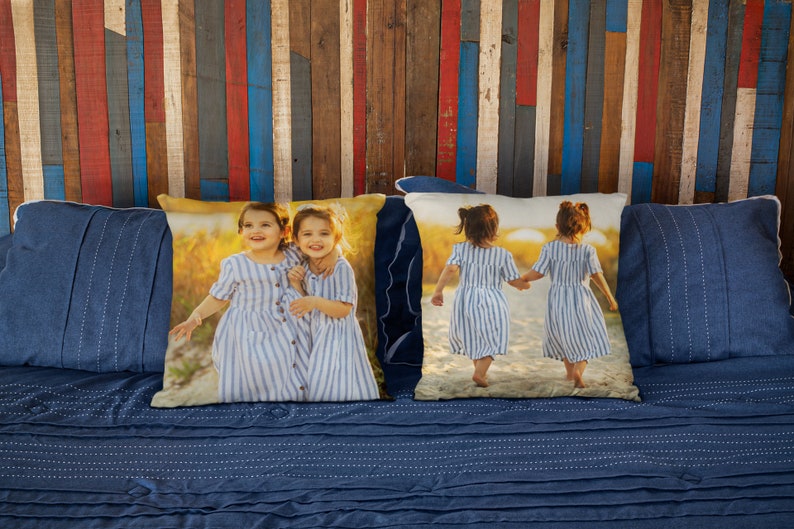 This custom photo pillowcase is a great gift for anyone who wants to personalize the decor in their home. You can use your favorite family photo, a photo of your pet, or even a company logo for a business. Keep in mind that this is a pillow cover, so the pillow itself is not included. The photo is only on one side, but you can have the seller print on both sides for an additional $8.
This pillow comes in 100% polyester, so the fabric is stain and wrinkle-resistant. It's an 18 x 18 size and has a double-stitched durable zipper.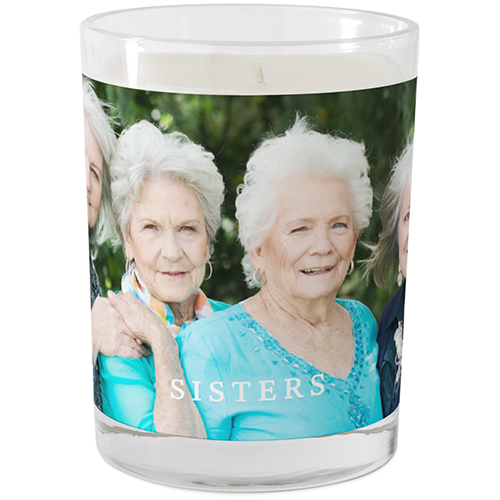 These personalized photo candles are made with an all-natural soy blend and essential oils. Four fragrances are available: grapefruit blossom, ocean breeze, fireside spice, and unscented for people who like the look of candles but don't enjoy the fragrance.
You can personalize the candle with your favorite photo or a monogram. These are single-wick candles that are 9 ounces and have a burn time of 50 hours.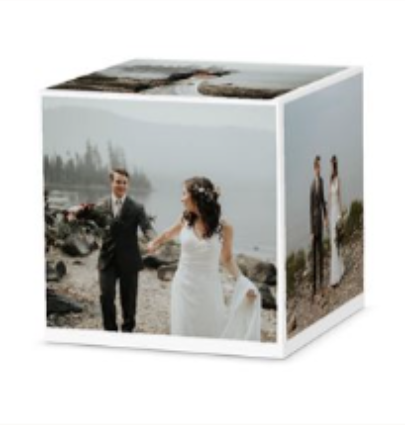 These 4 x 4 photo cubes are an interesting gift for home or desk decor. Pick between their multiple themes to find a design you like and send in the photos you'd like included on your photo cube.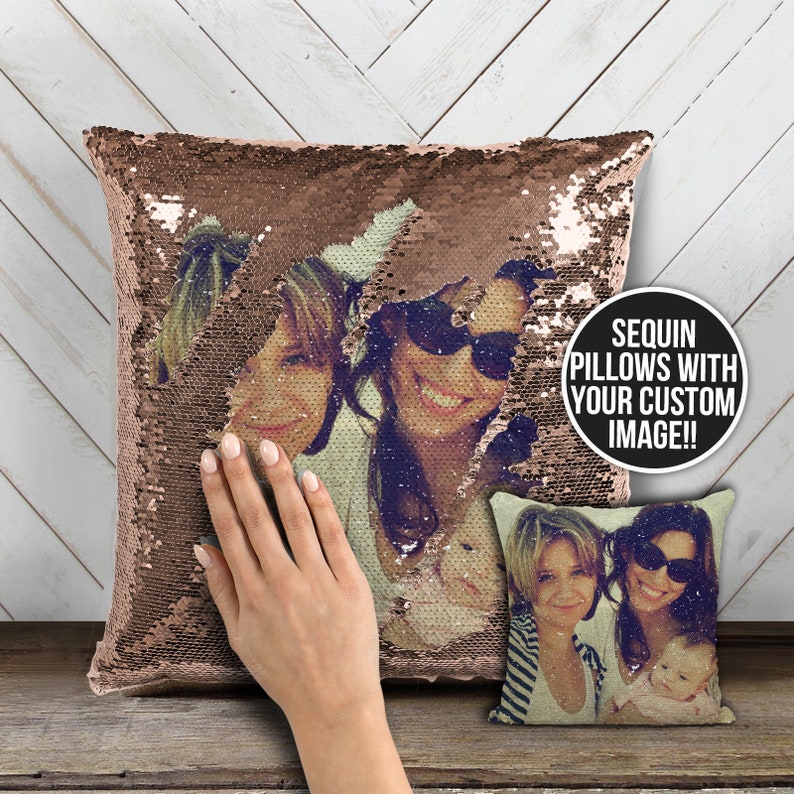 This 16 x 16 polyester pillow cover is a super cool and unique gift for a loved one or friend. Just add a photo when you order and you'll get a reversible sequin pillowcase with your choice of photo.
Send in a bright photo that doesn't have too many small details (those won't show up on sequins as well). Once it's done, you can just brush your hand up and down on the pillow to reverse the sequins and see your image appear and disappear.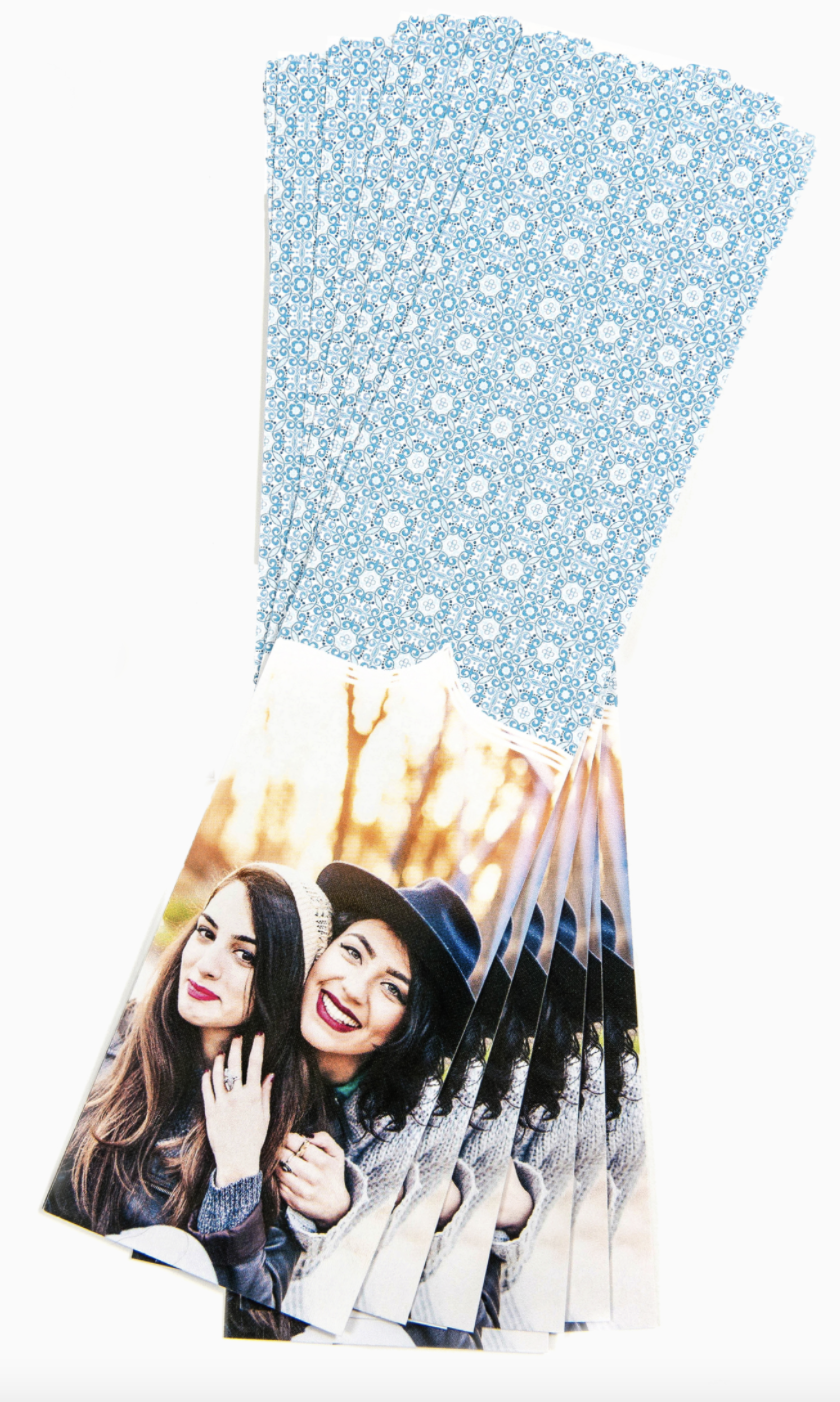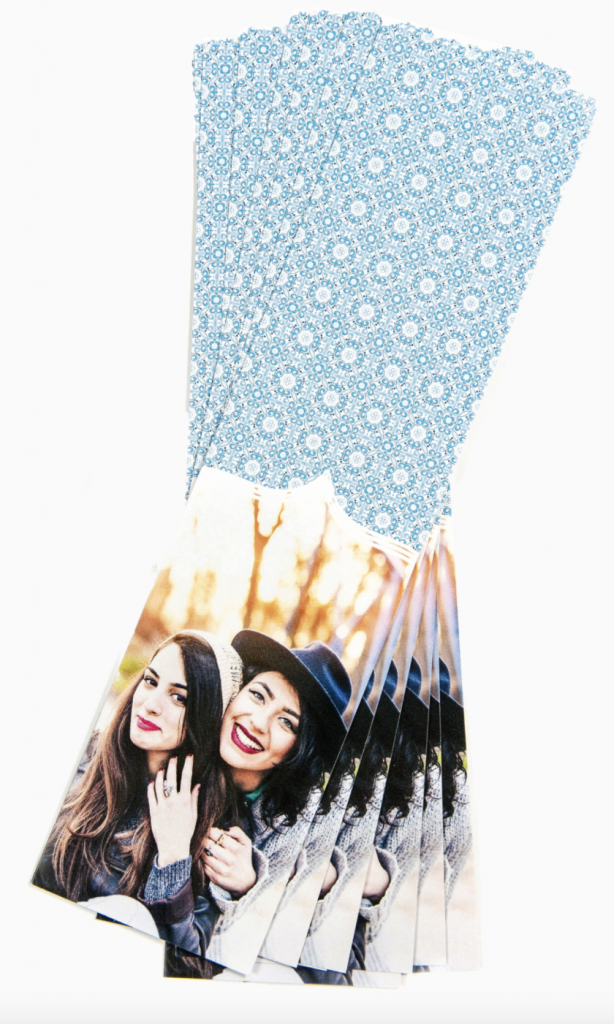 You can get a pack of 50 bookmarks on high-quality press paper. You can choose between several different paper types, included linen, pearl, semi-gloss, and matte. There are two different versions - the standard bookmark that comes in 2 x 8 or a folded bookmark that comes in 2 x 4.
Print out your favorite photo in either landscape or portrait and include it in a gift to all of your family members and friends!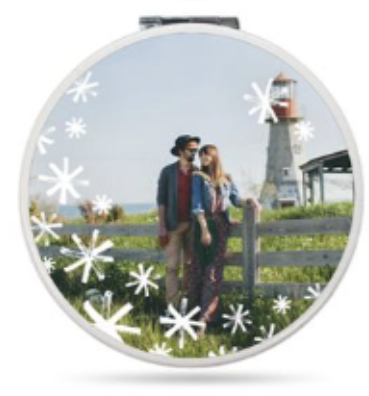 This is a great gift for anyone who likes to carry around a little mirror with them. Adding a photo to the cover of this compact mirror takes it to the next level.
There are several different designs as well, so you find one that works perfectly for your loved one.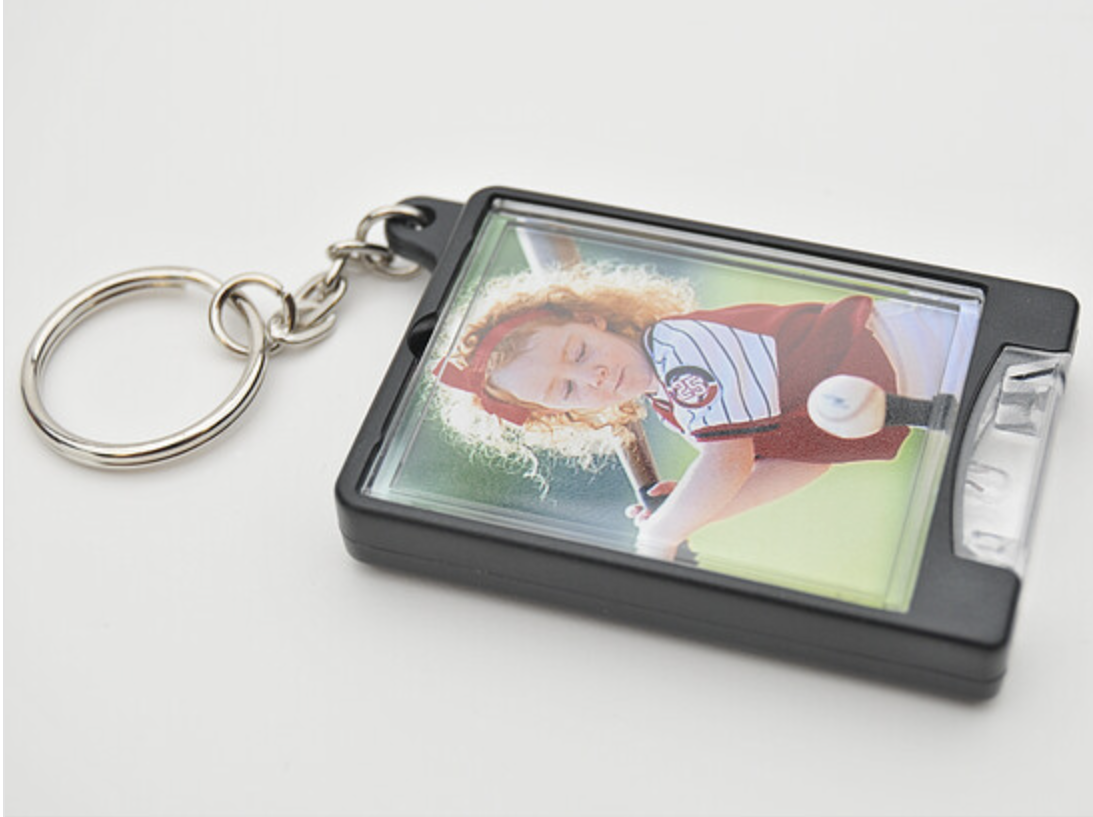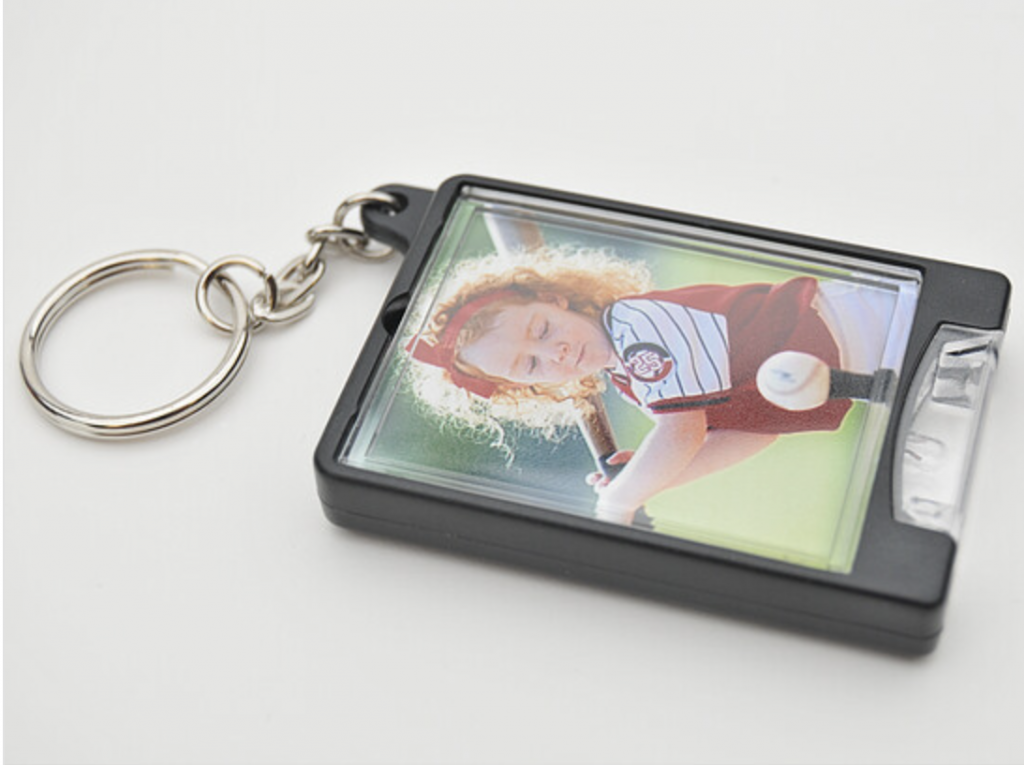 Here's another cute keychain that features your favorite photo. This photo keychain is made of durable acrylic and has a powerful flashlight on it - so it's functional as well as cute. The size of the image is 1.3 x 1.8 inches.
Crystal Clear Memories creates crystal cubes with a 3D image engraved in the middle of the crystal. They are perfect for weddings, graduations, special birthdays, and anniversaries. You can also get one as a memorial for a loved one that has passed.
If you're looking for a customized and unique gift for someone in your life, you should definitely consider these 3D photo cubes!
---
I love custom photo gifts like this. A lot of these items are practical, and adding a photo of the family makes them beautiful and personal. And who wouldn't want a thoughtful gift like that?
These personalized photo gifts are great for anyone. From friends to spouses to parents, get your loved ones a gift that reminds them of you anytime they see it.