I am SO excited to tell you about these awesome photography "cheat sheet" cards I created for moms who want to take better pictures.
I put together all the tips that moms would want to remember while they are shooting pictures - things like what type of light you need outside, the best ways to compose a photograph, how to figure out your settings, and more!
If you are experimenting with manual mode and trying to understand exposure, there's a whole deck dedicated to aperture, shutter speed, ISO, troubleshooting manual mode, and charts for how everything works together.
Basically, it's like having an easy-to-read version of your manual in your back pocket, but with only the tips and tricks that moms need when they are taking pictures of their kids. No crazy advanced lingo - just helpful, easy-to-read tips that demystify photography and give you actionable strategies.
These photography cheat sheets are intended for you to keep in your camera bag for use on the go. The cards fit comfortably in your hand, and you can refer to them and switch them to your back pocket while you take the picture. They are threaded on a handy ring to keep everything together.
Plus, the cards themselves are adorable! It was really important to me that these cards would be cute and fun to use - no boring black and white manuals! I designed these cards with a fun, modern vibe that you'll love keeping close to your camera. Everything is color-coded by topic to help you find what you need quickly!
The cards cover these topics:
Camera Tips - Composition, white balance, avoiding blurry pictures, and getting good blur. Basically, this section helps you use the settings in your camera to take a good picture.
Tips for Moms - This section is my tips, especially for moms! It has a page about working with kids, a list of ideas for smiles instead of saying cheese, and a pep talk for moms. Because sometimes we all need a cheerleader, right?
Lighting - The cards give strategies for using outdoor light, indoor light, and tips for flash.
Shooting - If you want to learn how to shoot in manual, start here. It also has tips for using the semi-automatic modes if you're not ready for manual, and how to use exposure compensation.
Exposure - This section explains how you make a photograph, in plain English! I explain Aperture, Shutter Speed, and ISO, including how they are measured and the cause/effect of changing each element. The last page is a super helpful chart of how exposure works, and which direction you can shift any element to let in more or less light. You'll probably refer to it often!
Basically, these are the things that I've found moms need to reference while they are taking pictures. They are "cheat sheets" in that I don't overload you with information - just the things that can help you in the moment. Whether you are trying to figure out manual mode or still in auto, these cards can help you focus on little things that will improve your pictures immediately! I wish I had these cards when I was learning how to shoot. 🙂

Get your own Photography Cheat Sheets!
These are available in two places: in the Snap Happy Mom Shop, and then in my Etsy shop! Check them out, and please "favorite" the item and the shop! I've got some big plans for it in the future with some more fun printables.
These reference cards are available in two different colorways, in a few different ways:
Option 1. Physical Cards Printed on Plastic Cheat Sheets
The first listing is for the physical product to be mailed to you. I've already assembled a hundred of these card decks, and they are ready to be shipped to you! This is definitely the best option if you just want to start using the cards ASAP.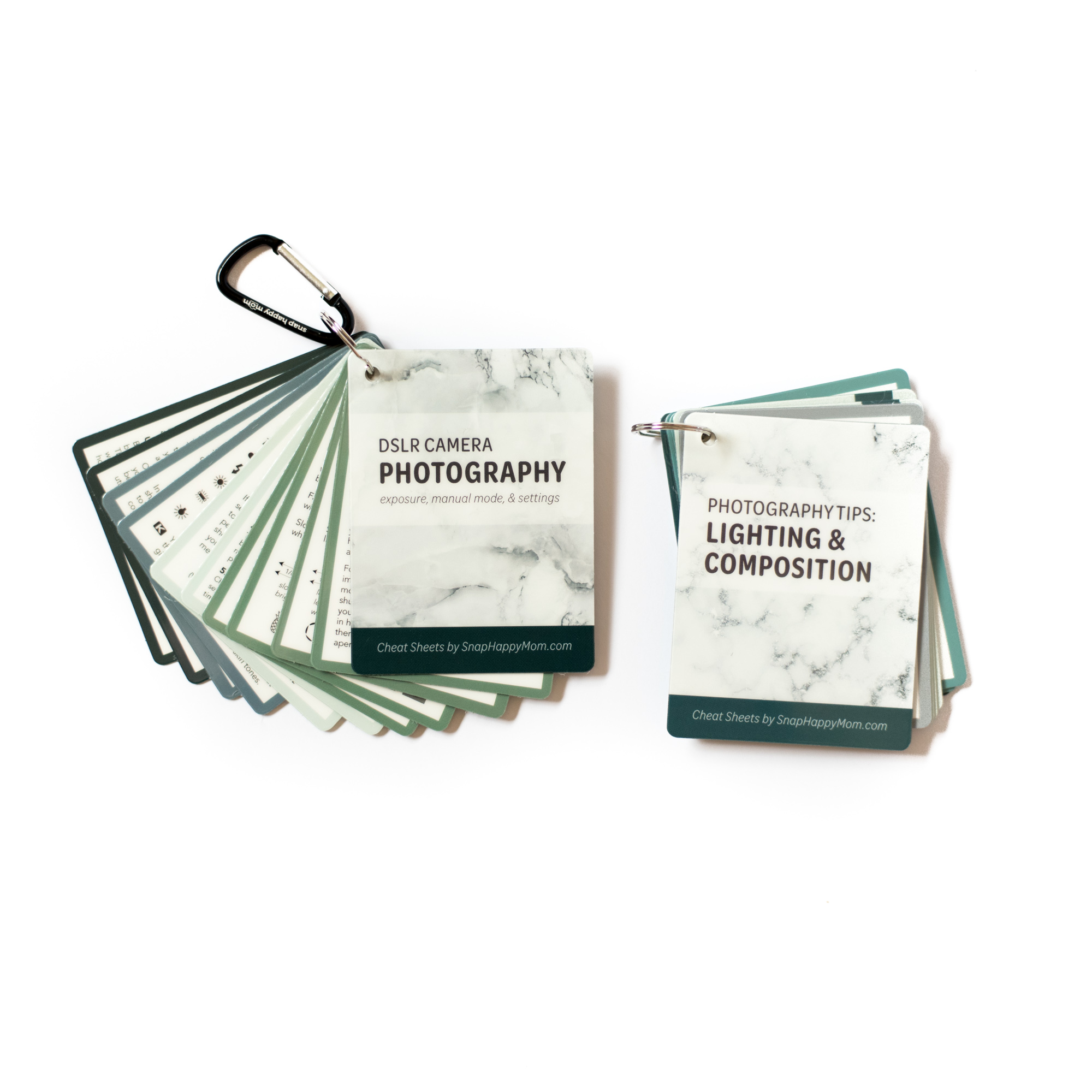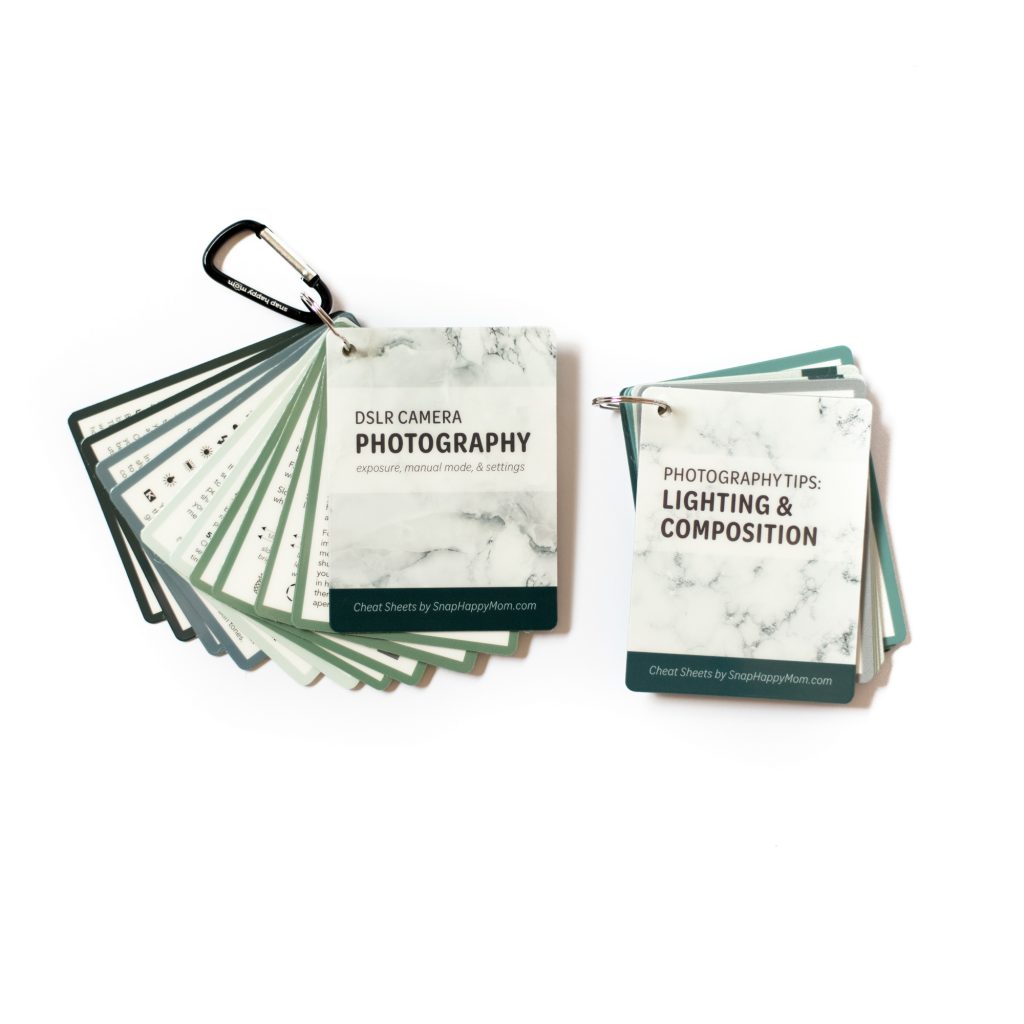 The set comes with 11 laminated cards that are double-sided with helpful information and charts.These are by far the best quality, highest durability for cheat sheet cards: they won't rip, tear, or get crumpled up in your camera bag. They make a great gift for someone with a camera, and are well worth the price.
For a limited time, I'm selling these for only 32$!
-->Click here to purchase the physical cards from the Snap Happy Mom Shop
-->Click here to go to the Etsy listing for these Photography Cheat Sheets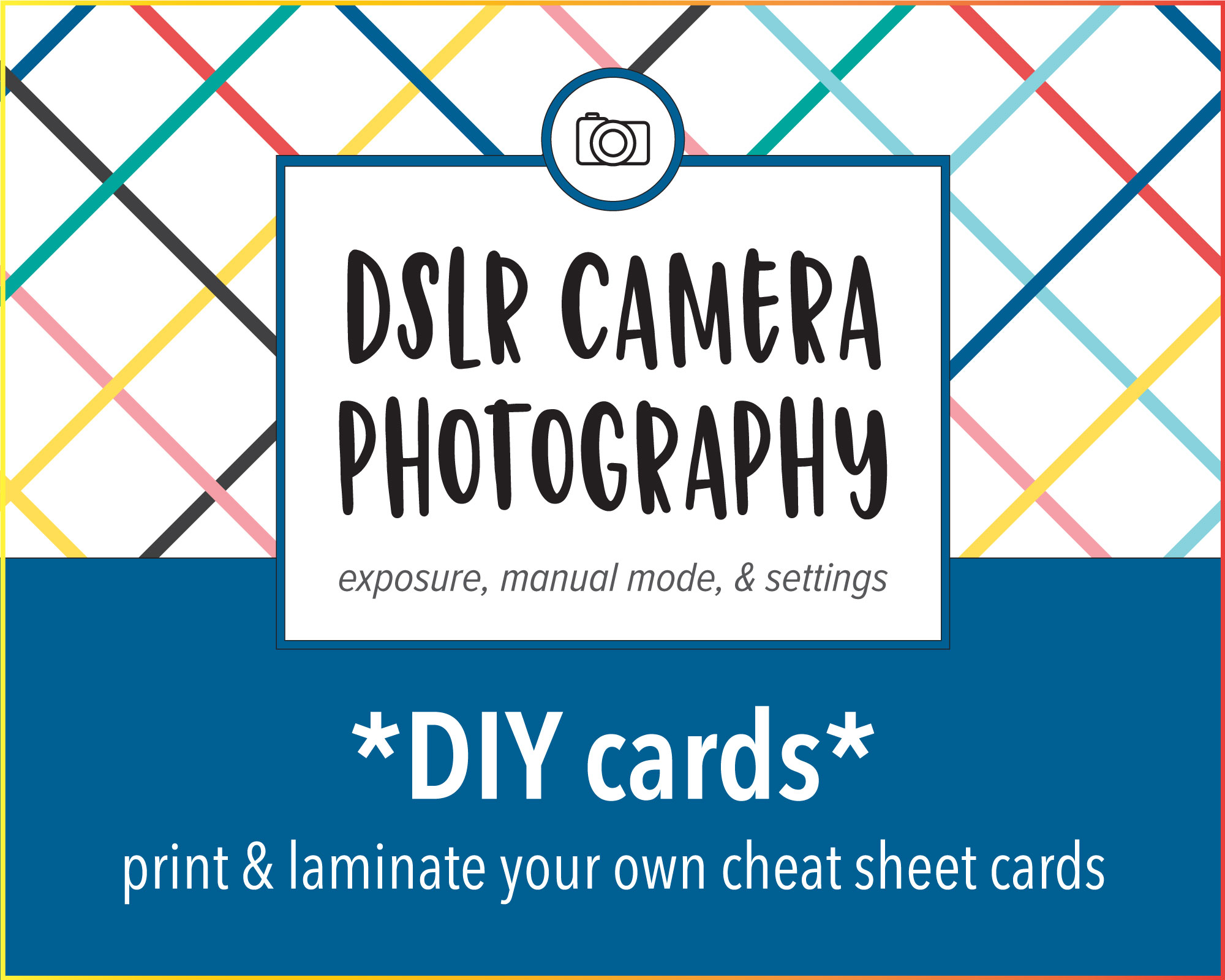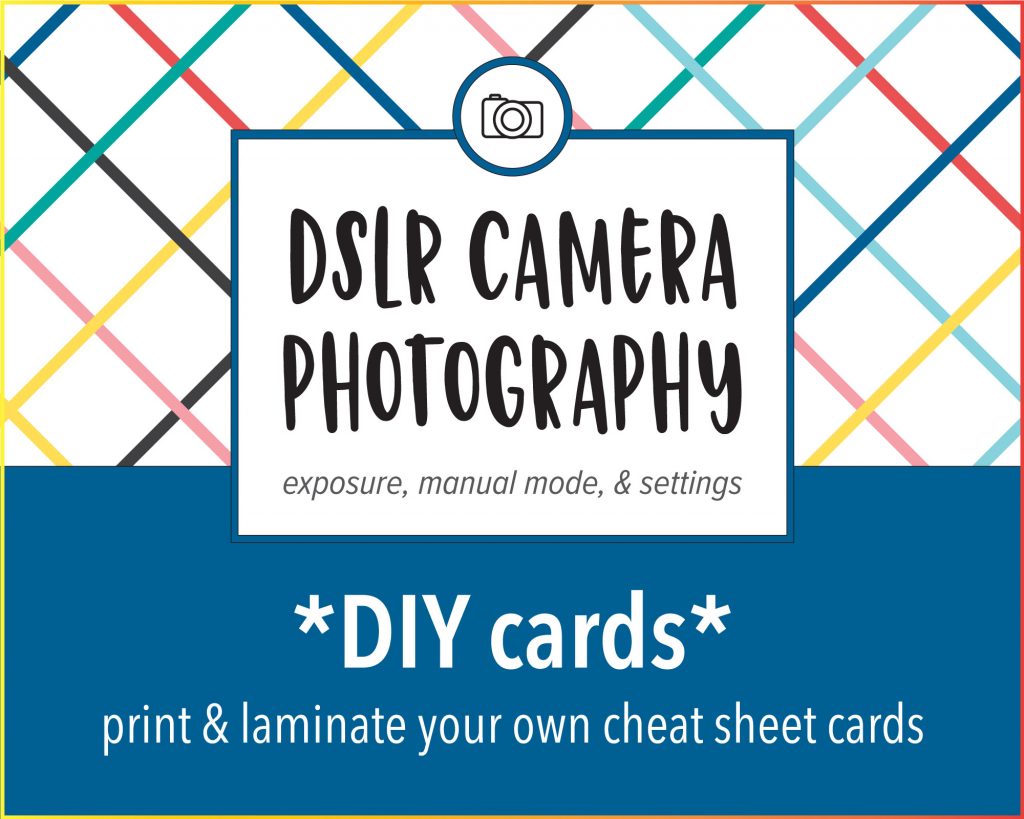 2. Digital Download - DIY "Cheat Sheets" To Print & Laminate
The second listing is for a digital download of the cards, so you can DIY your own set. I know many of you already own a pouch-style home laminator, which is what I used to assemble the cards. You can order the same size pouches that I used - they are ~$18 for 25 pouches, which leaves you with an extra couple in case you make a mistake. Then you can print and trim the pages yourself at home, and put them through your own laminator!
This option would be especially cost-effective if you would like to make several sets of cards as gifts. Then you can buy the set of 100 pouches for ~$21, which is about three times cheaper for the pouches, and assemble them yourself.
If you only need one set of cheat sheet cards, then it's actually cheapest and easiest for you to buy the finished deck from Etsy! (Buying the file and the pouches alone would get you to the price of the finished deck, not including any printing, paper, or rings) But if you would like to produce some as gifts, or you live overseas, this is the way to go.
-->Click here to go to the Etsy digital download listing for these Photography Cheat Sheets.
I am SO excited to offer this helpful resource to moms!
Comment below to tell me which topic you think you'd refer to the most - Camera tips? Exposure? I want to know!