Yay! Prime Day 2021 is approaching fast! This year, Prime Day s actually two full days: June 21 and June 22.
Prime Day offers a variety of deal types exclusively to Prime members. You can find all deals on the Prime Day page. These deals go FAST, so don't wait to put these in your cart!
Snap Happy Mom may earn a commission on your purchases, but it doesn't change your price!

---
ARE YOU A PRIME MEMBER?
Prime Day deals are only available for Amazon Prime members!
Sign up for a free 30-day trial membership here. You'll qualify for all Prime Day deals, but you don't have to keep the membership afterward if you don't love it. That said... I completely adore Amazon Prime and think it's TOTALLY worth the money.
Amazon Prime Deals 2021

Free Money! Amazon Gift Card Deal!
Get a free $10 Amazon credit with the purchase of $40 worth of Amazon gift cards. I mean, you know you're going to spend the money already, right?!
Just add the gift card to your cart with a custom amount of $40. You HAVE to enter the promotion code GCPRIME2021 at checkout to receive the discount. Don't forget!
You will receive $10 promotional credit to your account two days after your purchase.
Kids Rash Guards - There are tons of rash guards available for kids, in all sizes and styles.
Amazon Fire Stick - I love the Amazon fire stick! It makes it possible to access and stream tons of channels and apps. Plus you have can use Alexa Voice Remote to search or launch shows just with your voice.
Revlon Hot Air Brush - My hairstylist recommended this brand over the pricey competitors - it gives a salon-quality blowout that lasts for days!
Apple AirPods - at the lowest price I've ever seen them!
Lash Princess Mascara - Someone recommended this mascara to me - and with over 159,000 other reviews, I tend to think it must be awesome. And at $3.49, what's to lose? I just ordered it!
Little Snowie Shaved Ice Machine - This is the best shaved ice maker. If you're looking for some delicious summer treats, this is the machine to get.
Save 50% on 23 And Me Genetic Testing - Have you heard about these? It's a kit to get your DNA results, health, and ancestry results. You can learn so much about yourself - so fascinating!
Up to 40% off popular book box sets - Automatically applies to included products.
Up to 30% off board games! - There are tons of things included in this promotion: Sequence, Throw Burrito, Catan, Codenames, Farkle, Five Crowns, and more.
New Kindle Paperwhite just 79.99! - Do you have a Kindle Paperwhite yet? You need one mama! Perfect for reading late at night when your spouse is asleep or stealing a few extra minutes in the pickup line. I love mine SO much!
If you aren't sure about the "special offers/ads" you can pay the cheaper price now and then pay to upgrade later if they bother you.
iRobot Roomba Vacuum Cleaner - My husband sent me a link for this and I'm highly considering it. It vacuums for me. What's not to love?
Amazon Fire Tablets for Kids -
Amazon tablets offer great bang for your buck. It's the perfect tablet for kids to read, watch shows, play learning games, and take pictures. The 2-year worry-free guarantee is the real clincher for me - no matter what my kids do, Amazon will replace it for free. No questions asked!
Amazon Echo - I can't tell you how much I love our little Echo Dot device. My kids love it even more than I do! They talk to Alexa all day long, and ask her to play music, tell jokes, and even solve their math problems. 😉 If you have multiple Echo devices in separate rooms you can even use them as an intercom system!
Osmo Kits - Up to 30% off Hands-On Learning Kits - This is a system to add onto an iPad or Fire tablet and make it interactive. So you are playing with physical things that connect to what is happening on screen.
My sister has them and they're on the list for my own kids! She says they are better than any other educational app there is.
30% off games! If you need to update your game collection, Amazon has got you covered.
This charger looks super useful. All those USB ports for your devices, instead of needing a bunch of outlets! Don't forget to click the box and save extra!
LifeStraw - for 50% off! I have these in my emergency kit. If there is anything 2020 taught us, it's that we need to prepared for anything. This is a personal water filter that's highly portable. No disaster kit would be complete without it!
Stomp Rocket - use the coupon to save a few more dollars! These are super fun to send rockets high into the air. We got it for a 5-year-olds birthday but all ages love it!
30% off Melissa and Doug Toys - this is a favorite brand at our house. Well made and tons of options. You can't go wrong!
Magblocks - Magnetic Building blocks. These are a HUGE winner at our house! There are lots of brands, but this is the price point that you want. Grab them now for a Christmas gift!
There's also up to 30% off LEGO, Playmobil, Magna-Tiles and other building sets here.
Picasso Tiles - Another magnetic blocks brand, another great deal!
National Geographic Crystal Growing Lab - This would be a really cool Christmas gift to buy now while it's on sale. Your kids can easily grow 6 vibrant, different colored crystals, and one of them is even glow-in-the-dark!
Art Case Coloring Set - We got each of the kids one of these for Christmas, and it was the most-used gift that year! The kids ADORED them and they kept clutter at bay. It has markers, crayons, and colored pencils - nothing too messy 🙂
Instant Pot - If you haven't bought an Instant Pot yet, you need to. We use ours all the time and this price is amazing!
Fitbit - If you've been wanting a Fitbit or smartwatch for a while, now is the time to get one. There are also quite a few colors available.
Samsonite Luggage 2 Piece Set - This 2 piece luggage set is at a really great price right now, and it has great reviews. My sister-in-law has this exact set and it has lasted her through lots of trips, including a few international ones, and they've held up incredibly well!
Vtech Kidizoom Kids Camera - We have the older model of this and 3-6 year olds love it! Drop-proof and fun to get them into photography.
Scotch Thermal Laminator - This is the lowest it's been in years! I love having a laminator at home to do chore charts, quotes, letter practice for the kids, and more.
Spirograph Design Set Tin - a classic Spirograph set that includes 9 shapes, 2 pens, and a 24-page design pad.
Other Retailers are trying to get your business too!
Target and Walmart have deals going as well.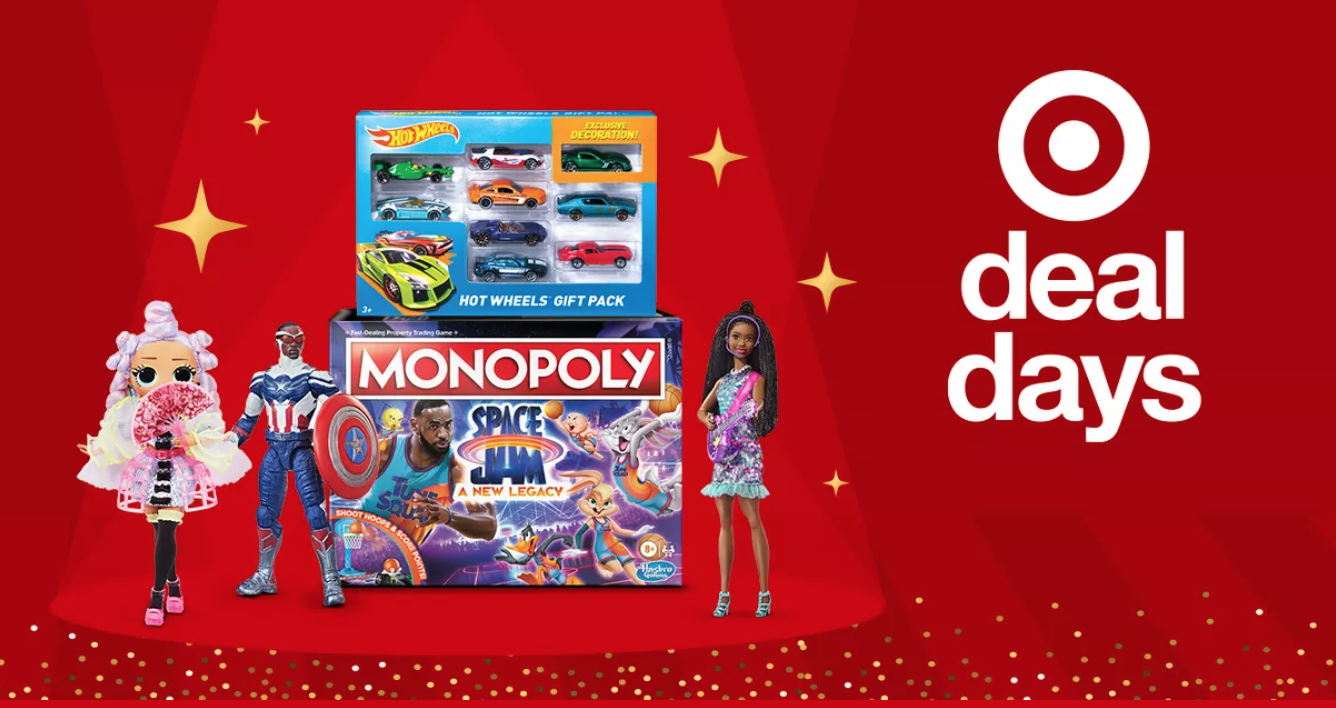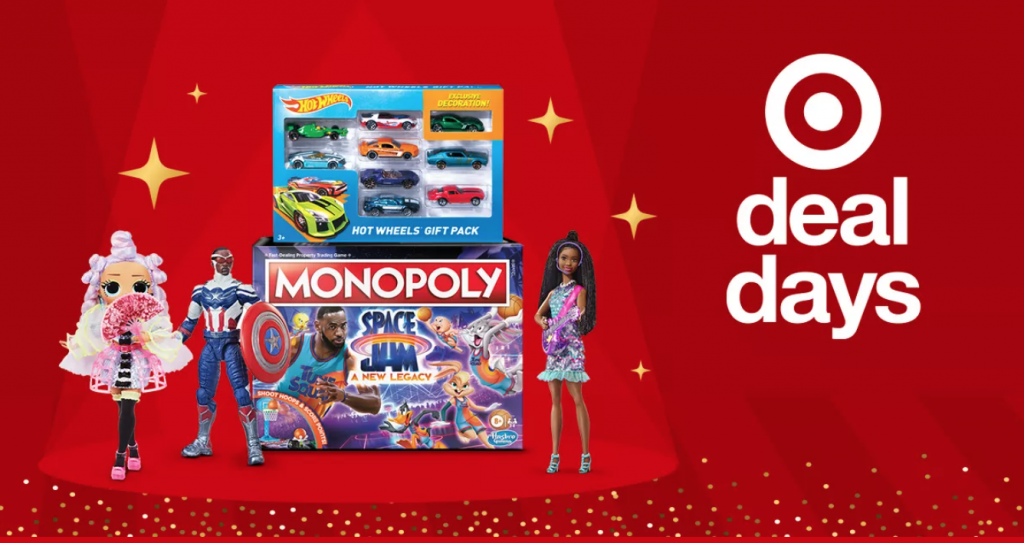 Target has a sweet one-day deal on toys! Spend $100 on toys and get $25 off. It's great for mix and matching items for Christmas. You just have to save it to your circle account here. Then you can find thousands of included toys here!
Other Target deals for today? You can save $70 on an Apple Watch or get this 18-piece glass storage set from Pyrex.
Target has some discounts on toys and games too. This National Parks game and Floor Is Lava are both on sale and my kids love these games! I also like this cute Lego boat and diving set and you can get some Nintendo games for sale.
---
Check back later - I'm trying to add deals all day as I see them!
Snap Happy Mom may earn a commission from purchases on the links shared here.