There are so many ways to use the Yoto Player in your home. One thing we love is getting Yoto Cards that match the books we have, allowing a young child to "read" to themselves. Toddlers and non-readers love listening and following along with the picture book at the same time!
These are sometimes called "Read Along Books," "Follow Along Books," or "Read Aloud Books." Years ago this meant getting a book with an included cd from the library, or even a cassette! They would usually have a track that included a page turn chime or bell sound to indicate when to turn the page. This makes it so much easier for non-readers to stay on the right page when you don't have time to read to them at the moment.
Now you can just purchase Yoto Cards that match books you have on your shelf, or borrow those books from the library.
The Yoto Store actually carries many cards that 100% match their original picture books. We've listed the preschool age picture books below, with links, so you can purchase what you need.
We've also indicated whether each Yoto follow along book & card has a page turn chime in the track, or if they are more of an audiobook style without a bell sound between pages.
There one last option- some publishers are still selling Books with Matching Cds, so the audio narration comes with your purchase. If you can find them, then it's super easy to just rip the cd to a Yoto playlist and have a Yoto Card and Matching Read Aloud Book!
If you don't know how to turn a CD into an MYO card, check out this detailed post! We have step-by-step instructions.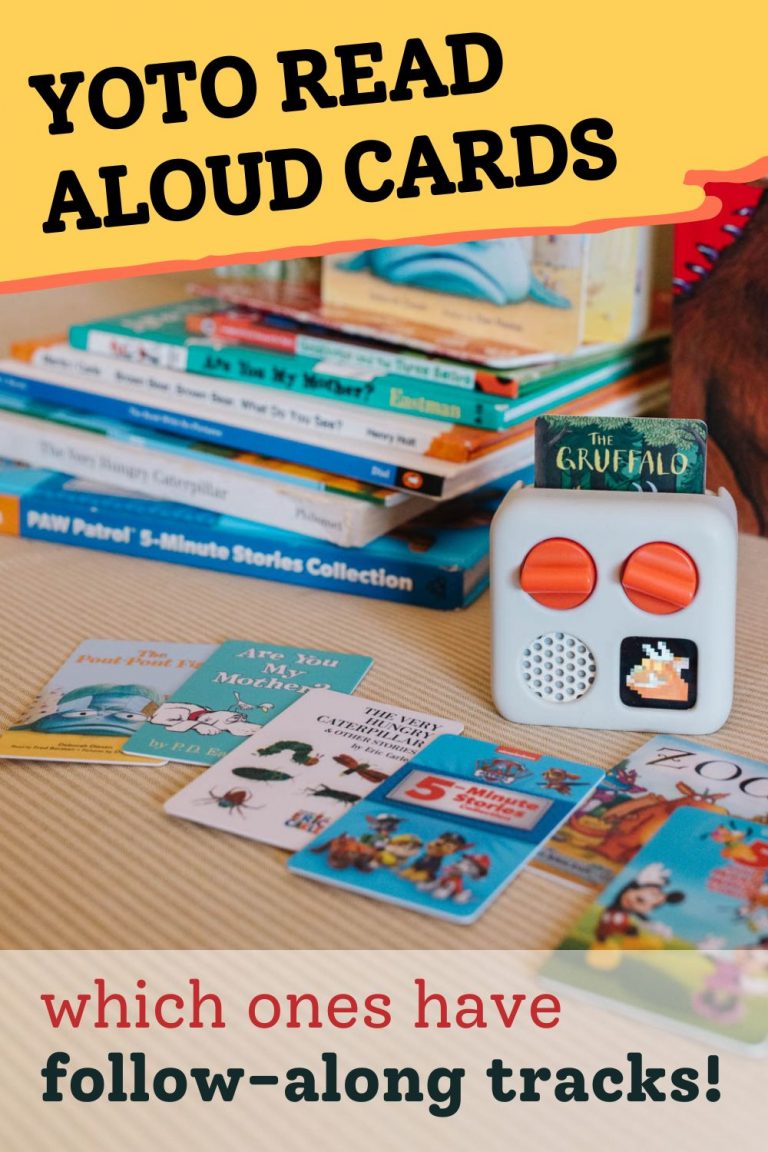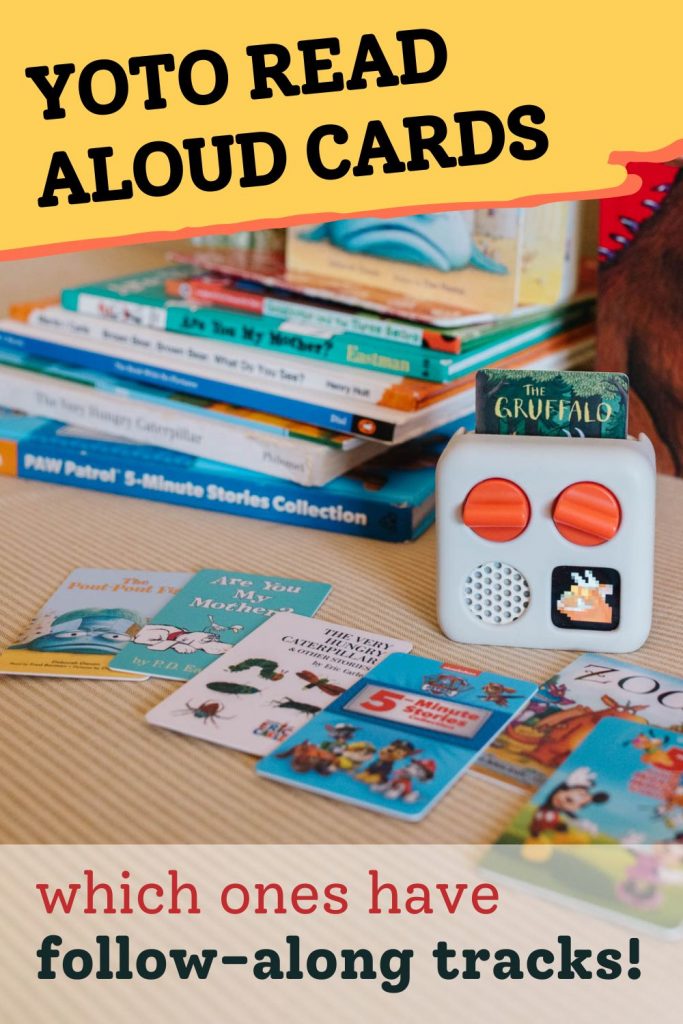 How This Blog Post Is Organized
We've divided this list up into three parts:
1- Yoto cards you can buy with a follow-along track. These cards follow along exactly with the book and even tell your child when to turn the page! Great for toddlers!
2- Yoto cards that exactly follow the book, but do not have a page turn chime. This is the audiobook style, and there are a lot more of these to choose from. They are better for preschool age children.
3- Books that come with an audio narration CD. Turn them into MYO cards and your child can enjoy "reading by themselves" with these Yoto cards and matching book. These almost always come with page turn chimes.
Yoto Cards with Follow-Along Tracks - Read Alouds WITH Page Turn Chimes
---
Yoto Cards with a Matching Book, But No Page Turn Prompts
If your child has a little bit of letter recognition and is old enough to follow along with the words, you can get them a card that doesn't have page-turn prompts.
When you don't need a chime on the cards, then you can get pretty much any card and buy the hard copy of the book as well. Here are some of our favorites!
Note: There are actually even more Yoto Cards that have matching books if you're willing to look at chapter books and middle grade novels. Check out the store for tons more options!
---
Books with Audio Narration Included for Easy MYO Cards
You might not be able to find the book you want as a read-aloud, but several books come with CDs or audio tracks that can be used to make a matching MYO card. Each of these has an included page-turn chime.
FYI: This card does not match the books, despite looking the same.
Getting a Yoto Read-Aloud
Getting a CD and turning it into an MYO Yoto card or buying the book and card versions of the same story are both great options for making read-aloud content with Yoto. If you're looking for great stories for your child to listen to and follow along with in a book, we hope those suggestions can help!
We love our Yoto, and having the freedom of read-aloud books is amazing for my younger kids. Have you ever tried doing a read-aloud book with your Yoto? Which one did you listen to?