Have you ever seen the Slow Mo Guys on Youtube? They videotape some pretty cool things, which are even cooler 400x slower than normal!
I'm thrilled because the Slow Mo Guys just released a video that shows how the inside of a camera works, in slow motion! It's a great demonstration of how shutter speed works on a DSLR. Even if you already know what your camera is doing, it's fascinating to see it actually happening.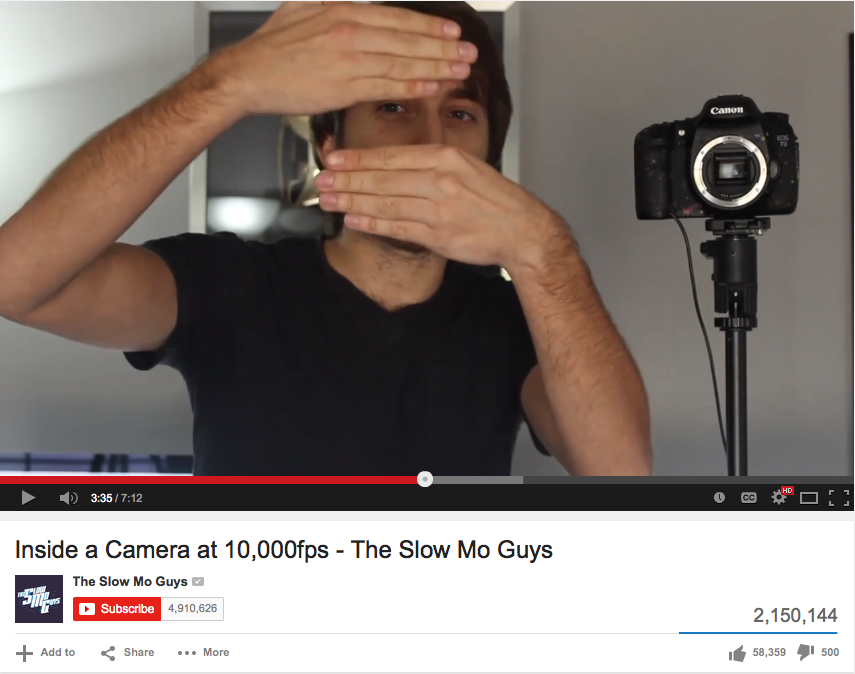 Watch the video below to understand how shutter speed works in a DSLR!
Did you catch everything? Here's my recap of the things you learned in this video, and why they matter to you.
The definition of DSLR
It means Digital Single Lens Reflex, because there is only one lens on the camera! With the help of a mirror, you're looking through the same lens that is taking the photo. This is different than a compact camera that has a viewfinder lens, but a different lens is actually taking the picture.
Why DSLRs are more accurate than small cameras for composition
Small cameras use one lens as a viewfinder, but a separate lens is actually recording your photo! This means there is a discrepancy between what you're seeing and what the camera is recording. Obviously, some situations make this gap even worse than it is (for example, extreme close-ups or trying not to cut people off in a group shot). Just know that compact cameras are not as accurate, so you need to give yourself some margin for error.
Why your view goes dark in the instant you click the shutter button
You know how when you click the shutter button to take a picture, everything you're seeing goes black for a split second? Here's why! There's an angled mirror inside your camera that allows you to see what your lens is seeing. However, it also obscures the camera sensor, so it has to move out of the way when you're actually taking a picture. When you click the shutter button, it flips up, blocks the view through the viewfinder, and allows light to hit the camera sensor. The shutter moves across the sensor, and then the mirror flips back down and you can see again. The cool thing is that this happens in a fraction of a second, and sometimes several times in a second if you are shooting continuously!
How a rolling shutter works
This video does a great job showing the mechanics of a rolling shutter. The clusters of metal blades are called curtains, and they allow light to hit the shutter and expose an image. They "roll" across the sensor from top to bottom, sometimes with just a sliver of space for light to get through.
Why you need so much light for fast shutter speeds
When you see how fast the rolling shutter moves, it's suddenly much more obvious why faster shutter speeds require more light for proper exposure. The amount of time light is hitting the sensor is shorter, so the image will also be darker. This is a good thing to keep in mind when shooting indoors: super fast shutter speeds require lots of light!
I thought this video was super helpful for visual learners like me. I hope you enjoyed it too!
Comment below: What was the most helpful thing you learned?