This is a sponsored blog post; while the views expressed here are mine, consideration was paid to me by Macerich/HGTV's Santa HQ.

Why Santa HQ is the BEST place to see Santa at a mall!
This year we went to Santa HQ, which has locations in 15 different cities around the nation. It's branded by HGTV, and it's totally different than what you expect from a "mall" Santa.
Instead of just a long line to wait, they've made an interactive experience around those picture-taking minutes. It totally appeals to how my family is already using technology in our daily lives. We felt right at home with all the creative technology in the Elf Academy!
My kids' favorite part was the Elf-ID activity - they used a tablet to take a selfie and type in their elf attributes for an Elf. The customized ID Card gets emailed to you as a picture, and both my kids bugged me the rest of the day to get home and print them out. If your kids are borderline about feeling "too old" to see Santa, this activity will win them over!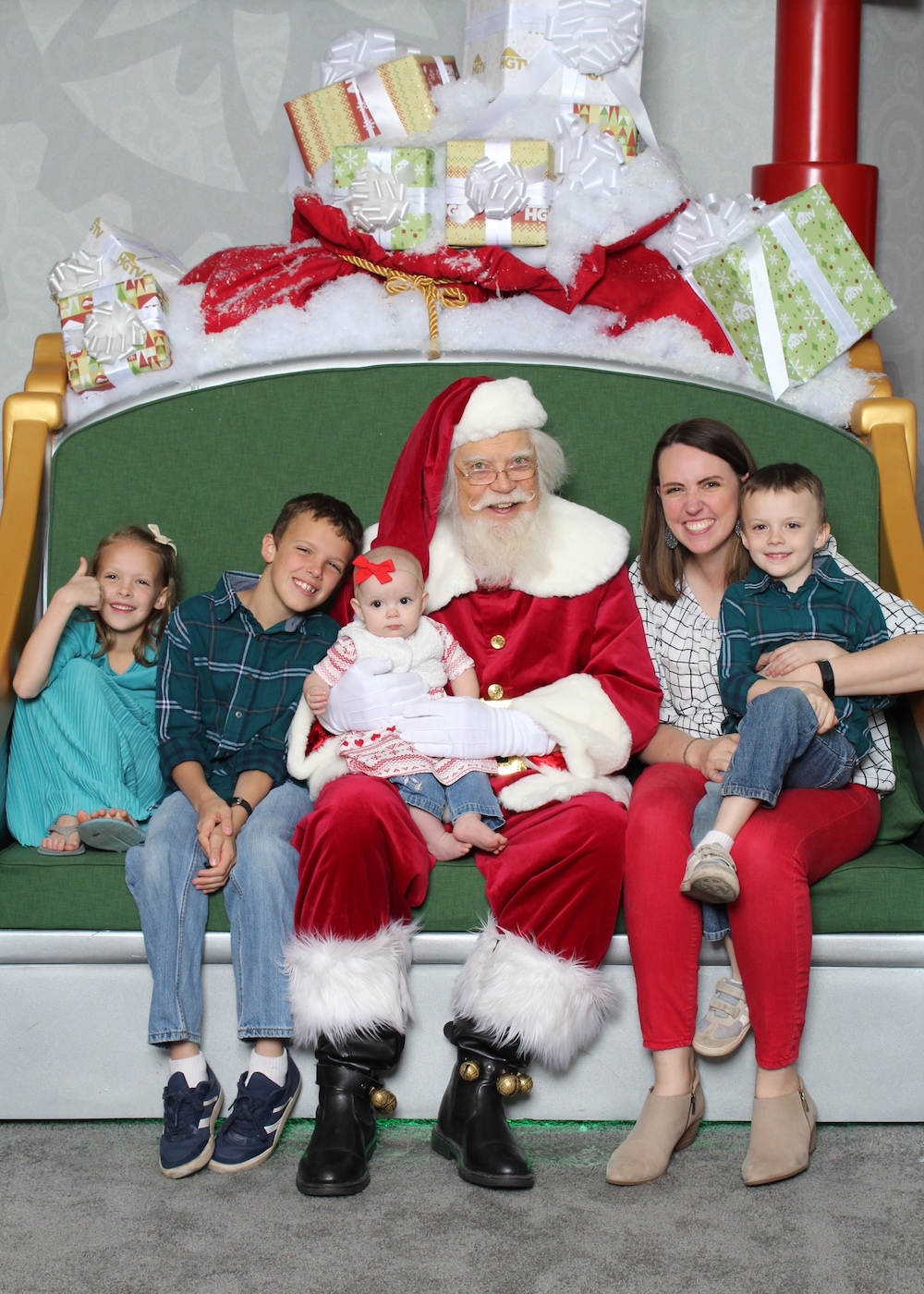 We also played with the Magic Mirror, where technology magically transforms them into one of Santa's elves and let them virtually try on different elf outfits. My little guy loved waving to himself in the different locations and personas. We even got to email ourselves those shots!
I thought Naughty or Nice Meter was pretty clever - you stood on a platform that magically checked your behavior. Spoiler: my kids were good this year! They were so thrilled to see their names show up on the Nice List afterward, and watched the naughty list eagerly for their friend's names.
Last of all was augmented reality with the Elf-Ray Vision activity. My kids used a tablet to "see through walls" and peek inside Santa's workshop. It's such a clever use of technology that was surprisingly interesting for my kids to explore!
I made a 1-minute video of our experience below - it was just so fun and magical!
Then we got to see Santa - and I have to say, he was the BEST Santa we've ever met. I was so impressed with his kind demeanor - he was exactly the sort of fellow I imagine Santa to be.
He listened and talked with my kids in detail about what's on their lists. He talked math with my daughter, and even sang Jingle Bells with her (which was the sweetest thing ever!). He also gave my nine-year-old some grandfatherly advice about being a good older brother.
My baby sat with him happily and didn't cry or have stranger danger at all, which says a lot about the overall feeling of the Santa HQ experience!
I promised my kids they could take a "silly faces picture" too.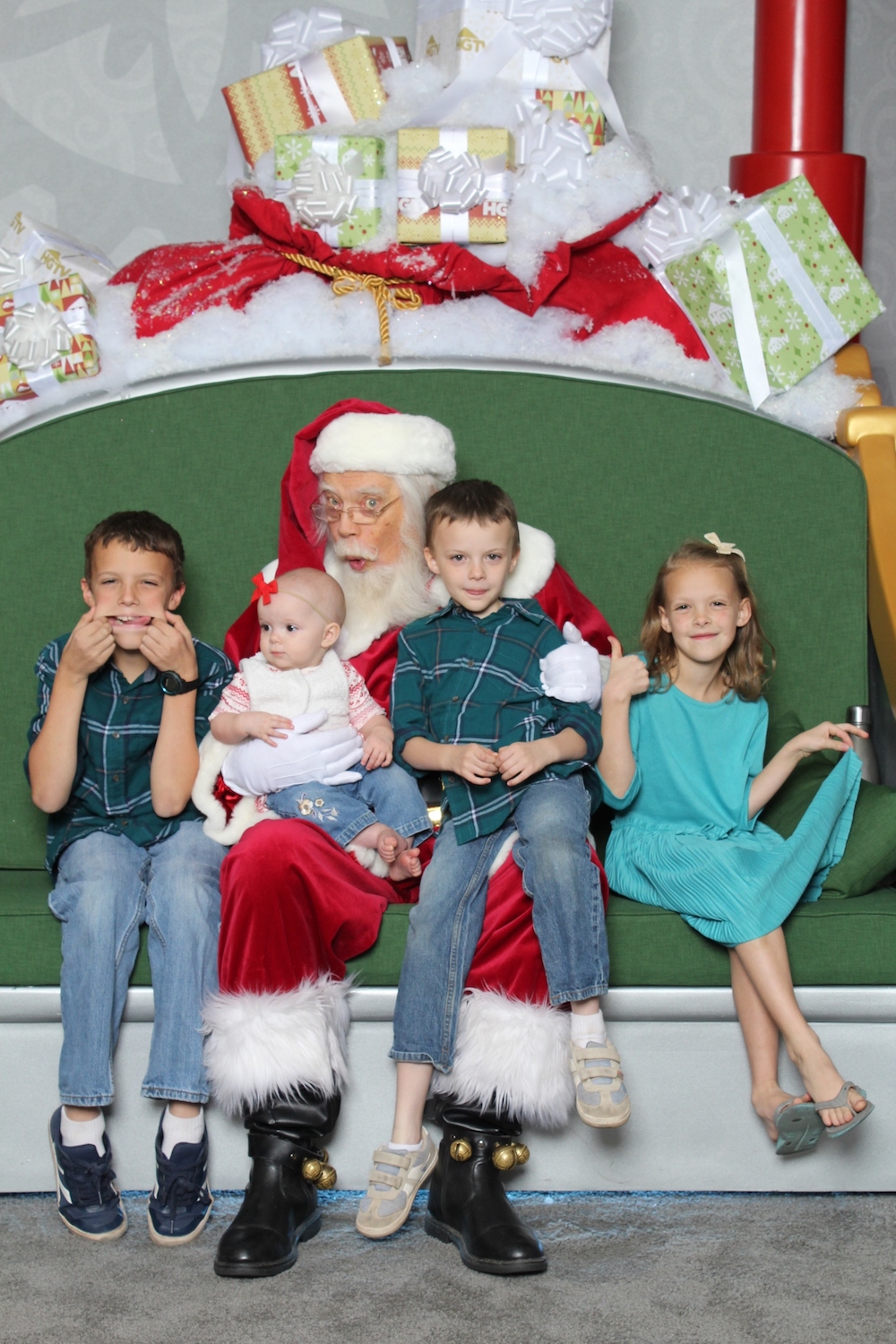 One of the things I loved as a mom was that we didn't have to wait in line and consequently lose all our Christmas spirit. Instead, you can purchase a Fast Pass to reserve a 30-min time slot on your chosen day and walk right in. Seriously - it's a fantastic feature that made a huge difference in our overall experience.
We'll definitely be back to visit Santa HQ next year! #SantaHQ
HOW TO GET GREAT PICTURES WITH SANTA AT THE MALL
Santa Pictures are such a fun tradition!
Here are three tips for making those pictures the kind that you'll want to frame and keep for years as heirlooms.
1. Don't wear red
I guarantee the big guy is going to be wearing a red suit.
If you are wearing the same shade, you'll blend right in with him visually! You'll get a much better picture if you contrast with him.
Consider having your kids wear cozy flannels/plaids, fancy holiday wear, or even cute Christmas pajamas.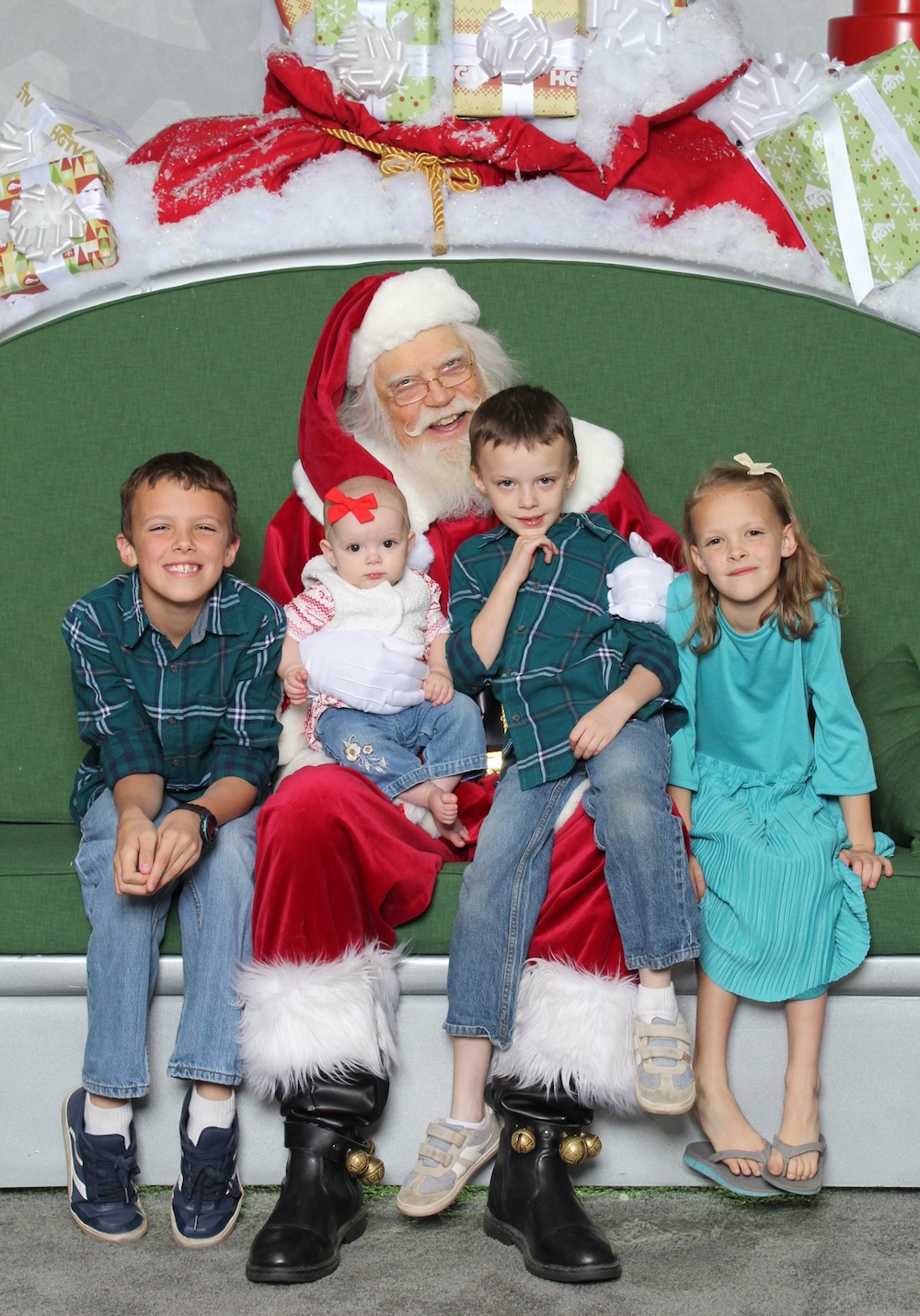 2. Go at a good time of day.
You might be tempted to see Santa spur of the moment, but you're much more likely to get a good picture if you plan for a time when your child will be in a good mood. Don't try to see Santa when around naptime - that's when you get the tears and meltdowns!
That's one of the reasons I love the Santa HQ experience - you can schedule a time that is convenient for your family and then walk right in with a Fast Pass. No long lines to throw your schedule off!
If you have older kids, make sure everyone is well-fed before. It's not enough to promise treats afterward - kids need food to be their most cooperative selves for photos!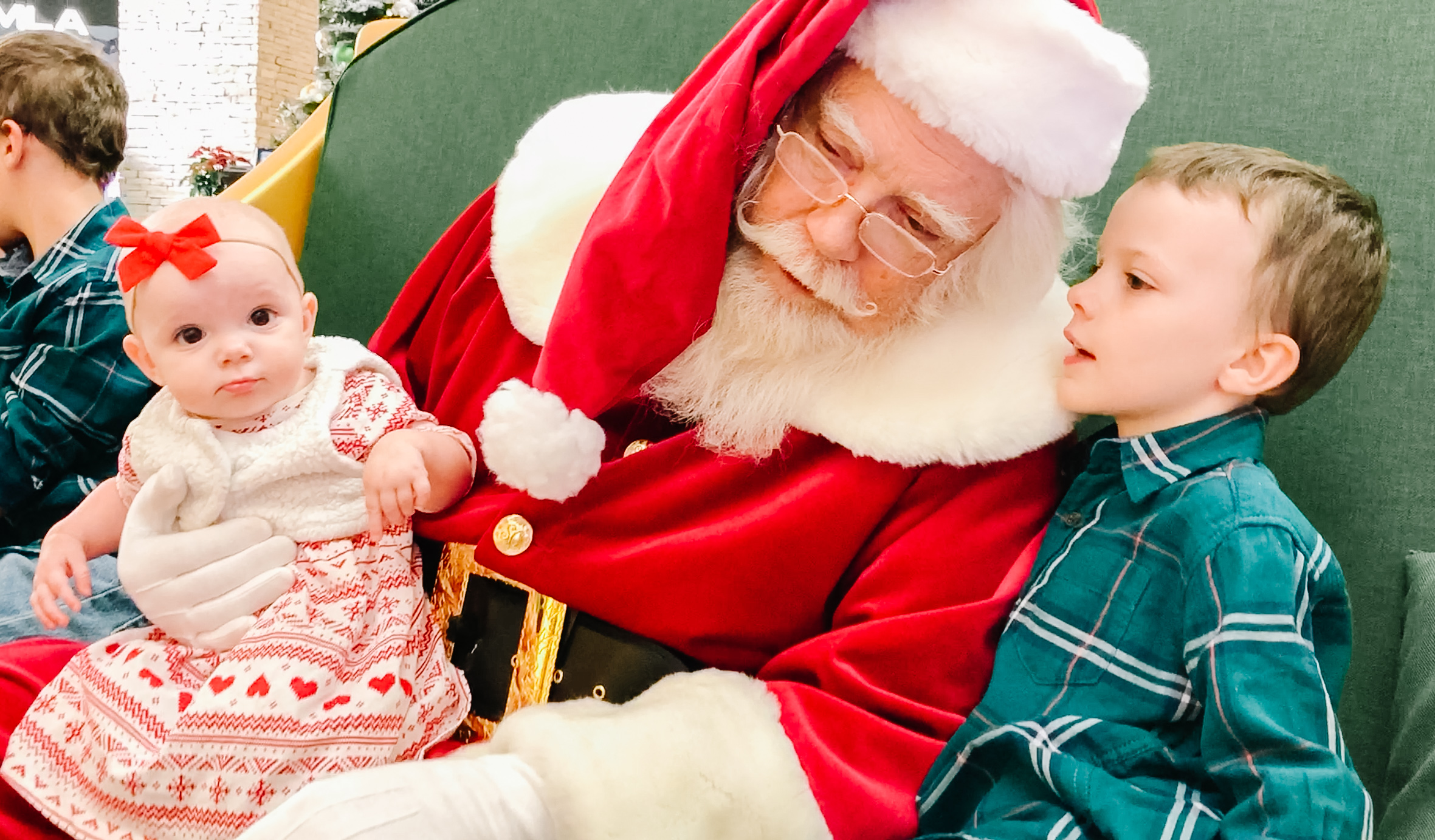 3. Ask your kids what they want from Santa in advance.
You can assume Santa is going to ask what your kids want for Christmas - and you don't want them to be too shy to think, but you don't want them to be greedy either!
We discussed what my kiddos wanted on the way to the mall, and I'm so glad we did. My daughter was ready to ask Santa for all 12 things on her list!
Talking about it beforehand let us have a good discussion about "needs vs wants" and to prioritize her request to Santa to just one thing. We were able to talk about what she really wanted and not just go in expecting everything she asked for to magically appear.
Did you see my five your old whispering in Santa's ear in the video? He wants "a Paw Patrol set." 🙂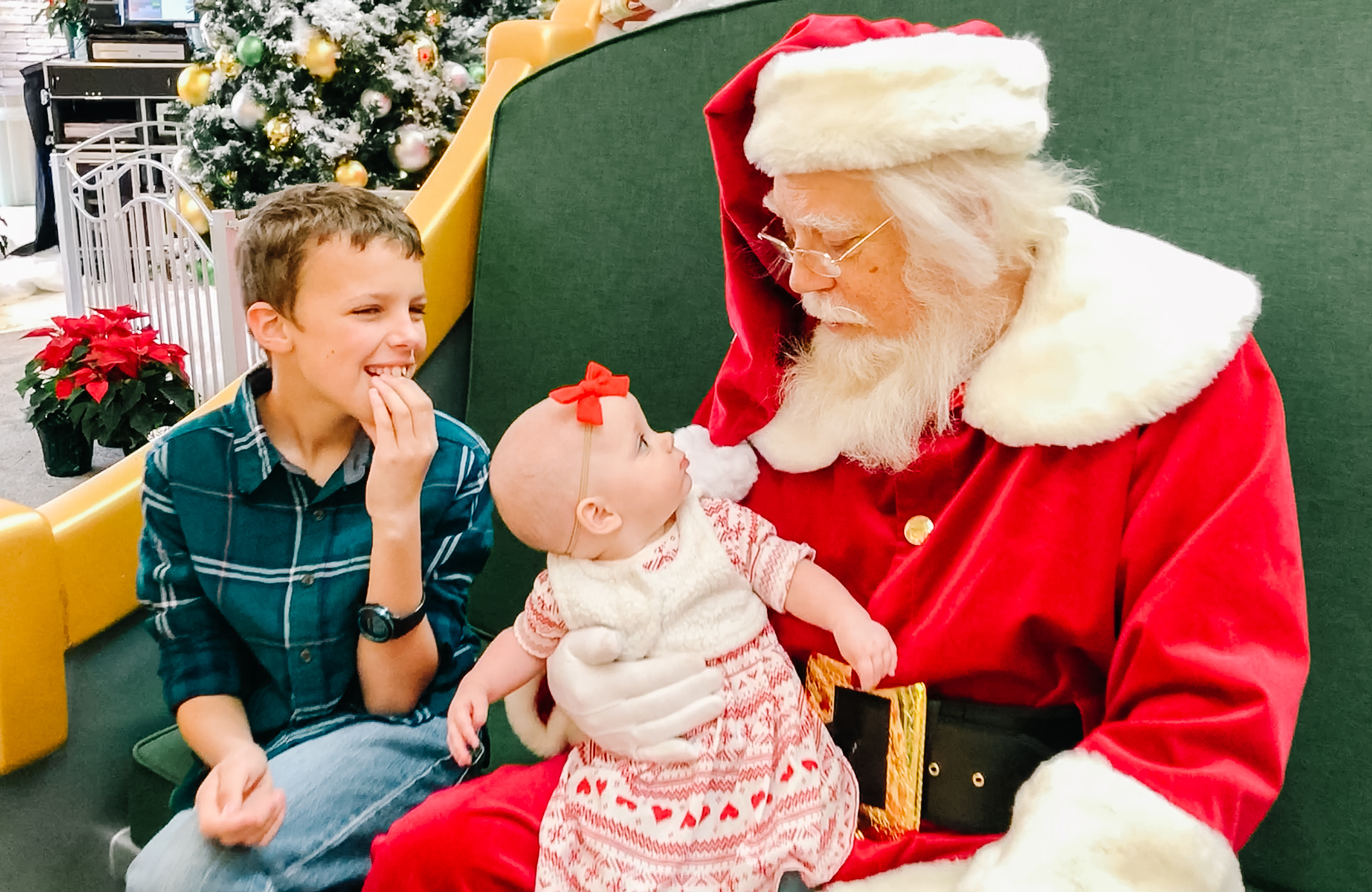 4. Embrace whatever happens on camera.
There will be a paid photographer at the Santa experience, and usually personal cameras aren't allowed.
Let that photographer do their thing - don't assume they need your help getting your child to smile!
It's often confusing and counter-productive for young children if mom jumps on board with the noise-making and "look here" requests. Instead, sit back and give them a chance to be in charge of the shoot.
Some kids will just cuddle up to Santa to tell them their list, and those pictures always show a sweet relationship, even if the child isn't looking at the camera.
And if your toddler cries - well, that's memorable too! Whatever happens, embrace it!
No matter what, these tips should help you get pictures with Santa that you can enjoy for years to come.
Head here to make a reservation at Santa HQ!
This is a sponsored blog post; while the views expressed here are mine, consideration was paid to me by Macerich/HGTV's Santa HQ.