A unicorn piggy bank makes the perfect gift for any unicorn-loving child.
We've put together a list of unicorn piggy banks in various materials, like ceramic, plastic, and metallic so you can find an appropriate material for your child's age. They come in all different shapes and sizes, so you should be able to find the perfect one for your child!
Our Favorite Piggy Banks: Unicorn Edition
While there are tons of different kinds of piggy banks you can get, from the standard pig one or a simple box, but we especially love a unicorn piggy bank!
This resin unicorn piggy bank is a unicorn bust with great details like a beautiful mane of pink, purple, and blue with purple accents on the unicorn's face.
This ceramic unicorn bank has a glittery mane and tail in shades of purple and pink. It's really pretty, but keep in mind that it is ceramic, so it's probably better for older kids that can understand it's breakable.
This unicorn piggy bank is super unique! It is modeled to look like a unicorn balloon animal. We love the silver chrome color, but it also comes in gold, pink, blue, and iridescent.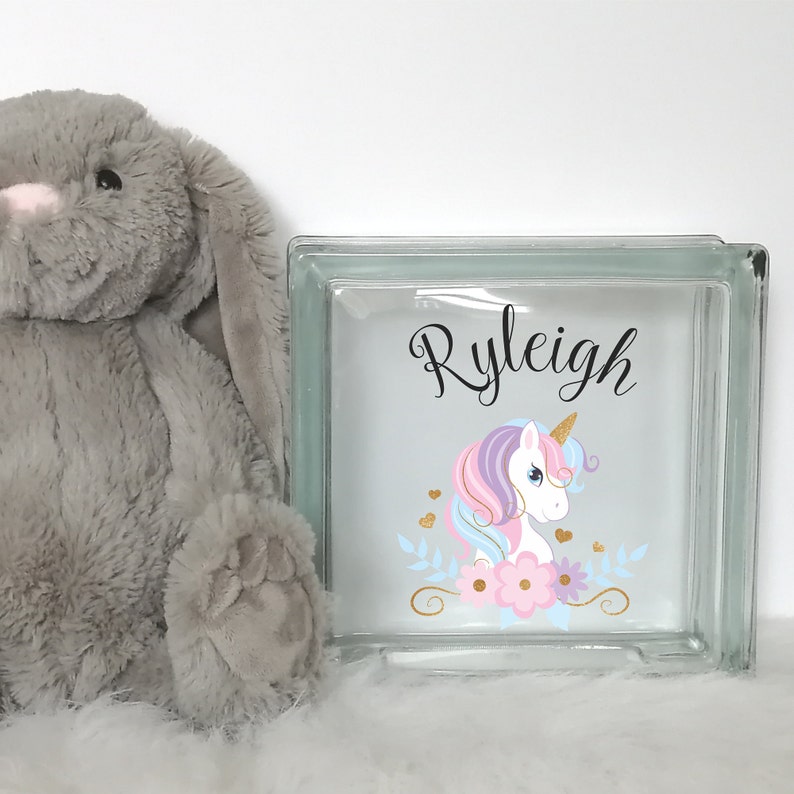 This square glass box can be personalized with the child's name above the photo of the unicorn. It has a removable lid, which is how you put the money in the box. This is pretty sturdy but would be better for an older child.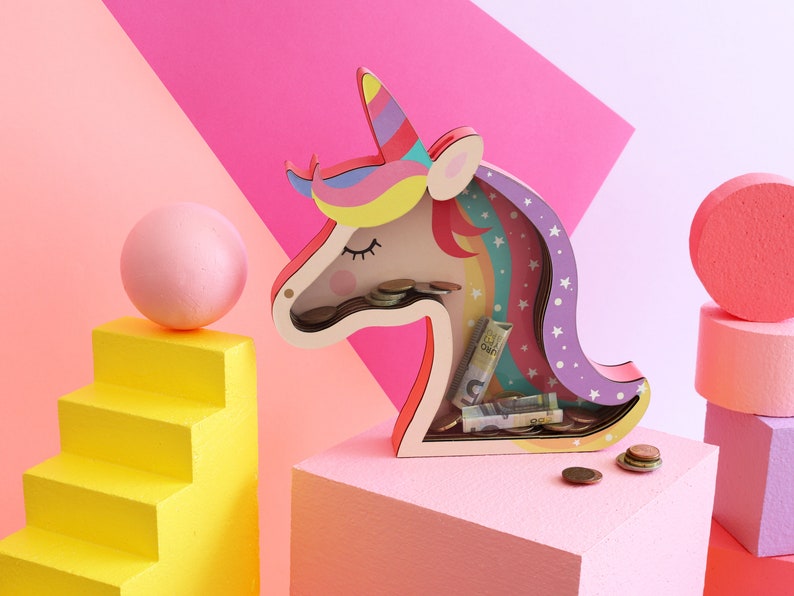 This one is a fun multi-color unicorn, but I love the transparent window in the front that allows kids to see just how much money they have in their piggy bank. You can also customize it if you'd like and add your child's name to the inside of the unicorn.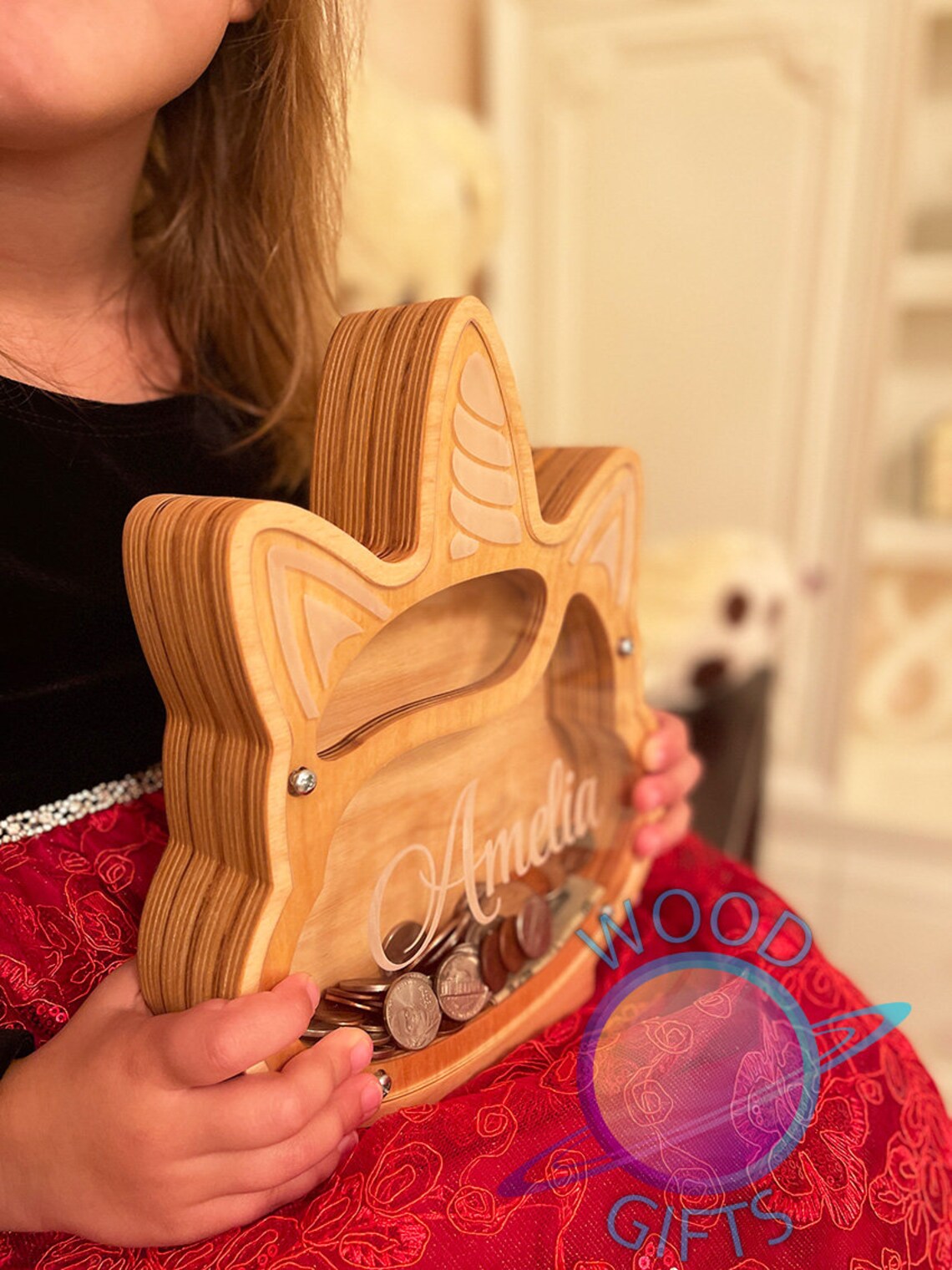 This piggy bank is similar to the one above since it has a window in the front where you can see the savings. However, this one is made of wood and is a great neutral option if your child likes unicorns but doesn't want anything super colorful. I love the simple wood look! You can also add the child's name to the window part, which looks really pretty.
This ceramic unicorn piggy bank is white with a gold horn and gold hooves. The fun thing about this one is the hair. The mane and tail are made of pieces of pink, aqua, and gold ribbon!
This piggy bank just has the unicorn's head but it's a really pretty pink color with a gold horn. It also comes in white if you'd prefer a more neutral color. It's also a ceramic piggy bank.
This little piggy bank is in a soft white and blue color palette with a little girl sitting on the unicorn's back. The slot for the coin is right behind where the little girl is sitting.
This ceramic piggy bank looks more like a traditional piggy bank with a round shape and snout but with a unicorn twist. It has a gold horn with pretty flowers in the rainbow mane.
This unicorn piggy bank reminds me a bit of Snoopy with the big head. It's really cute! It has a pink mane and an adorable smiling face. Plus it's plastic, so it's great for younger kids.
This piggy bank is really cool! It's like a digital ATM rather than a normal piggy bank. So you can add cash and coins, but then to take out any money, you have to enter an electronic code like you're withdrawing cash from an ATM.
This little pink unicorn bank has white wings and little stars near its tail. It is made of resin so it's pretty durable, but be careful not to drop it or be too rough with it.
This one is similar to the piggy bank above except this one is made of plastic and does not have wings. It has a multicolor mane and tail and cute stars on one side.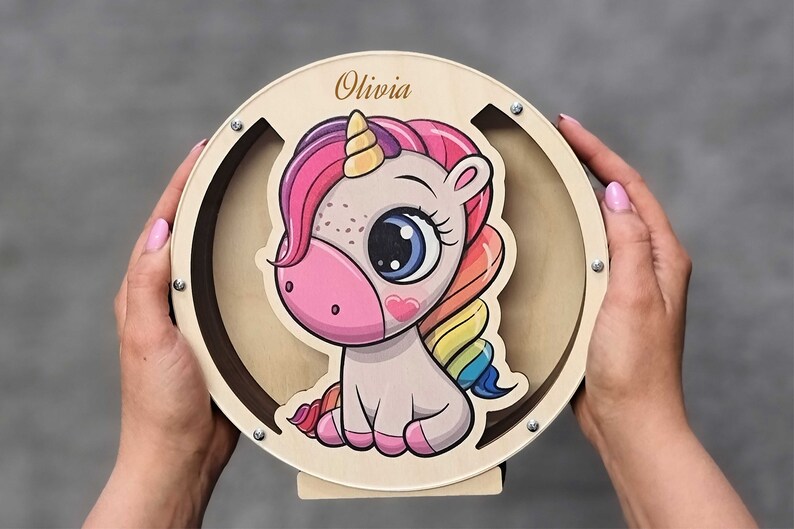 This circular wooden piggy bank has an adorable unicorn on the front with a customized name above it. I also love the windows on either side of the unicorn so you can see how much money is inside the piggy bank.
This lockable metal is perfect for younger kids who might break a ceramic piggy bank. It comes in a dark purple color and has a unicorn printed on the top with a pattern of ice cream cones, hearts, clouds, and stars on the sides.
This piggy bank is similar to the last one except the lid is shaped differently so it looks like a house! It has a unicorn on the front and also comes in baby blue.
If you have multiple children that love unicorns, you can get this 3-piece set! It has three unicorn tin banks - one in pink, one in blue, and one in green. The unicorn pattern on the piggy bank is also different for each color.
If you have any artistic children, this paint-your-own piggy bank would be a great gift! The kit includes a unicorn piggy bank, a paintbrush, and six paint colors.
---
Why Get Your Child a Piggy Bank?
A piggy bank is not only a cute and fun gift for children, but it also helps kids develop saving habits. What better way to teach kids about financial responsibility than with an adorable piggy bank?
You can encourage them to save up change and dollars they receive and learn about delayed gratification. It's a big deal to save up for one big thing they really want rather than wasting the money on small things they don't care about that much.
Having a cute unicorn piggy bank is also fun because they can set it on their dresser and keep an eye on their savings as it grows!
Whatever you choose, your unicorn-loving kid will love it!
Does your child have a cute piggy bank? What is it? Let us know in the comments!