If your kids are anything like mine, they love unicorns. It feels like at a certain age, every kid gets obsessed with them - both of my daughters sure had a unicorn phase (that may or may not be ongoing). To make holidays and birthdays more exciting for these unicorn-loving kids (or adults! We're not judging!), here are some fun unicorn wrapping paper options.
Here are some options for year-round wrapping paper, as well as some unicorn Christmas wrapping paper.
Unicorn Christmas Wrapping Paper
Here are a few unicorn wrapping paper options that are meant for Christmas. If you're looking for wrapping paper that make you think of Christmas, with Santa and trees, then these are the wrapping paper rolls for you!
This wrapping paper not only features unicorns, but it has Santa riding a unicorn and it has rainbows. What more could a kid want?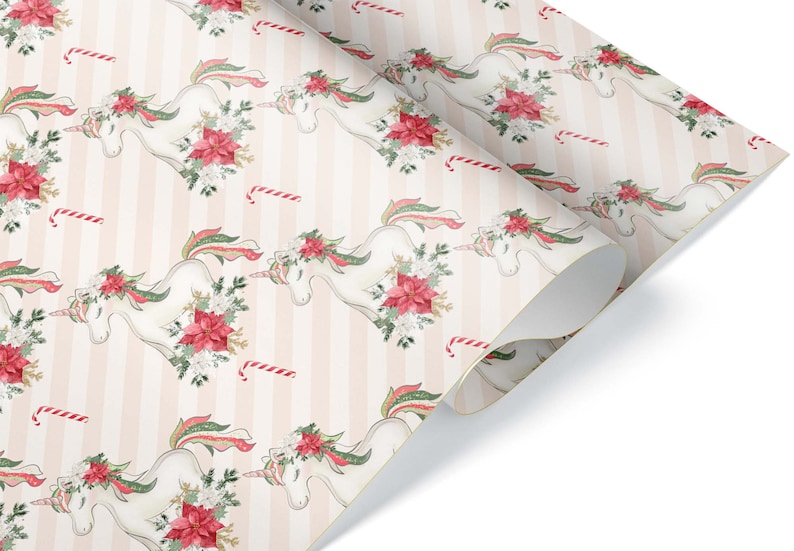 I love the pink and white striped background of this wrapping paper! It works well with the unicorn with a red and green mane, poinsettias, and candy canes on the paper. It's not overly Christmas-y but still definitely holiday wrapping paper!
This wrapping paper is perfect for any pink lovers. It has Santa riding a unicorn with some Christmas lights. I like that it is reversible too so you could use the star side for other holidays.
If you don't like wrapping presents, or your gift is oddly-shaped, you can get the pink Santa and unicorns pattern in gift bags instead!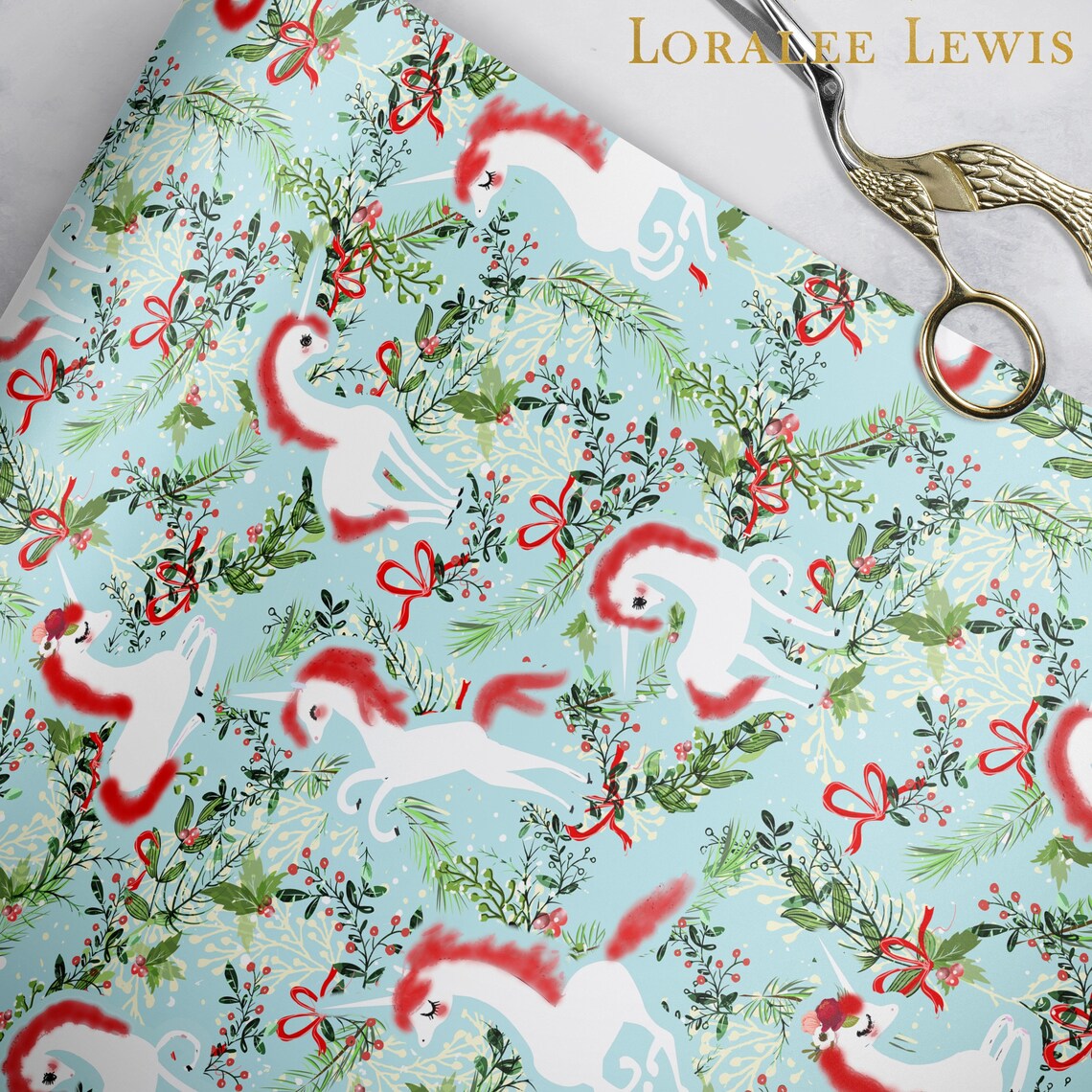 This gift wrap is a bit more whimsical. The unicorns are bounding around on the paper and have a unique style with fuzzy red hair. It also has some pretty greenery and red bows.
This wrapping paper has Santa like the others, but the unicorns are wearing scarves or carrying gifts. Cute!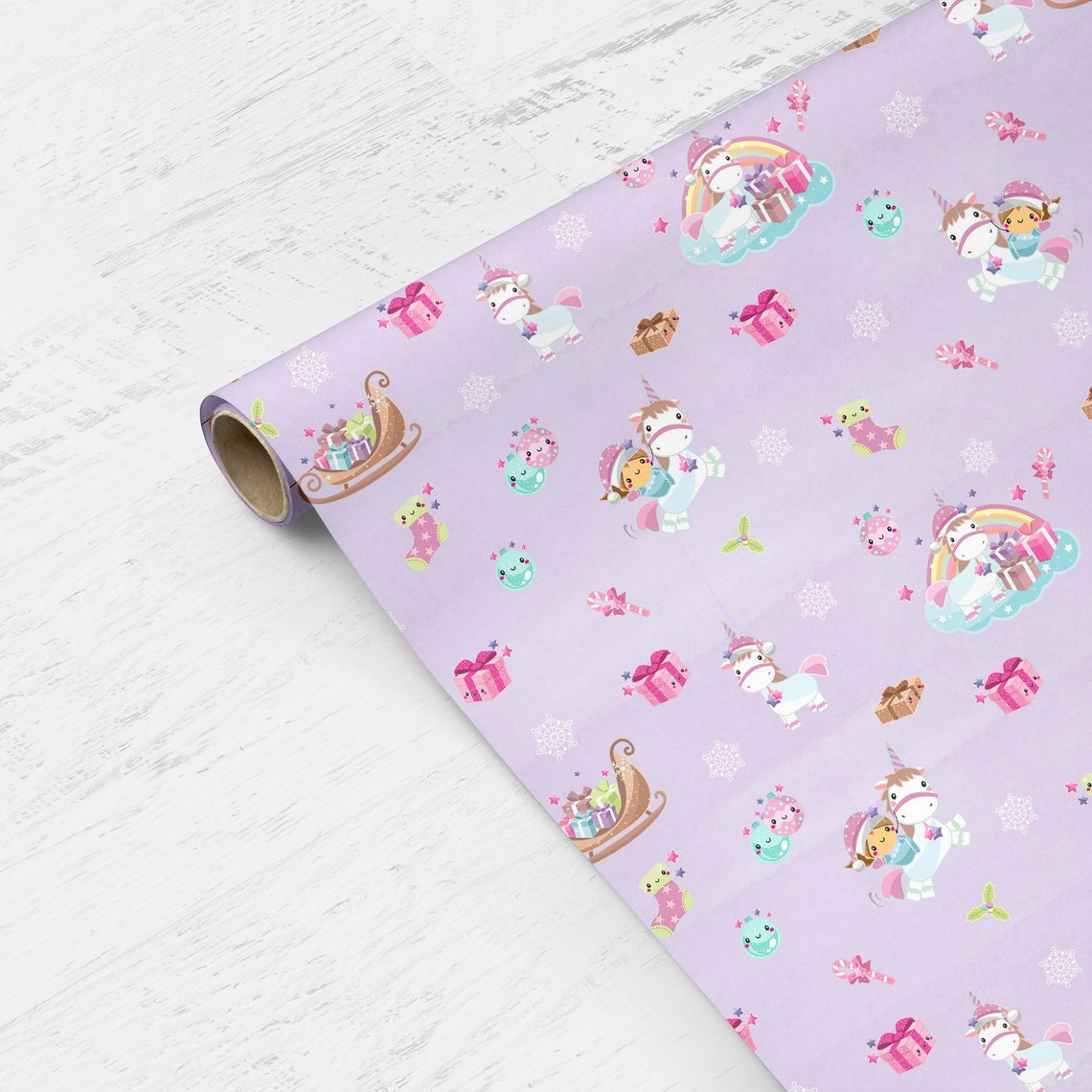 This lavender wrapping paper has cute unicorns with ornaments that have adorable little faces. It's perfect for a young kid who loves everything adorable. There are also little gift boxes, stockings, and rainbows.
This wrapping paper has pretty much everything your child could want. It's got unicorns, dinosaurs, llamas, pigs, pizza, cactus, roller skates, and more. Everything has a nice Christmas flair with lights and Santa hats.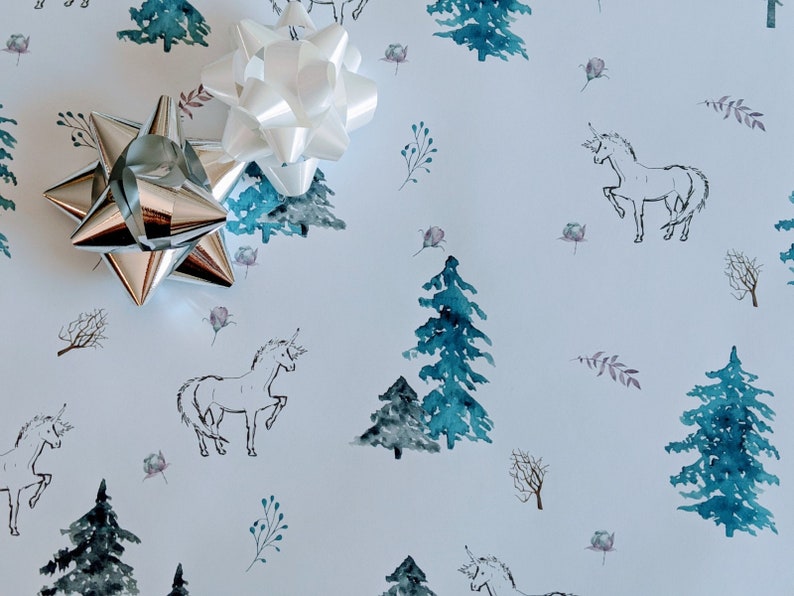 This wrapping paper is more modern and simple. It has just the outline of unicorns on a white background with some pretty watercolor pine trees. It's a perfect minimalist winter wonderland wrapping paper.
This pink wrapping paper has cute unicorns with rainbow manes and tails as well as some fun roller skates, candy canes, and more.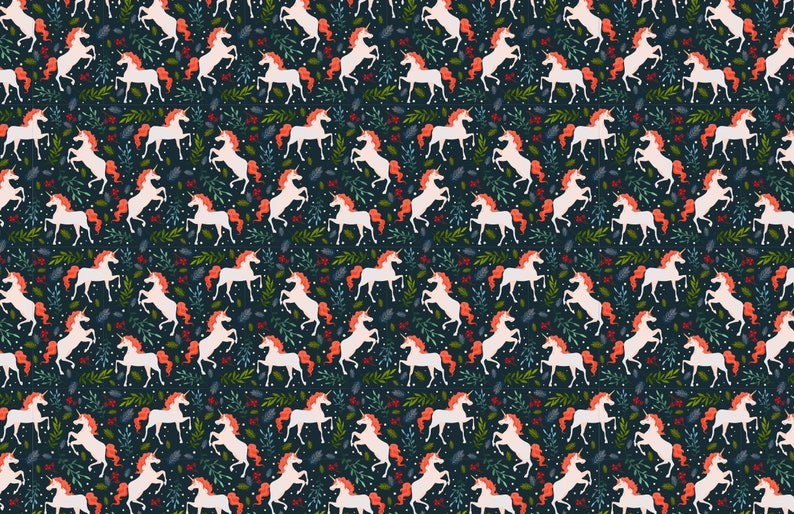 This gift wrap is so pretty! It's dark green with holly and greenery and unicorns. It's a more grown-up unicorn wrapping paper and I love it.
This one is also a little more grown-up looking. Pink and white unicorns stand out against the dark blue background with holly and candy canes.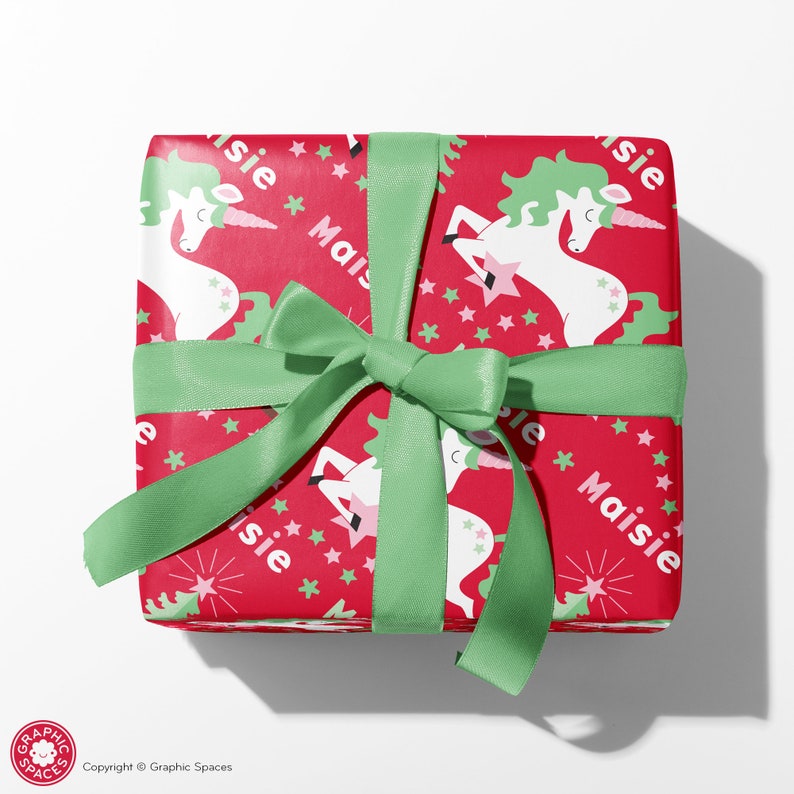 This wrapping paper adds a nice touch to the recipient because you can personalize it with the name of the recipient. It has a vibrant red background with a unicorn, stars, and a Christmas tree.
Order it early to get it in time!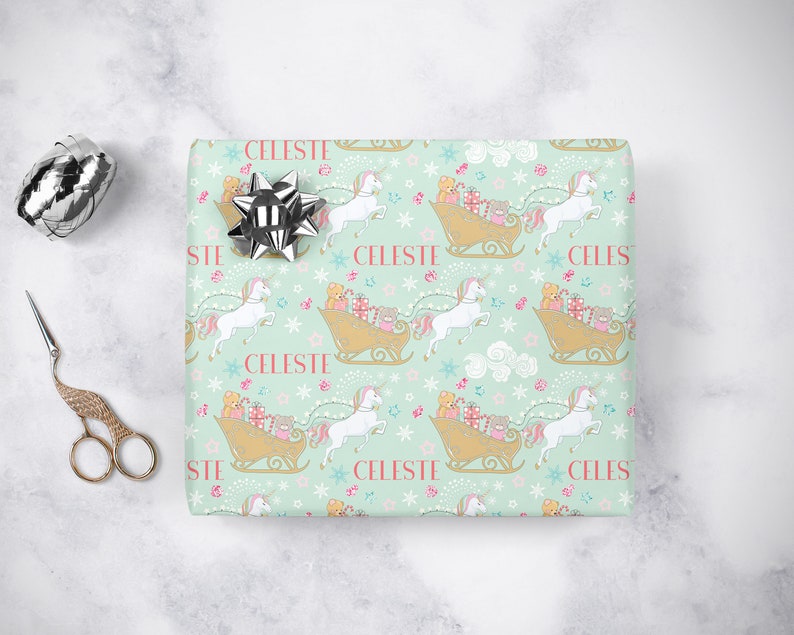 This one has a more vintage or old-school feel to it with a soft mint background and a unicorn pulling a sleigh full of gifts. It's definitely still for Christmas, but doesn't have bright red and green if you're hoping to stay away from over-the-top Christmas wrapping paper!
Best Unicorn Wrapping Paper for other occasions
Christmas isn't the only time you can use unicorn wrapping paper! These next options could work for any occasion, birthday, or event! Unicorn wrapping paper is just the best.
This 10-sheet set has 3 different patterns that are all pink and all have unicorns. So if you have a lot of kids in your life that love unicorns, this set would be good for you!
If your child loves donuts AND unicorns, then you're in luck. This wrapping paper has both!
While basically all of these unicorn gift wraps feature rainbows, I love the background of this one. The pastel colors make me think of cotton candy!
This pretty lavender wrapping paper features fairy unicorns complete with wings and flower crowns. It's so pretty!
What about any rain lovers? This wrapping paper has unicorns running under rain clouds with rainbow rain.
This darker purple wrapping paper has a cute unicorn holding a wand. If you have any magic lovers, this is a great wrapping paper for them.
This set contains four different types of gift wrap. They all have different variations of unicorns, but I also love that they have different backgrounds you can choose from: pink, purple, blue, and rainbow!
This wrapping paper is perfect for a birthday girl. This wrapping paper features unicorns, of course, but has a little girl sitting on its back while wearing a crown. Perfect for a birthday celebration!
This wrapping paper has more of a vintage feel to it. While it still has unicorns with rainbow manes, the pretty ivory color and gold stars make it feel a little more grown-up than some of the others.
Bring the Magic to Christmas
The holidays are always magical but just in case normal Christmas wrapping paper with Santa or snowmen isn't enough, you might want some extra magic. And what's more magical than unicorns?
So if you have any unicorn lovers in your household, consider getting some of this cute unicorn Christmas wrapping paper for the holidays, or get some of the rolls that work year-round or for any event!
Have a magical holiday season!