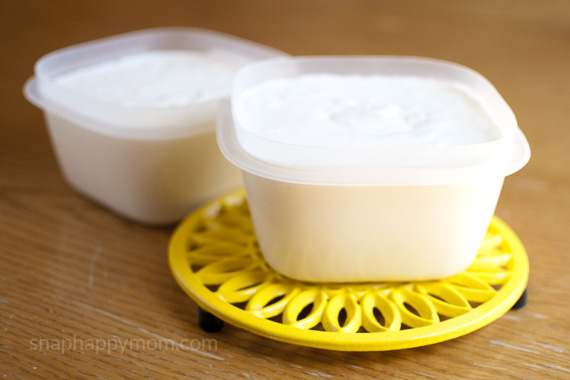 The first time I heard about someone making homemade yogurt, I dismissed it as a bit over the top for me. It sounded like it was probably a lot of work, and besides, isn't yogurt made of bacteria? Seems like there would be lots of room for error, and I don't want to get sick.
Now, before I start, let me tell you that making yogurt is not for everyone. I was definitely anti-homemade at the beginning. But, I tried it on a whim, and was pleasantly surprised. Cut that, I was totally floored that I had made this delicious, creamy yogurt myself, for pennies. Now, months later, we make this nearly every week.
Here are some reasons maybe you want to try it too:
It's frugal.
One of the main reasons we make our own yogurt is because it's CHEAP! Depending on what you are buying now, I'm talking at least half the cost and quite possible a sixth of the cost of store-bought yogurt.
Our favorite brand in the big tubs is the Dannon Light & Fit. Lately we've been trying to switch to greek yogurt, but I've really struggled with the cost: it's nearly double what I used to buy!
2.48 for 32 oz of Dannon Light and Fit (cheapest price for my preferred non-greek yogurt, from Walmart)
=7.7 cents per ounce
4.89 for 35.3 oz of Fage (cheapest price for Greek yogurt, from Costco)
=13.8 cents per ounce
When you make homemade yogurt, the price of a gallon of milk is most of your cost. Where I live, milk is usually 1.69 or 1.79 a gallon on sale. You're going to add a minimal amount of vanilla and a bit of honey, but those are bought in bulk and last so long that I don't count them. (If I did the math, my guess is you'd be using less than 30 cents worth of vanilla and sweetener for an entire gallon of milk.)
If you start with a gallon of milk, you'll reap between 55 and 80 oz of yogurt. The amount fluctuates because it depends on what kind of milk you use and then how much you strain the yogurt. You strain the yogurt to take out the whey, which is that watery stuff you sometimes see on the top of a large container of yogurt that's been sitting awhile. The more whey in your yogurt, the more watery it is. Traditional Greek yogurt is strained to be thicker and creamier than regular commercial yogurt. Since you have control over how much whey you take out, the ultimate amount of yogurt you get will be slightly different every time.
Also, the very first time you make yogurt, your cost will be slightly higher, because you need to start with an individual serving of plain greek yogurt. I like the Chobani Plain (light blue package) and bought it for 1.00. But, once you've bought that once, you reserve out some of your unsweetened yogurt for the next time you make it. Yogurt is like sourdough bread: you need a starter to make a batch, but you can keep reusing the finished product to "start" the next batch.
So, homemade greek yogurt ends up costing:
1.67  for 55-80 oz of yogurt
=2-3 cents per ounce
Yes! Really!
I'm a couponer, and only once in four years have I ever come even close to that price for store bought yogurt. And it was a stars-align-situation that probably won't ever happen again. If your family buys a lot of yogurt, especially greek yogurt, I strongly suggest you making it at least once. If you are accustomed to buying individual servings of yogurt, you're going to save even more money- greek yogurt in the small packages is often at least 1.00 for 6 ounces, or 16 cents per ounce! If individual, portable servings are important to you, homemade yogurt can easily be ladled into small ziploc/gladware containers.
It's tasty.
I love the taste of homemade yogurt! I was pretty picky in the first place when it come to store bought yogurt. I didn't like something about the aftertaste, and I pretty much only ate certain flavors of my favorite brands.
Homemade yogurt is especially yummy, partly because you use simple ingredients, and partly because you can customize it however you want. Our favorite is to only lightly sweeten the big batch of yogurt, then add a spoonful of raspberry jam to each serving when we dish it up. You can make a simple syrup to add to the whole batch if you want. Sometimes I leave it vanilla flavored to add to granola with fresh chopped fruit. Today was a particularly indulgent day, and some leftover toffee bits may or may not have found their way into my yogurt. Yum.
Also, my kids adore homemade yogurt, and gobble it up nearly ever day for lunch. Hence, why we can finish 80 ounces in a week's time.
It's easy.
Like, really easy- it's 95% waiting around for the yogurt to do its own thing. It's about 15 minutes total hands on time: Stir some things together, turn on the crockpot, and walk away. A couple hours later stir some more, and then go put it in the oven. In the morning, you have yogurt. Seriously, that's it. A few more minutes to transfer to a strainer, then a couple minutes at the end to blend in sweetener and vanilla, if you so desire.
Of course, making yogurt is more of a science than some "throw it together" recipes, but when you follow the simple steps correctly, you'll get yogurt.
It's healthy.
Yogurt is good for you- long story short, it has  probiotics, or "good bacteria" that helps your digestion and immune system. It counts towards your dairy/calcium intake. As I tell my kids, it's good for your insides. They are happy to oblige.
It's clean.
Since I've started making yogurt, I have been shocked to realize how much other stuff is in store-bought yogurt. Yogurt is cultured milk, because of two specific bacterias called Lactobacillus bulgaricus and Streptococcus thermophiles. Sounds scary, but really, yogurt is just milk in a different form. You can sweeten or flavor it, but I prefer my yogurt to be mostly milk.
Commercial yogurt  just has a lot more than milk and bacteria in it. Some companies use gelatin or pectin to thicken the yogurt instead of both bacterias. Sugar tastes good, and most companies put plenty of that good-tasting stuff in it. I love my sweet stuff, but I'd rather have in chocolate form than yogurt, wouldn't you? Then you start with the preservatives… and seriously, it starts to get crazy.
I am not overly concerned with preservatives/sugar/organic/etc…. but considering how much yogurt we eat, I appreciate that I have control over this one item in our diet. My yogurt is milk, powdered milk (for protein and creaminess), and a bit of yogurt from last week to start it off. I add a touch of honey and vanilla to part of the batch.
Convinced? This it the tutorial I used. Don't be afraid of it's length- there are just lots of pictures to explain every possible question. You can do it!
Good luck! Anyone else a diy-yogurt convert?