Aperture is one element of exposure that controls image brightness. It may seem tricky at first, but this post will help you understand aperture, f-stops, and f/numbers, as well as how they work and why they matter!
If you want help with learning the fundamentals of photography for your DSLR camera, then I've got you covered. This post has examples especially for moms who are beginners.
A One-Minute Summary of Aperture
Got only a minute? Here's a quick summary:
Aperture is one of the three elements of exposure that create an image (along with shutter speed and ISO) and affect the overall brightness of your image.
On a camera, the aperture is a hole with a variable size that lets light through your lens and into your camera sensor. Aperture is a lot like a window - a big aperture lets in lots of light to your image, the same way a large window makes the room feel brighter.
Smaller apertures let in less light to your image, similar to how a small window or porthole would make the room feel darker.
Aperture is measured in terms of f/numbers or f/stops. The key to understanding f/stops is remembering that f-stops move counter-intuitively because they are written as a fraction.
So wide/large apertures have low f-numbers like f/1.8, f/2, or f/4 and small/narrow apertures have higher f-numbers like f/11, f/16, or f/22. Of course, there are plenty of sizes in between these extremes, since this element will adjust incrementally depending on how much light you have.
So why does this matter?
Aside from making your image brighter or darker, this setting also has a creative consequence: aperture controls the depth of field, or how much is in focus compared to your focus point.
Changing your f-stop gives you the ability to either blur out the background or keep all the details in sharp focus, depending on your creative intention. A wider aperture has a shallower area of focus around your subject, giving you a blurrier background. A narrow aperture gives you more depth of field, meaning you'll have more in focus further away from your subject, and the background details will stay sharp.
Whew! That's a lot to think about in just one minute.
Here's what this post will cover in more detail.
Post Overview
Once you've read this post, you can read this post to understand how f-stops affect depth of field
UNDERSTANDING EXPOSURE
There are actually three components of exposure in photography: your camera lets in light through a circular opening (#1- your aperture), for a certain amount of time (#2- your shutter speed). That information is recorded on a chip with variable sensitivity (#3- your ISO).
These three elements - aperture, shutter speed, and ISO - control how bright or dark your image is, or your overall exposure.
What is Aperture?
Aperture is a hole that lets light pass through your lens into your camera. That hole is created by 6-9 aperture blades that shift in and out to vary the size of the opening.
It is not the size of your lens physically or how far it zooms - it's a variable setting that you can control inside the lens, where it connects to your camera.
Want to see it? Look at your lens as if you're taking a selfie and you'll see diagonal blades that form a "circular" opening in the back of your lens. If you push your shutter button in to focus, you'll see them shift in and out. Adjust your f-stop to see how the size of that aperture changes.
What does it do in my camera?
Aperture controls the amount of light that you're allowing into your camera sensor, based on how wide/narrow the opening is for light to pass through. In short, it affects the exposure of your image, or the brightness level.
(Your aperture setting also controls the depth of field in your image, which is covered in a different post.)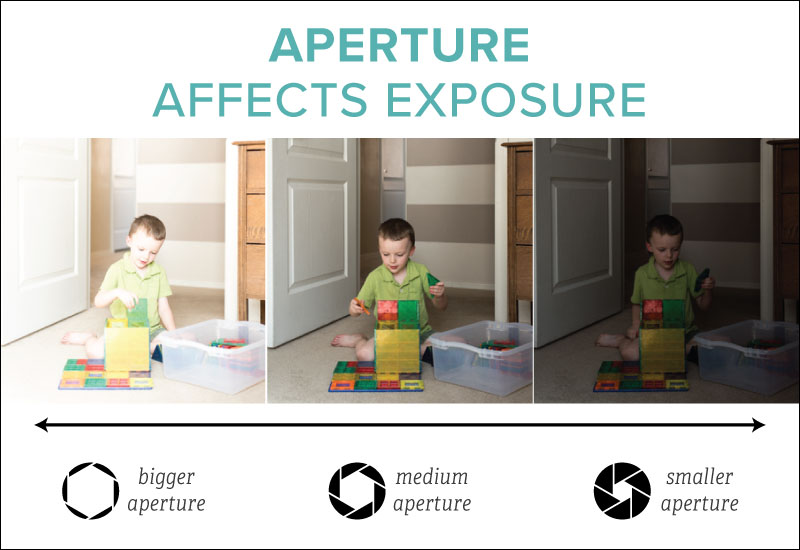 Can you see how different apertures affect the brightness of this image?
We use words like "wide open" or "large" to describe a big aperture setting, versus words like "stopped down" or "narrow" to describe a small opening.
The setting you pick directly affects how much light is reaching your camera sensor. A large, wide opening lets in tons of light, giving you a brighter exposure. A small, narrow aperture lets in less light resulting in a darker exposure.
So as you change the size of your opening, you are changing your exposure. However, this doesn't mean that a wide aperture will always give you a picture that is too bright - exposure depends on several things, including the ambient light in your situation.
So there isn't a "perfect" setting that you could use in every situation. Instead, you choose your aperture based on the light around you and how you want that to affect your image.
Think about it as a window.
When you're trying to learn photography, it helps to have an analogy or object lesson! Try thinking about aperture is in terms of a window.
Picture a room with a huge, floor-to-ceiling glass door. That gigantic window is going to let lots of light into your room, right? That is like a wide, big aperture: it can let in plenty of light to brighten up a room.
At the other end of the spectrum, think of that same room with only one small porthole on the wall.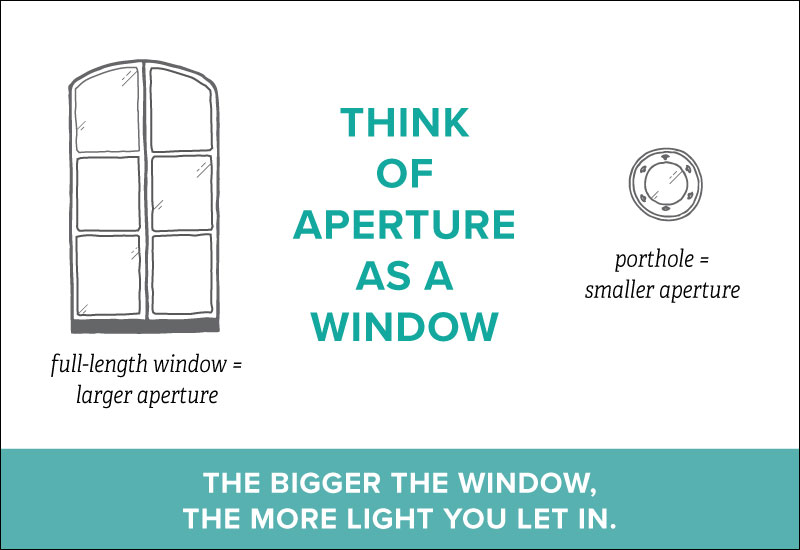 Does that tiny porthole let in the same amount of light? No, of course not! There's no way a small porthole can light up a room the way huge glass doors could. A small, narrow opening lets in less light to your photo.
Of course, there are all kinds of sizes between the two ends of this spectrum. The analogy is the same: the bigger the window, the more light it lets in. The smaller the window, the less light it lets in. You're just picking which size window has the amount of light you want for your room.
If you take a picture that is too dark, you could choose a bigger aperture to let in more light to your photo. The same situation would work in reverse: if any picture is too bright, "stopping down" your aperture (which is photography lingo for making it smaller) will let in less light.
What is an f-stop?
In photography, we need a way to measure and compare aperture settings. We define aperture in terms of an f-stop, or f-number (also written as f/stop and f/number). The f/number is derived from the diameter of the aperture opening.
The f-stop you can set depends on the lens you have attached to your DSLR. Common f-stops include f/2.0, f/2.8, f/4, f/5.6, f/8, f/11, f/16, etc.
There are lots of other f-numbers you can set on your camera in between these options too: for instance, most beginner lenses start at f/3.5.
Also, sometimes your LCD screen on the camera doesn't have a lot of room to display everything, so it might just say "f3.5" with no slash, or even just "3.5" in the f-stop area of your screen or viewfinder.
How do F-stops work?
Now for the part some people think is tricky. Stay with me!
F-numbers describe the size of your aperture. Larger apertures have lower f-stops. Smaller apertures have higher f-stops.
Nope, that's not a typo!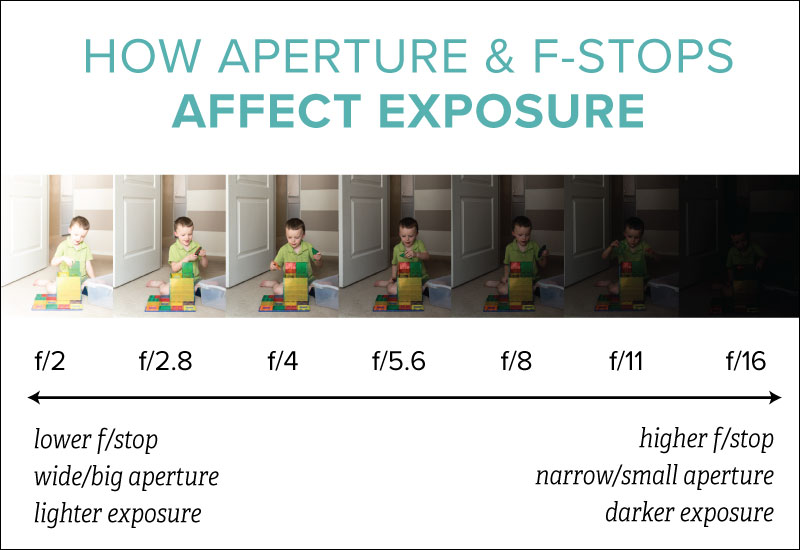 Let me explain two important details to help you remember everything works together.
#1: An f/stop moves counter-intuitively.
Low f/numbers (like f/2 or f/4) indicate a large, wide open aperture.
High f/numbers (like f/16 or f/22) indicate a small, narrow aperture.
I know this is counter-intuitive. But don't let yourself fall into the trap of thinking bigger numbers indicate bigger openings... 'cause it's wrong!
Instead, think of f-stops as a fraction.
#2: An f/stop is written as a FRACTION: the f/number is the bottom number of a fraction.
Put whatever f/number you're talking about on the bottom half of a fraction, under 1.
So think of f/2 as f over 2, or one half. Think of f/4 as f over 4, or one fourth.
Which is bigger: 1/2 cup of flour or 1/4 cup of flour? Aperture works the same way: f/2 is a bigger opening for light than f/4. So f/2 allows in more light than f/4.
Just keep reminding yourself that the f-number is the bottom of the fraction!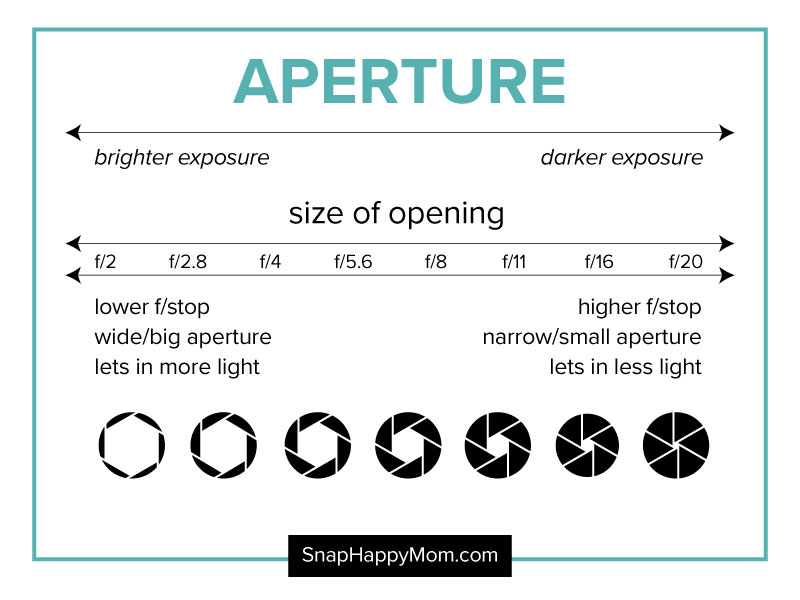 It's super important for you to remember how these work together.
A larger aperture lets in more light, and has a low f-stop or f/number: f/1.8, f/2, f/3.5.
If someone tells you that you want a big aperture, they are recommending you use an f-stop like f/1.8 or f/2, which has a BIG opening for light. Words like "big" or "large" or "open up" refer to a wide aperture, which has a low f-stop value.
A smaller aperture lets in less light, and has a high f-stop or f/number: f/8, f/16, f/22.
If someone tells you that you need a small aperture, they are recommending you use a higher f-stop like f/8 or f/11, which has a SMALL opening for light. Words like "small" or "narrow" or "stopped down" refer to a small aperture, which has a high f-stop value.
Overwhelmed? It's ok! This is something you will have to refer to several times before you really internalize it.
I remember how hard it was to think about all these techy jargon when I was learning, so I made some special cheat sheets especially for moms! I want you to have something cute and useful that you can keep in your camera bag to help you. Check out my nifty cheat sheets here.
What F-stop can I set on my lens?
What f-stop you can set depends on what lens you have attached to your camera body!
Each lens is built to certain specifications, and the blades can't open up any wider than they were built. So not every lens can adjust to the full spectrum of possible aperture sizes.
Lenses are referred to by their "maximum aperture," which indicates the widest possible aperture it has, or the lowest f-stop it can adjust to. The maximum aperture for most lenses is usually 1.4, 1.8, 2.8, 3.5, or 4. This variation is the reason there is such a big range in price points for lenses!
If you simply bought a camera that came with a lens in the box, you probably have what's called a "kit lens": an 18-55 mm, f/3.5 - 5.6 zoom lens.
To explain, 18-55 refers to how much the lens can zoom, and f/3.5-f/5.6 indicates the maximum aperture. So that means the lowest f/stop your camera can reach with this lens is f/3.5 in an un-zoomed position. If you zoom in all the way, the lowest you can get is f/5.6.
Simply put, a kit lens is the cheapest lens the manufacturer can make. You cannot set it to a bigger aperture than f/3.5, which does limit how much light can reach your sensor.
That's probably going to seem a bit disappointing. It's frustrating not to be able to let in enough light in your photos!
Unfortunately, camera companies don't sell their nicest lenses as package deals. You have to pay extra to get the highest quality lenses available.
Lenses are absolutely one of the things where you get what you paid for, and if you want to get more light into your photo, you'll have to pay for a lens that is built to do that.
For the most part, the wider the lens opens, the more expensive it will be. (For example, check out the price difference between this lens and this lens. They have the same zoom ability, but the second lens has the ability to get a lower f-stop.)
However, there is one lens that gives you great bang for your buck as a beginner.
I highly recommend a fast prime that lets in 4x the amount of light. This is the fast prime lens I recommend for Canon users, and this is the lens I recommend for Nikon users.
It's a steal of a deal and perfect for moms learning how to use their cameras!
REVIEW
This post has been all about how your aperture affects the exposure of your image and lets light into your camera sensor. We discuss aperture in terms of f-stops or f-numbers.
A small f-number indicates a wide open aperture, which lets in lots of light into your exposure. A high f-number indicates a narrow aperture, which lets in less light into your image.
Changing your aperture also has a creative consequence or "side effect" called depth of field.
As a mom, you can use depth of field to creatively control the background of your image, whether you want to blur it out or keep it sharp and detailed. Depth of Field gives you creative options for the photos you take of your kids and family!
Wondering what aperture is best? Read this post.
Meanwhile, do you have any questions?
Comment below and I'll answer them!