Want a beautiful, blurry background in your photos? Aperture is one of the main elements that affects the depth of field, or how blurry your background looks. This post will help you understand how aperture & f-stops relate to depth of field so you can get the pictures you want!
To review, your camera's aperture is a hole that lets light through your lens and into your camera sensor to create an image. Depending on how the blades shift in and out, the circumference of that hole changes incrementally. The larger your aperture, the more light you are letting into your picture.
We use f-numbers or f-stops to measure aperture sizes. The tricky thing to remember is that f-stops are written as fractions, so they are inversely related to the size of the aperture opening.
So large apertures have low f-numbers like f/1.8, f/2, or f/4. Small/narrow apertures have higher f-numbers like f/11, f/16, or f/22.
However, controlling the image brightness is only the technical effect of your aperture setting. There is also a creative effect:
Aperture also affects depth of field, giving you a blurry background or keeping the details visibly sharp.
This post is going to help you see the creative consequences of different aperture settings and how to choose settings for different situations.
Here's what this post covers:
If you are totally new to aperture, we recommend first reading this post for more explanation about Understanding Aperture & F-stops.
What is Depth of Field?
Aperture controls the depth of field in your image, or how much is in focus compared to the focus point.
Depth of field deals with blur. I'm not talking about photos where everything is blurry - I'm talking about emphasizing a focused subject against a blurry background.
See the differences in the backgrounds of these two images? That's a shallow depth of field versus a large depth of field.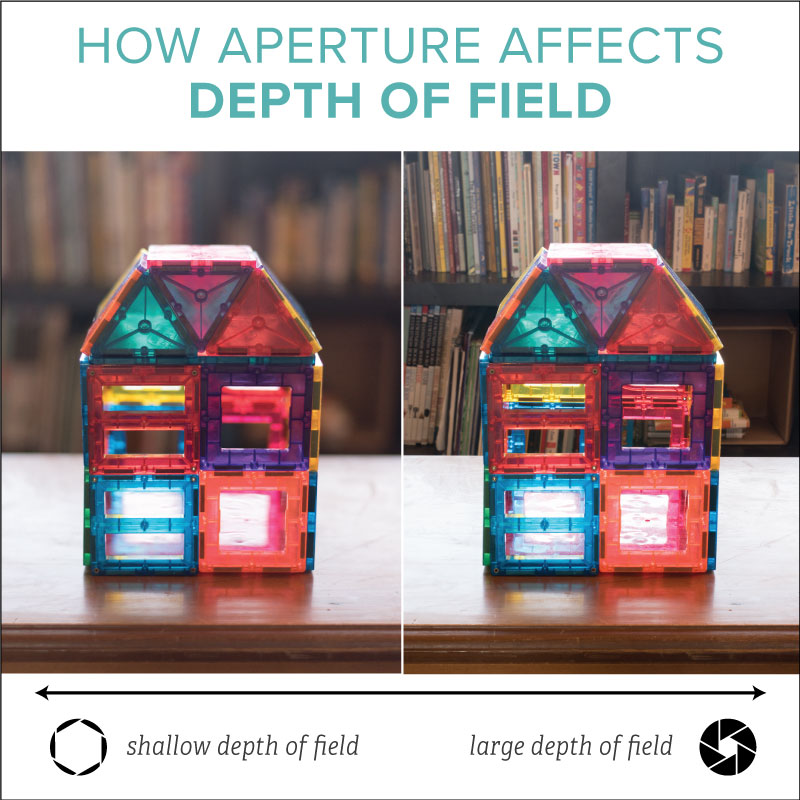 But depth of field isn't just about the background, it's also about the foreground of your image.
Wherever you focus, you create a "focal plane," which is like an imaginary line across your photo at that point. Anything closer to the camera from that line is called foreground. Anything further away from that line, or behind your subject, is called background.
Your subject and anything on that focal plane will be sharp. But the foreground/background could be a little blurry, or quite blurred, depending on your settings.
Check out this example:
It's the same picture with two different aperture settings. Both are focused on the yellow tiles in the middle of the image, so everything on that dark middle line will remain sharp.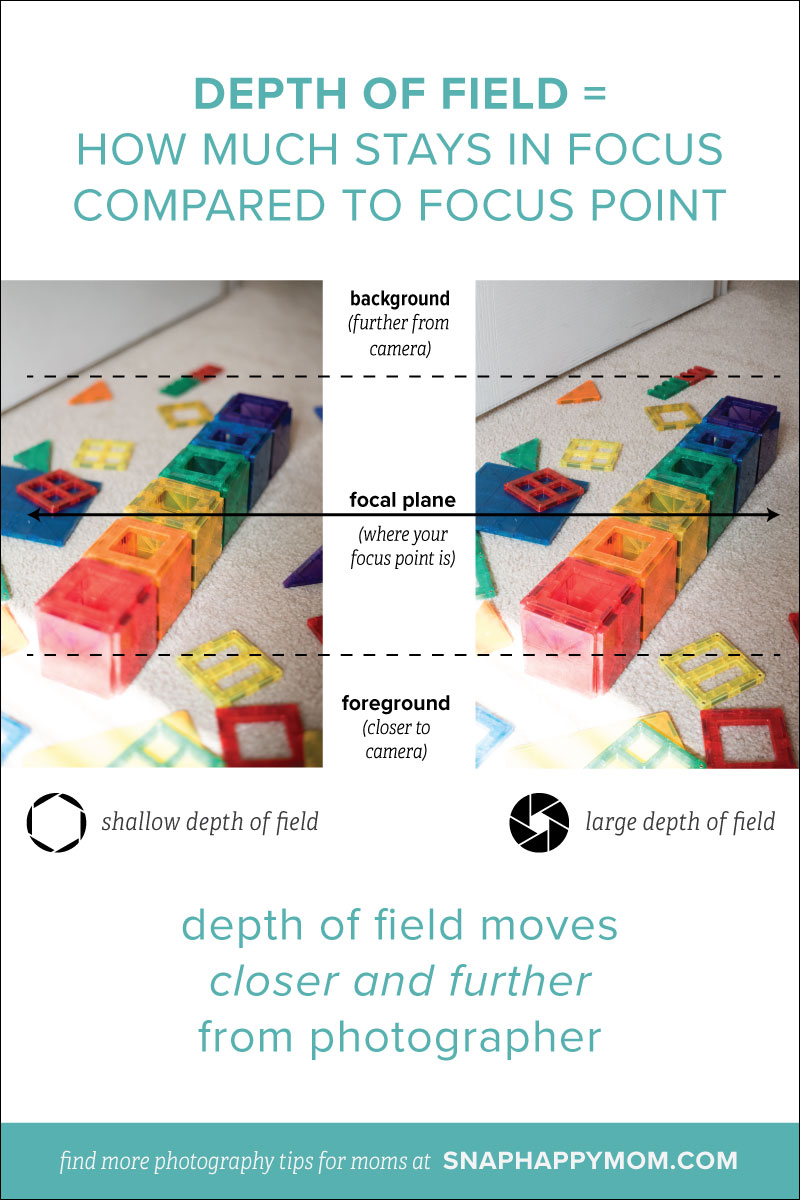 But look at what happens as you move closer and further away as the photographer. The picture on the left has a shallow depth of field, and the toys on the floor got blurry pretty quickly. You can even see the difference in the door frame!
The picture on the right has more depth of field, so you can see sharp details on those tiles, even in the background and foreground.
One thing to clarify is that the blur from depth of field doesn't affect things to the left and right of your subject, only in front and behind your subject.
So what does this mean to you? As the photographer, you get to choose how much is in focus in your image, based on how wide you set the aperture.
How aperture affects depth of field
Your camera can only focus on one thing at a time, no matter how many people/things are in the frame. Depth of field is how you tell your camera how much to keep in focus before things start getting blurry.
A wider aperture (ex: f/1.8, f/2, f/3.5) has a shallow depth of field and less will be in focus.
Shallow depth of field means that your subject and the area right around it will be in focus, but things even a short distance away from the camera will start to get blurry. The further away you move from the focal point, the more blurry it will get.
Portraits usually benefit from a shallow depth of field, because you want the photo to be about a person, and not have sharp details competing with that subject. It's a good thing if the background just gets smooth and blurry in a pretty way.
No one likes it when the background is distracting (like when it looks like a tree is growing out of someone's head?). A shallow depth of field helps emphasize the subject, or lets that subject "pop" off the background.
The trick with depth of field is that blur can be aesthetically pleasing, but you also want to make sure important people/things are in focus.
The smaller your aperture (ex: f/8, f/16, f/22), the more depth of field will be present and more will be in focus.
This is also useful in the right situation! Sometimes you want to see both the subject and the foreground/background clearly, such as in landscapes or vacation photos. Sometimes you need a larger depth of field for group photos just to keep all the people in the frame in focus!
Depth of field is affected by several things, so there's no hard and fast "measurement" for how much will stay in focus as you adjust the aperture, but it will change relatively as you adjust the aperture.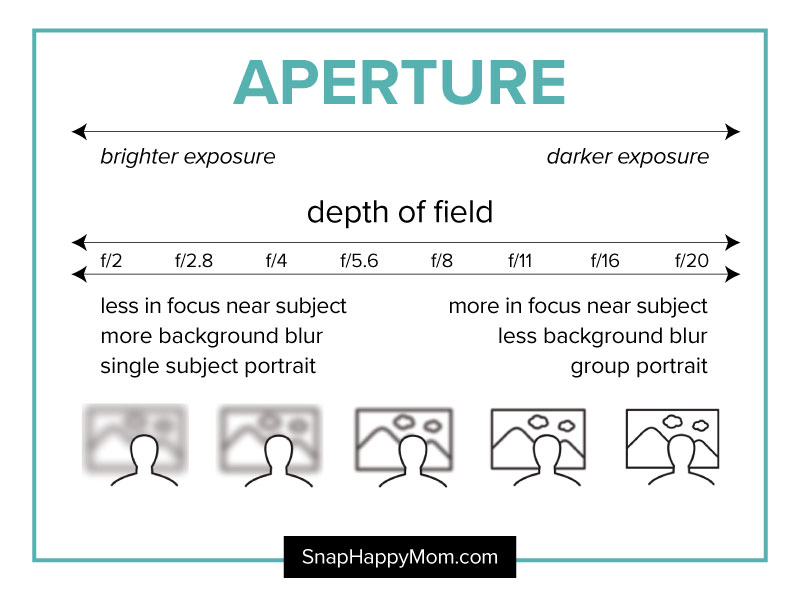 I remember how hard it was to think about aperture when I was learning, so I made some special cheat sheets especially for moms! I want you to have something cute and useful that you can keep in your camera bag to help you. Check out my nifty cheat sheets here.
What aperture is best?
Is it better to have a higher or lower aperture?
Aperture is only one of the things that affect overall photo brightness. Since you can adjust exposure by shifting your shutter speed or ISO, you usually set your aperture based on how much depth of field you desire.
There is no "best" setting because it depends on the situation!
For instance, here's an example to help you see the creative side effects of depth of field. The focus point is on the child in both pictures (and I already balanced out the exposure to help you focus on the effect of the depth of field changing).
Can you spot the differences in the two images?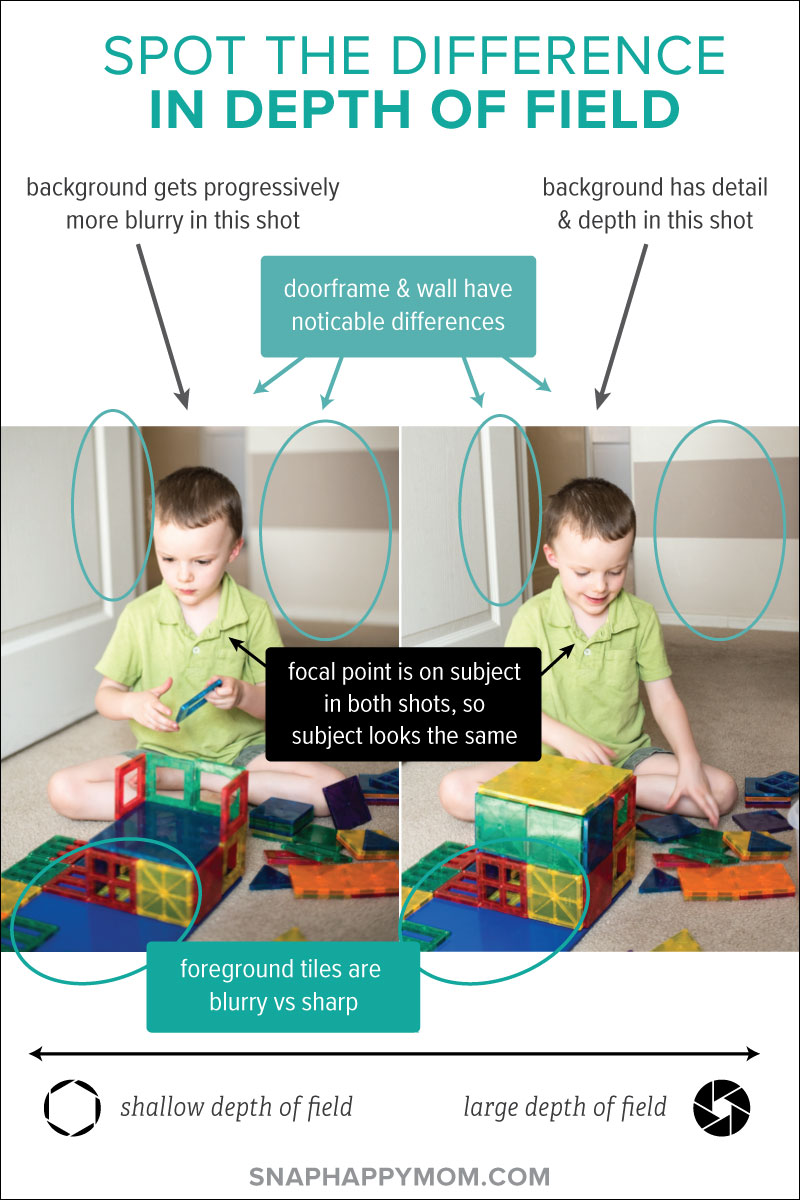 Look at the difference in the background of each image - on the door frame and further behind the child. See how sharp or blurry they are and how that changes the feeling and focus of the image?
You can also see the difference in depth of field in the foreground if you check on the colored tiles on the floor in front of the child.
Are either of these images right or wrong? Nope!
It totally depends on you and what you want to emphasize in each photo. I personally like having less depth of field in a picture like this, because I want you to focus on how cute my son is while playing. The background isn't terribly distracting here, but I do think that allowing some of those hard lines to get softer and blurrier helps your eye go straight to the subject.
Of course, that's my creative choice, and as a photographer, YOU get to make those same choices in your images.
There are some general guidelines for different situations, but there are no ideal or best settings.
For single-subject portraits, most people like a blurry background to really emphasize the person you're photographing. A wide opening like f/2 or f/1.8 gives you a shallow depth of field and lets that background blur out.
If there are several people in the picture, you'll want to stop down to about f/4 to make sure everyone is in focus. This is especially true if your subjects are offset from each other and not exactly lined up - otherwise, some people might be sharp, and others might be blurry! So you'll definitely want to err on the deeper side if there are several kids in the shot.
Of course, you will also shoot in situations where you want to see more in focus.
For example, if you're in Paris, you don't want the Eiffel Tower to be blurry behind you!
You definitely want MORE in focus in this situation, which means you want more depth of field. In this situation, you would stop down to a narrower opening, maybe f/8 or f/11, and balance that out with a slower shutter speed and/or higher ISO.
That's just one example; every situation calls for different settings. There aren't any perfect settings since everything depends on your light and what you want to emphasize in the image.
So how do I choose which aperture to use?
You can choose your f-stop if you're in manual mode or aperture-priority mode. Usually, this involves holding an aperture button and rolling a dial to adjust it up and down.
You choose the settings depending on lots of factors: distance from the subject, amount of ambient light, maximum aperture on your lens, posing decisions, and more. Everything is relative, so just start shooting and adjust as you go!
Here are some questions to ask yourself as you adjust your aperture:
How important is the background to the image?
Does it help to tell the story? (Stopping down will allow more details in your background.)
Or, is this image about this all about the person/subject? (You can open up to allow that background to blur out.)
How many subjects do you have?
Is there one subject? (You can open up and use a low f-stop.)
Or are there multiple subjects? (You should stop down with a higher f-stop.)
If you have multiple subjects, how are they posed?
Are those subjects very close together and arranged on the same focal plane? (I have a post coming soon about focal plane, but the idea is your subjects need to be lined up shoulder-to-shoulder, toe-to-toe in a straight line. This puts them all the same distance from your lens, which means they'll all be sharp. This type of posing allows for a wider aperture.)
Or are your subjects in multiple lines or groups? Are they offset/staggered? Are some subjects closer to you than others? (This type of posing requires a narrower aperture to keep everyone in focus.)
Are you trying to change the brightness of the image?
If you want to make it darker, stop down.
If you want to make it lighter, open up. (This is especially useful if you feel like you are limited by your shutter speed already set as slow as you can for people, or if your ISO is already high.)
REVIEW
Depth of field is a creative photography element you use to emphasize your subject against a blurry background. Large apertures (low f-stops) give you the least depth of field, meaning there will be a big difference between your subject and a blurry background.
Small apertures (high f-stops) offer more depth of field, meaning you can have more in focus in your image and keep the background details crisp and visible.
COMMENT BELOW: I know that's a lot of information to take in. Ask any questions you have in the comments so I can answer them!