The Yoto Card store has tons of amazing books and music available... but they don't have everything. Especially some popular characters and famous cartoons that might be your kids' favorites! That's where MYO Yoto cards come in: you can put legally-obtained audio content on blank cards, and build a personalized library for your family.
Sourcing legal Yoto content can be tricky and quite time-consuming.
We've done all the hard work of finding files that work for you!
This post is stock full of audio file sources for popular characters like Blippi, Peppa Pig, Cocomelon, Daniel Tiger, Paw Patrol, Thomas the Train, Encanto, Bluey, Moana, Frozen, Octonauts, and more. Read on for links to purchase your own files and make cards.
--> If you're unfamiliar with how to make a Yoto card, you can skip down to the end of this post for an overview or check out this post for more in-depth instructions.
--> We also have a post here about all of our favorite Yoto cards that you can purchase on Amazon or through the Yoto store.
---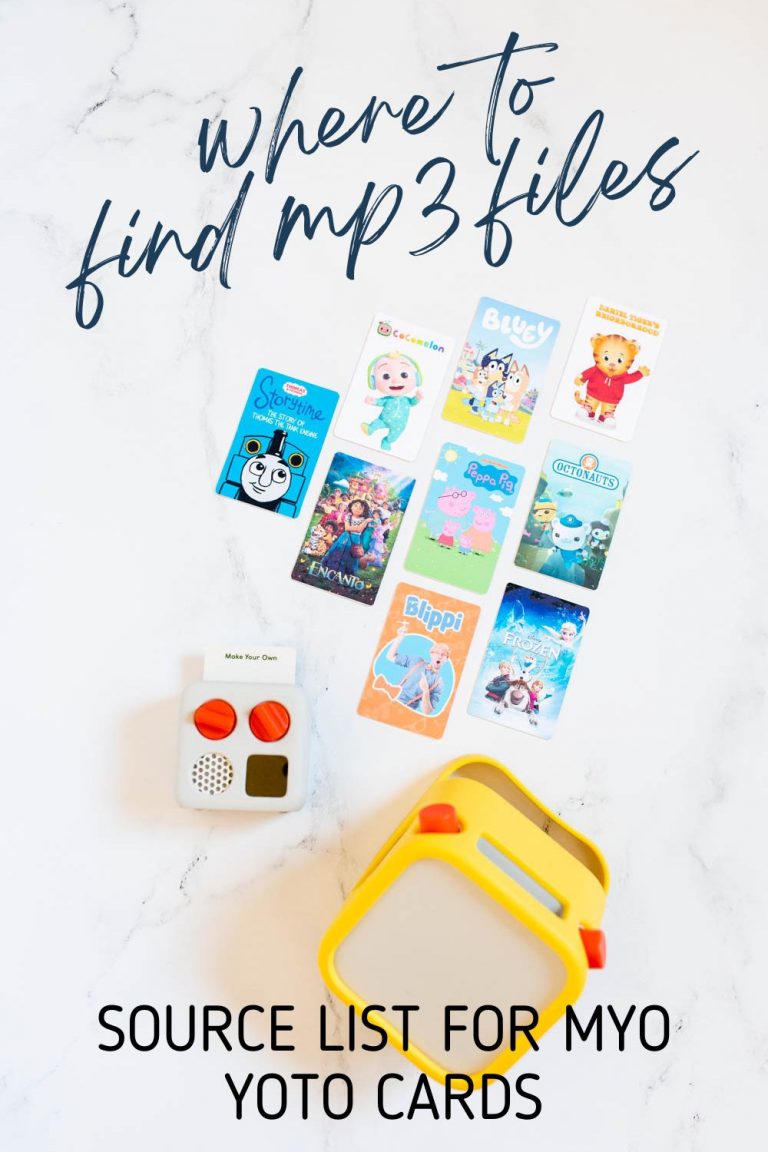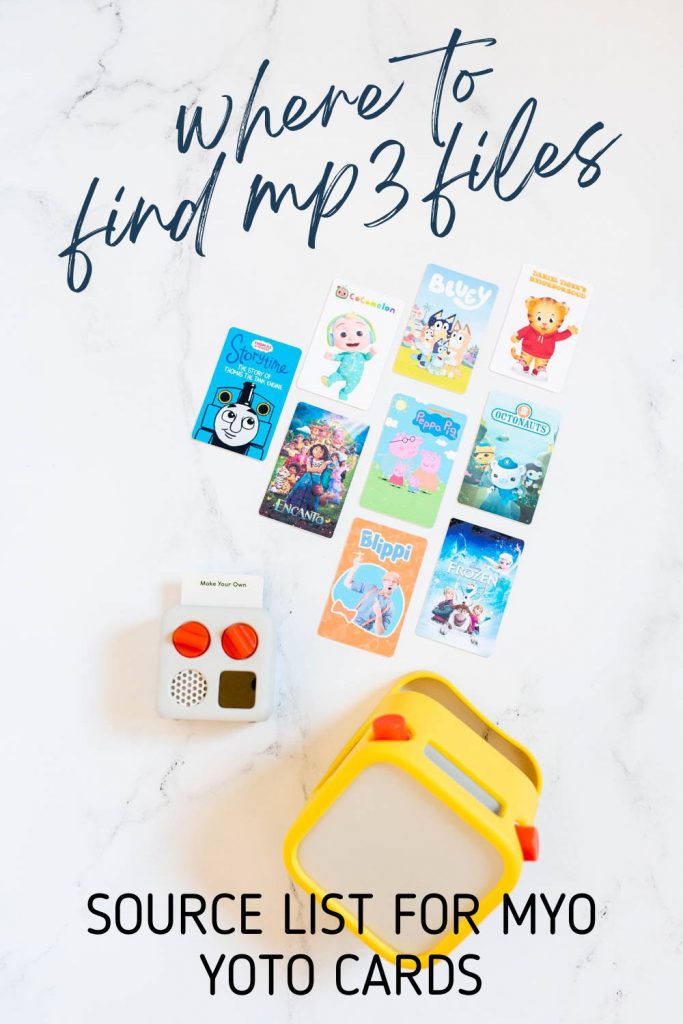 How to get MP3 files off Amazon.
When you make your own Yoto card, you need to purchase the audio first. You cannot download content you stream; you need to own the actual mp3 file.
Amazon is by far the fastest and easiest option for making your own cards since the file already in the format you need, although we've included other source links as well.
You're looking for MP3 audio at each of these links. This post has tons of options for popular characters!
On any of the Amazon listings, click the yellow "Buy MP3 Album" to download a folder of the mp3 tracks. You can also scroll down and buy individual tracks, but it's almost always cheaper to buy the whole cd or collection.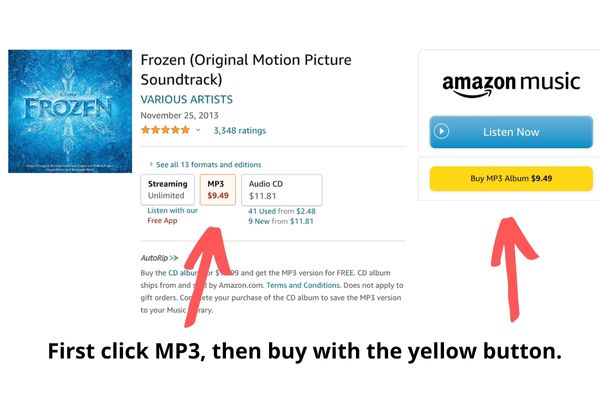 If you search for something and land on the Amazon Music streaming page (it looks like the picture below), you'll need to click the "Purchase Options" button and then the MP3 Music dropdown. That leads you to the purchasing page with the yellow button like the above picture.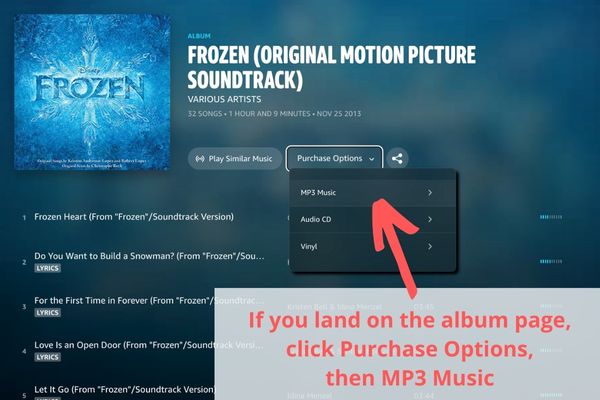 ...On sources other than Amazon
Soundtracks purchased as MP3 files from Amazon are the easiest way to get content for yoto cards.
You can also purchase sound files from Audible, Chirp, and Audiobooks.com, but it will take more effort from you. You'll need to use paid software to convert the sound files to MP3.
We can't comment on the legality of this process, but the directions to do so are found here: How To Convert Audible Content for Yoto Cards.
Cocomelon Yoto Cards
Ahh, Cocomelon. I haven't met a toddler that doesn't like these simple song videos. They are just so catchy!
Luckily, there are tons of options for making a huge playlist of Cocomelon Songs for your Yoto Cards. You'll want to buy the $7.99 mp3 albums from these links:
For personal use, you can use a Cocomelon image on your Yoto card from Google Images. You aren't allowed to sell or provide it to other people though.
Blippi Yoto Card
Does your child love Blippi? There are tons of options of Blippi music files for Yoto cards!
Peppa Pig Yoto Card
You have two options here for making a Peppa Pig Yoto Card:
#1 The EASIEST option
Purchase Peppa's Adventures: The Album from this link. You automatically get mp3 files ready to put on a Peppa Pig Yoto card album.
However, if you have a Peppa lover you may want to combine the album above with option #2...
#2: Purchase an Audio CD
You could also purchase one of these cds, rip the files, and then combine them to make your own Peppa Pig Yoto card. It's fairly easy to pull audio off a cd you own, and then you can just add it to anything else you have to make a playlist.
Daniel Tiger Yoto Cards
We love Daniel Tiger! These collections have all the Daniel Tiger songs you know and love! The songs are directly from the episodes, which makes it super easy to make a Daniel Tiger Yoto Card.
You can make a pretty awesome Daniel Tiger Yoto Card with these options.
Paw Patrol Yoto Card
JUST RELEASED! Two new Paw Patrol Yoto Cards! These are definitely the best bang for your buck - since they are ready to go and don't require any conversion time.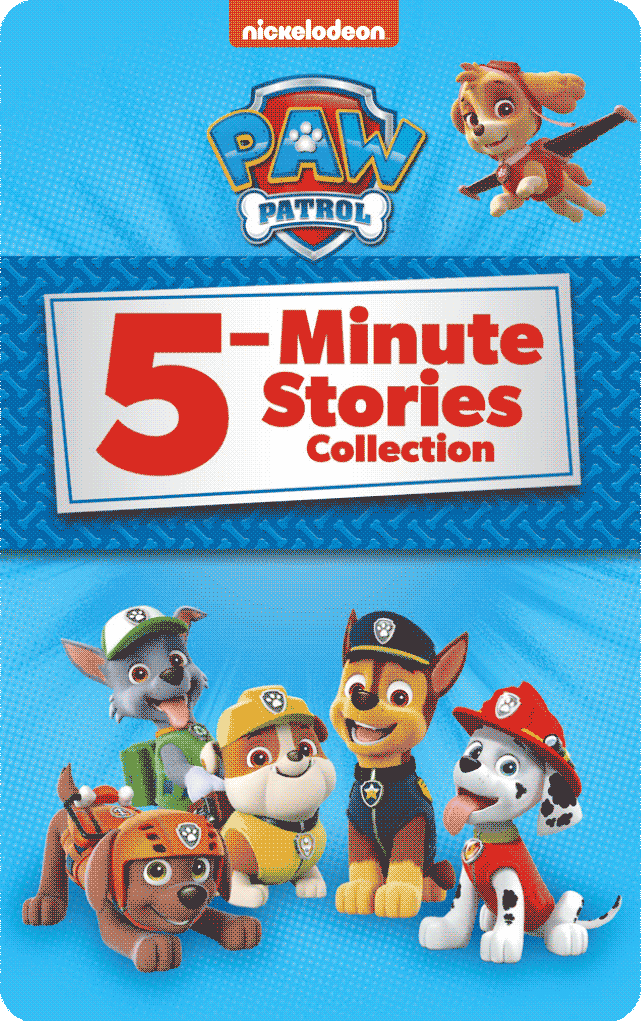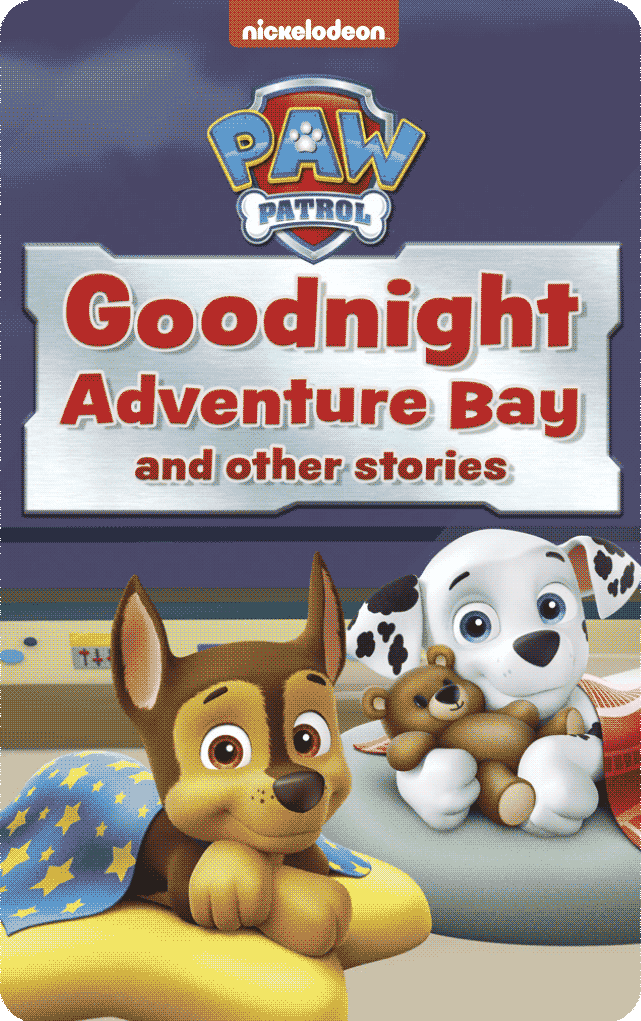 Before those were released, there were only a few options. Most people combined songs and audiobooks onto one Paw Patrol Yoto Card, but the stories are now available above.
Thomas The Train Yoto Cards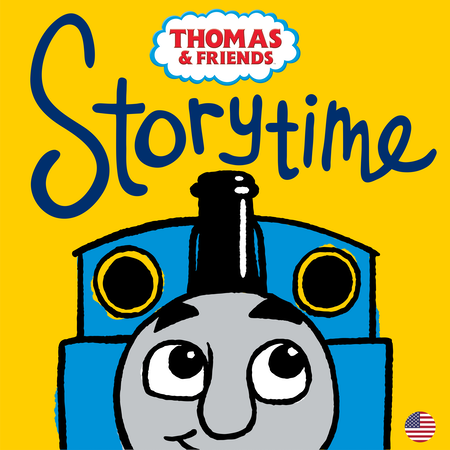 There is a Thomas The Train podcast called "Thomas & Friends Storytime."
I wish there was content that was easy to download, but it's a bit more complex. Many people put the podcast episodes on a card to make a Thomas The Train Yoto Card!
The deep links to the podcast episodes are here, courtesy of Podnews.
Simply right-click each podcast link, and "Copy Link Address." Then in your Yoto Playlist, click "Add Stream" and paste that link in. You can then link your content to an MYO card.
More detailed directions are available from Yoto at this link. You'll need to do this for each episode you're interested in to make a Thomas The Train Yoto Card, so it's a bit time-consuming but it works!
UPDATE: You don't have to download individual episodes now! It's much faster to make a Thomas the Train Yoto podcast card - detailed directions at this link.
How To Make an Encanto Yoto Card
This one is popular for good reason: the music is catchy, fun, and great for singing along! Make your own Encanto Yoto Cards with these options.
I wouldn't be surprised if Yoto comes out with an official Encanto Yoto card from their store in the next year or two, but this should tide your kids over until then.
Bluey Yoto Cards
Bluey is super popular - but it's not USA-based brand so your options are limited.
If you're looking for stories on a Bluey Yoto Card, things get a bit more complicated.
There are not official Audiobook recordings available from any USA retailer.
What does exist is video, but you're venturing into illegal and unethical area here.
Technically, you can strip the audio from videos you find online. This process has pretty questionable legality and I won't do it personally. But this is what's possible:
Bluey is a family favorite - it's such a wholesome amazing show. I guess it's just a question of asking yourself how badly you really need a Bluey Yoto Card, or if you can just access the shows legally on Disney+.
We hope we get more official options for Bluey Yoto Cards soon, but for now, the music album is the only completely legal and ethical option for done-for-you content.
Moana Yoto Card
A Moana Yoto card is bound to be a favorite among kids! Make one yourself with these options.
Tangled Yoto Card
Frozen Yoto Card
For Frozen, you have options! You can add the two soundtracks to a single card or make a Frozen Yoto card and a Frozen 2 Yoto Card.
Don't forget that Yoto actually provides two different Frozen cards from their store as well:
Disney Princess Yoto Card Content
Wish there were some official Disney Princess Yoto Cards?
This ultimate Disney Princess song collection would make a great Yoto card.
Or, grab this Disney Princess fairytale song collection that has all of the famous songs from each princess.
Either collection is a great way to be able to play a lot of classic Disney songs for your kids!
Read-Along Storybooks with CDs
These are the best books for reading along with the story! The stories have a narrator but also actor voices and background music. They include a chime for when to turn the page.
The links are for physical books with an accompanying physical CD. That means you'll need to rip the content onto your computer in order to make a Yoto Card, but that's a pretty quick process.
Overall, they make a fun activity for children who like to be read to. They can look at the pictures and turn the pages in time with the audio!
Pink Fong Yoto Card
Pink Fong is the understated celebrity of all toddlers, thanks to Baby Shark.
Octonauts Yoto Card
If you want to make an Octonauts Yoto Card, you're going to have to put in some effort. There is not a quick and easy way to do it.
There are 5 different Octonauts CDs available. The tracks are the audio straight from the episodes, without added narration. So it may be hard to follow, but you still get the Octonauts experience. In addition, every episode's Creature Report in included, so that's a fun little addition.
In addition, each of these collections is available on Audible, which may be a good use of your credit or a free trial.
Either option requires some conversion time: you'll have to either rip the mp3 files or convert the audible files to make an Octonauts Yoto Card.
---
How to Make Your Own Yoto Card
Need a recap about how to take the files above and get them on a card? Here are some quick directions. There is also a step-by-step list of directions here if you'd rather follow along.
Here's how to turn that audio into Yoto cards that you can listen to and enjoy on your Yoto player.
...what about copyright?
If you are using audio that you created, legally purchased, or have permission to use from the rightsholder, then it is legal to use to create your own Yoto cards.
That means you cannot use files from "all-access" streaming sources such as Spotify, the Amazon Music streaming service or Epic books. You are renting them, not purchasing them.
There are still some great places to find audio that you can legally purchase and download to convert into Yoto cards.
Add Your MP3s
Once your audio is purchased, you can go to Yoto and upload those MP3s. You can upload them from either your phone or your computer.
If you're doing it on your phone, go to the Make Your Own section and click on the New Playlist button.
On your computer, you'll go to the My Playlists section and click the New Playlist button.
Then add each track to your playlist. This can get a bit tedious, since, unfortunately, you can't add an entire book or album at once. You have to upload them one by one, track by track.
If you want to use audio of a family member reading a story, then once you record those, you'll add the MP3 recordings in the same way.
Link Your Audio to a Card
Whether you added your audio via your phone or your computer, the next steps are the same.
After you've added your audio to a playlist (make sure your tracks are all in the right order!), you can check out your playlists in the library of your Yoto app. Select the playlist you want to make into a Yoto card and click on the three-dot menu. Choose the "Link to a Card" option.
Then you'll need to insert a blank "Make Your Own" card into your Yoto player. Tap "Link" on the pop-up panel once you insert your card. Then you'll see a "Record" icon (a red circle) on your Yoto player's display. When you see a green tick mark, that means your card has been successfully linked and it's good to go!
Just take the card out and then reinsert it to begin playing it.
Decorating Your Own Yoto Cards
Once you make your Yoto cards, you might want to label them or decorate them in some way. Of course, this is not necessary, because you can easily just write on the top of the card with Sharpie or put some masking tape on it and label that.
To make it a bit cuter, you could use patterned Washi tape and then just write the title in Sharpie or print out a label and add it to the Washi tape. Or just put the label straight onto the card. Remember to place it at the top of the card on the part that sticks out from the Yoto card. Then you'll be able to easily see what's playing.
If you want to make your DIY cards look the same as the official Yoto cards that you purchased, there are a few things you can do to make your own Yoto cards look great.
One way you can decorate your cards is by using Canva. You can drag and drop a book cover or just a text box with the title into one of Canva's free templates and print it out! You can fit more than one Yoto cover onto a free 8x11 template, so you can print several on a page.
Once you print it out, stick it to your new Yoto card!
You can also order custom stickers from different companies, and you could use one of those to display cover art or the book's title. Just so you know, there aren't any official custom stickers for Yoto, so you'd have to double-check the sizes of the stickers you order to make sure they'll fit.
Check out this post for more help labeling Yoto Cards!
---
As you can tell, there is a lot of great audio out there that you can use for Yoto cards. And now you know how to make your own Yoto cards!
What other great sources am I missing for MYO content? Let me know in the comments!