We love our Yoto players and use them daily. Yoto's Card Store has SO many card options available, and they are constantly adding new items! I see new cards available on their website about every other week. You can also get some Yoto cards on Amazon, so you can check there as well.
With so many Yoto cards, you may wonder which are the best ones. Here's a list of our favorites so you can be sure you're getting the best Yoto cards.
With over 350 cards to choose from, do you ever wonder which cards would be the best fit for your kids? We've reviewed hundreds of cards, to help you find some new favorites for your kids.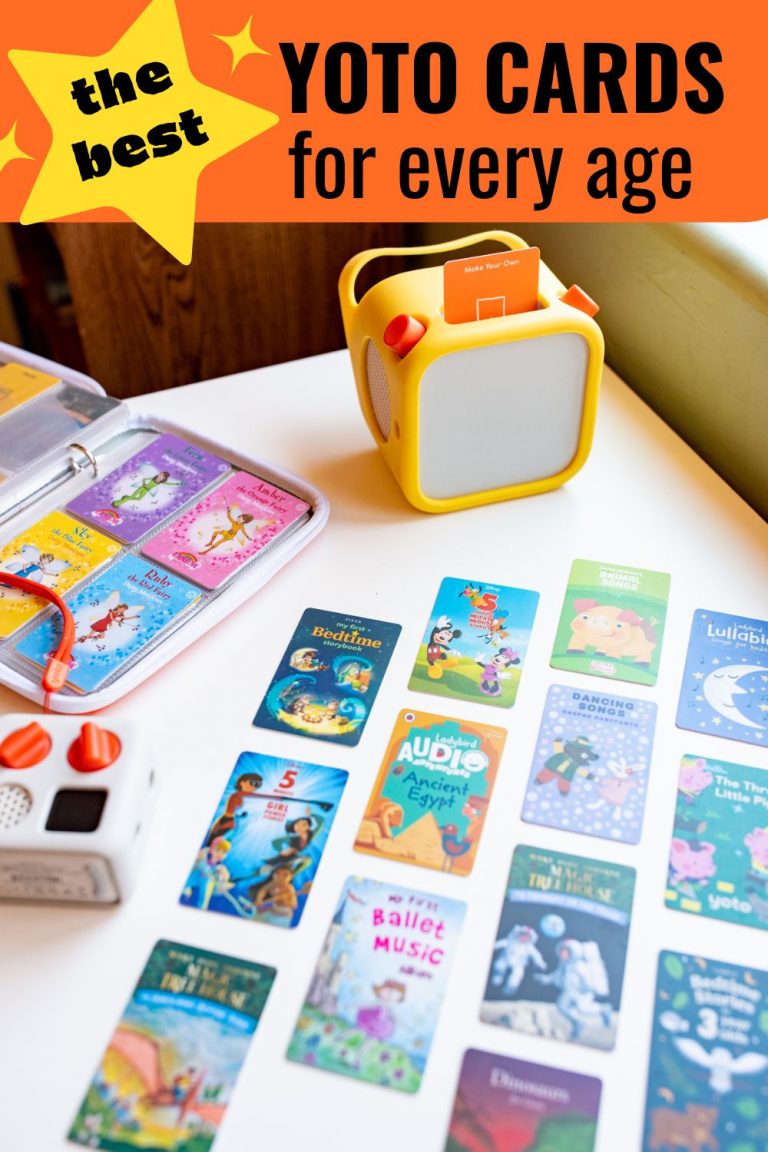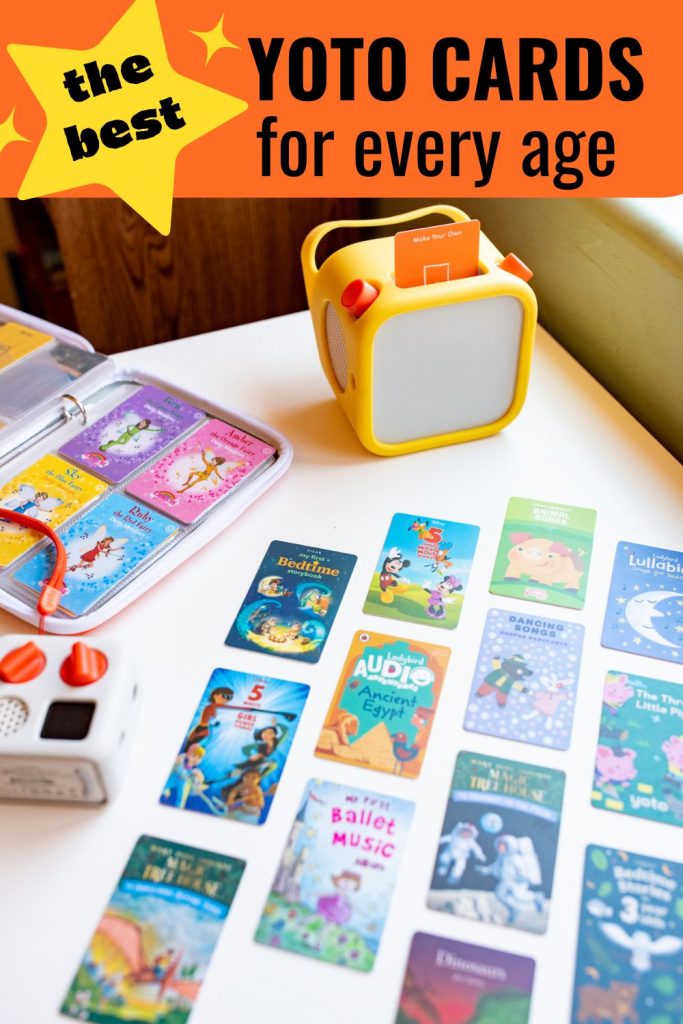 ---
Best Yoto Cards for Kids Ages 0-4
Best Yoto Card For Toddlers
If your baby is under 2, then start with Yoto's music cards. They probably don't have the attention span for most story cards.
The best cord card for toddlers is probably something that you make yourself!
MYO is Yoto-slang for putting content on a blank card, or a Make Your Own card. MYO cards are a fantastic option! They'll get your child comfortable using the Yoto and associating it with fun listening, and then they will be more willing to try new cards as they get older.
We recommend these ideas to make the best Yoto Card for a toddler:
Making a playlist of their favorite songs. Just add the songs to a Yoto playlist and link it to a card
Record yourself or a grandparent reading favorite picture books, which is especially tender if the grandparents are far away.
Buying mp3 tracks from licensed characters they like, but aren't in the Yoto Card Store. We've got a huge list of ideas at this post, including Cocomelon, Bluey, Blippi, etc.
Our Top Three Suggestions
The best Yoto cards for a 2-year-old are The Very Hungry Caterpillar, Dancing Songs, and Wheels on the Bus.
The best Yoto cards for a 3-year-old are Splat the Cat, the Gruffalo series, and Frog and Toad.
The best Yoto cards for a 4-year-old are Who's In Your Audiobook?, Fairytale Hairdresser, and Topsy and Tim.
---
Best Yoto Cards for Kids Ages 5-7
Most Yoto Cards cover a lot of age groups! Definitely don't ignore the options above: Frog and Toad, Who's in Your Audiobook, the Disney cards, Fairytale Hairdresser, anything with songs, etc.
Our Top Three Picks
The best Yoto cards for a 5-year-old are the Ladybird Audio Adventures, particularly the Dinosaur Times, The Human Body, and Volcanoes. Frankly kids 5-9 like these!
The best Yoto cards for a 6-year-old are Ladybird Magical Stories, Hotel Flamingo, and The Fairytale Hairdresser.
The best Yoto cards for a 7-year-old are The Magic Treehouse, their favorite Disney novels, and anything by Roald Dahl like Matilda or Charlie and the Chocolate Factory.
---
Best Yoto Cards for Kids Ages 8-10
Our Top Three Faves
The best Yoto cards for an 8-year-old are Hotel Flamingo, Matilda, and the Ramona series.
The best Yoto card for a 9-year-old are Charlie and the Chocolate Factory, the Disney novels, and Junie B. Jones.
The best Yoto card for a 10-year-old are The Extraordinary Lives series or any of the other favorites above.
Best Yoto Cards for Kids Ages 11+
Honorable Mentions: Our Favorite Bedtime Stories
---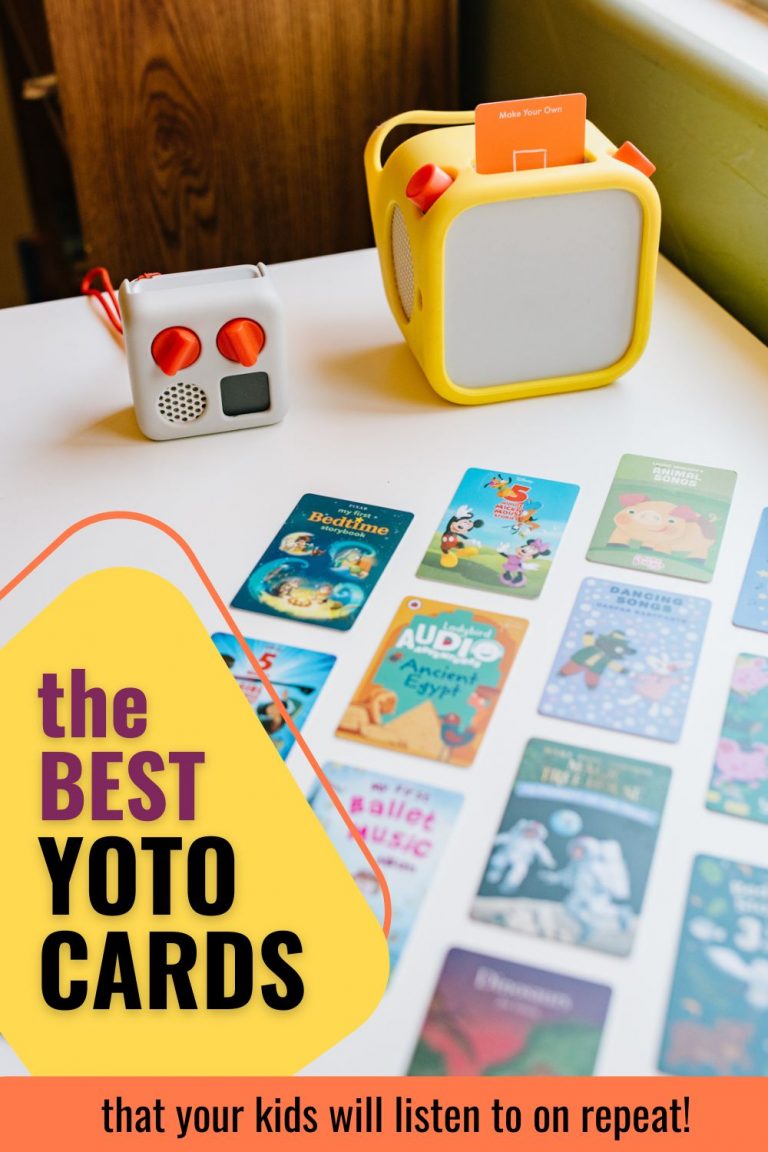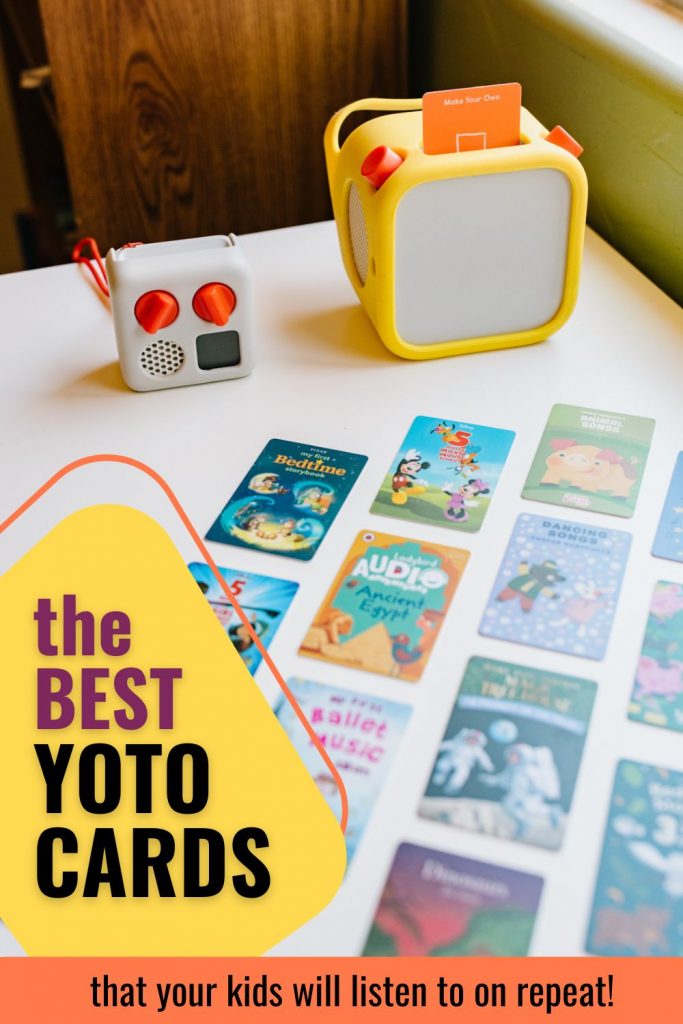 We hope that these recommendations helped you find a good fit for your kids!
Did you add to your Yoto card collection because of this post? #sorrynotsorry 🙂 If you need a better storage solution, check out our Yoto card storage ideas here!