Want to take a special picture of your daughter in her favorite Elsa dress? Here's a DIY idea that is simple and looks pretty in pictures.
This Frozen backdrop is easy to put together: you just need white fabric or curtains to cover the wall/floor and a pretty snowflake garland. These two things can totally dress up an indoor area for a magical, bright picture of your Elsa!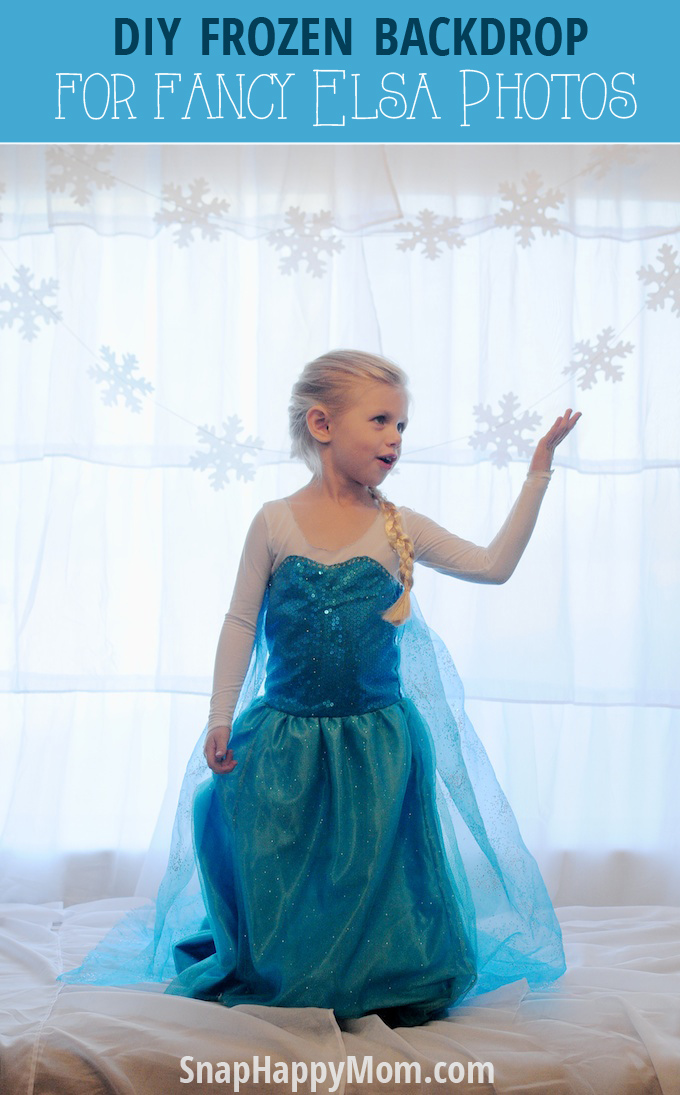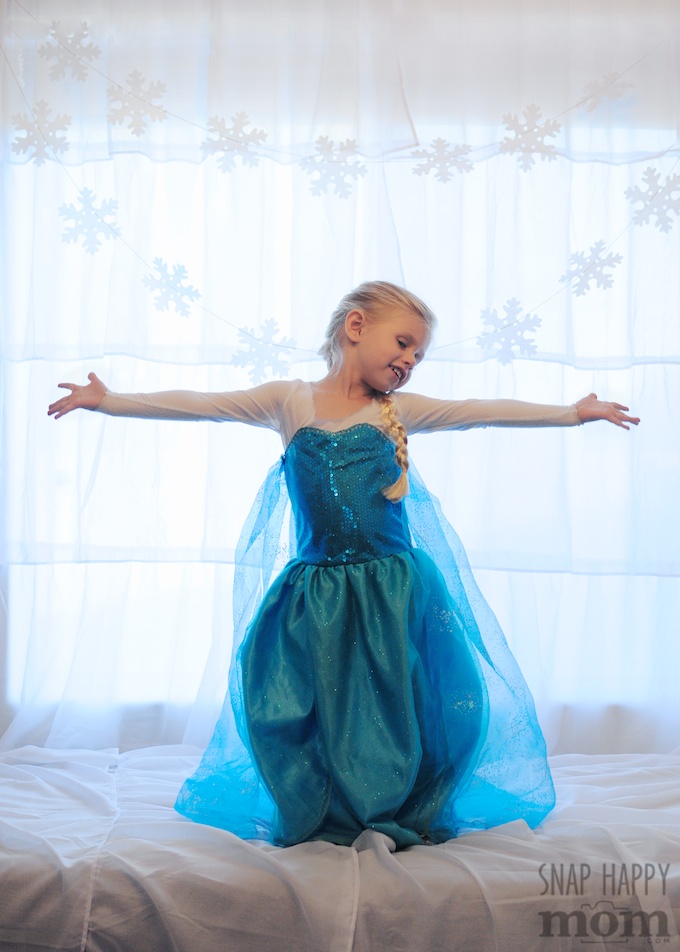 The Setting: White Curtains or Fabric
Do you have white curtains in your house? They can make a great backdrop! I used ruffly curtains that were already hanging on a window at home, but you could hang a white sheet anywhere to provide a clean backdrop for similar photos.
I  wanted a really bright, white-on-white look for my setting. To accomplish this, I decided to back-light my pictures to provide a pretty, glowing area to stand in.
I opened the window blinds all the way and then covered them with my sheer ruffled curtain. This provided a soft, yet bright, look. I also pushed the ottoman up against the wall, directly under the window, to utilize as much of that window light as I could. I covered the ottoman with an extra curtain to give everything a cohesive look.
It will help to turn on a light inside the room as well. Ideally, the light shouldn't be right on top of your model's head, but somewhere in front of them, near where you are standing to take pictures.
The light from the window is going to make the picture bright, but you want some light on your child's face as well. You could use your fill flash on your camera for this, but I prefer to turn on the room lights instead.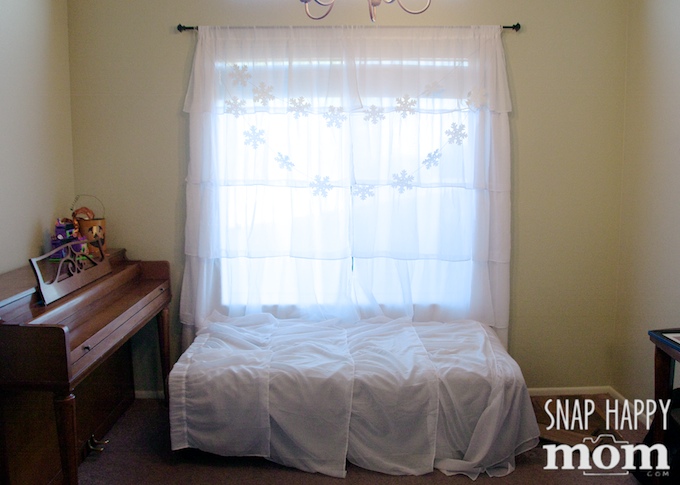 Quick Snowflake Garland
To dress it up a little, I made a super fast snowflake garland to hang in front of my curtains. All I did was string these pre-cut White Tissue Snowflakes
on two strands, then tie them to the curtain rod to make two layers of snowflakes
I bought these particular snowflakes for three reasons.
First, they already had holes as part of their pattern, which made it super easy to string them on some baker's twine. No knots required, just go in one hole and out the other and it will stay put.
Secondly, you need to use a slightly translucent snowflake in order to let the light shine through it. If your snowflakes are made of regular paper or cardstock, they'll block the light and look dark against your bright window. And trust me, black snowflakes are not pretty. Delicate tissue paper snowflakes are perfect for this look.
Third, the are crazy cheap. Three bucks for pre-cut snowflakes? That's a no-brainer for me; it's not worth fussing over folding and cutting super thin tissue paper for that kind of money. These are easy and look great.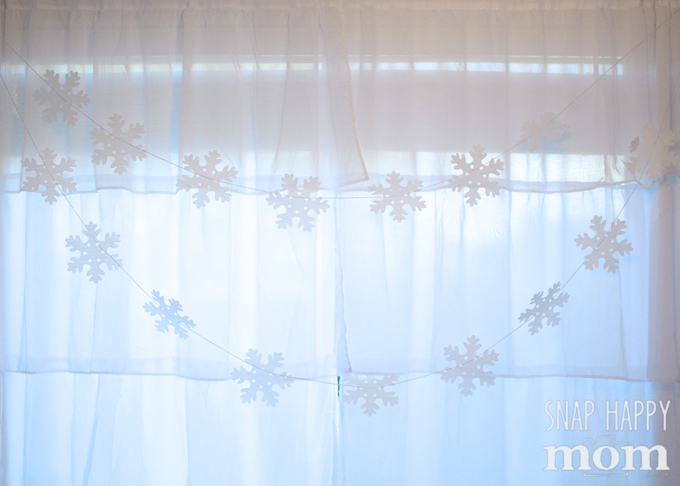 Information About Camera Settings
If you try to take this photo on automatic, your camera will probably make it look rather dark.
Basically, your camera thinks it's too bright, so it's trying to be helpful and bring everything down in brightness. But you are smarter than your camera! Just set it to be brighter than the camera wants it to be so you can see your model's sweet face.
Here's how to adjust your settings to make it brighter!
First, make sure you set your focus box on your model, not the window behind them.
Then, purposely overexpose your pictures past what the camera is telling you is correct.
DSLR: If you're in manual mode, make sure the light meter is weighted towards the "+" side. If you're in aperture-priority or program mode, use your exposure compensation to brighten them up a bit. It will probably be two clicks or thirds towards the "+" side. (Not sure what I mean? Read more about exposure compensation.)
Compact Point and Shoot: If you don't have a DSLR and can't make exposure adjustments on your point and shoot, you can still use this DIY setup. Just make it easier for the camera to correctly light the picture by reducing the light behind the curtain. Try hanging your fabric or curtain over a blank wall instead of a bright window. It will still be cute!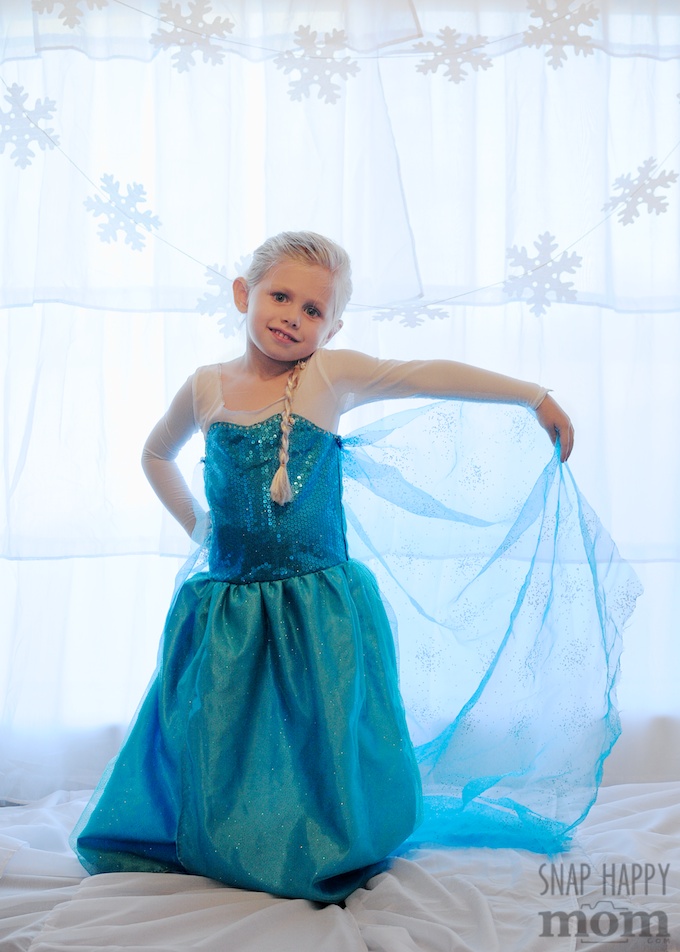 Sharing is caring. Pin it for later!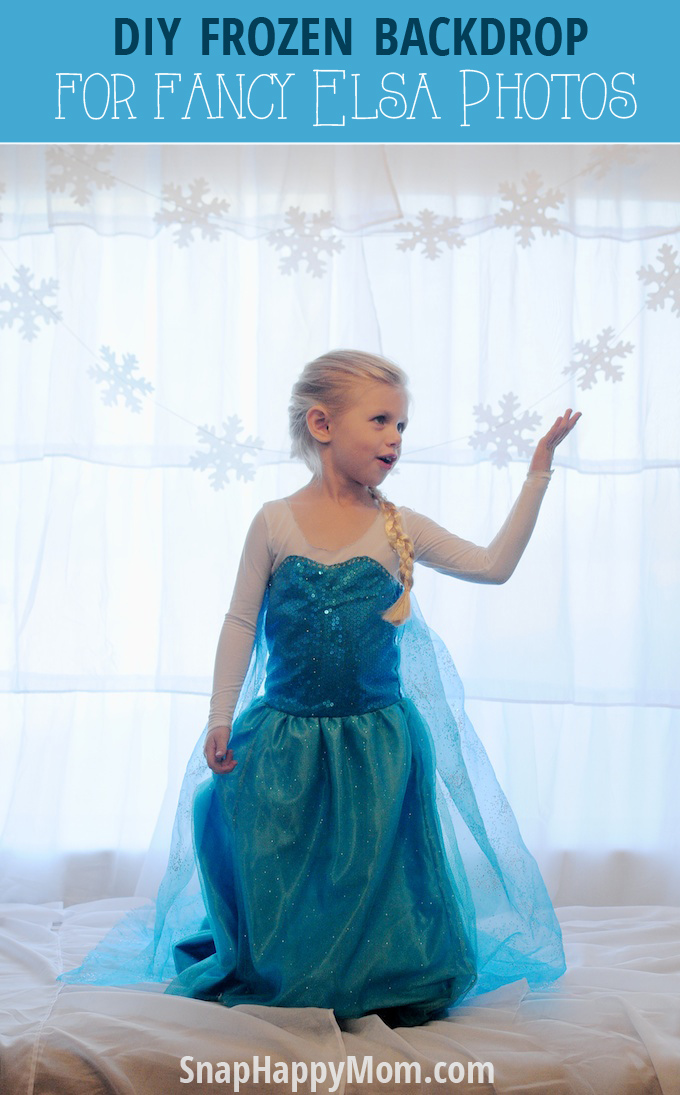 ---
Don't have time? Try this quick and easy 10-minute Frozen Photoshoot or Tips For Taking Halloween Costume Photos !