If you're like me, you probably have loads of pictures dying sitting on your phone. Anyone else? Yeah, me too, so I'm a huge proponent of getting those pictures off your mobile devices and into your home. My kids aren't allowed to play with my phone, so they are never going to see my cute shots unless they get printed!
To help you get that done, Shutterfly has the coolest app-exclusive deal – they offer FREE unlimited prints through the Shutterfly app!
Seriously – you can order as many 4x6 or 4x4 prints as you want and just pay for shipping. I call it a "secret promotion" because you can only access it through the Shutterfly app... it's not listed on their website.
You just pay the economy shipping based on weight (aka how many pictures you order). For me, it was about $10 for 100 prints!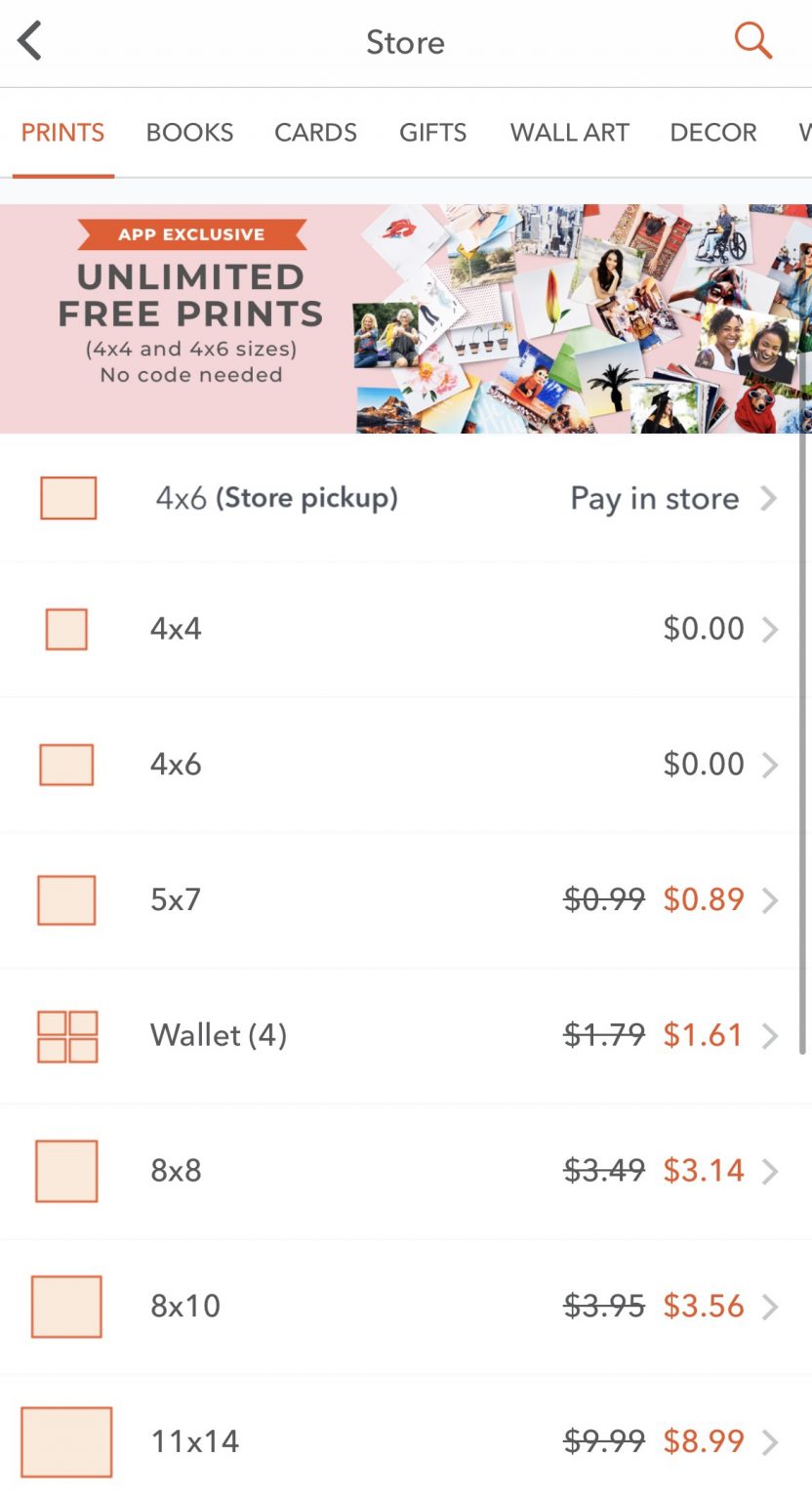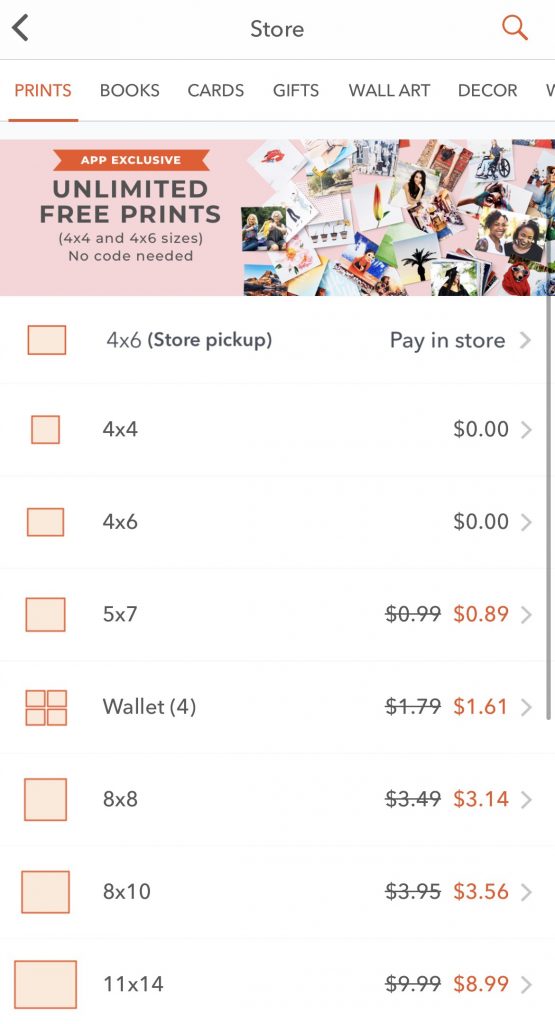 All you have to do is download the Shutterfly app. Then, once it's on your phone or tablet, it's super easy to access photos in your camera roll and order them.
They are marked at $0.00 for a limited time, so order away! The offer is good for both new and existing Shutterfly customers.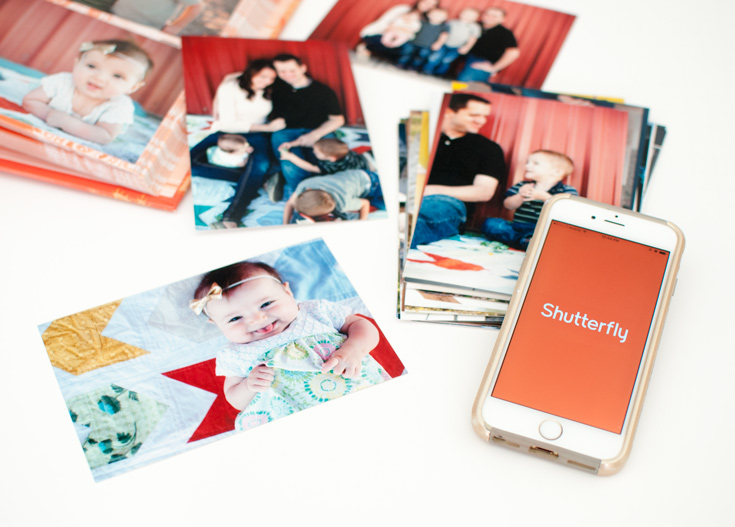 Economy Shipping Costs on the Shutterfly App
Since you can get 4x6 and 4x4 prints for free in the Shutterfly app, your main concern will be shipping cost.
Shipping is a variable cost according to how many prints you order.
We did some sleuthing to try to figure out the pricing brackets. From what we can tell, you pay $1.99 for the first picture and then 9 cents per each additional shot.
Here's roughly what you'll pay for shipping "free" 4x6 images on the Shutterfly App:
1 print costs $1.99 to ship
5 prints cost $2.35 to ship
10 prints costs $2.80 to ship or .28 per photo
25 prints costs $4.15 to ship, or .16 per photo
50 prints cost $6.40 in shipping, or .12 per photo
100 prints cost $10.90 to ship, or .10 per photo
150 prints cost $15.40 to ship or .10 per photo.
So even though the prints are "free", the shipping cost becomes the assumed cost of the photo.
I don't recommend using the Shutterfly App for less than 10 prints at a time, but once you'd reached about 50 prints, you're paying less than most places. The 9-12 cents range per photo is a great deal!
Just a few quirks about using the Shutterfly App
Quirk #1: You can only order up to 9 copies of the same file. I'm not sure why there is a limit here, but it exists.
Technically though, you can upload the same photo again and get 9 more of that file, although it's cumbersome if you need a bunch of the same file (ie for a wedding invitation or similar situation.)
Quirk #2: Only Matte and Glossy finishes are included in this "app exclusive free prints" deal. Pearl finish is not included.
Quirk #3: If your city & state require it, you will be charged additional sales tax. I haven't included it here because it depends on your location. But sales tax is not something you can avoid, as it will be added no matter where you purchase.
8 Things to Do With Shutterfly's Free UNLIMITED prints:
In case you're suddenly wondering what you would do with a huge stack of printed 4x6s, here are just a few ideas:
Fill up your photo albums! Haven't updated your family albums in a while? Here's your chance to print off the highlights and fill them up!
Print those holiday photos for posterity. Matching pajamas? Snow day? Christmas morning bedhead? Your kids aren't going to truly enjoy these pictures if they are locked inside your phone – you can access your favorite shots from Facebook on the Shutterfly app and print them out instead!
Update the pictures on Grandma's wall. Trust me, she'll never turn down new pictures of her grandbabies.
Make family "face" books. Make "people books" to help your littles learn the names and faces of their extended family. I've done this for my young kids and they adore them. Just slide some pics into a dollar store album that they can love to pieces!
Print your photos for Project Life or a scrapbook. Project Life is like streamlined scrapbooking – just slip some cute cards and 4x6 pictures into the special sheet protectors and you're done! It's an easy way to get your family photos in your hands.
Use your Instagram photos as home decor. It's super easy to access your Instagram photos from the Shutterfly app. Print those out as 4x4s and you have an easy wall collage for your home!
Make a banner for a special event. Celebrating a birthday? Tack up a string and hang cute prints of the special person with little clothespins. Easy peasy!
Get a head start on photo valentines. You can easily make your own unique photo valentines – find instructions for fun lollipop valentines or pinwheel valentines here!
---
Feeling inspired? All you have to do is download the app from the link below, and then add your prints to your cart. They are literally $0.00, no code needed! But it's for a limited time, so get going!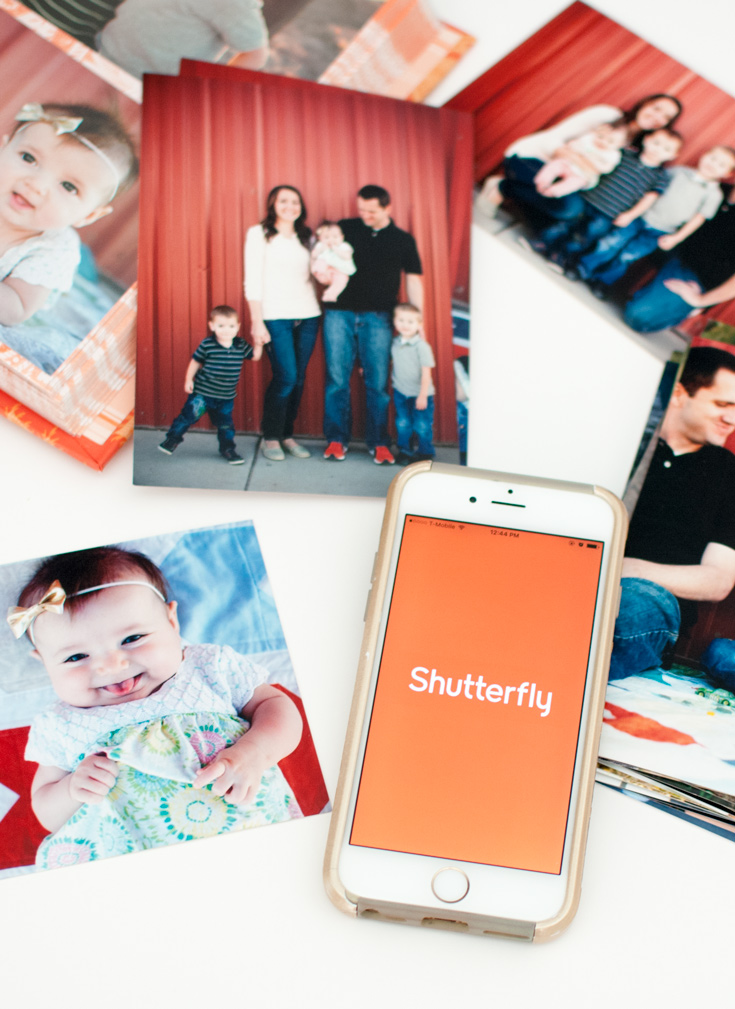 COMMENT: What pictures are you going to print? Are you going to try anything on the list?