Looking for a card case for Yoto? Not sure if you've found the perfect Yoto card storage option yet? As our card collection grows, we are noticing how nice it is to have cards stored in an accessible way. Here are some great Yoto card storage ideas that will help kids enjoy all of their various stories, books, and music (without losing their cards!)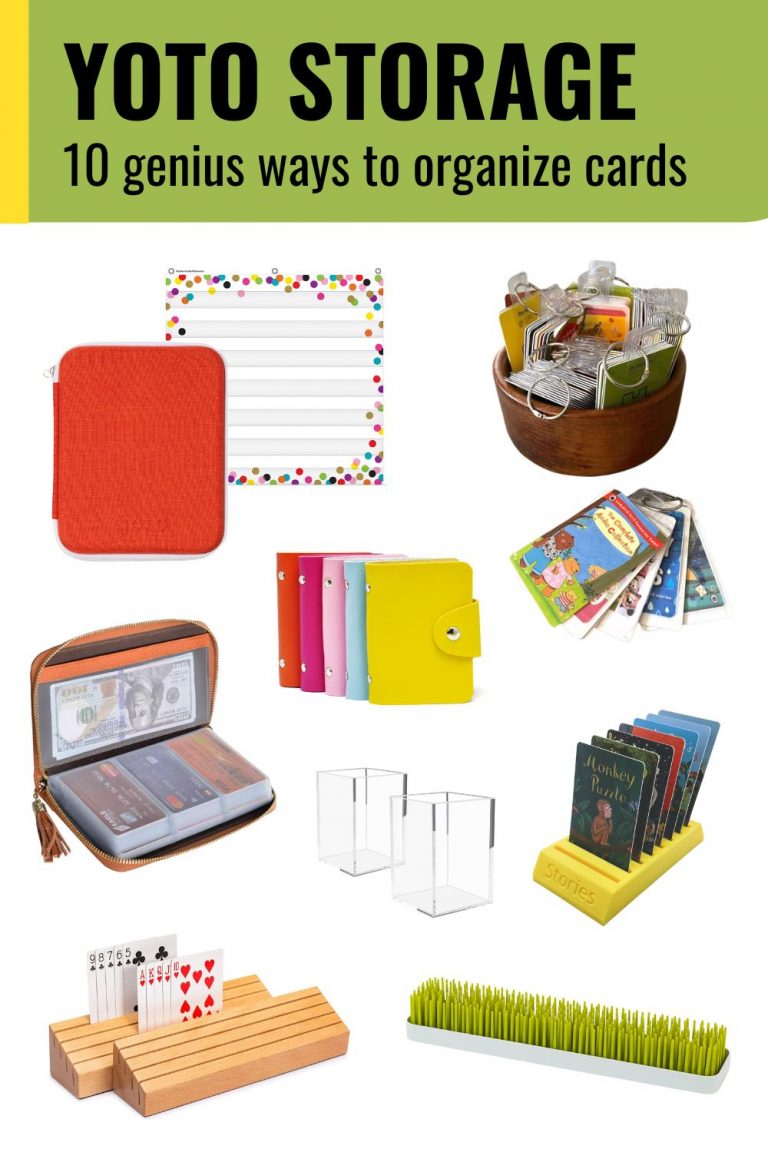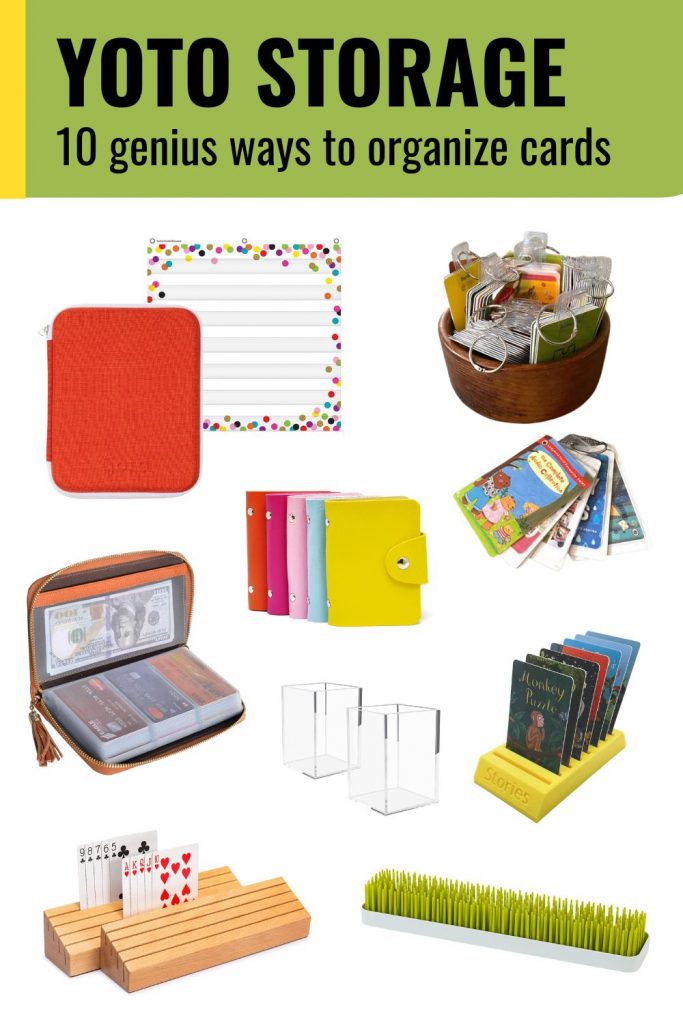 Portable Options for Yoto Card Storage
1. Yoto Card Case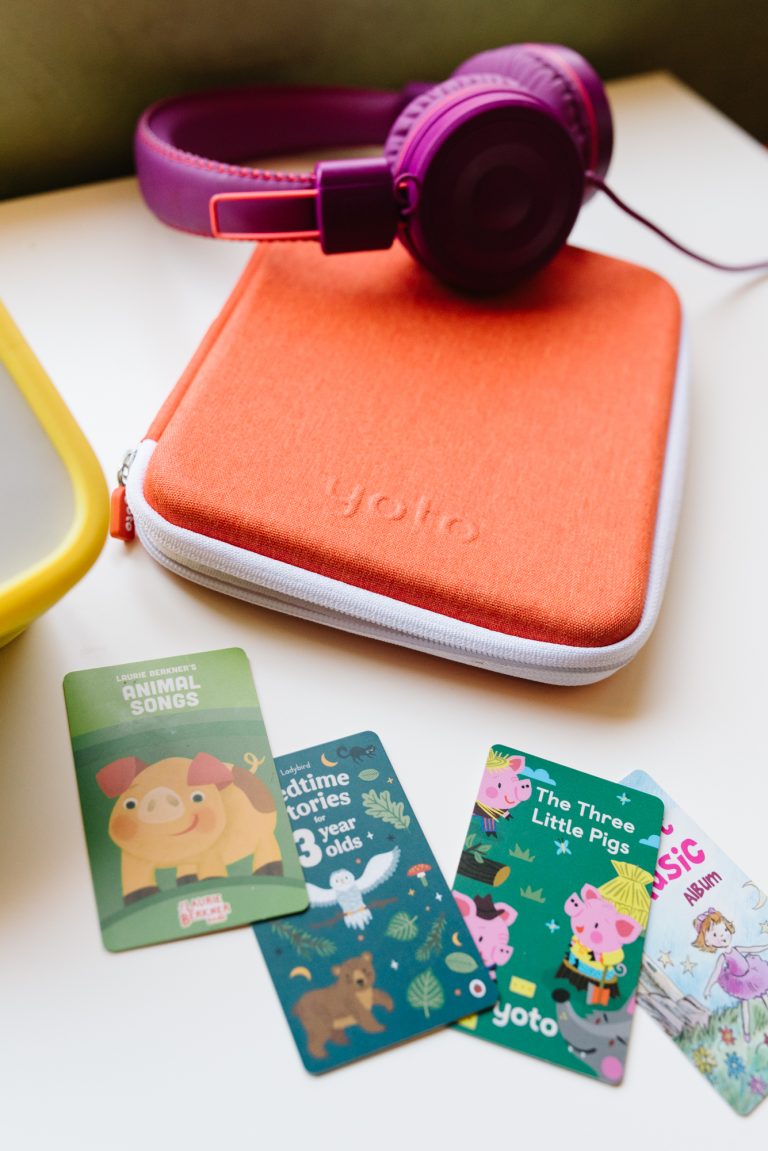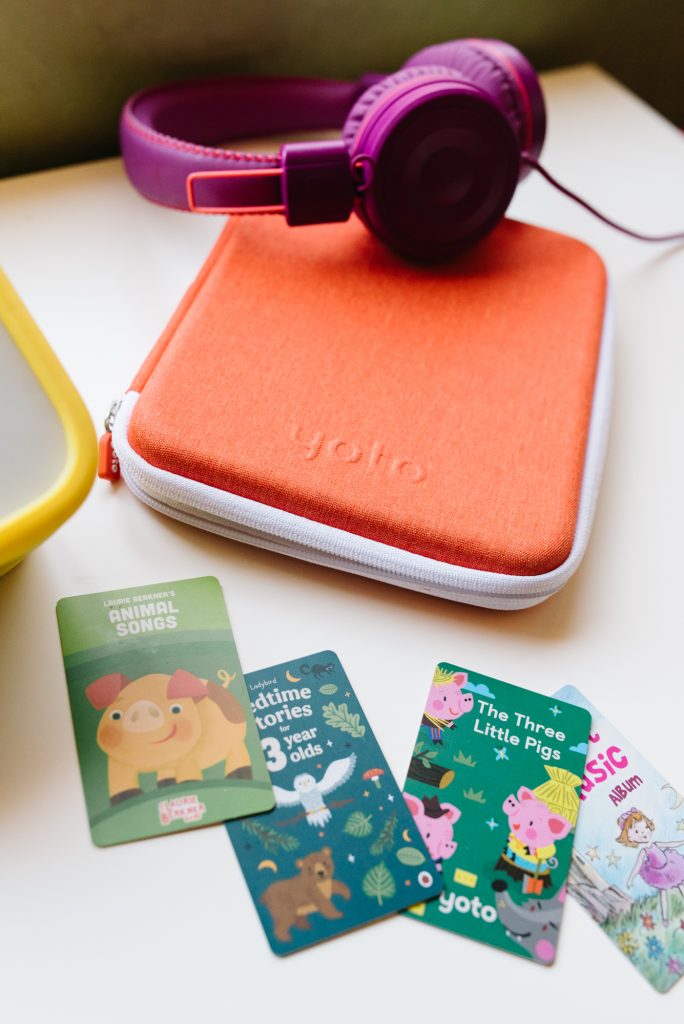 There's a reason the company sell their own Yoto card case: it's perfectly sized for Yoto card organization and super easy for kids to use.
The Yoto Card Case can hold up to 64 cards and is available directly through the Yoto Website or Amazon. Each case comes with 8 plastic sheets, with 4 card slots on the front and 4 card slots on the back.
Pros
Each plastic card slot has a diagonal opening. This opening makes it easier to add and remove cards, compared to a traditional baseball cardholder.
Additionally, this case is easily portable! The zipper keeps all of the cards snuggly inside, for trips.
Super kid-friendly! It's made for little hands. A sturdy zipper is easy for kids to manipulate.
Cons
If your collection grows to more than 64 cards, you would need a second case. Yoto does not sell additional plastic card sheets for their case (likely because the case would be full once you fill each sheets with 8 cards).
Additionally, Yoto changed the way the pockets were made during the pandemic, and some parents thought the older version was more durable. However, if you never had the old style, you'll probably be just fine with this case.
We use this case as the master "home" for all our cards and it's 100% worth it. You can get the Yoto card case here. It comes in three colors - green, orange, and light gray.
2. Business Card Wallets
Not sure about the price tag on the official Yoto card case holder?
Here are some other card case for Yoto cards you can use for storing and flipping through cards.
Yoto Card Case Alternative #1: Mini Binder Protector Holder
Yoto Card Case Alternative #2: Card Holder Wallet
Yoto Card Case Alternative #3: Card Holder With Snap
The official Yoto version of the cardholder is better for little hands, because it has diagonal openings for each card slot. Almost every other card case for Yoto covers the cards completely, meaning it's hard to get the card in and out!
Other cons include that you might not be able to double up two cards in each slot, nor are they as good of quality as the original card case for Yoto. They are definitely cheaply made... but they can still work if you're on a budget.
3. Set of Mini Card Holders from Amazon
This set of five small credit card holders works great for Yoto card storage! This is an excellent budget option since you can get the set of all 5 colors for around $12.
Each adorable wallet case holds 24 Yoto cards in side-loading plastic slots. Since the opening for each plastic slot is in the center of each case near the binding, the cards don't fall out. It's a fun Yoto Card case for younger kids, who do better with fewer options.
Pros
This set would be great for dividing up Yoto cards by child, or for organizing cards into themed cases (music, podcasts, fiction stories, etc.).
The small size of these cases also makes them great for taking just a selection of your card collection on the go.
Bonus: you can coordinate these little cases with your Yoto player's adventure jacket color!
Cons
This card case for yoto won't last forever. It's cheap, but they are a great budget-friendly solution.
It's not as easy to add and remove cards from the individual pockets, compared to a pocket chart hung on a wall.
4. Cards Attached Together on a Card Keyring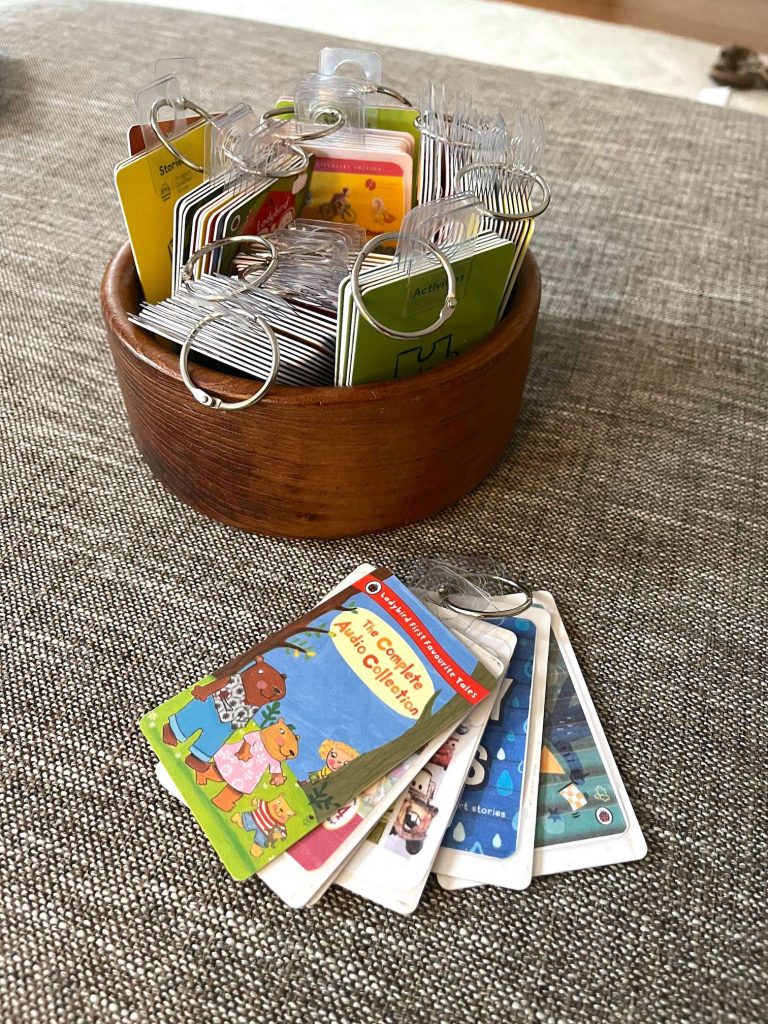 A Yoto Card Case is a great plan for storing and displaying cards, but some kids are prone to losing individual cards while they are using them.
Here's one of my favorite Yoto card storage ideas because it's so clever: Attaching all your cards together on a ring!
You can purchase self-adhesive hanging tabs and stick one to the top of each card.
Then, thread all of your cards onto a ring. You could put them on a jump ring or split ring, but I like these great steel wire rings (which are so much easier on your fingers!). Then, you have a keyring made up of Yoto cards!
With this storage solution, all of the other Yoto cards stay attached together, even when a card is being played.
To listen to a card, just find and isolate the card that you want, from the ring. Insert the card into the Yoto player, and let the rest of the card keyring hang beside or behind the player. The adhesive hanging tabs do not interfere with the Yoto cards fitting in the player slot.
Pros
Never lose cards with this method! Your whole collection is always in one place.
You can choose to organize them by set/series on individual rings or put everything together on one large ring. You can always switch it up later too!
Cons
This method works best for households with one Yoto player, or for homes where kids each have their own set of cards they listen to. It's harder if share cards across children, since it means you have to pull them off your handy dandy ring system.
If you implement this yoto card organization method and then later change your mind, you might need to clean off some remaining adhesive from your cards (Goo Gone cleaner works great for this).
Wall Options For Yoto Card Storage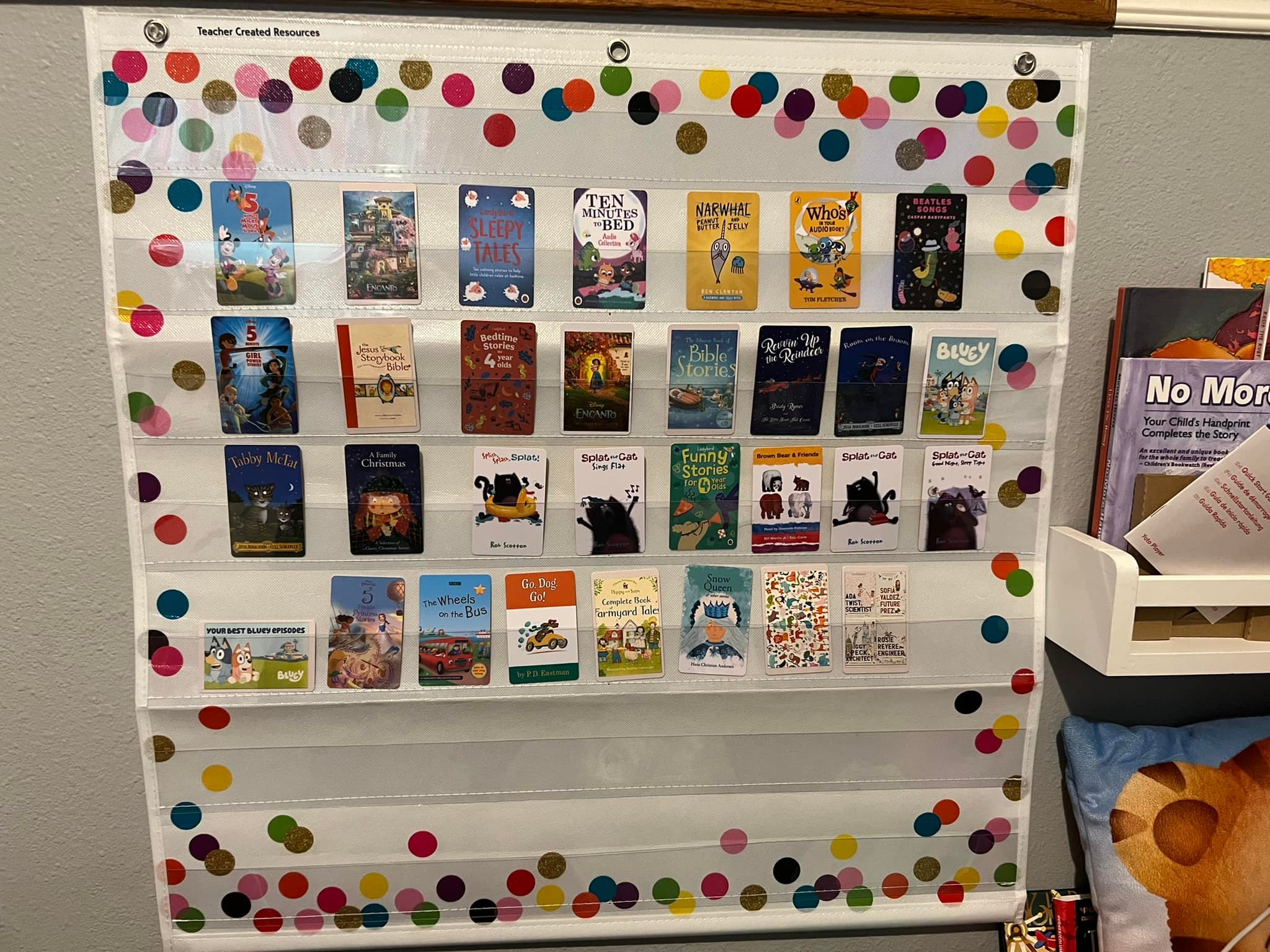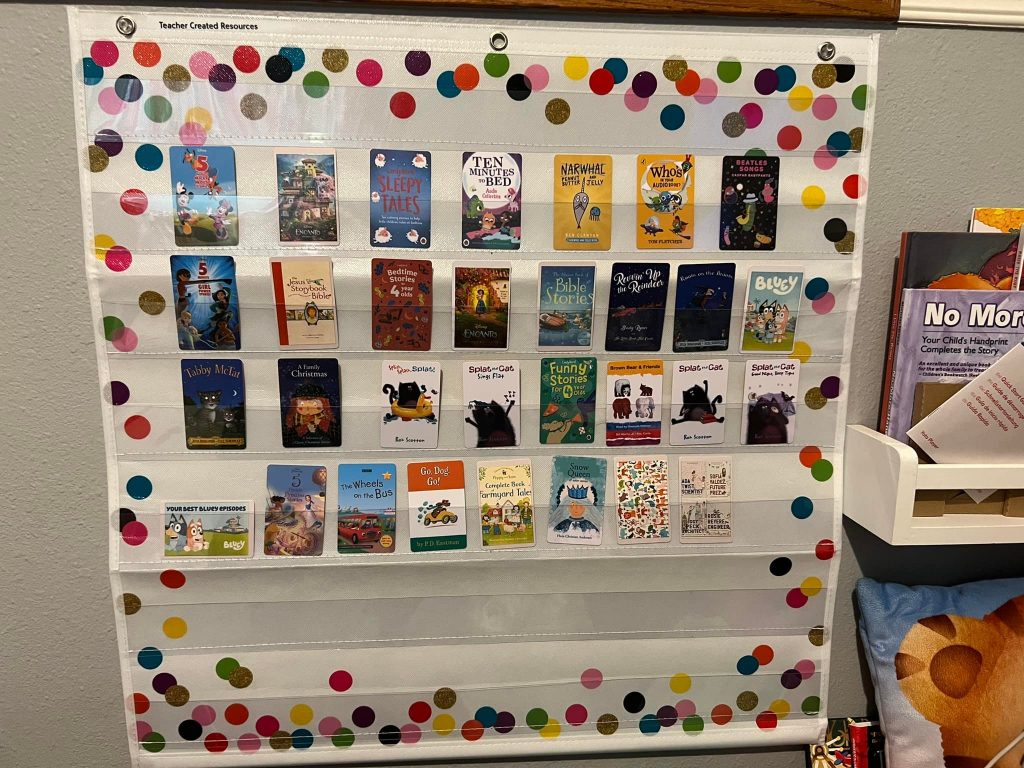 5. A Pocket Chart
This pocket chart has clear vinyl pockets that are a fantastic option for Yoto card organization. It means all the cards are displayed and visible.
The chart comes in various colors, but we especially like the burlap print one, so that there is a simple background behind the cards, making it easy to see each one. This pocket chart can be hung on a wall, door, or bulletin board.
The 28x28 inch pocket chart can hold 84 total cards, with no overlapping (12 on each of the 7 rows).
Pros:
All cards are visible all at once, which can be nice for browsing. If a child knows exactly which card they are looking for, they'll be able to find it at a glance.
The sturdy pockets are simple and easy to use; even toddlers can easily replace Yoto cards without damaging the pockets.
Cons:
Having all of your cards presented all at once may make decision-making hard for indecisive kids (if this is your kid, consider rotating your card collection).
This system also does not work for travel. It's great for Yoto card organization at home, but you'll probably need a mini wallet card case (see below) in addition to a wall pocket chart.
6. Velcro Dots with a DIY Frame
Another Yoto card storage idea is a DIY frame on the wall. This is great if you have extra frames or want an easy project. Frame a section of velcro and leave the glass off the top so the velcro can be used. Then add velcro dots to the top portion on the back of each card. Make sure you don't put the velcro dot too far down on the card or you won't be able to slide it into the slot in your Yoto player.
Once you add your velcro dots, you can stick them to the framed velcro. Now you have a photo frame on your wall of all the audiobooks and songs your child can choose from. It's a super visual way for little kids and they'll easily know what their options are!
Desk Options for Yoto Card Storage
If you have the room, having some cards out in a visible place is a great option for Yoto card organization. It allows you to have a small set of cards available, instead of the decision paralysis that can accompany a huge number of choices in a Yoto card case or pocket chart
7. Handmade Cardholders from Etsy
The worldwide community of people who love Yoto is growing! Some talented Yoto parents have created card storage solutions that are available for purchase.
For wooden card storage options with great reviews, check out these Etsy sellers:
Pros
These display pieces from Etsy all keep cards in easy view of your child and also look nice on a shelf.
Also, purchases from these shops support small, independent shops!
Cons
Most of these pieces from Etsy store a limited amount of cards, so you'll need a second option as a master storage location. But, this works great if you want to try rotating the cards that are available to your kids.
It's also perfect for displaying just a few favorite bedtime cards right near a child's bed.
8. Playing Card Holders
For a smaller collection of Yoto cards, a playing cardholder may be just the thing!
These are also great for a rotation system, or only displaying bedtime cards, etc.
Pros
These holders are very affordable, look nice on a shelf, and are easy for children of any age to use.
Cons
These pieces store a limited amount of cards, but they are a great option for a Yoto card rotation system.
9. A Bottle Drying Rack


This is a bottle drying rack, but it can be repurposed in a very clever way!
You can place your cards in it standing up. It's super easy to little kids to see their card options and put them back upright, since the cards fit anywhere.
Comes in this long version pictured above, or a square version in gray, green, or white.
10. A Square Desk Cup or Shallow Bowl
Sometimes, simple is best. A square pencil cup or desk cup (like you would use for paperclips) can be a good option, especially if it allows the cards to stand upright. If the cup is short enough, a child could flip through the vertical cards. Or a shallow bowl can be a great solution for storing cards; perhaps your kids could even make one themselves out of air-dry clay!
With a cup or bowl, there are no plastic pockets to rip. Storing Yoto cards doesn't get any easier than dropping the card into a cup. A container like this could be especially good as a secondary "home" for Yoto cards if your primary storage solution is on another floor of your house.
For instance, if you have a pocket chart for cards upstairs in a child's bedroom, you could temporarily store in-progress Yoto cards in a pretty bowl on a shelf downstairs. The easier it is to put away an object in its "home," the easier it is for kids to learn to clean up throughout their day. Cups and bowls are quite budget-friendly: check out the office supply aisle of a store and look for containers intended for paper clips, pens, or business cards.
Pros
It's simple and it works. You probably have something lying around the house that would work for free!
Cons
A container like this works best with 6 cards or fewer in it, as a temporary "library" of cards. It's not great for long-term bulk storage, nor for overall Yoto card organization. Once there are more cards, it becomes frustrating to find a specific card. You'll likely need to have an additional card case for Yoto content.
11. A Grooved Jewelry Stand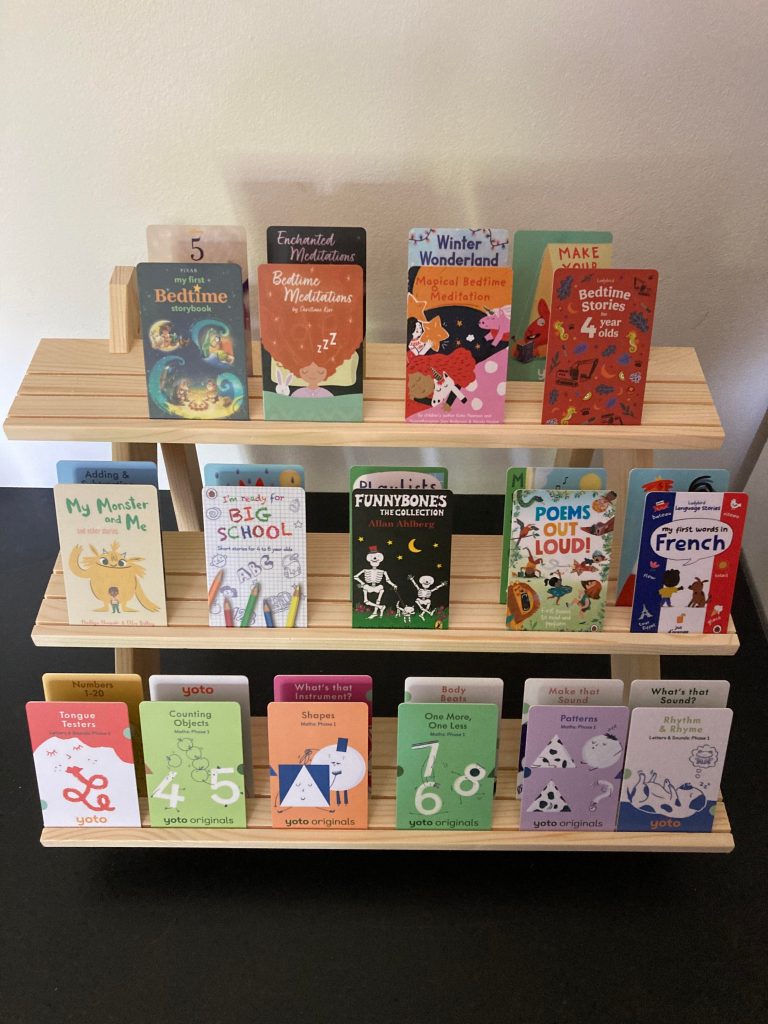 Yoto moms are so clever! This wooden stand is intended for jewelry - but each level has grooves that are perfect for displaying Yoto cards.
Just set it up on a desk or table and you can display about 30 cards at once.
You'll want to buy the exact Yoto card stand at this link:
---
A note about magnets...
While magnets do not affect the functionality of Yoto cards, we do not recommend using a storage system that involves sticking adhesive magnets to the back of each Yoto card. There are some people who recommend a DIY project involving magnets, and we do not recommend that.
Magnets can be very dangerous to babies and toddlers if swallowed.
If you are looking for a visual storage option for the wall, we love and recommend the pocket chart above instead!
---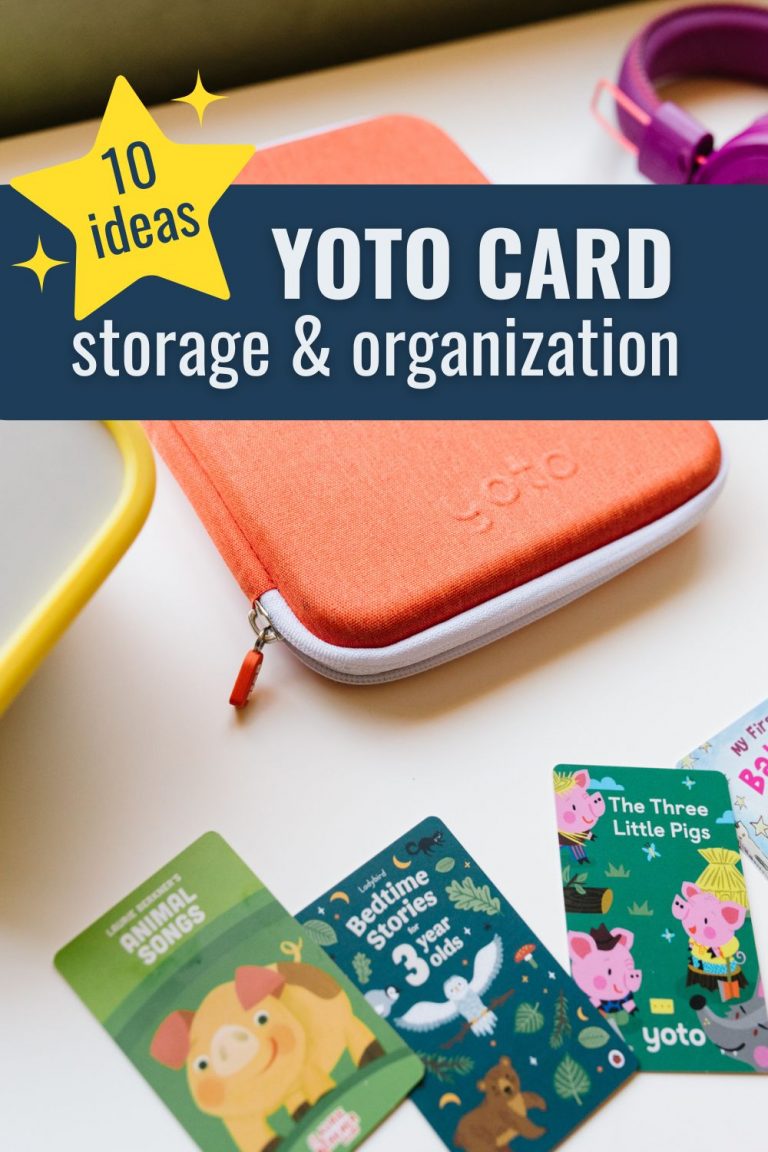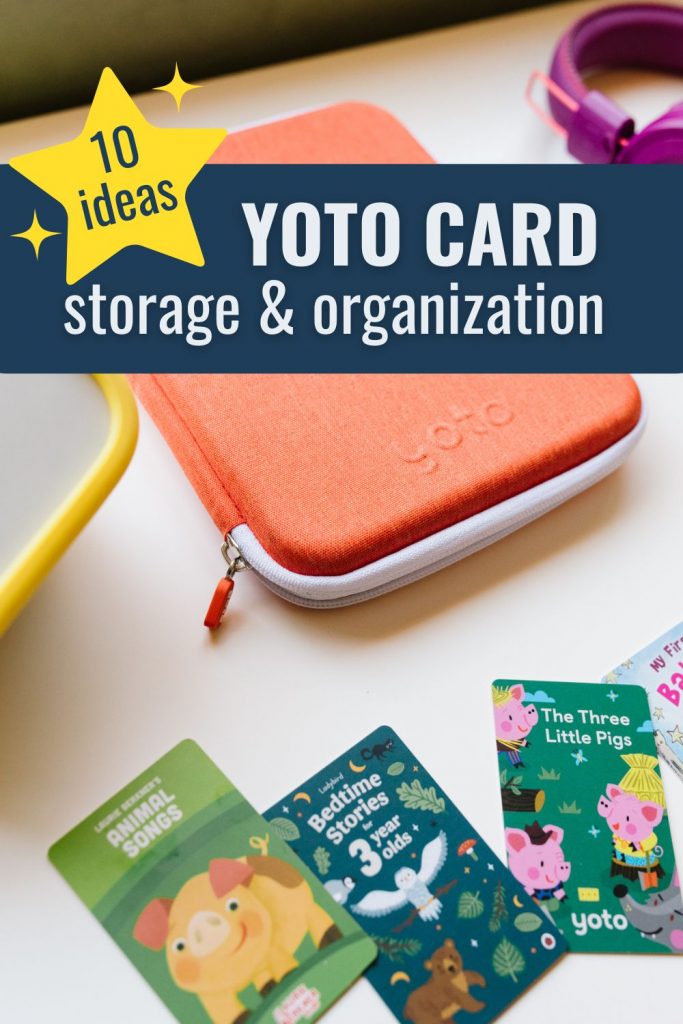 If you love Yoto players as much as we do, I'm sure it's been a struggle to find out where to store all of your cards! Hopefully these Yoto card storage ideas will help you easily organize and store your Yoto cards.
How many cards are in your Yoto card collection? Have you gone wild creating Make Your Own cards for your kids? Let me know below!