Did you just buy a Yoto? You might see that there are some Yoto accessories and gear available, like screen protectors, headphones, cases, and more. It might be tempting to just buy everything!
This post is all about Yoto player carry cases and Yoto accessories - what you need and what you don't! Keep reading for our recommendations.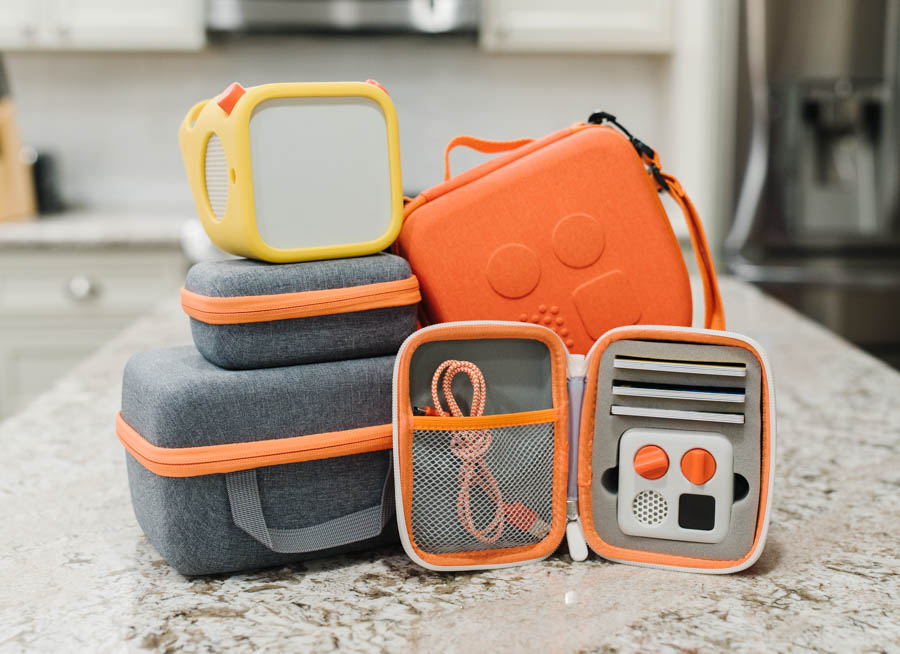 Do I need an adventure jacket?
When it comes to the adventure jacket, you definitely need it for the original Yoto, but it's optional for the Mini. Let me tell you why.
For the Yoto player, the silicone adventure case provides a handle that makes it easy to carry around. The Yoto player is hard to carry around on its own, at least with one hand, due to its bulky size. So the adventure jacket makes it portable!
Don't worry, the case doesn't cover any of the buttons or the charging port or headphone port. You can choose between 6 colors.
Yoto recently came out with the third-generation Yoto, so if you got the new Yoto, then you'll want to get the third-generation Yoto adventure jacket. If you have the older version Yoto player, you can get the second-generation Yoto adventure jacket.
Because the Yoto Mini is smaller and easier to hold, you don't really need a handle on it to carry it around. The mini adventure jacket can help protect it from any bumps though, and it comes with a wrist lanyard so you can ensure no one drops it.
Extra protection is never a bad idea. I recommend the case, but you don't necessarily need it for the Mini. For the larger Yoto, however, I definitely think you need the adventure jacket!
How do I keep track of all of my cards?
Once you get started on your Yoto collection, you'll need somewhere to store all of them. Getting a Yoto player card case is definitely necessary for a large card collection.
I definitely recommend the Yoto-branded card case though, because it's high quality and the slanted slots make it easier for little hands. It's worth the price IMO! (There are other knockoff options in this post, but I've never liked one as much as the original Yoto one.)
We have a post with lots more great storage ideas for your Yoto cards.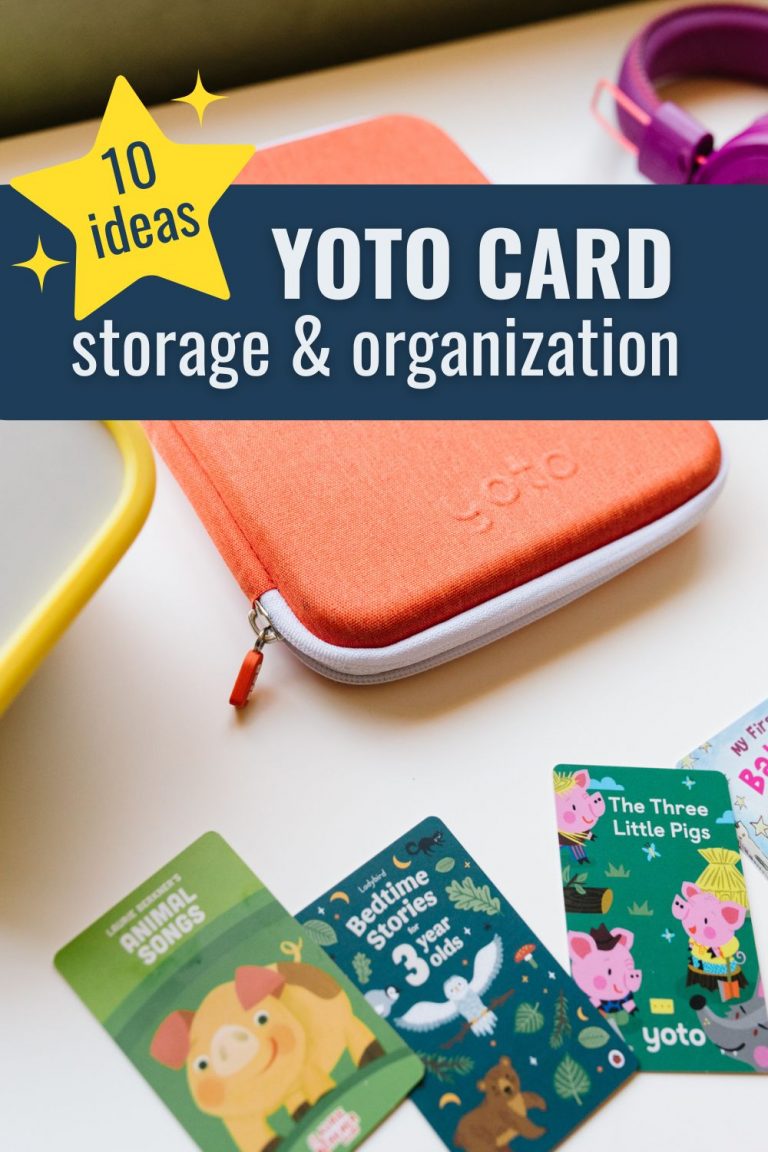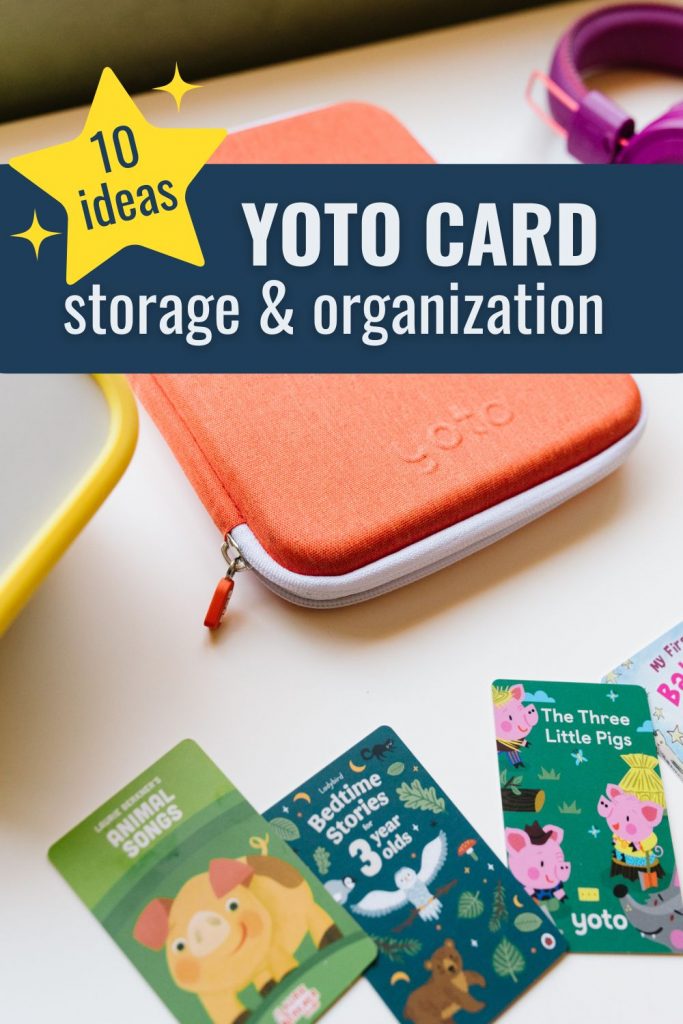 Note: The Yoto website also has a card pouch and magnets - neither of which are my favorite options. The card pouch is only meant for a few cards at a time and seems unnecessary if you have a larger case. The magnets aren't a super safe option for kids, so I shy away from recommending that as well.
What are the best headphones for Yoto?
We had so much to say about headphones that it warranted its own post. Head here to see our review of the Yoto branded headphones, and the many things to consider when purchasing any headphones for kids (i.e. Bluetooth, noise limiting, sizing, etc.). (link coming soon!)
What about the screen protectors?
The screen protectors for your Yoto are basically the same concept as a screen protector for your phone.
It's a clear adhesive that sticks to your Yoto screen and protects the screen from scratches. You can peel it off after you apply it, which is nice if you find that the screen protector needs to be replaced.
I don't think this is needed - we don't have them. Then again, my kids are a bit older and not throwing it around either. So if you have a rambunctious toddler, it might be a good layer of protection!
What about a Yoto charger?
There are a few different models of the Yoto on the market, and each one charges differently.
The "new" Yoto is the 3rd generation model, which was available in the summer of 2023. If you bought a Yoto anytime after July 2023, this is what you have.
There are two ways to charge this device: with a USB cord or a wireless charging pad. However, the Yoto only ships with the USB-C cord; the wireless charging pad is sold separately for $35. You'll need to plug your USB-C cable into a computer or an adapter.
The "old" full-size Yoto is the Generation 2 Yoto. It has a proprietary method of charging: a magnetic charging dock with a tiny pin. Some people have had trouble with the pin being finicky, which probably played into their desire to change the charging method. Old Yoto players shipped with the magnetic charging dock.
The Yoto mini uses a USB-C cable to charge, same as the new full-size Yoto. It comes with a braided orange cord in the box, although any USB-C cord will work. You'll need to plug it into a computer or use an adapter block to plug it into the wall. (We use these tiny plug adapters but also have installed these in different places in the house to make it easier.)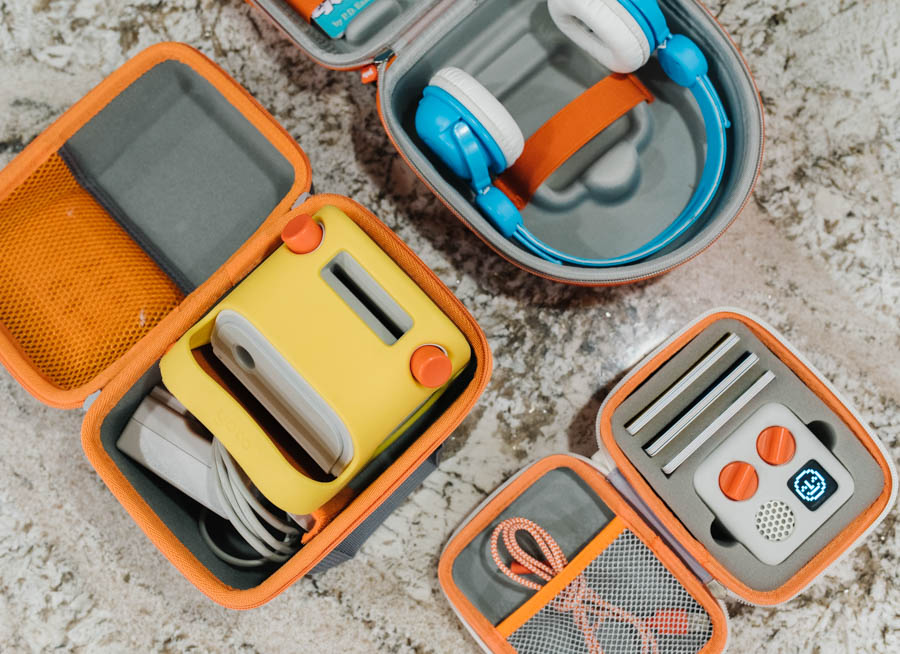 Do I need a Yoto Player Case?
Yes and no.
While the adventure jacket is super convenient for holding the Yoto in your hand, you may want a case that provides a lot more actual protection while traveling.
I think a case that holds a few cards is perfect to protect the Yoto Mini on the go. The biggest decision you'll have to make is whether you want headphones to fit in the case or not - which is just personal preference.
However, you don't need a Yoto player case - it's not a necessary thing. If you don't travel a lot, you might not need one. Sometimes we just tuck it into a suitcase on its own or wrapped it in a blanket.
If you own both a full-size player and a Yoto Mini, I would definitely only get a case for the Mini and leave the big one at home.
---
Full-Size Yoto Player Card Cases
Here are some options for Yoto Player carry cases.
These cases fit your Yoto player along with accessories and Yoto cards. The built-in lining is anti-static and the carrier is water-resistant. The case also comes with a hand strap so it's easy to carry and the case is made of a hard shell so it will protect your Yoto player from any drops.
This is the case we bought for our large Yoto, as pictured in my photos.
This protective carrier isn't an official Yoto case, but it's designed to fit Yoto players perfectly. It's fully padded on the inside and has a hard outer shell to protect your Yoto player from any drops. The case is sturdy, but it's still lightweight enough to easily carry it around or travel with it.
It's fully padded and has a handle on top so it's convenient to carry. There is a mesh pocket for cards and it comes in four different colors. The Yoto player and charger go in the same area with no divider.
---
Yoto Player Mini Cases
We are HUGE fans of the Yoto Mini for travel. Depending on how you travel, you might be fine just tucking the Mini into a backpack, but I prefer a small case that holds some cards as well.
This is the official carrying case for a Yoto Mini.
Yoto's travel case is a hard-shell case with enough room for a Yoto Mini, headphones, up to 30 Yoto cards, and your charging cable. It also has a shoulder strap so you can easily carry it over your shoulder. The Mini can fit inside the travel case both with or without an adventure jacket.
We have and use this case - it works well. It even has a clever hole in the cover that you could put a headphone cord through to listen while you're carrying it on your shoulder!
One con is that there's only one color. If you have multiple minis for several kids, you won't be able to color-code them easily.
It's also a bit overkill in that it's not the best use of room. So the case feels quite large because of how the headphones fit around the mini. There's a lot of empty space in the case itself. If travel space is an issue (and isn't it always!) then I prefer a slimmer compact case and just folding our headphones in a different place.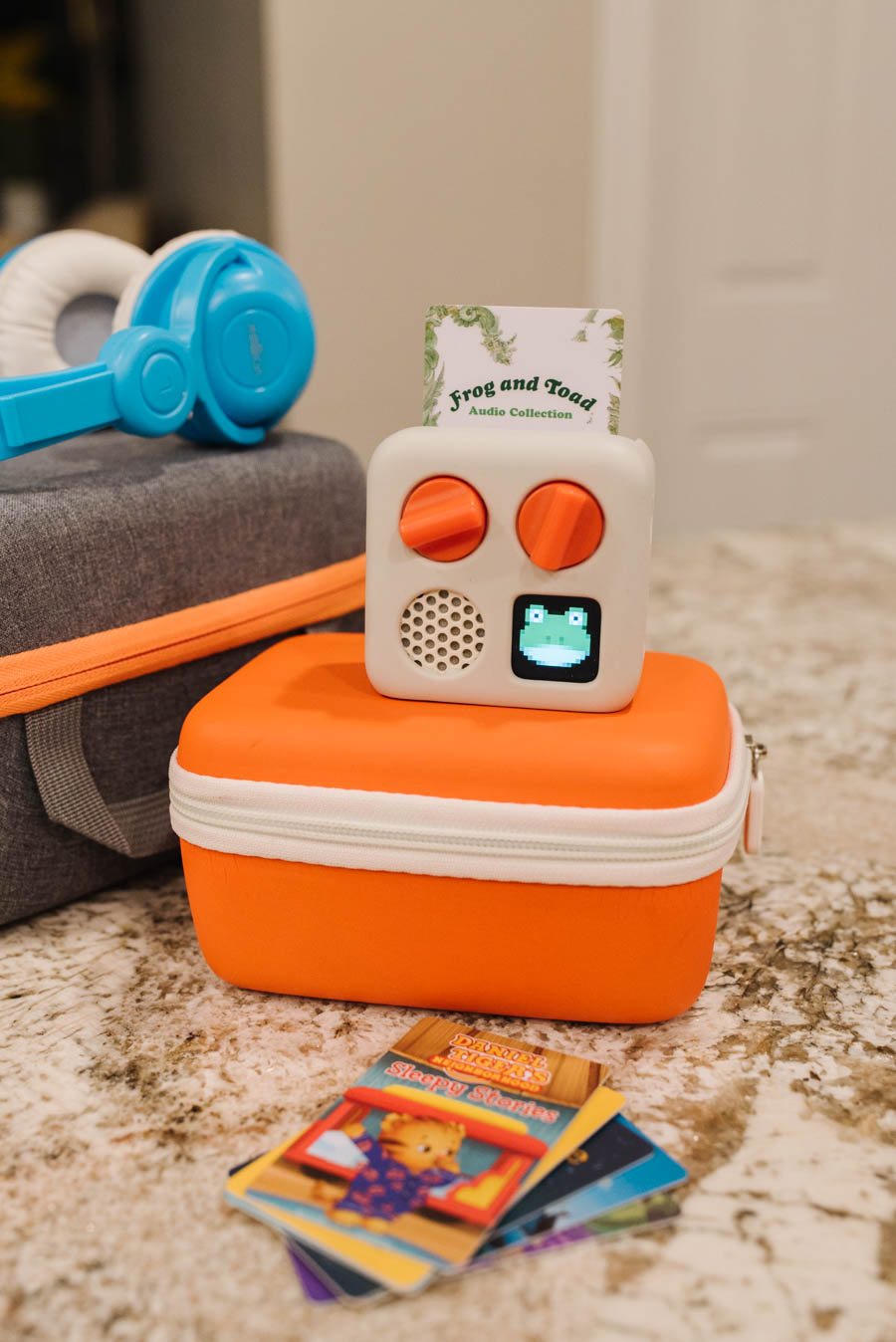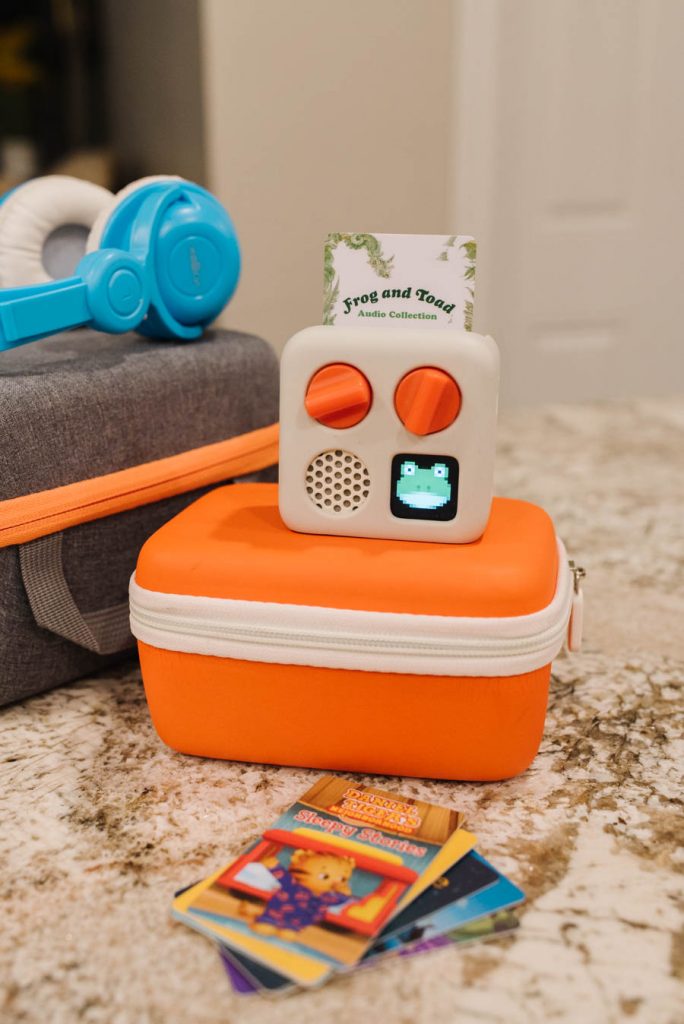 We also have and use this Yoto mini case! It's in the picture above.
This protective carrier fits a Yoto Mini player, several Yoto cards, and any cords or accessories. The removable foam padding inside perfectly fits the Yoto mini and your cards, which is nice because you know your Yoto player won't shift around in transit. The mesh pocket on top will hold any accessories you need to bring.
My four-year-old prefers this case above other options - it's cute, compact, and she can fit it perfectly inside a bigger bag or just next to her in the car.
One possible con is there is no room for headphones. I don't consider this an issue though.
This shell case is dustproof, shockproof, and water-resistant. There is also a soft anti-static lining inside to add protection for your Yoto player.
It doesn't have the inner foam that our other small case has (in the link above).
This waterproof, shock-resistant carrier is also scratch-proof and dust-proof, so your Yoto player will be well-protected. It comes with a zipper mesh pocket that can store the cord and some Yoto cards.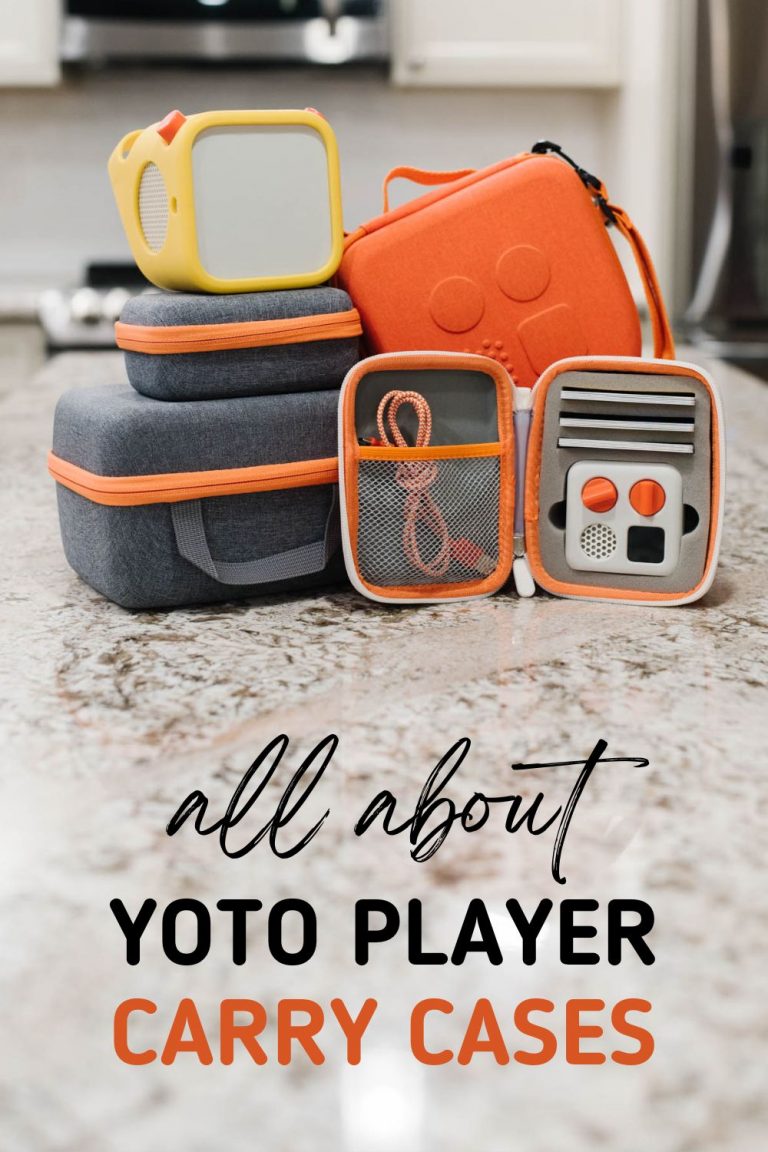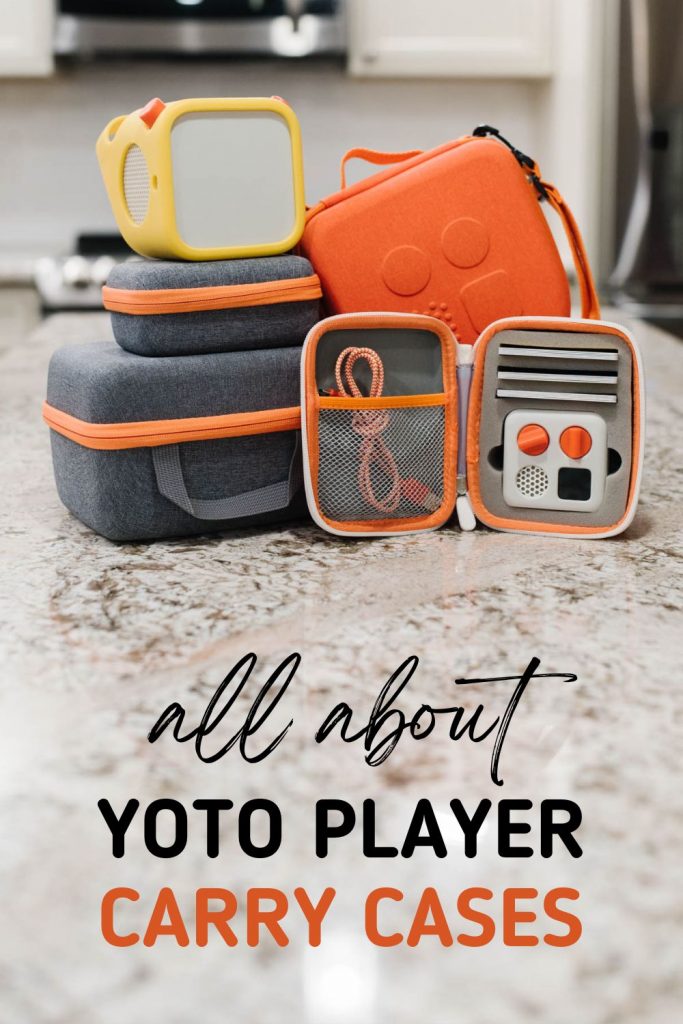 ---
Yoto Mini Carry Straps - The Accessory You Didn't Know You Needed
There is a really cute shop called Belle Sundries on Etsy that I love. Their stuff is so stinking cute!
The shop offers a 3D-printed holster with an adapter to allow a place to attach a strap. You can easily clip in any strap of your choice and wear your Yoto player when traveling. They also have the cutest beaded handle as an option!
They have an adorable rainbow holster that I'm totally getting my daughter for her birthday.
And if you like rainbows, a different shop offers this sweet rainbow strap for a Yoto as well.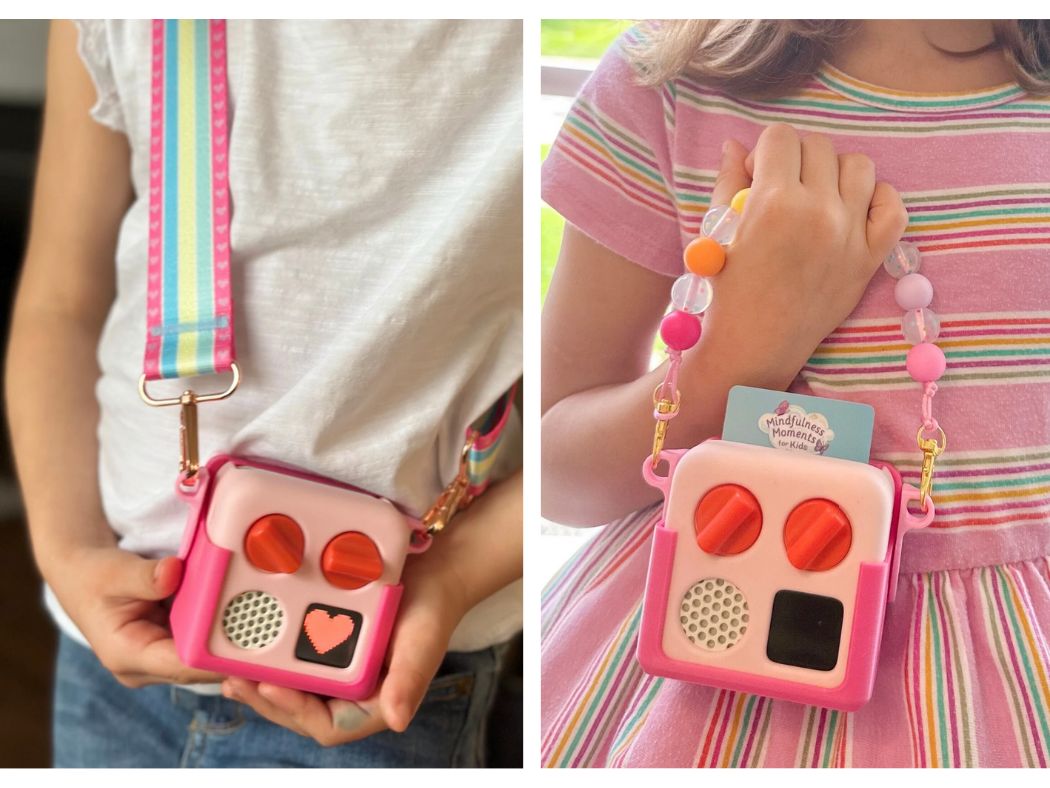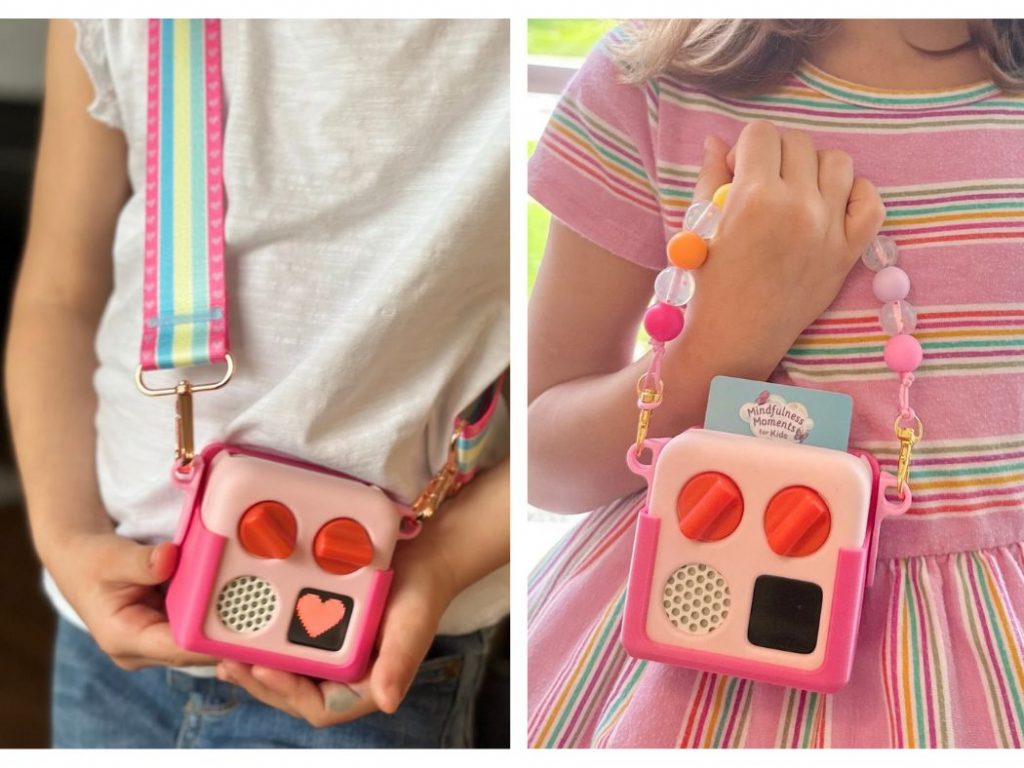 ---
You might also like these posts: