Once you get your photos organized, you want to make sure you save those photos in more than one location. There's plenty of things that can go wrong with the original files, so having a backup is essential!
There are different options for ways to back up your photos, depending on what you need. Here are some of the common types of backup storage options to consider: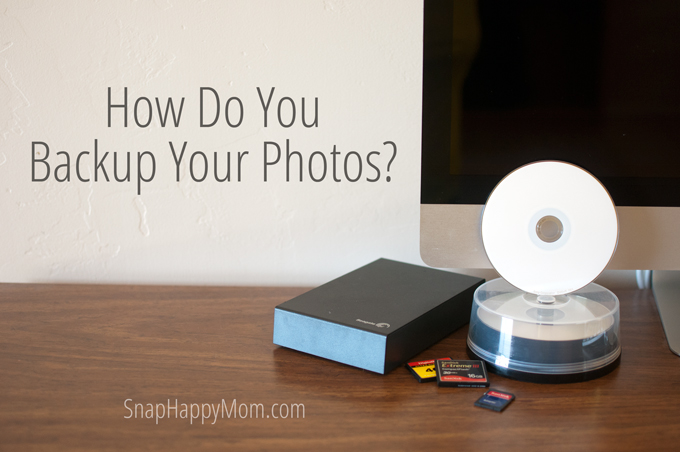 Automatic Cloud Backup Storage
Cloud storage is essentially storing your photos offsite on the internet "cloud." When you use cloud storage, you're paying to rent storage space on someone else's secure server, which means you can usually access your files from anywhere on any device.
The cloud-based online backup services mentioned in this post are meant to back up every file on your computer to an off-site location. They work quietly in the background, uploading new files every night or continuously as you make changes.
The beauty of cloud backup it that it is a "set it and forget" service, which means you don't have to remember to back up your files, it just happens automatically.
Read about my top three Cloud Backup Services in this post: Backblaze, iDrive, Carbonite
Cloud backup is usually priced by a certain amount of space for a monthly or yearly fee. Some companies offer unlimited storage, which is awesome for people who take a ton of video or store lots of RAW photo files.
Having a backup happen automatically and continuously provides a lot of peace of mind for me! It means your files can be easily restored if your computer crashes. And the fact that it happens automatically means it's something less to worry about.
The main con would be that you are paying monthly for the convenience of automatic backups. I think this cost is completely worthwhile, but you are going to pay more than the one-time cost of an external hard drive.
The other negative is that cloud storage requires internet access to use. If you have slow or unreliable internet, this can be frustrating.
---
CLOUD SYNCING, SHARING, AND STORAGE
Syncing, sharing, and storage gives you another place to store your photos "in the cloud." I think it's necessary to have an automatic backup service described above, but I also think it's helpful to have a dedicated place that makes it easy to share photos across devices and with friends and family. This isn't a true backup of your files because they only sync files you upload or designate, but it's worth having.
Common cloud syncing/sharing services for family photos include Dropbox, Google Drive and Google Photos, Box, Amazon Cloud Drive and Prime Photos, etc.
Read more about the options for cloud storage in this post.
These services are great for a couple of reasons. First, they make it easy to access and add to your photo library from multiple computers, tablets, or phones. You get to choose how to organize your folders in these systems, so it's often an opportunity to create a master system for organizing years' worth of photos.
You can also share folders and files easily with a service like Dropbox or Google Photos. This works well for sharing family pictures with extended family or gathering pictures together for a project like a calendar.
One negative of a cloud syncing service is that the easier it is to put pictures in, the easier it is to accidentally delete them or overwrite them.
The very nature of syncing services is that any file changes populate out to every device that has access to that account. This is great for sharing files where everyone wants the most up-to-date version, but it can't be a permanent form of storage for photos because there are just too many opportunities for them to get overwritten or deleted off shared accounts.
Most syncing services also have lower storage capacity or file size capacity because they aren't meant to hold your entire library of images/videos. There are usually options to pay more money to extend that space, but it's a lot more expensive for the syncing convenience than the price for the same space in a backup service.
Syncing services are fantastic for what they are meant for - just remember that they don't replace an automatic backup service, they go hand in hand!
---
External Hard Drives
An external hard drive is just like storing photos on your computer, but the hard drive is located in an external housing instead of inside your computer. It's essentially a really big memory stick or card. You can either copy files onto a hard drive yourself or set your computer to automatically backup to a connected drive.
External drives are portable, easy to update, and do not require internet access to use. They have the highest upfront cost, but the cheapest rate for that space. So you'll have to pay about $100 to buy a 2-TB drive, but it's way cheaper in the long run compared to other options.
Unfortunately, the drawback is that they occasionally fail. Just be as careful as you can not to drop or bump your hard drive, and package it carefully if you travel with it.
These are hard drives I recommend. You'll need different sizes depending on how many pictures/videos you want to store (videos are huge!). The ones that say "portable" or "slim" are often a good option if you're limited on shelf space.
---
Optical Media - CDs & DVDs
Burning a disc with a set of photos is a common option for a convenient way to give pictures to other people. It's perfect for transferring files between parties, like when your photographer burns you a disc from a session. It's hard to accidentally delete files off discs, and it's cheap to just buy a few discs and make multiple copies.
Even though it's convenient for transferring files, burning a disc is not the best long-term plan for backing up your entire photo library.
Optical discs are not an efficient use of time or space: you can only fit 700 MB on a CD, or 4.7 GB on a DVD. Most memory cards in your camera can fit several times this amount, which means you'd need several DVDs just to back up one card's worth of photos! How many times do you fill up a memory card in a month?
It also takes a lot of time to burn discs individually, plus they can get scratched over time.
I only recommend using discs to transfer photos between people, not for long-term archives. Optical media is useful, but technology is moving away from discs in favor of more reliable options.
---
Memory Cards, Memory Sticks, Jump Drives, and Thumb Drives
Despite common habits for many people, memory cards or memory sticks are not intended for long-term file storage. I've met more than one person that simply never clears off a memory card and instead just buys a new one whenever one fills up (an expensive habit, at the very least).
Memory cards are probably the worst way to store your files for extended periods of time: individual cards or drives can get lost, dropped, corrupted, erased, or fail. Your chances of memory loss are exponentially higher if you have a habit of deleting pictures to make room for more on the card!
Memory cards are intended as a place to capture pictures in a camera, and then transfer them to a computer. They can serve as temporary duplicate storage while you're backing up the pictures elsewhere, but I would not leave my precious photos on a memory card for any extended length of time. There is no guarantee that technology will continue to support particular brands or sizes of memory cards in the future.
This also applies to the small memory sticks, jump drives, and thumb drives; these are not intended for long-term storage. They are ideal for moving files from one computer to another, but I never use them as a back up for my photos.
--
QUESTION: How do you back up your photos?