Most people have a pattern for how they import and store photos, but they've never really thought it through - it's just how they've always done it. Then something happens and they realize they've lost photos because of a silly mistake or a card malfunction.
Here are some of the best practices for basic digital photo storage that have saved me heartache time and time again.
Start good habits before you lose precious photos!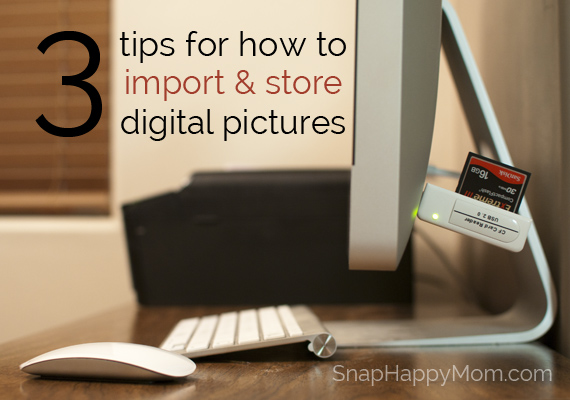 1. Always transfer the entire card to the computer.
I know it's tempting to just transfer the photo you need right then, or only upload the good ones, but you're setting yourself up for a future problem.
ANALOGY: Picture a tall stack of books or magazines. Everything is perfectly and evenly lined up. For some reason, you decide you no longer need some of the books at the bottom, so you start yanking them out. What happens?
The huge stack wobbles and gets messy. It's certainly not all lined up anymore and it's definitely unstable. The more books you add on top of this wobbly foundation, the more likely the whole stack will crash, right?
The same thing is happening inside your memory card. Every time you take a picture, you're adding another book to that stack. All your recent ones are at the very top. Say your camera memory is almost full, so you go to the pictures at the beginning and start to weed some out make room.
Delete one here, a few there. It's just like pulling out the books from the bottom of your stack, except your files are precious and can't be replaced!
The more you delete pictures and then precariously pile on new photos, the more you are introducing the risk of corrupting a memory card and losing everything on it.
Now, I know that some people are thinking "I've been doing it that way for a long time and I haven't ever had a problem."
Well, that's fine, but you are definitely taking your chances here.
Technology is fallible! Just because you haven't had a problem yet doesn't mean you ever will. It's a matter of when technology will fail you, not if it will. Especially when continually deleting and taking pictures on a full memory card significantly increases the likelihood of errors and corruption.
So, my advice is to take everything on your memory card and put it on your computer.
Don't just grab the good ones or the photo you need to post on Facebook. Move everything onto your computer, every time. Some people's cameras connect directly to the computer via a USB cord and some people use a memory card reader: either is fine, just do a complete transfer.
2. Organize by monthly folders, with events if you need them.
Whether you have a PC or a Mac, there is a designated spot for photos. Use it.
No putting a folder on your desktop that says "summer photos." I used to be very guilty of this, but I came to my senses when I hit thousands of photos in one folder.
When I had my first baby, I remember taking a whole card of pictures and listing it on the desktop as "baby pictures." Great idea, I thought, because they were all photos of my baby.
But then I just kept dumping pictures in this one folder for months. And months. And months.
Eventually, I realized this was not a good idea at all - it became so overwhelming that I could never find anything. I've come a long way since then, and have a much better process for storing digital pictures now.
I recommend that starting today, you organize into monthly folders, which reside in a yearly folder. It's easy enough to remember what month that vacation was in, or that a holiday is always in a certain month.
Over time you can go reorganize older photos, but the next time you import your memory card, make some monthly folders!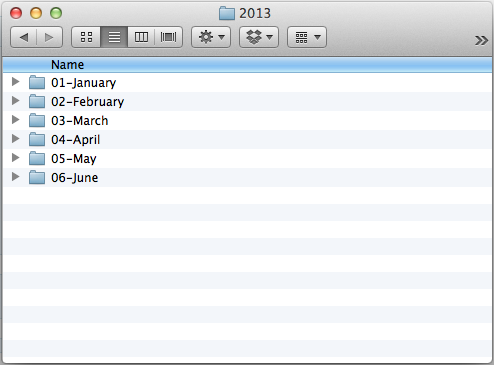 Number your folders to correspond with the months. Mine say 01-January and 02-February, all the way to 12-December by the end of the year. You want the 0 digit in there to keep everything ordered properly.
Then, dump everything from a particular month in that folder. From here, you can organize them however is best for you. You can do folders within a month if there are big events, like Suzie's Birthday or Roadtrip to California.
I do this for the events that have tons of pictures, such as week-long vacations or family reunions. I have lots of everyday pictures that don't need their own folder, so most of my stuff just resides in the monthly folder.
One good reason to use a monthly folder system is that it's a lot harder to accidentally delete files.
You know when two files are named the same thing, like JPG-001, and you delete one thinking it's a copy of the other? You don't even realize those pictures are gone until it's much too late. How sad to lose those photos!
If you organize by month, it's very unlikely that two identically numbered photos will end up in the same folder, and you won't accidentally replace anything. (If your computer ever tells you that a file already exists by that name, go look and check before you overwrite and potentially lose something!)
3. Do a clean backup and format of your card.
Once your pictures are in your computer, properly eject your memory card and set it aside. Don't put it back into your camera yet! You need to back up your pictures before you do anything else. Really.
Go get your external hard-drive or load up your cloud storage, or whatever it may be, but go back up the entire card's worth of memory to a second location.
My backup organization is identical to my original organization: it's organized by year/month/event. The point is to have all your original files somewhere else so that if anything happens, you have a perfect second copy of everything and you know where it is.
Before deleting anything off my card, I check and double check that all my pictures reside in at least two locations (computer hard drive and external hard drive). I often do this by checking the total number of files in a folder, since they ought to be the same if all the files exist in both places.
If I'm completely sure that I have every single file in two locations, I pop my memory card back in the camera and format it. Point and shoot cameras may have a format function, but may only have an erase-all function.
On a DSLR, you want the "format memory card" option, which is a double-duty function: it erases all the pictures on the card and also resets the file system to work correctly on that card.
Memory cards work best when they start from a clean slate, so it's a good practice to format the card every time you've used it with the computer to make sure everything is set up correctly. Just erasing everything without ever formatting will eventually slow down the performance of that card, as well as leave you open to corruption.
(However, never format your card unless you are positive all the images reside on your computer because it most definitely erases EVERYTHING in .02 seconds. Be warned!)
Now my memory card is ready to shoot pictures again and I have at least two places where my digital pictures reside. Only then do I start culling out bad pictures, or editing anything. I've seen and felt the devastation of losing pictures, and it's just so much easier to build good habits before those things happen.
---
COMMENT: I'm writing a post soon about cloud storage options. Leave me a comment if you have a favorite cloud storage service you want me to include in my comparison chart!