We've done the research and have discovered the best digital frame for grandparents. A digital picture frame - full of family photos - is seriously one of the best gifts for your parents or grandparents. Pictures of family and good memories make them feel loved and connected, even if they are far away.
However, you want to take care to get a high-quality frame. You definitely get what you pay for, and cheaper frames tend to be overly complex and a headache for everyone.
We've looked at all the options, with specific requirements in mind about the type of person using the frame. In the age of Covid, you had to be able to load images remotely, so no fiddly memory cards to transfer or deal with. The frame needed to be accessible by various family members submitting pictures and have excellent customer service. Most importantly, it had to be easy for seniors to use and enjoy.
This post covers our top two digital photo frames and why they are so awesome for seniors.
We've also included directions for setting up each frame in advance. Preload that frame with photos and make it an amazing Christmas morning surprise!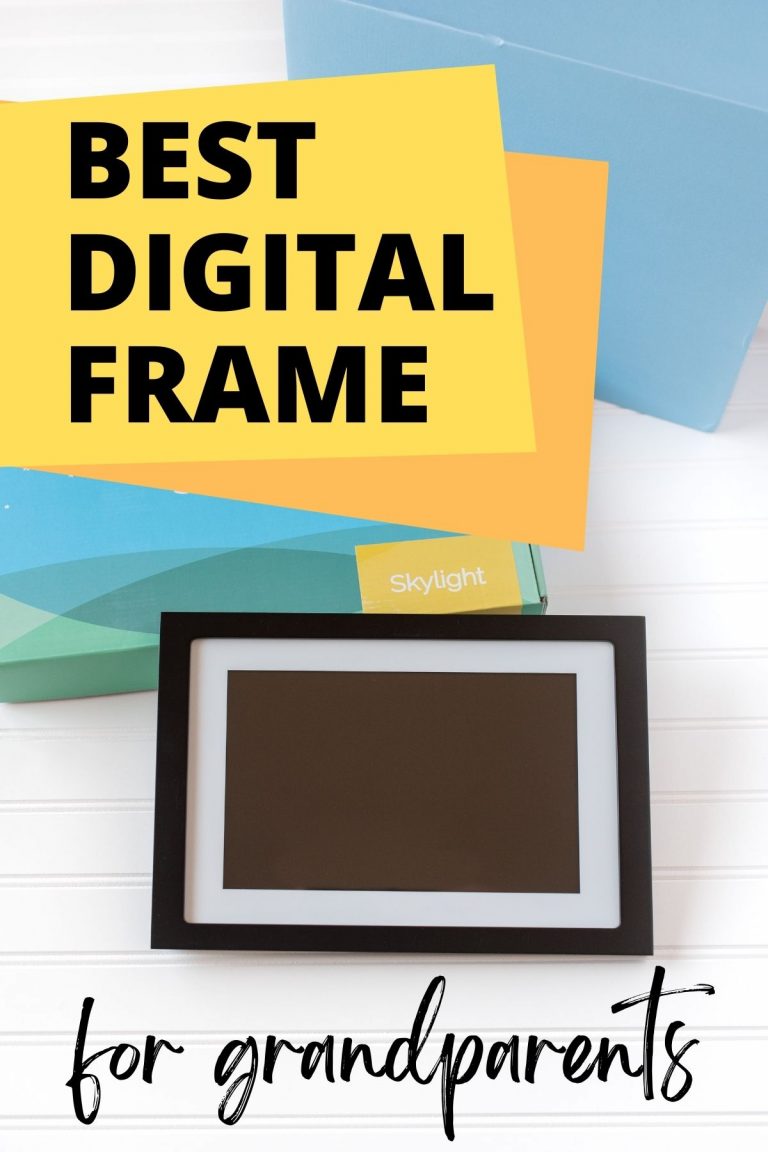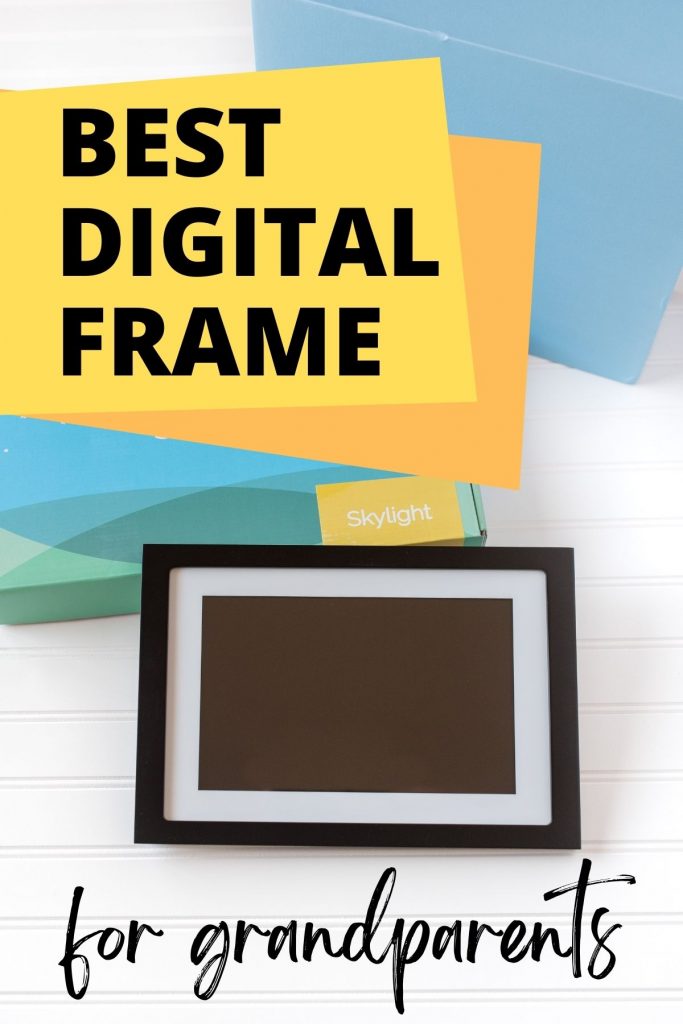 What are the main differences?
To be clear, both of these options are digital picture frames, need WiFi to set up, run on electricity (so they need to be plugged in), and can be used on a tabletop.
They have similar price points in the $169-199 range, although one has an extra optional subscription.
The main differences between the two frames are:
how you upload pictures to the frame,
how you interact with it - touchscreen or an intuitive touch bar?
how vertical pictures display,
and then minor frame style choices like color/size.
It's hard to say which one is the best digital frame for grandparents because it depends on their age, abilities, and preferences. However, we are confident that either the Skylight or the Aura is the best digital photo frame for seniors.
The Skylight Frame
I personally purchased a Skylight Frame for my parents to see pictures of their grandkids, so this is NOT sponsored. The brand sent me an additional frame for personal use, but my opinions were formed from our experience gifting the Skylight two years prior.
The Skylight Frame is an excellent product that does its job beautifully. The frame encloses a digital screen that shows a slideshow of images you've uploaded into a Skylight Account.
There is a simple product design: a black/white/silver frame with a white mat. It can sit on a tabletop or hang on the wall, either horizontally or vertically. The frame itself is flat on the back, and then you can screw in the included rod/stand piece to have it sit on the tabletop.
The Skylight Frame is automatically in "slideshow" mode, which slowly rotates through images. You can select a specific folder of images (like of a summer trip or holiday) or let the frame show all uploaded photos.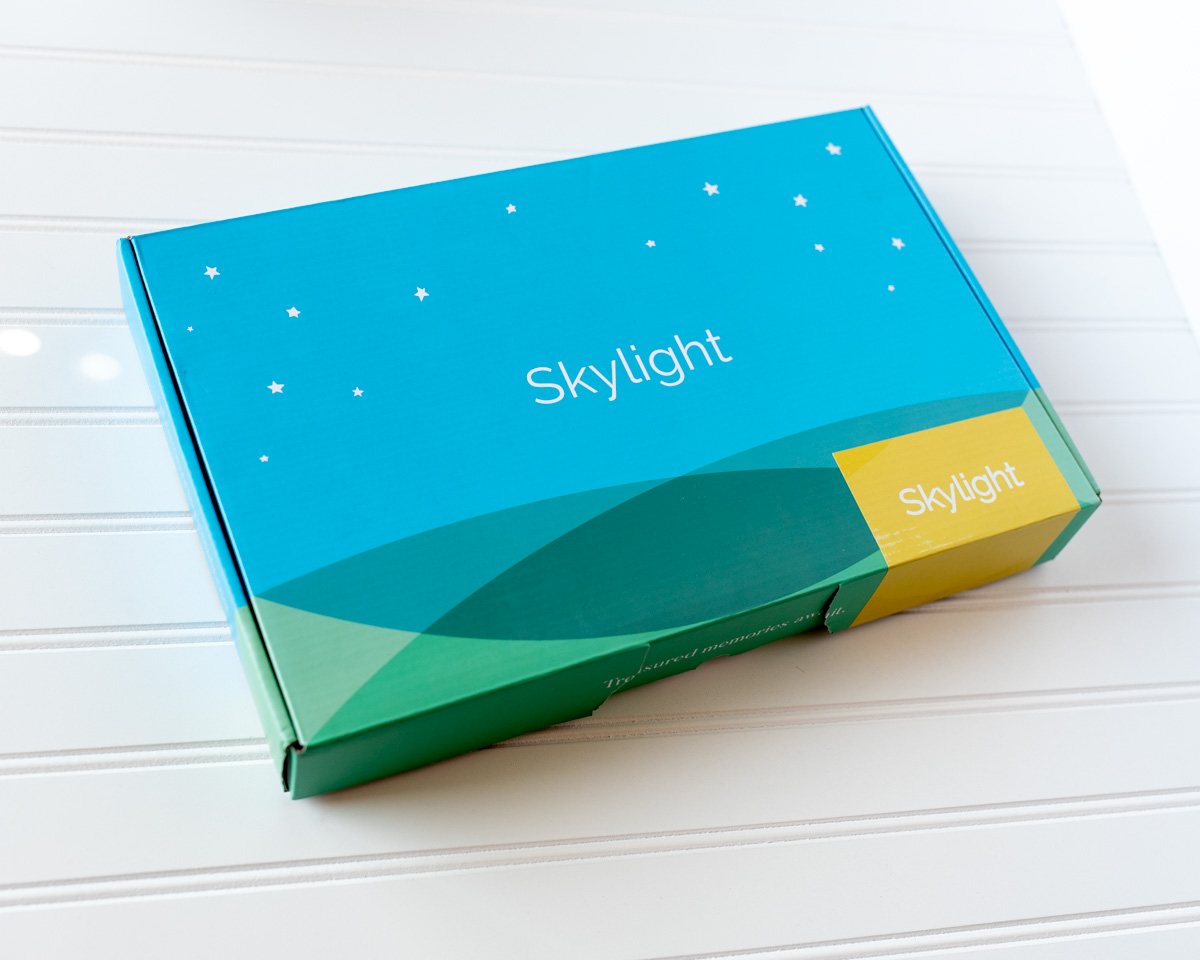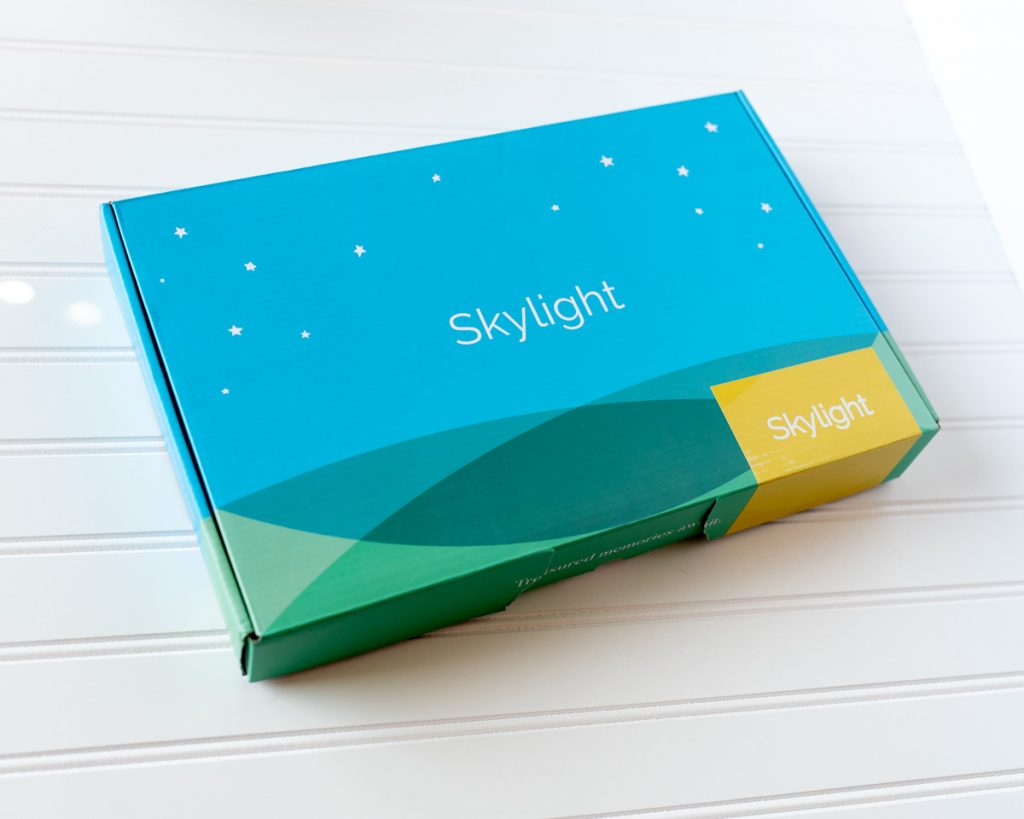 The grandparents love it.
My parents love their frame! We gave it to them three years ago for Christmas, and they still use it every single day. They love seeing pictures of their children and grandchildren, and it's just so convenient!
Their favorite part of the frame is that new pictures appear when we send them, and they don't have to do any work on their end. There's just a notification that says "new photos," and when you tap it, they show on the frame.
That's GOLDEN for seniors who aren't as comfortable with technology! We often forget that they didn't grow up using a phone for any little task, so the fact that it's completely painless on their end makes the Skylight Frame an amazing gift for them.
Where To Purchase:
This post contains affiliate links, so I may earn a few pennies if you purchase after clicking.
You can purchase the Skylight Frame from Amazon or from the Skylight store itself, and shipping is free either way.
The Skylight Frame comes in two sizes: the original 10" (regular price: $169.99) and the larger 15" (regular price: $299.99).
BLACK FRIDAY PRICING IS HERE! Save 20-25% depending on the size. Already marked down on Amazon and Skylight store.
(Enough of my money already goes to Amazon, so I recommend ordering straight from their store. It also makes it super easy to join Skylight Plus, which I'll explain later).
The trick is deciding where you're going to send it - are you mailing it to yourself to set up and wrap for the grandparents? Or are you shipping it to them directly?
Either way, we've included directions for setting up the frame in advance as a surprise so that it's ready to go with pictures on Christmas morning (or whenever they open it.)
Ship it to yourself to set up and wrap
It's ideal to order the frame and set it up completely for your loved one.
You'll connect it to your Wifi, register it with the directions below, and get all the pictures downloaded. Then you can wrap it up, and all the images will be ready to view as soon as you plug it in.
(You'll eventually sign into the recipient's Wifi to be able to download more pictures, but that doesn't have to happen right away.)
Or, ship it directly to your recipient, but get it 90% set up
However, it's not always possible to have the frame in your possession before you gift it. You might live far from your loved ones, or they might need to be socially distant.
Luckily, Skylight makes it easy to register a digital frame for grandparents remotely. That means you can preload the account with photos, doing 90% of the work in advance. As soon as the frame is registered, all the pictures will download, still making it a great surprise gift.
So, order the frame from Skylight or Amazon, and it will come in a beautiful, giftable box. (One bonus to ordering on Amazon is you can mark it as a gift and choose to have it gift wrapped).
When your recipient opens their Skylight Frame, they'll see directions on connecting it to their Wifi. This takes less than a minute and is super easy.
Then they'll need to do a quick one-time frame activation to connect it to the account you've made. Directions are below for how to do this!
As soon as it's activated, any photos you sent previously to the account will start downloading. And tada! They'll love watching the slow slideshow of all their loved ones.
How To Set Up The Skylight Digital Picture Frame For Grandparents
First, go to app.ourskylight.com/register. You'll need to enter your personal email first (to keep the frame a surprise), and then you can transfer ownership of the frame to their email later.
Just follow the directions - it's a very quick registration. You'll need to confirm something by clicking on an email, so make sure you use a personal email you have access to (this is why you can't use the recipient's email yet.)
You'll need to designate a username/email for the frame. Skylight manages it entirely, and no one has to "check" it or log in - it's just how the pictures make it to the frame. So there's not a password to remember or anything.
We recommend using something easy, like "GrandmaSue @ ourskylight.com" or "OhioGrandparents" or similar.
Once it's registered, you add pictures to the account.
---> 2023 Update: This is now even easy to do on the app too! Just set it up as "gift mode" from their FAQ.
How do you get pictures on the frame?
Option 1: Adding pictures is as simple as attaching them to an email. Send it to the frame's email, and they'll magically appear!
The frame's address will be something like "SmithGrandparents@skylight.com" or "GrandmaSue@ourskylight.com"... whatever was set up when you registered it.
It doesn't matter what the subject line is, nor if there is any content in the email. (In fact, the user will never see any of the emails, so don't include messages there.) The pictures will arrive at the frame within a minute, and the recipient will see a small notification on the frame alerting them that there is a new photo to see!
Option 2: Use the cloud portal to send photos (this is basically uploading photos to a website that sends them to your frame. Directions for the CloudPortal are here, and then how to send multiple pictures at once.
To be clear, you CAN (and SHOULD!) email pictures to the account before the recipient even has their frame in hand. Then there will be lots of pictures to enjoy on Christmas morning.
Skylight Plus (aka Using the Skylight App)
The frame itself is a flat fee of $169 plus tax.
However, there is an optional subscription called Skylight Plus for $39/year, which adds extra functionality via the Skylight App.
The main benefit of the subscription is you can upload images to the frame from your phone, making it way faster and easier. Actually free users can use the app now!
UPDATE: Skylight changed how the app works - and now anyone can use the app to upload photos, but everything else is only included for(paid) Plus members.
It's super easy - you can select up to 50 images at a time and upload them to your Skylight frame with one click! You can also add captions and messages to your images that display along the bottom of the photo.
I'll be honest, attaching images to emails felt fussy since I could only do a few at a time. Once I paid for the app access, uploading photos was much more convenient - and the grandparents were happier since I sent images more regularly!
(Also, once you've upgraded to Skylight Plus, you can use it with multiple frames and for various users. So it's not an expensive add-on.)
However, you get many other valuable options with Skylight Plus: the ability to send and watch videos on your frame, text captions, and making albums. Your pictures are also backed up to their server as long as you keep paying.
We think paying for Skylight Plus for app access is the key to making this easier on everyone.
How the pictures look: awesome!
Once images are on the Skylight Frame, it operates in continuous slideshow mode, 24/7. There is technically a power button to turn the frame off at night, but it uses so little power that I just let it run all the time.
Pictures are displayed and slowly rotate through. You can swipe to jump forward and back or tap to pause the slideshow. If you pay for Skylight Plus, then you can organize them into albums.
You can adjust the speed of photos and the order (random or by upload order), so if your grandparents need a bit more time with each shot, you can arrange that.
I love having our Skylight Frame in the living room and seeing fun photos from years ago. It's so fun to have happy memories brought back to our attention! My kids all adore it and often spend a few minutes each day enjoying the slideshow and reliving those pictures.
It's been especially nice to get images off my phone and available to my family. They love seeing themselves as younger kids and enjoying those moments!
Negatives of the Skylight Frame
Some possible negatives:
There is only one color: black with a white mat. Other brands have more options. But in the end, you're not really looking at the frame nearly as much as the pictures, so it works out. This is no longer true! There are 3 regular colors (black, white, silver) and two limited edition colors (gold and poppy red).
The rod that makes the frame sit up on a table is a bit underwhelming. It does the job, but just feels very simple for the cost of the frame. Logically, it actually allows for a flat back to hang the frame on the wall, so it is a clever design function, just cheap feeling.
Attaching images to emails can be cumbersome if you have a lot you want to upload, but it's no longer the only way add images! The Cloud Portal or Skylight app both make it easier. (this was listed as a con previously, but app updates have make this non applicable.)
Lastly, the touch screen collects fingerprints. This might be a big deal if the recipient swipes a lot through photos, but it might be a total non-issue if they mostly view it passively. The only time you have to touch the screen regularly is when you tap to see new photos.
Either way, I'd plan on purchasing a simple microfiber cloth set to clean off the glass, just in case.
It's a Good Option For Nursing Homes and Other Facilities
The Skylight frame doesn't need Wifi to operate. It just needs internet for the one-time activation and then to download additional images.
So the Skylight frame makes an excellent gift for someone who does not have internet access, such as in a nursing home or other facility.
As long as you can set it up in advance, then it will operate without internet.
Just set up the frame and add a bunch of images initially. Those photos will stay on the frame and rotate through. You can even continue adding pictures to the account as you take them, and they'll sit in the cloud, ready to go.
Then you can download those images whenever you visit. Just connect the frame to your phone's hotspot, and all the pending photos in the account will download. It's a great system!
---
The Aura Frame
I own an Aura Frame that I purchased for personal use. This is not a sponsored review.
The Aura is an elegant picture frame you can use to display photos of your family and friends in your home. The frames are beautiful and very well designed, plus they come in several colors/sizes, making them ideal for grandparents with strong preferences.
Aura has truly thought of everything! They offer unlimited photo storage, so your frame won't ever run out of room. You can choose to view pictures in chronological order or have them randomly shuffled. The speed is adjustable, so you can switch between photos as fast or slow as you like.
There's no need to turn the frame off and on, since it automatically detects the ambient lighting and adjusts its brightness.
Aura Frame Versions
There are several different versions of the Aura with their accompanying price points:
the Carver - 10.1" in black, white, or black with a white mat. It is built to sit on a tabletop, and cannot be hung on the wall.
the Mason - 9" with a textured stripe border in gray or white
the Smith - 10" etched steel frame, with high-end 2K screen
the Sawyer - 9.7" black or white, with a high-end 2K screen
Pictures look amazing, especially vertical shots
Aura also has proprietary technology to display the best photos of your loved ones.
Their technology automatically prioritizes images that are sharp, not blurry, without blinking eyes, etc. It's pretty awesome!
The Carver frame is the most cost-effective option, and it's also my favorite! The Carver is the best digital photo frame for grandparents because it solves an issue no other frame company has figured out: how to display two verticals side-by-side.
Why is this a big deal? All frames can show horizontal photos in landscape mode.
But what about vertical photos and all those selfies?!? Most digital frames show black rectangles on the sides of a vertical image or complementary colored backgrounds.
The Aura Carver has impressive technology to show two portrait (vertical) images side by side while in landscape mode. Their "Intelligent Photo Pairing" chooses similar portraits - usually from photos taken in the same shoot or situation - and shows them simultaneously.
Think of how many vertical selfies you probably have on your phone. Only the Carver by Aura has a way to show these without black boxes around them. It's awesome!
The other frames from Aura do not have this technology, but you can easily switch between portrait and landscape to display your images in the best orientation.
Where To Purchase
The Aura is available on Amazon or their website, with the same pricing and free shipping.


One of the best things about the Aura Frame is that there are no additional fees or subscriptions to use the frame.
Our other recommendation for a digital frame for grandparents does have an optional fee, so the Aura is great if you want to be "one and done" with the pricing.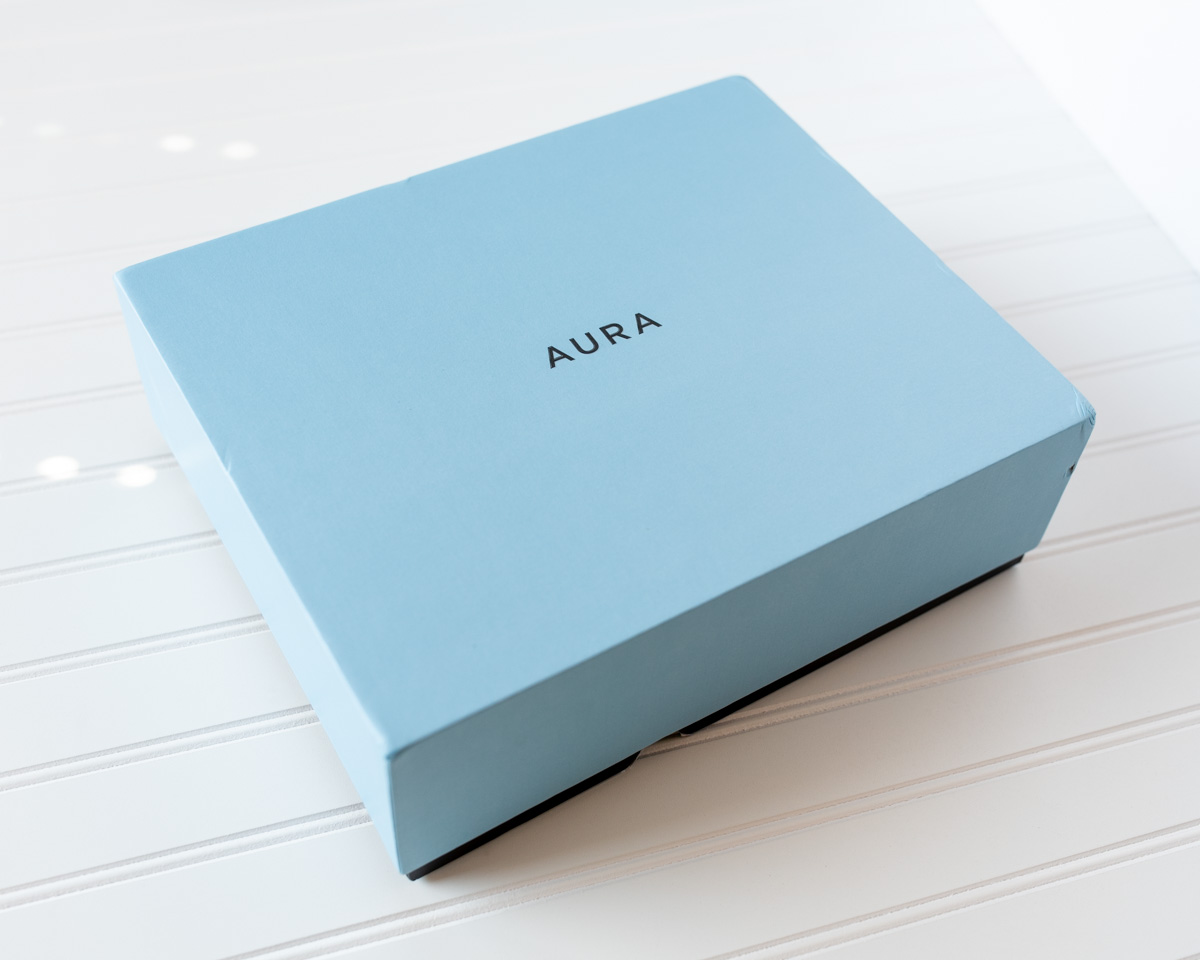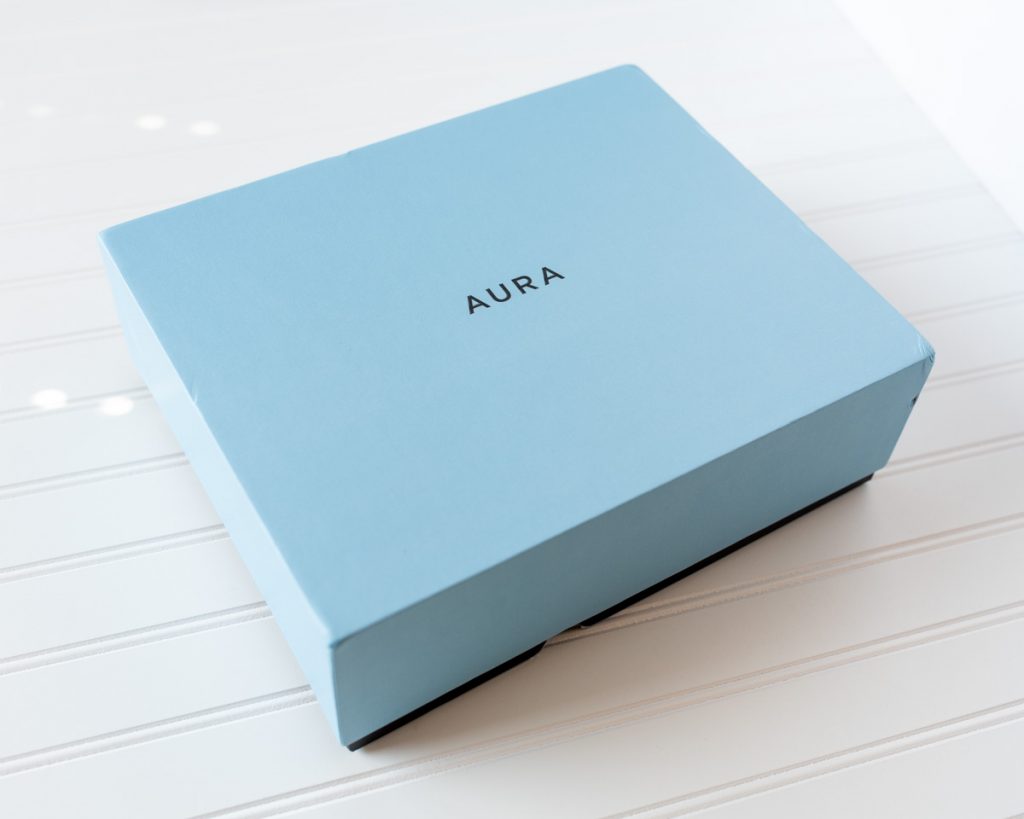 How To Set Up The Aura Digital Frame for Grandparents in Advance
Aura frames are perfect for gifting. They come in a beautiful blue box with no price tag.
And they are easy to preload with photo memories even by a variety of family members. All you have to do is decide where to send it.
Option 1: Ship It to yourself to set up and wrap
Aura makes it super easy to gift the frame to anyone. You don't even have to unwrap the frame to start putting pictures on it.
There are directions on the back of the box, and you simply pull back the top corner to reveal a QR code. Scan that code, and you can add pictures to the frame remotel via the app.
*Shipping it to yourself is the best option if you want to pre-set the WiFi information for the recipient. This is super convenient for grandparents who are uncomfortable with technology. But you can only do it if you have the frame in your hands, so you need to ship it to yourself to us this option.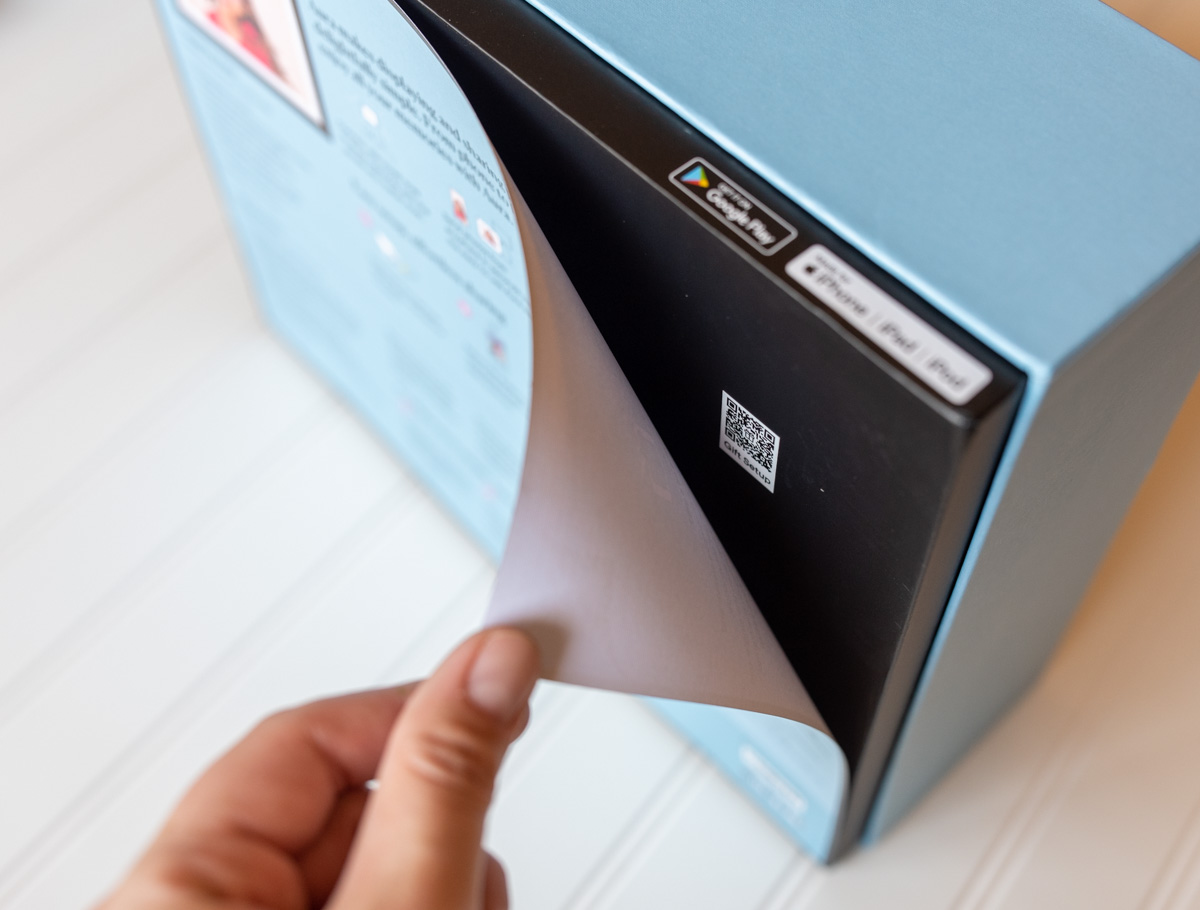 Option 2: Ship It directly to the recipient and preload it with photos.
There is still a way to preload the frame with photos, even if you're short on time or won't be able to give the gift in person.
Just purchase and ship the frame directly to the recipient. Then, download the Aura App and start your own account. You'll upload photos via the app, and then get a Claim Code.
The recipient just has to enter your Claim Code as they set up the frame, and they'll be greeted with all the memories you uploaded!
How Do You Upload Photos?
It's super easy to send pictures to any Aura Frame, and you have options!
You can use the free Aura app on iOS or Android or upload pictures from their website.
You'll need to connect it to your frame using a code on the back of the frame, but that's a one-time connection. Then your device stays connected to that frame, and you can send pictures anytime.
Aura can also sync to your Google photos albums, so if you are already using Google photos then that's an easy option. Just connect it to the Aura app and everything will show up on your frame too.
About videos and live photos
The Aura frame does not have sound capabilities: it's similar to an actual frame on the wall. That means you cannot upload or play any videos on the frame.
However, the Aura can play Live Photos that were captured with an iOS phone. The three-second videos (1.5 seconds before and after the shot) will automatically play when they come up in your Aura rotation.
You can turn the option to show Live Photos on and off in Frame Settings.
The only problem with the Aura digital frame for grandparents...
Aura Frames are not touch screens. There isn't a remote or any physical buttons on the frame.
Instead, the Aura has a touch bar that you tap or swipe your finger across.
This technology is very intuitive for millennials and smartphone users, and many seniors will do fine with this if they are confident with technology.
But if your grandparents are frail, have arthritis, or have shaky hands, the Aura is not a good fit for them. They probably will not be able to operate it consistently and may get frustrated.
In that case, I recommend the Skylight instead, since it's a touch screen and doesn't rely on an intuitive motion. It will also be a better option if your senior doesn't have a smartphone since they wouldn't be able to access the Aura App.
---
Which Is Right For You?
The Skylight and the Aura frames are both excellent options. Both can be set up in advance to provide a fantastic gift and add more pictures remotely.
Buy the Aura if...
We recommend the Aura as the best digital frame for grandparents for the lowest overall cost. The Aura comes with several price points, but there are no additional fees. Although the Skylight comes in at the cheapest for the frame alone, the optional $39/year app fee makes it more expensive in the long run.
We also recommend the Aura if you want something other than black with a white mat, since the Aura has several other color and style options that the Skylight does not.
The Aura is the best for energy conservation since it automatically turns off and on with ambient light.
If you already use Google Photos, then it's a no-brainer to use the auto-sync function to display those photos on your Aura frame as well.
Buy the Skylight if...
We recommend the Skylight as the best photo digital frame for grandparents if you want a touch-screen that anyone can use. The Aura's touch-sensitive bar is innovative but may be hard to use for older seniors.
If you really want to display video in addition to photos, then the Skylight is the clear winner, since the Aura doesn't have sound capabilities.
The Skylight comes in at $169, making it the cheapest cost out of pocket. We do think the app makes it much more usable for everyone, but it's an extra $39/year fee. However, that fee is shared across users, so only one person has to pay it across family members.
---
Which one do you think is best for your loved ones?