Digital picture frames are an amazing gift to give parents, grandparents, and even yourself! If you ever struggle to find the perfect gift for a loved one, I highly recommend digital picture frames.
We've purchased digital photo frames for both my parents and my in-laws, and they both LOVE them. It's such a great gift for anyone who is far away or just loves seeing family photos. With a digital picture frame, they can see a slideshow of all of their favorite photos whenever they want.
The following frames are all supported by Google Photos, which makes it super convenient to upload photos and organize them into albums.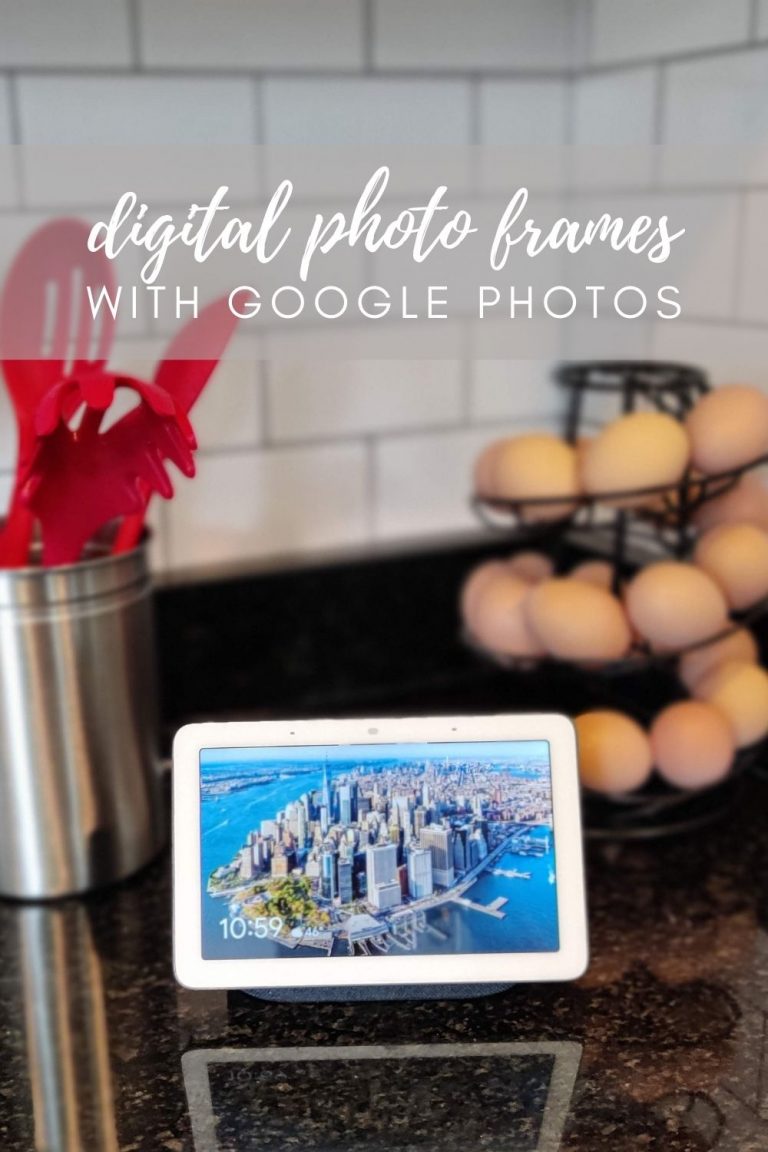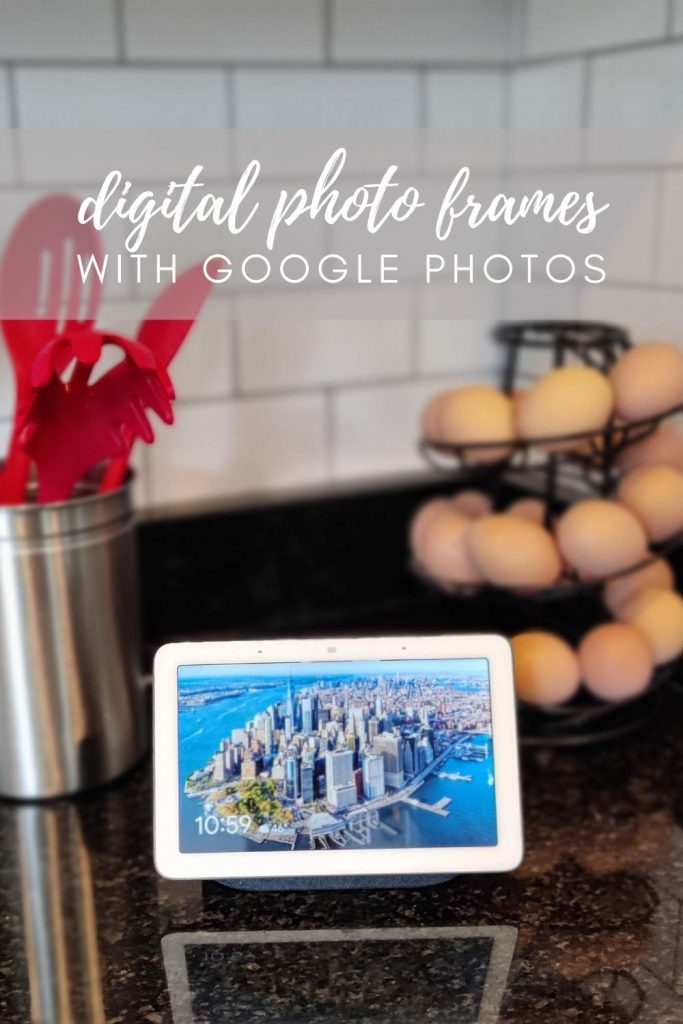 Google Photos is a photo storage service that also allows photo-sharing. It will back up all of your images and videos.
If you're already using Google Photos (which you should be if you want a reliable storage service!), then getting a Google Photos digital frame will make uploading photos simple and straightforward.
---
Size: 7 inches
Screen Resolution: 1024 x 600
Storage Space: Unlimited
Price: $100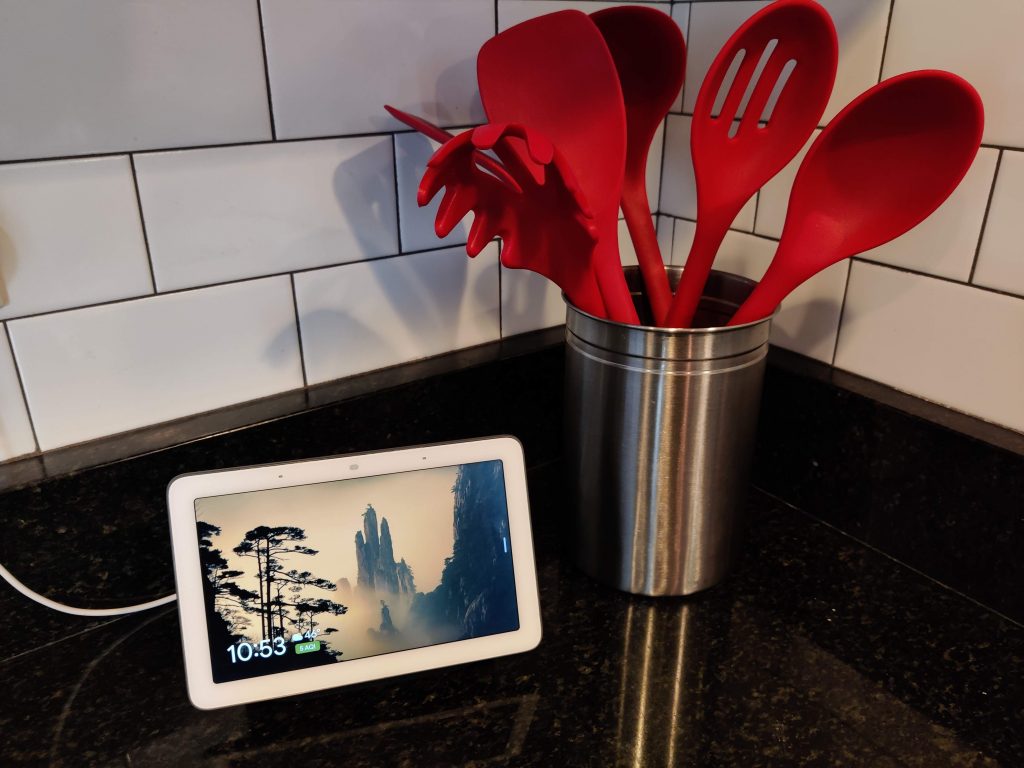 Since this digital frame is sold by Google, it's definitely one of the best options for a digital frame that works with Google Photos.
The Nest Hub is more than just a Google photo frame!
If you're looking for a home management device and a Google photos digital frame, you've got everything you need wrapped into one product.
You can watch Netflix and Youtube on it or listen to music, and you can control compatible smart devices from your Hub. You can also create reminders, manage your calendar, and use it to play soothing sounds at bedtime and wake up to an alarm. Use the Hub's motion sensor to play or pause a song or stop an alarm or timer - all without touching your screen.
Nest Hub automatically senses the light and color in your room and adjusts itself accordingly so it can blend in with your decor and room brightness. The Hub comes in chalk, charcoal, sand, and mist.
Using Google Photos with Your Nest Hub
It's super easy: just create a Live Album with Google Photos and then the Nest Hub will display your best photos. You can also share Live Albums with friends and family.
You can see any pictures in your Google Photos library just by asking. You can say "Show me my pictures from Hawaii" and you can view them on your screen.
---
Size: 10 inches
Screen Resolution: 1600x1200 HD
Storage Space: Unlimited
Price: $199
Aura Frames are probably the best frames out there. I have one I bought with my own money (not sponsored!) and I love it.
They have unlimited photo storage, and you can easily upload photos to them from anywhere in the world by using their app, website, or email.
To set up your frame, you can use the Aura app or their online portal, and you can select if the new frame is for you or for someone else. You'll have the option to use a "Gift Setup Code," which means you can set up the frame without even fully unpacking it.
You can invite anyone who wants to contribute to the frame, and add photos and albums to the frame! You can also pre-set the WiFi if you know the recipient's network name and password.
The frame linked here is the cheapest one - the Carver frame. It is normally $199, on sale right now for $179.
Carver is a landscape frame, but if you have portrait photos, they will be paired together with AI technology. That means that your frame can intuitively pair two related portrait photos side-by-side on your landscape frame. It's really cool!
Using Google Photos with Your Aura Frame
With the Aura app, you can easily integrate your Google Photos to access your photos. There is a 50-megapixel photo limit, but your photos are most likely not over 50 megapixels.
You can sync your Google Photos albums with your Google photo frame, so any photos you add to Google Photos will be automatically added to your Aura app.
Connecting to Google Photos is easy. First, you need to create a Google account if you don't already have one. Then download the Aura app and tap the "A" icon. Select your frame, tap "Add Photos," and scroll down to the bottom and select "Connect Google Photos." Enter your Gmail address and password to grant access and now you can sync your frame and add your albums and photos from Google Photos.  
---
Size: 10 inches
Screen Resolution: 1024x768 pixels
Storage Space: 8GB internal memory (around 30, 000 pictures)
Price: $154.99
To use your Pix-Star frame, you need to set up a Pix-Star account and create a unique email address for your frame. You don't need to install anything to your frame and you don't even need to get on a computer for set-up! Your free online account will help you manage the frame remotely and you can connect up to 25 frames to one account.
Through email or the Pix-Star app, you can upload videos and photos to your frame. Because your frame has an email address, your friends and family members can send photos to your frame's email address from anywhere in the world.
You get lifetime support with Pix-Star frames and a 2-year warranty. The Google photo frame comes in black and is displayed in landscape orientation.
Using Google Photos with Your Pix-Star Frame
Choose the option that says "Import external pictures" and click on the provider's logo where you have photos stored (so in this case, it would be Google Photos).
Follow the authentication process and your albums will show up. On the right side of each album, you'll see a button that says "Link it." Click it to bring the albums you want to add to your Pix-Star frame. Now you've got a Google Photos digital frame!
---
Size: 10 inches
Screen Resolution: 1280x800
Storage Space: 16GB of internal storage
Price: $169.00
PhotoSpring is designed to be an easy setup for a Google Photos digital frame. All you need to do is connect to WiFi, answer a few questions to set up your frame and start sending in photos and videos. You can also back up your photos on the cloud.
You can make and manage different albums and playlists, and you can sort through your photos or put them on shuffle. Send in photos via email, the PhotoShare app, or your web browser. Photos will appear on your frame in seconds. You can also send in HD videos up to 1GB in file size, which is about a 5-minute video.
PhotoSpring has a black outer frame that can be removed to reveal a white base, so it's like two frames in one. It can be displayed in either landscape or portrait.
Using Google Photos with Your PhotoSpring Frame
Connection to Google Photos from your frame is actually one of the easiest ways to upload photos onto your PhotoSpring frame.
After connecting your frame to Google Photos, it will sync with Google Photos once an hour to add any new albums or photos that you've added to Google. Likewise, if you delete an album or photo from Google Photos, they will also be deleted from your frame.
PhotoSrping recommends limiting the size of each album you're uploading to under 500 photos. Otherwise, syncing may stall or lag. If you know your internet is slow, you may want to lower the limit and make it even less than 500 photos.
---
Size: 10 inches
Screen Resolution: 1280x800 HD IPS
Storage Space: 10GB of cloud storage
Price: $179.99
Amazon Nixplay is a great option for a digital picture frame. It has an HD screen that auto-adjusts to portrait or landscape placement. The specs provided are for the most popular frame, but there are several styles available. Most are around 9 and 10 inches, measured diagonally across, but there is also a 13-inch and a 15-inch frame available.
You can set up the Nixplay frame with WiFi, and in order to email a photo to the frame, you need a Nixplay account. You don't need to use the app, but you do need an account. That goes for anyone who wants to send photos to the frame as well. So any extended family members and friends that will be uploading to the frame need a registered account.
Google Photos, Dropbox, Facebook, and Instagram are also supported by the website, which makes uploading new photos easy.
Nixplay has a few frames available, and most are a simple black design. They also have a white frame, a reflective silver frame, and one that looks like imitation wood.
The Nixplay frames are also all wall-mountable. So if your parents prefer frames hanging on walls rather than on end tables (where they might get bumped off!), having the option to hang them is nice.
The Nixplay frames range from $179.99 to $329.99 depending on the size and style. The most expensive frames have a 2K resolution, so it's much higher quality, but at a higher price tag.
Using Google Photos with Your Nixplay Frame
Log in to your Nixplay app on your phone and go to "Photos." Then select "New Playlist" and click on the option for creating a dynamic playlist with Google Photos. The process is easy to follow, you'll just need to authorize access to Google Photos.
Then you can select all of your recent photos or specific photo albums. Your Nixplay frame will show up to 1,000 of your most recent Google Photos. Nixplay then syncs and updates your Google photo frame every hour.
---
Size: 8 inches
Screen Resolution: Full HD
Storage Space: 8GB
Price: $99.99
PhotoShare is another popular digital frame on Amazon. It can store well over 5,000 photos and the most popular frame has an 8-inch screen in full HD resolution, also known as full high definition. They also have a 10-inch and a 14-inch frame available if you'd like a bigger frame.
To set it up, just use the included AC power adapter and plug in your frame. After you connect your frame to WiFi, you'll be prompted to install the PhotoShare Frame App. Once you've installed the app and created an account (just register your name and email address), you'll be asked to log in.
Once you log in, you'll see the Frame ID, which you'll need to enter into the app. Once you enter your ID and name in your app, you're good to go!
You can send photos and messages with the free app, or send multiple photos at once via email or a Facebook link. You can also send photos through Google Photos or other photo apps, so you can basically choose your favorite app or online program to send them in.
PhotoShare has two color options. Both are minimalist designs, and one comes in a black frame with a thin black mat. The other is an espresso color, that looks like imitation wood, with a thin white mat.
Please note that some reviewers have mentioned that it's difficult to set up and that there's no way to shuffle photos - they just play in the order they are added to the Google photo frame. So keep that in mind!
Using Google Photos with Your PhotoShare Frame
This frame is a bit different. You do need to download the PhotoShare Frame app, but after that, you'll go into your Google Photos app. Find the photos you'd like to share with your frame and tap the "Share" button in the bottom left-hand corner.
A list of applications will pop up that you can share your photos with, and the PhotoShare Frame app should be one of them. Select that option and from there, you can select additional photos and tap "Post."
The PhotoShare app will then launch and the photos will be transferred when you select your frame and tap "Send." Now your Google Photos digital frame is all set up.
---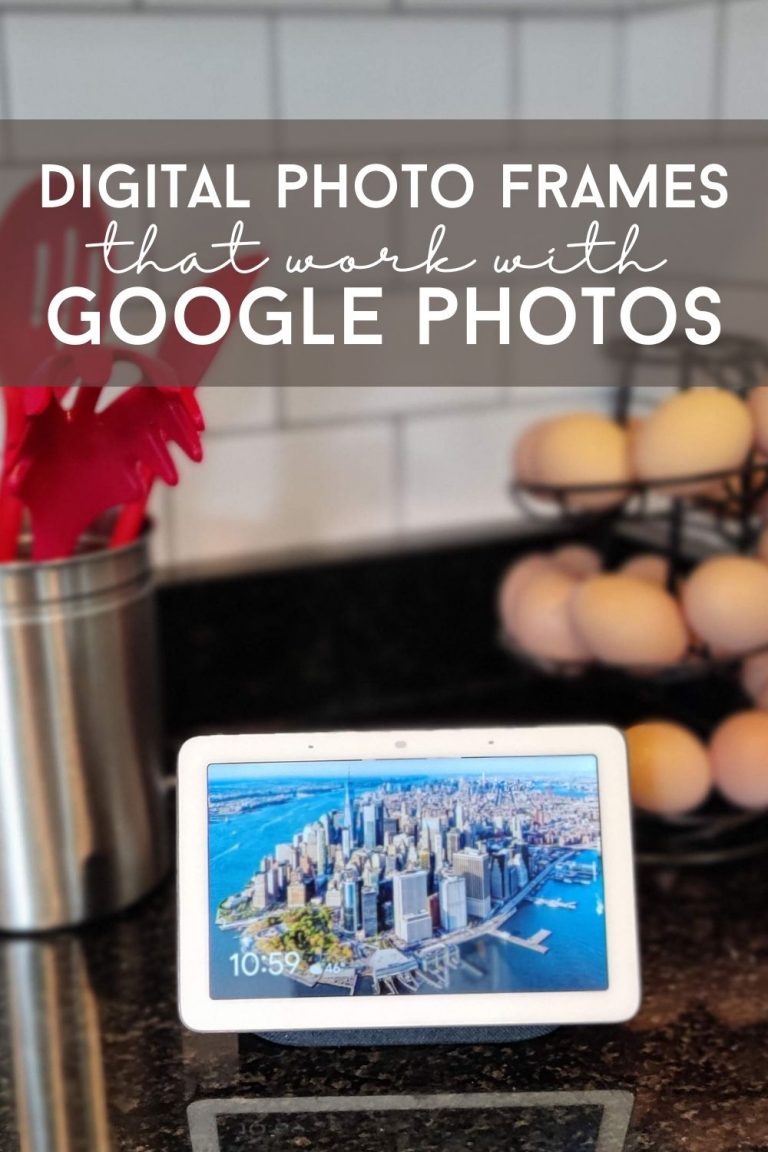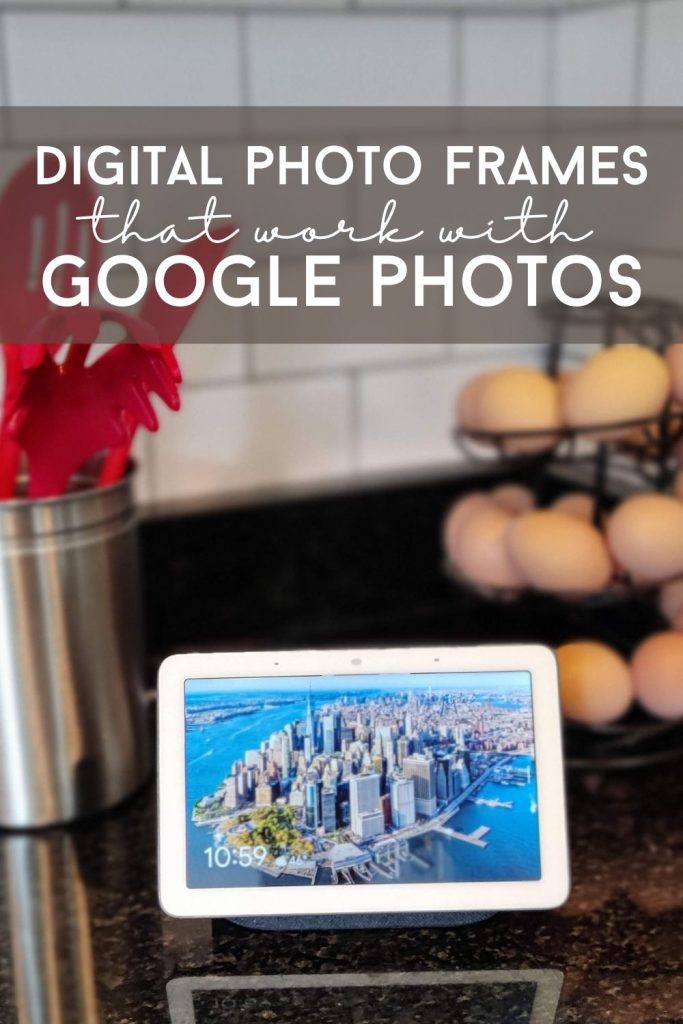 Google Photos is an amazing storage service and it's free for storage under 15GB, after that it's $2 a month up to 100 GB, and other plans are available if you need more space.
If you already have Google Photos, it's a no-brainer to get a compatible Google photo frame. Even if you're buying it as a gift for a parent, you can sync it with your Google Photos account so that they can see your uploads even when they are far away.
Seriously, you can't go wrong with getting a digital picture frame as a gift or even for your own home! It's a great way to display all of the pictures you take, instead of having them stuck on your phone or on the computer.
Depending on what you want, there should be a Google Photos digital frame here that works for you. Whether you want unlimited storage, extra features, or a beautiful design - these digital picture frames will be just what you need, especially if you use Google Photos.