We've purchased digital photo frames for both my parents and my in-laws, and they both LOVE them. It's such a great gift for anyone who is far away or just loves seeing family photos. With a digital picture frame, they can see a slideshow of all of their favorite photos whenever they want.
If you have an Amazon Prime Account, then you already have access to Amazon Photos.
What you need are Digital Frames that work with Amazon Photos!
It's a super convenient way to back up your photos and store them on the cloud. If you're already paying for an Amazon Prime membership, then you should definitely take advantage of your free access to Amazon Photos.
Here are some of the best digital frames that work with Amazon Photos. If you get one of these frames, you can easily sync it up with your Amazon Photos and upload a whole library of photos.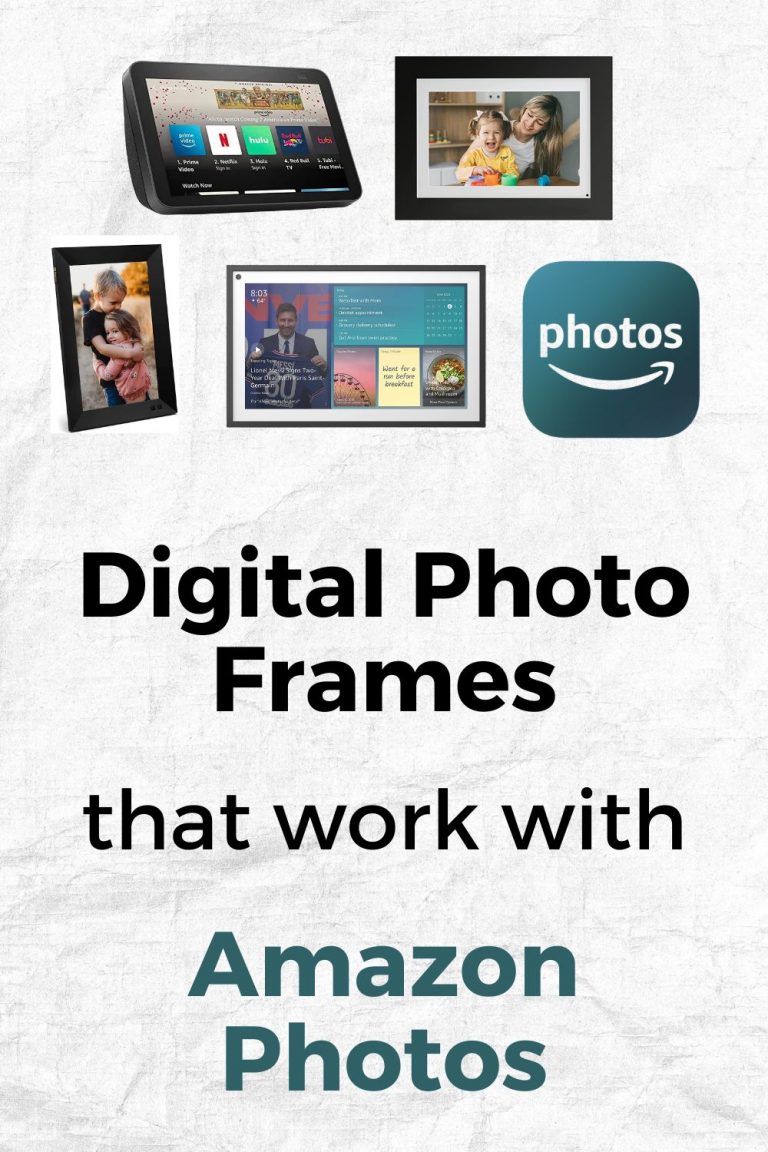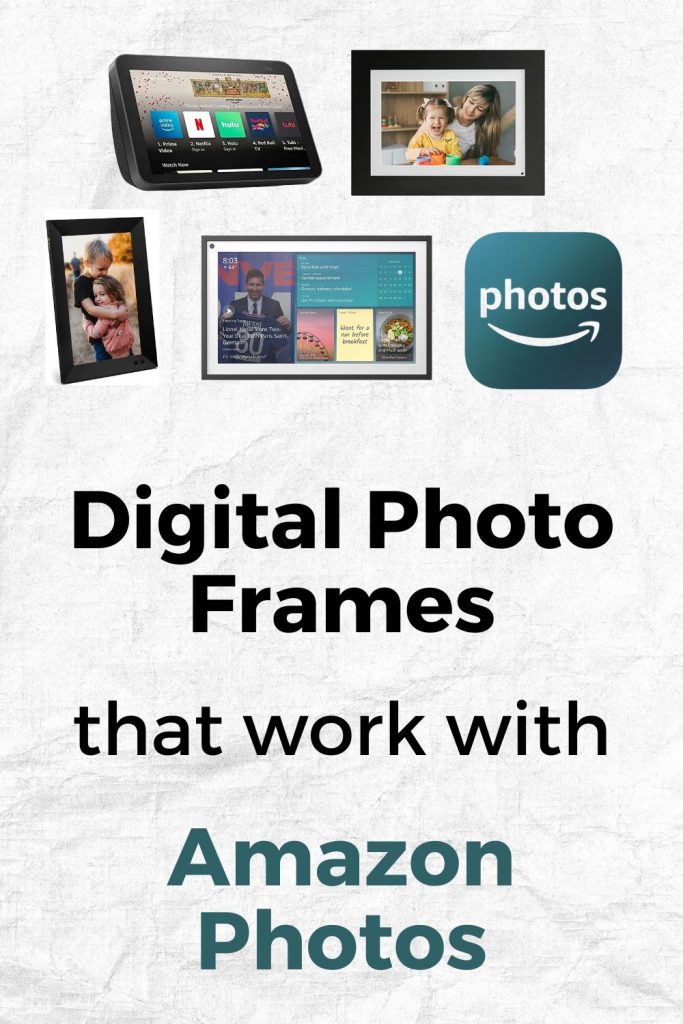 Size: Varies - 8", 10" countertop units or a 15" wall/counter frame
Screen Resolution: HD Smart Display
Storage Space: Unlimited cloud storage (for Prime members)
Price: varies
The obvious answer here is that Amazon products will integrate with Amazon Photos.
So the technology we think of as "Alexa" in a small Echo dot, can also function in a larger unit with a digital screen called the Echo Show! You can make video calls, search for recipes, set timers, add reminders, and more.
But the Echo Show is also an excellent digital picture frame! You can have a frame on the wall or a unit on the countertop.
There are several ways to use the Echo as a digital frame that works with Amazon Photos. You can set certain photos to be backgrounds so that the clock and weather data show up on top of the photo.
However, you can also simply ask Alexa to "Show Me My Photos" or "Play Photos" and she will display a continuous loop of everything uploaded to Amazon Photos. Your screen will rotate through your photos like a slideshow and use adaptive color so your pictures will look great.
If you already want to use an Echo product to help you around the house, you should definitely consider getting the Show.
It's one of the most convenient and helpful things I own, in addition to the fact that it's a fabulous digital picture frame that integrates with Amazon Photos.
The Echo Show comes in charcoal or glacier white, and a few different sizes.
We recommend getting the Echo Show 15 as the largest and most flexible option. It can be on the wall or sit on a counter with an adjustable Tilt Stand.
You can also look at the Echo Show 8 or Echo Show 10 to use as a digital picture frame that works with Amazon Photos. Both of these are tabletop or countertop units, with a larger footprint.
(We don't recommend the Echo Show 5 as a digital frame that works with Amazon Photos, since it's which is more of an alarm clock size and not quite as well suited.)
---
Size: 10 inches
Screen Resolution: 1280x800 HD IPS
Storage Space: 10GB of cloud storage
Price: $179.99 but on sale for $149

Click to shop the Nixplay Frame that works with Amazon Photos.
Amazon Nixplay is a great option for a Digital Frame that works with Amazon Photos out of the box.
It has an HD screen that auto-adjusts to portrait or landscape placement. The specs provided are for the most popular frame, but there are several styles available. Most are around 9 and 10 inches, measured diagonally across, but there is also a 13-inch and a 15-inch frame available. (Note that the larger frames might not be Alexa compatible.)
You can set up the Nixplay frame with WiFi, and in order to email a photo to the frame, you need a Nixplay account. You don't need to use the app, but you do need an account. That goes for anyone who wants to send photos to the frame as well. So any extended family members and friends that will be uploading to the frame need a registered account.
Google Photos, Dropbox, Facebook, and Instagram are also supported by the website, which makes uploading new photos easy. But Nixplay digital frames are also compatible with Amazon Photos, which means you can hook up your Amazon account and use the photos you've stored there.
Nixplay has a few frames available, and most are a simple black design. They also have a white frame, a reflective silver frame, and one that looks like imitation wood. The Nixplay frames are also all wall-mountable. So if your parents prefer frames hanging on walls rather than on end tables (where they might get bumped off!), having the option to hang them is nice.
The Nixplay frames range from $179.99 to $329.99 depending on the size and style. The most expensive frames have a 2K resolution, so it's much higher quality, but at a higher price tag.
*Please note that we have heard this frame might have hidden fees attached. Once you upload the allotted 10GB of photos, you have to pay if you want to upload more. That isn't clearly stated anywhere, so some customers were frustrated to find out there was a cap on uploads. 10GB could be plenty of space for you, but if you're planning on uploading more, purchase another frame instead or be prepared to pay a fee for this one!
---
Size: 8 inches
Screen Resolution: Full HD
Storage Space: 8GB
Price: Originally $179.99 but on sale for $94
Click here to shop the PhotoShare Frame that works with Amazon Photos
Another popular digital frame on Amazon that is compatible with Amazon photos is the PhotoShare frame. PhotoShare's most popular frame has an 8-inch full-resolution HD screen. They also have a 10-inch and a 14-inch frame available if you'd like a bigger frame.
Setting up the frame is easy. You'll need to install the PhotoShare Frame App once you've connected your frame to WiFi, and then you can create an account. Log in to get the Frame ID, which you'll add to your app, and then you are good to go!
Photos can be sent through the app, email, or Facebook. You can also use Amazon Photos or Google Photos, so whatever storage service you use for your photos will work! The frames have minimalist designs and come in either a black frame with a thin black mat or espresso with a thin white mat.
The drawback to PhotoShare frames, however, is that there is no shuffle option. The photos play in the order they are added to the frame, so make sure you are uploading them in an order you like.
---
Some frames work with Alexa but NOT Amazon Photos
Heads up that there are a few frames out there that do not use Amazon Photos, even though they integrate with Alexa.
The most popular of these is the Aura Frame, which you can control with Alexa to turn on & off. However, all the images you want to display on the Aura need to be uploaded through their app.
So the Alexa-compatibility is useful, but it will take an extra step to get your photos onto it. Just something to keep in mind: the Aura is still a fantastic frame that I totally recommend!
---
If you are looking for a digital frame and like the ease of using Amazon Photos, then these are some great options for you. If you are already an Amazon Prime member, then you should be utilizing Amazon Photos.
If you're looking for a frame, getting one that is compatible with Amazon Photos is a super convenient choice. Then you can easily transfer all of your photos to your frame without too much effort.
Digital frames are a great gift for parents or even just for yourself! Choose one that will make it easy to upload photos and enjoy for years to come.