Group Halloween costumes can be so fun! But the hard part is always finding the right idea for your family or group. Here's a bunch of clever and unique costumes to spark your brainstorming. They're great options for a family, couple, or friend group this Halloween!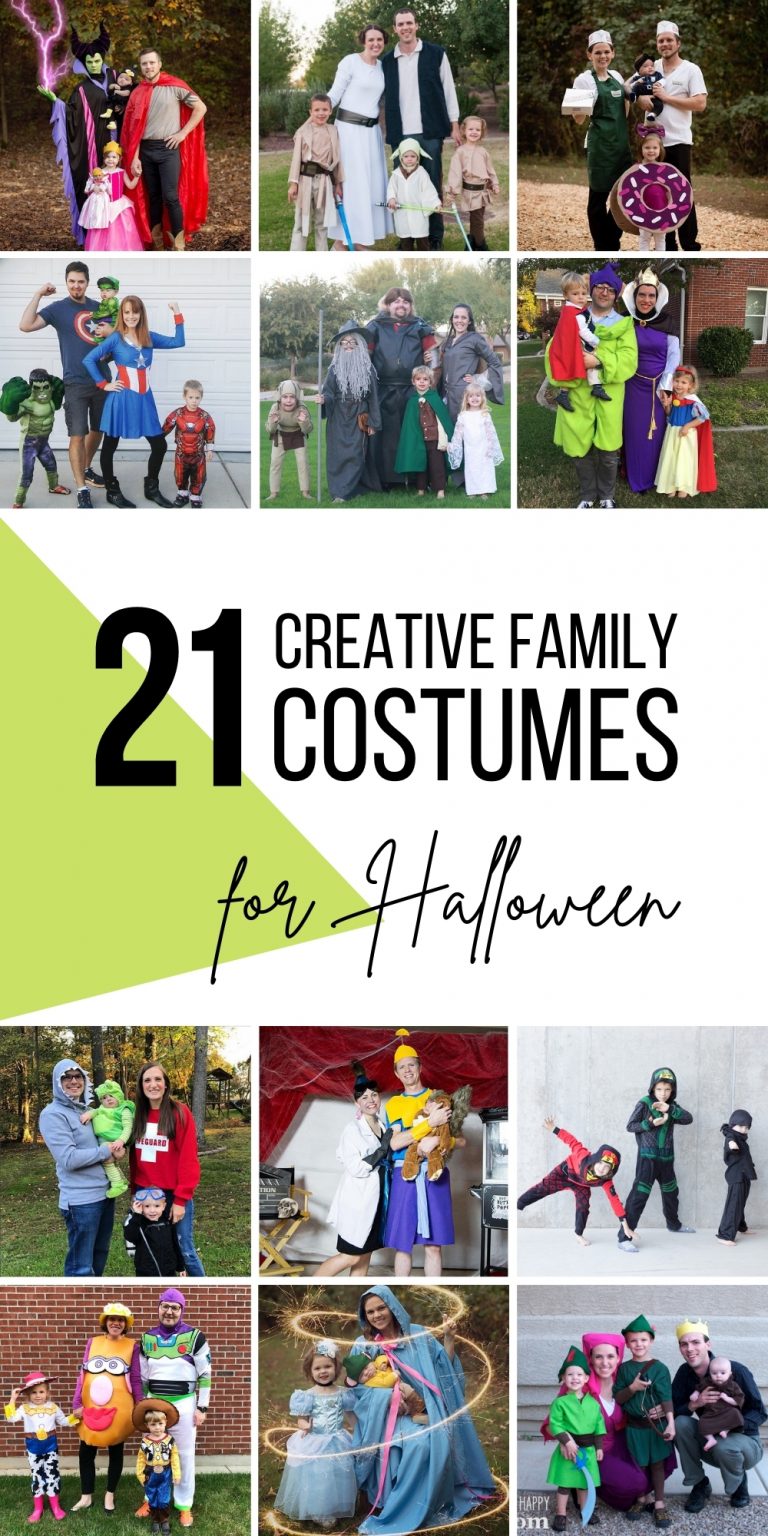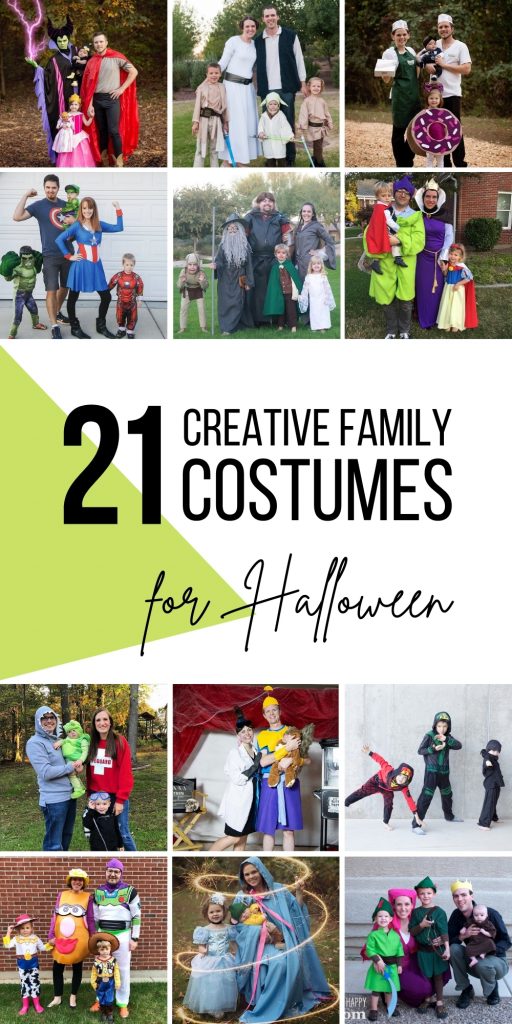 All pictures were submitted to Snap Happy Mom parades under the #SnapHappyMom hashtag.
1. A Krispy Kreme Family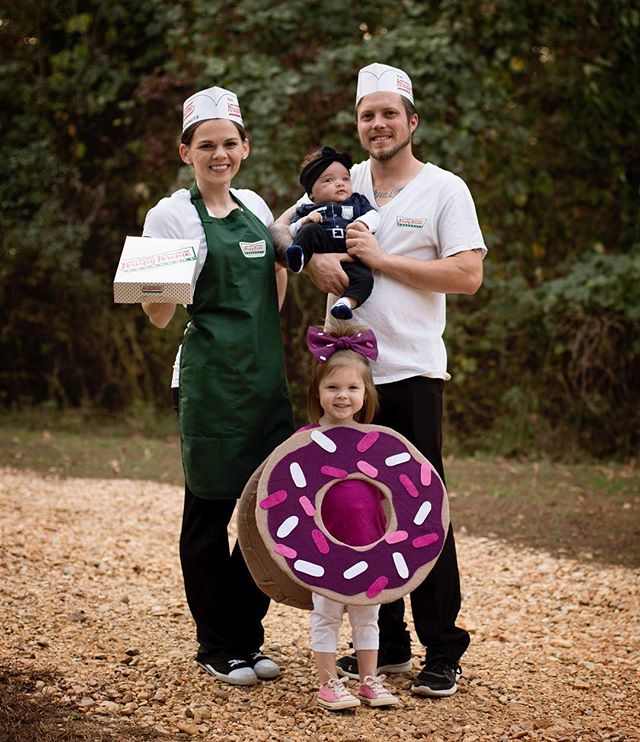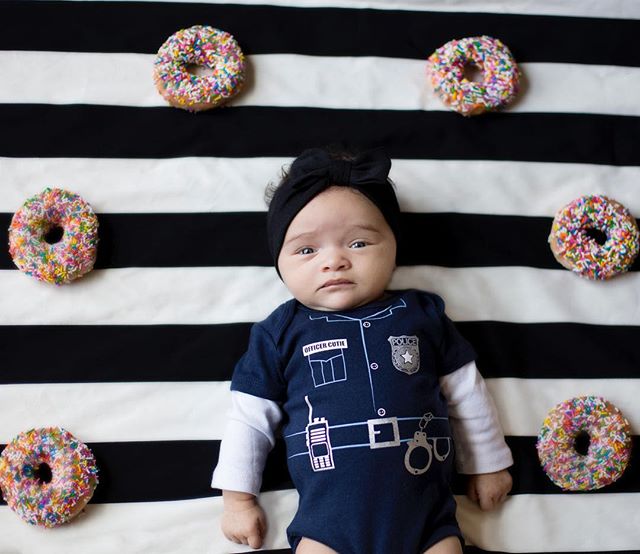 Here is a cute, easy costume that helps show off your family's love of donuts.
Just grab some Krispy Kreme tee shirts, an apron, and make a donut costume for your little one with cardboard and felt!
Add a cute Police Officer baby if you have one. 🙂
Photo used with permission from @courtneyhollowell.
2. Robin Hood and Company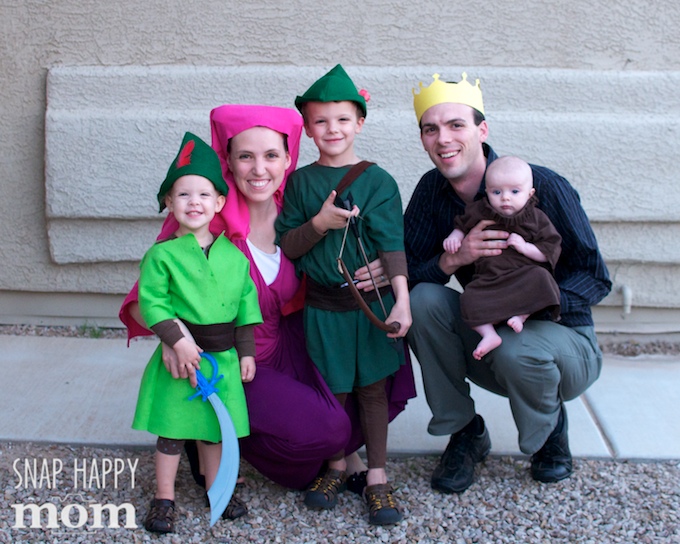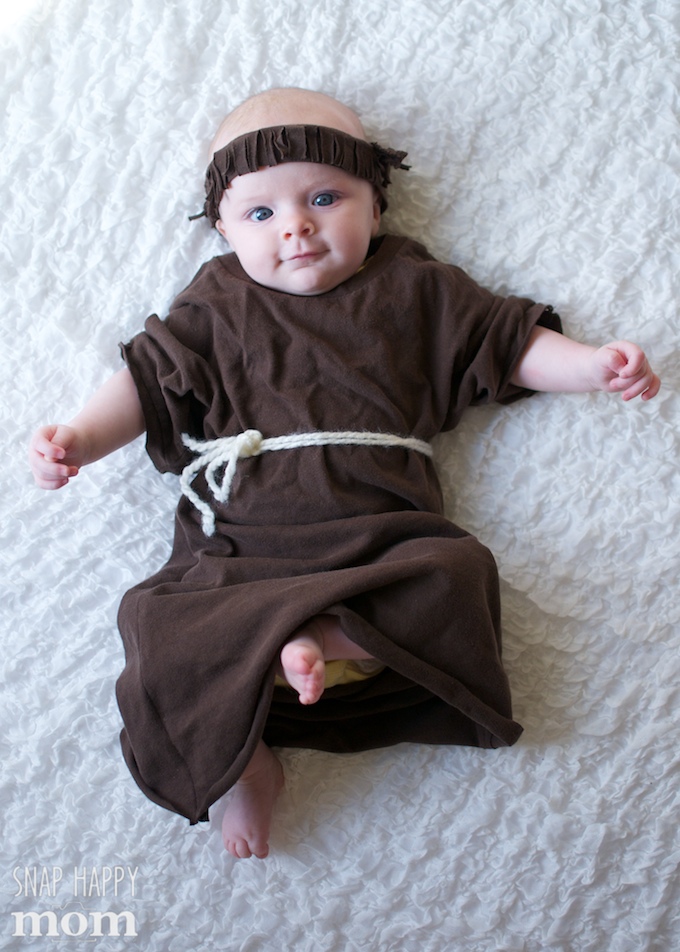 Robin Hood is a well-loved movie in our house, and probably yours too! Though there might be some little Robin Hoods running around on their own, the story has a whole host of characters you can choose from!
Check out this post for more Robin Hood character costumes: don't forget Little John, Friar Tuck, Maid Marion, and King Richard!
3. Maleficent And Sleeping Beauty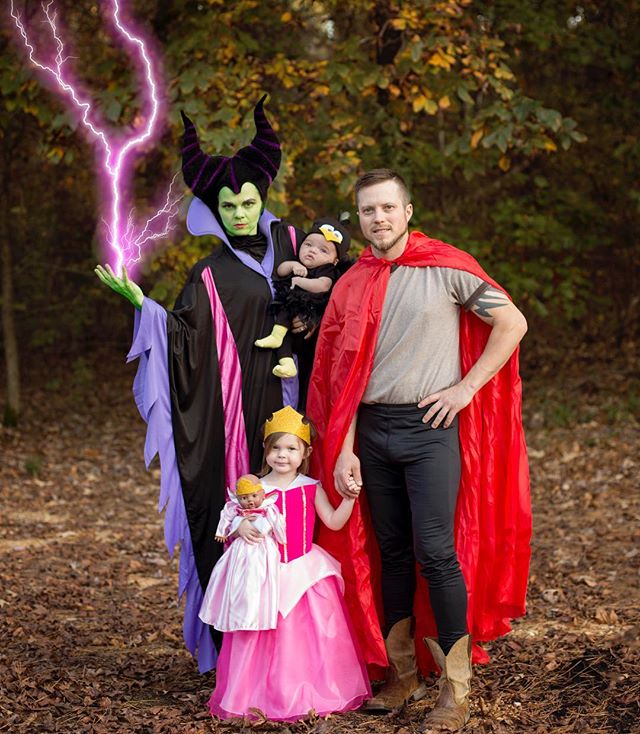 A lot of little girls love dressing up as princesses for Halloween, so why not go with it and think of costumes for the whole family?
Maleficent is probably one of the best costumes in Disney history. Rock it!
Photo used with permission from @courtneyhollowell.
4. Lions and Tigers and Bears... Oh My!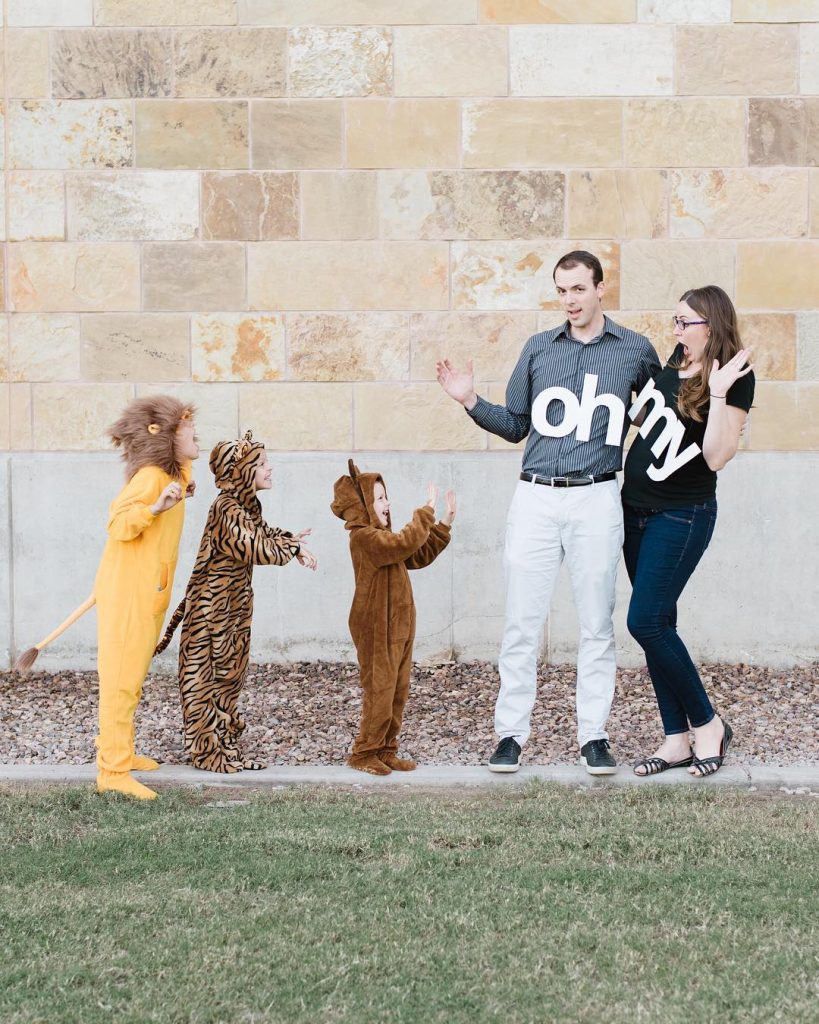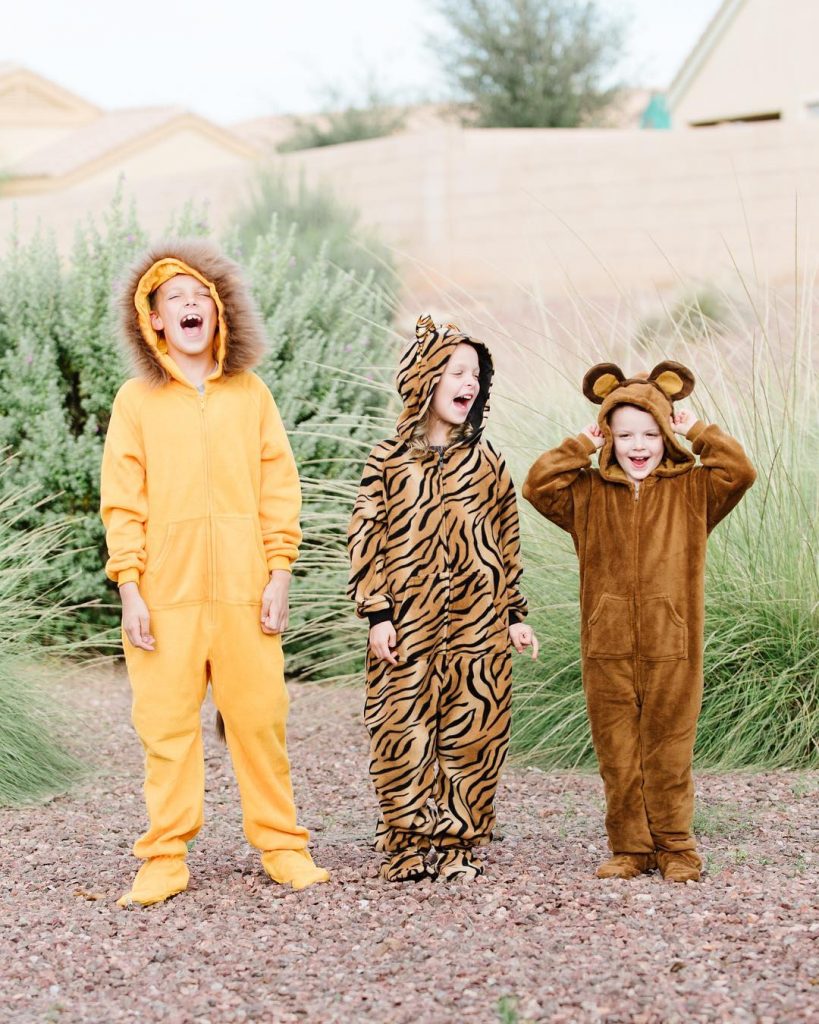 If you have some animal loving kids, then this the family costume for you!
Grab some footie pajamas in appropriate colors. We ordered all three of these from FootiePajamas.com: they are super soft and well made. Isn't the tiger one perfect? (No longer available at this link) This is the teddy bear and the yellow was great for a lion.
Add some ears and tails from Amazon, and use fake fur for the lion mane.
Let mom and dad take the easiest part of the costume: a cardboard "Oh" and "My" to wear! It only took a few minutes to trace a font and cut it out with an exacto knife.
Creative but still easy - my favorite kind of costume!
5. Scuba Diver and Shark Attack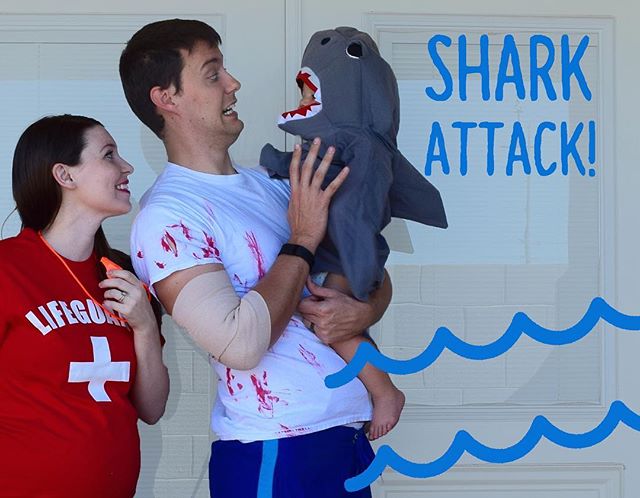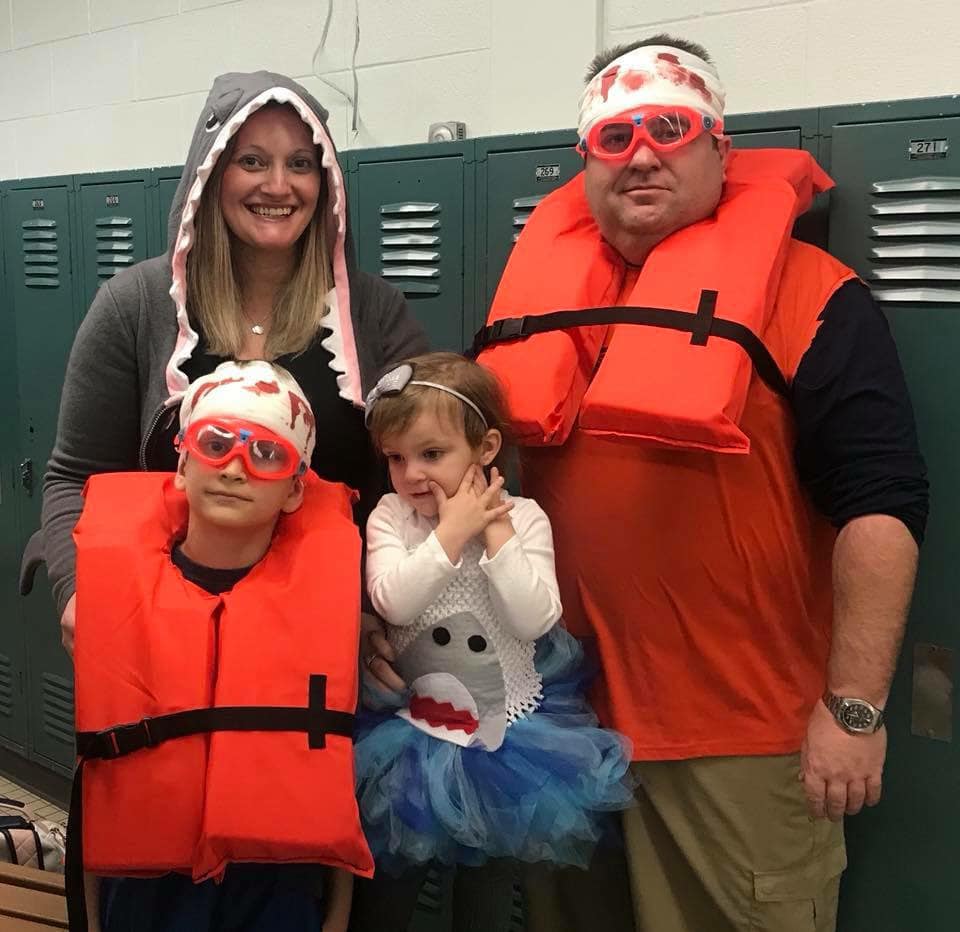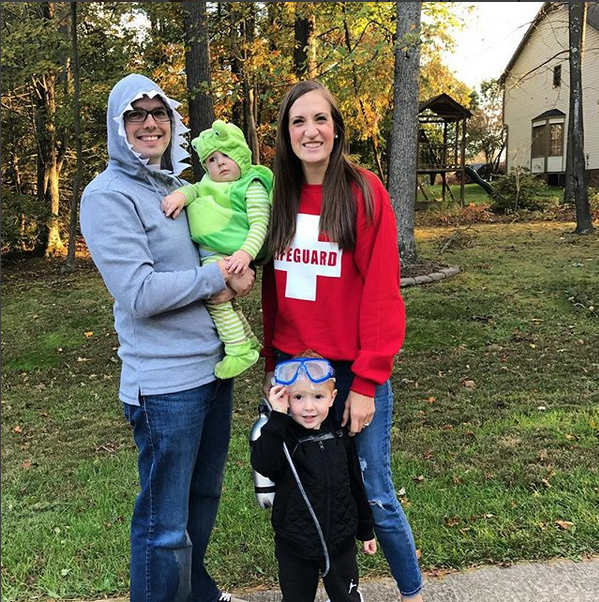 Try this for your water-loving kids! Just try not to get Baby Shark stuck in your head.
There are all sorts of variations you can do with an ocean or beach theme: start with a shark. Add in a scuba diver, lifeguard, or other ocean animals like a turtle.
You could also go the shark attack route with lifevests on your victims. It's an easy parent costume for a group!
6. Garbage Truck and Waste Management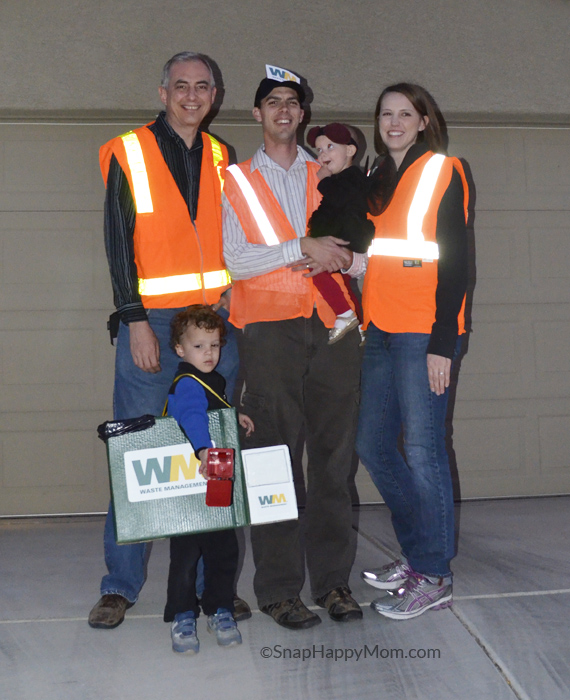 Do any of your kids adore when the garbage truck comes? Mine definitely do! So one year, we went with a waste management theme!
My son was a garbage truck and the rest of us were the employees. It's super east to wear a safety vest like this! And then we had my daughter dress up as a fly because, well, why not?
7. A Used Car Salesman and Flailing Tube Dancer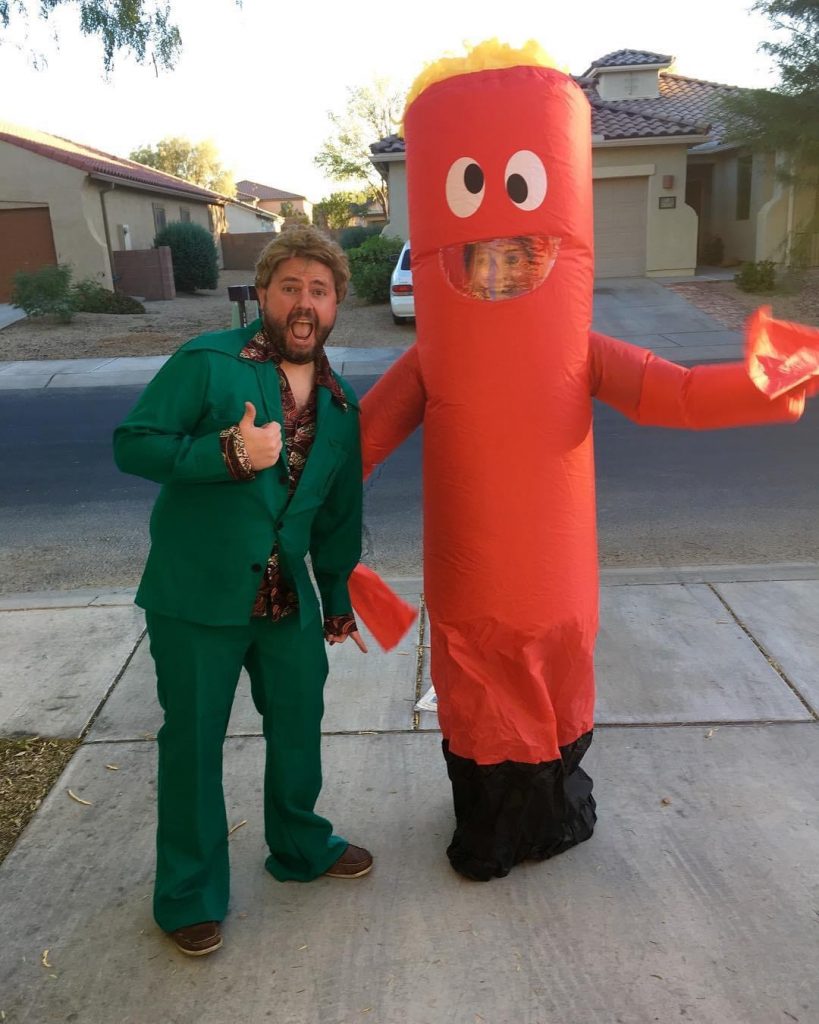 This one is super clever and fun for a couple. You could even extend this out to a small family by letting the kids drive around their own cardboard box cars.
Wear the most outlandish 70's suit you can find and order this inflatable flailing thing! It's definitely memorable.
8. Emperor's New Groove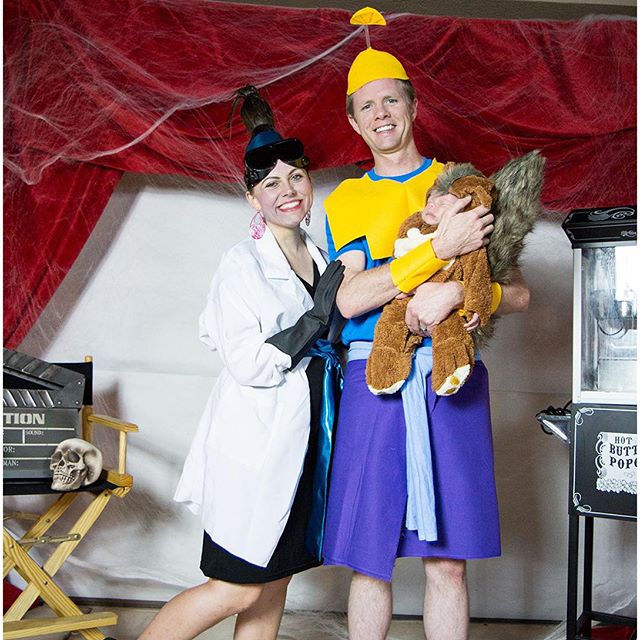 If you really want knock your Halloween costumes out of the park, you can dress up as characters from The Emperor's New Groove.
Trust me, everyone will love seeing Yzma, Kronk, and Bucky the Squirrell at any Halloween get-togethers.
9. Power Rangers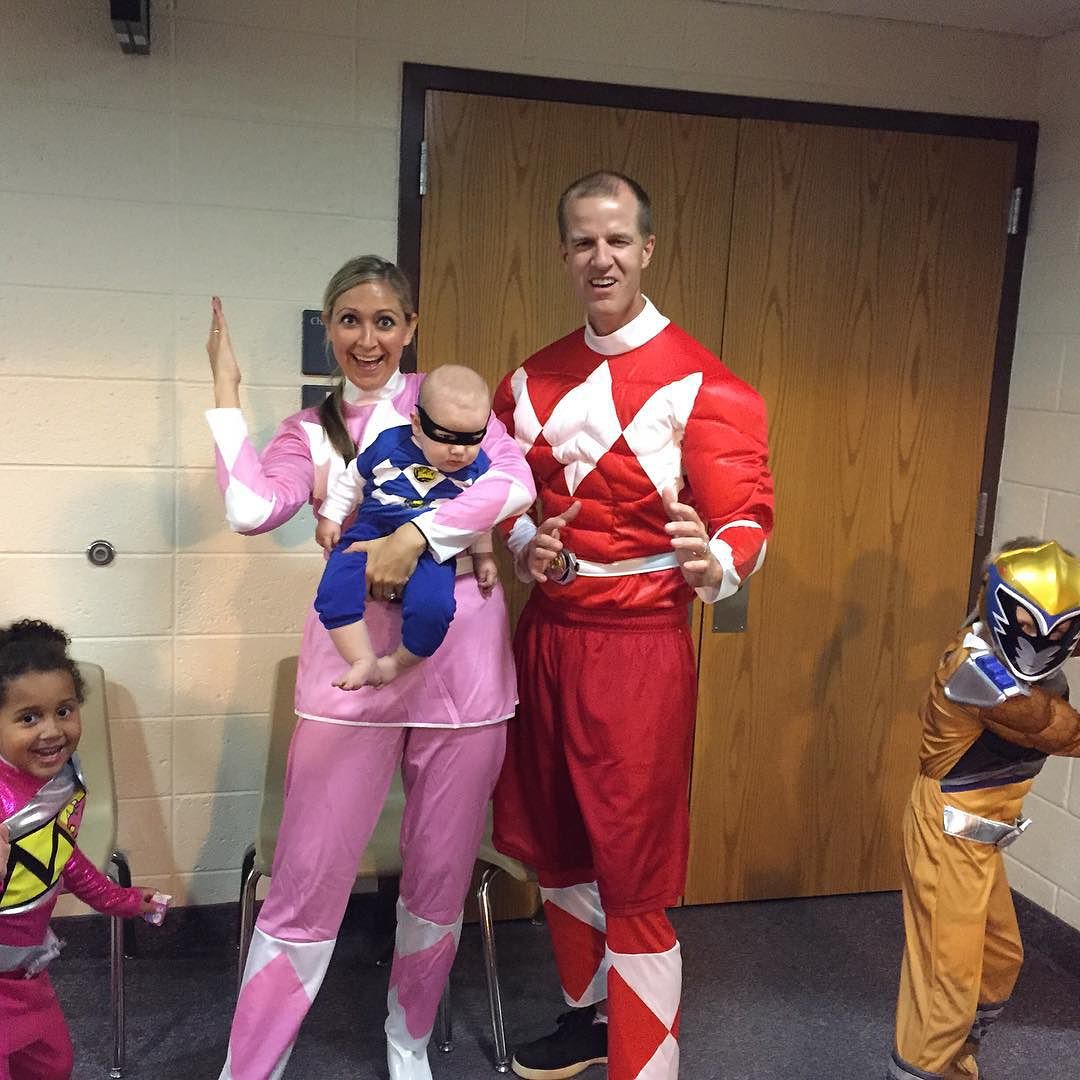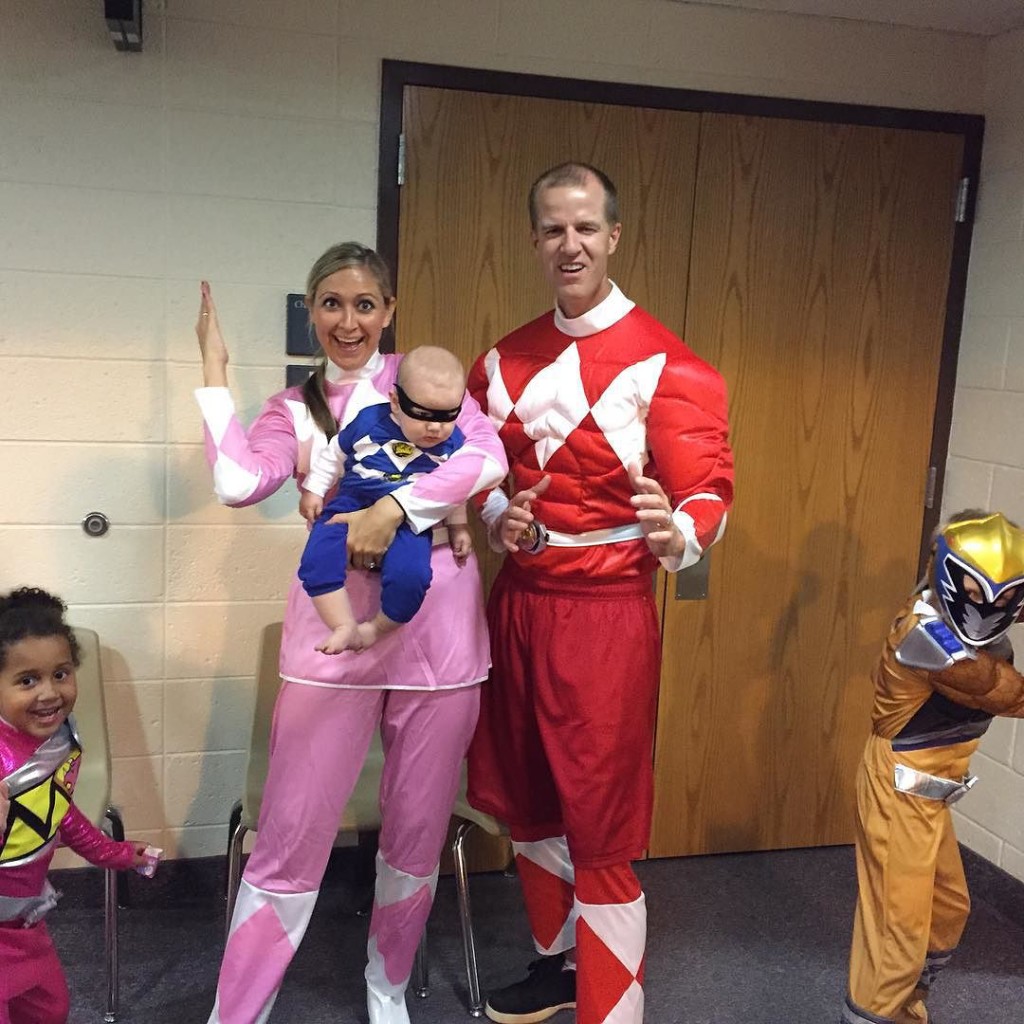 If you like the ninja theme but want to switch it up just a bit, then you can go with Power Rangers! After all, you know what they say... a family that saves the world together, stays together.
There are TONS of different Power Rangers to choose from, so your kid can basically just choose their favorite color and you're good to go. You can also make a Power Ranger costume with colored long-sleeved tees that you just need to paint white diamonds on (or you can glue felt diamonds on them too, whatever is easier for you!) and some plain colored leggings to match.
10. Lord of the Rings Characters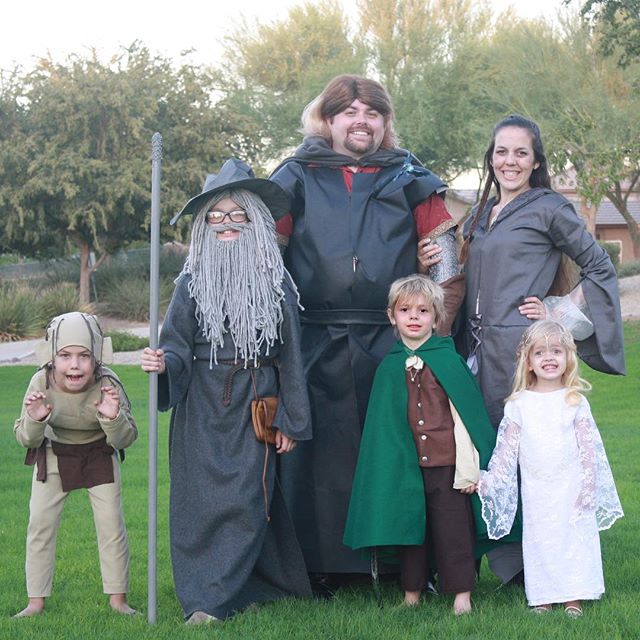 Lord of the Rings has been around for ages, so it might not be the most original idea, but the series has so many lovable characters that it makes costumes easy and versatile.
Check out this post for ideas for DIY Lord of the Rings costumes. Do you have enough people for the Fellowship of the Ring?
11. A Pair of Shoes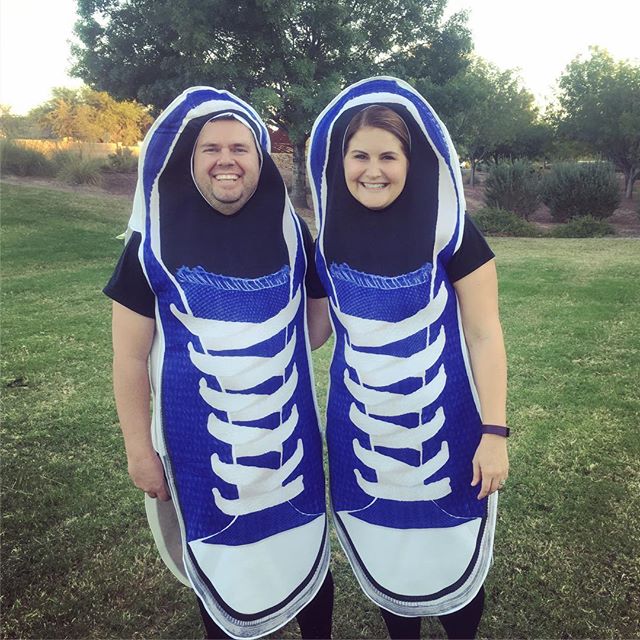 So this one is more for a couple than a full group, but it's such a cute idea!
Just order this shoe costume, wear some black clothes underneath, and now you're one half of a great pair of shoes.
12. Harry Potter Family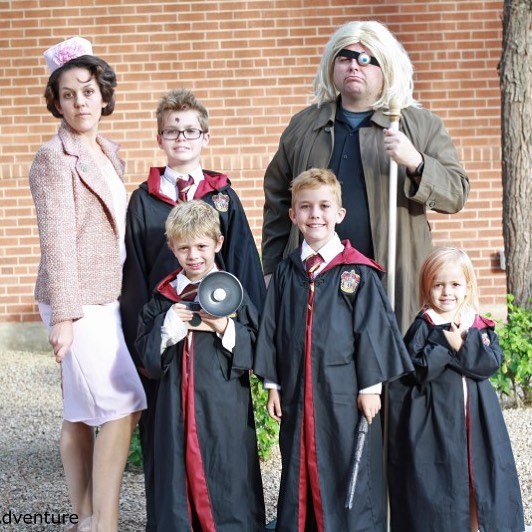 It's a classic for a reason. And there are so many characters to choose from!
You always need a Harry, Ron, Hermione, but after that you can the animal route (Hedwig, Scabbers, werewolf, or the professor route (Hagrid, Dumbeldore, etc). I mean, Umbridge is terrifying.
13. Monster's Inc.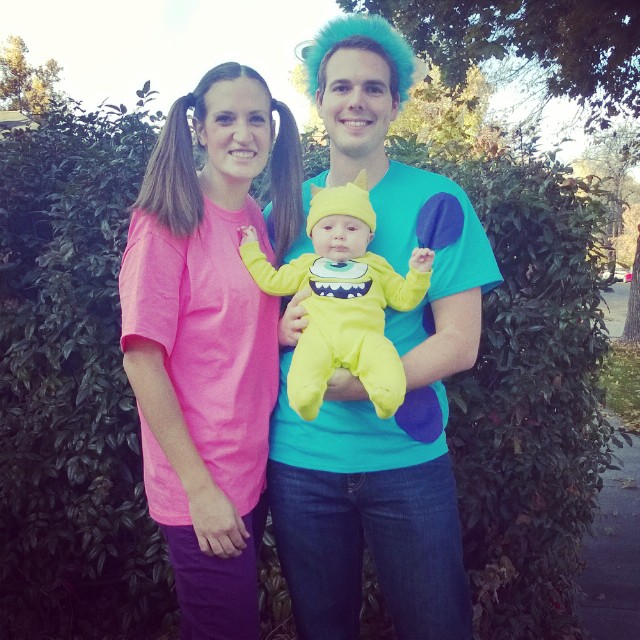 I don't know about you, but I'm pretty sure that's the cutest Mike Wazowski I've ever seen.
If you love Pixar, Monster's Inc. has some easiest costumes you can think of. You just need a pink shirt for Boo, and a blue one with spots for Sully. Of course, the furry hat for Sully is non-negotiable.
14. Toy Story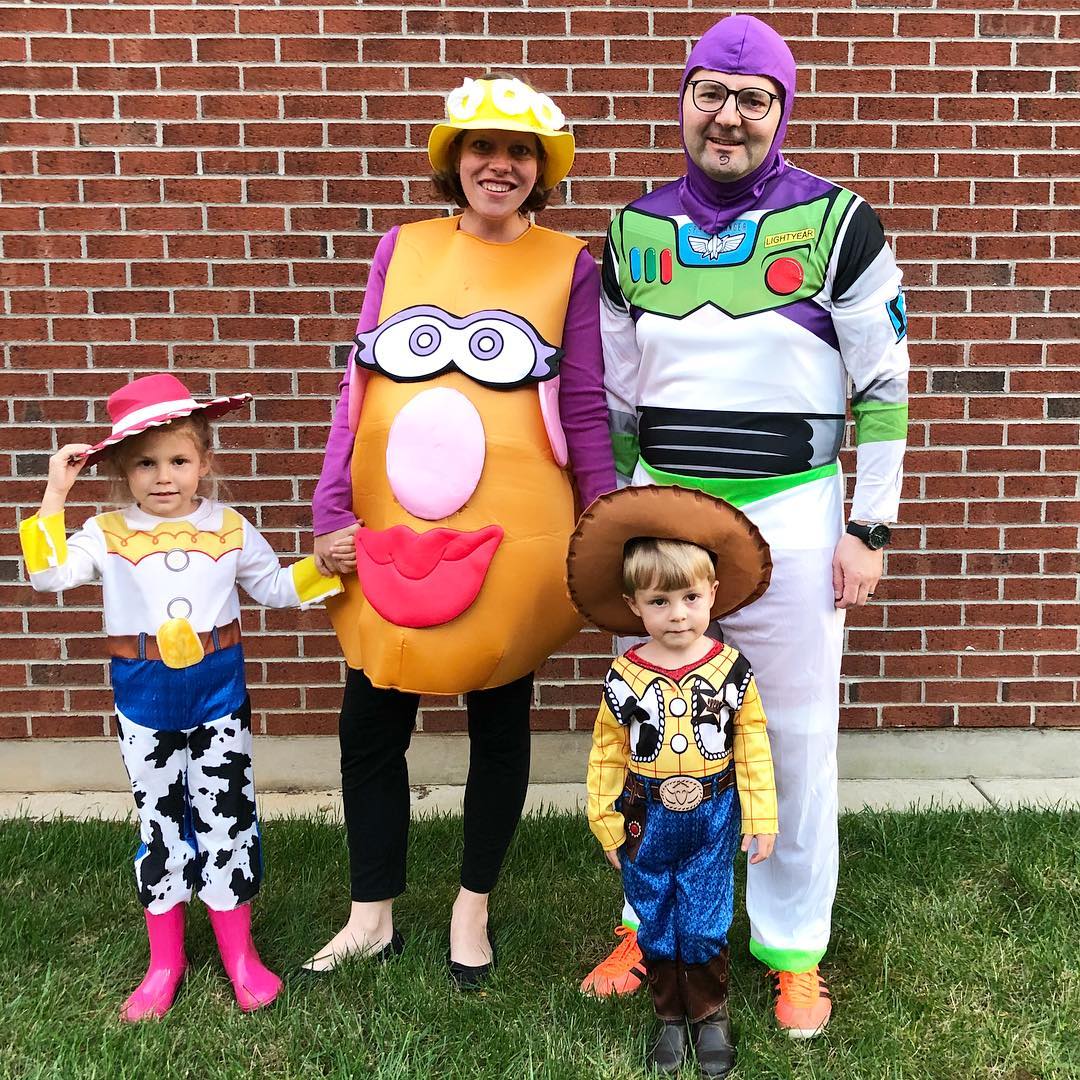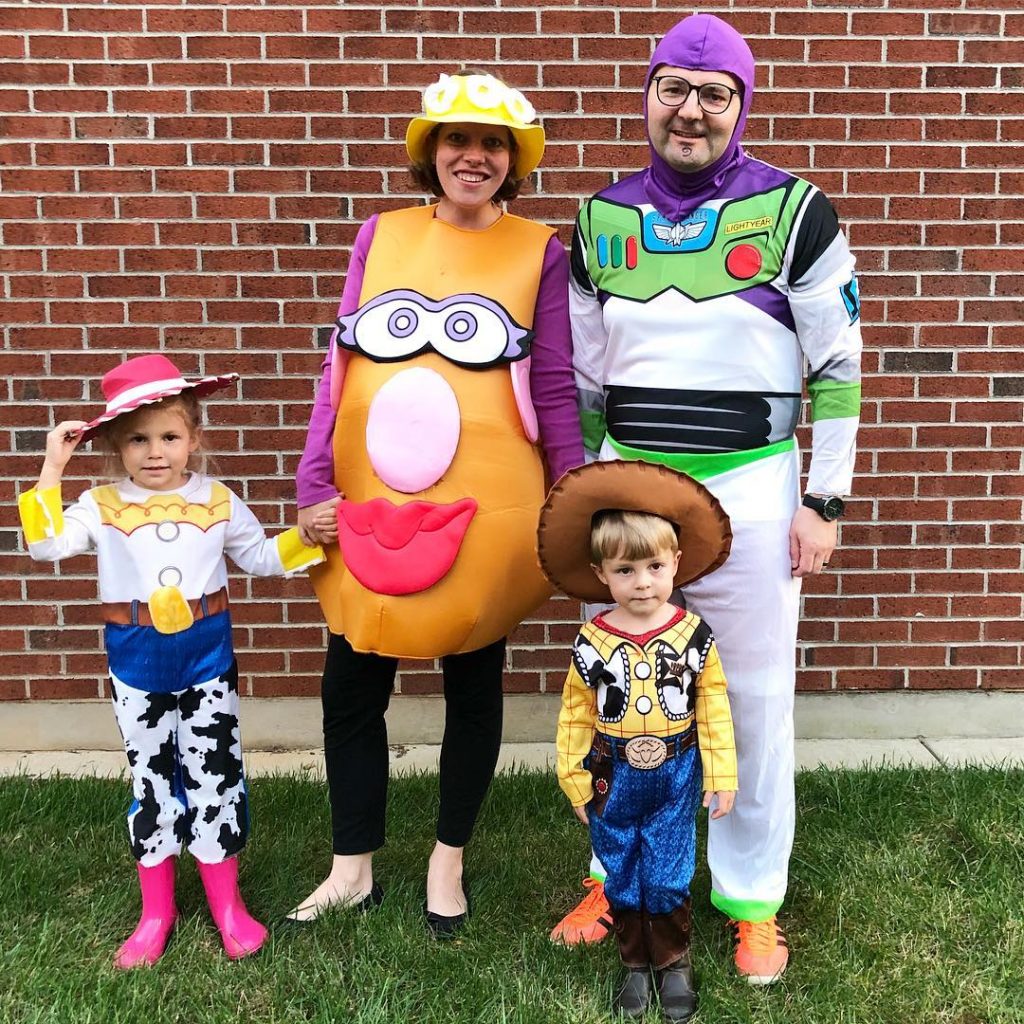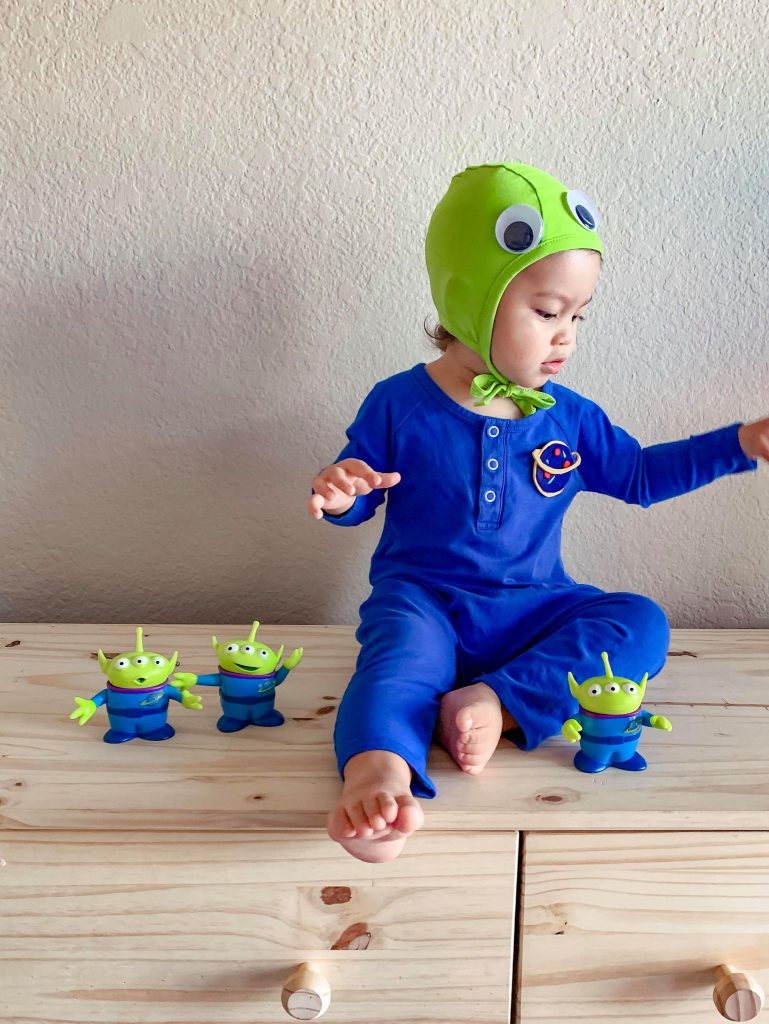 Speaking of Pixar, you can't go wrong with dressing up as characters from the most well-known Pixar movie.
Almost every character in Toy Story is very well-loved (though maybe not Sid...) so you've got plenty of characters to choose from. In addition to the Woody, Jessie, Buzz, and Mrs. Potato Head pictured above, you could also dress up as other characters like the toy army soldiers, Hamm, or Rex.
15. Marvel Super Heroes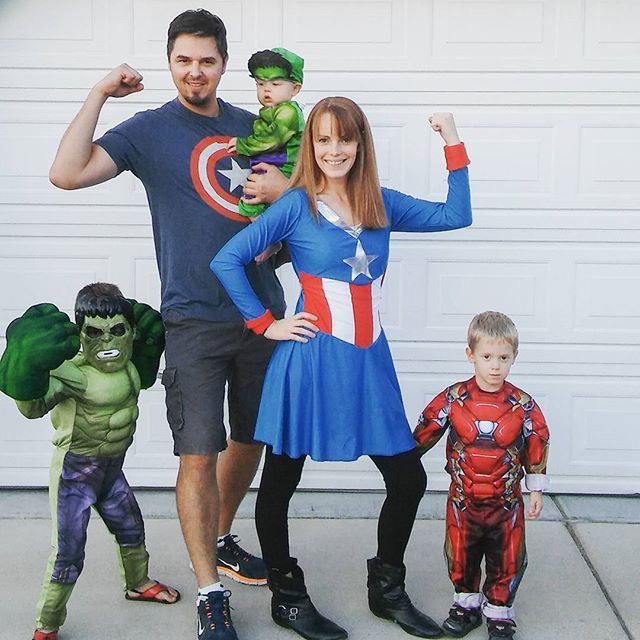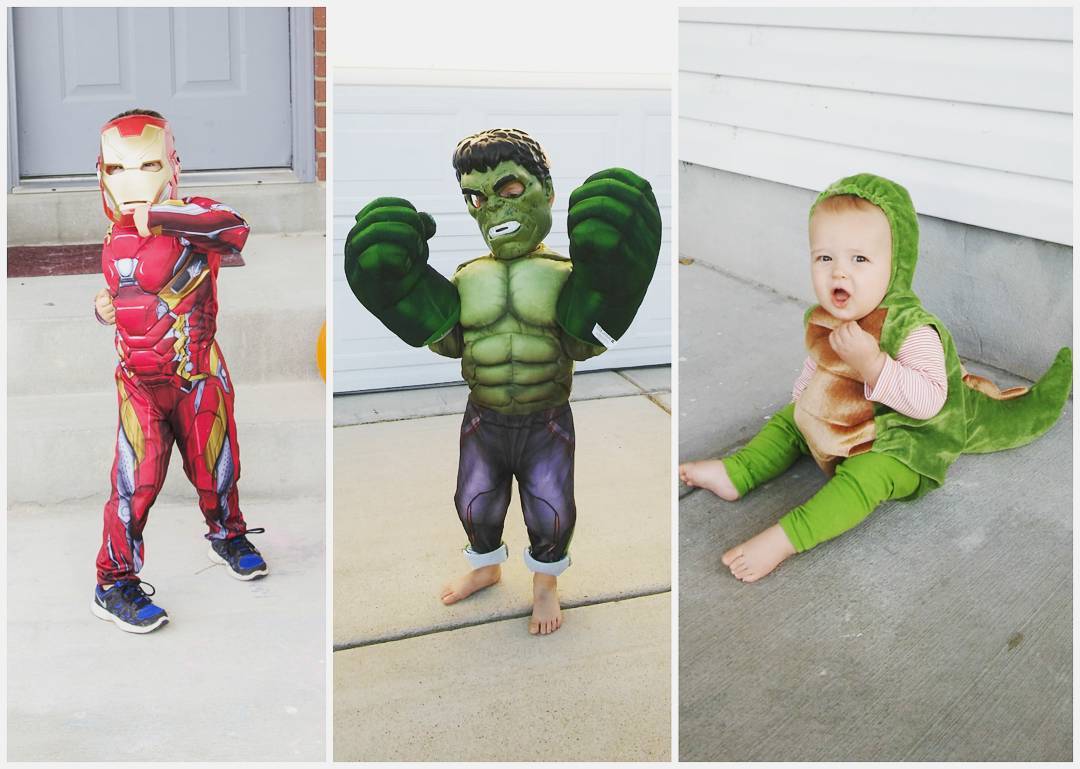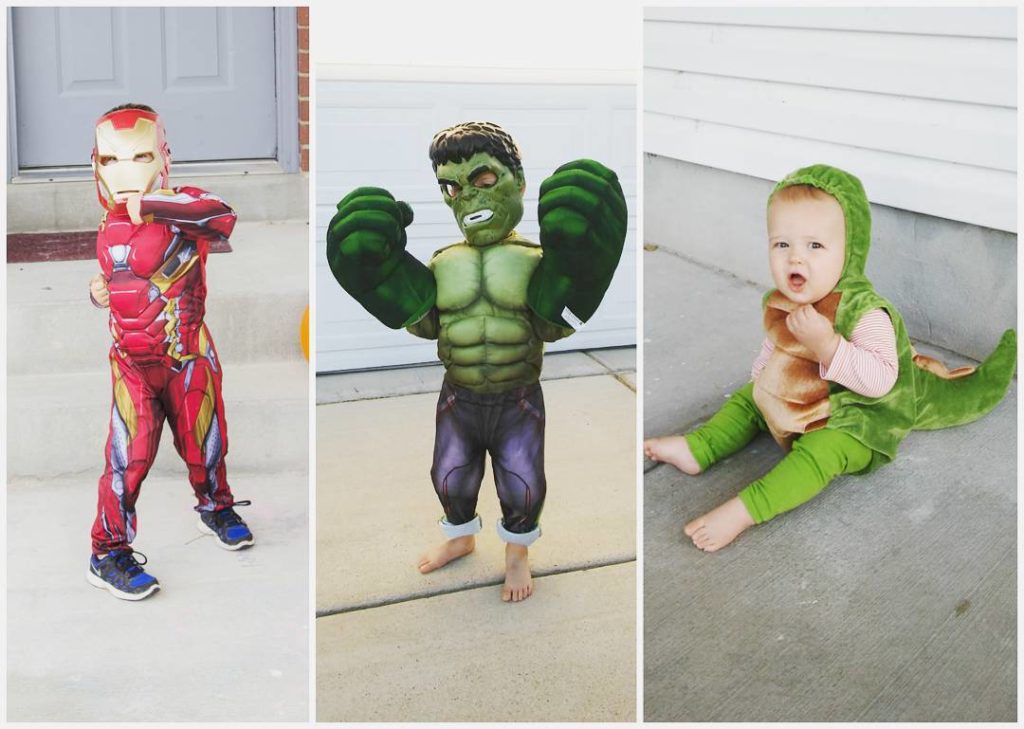 Super heroes are always a crowd pleaser. If that's what your kids love, then rock it as a family!
You have tons of options here for group Hallowen costumes - Take your pick between Marvel and DC characters, and let your kids save the day.
16. A Family of Pirates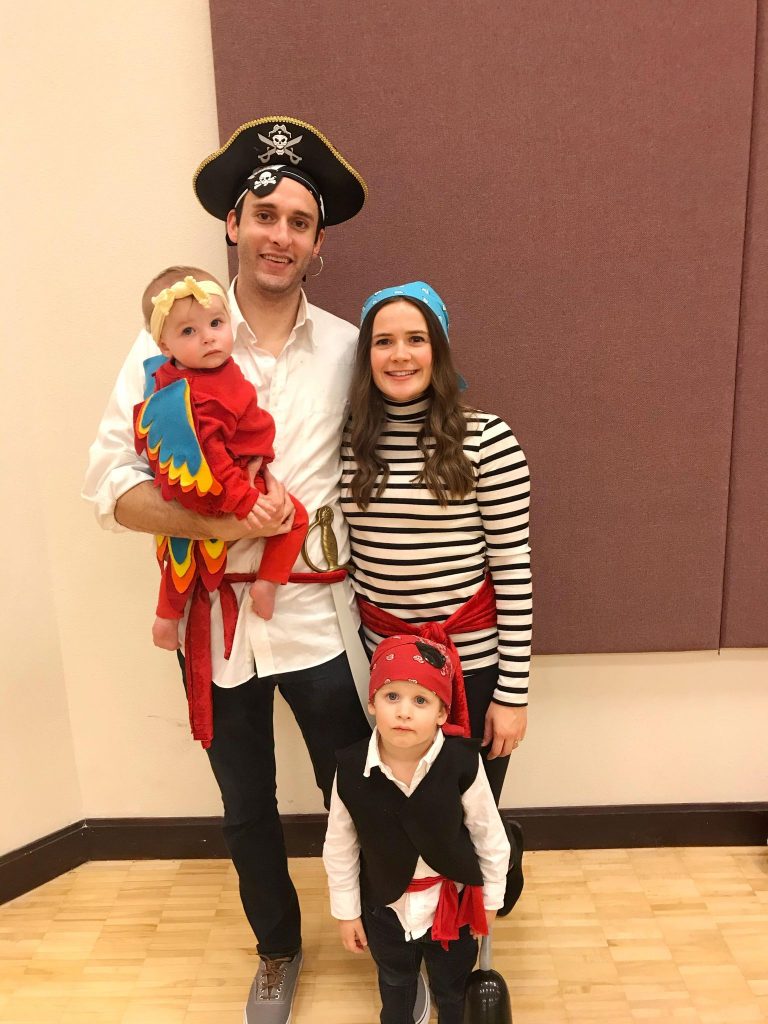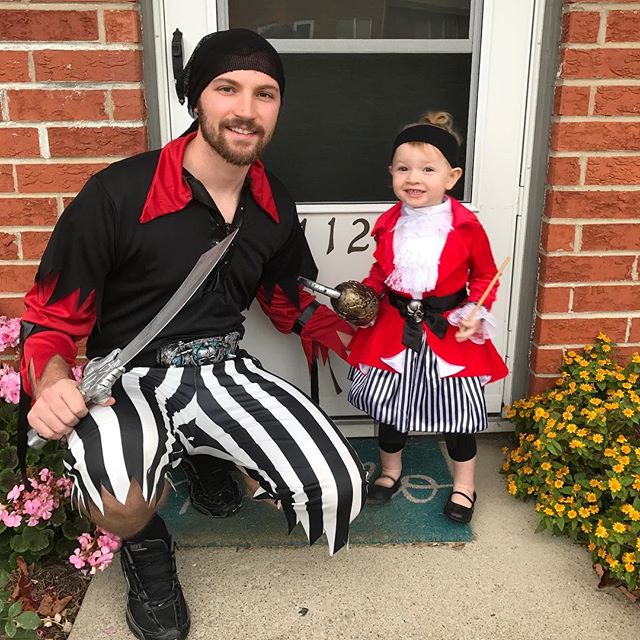 Pirates are a great family Halloween costume! You can go the Disney-rout and have a Captain Hook and Smee, or you can keep it simple for a family of swashbuckling pirates, parrot optional. I mean, how many other occupations have their own theme song?
17. Jurassic Park Family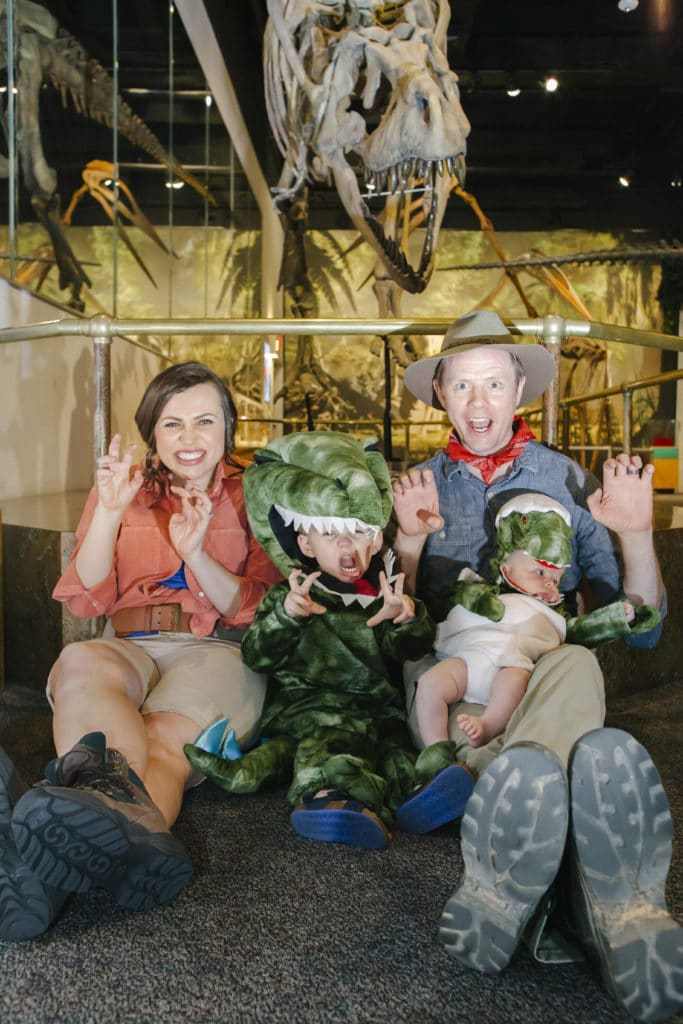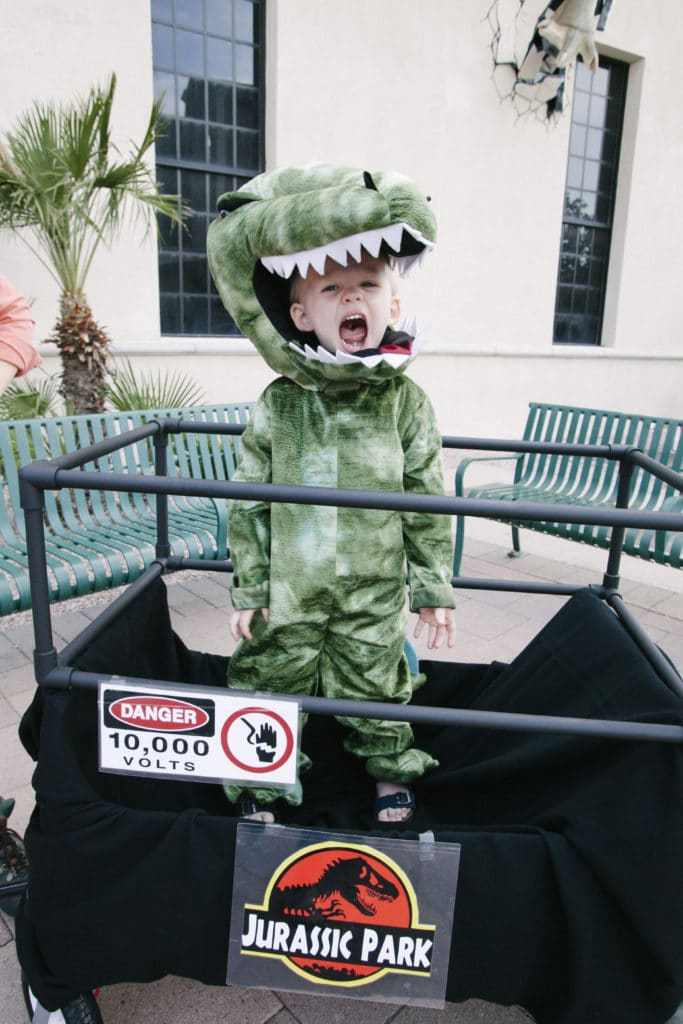 Have some dinosaur loving dudes?
Use Jurassic Park as your family costume theme! Let the kids be dinos and you and your spouse can pull together a couples costume from your closet.
Click here for Jurassic Park costume details from Friday We're in Love.
18. Star Wars Family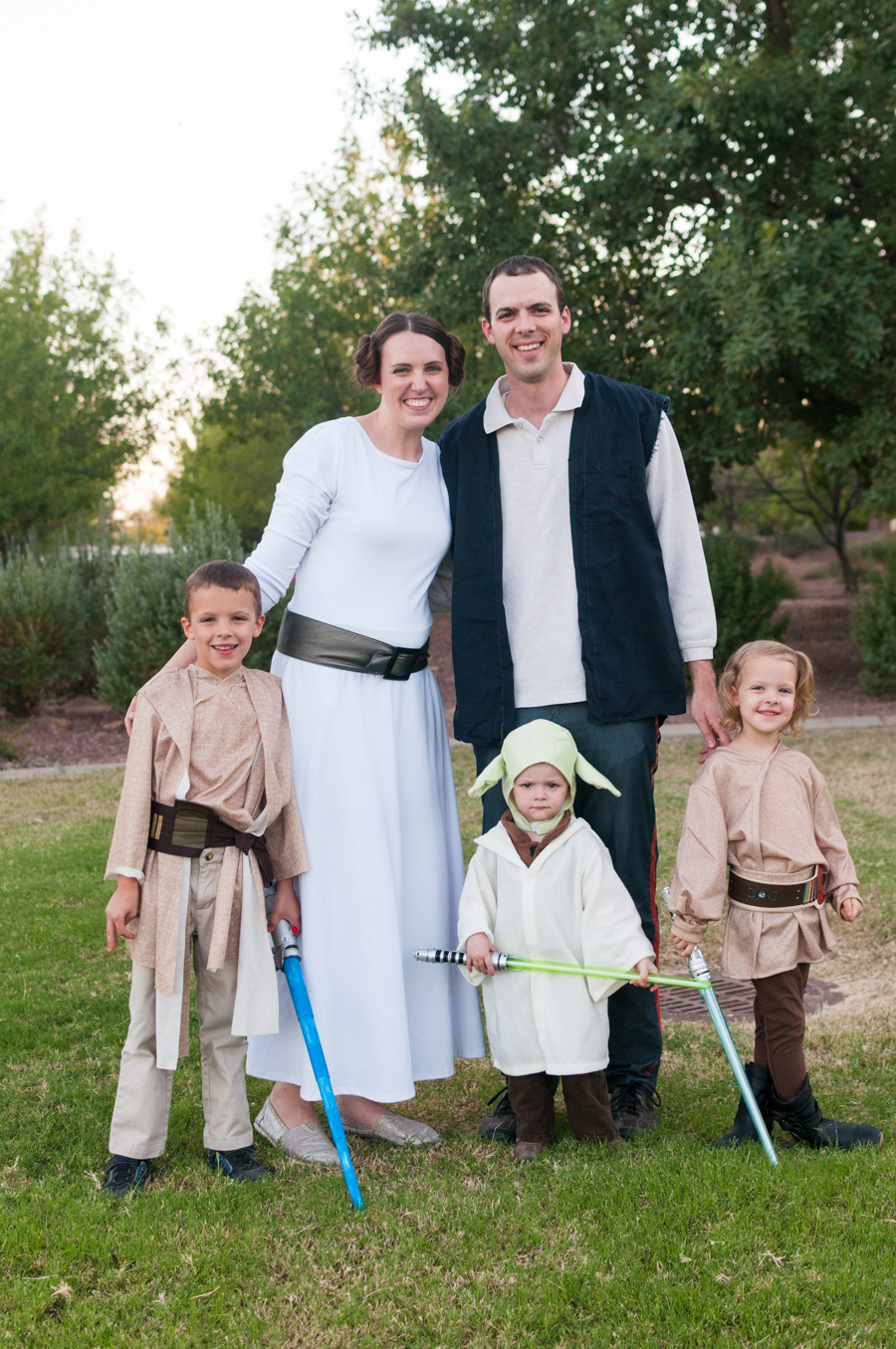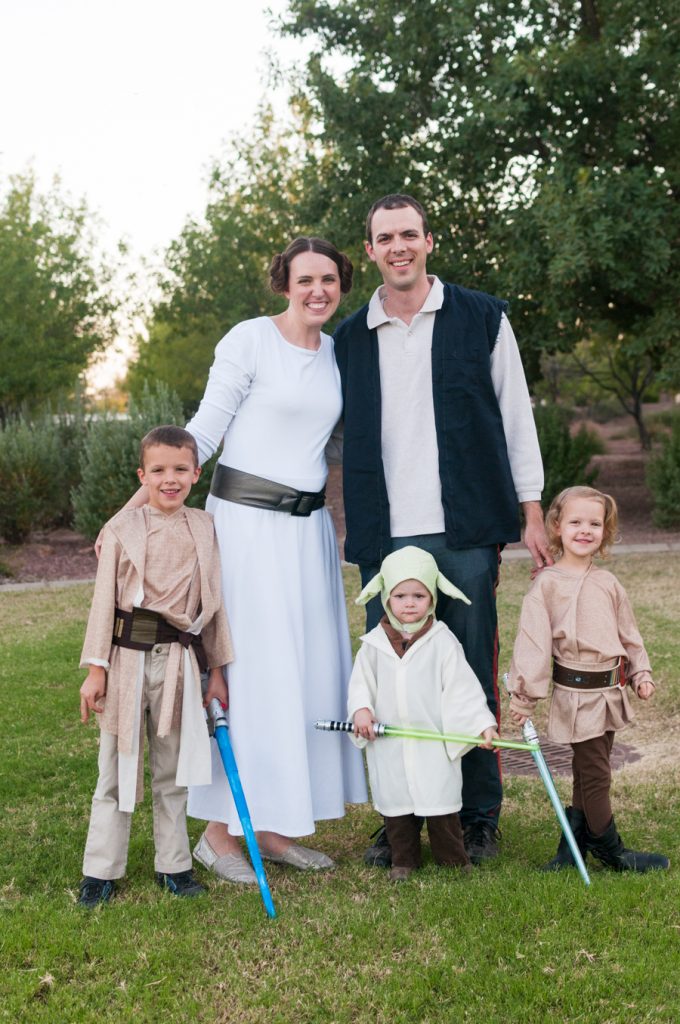 Star Wars might not be the most unique costumes you can choose, but your kids will be the cutest Jedi Knights ever. I mean, seriously... look at that Yoda.
And check this post for fun Star Wars costume poses.
19. Bob Ross and a Happy Little Tree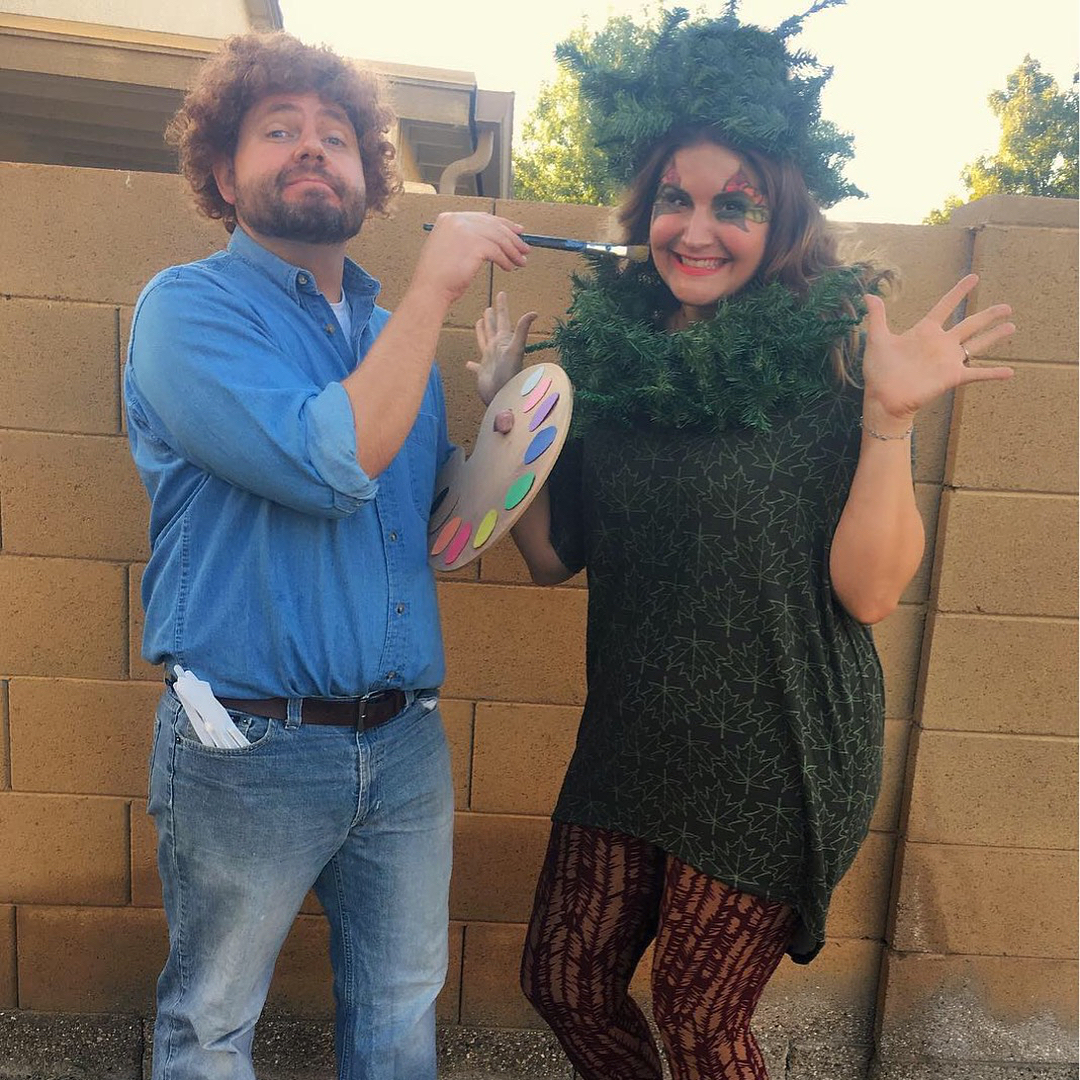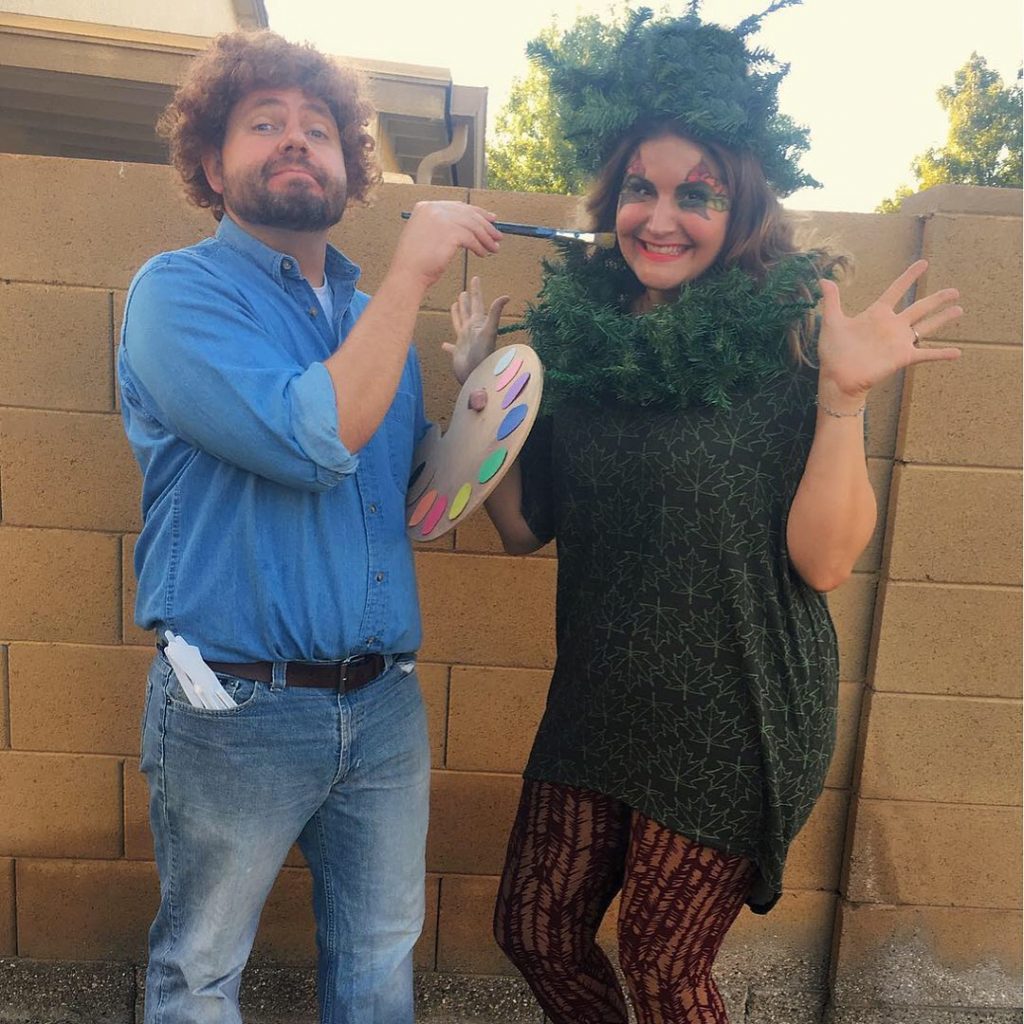 Want a creative costume for Halloween? Paint yourself some happy little trees with this easy Bob Ross idea.
20. Snow White, Seven Dwarves & Evil Witch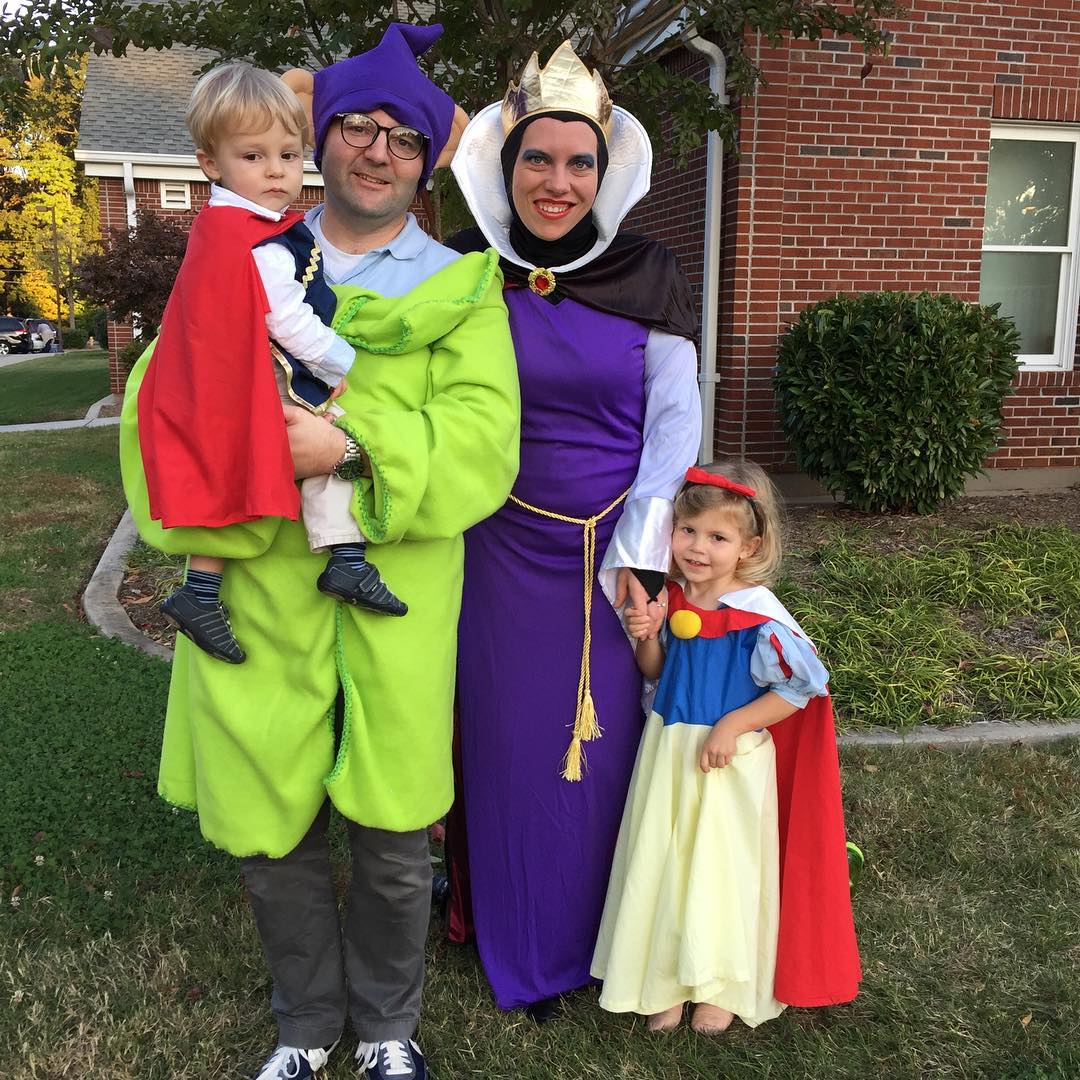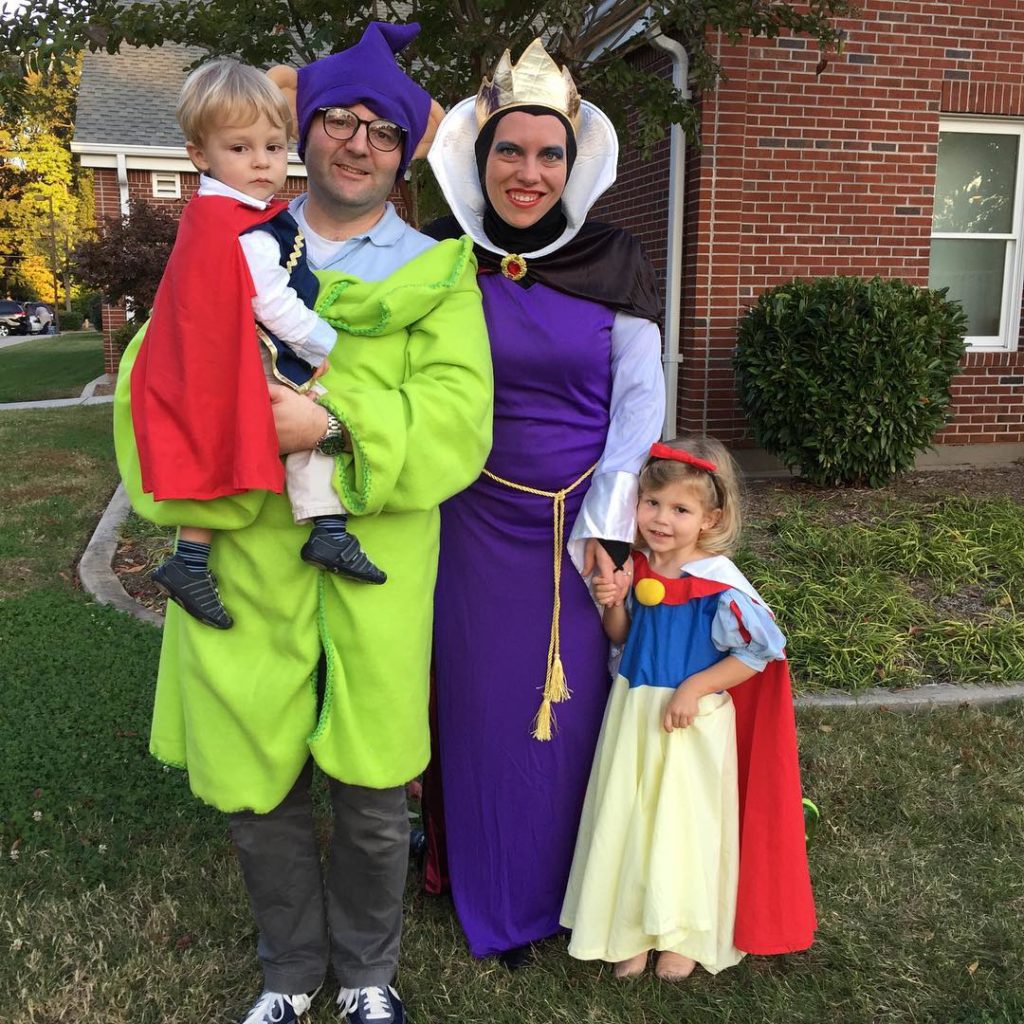 Your little girl can be Snow White, while you rock the evil queen. You just need a Prince and at least one of the Seven Dwarves!
21. A Family of Ninjas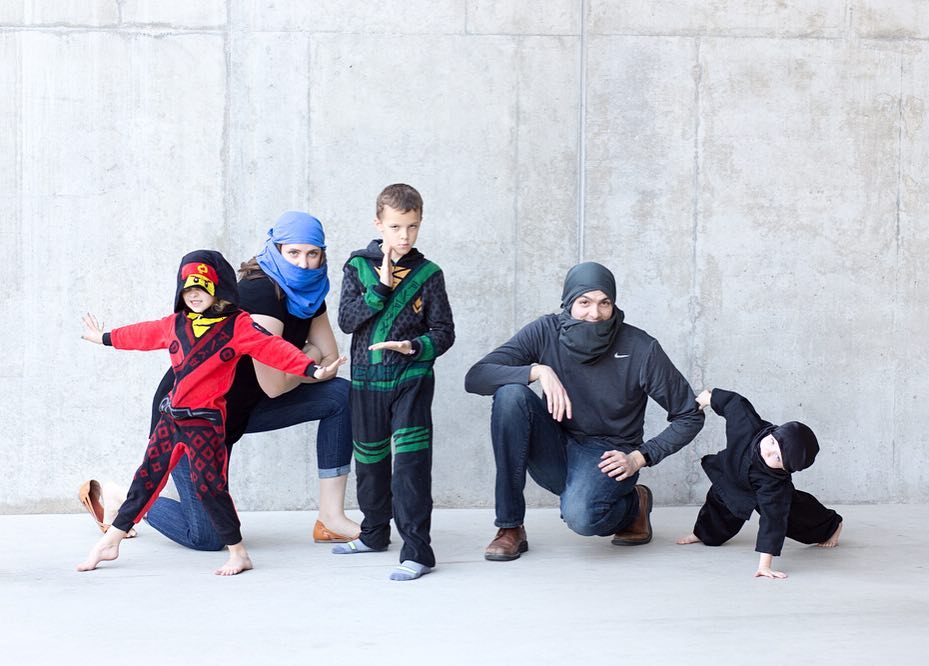 We went Ninjago themed one year, but even if your kids don't love Ninjago specifically, I promise they love ninjas. I mean, who doesn't love ninjas?
The kids will love to go all out with their poses, and it's a pretty easy costume for adults too! You just need dark clothes (long sleeves, of course, for maximum sneakiness) and some ninja masks!
22. Ghostbusters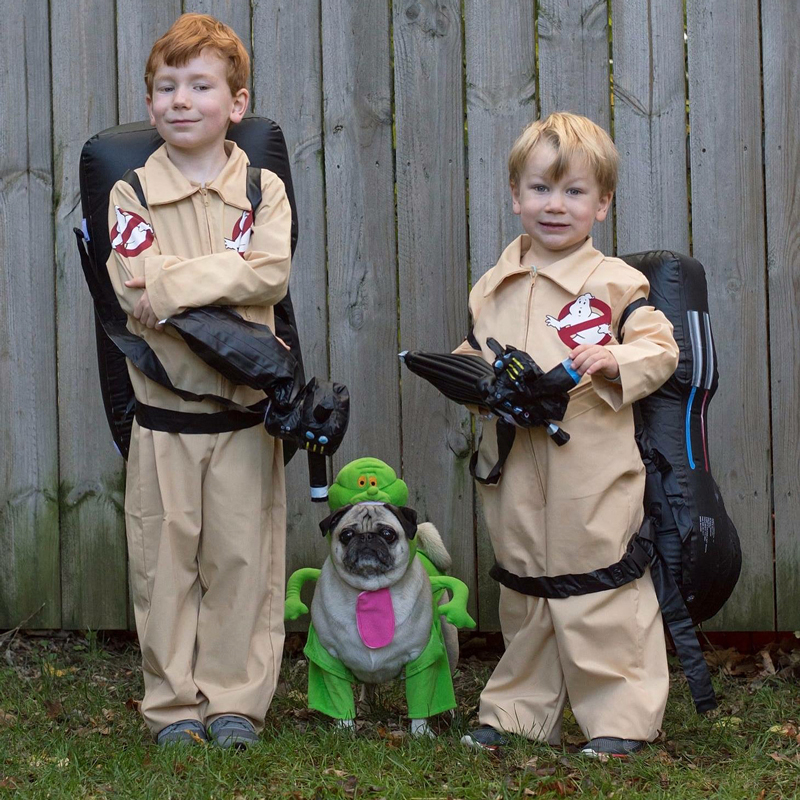 This group costume is a classic. It works particularly well for a family of four if you're going off the number in the movies, but honestly - the world can never have too many ghostbusters. And you can always throw in a ghost or two for good measure!
23. Crayola Crayons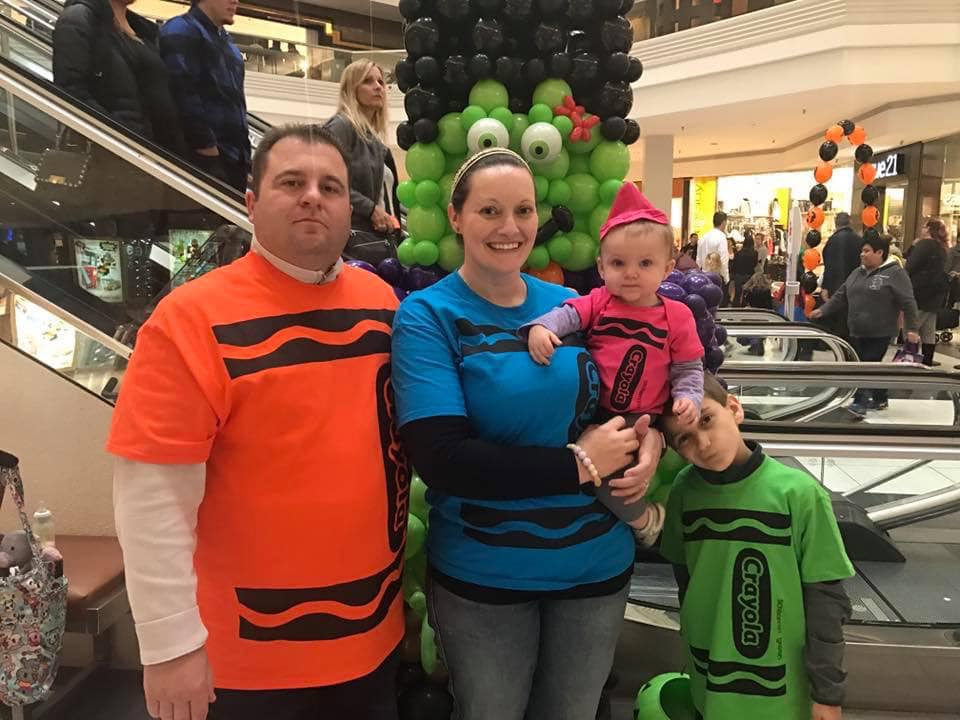 Need a group costume for a crowd? Be a set of Crayola Crayons!
You can easily make some t-shirts with vinyl, or there are plenty of ready-made costumes available. Let everyone be their favorite color, the more the merrier!
---
And there you have it- awesome group themed costume ideas for this Halloween! I can't wait to see all of your pictures!
Comment below: What is your family going to be this year?
You might also be interested in Unique Kid Costume and Character Costume Ideas: