Today's post is all about the FREE content that is available for Yoto MYO cards! We've gathered 35+ source links you can use to make free Yoto books. There are well-known stories, beloved public domain books, podcasts, and music tracks... all available to make free Yoto cards.
If you know of other resources that we missed, please comment and we'll add them to the list!
Note: We've taken great care to ensure that everything on this list is legally and ethically available for public download. We will not recommend sources that fall into the gray area of file-sharing: just because someone posts something does not mean they had the legal right to distribute it to others. If you want to support a brand or licensed content, buy it from them.
If you don't know how to create a MYO card, we highly recommend following the steps on this post. Pick one link below, download the MP3, and then head over to the post to follow the steps. The first time seems like a lot of steps, but it's actually super easy!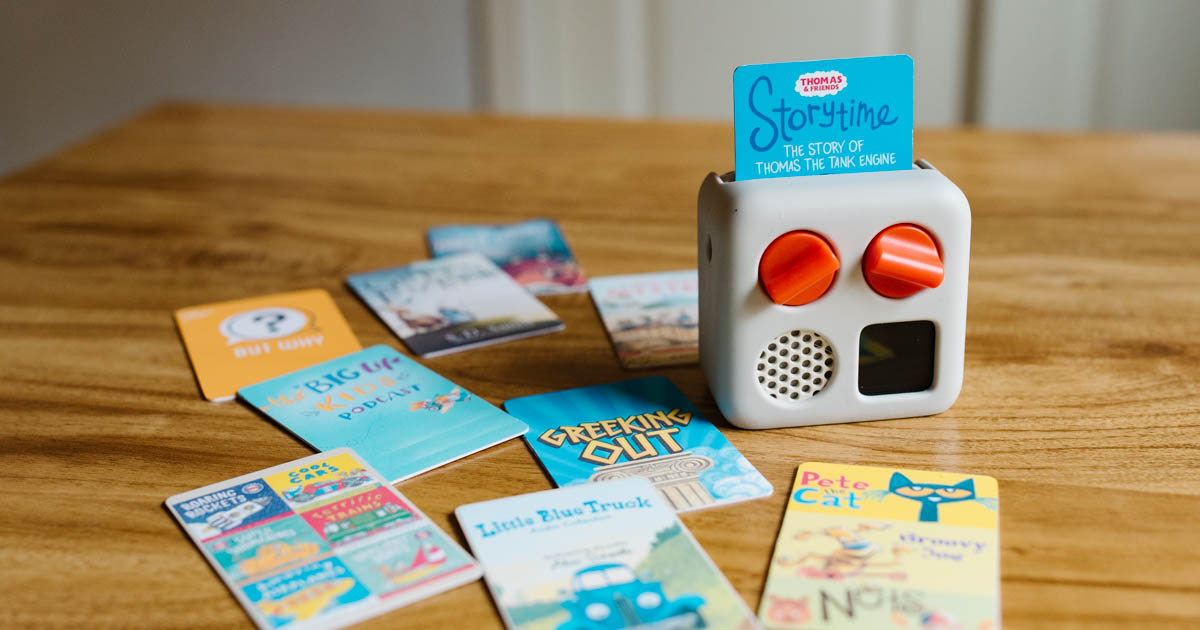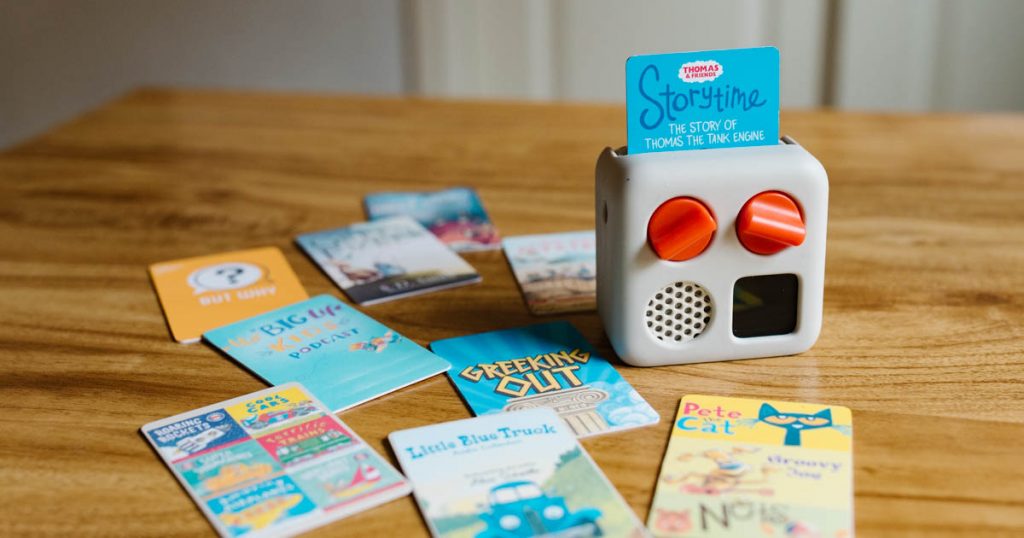 Audio Stories - Free Yoto Card Content For Young Children
There are a few publishers and websites that offer their own audiobook content for free!
1. Little Blue Truck Books
Harper Collins Publishers, the publisher of the Little Blue Truck board books, generously offers three audiobook files of Little Blue Truck. Make some great free Yoto cards!
Little Blue Truck
Little Blue Truck Leads the Way
Goodnight Little Blue Truck
Go to this page on a computer and scroll down to the "Downloadable Audio" section. It's got a light blue background.
When you click each link, it will open a new tab, where the audio will start playing. Click on the three dots on the right and select "Download."
*NOTE: Make sure you're using a computer because the mobile version of the website doesn't show the audio downloads. The easiest way around this is to go to the site on a desktop or laptop computer. Alternatively, the Chrome browser app has a button that says "Show Desktop Site," which would load a non-mobile friends version of the page, where you could access the files.
Harper Collins Publishers also offers downloadable art for MYO stickers. Here's our tips for making your own labels with a portable printer!
If you don't have all of the boardbooks, you'll definitely want them! Little Blue Truck is one of our all-time favorite books.
2. Pete the Cat
These are very popular kids books written by Eric Litwin. He offers mp3 files of Pete the Cat and White Shoes, Pete the Car Rocking his School Shoes, and Pete the Cat and His Four Groovy Buttons. There's also a Christmas story and song available.
Go here for 5 tracks like Pete the Cat and his Four Groovy Buttons.
3. Nut Family Books
If you've never heard of the Nut Family, it's a series of short stories & songs centering around a little family of nuts. Kids love them!
These are available on Eric Litwin's site as well. Just scroll down or hit the shortcut button to the Nut Family.
Scroll down here for The Nut Family songs/books like "Nutty and You Know It" and more.
4. Amazing Machines Books
Have a toddler? These sweet storybooks are a slam dunk with any toddler that loves vehicles!
They are all about the amazing machines all around us: from trucks and trains to rockets and diggers! These downloads come straight from the publisher and can used for free Yoto cards (although we recommend putting them all on the same card).
Download these free audiobooks to put on a MYO card! Just right-click the audio bar and choose "Save Audio As."
Hurry though! The website says these audiobooks will only be made available until 2023. I don't know when in 2023 they will disappear, so jump on this right away!
The actual books are the perfect addition for any book loving toddler. you can buy them individually, but it's much more economical to get a set below. Check out the adorable "truckload" of fun is with all 14 books!
5. The Real Mother Goose - Nursery Rhymes
Every child loves nursery rhymes! This lovely set of files makes it easy to download all the nursery rhymes you grew up with. The songs are gentle and sweet for toddlers and babies!
Nursery Rhymes: Use the "Download All Files" link to get 52 free Yoto book tracks.
Heads up - although the link above is excellent, I will not deny that this Yoto card was my toddler's very favorite for a good 6 months. It's worth getting as well!
6. Other Nursery Rhymes & Poetry
Although the above collection is definitely the easiest way to do a bulk download, there are plenty of Nursery Rhymes and poetry for children available elsewhere.
Click to go to StoryNory Nursery Rhymes. Lots of options - but you'll have to click through to each thing you want to download.
Many nursery rhymes with accompanying sounds here. (Click through and download each MP3.)
7. The Velveteen Rabbit
The Velveteen Rabbit is also in the public domain so you can make a free Yoto card of it.
Get an excellent version of The Velveteen Rabbit read by voice actor Chuck Brown here.
Or, download one of the LibriVox versions here.
Although the story is the same, there are several different versions of the artwork: the original 1922 pictures, the classic illustrations most of us grew up with, and then a more modern illustrated version. Your pick!
8. So Many Fairytales!
If you're looking for some excellent classic fairytales, the ones read by Chuck Brown are great.
You could easily make free Yoto books out of these stories!
There are also a number of fairytales on the StoryNory site, including many ethnic fairytales.
9. Aesop's Fables and other traditional stories
There are a lot of classic tales available out there.
100+ of Aesop's Fables are here on Librovox- (arranged in chapters - #125 is The Tortoise and the Hare, #17 is The Lion and the Mouse). You could fill up a whole Yoto card with free fables!
Narrators are hit or miss on Librovox. If you are looking for an excellent narrator that you don't have to vet first, then Natalie Portman's Fables has three really well-done stories!
10. Beatrix Potter Books - like Peter Rabbit
Classics like "The Tale of Peter Rabbit" and "The Tale of the Flopsy Bunnies" are so old that they are in the public domain. This means anyone can make a recording of it to share for free!
Get Beatrix Potter stories on LibriVox here, with a variety of readers.
This is also available as a set of official Yoto cards, with an excellent reader.
11. Storynory has so many stories
Storynory has many original stories and you can download anything from the site. They have a lot of fairytales and folk stories from all over the world. You can download certain episodes and turn them into a Yoto card.
Go to StoryNory Fairytales here.
Go to StoryNory original, exclusive stories here.
Go to StoryNory Classic authors here.
Check out Myths and World stories here.
Heads up - it is much easier to create a podcast card that automatically updates itself. You have far less control over the stories, but you don't have to download each individually. Go to this post for more information about Yoto Podcast Cards.
12. Content for Children in the Early Years from BBC
This Early Years Foundation Stage site has nursery rhymes, fairytales, and fun stories for ages 3-5. Everything is separated into short clips or episodes, and you can download them to make a free Yoto book card. Everything is available in mp3 and has accompanying teacher's notes in pdf.
They have classic tales like Goldilocks and the Three Bears and The Little Red Hen as well as other folk stories like Anansi the Spider.
They also have a whole collection called Wiggle Waggle with a series of episodes that focus on social, emotional, language, and physical development. The website also has an Early Learning series.
There's too much to link to individually - check out EYFS yourself!
13. Munsch Favourite Stories
This publisher has released seven stories told by Robert Munsch, an excellent storyteller and author. I totally remember these from my childhood!
Click here to download 7 stories from author Robert Munsch. Click each, then click the sound bar and Save Audio As.
Mud Puddle
Mortimer
Angela's Airplane
Jonathan Cleaned Up
The Paper Bag Princess (If this link on the site doesn't work, right-click and copy it, then paste in another window and remove the duplicate h at the beginning of https.)
David's Dad
The Boy In The Drawer
These stories make excellent free Yoto Books. There's really nothing better than an author reading their own stories!
14. The Three Little Pigs
This is a classic story. We love this version from Chuck Brown, a talented voiceover artist!
Download The Three Little Pigs here.
Although to be truthful, we also have the official Three Little Pigs Yoto Card which is equally well-loved. (You can also get the digital version from Yoto here.)
Audiobooks - Free Yoto Card Content for School-Age Kids
Did you know that children can listen to books that are more advanced than their reading level? It's true! Our brains can listen and follow storylines that we couldn't quite read yet. Don't be afraid to try out chapter books for kids over 4 - they might surprise you!
15. The Boxcar Children
The original novel in the Boxcar Children series is now public domain, so you can download it and turn it into a Yoto card!
Here is the link to download the first Boxcar Children book.
This version is just a different reader - preview both to see which one you like better.
If you think your child will want to read more than the first book in the Boxcar Children, then you may be better off getting the full set from Yoto instead, as there are no recordings available of the books past the first one.
16. The Green Ember
Author S.D. Smith offers a free audiobook for his novel The Green Ember when you subscribe to his newsletter. This adventure novel is perfect for young school-age listeners - my 6-8-year-olds loved it.
You have to join the newsletter, and then confirm it in your email. (Heads up that my first email went to spam, so check there too!). Then you'll get another email with directions on how to download the audiobook for free.
Go to this page and scroll down to the bottom to join his newsletter.
Note: this book is a Christian fantasy with religious themes, in case that matters to you. We loved the adventure of following the rabbits in their quest! It's a similar feel to Chronicles of Narnia, although not as epic. It's a perfect way to make a free Yoto card for an 8-10-year-old.
17. Anne of Green Gables
Anne of Green Gables is such a wonderful story and this is my favorite version! It's read by an award-winning voice actress and is professionally produced.
Each chapter is separated into episodes on her website, so you can just put them together into a playlist and turn them into a free Yoto card.
Download each chapter of Anne of Green Gables here.
Although the version above is my favorite, there are many different readers since it is public domain. So you can also find Anne of Green Gabels here on Lit2Go.
If it sounds like too much work (and let's be honest, it is a lot of downloading) then you can also get Yoto's abridged version of the Anne of Green Gables in the Yoto card store or on Amazon.
18. A Little Princess
This is a classic from my childhood! The Little Princess is a story about dreams coming true, but also about showing kindness even if you are not being treated kindly. The entire thing is available as an MP3 download.
Download A Little Princess files here.
19. Alice in Wonderland
Here's another book in the public domain!
You can download the audio for Alice in Wonderland here.
This one is a bit fussy because you'll have to click to download each chapter separately.
That does make it really easy for a free Yoto card though! Each chapter will be its own track.
Note: Yoto does have its own version of Alice in Wonderland. Check it out, you might like the narrator better!
20. The Adventures of Maya The Bee
This is a classic, originally published in German so it isn't well known to an English-speaking audience. But it's a very sweet story!
Get the free download The Adventures of Maya the Bee audiobook here.
If you'd like to learn more about the book, check out the Amazon reviews here. (link)
21. The Wonderful World of Oz and other books
The Wizard of Oz is actually a series of books! Get them all from Librovox below:
Find all the old Wizard of Oz books here.
Radio Plays and Episodic Stories
22. Sugar Creek Gang
You might remember the Sugar Creek Gang from your youth! This 1970s-80s Christian series features six boys that have crazy adventures together.
There are 32 different stories were produced as radio dramatizations, each featuring split into ten 15-minute episodes.
30+ Sugar Creek Gang Radio shows are available here. There are lots more on the bottom with the numbered pages!
23. Nature Corner
If your kids love animals and nature, they'll love these old MP3s.
Nature Corner has many stories, all themed after different animals.
You can narrow down your search and just download the audio for the animals and subjects your kids love, or you can download them all and have a whole collection!
Get the audio of Nature Corner here!
24. Fables of Faith
Fables of Faith centers around a club with characters such as Bruce the Goose, Philip Fox, and Beauregard Bear. The club members tackle problems that children face often, like jealousy and fear, and help kids learn how to share their feelings and grow in wisdom and love.
You can find Fables of Faith here.
25. Storybook Room
This one is from the 60s and features Christian interviews with guests from around the world. These animal and science stories teach kids about the wonders of God's creations.
Download Storybook Room audio here!
26. Sailor Sam
This radio show from the 50s have 15-minute episodes about Sam and his friends as they sail around the world. There are Christian themes in these episodes and they teach about teamwork, kindness, and respect.
27. Adventures in Odyssey
Adventures in Odyssey has nearly a thousand of episodes - it's a radio dramatization of a family's adventures. They are Christian stories with a focus on family values, lasting truths, and important topics. It's geared primarily towards kids 8-12.
They offer 35+ free story episodes at this link.
If you're unfamiliar with Adventures in Odyssey, you may want to pay for the first set of stories and switch to the free ones once you have some background on the characters.
You can also start with the free episode that says "Introduction to Whit's End" which is near the end of the free list.
Free Yoto Card - Music Ideas
28. Broadway Junior Musicals
Do you know there are kid-sized versions of Broadway musicals? They are shorter and more kid-friendly... and the music is amazing!
Broadway Junior has offered 53 tracks of songs from each of the popular Braadway Jr. shows. Enjoy old favorites and introduce them to some new catchy tunes!
Go to this link to download 50+ tracks of Broadway Jr Music.
29. Sandra Boyton Books & Music
There are 10 tracks available from Sandra Boyton's Soundcloud account.
You're probably familiar with this instant classic children's author - her books are hilarious and quirky and just so much fun!
Some of the tracks are her short books set to music, and some are just beautiful music (like the one with YoYo Ma on cello!).
Click here to see 10 Sandra Boyton tracks - you'll have to make a free account to download.
The Download button is under the three Dots "More" link. Note: not everything on Soundcloud is allowed to be downloaded: it's up to each artist. Sandra Boyton allows downloads whereas as other artists do not.
30. Singable Stories from Listen & Learn Music
This singer/songwriter has composed little songs of favorite children's stories! They are sweet and gentle listens, perfect for a young child.
You can preview each track, but there is a "Free Download" link a the top that gives you a zip file of MP3s.
Get 15 original children's songs for free at this link.
31. Groovy Joe Downloads
There are 11 fun songs from the Groovy Joe series by Eric Litwin. It's the same website as Pete The Cat - just scroll down a bit.
Groovy Joe music is great for kids who like to dance and groove.
Get Groovy Joe Music tracks here.
32. Storynory Music
Storynory is a podcast that has produced various music files for your enjoyment.
There's not a ton, but click through to see what they have - there are some Christmas tracks, other holiday favorites, nursery songs, original background music, and more.
Look at the Storynory Music archive here.
33. Yoto Radio & Night Radio are Free!
If you're looking for free Yoto cards, you might not realize there are several free things you can access from Yoto itself, like Yoto Daily and Yoto Radio.
To find great podcasts available through Yoto, go to your library in the app and swipe to the Radio and Podcasts section. Then you can browse their selection!
Press the right button twice for Yoto Daily (with no card in the player).
34. Yoto Daily Podcast
Yoto Daily is a free daily podcast that you can access by pushing the right-hand button on your Yoto player with no card in.
It has games, activities, facts, jokes, and more! It's really a great introduction to the podcast format for any age.
Press the right button once for Yoto Daily (with no card in the player).
35. Podcasts - SO MUCH FREE CONTENT!
There are lots of other podcasts you can get - most of which you can download for free.
Check out this post to learn all about podcasts and how to use the on the Yoto.
Our current favorites are But Why, Greeking Out, Thomas the Train Storytime, and Circle Round.
36. Make Free Yoto Cards of Yourself and Other Family
The most underrated use for the Yoto is recording voices that matter to your children - which means your voice or the voices of loved ones!
You can record the bedtime routine, storytime, special messages, singing your favorite songs, and more.
---
If you're trying to expand your Yoto card collection without breaking the bank, these MP3s you can turn into free Yoto books will definitely help!
With all the options above, you're probably going to need another set of Make Your Own Cards.
We usually get the Packs of 10 or the Packs of 5 from Amazon, which are the same price as in the Yoto Store (although they are cheaper from Yoto if you have the Yoto Club - Packs of 5 here and Packs of 10 here.
Note that these ALWAYS go out of stock in November/December as people prepare for the holidays - if they are available, I'd definitely buy a few packs far in advance. 🙂
Now that you have some content, here's our step-by-step tutorial for creating an MYO Card. And here's how to make your own labels, with several options.