Getting a "Grandpa" photo frame made especially for grandpa is a really special gift. They're already so hard to buy for (how many socks and ties do they need, right!?). But a sweet picture of a grandchild with their grandpa in a personalized frame is a thoughtful gift.
We've gathered up all the grandpa-themed picture frames we can find in this post. Whether you call him Grandpa, Papa, or Pop there are plenty of cute designs out there. We've found some adorable grandpa picture frames with cute phrases, and you should be able to match any home or decor.
On the other hand, if you'd rather give a digital frame so that you can wirelessly upload photos, check out this post for my grandparent-approved suggestions: Best Digital Photo Frame For Grandparents.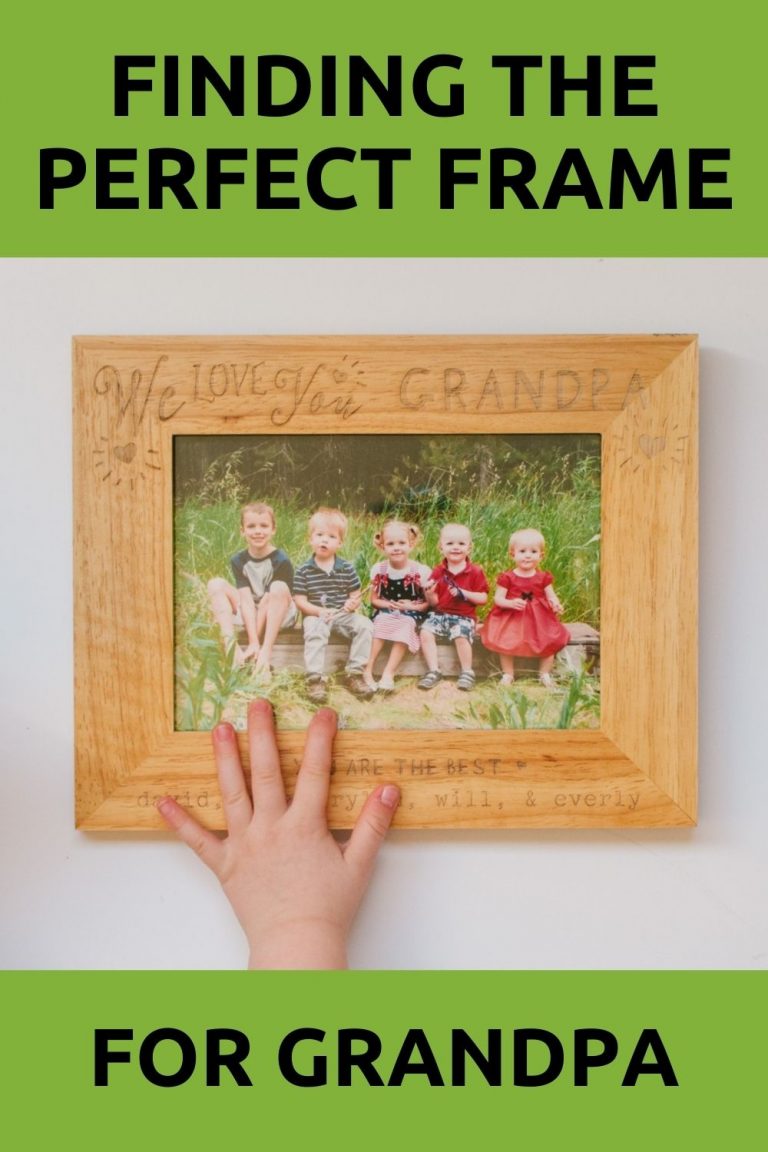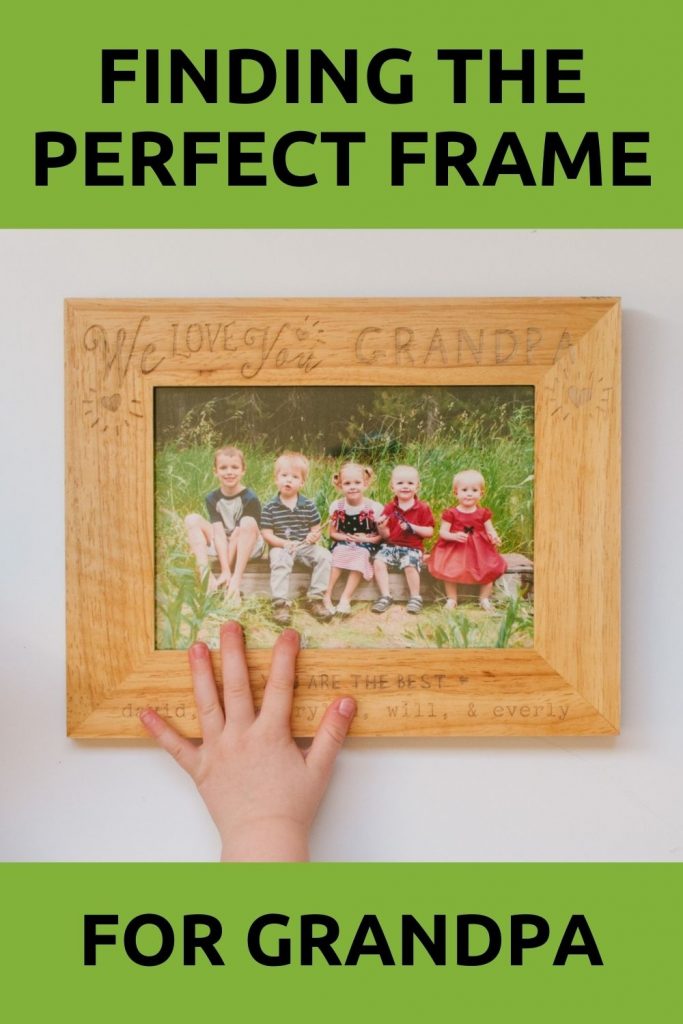 Grandpa and Me Picture Frame
This wooden frame has a real glass front and silver text at the bottom that says, "Grandpa and Me." There's an included hook for hanging it on the wall and an attached easel. The black frame with silver lettering gives a classic look, and it comes with a white mat. It holds a 4x6 photo or can hold a 5x7 photo if you remove the mat.
This grandfather photo frame is made of top-quality natural wood and the lettering is carved into it. This one is in portrait orientation, but there's also an option for landscape. The frame holds a 4x6 photo and the frame has a back easel and wall hanging clips.
This wooden frame has text printed in gray that says "me & my grandpa." It fits a 4x6 photo and has an acid-free mat. This is a cute, simple grandpa picture frame.
This frame is made of leatherette and has lettering etched on it. It comes in landscape orientation and has a glass front. You can display it on a table with the easel on the back or you can hang it on the wall with the clips.
This wooden frame holds a 5x7 landscape photo with an engraved fishing rod design. This is a super fun frame for anyone who loves fishing with grandpa. If you want a frame that is more personal or shows off a favorite shared hobby, this is a great option!
I Love My Grandpa Frame
This grandpa picture frame fits a 4x6 photo and has a laser-engraved design on the wooden surface.
This grandfather photo frame comes in portrait or landscape orientation and is either 4x6 or 5x7. It has an easel on the back and wall hanging clips. The frame is made of thick, natural wood, so it's sturdy and durable.
This frame has a black Masonite backing with a white front that says "I (heart) my grandpa!" The cute lettering and colored-in heart make it feel like their grandchild wrote the message themselves! It comes with a glass front and holds a 4x6 horizontal photo.
Papa Picture Frames
There are lots of different names for grandpa, so if you call yours "papa" or something similar, here are some frames for you!
This papa picture frame fits a 4 by 6 photo in horizontal orientation (landscape). It has an easel back for a shelf and a hanging tab for the wall. The frame has a clean black wooden border and tan wooden letters that say "I (heart) Papa." You can also get a natural-wood-colored frame.
This free-standing frame is pewter-plated. It fits a 3x3 photo, but the frame measures about 9x1x4. I love that the picture goes in the first "a" in papa. It's a really cute, unique frame. This frame also comes with a guarantee that the pewter product will not change color for five years, and if there's any problem with the product, you can contact them!
This frame has the photo printed on it, so you can't switch this one out in the future. Your photos are printed on a wood pallet surface with a phrase that reminds everyone how special their papa is. This free-standing frame is 8x6.
This frame comes in multiple colors and fits a 5x7 photo. The phrase is engraved in the leatherette picture frame, reminding your Poppy who the best is!
This frame is made of a leatherette material that comes in several neutral colors. The frame is made to fit a 4x6 photo and can be mounted on the wall or used as a free-standing frame. If you know any Pop-pop's, then this is the frame for them!
Here's another great frame for Pop-pop! This laser-engraved wooden frame can hold a 5x7 photo and is made from real alder wood. It comes with a glass front and can be hung on the wall but also comes with an easel on the back.
This frame is meant for anyone that goes by Pop! It fits a 4x6 photo and is made of real wood, so the natural grain pattern may vary in each frame. It's a really simple frame but any Pop would love it with a cute photo inside.
Other Grandpa Picture Frames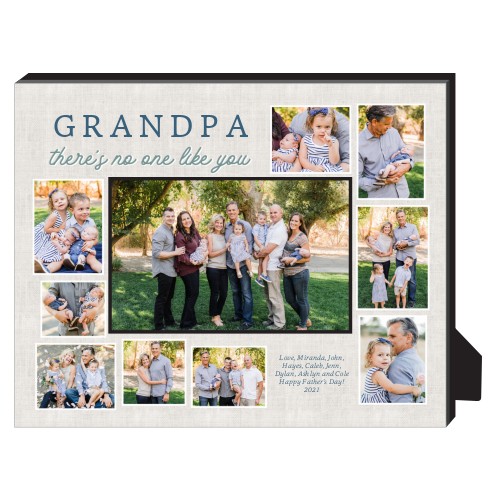 The main photo in the frame can be changed out and you can personalize the message on the frame, which is a great touch. I do love that you can add other photos on the side, so you could do a group photo in the middle and separate individual photos along the edges. The small photos on the edge can't be switched out, however, so make sure you love the photos you choose!
This landscape grandfather photo frame is made of premium wood and comes with stain-resistant glass. The turquoise frame has a distressed look, so it matches a farmhouse or rustic-style home.
This grandpa picture frame is made from real wood so each one is unique due to the variety in wood grain patterns. The frames are engraved with the words "Grandpa's Lil' Buddy," which is adorable. The frame comes in a 4x6 portrait orientation.
This brushed nickel and silver-plated picture frame has black-letter engraving. It comes in 4x6 in portrait landscape and is lined with velvet on the back. It comes with an easel for free-standing but has no wall clips so it can't be hung on the wall.
---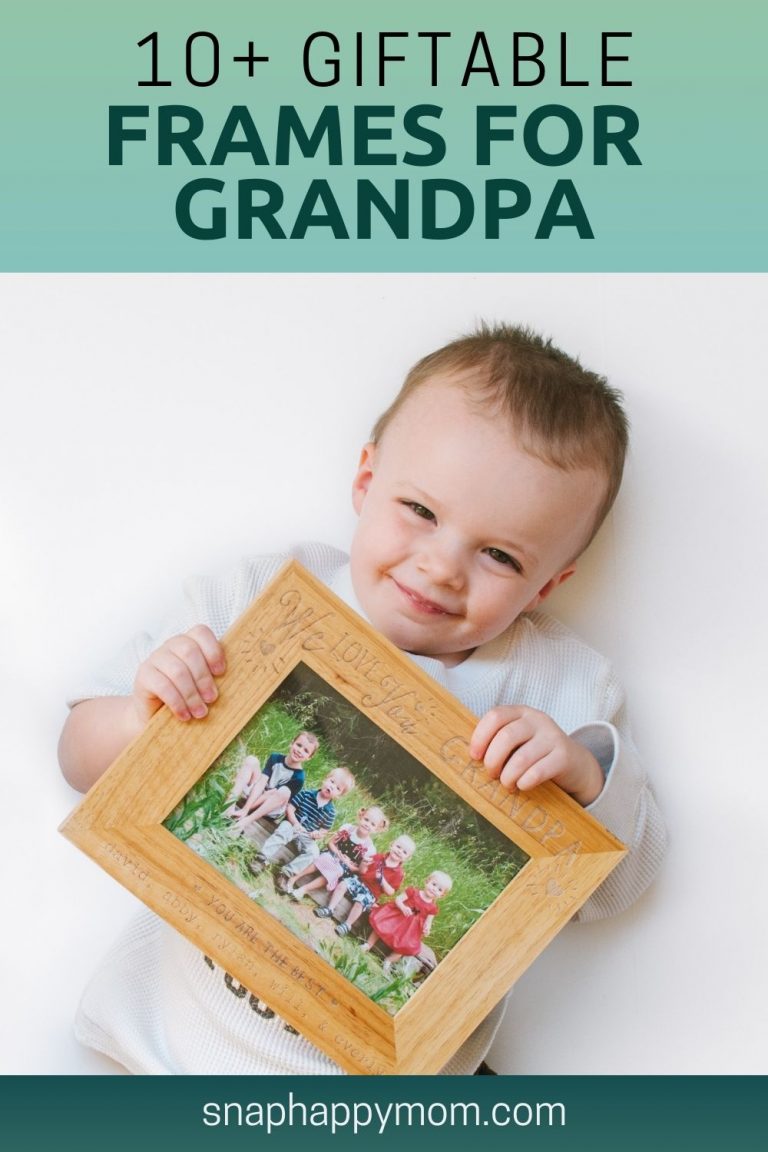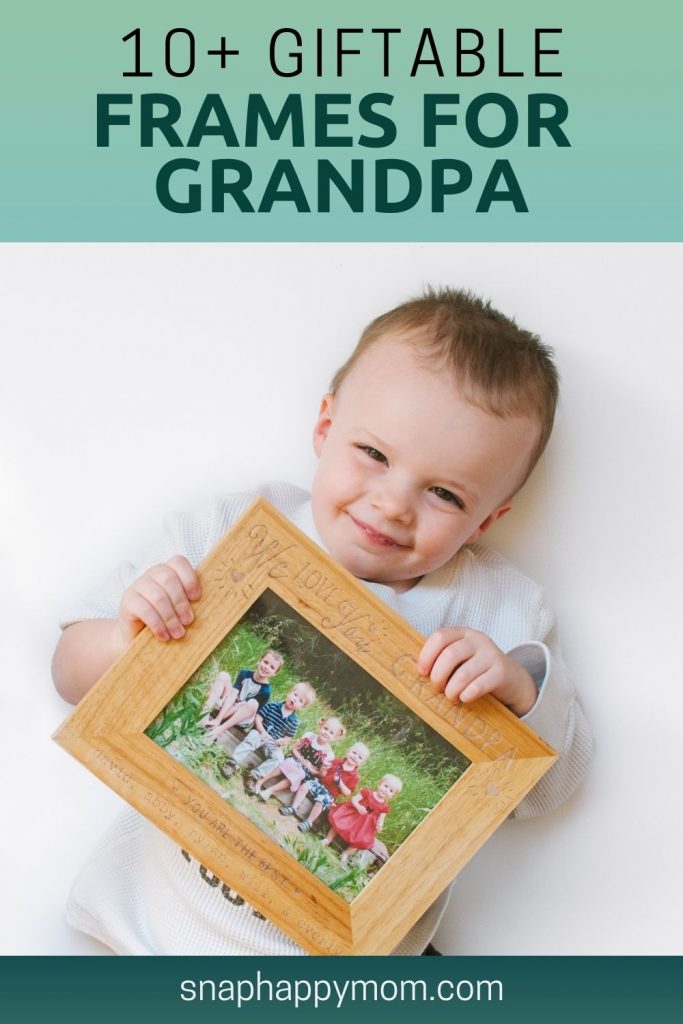 If you need a gift for your dad or grandpa, these picture frames are a wonderful choice. Prints don't cost that much, so you can just print out your favorite picture of your dad with your kids, stick it in the frame, and voila! A gift that will be beloved for years!
If you're looking for a gift for grandma, check out this post.
The best part about frames like this is that you can easily switch photos in and out of these frames so the gift can age along with your kids. Then it changes through the years and feels new and exciting with each frame.
Grandpa picture frames are a very thoughtful gift for anyone who loves their grandkids. I promise it'll be a present they love!