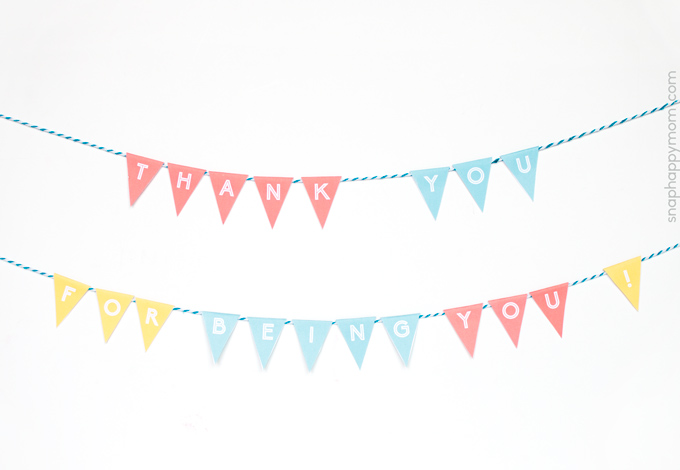 Know anyone who needs an extra-special thank you today?
Cute texts are always appreciated, but sometimes it's nice to take that extra little step to show someone just how grateful you are for them.
This mini bunting banner is perfect for sending a sweet thank you to that person in your life who deserves more than a simple card. It says "Thank You For Being You" which is a sentiment I think we all feel about certain people we know and love.
I'm offering this as a free printable, so all you have to do it print on card stock and assemble those cute little triangles. Then just pack it all in an envelope to seriously brighten someone's day.
It's perfect for Mother's Day, but you can this printable anytime throughout the year for anyone in your life who needs reminding that you are thankful for them!

FREE PRINTABLE BUNTING BANNER
---
MATERIALS NEEDED
DIRECTIONS
1. Download the file above, and print on card stock. Since the printable already comes with the colored banners, I'd suggest printing it out on white cardstock instead of a colored paper.
2. Cut out diamonds and fold in half to make it into two triangles.
3. Cut your string the desired length.
4. Starting in the middle of your bunting banner, add glue to the bottom part of one of the diamonds, lay your string across the middle, and then close the diamond into your two triangles again, sandwiching string inside and forming a pennant.
5. Continue adding all letters, spacing them as desired.
If you do it right, you should be able to adjust and shift the triangle pennant since it's not actually touching the glue. This is useful for sending as a gift, since your recipient can make it longer or shorter to fit their space.
If you want a shorter banner, you can just use the letters for "thank you," either all coral or two-tone. I included some extra pennants and exclamation marks so you can mix and match colors (or put a spacer in, etc).
This is a super cute way to let someone know that you are grateful for them, and anyone would be so happy to receive this special letter in the mail!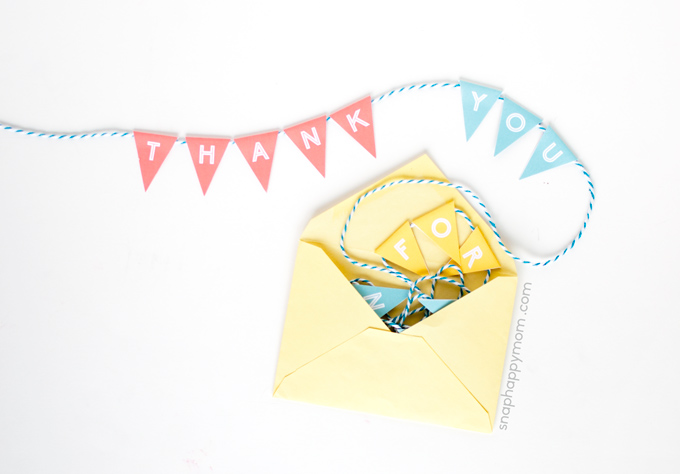 Pin it for later! Who wouldn't love to receive something so cheery in the mailbox?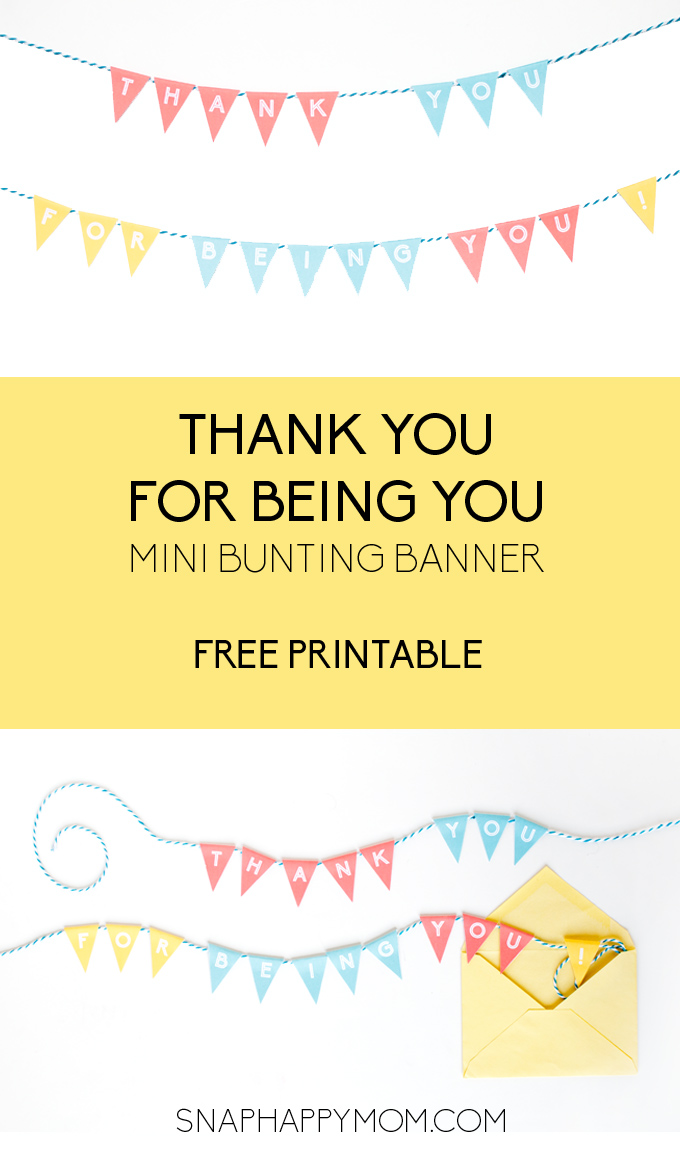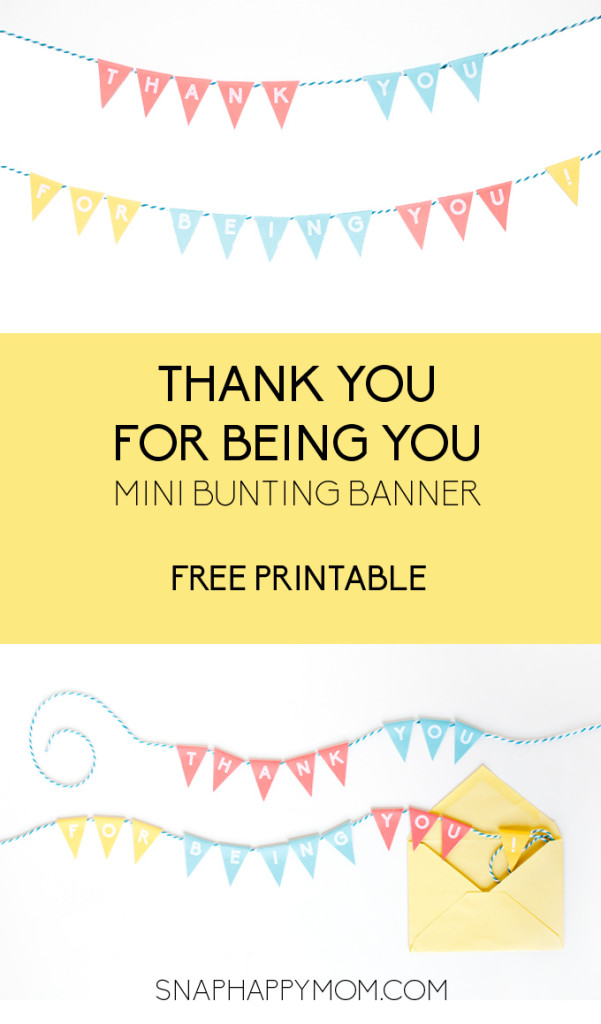 Need a different idea for a thank you? Some of my friends created a few too!
Check out Yellow Bliss Road's "Thanks For Being Awesome" Cards: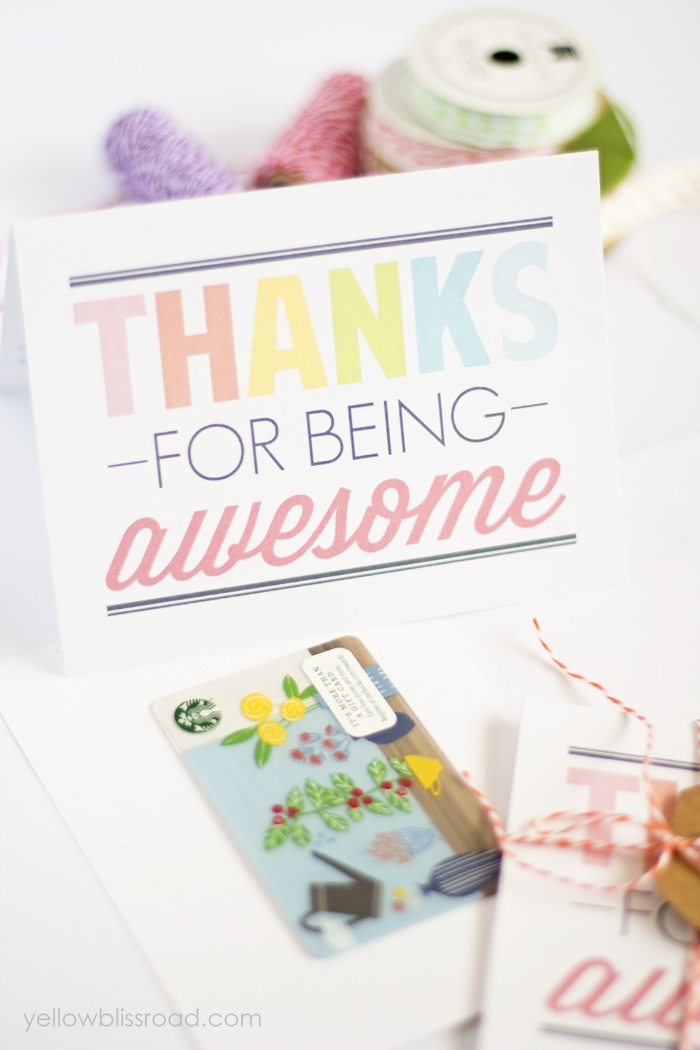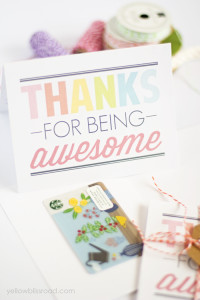 Or Capturing Joy's You Make my Heart Smile {Thank You Gift Printable}