One of the MOST COMMON questions we get is how Audible works with Yoto Cards. Many people have huge Audible libraries, and the Yoto player is a great way to give kids access to the content you want them to have. However, it's not super easy to get your audioboks ready for Yoto cards.
This post has step-by-step directions to use third-party software (OpenAudible, Libation, or InAudible) to convert Audible files and make Yoto Cards.
First, buy your MYO Cards now!
If you're reading this anytime close to the holiday season, I highly recommend grabbing an extra pack or two of MYO Yoto cards.
Every year, MYO cards go out of stock in October and barely come back in late December, and everyone working on Christmas gifts is super frustrated. People start re-selling them for crazy prices, and Yoto cannot keep up with the demand for them.
Do yourself a HUGE favor and buy them NOW in they are in stock! After you've read this post, you'll be itching to make all the Yoto cards from Audible, so you'll definitely use them. 🙂
Get the 5 pack or (10 pack already sold out!) on Amazon
Get the 5 pack or 10 pack on Yoto
How does an Audible membership work?
If you're new to Audible, here's how it works.
Audible is a membership platform for audiobooks. It's owned by Amazon, so you can search for books in the Amazon store or on Audible's site. Once you download the Audible app on your phone, it's super easy to listen to audiobooks from anywhere!
You can purchase audiobooks from Audible straight up at full price. Or you can subscribe to an Audible membership, which means you'll have a monthly fee in return for some perks.
Audible has an extensive library and new titles are added each week. They have the biggest catalog by far out of any audiobook website.
Try Audible Premium Plus Here and Get Up to Two Free Audiobooks
Audible has two membership options - Audible Plus and Audible Premium Plus.
Audible Premium Plus is $14.95 a month, and it gives you a credit that allows you to choose one title each month to keep. You'll be able to access that book after your subscription ends. In addition, you have access to a library of Plus selections, which is kind of like a library of free books and podcasts that do not require a credit to download. You have access to those books while your subscription is active.
The lower tier plan is Audible Plus, which is $7.95 a month. With this plan, you only have access to those selections in a limited catalog. If you end your subscription, you lose access to everything. Note that you cannot use content from the Audible Plus plan to create Yoto cards anyway - only things you purchase specifically.
Most people who use Audible subscribe to the Premium Plus plan, which allows them to choose what book they want to "buy" with their credit each month. I don't know anyone who only has the normal Plus plan.
In addition, having a membership means you can buy books directly from the Audible store at discounted prices, beyond what you choose to spend your credit on. They have great sales, and I'll often stock up on books in the $5-7 range that are less than the cost of a monthly credits.
---
How to Put Audible Content on a Yoto Card
Turning Audible files into Yoto cards isn't difficult, but it can be pretty time-consuming. That's because Audible only releases their files with something called DRM, which basically means you can only play through Audible itself. You have to use software to remove the DRM if you want to put Audible files on Yoto Cards.
You'll need access to three things to make a Yoto Card from Audible: 1) a computer, 2) a paid Audible subscription, and 3) third-party software (see free and paid options below).
There is simply no way to do this on only a phone, tablet, or Chromebook. A laptop or desktop is required.
Then you'll need to download software that breaks the DRM lock from the Audible files. That lets you convert the file to MP3 files to put on a Yoto card.
Here are step-by-step instructions to help you download audiobooks you have purchased on Audible and how to convert them into MP3s that you can upload to a blank Yoto card.
---
Is It Legal? What is DRM?
Note: We are not lawyers and cannot officially advise you in any capacity. This is not legal advice.
There are always questions about whether or not it's legal to convert Audible files to Yoto cards.
First, let me clarify that "legality" is not the same as "against terms of service." Whether something is legal or not depends on a law; we are talking about a specific company's terms of service, meaning what you agreed to do in order to use their product. You agreed to their Terms of Service when you signed up for an Audible account.
Basically, Audible "locks" the audiobooks on their platform using Digital Restrictions Management (DRM). Their terms of service state that customers may not remove this DRM from their audiobook files.
That means that Audible is dictating what you can and cannot do with a file you have legally purchased from them. What other company does this?
Can Barnes & Noble tell you how and where you can use their products: "You can buy this novel, but we are also dictating what you do with it in the future." Suppose B&N says that by purchasing a book from them, you can't read that novel after 8 p.m. Or you can only read if you're sitting on the couch, but nowhere else. You'd laugh, because who are they to say how and where you consume their product?
What if they said they didn't want you to lend that book to a friend? This makes more sense because we logically understand that they lose out on a sale if we just hand a book to a friend to borrow.
This analogy is the core of what is happening with DRM and Audible. DRM is a way to control digital files. It locks you into using proprietary software/apps from the place you bought the file. Audible is trying to protect their audiobooks from file-sharing, which loses them money. This makes sense - we completely agree it's not legal (or morally right) to distribute or sell paid files to other parties, including friends/families.
Saying that you can't disable, bypass, defeat, or circumvent the DRM was originally intended to make it hard for people to get a digital file that is easily shared. Technically, Audible is not selling you ownership over digital audiobook files either - they are producing a service to listen to audiobooks in a very convenient way, including rights to listen to specific titles.
But let's back to the original question: Should a company be able to dictate how and where you use their product for personal use?
Is it okay to make a personal backup of Audible content in a way that actually facilitates listening to it - that makes it accessible on a different device? Such as converting a file to a version that goes on a Yoto card?
Many Yoto parents feel that if they have purchased the audiobook, they can do with it what they want within their own home. They view unlocking Audible files as making a personal backup of the file and enabling them to transfer it to a different device, such as a child-friendly Yoto Player. They are not sharing, redistributing, or selling the files to others, but only obtaining a personal backup copy that can be transferred to a different device in their home.
That's a personal choice you get to make.
Here are the three software options you have to turn Audible files into Yoto Cards:
Don't be overwhelmed! You only need to use ONE of these options - we are including step by step directions for each so you can make the best choice for you.
---
1: OpenAudible
Cost: $19.95, one time cost
Platform: Mac, PC, Linux
Link to OpenAudible.org software
First, you need to purchase the OpenAudible software.
OpenAudible is a one-time fee of $19.95 for the software. Technically you only get software updates for one year following your purchase, but the program will continue to work without updates.
I would say that the majority of Yoto parents use OpenAudible to put Audible books on Yoto Cards because it's so easy and reliable. The free options below feel a lot more "techy" because they are just hobby app writers who figured out some code. OpenAudible feels like an app meant for the end user and is easier to use.
One of the best things is that it has a queue, so you can set it to convert a whole list of audiobooks, and it will slowly work through them. (This is a huge deal compared to one of the free options below, where you have to load them one at a time, wait for them to finish, and then start the next one.)
So no, it's not free, but it's a one-time cost. If you have a large library, that's a moot point because It will pay for itself very quickly.
How to Use OpenAudible to Make Yoto Cards
First, download and install the software from the OpenAudible homepage. Note that you'll need to also go to the Purchase area here to get a license. You'll need to go to the About Menu on the top, then License, and paste in that license code.
After you've opened the program, you have two options. The easiest is to connect your Audible account. Look in the top toolbar for the option "Controls," and then click "Connect to Audible."
A window should pop open, allowing you to enter your Audible sign-in information. Just walk through the windows and enter your signin.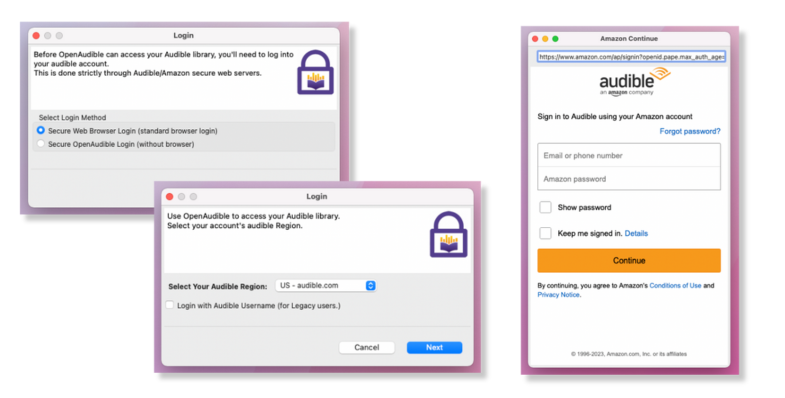 (Option 2: If you do not want to sign into Audible, you can technically download files individually from a browser, and then just point OpenAudible to a folder of .aax files. However, this is super inconvenient for large libraries.)
You can also choose your audio output format. Either MP3 or M4B will work to put on Yoto Playlists.
Once you've connected your account, a popup appears asking if you'd like to do a Full Library Sync. Click Yes to get a list of all your Audible Books. It will take only a second to see your Audible library and all your audiobooks.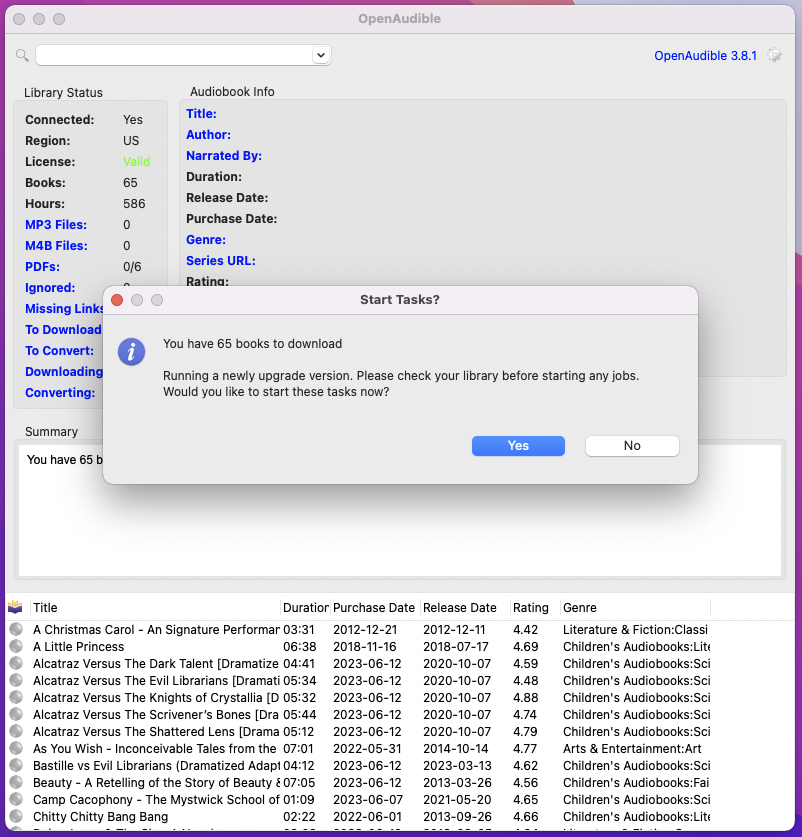 Step 1: Download your DRM-locked audiobooks onto your computer.
Another popup will ask if you want to download your books. You can click yes to get them all in .aac format or choose which ones you want to do individually after clicking no. (Note that first you are downloading the books with DRM, and then the next step removes the DRM. These can be automatically combined in Preferences)
If you choose to only download some of your library, there will be an option next to each file that says "Download." Or go back up to Controls and choose "Download All from Audible."
Once you select that option, OpenAudible will begin downloading your audio. It looks like it works on three books at a time. The icons in your list designate what is going on:
grey arrow - in the download queue
blue arrow - currently downloading
green arrow - converting
green circle - downloaded to the computer.
You can double check this by looking at a single title and checking "State" at the bottom of Audiobook Info. For example, When I highlight the book Bastille vs The Evil Librarians, you can see it's "In download queue" (located near the middle of this image).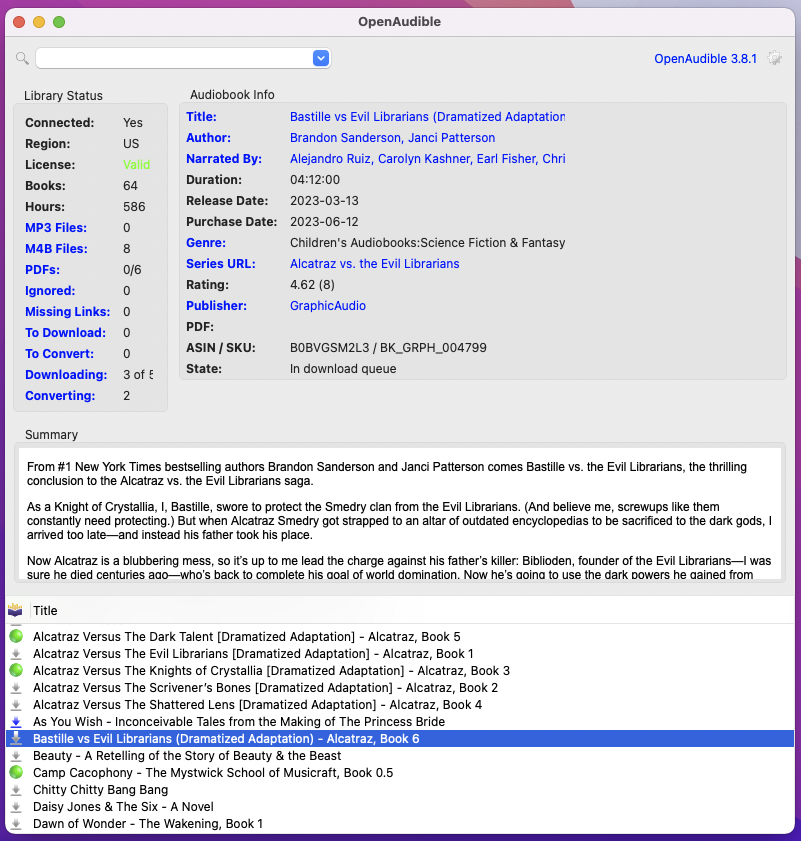 Step 2: Remove the DRM from those files.
Note: Your settings may be set to automatically convert files you download. Check Preferences in the top menu, and see if there is a checkbox for "Automatically convert files." If so, you can skip this step!
To remove that lock that keeps your file from being backed up on a Yoto card, you'll convert it into an MP3 file.
Once it's downloaded, just right-click the name of the book and go to "Convert to MP3" or "Convert to M4B." You can also control+click to highlight more than one title at a time.
If you know you want to convert everything, it's faster to just go to Controls in the menu at the top, and choose "Convert All to..." which will start everything into a queue.
Step 3: Split Into Chapters
It's going to be a lot easier to use these files on a Yoto Card if you split them into chapter files instead of one huge file.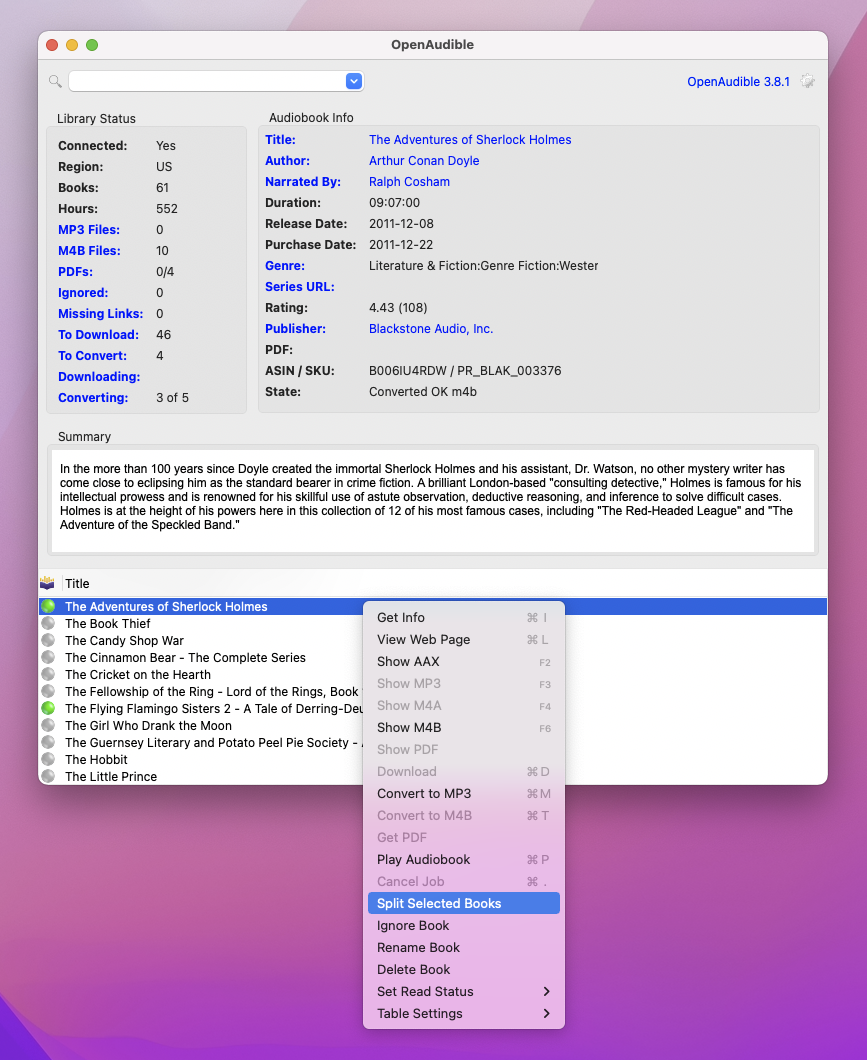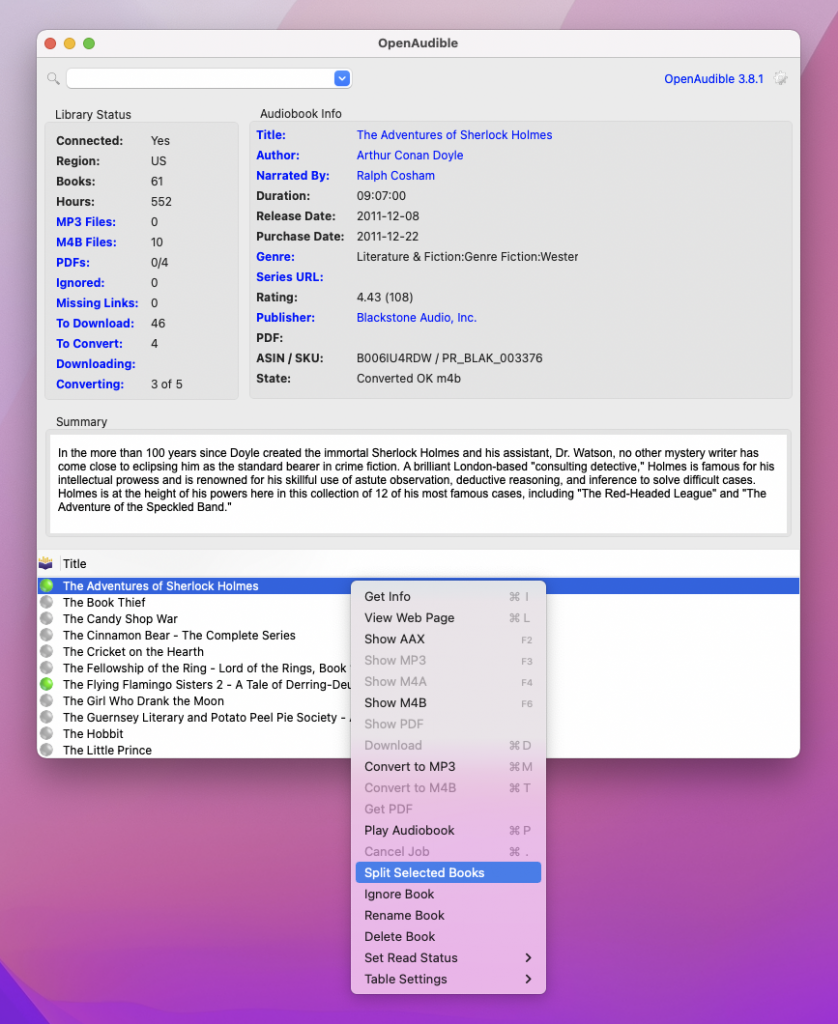 Just right click on the audiobook name, and go to Split. I think it just recently changed from "Split By Chapter" to "Split Selected Books." It doesn't look like it does anything, but when you go to the folder where your book was converted, you'll see an additional folder with the contents split by chapter.
So in the image below is looiking at where OpenAudible Sends my files. The top file is the whole book, and within the folder are each of the chapter files.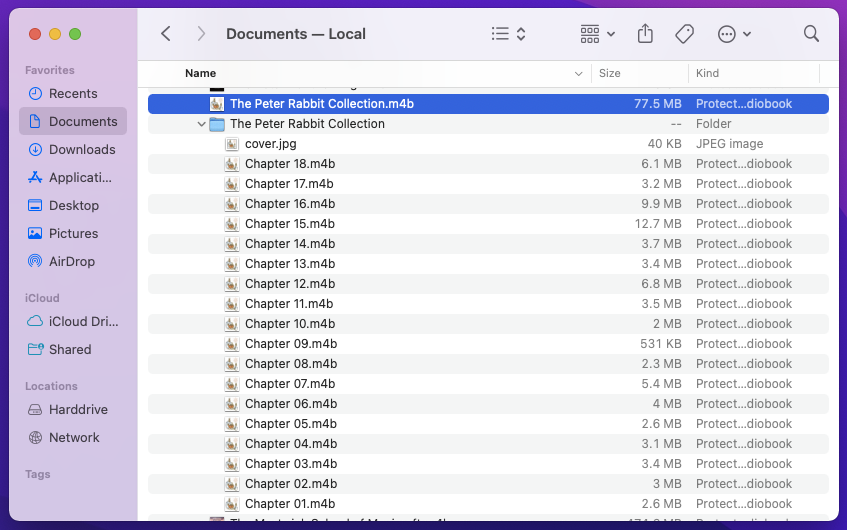 I know it sounds like a lot of steps, but once your Audible is connected, using OpenAudible is so fast!
---
2. Libation
Cost: Free!
Platform: Windows ONLY
Libation is a bit of free code that connects to Audible to be able to convert your files. Since this software is someone's side project, it's a bare-bones app but it gets the job done!
Major Pros: You can run a queue and do many conversions in a row.
Cons: You're giving your Audible/Amazon passwords to another party, which opens them up to being stolen.
How to Use Libation to Make Yoto Cards
Download the Libation app here and install it.
When you first open the app, you'll need to enter your Audible account information. It should pop up automatically! If it doesn't, you can find the option for this under the "Import" menu where it says "No accounts yet. Add account."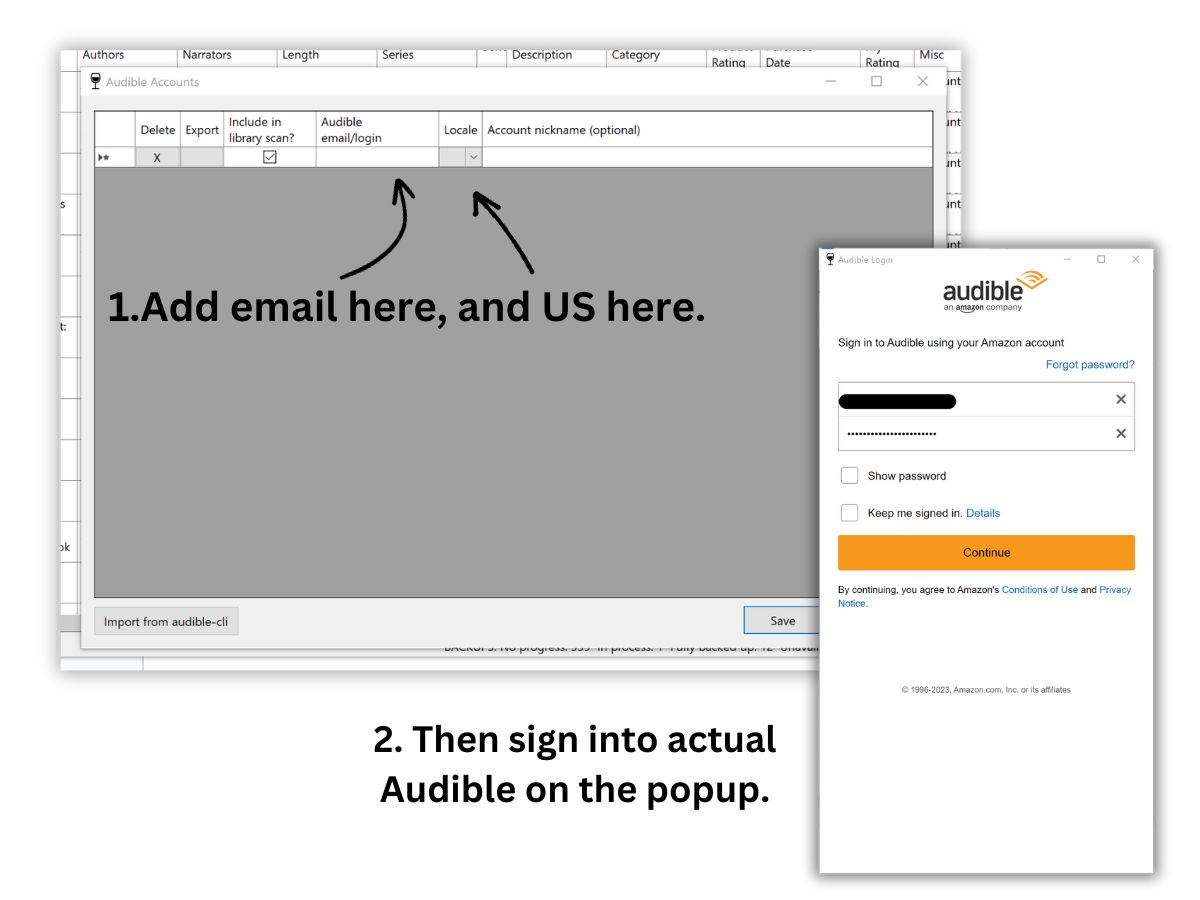 Put in your Audible email and location (e.g., U.S.) and press save. Then you have to actually sign into Audible. Use your normal Audible log-in information here.
During the install/initial set-up process, it should ask you where you want the app to save the files that it extracts. You'll want to make a dedicated folder for your MP3 files. Mine is just called Libation but Libation & Yoto or something similar would work.
Now that you're set up, let's start converting files!
Under the "Import" menu, you can choose to "Auto Scan Library." This means you are asking Libation to have the program automatically check for new books when you open it. Or you can choose to just "Scan Library" (have the program look for new books only when you tell it to).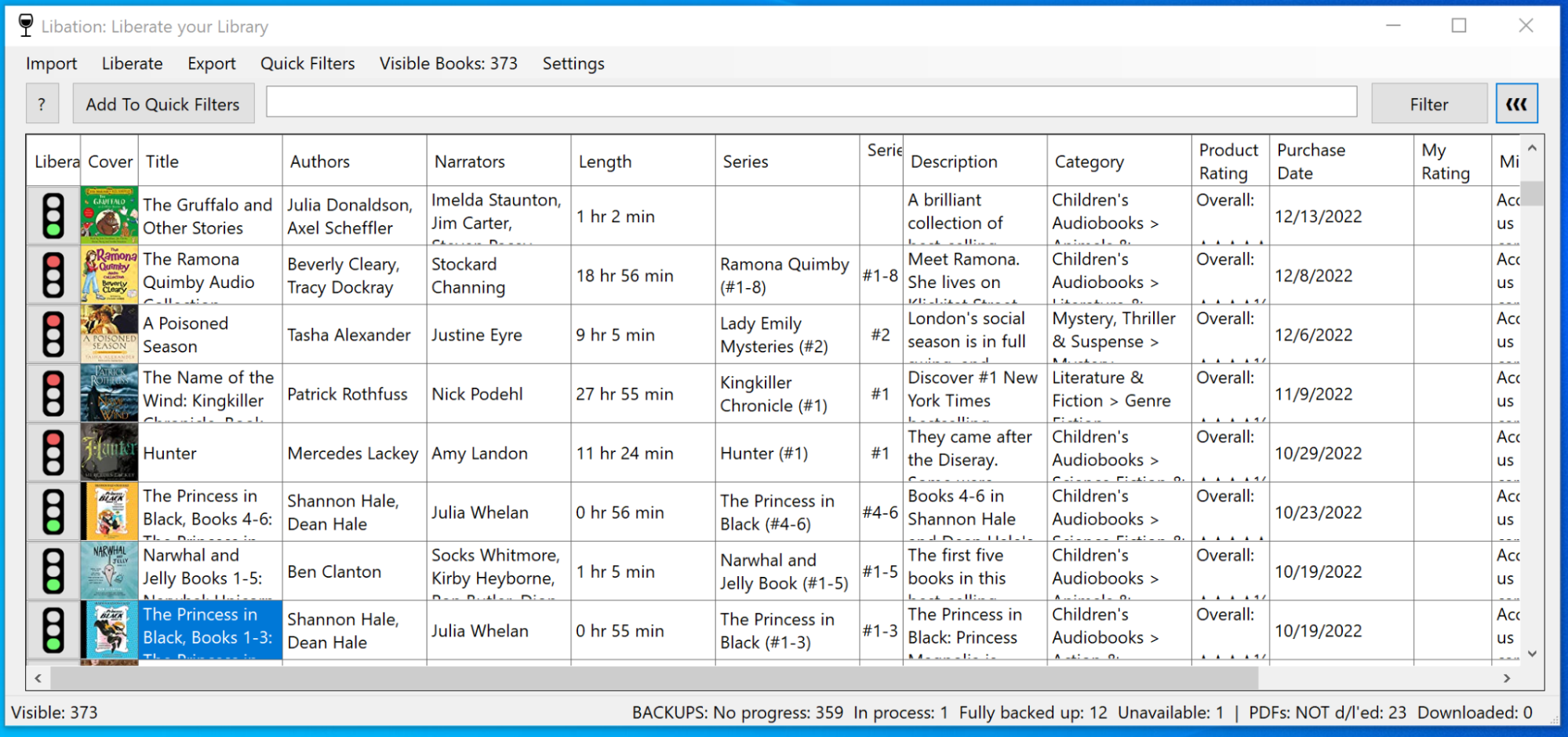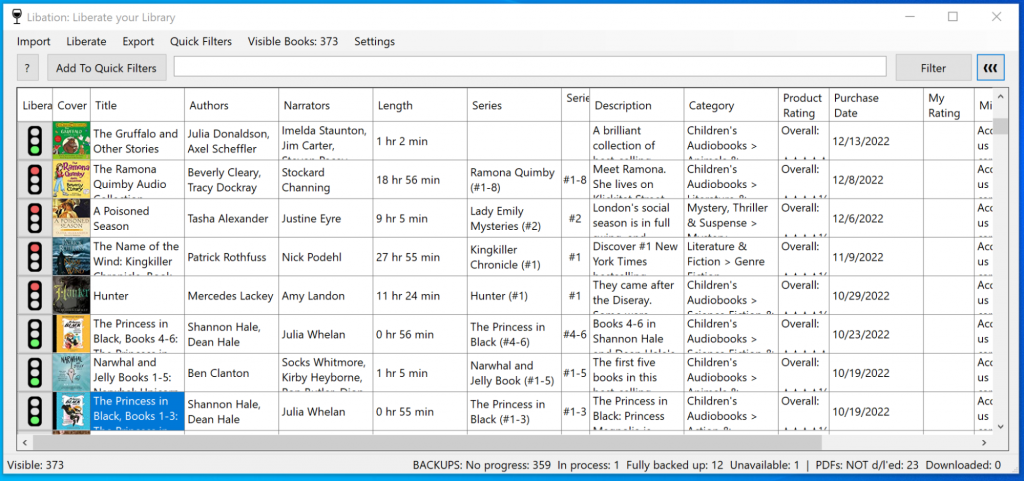 The more books you have in your library, the longer the initial scan will take. Once the program scans your library, all of your books will show up in a long list.
You can search your library using the empty box at the top of the application to find a specific book.
Next to each book on Libation is a traffic light symbol. Green lights are for books that have previously been downloaded as an MP3 to your computer. Yellow is for books currently being processed, and Red is for books that are not downloaded.
To download a book, press on the red traffic light. This will move the book to the process queue and begin the download. Each book takes a few minutes to download. Longer books will take more time.


The MP3 file will download to the Libation folder (wherever you set that up to be during the setup), within a subfolder called books. Each book will get its own folder that's automatically named with the book's title. If you're having a hard time finding this folder, you can press on the green traffic light next to a downloaded book and it will open that book's folder for you.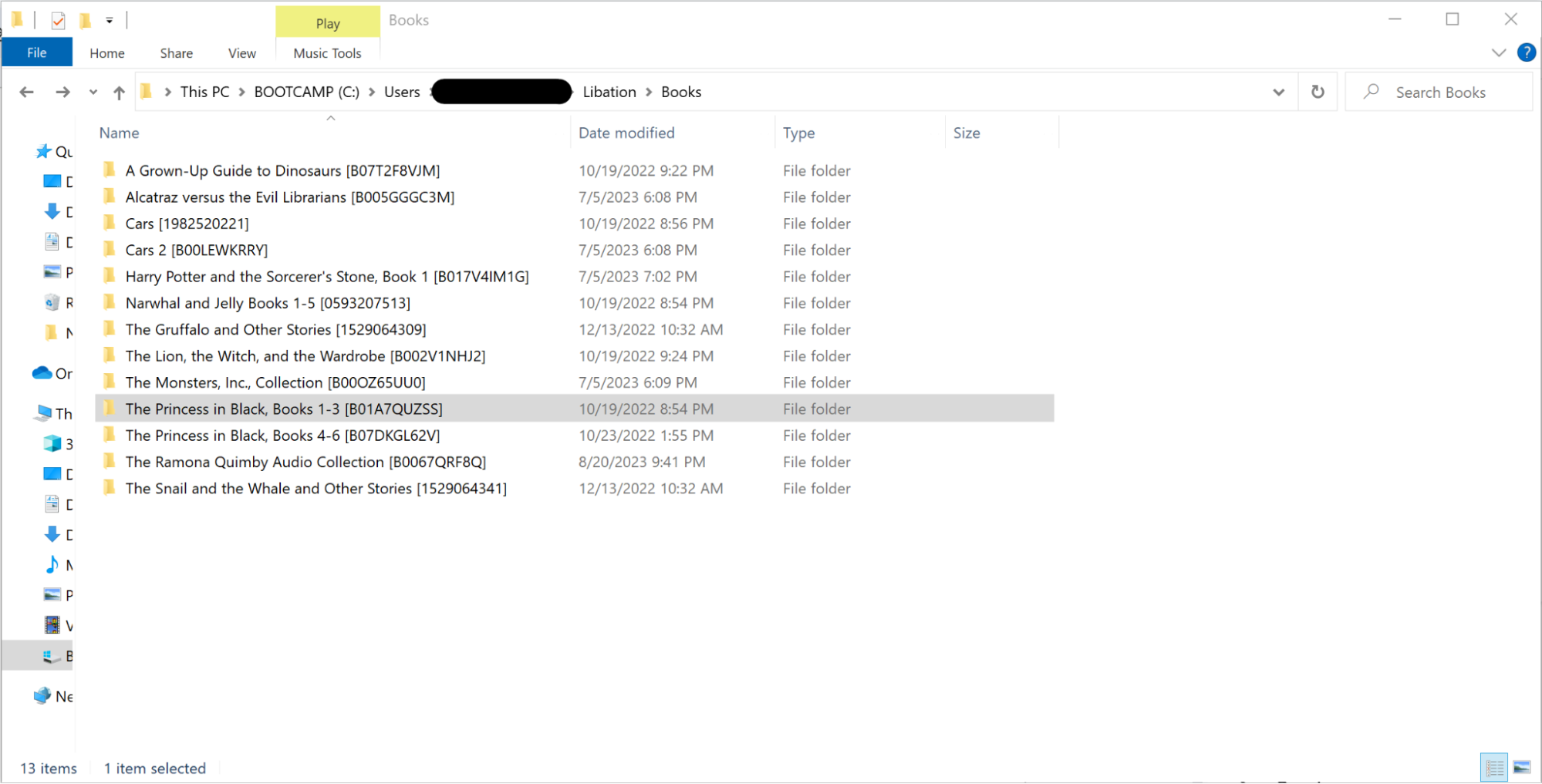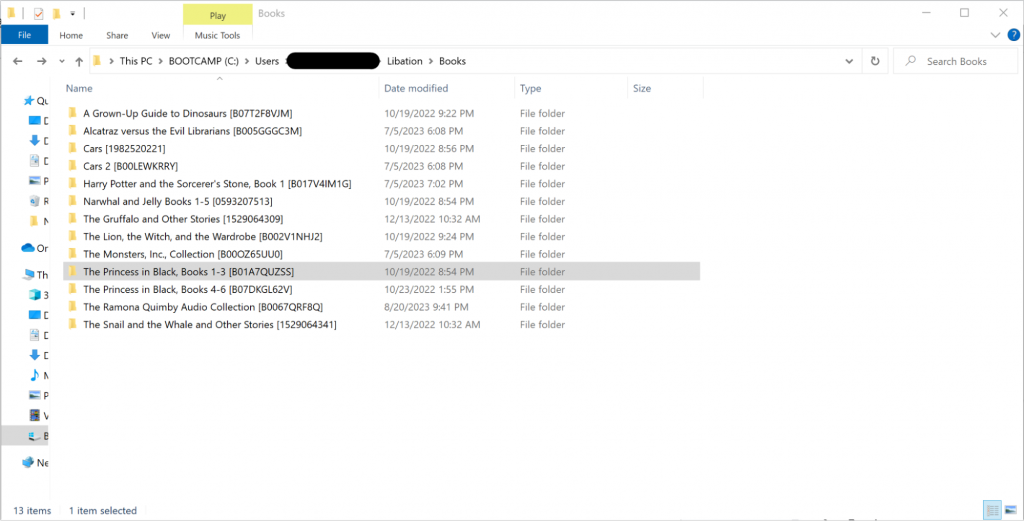 All of the MP3 files for the book will be inside its folder.
Important: The MP3s will be split into whatever chapters Audible has set up. Usually, these follow actual chapters, but they could be larger parts that contain several chapters.
That's it! You just upload these files from Libation the same way you would for any MYO card.
---
3. InAudible
Cost: Free!
Platform: Mac & Windows, although the versions do not have the same capabilities
InAudible is another bit of free software that was made by a hobby programmer. It's free and cross-platform but feels the most techy out of the options. It will take a few more steps to get it downloaded and ready to go, but we've got instructions here!
The thing that's different about InAudible is that you do not connect your actual Audible account to the program. That's a good thing if you're worried about sharing your login data with an unknown programmer, but also a bad thing if you have a huge Audible library. Because not connecting to Audible, that means you have to individually download each file you want to convert. This could be really time-consuming! So just keep that in mind.
Also, the Windows version of the software is more capable than the Mac version. So Mac users may find it's rather clunky compared to OpenAudible.
We've heard InAudible has a wizard and a queue for the Windows version, but haven't been able to confirm that because the bloggers writing this only have Macs. 🙂
How to Use InAudible to Make Yoto Cards
First, you'll need to download the program.
InAudible is a piece of free software that is no longer available from its original source. So the options for downloading it are torrent sites or GitHub. Torrent sites have a bad reputation for passing around illegal files because that's usually what they are used for.
Thankfully, you can now get InAudible from GitHub. To clarify, the file is neither pirated nor illegal, but there is no way to guarantee that it does not have malware.
So you'll still have to confirm to your computer that you know you're downloading a file from an unknown place, and that there's always the chance it will have malware in it. That's part of the chance you're taking when you choose free software.
Go to GitHub here, and then click either the first zip link labeled "InAudible" (the Windows version) or the second blue zip link labeled "Mac_InAudible."


You'll land on the next page where you'll need to click "View raw" to start the file downloading. A zip file will download, and then double-click it to open it (right-click and open on a PC).
This is where (at least on a Mac), you're going to get an error if you just doubleclick and open the file. It will show up like this, with only an "OK" option. It's trying to protect you from viruses, because it cannot prove the file is safe.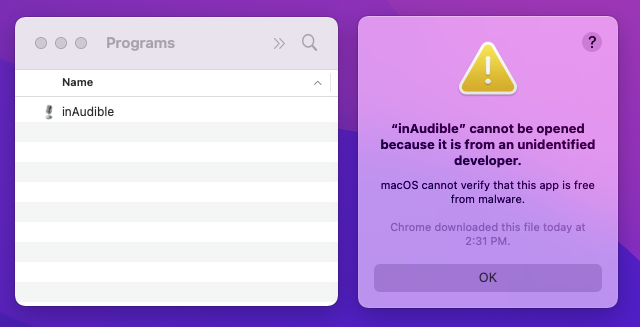 However, you can get around that. Just hold down the option button on a Mac, right-click the file, and and then click Open. (like the picture below).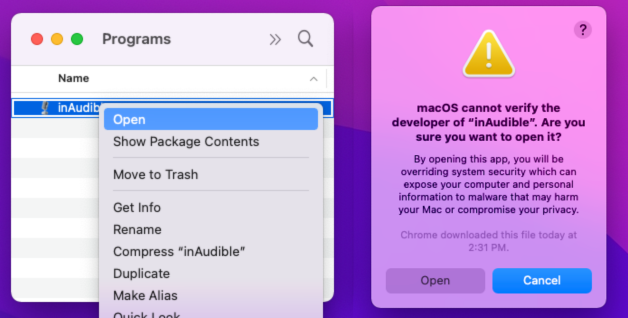 Then the popup includes an option to Open Anyway. Do that and the software will install. (I'm sorry, I don't know how to do that on a PC!)
Next, you'll need to have access to the Audible files you want to put on Yoto Cards.
This means you'll need to sign in at Audible.com on a browser.
Go to your library and click the "Download" option under each audiobook you're using.
It could take a few minutes to download everything you want (that's one con of using free software!).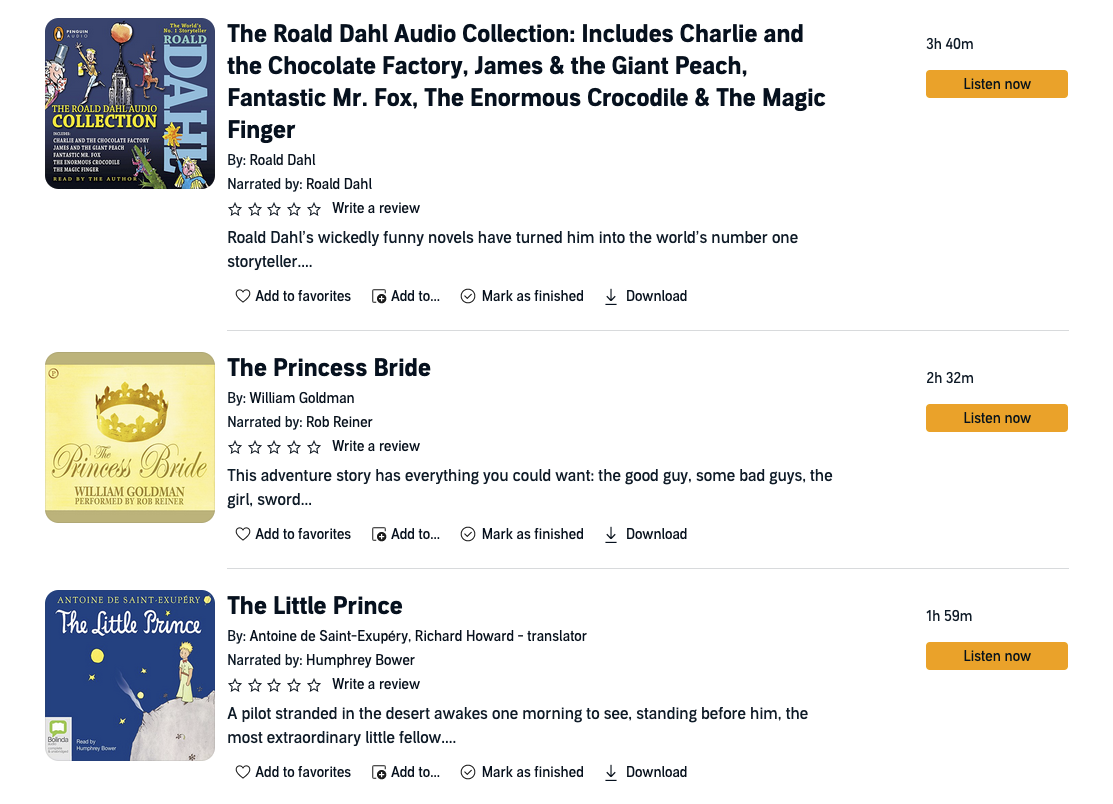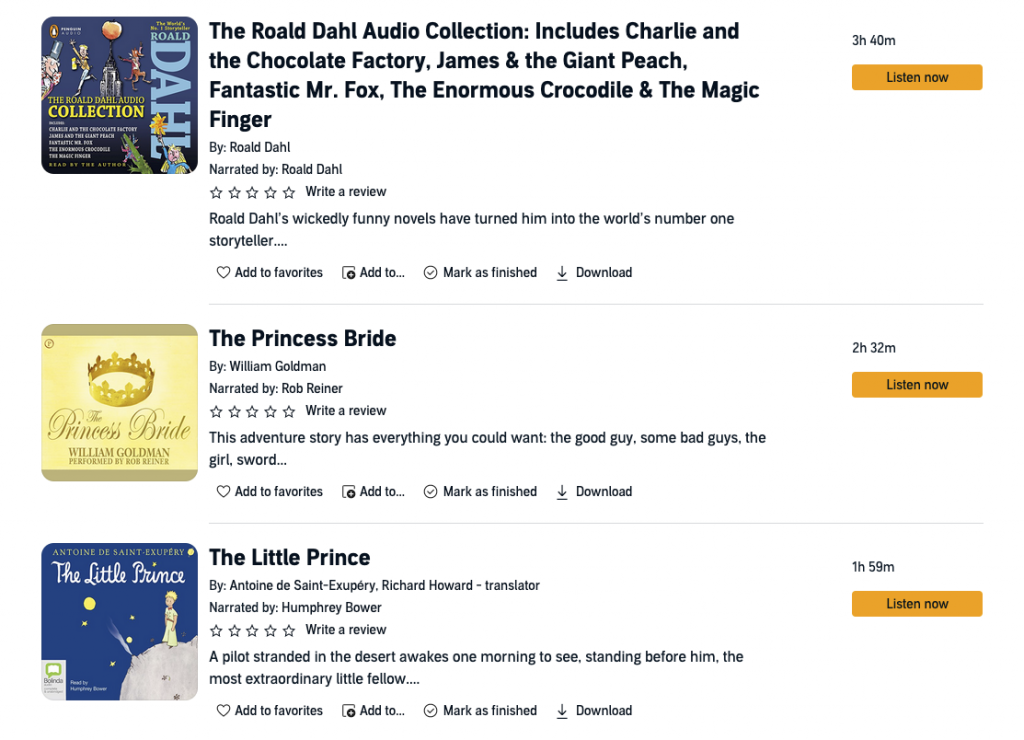 Now you can finally get into the InAudible application!
Apple Version of InAudible
The screen won't have anything loaded at first. Click the three dots next to input and choose your .aax file from Audible. The next line down has the Output, so make sure you know where those files are going to end up. You'll want to make sure this is a different folder than the source file.
To take off the DRM, you must choose "MP3" under Codec. I never mess with the other options, except for checking the box for "Split By Chapter." Then you just click "Begin Conversion" at the bottom!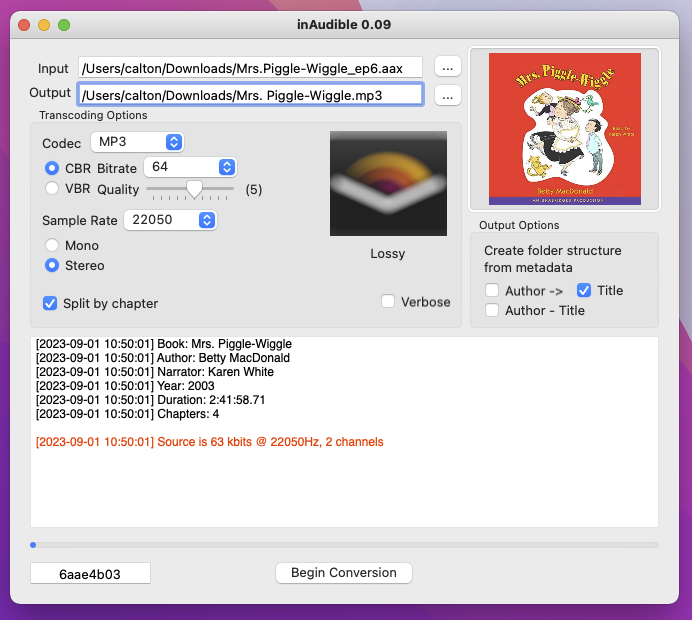 InAudible runs pretty quickly, but the length of time depends on the book size. Longer books will take a longer time, obviously. You'll be able to see it's ready when "Done!" shows up in the second to last line, and your files will be in the folder you designated, next to the original file.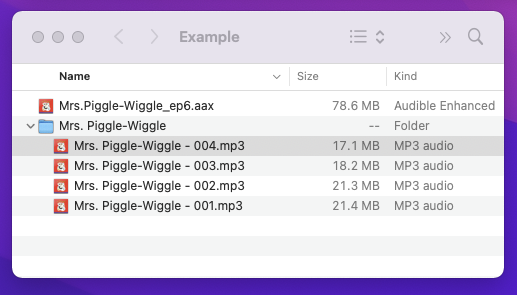 Window's Version of InAudible:
The Windows version is a little different - we are working on updating the tutorial. But it's super similar, so start with the above directions. I believe there is a wizard that makes it faster.
---
Uploading Audio to Yoto Cards
Once you've downloaded your audio into MP3 format, you're ready to upload it onto a Yoto card!
We have very in-depth instructions in this post, but here's an overview:
You'll need to make a playlist on your Yoto account with your audio files. Ideally you have a folder with everything split up by chapters or parts. Make sure you choose your source carefully (ie. don't select the large whole book file if you already split it into chapters!)
Then put your blank MYO card into your Yoto player and, in the Yoto app, select your playlist and click "Link to a card."
And there you have it! It looks complex, but it's really just several steps you have to do in order. It's totally possible!
---
There are so many reasons to love Yoto Players. My kids love ours! Turning Audible files into Yoto cards is time consuming, but it can be done. Hopefully these instructions and suggestions can help if that's something you want to do.
Do you have a Yoto Player? What are your kids' favorite books to listen to on it?