When creating MYO Yoto cards, there are a lot of places you can get content. Librofm is probably the easiest to way to buy cheap audiobook mp3s for Yoto cards. It's my favorite because it gives you downloadable, DRM-free audio files, ready to put on Yoto playlists! This post will tell you everything you need to know about Libro.fm - how it works, how to turn the content into MYO cards, and some of our favorite finds from to make Yoto cards from Libro.fm.
We've got all the information about using Libro.fm for Yoto MYO Cards, so keep reading!
How do I buy audiobooks on Libro?
There are two ways to buy audiobooks on Libro.fm. Both ways require a free Libro.fm account, because that's how you access your library of purchases afterward.
Option 1 - The first way is to use your free account and buy the audiobooks outright. Libro.fm sets their own prices, which are reasonable at full price, but amazing on sale!
Libro.fm gives you downloadable, DRM-free audio files, which means you can play them anywhere. Everything is either .mp3 or m4b files, both of which are ready to upload to Yoto without conversion. You can store and backup your files for personal use, although they also "live" in your Libro library & app.
Option 2 - You can optionally pay for a monthly a monthly membership, which gives you one credit per month to use for purchasing audiobooks. A membership costs $14.99+tax a month, so you're essentially buying an audiobook each month for that price. So this is a good way to get an expensive book each month for only $14.99 (although there are some restrictions, like Harry Potter).
Your membership will autobill each month, and you'll get another credit each time. There are other benefits like 30% off individual audiobook purchases, and the ability to buy more discounted credits. That said, I do not personally have a Libro.fm membership - I only buy things on sale at less than that $15 price.
Note: a Libro.fm membership is NOT full access to library of content (like the way a Spotify membership is). Because the membership gives you credits to buy specific audiobooks, you still can legally use them to make Yoto cards, unlike a streaming service where you "pay to stream."
How Do I Buy Books on Libro.fm?
Actually purchasing files is super easy. It's a matter of putting it in your cart and buying it!
Just head to the website and identify the book you want to purchase. They have a robust search function and lots of curated Playlists of book ideas, sorted by age, by price, by topic, by diverse authors, etc. (The ONLY thing I don't like about their search is they make you click on the item to see the price of it. A small annoyance, but I can deal with it.)
Add the book to cart with the button, then go to the cart and check out! After you purchase, the next page shows the files you've purchased along with download links. You can download them with one click right there! Screenshots of this process are below.
Your files will also automatically appear in your Libro.fm App.
What is the Libro.fm app?
Libro.fm offers a mobile app for your phone/tablet.
Download it in the App Store here, or on the Google Play Store here.
The app is meant as a library of your audiobooks - so it's mostly for listening, not for buying. You can use credits to get new books, but the app does not support purchasing audiobooks with money.
You'll see this error if you try: "This app does not support purchasing..."
Everything with billing happens through their website, not the app, because that's how they make sure a portion of it goes to your local bookshop. So head to the website or mobile website if you want to sign up for a membership or purchase audiobooks.
The app also has features like a sleep timer, bookmarks for your audiobook, and more.
If you don't want to turn your Libro audiobooks into Yoto cards, you can listen to them in the app. I use the Libro app in the car all the time, since we don't always bring the Yoto with us.
How to make a Yoto Card from Libro.fm App on a phone
The most important thing you need when making a Yoto card from Libro.fm is access to a DRM-free, downloadable audio file.
As mentioned above, the Libro.fm App is meant for listening to books. It assumes you want to stream the file and listen right there in the app. So it does not give you access to those downloadable files.
There is a "Download" button that seems hopeful, but it actually just downloads the file to your device for offline listening. It does NOT actually give you access to the audio file.
But don't worry, you can still make a Yoto Card with Libro.fm using your phone. You just have to pull up the Libro.fm website in a browser, instead of using the app!
Here are you step-by-step directions on using Libro.fm to make a Yoto card with a phone.
I will walk you through this with The Velveteen Rabbit audiobook. This classic children's book is usually 100% free on Libro.fm, so it's a perfect first experience!
First, you need to purchase an audiobook file.
Go to this link to find The Velveteen Rabbit by Margery Williams. Buy it for $0.00.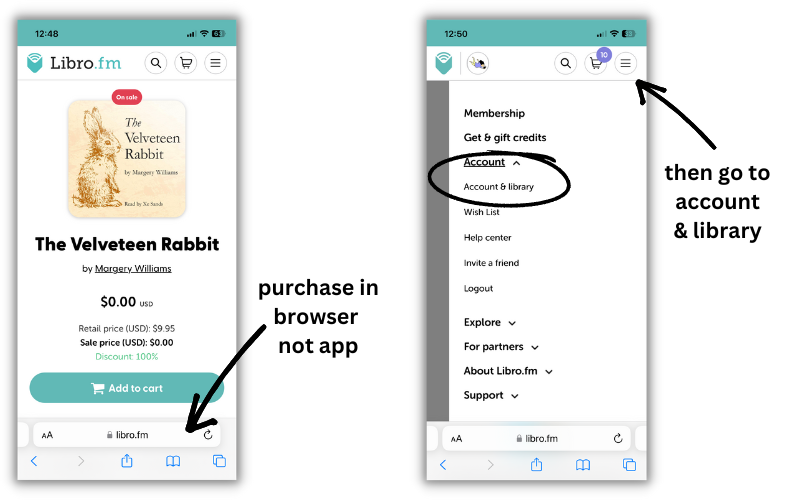 Then go to the top three bars menu in the upper right, and tap Account < Account & Library.
Scroll down just a bit on your Account page, and you'll see items you've purchased in the Library Section.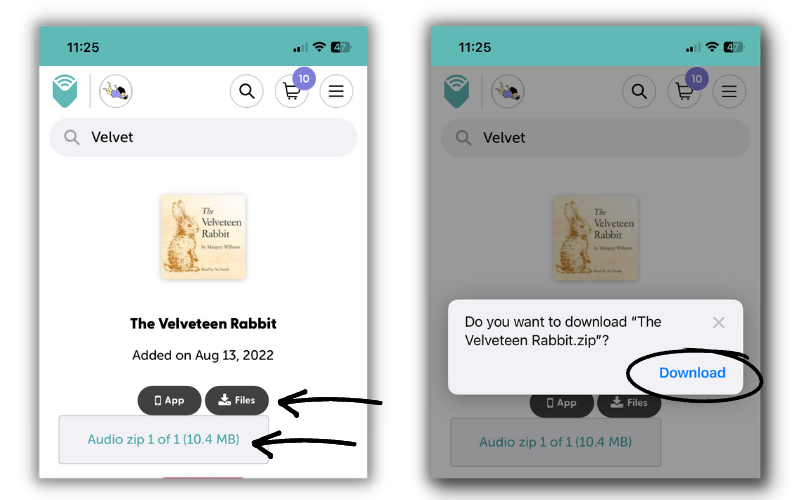 Tap the "Files" Button under an audiobook, and the zip file or audio file will pop up. Tap that and confirm download.
Your file will download wherever your phone usually downloads files.
On an Apple iPhone, that will be in your Files app < Downloads. You can also jump to it by tapping through the shortcut in Safari - the blue arrow in the bottom corner, the Downloads option, and that brings you to the Files app.
On an Android, look in the Files app < Internal Storage < Downloads.
Note: it may initially look like NOTHING HAPPENED! That's probably because your phone is downloading in the background. Check the downloads area of your browser or navigate to the files app to actually find your file.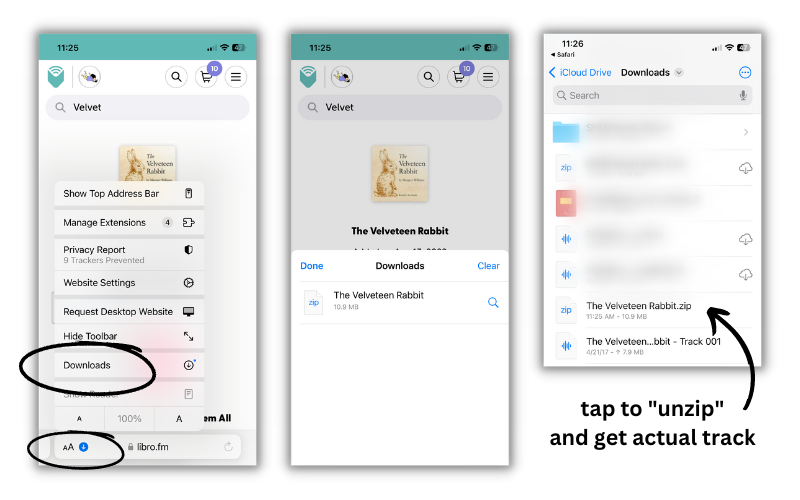 Don't forget to go to that zipped file and unzip it! (Usually just means tapping on it.)
The next step to making a Yoto Card from Libro.fm with your phone is to head to the Yoto app.
Go to Make Your Own tab, and then make a new playlist. Just navigate to the Downloads folder from above, and select those files to add to your playlist. Wait for things to upload and process.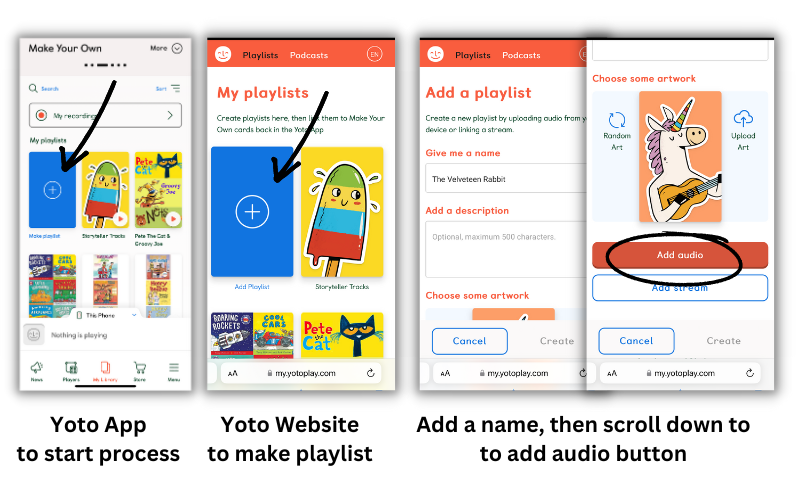 You probably know how to take it from here! If not, drop a MYO card into your Yoto player, and then click the three dots to "Link to a card." That connects the playlist content to the MYO Card.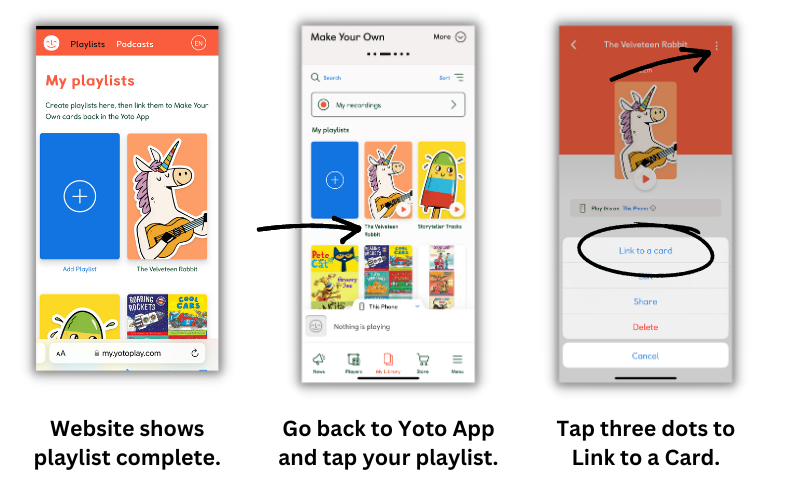 Boom! You've just used Libro.fm to make a Yoto Card! Doesn't it feel great?
How to make a Yoto Card from Libro.fm On A Computer
It's super easy! Here are your step-by-step directions how to put Libro.fm files on a Yoto Card from a computer.
I'm going to assume you've already purchased a file to use, but if not, purchase The Velveteen Rabbit here for free.
Then, go to Account in the top right, and the first dropdown is Account & Library.
This will bring you to your account page, which has a whole Library section of the the books you've purchased.
Download the audiobook files
When you look at each book in your library, you'll see a black button on the far right that says "Files." Just click that.
You'll likely see a zip file, and possibly the actual audio file as an mp3 or m4v file. Either can be uploaded to a Yoto playlist with no conversions at all. If your book has an extra pdf it will be there too.
Click the zipped file or audio file to start it downloading. Take note of where that file is, like in your download folder or on the desktop.
Once you've downloaded the file, go to to folder where they are located and right-click on the file to "unzip" or "extract" it.
(If you have a short picture book, it will probably already be a mp3 or m4v file. Either one of those is ready to upload to a Yoto Playlist. But if it's a long chapter book, then your mp3 and m4v files will be "zipped" into a compressed folder to make them quicker to download.)
Then upload them to a Yoto playlist.
Once unzipped, you can upload these MP3 files to your Yoto account and add them to a new playlist.
After that, you're ready to add them to an MYO card!
How does Libro.fm support local bookshops?
Libro.fm is an online audiobook platform that also has a connection to your favorite bookshop. Basically, a portion of your purchases will be allocated to a local bookstore of your choice. It's a unique model that gives you the ease of shopping online while still supporting local (which is super tricky to do with audiobooks otherwise).
Go here to select your bookstore after you have an account. This is a chance to support a bookstore of your choice - they have tagged stores that are women-owned, black-owned, author-owned, etc.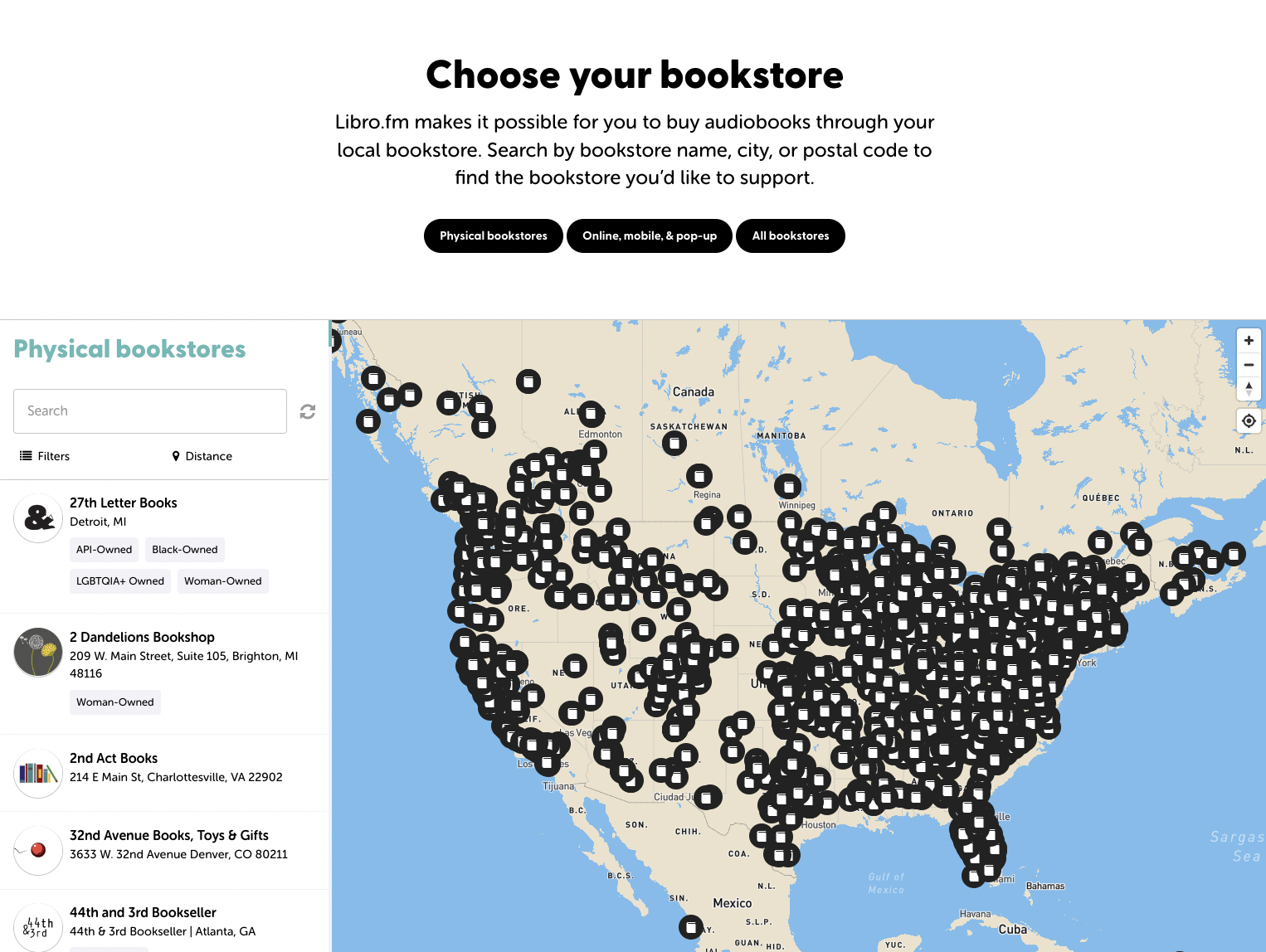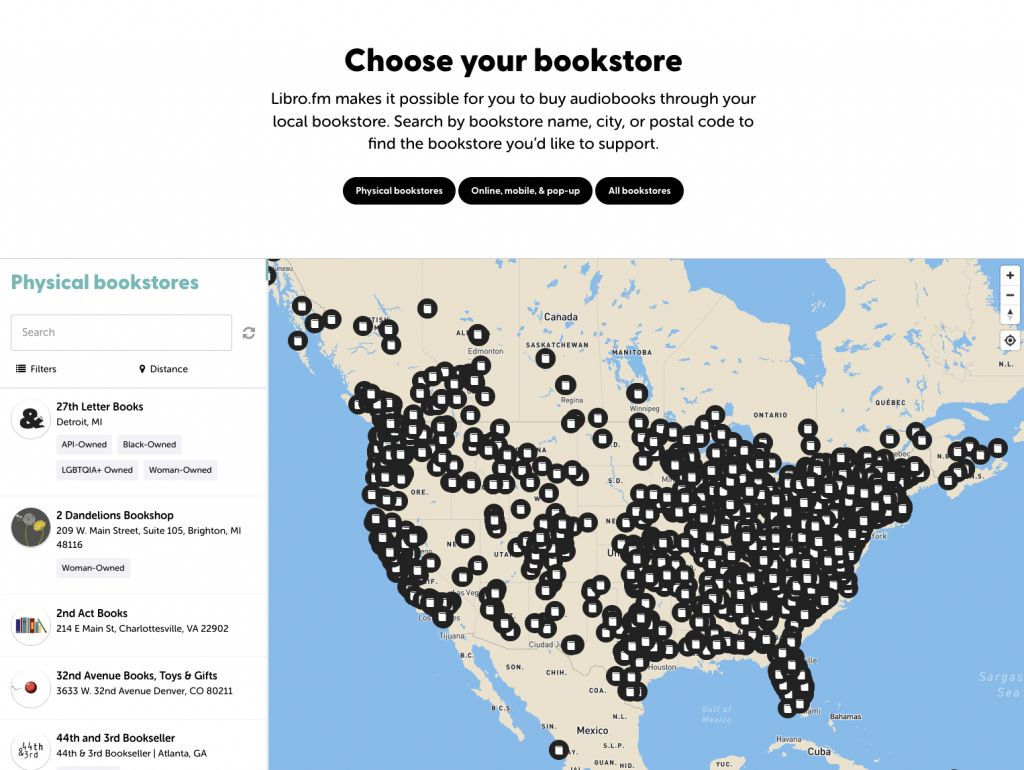 Then you can choose the bookstore you'd like to support. They get a portion from the sales of everything you purchase (without changing your price!)
Then you're good to go! You can listen to your purchased audiobooks through the app or turn them into Yoto cards. Being able to support your favorite local bookstore while listening to your favorite audiobooks is a win-win!
---
Pictures Books on Libro.fm for Toddlers & Preschoolers
Here are some great picture books and short listens you can get from Libro.fm. These are all short stories that would make wonderful Yoto cards for young kids, like toddlers and preschoolers!
I usually just put all the our pictures books on a single Yoto card, so it can play for a long time. This works really well since each book is usually a single track, so toddlers can just scroll between them to find a different story.
The Berenstain Bears - Brother & Sister Bear Favorites
This book is only $1 right now! You get six books in one, including The Berenstain Bears and the Forgiving Tree, The Berenstain Bears and the Golden Rule, and more.
If your kids love the classic tales of Brother and Sister Bear, they'll love this set.
Amelia Bedelia
Amelia Bedelia is an iconic series, and if you don't have any audiobooks from the series yet, you can get this set from Libro.fm. The set features five stories about everyone's favorite housekeeper, including Amelia Bedelia and the Surprise Shower and Come Back, Amelia Bedelia.
Princess in Black
Princess in Black is a series by Shannon Hale. It's about a princess named Magnolia, an adventurous girl who likes sneaking out of her castle to battle monsters. You can get the first three books in the series on Libro.fm.
This is hands down, my 4 year old's favorite series! We have read them aloud SO many times. I highly recommend for any toddler/preschooler age kids, both boys and girls.
James Herriot's Treasury for Children
If your kids like animals, they'll enjoy this collection of stories about adorable animals and interesting villagers, narrated by the vet himself!
Arnold Lobel's Audio Collection
You've probably heard the Frog and Toad series, which is great. But have you heard the other stories written by Arnold Lobel? Get his collection here with the stories Grasshopper on the Road, Owl at Home, Small Pig, and Uncle Elephant.
---
Favorite Libro.fm Audiobooks for Kids!
One of the things I LOVE about Libro.fm is they have fantastic sales. They aren't usually on the whole catalog - just selected titles.
But longer novels are the real deal here! You can get middle grade fiction, young adult fiction, and more for great deals. For example, these 2-5 hour books were recently included in a 99 cents sale, making them amazing bang for your buck!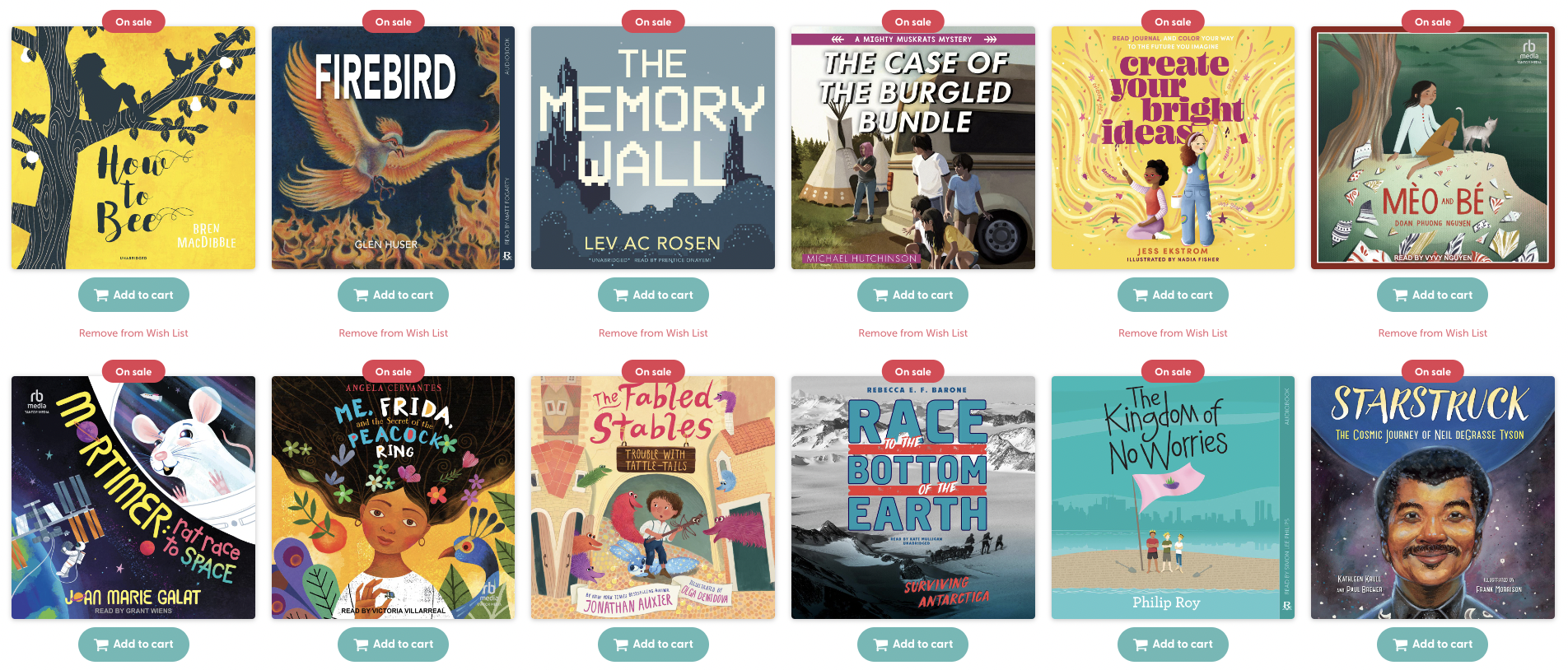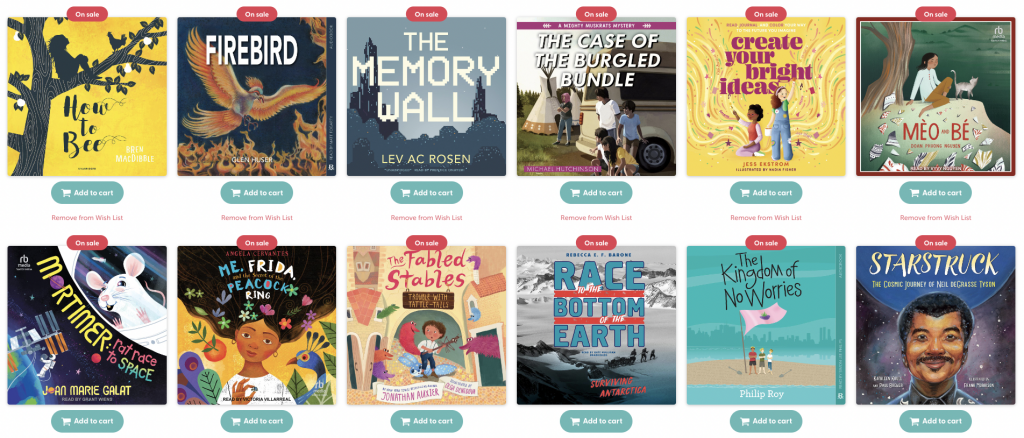 Henry Huggins Audio Collection
This six book collection goes on sale periodically for $7! This novel by Beverly Cleary is about a boy named Henry who meets a mischievous puppy. It's narrated by Neil Patrick Harris and William Roberts.
My 8 year old LOVED this series so much - he listened to all six books in less than two weeks! I highly recommend it.
Chronicles of Narnia
The Chronicles of Narnia is a great book for older kids and tweens. You can get the first book here.
You can also get the entire set, which includes all seven books in the series. That set is narrated by actors like Kenneth Branagh, Patrick Stewart, Michael York, and more.
Encyclopedia Brown Books
Do your kids love listening to other kids solve mysteries? This set has two books: Encyclopedia Brown, Boy Detective and Encyclopedia Brown and the Case of the Secret Pitch.
You can also get Encylopedia Brown Super Sleuth and Encyclopedia Brown and the Case of Secret UFOs.
Little House on the Prairie
This is another iconic series that follows the Ingalls family as they move from Wisconsin to Kansas. You can get the first book here and listen as Laura and her family build a new house and learn to farm, hunt, and more.
Sugar Plum Ballerinas
The Sugar Plum Ballerinas series is written by Whoopi Goldberg and is all about the Nutcracker School of Ballet in Harlem. Join the girls as they deal with challenges both on and off stage, support each other, and learn how to dance.
You can get the first book, Plum Fantastic, and the second book, Toeshoe Trouble, on Libro.
Zoey and Sassafras
This series follows Zoey and her cat Sassafras as they meet a new magical animal in each book. Throughout the series, Zoey runs science experiments, investigates a mystery, or researches for answers. The stories are kid-friendly with easy explanations for any science terms used in the stories.
Ivy and Bean
If your kids haven't read Ivy and Bean yet, this series is about two young girls who don't like each other at all when they meet. But when Ivy helps Bean, they become the best of friends. Follow along with their adventures throughout the series! Here's the first book, and we've linked other books from the series to check out.
Roald Dahl Books
You can get lots of Roald Dahl books on Libro.fm. Dahl's books are fun for kids of all ages, and we've linked some of our favorites. More Roald Dahl books are coming to Libro soon! Yoto does have the series already on Yoto cards, so you can just get them there, but if you want the audio to listen to on other devices as well as on your Yoto, you can get the audiobook on Libro.
Harry Potter
Yoto doesn't have Harry Potter available yet, but you can get the audiobooks on Libro.fm. These audiobooks are narrated by Jim Dale, who does an amazing job. Get the first book here.
Heads up that due to licensing restrictions, you cannot use a membership credit on the Harry Potter books. However, if you have a current membership, you can get 30% off the ~$35 price.
Nevermoor
This is a cute middle readers series about a girl named Morrigan who escapes her city, where she's seen as a cursed child, to venture to a new secret country full of magic. There are some suspenseful parts, so it might scare young kids, but it's a great series for tweens. Here's the first book in the series.
Percy Jackson
You can get Rick Riordan's popular series on Libro as well. Get the first book here and the second book here. It's all about Percy Jackson, a twelve-year-old boy who suddenly finds out Greek mythology is real.
The Mysterious Benedict Society
Join Reynie as he answers an ad in the newspaper for gifted children. After a series of strange tests, he succeeds in joining the mysterious Benedict Society and gets sent on an undercover mission with three other children. You can get the first audiobook here.
If your kids like the first book, you can also get the second book here, the third book here, and the fourth book here.
Tuesdays at the Castle
Princess Celie loves Tuesdays because the castle she lives in adds new rooms every Tuesday. No one knows the castle better than Celie. So when her kingdom is threatened, she needs to use her knowledge to save them all. Get the audiobook here.
You can also get the other books in the series:
My ten-year-old girl loved these!
Ralph S. Mouse Collection
Get the entire Ralph S. Mouse collection by Beverly Cleary. It has all three stories, The Mouse and the Motorcycle, Runaway Ralph, and Ralph S. Mouse, all of which are fun tales about the adventures little Ralph gets up to on his motorcycle.
Misty of Chincoteague
Off the coast of Maryland is an island called Chincoteague with a band of wild ponies. One of those ponies is Phantom, a mare who hardly anyone has seen. When a little boy and girl try to find Phantom, they find her gentle colt Misty instead. You can get the book here.
---
You may also like...
Libro.fm Audiobooks Make Great Yoto Cards
If you're looking for audiobooks (especially longer books for tweens or middle readers) to make into Yoto cards, Libro.fm is a great source. They've got tons of great audiobooks!
What is your favorite book for kids and tweens? Let me know in the comments!